Are you searching for the best travel gifts for Dad? Then look no further! Whether you're looking for a general present to show you care, or something a little more personalized, we've sourced contributor tips to round up this list featuring 24 Incredible Travel Gifts Dad Will Love. From packing cubes to passport holders, we polled our Facebook community to identify what gifts are best for dads, grandpas, and the important men in your life. Celebrate his love for travel with one of these perfect Christmas or birthday gifts for Dad! To make it easier for you to navigate, we've also divided our list of best travel gifts for fathers for birthdays or holidays into three categories: gifts for traveling, personalized travel gifts, and gifts to remember past travels. These gifts are sure to make him smile and dream of future adventures! 
Travel Gifts for Dad to Use While Traveling
Have a dad or man in your life who loves to travel? These gifts are perfect for any discerning globetrotter! Plus, they make great gifts for dads that have everything. Need something to pack it all in? Check out our list of the Best Travel Luggage, Carry-Ons, and Backpacks for Kids and Families!
Shacke Pak Packing Cubes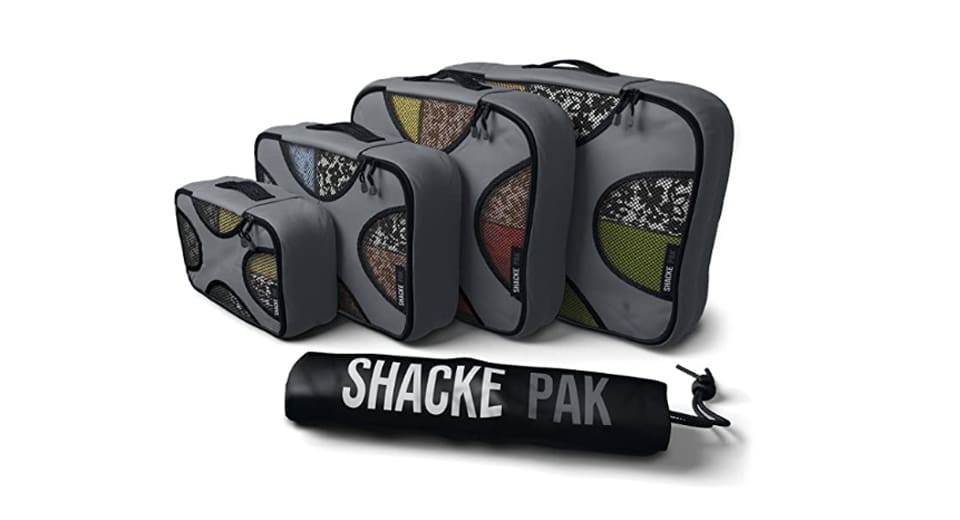 Packing cubes make great gifts for on-the-go dads! Particularly useful for keeping organized, this practical gift allows dads to pack with ease on every trip, whether for business or leisure. Plus, each cube gives him a way to store his clothes in an organized, wrinkle-free way! The Shacke Pak also includes a laundry bag, which is perfect for wrapping up time away from home.
Travel Journal
Travel journals are a wonderful way for Dad to record his travels! He will adore the chance to jot down his memories and the daily adventures of traveling – especially the special moments when traveling with kids! You can even get one that includes space to tuck in receipts, museum tickets, and more (see recommended option below). Travel journals are one of the best ways to document everything along the way. And, to remember the adventures once you get home! Not to mention, travel journals are one of the best gifts for dads who want nothing.
Check out this Leather Journal Notebook Embossed Handmade + Pen, starting at $34.95. Buy now.
Passport Holders + Wallets
Those pesky passports all look the same! Dad will love getting a brand new passport holder to help his passport stand out from the rest. Passport holders are also a great way to protect passports, and store miscellaneous receipts, tickets, cash, etc. Even better, they can be personalized to let his travel style shine!
Alternatively, Alloy + Resin Wallets are a great gift for dad. Since they securely hold up to 5 cards, plus cash, they are perfect for dads who want to travel light too. Plus, there are several colors and styles to choose from. Either way, these are truly fantastic options among the best gifts for dads that have everything! Whether simple or personalized, he is sure to adore a gift he can use every time he travels.
Two great options are available on Etsy:
A simple Leather Passport Holder from AGIOTAGE, starting at $14.96. Buy now.
A personalized Leather Passport Cover from SoGoodSoWood, starting at $13.87. Buy now.
Charger Cord Organizer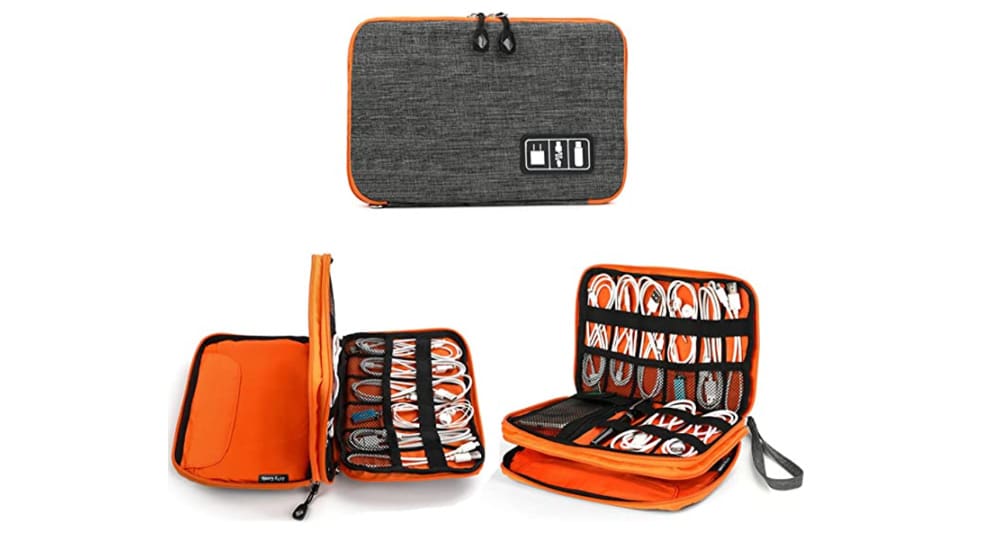 In need of some vehicle organization? Dad will love this practical travel gift! As seasoned travelers, we know vacationing means cords for everything, everywhere: tablets, cellphones, laptops, etc. Get this handy charger cord organizer to help him stay organized. Not to mention, to help cords stay untangled! Its small size makes it perfect for briefcases, carry-ons, and other small bags. This is truly one of the most useful travel gifts for dad!
Bose Noise-Canceling Head Phones
Spoil dad this year with Bose noise-canceling headphones. With several options to choose from, you are sure to find the ideal pair for him. Consider the Bose QuietComfort 35, offering a wireless connection with the ease of Bluetooth and Alexa Voice Control. Then, the Bose Noise Cancelling Headphones 700 includes a built-in microphone, ideal for digital nomads and frequent work trips.
If he doesn't like the bulk of headphones, consider Bose QuietComfort Noise Cancelling Earbuds instead. Built with comfort in mind, they even come with three sizes of StayHear Max ear tips to ensure a good fit. No matter which style you choose, he is sure to love the option of watching a movie or listening to his favorite podcast without the added noise of everything around him.
EMP Bags
Looking for a gift for dads who have everything? He will love the thoughtfulness and peace of mind that comes with an EMP bag! Electronic devices are shielded and secured within EMP bags using conductive material to prevent electromagnetic pulses (EMP) and other forms of EMI from damaging them. They are lightweight and convenient to carry, making them a practical birthday or holiday gift for dads who travel. They are also available in various sizes and shapes to accommodate a variety of devices, including laptops, cell phones, and cameras. Talk about a special gift for dad!
EMP bags are not infallible and may not offer complete protection against all EMP or EMI sources. Nevertheless, they provide an additional degree of security to help guarantee that crucial electronic equipment is safeguarded and functional in the case of an unforeseen electromagnetic incident. This is undoubtedly a birthday or holiday gift Dads will appreciate if they carry private information or priceless electronics when traveling!
Goodr Polarized Sunglasses
Keep him looking stylish while hiking, golfing, or enjoying a day at the beach. Polarized sunglasses are ideal for dads on the go. Our families recommend Goodr polarized sunglasses due to their durability, warranty, 30-day return policy, and numerous options for style. Select a pair based on his personal preferences. Select the pair by lens color, frame color, style, and more! Finally, they are inexpensive so if they break while traveling, they can be easily replaced. Not to mention, this also means he can wear them around small kids with ease!
While there are many options and brands out there, our families love Goodr, starting at $25.00.
Sleep Eye Mask with Built-In Bluetooth
One of the best travel gifts for men is a sleep eye mask with built-in Bluetooth. Dads who travel frequently will appreciate this special gift to help them sleep easily while traveling away from home. Plus, there are several types of masks to choose from, which means you can find the right option for him. Consider ones with built-in Bluetooth, allowing him to rest and listen to soothing music. Not only with they reduce the noise around him, but the eye mask will ensure he rests easily while traveling the world!
Anker Power Bank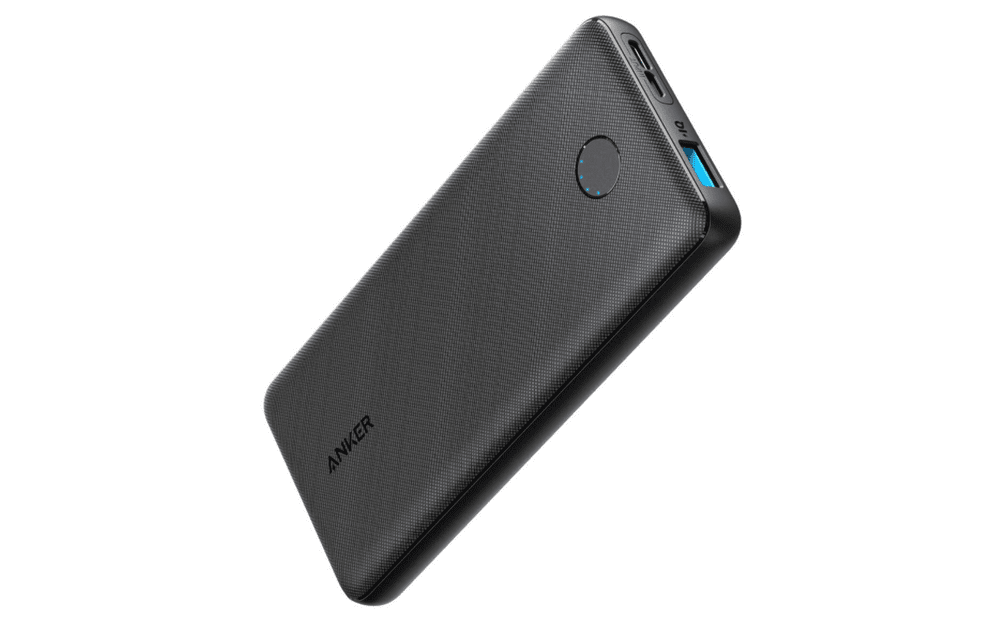 Next on our list featuring the best travel gifts for dad, the Anker Power Bank is perfect for keeping his phone charged and ready to go! Whether he's out sightseeing or navigating the airport, the last thing he needs is for his phone to die. A fully-charged Anker Power Back ensures he'll never go searching for an outlet in the airport again. Expect about two and a half charges for iPhones and Galaxy devices and about one and a half for iPads. Finally, it's a very affordable choice to treat the special man in your life!
Go Pro
Help dad commemorate your wonderful family vacation with a GoPro! Great for capturing high-quality images and videos, you can bring these portable cameras along on any adventure, from hiking to biking. The Hero9 and Hero8 feature an elegant, compact design and self-proclaimed "bombproof" materials, designed to withstand even the toughest terrain. Families can even see what they're capturing with the Hero9 thanks to a front preview screen! Both are fairly expensive and a bit more advanced in comparison to older models, however. If you're just starting, we recommend the Hero7. It's waterproof with GPS capabilities, plus it has live streaming functions.
The Hero Series is available on Amazon, starting at $229.99. Buy the GoPro Hero8, GoPro Hero9, or the GoPro Hero10, now.
Oculus Quest 2
Techie dads will love an Oculus Quest 2! This Virtual Reality Headset is perfect for families, especially fathers who want to stay fit. With its fast processor, high-resolution display, and advanced hardware, the Oculus lets dads access a variety of entertainment and apps, including games, music, and special fitness content. Combine your love for traveling and working out with the popular app Supernatural, which offers immersive workouts with real coaches. Dads will love the stunning, travel-inspired backdrops! Even if you're not particularly tech-oriented, the Oculus Quest is easy to use. Just set it up with a free smartphone app and jump right in!
The Oculus Quest 2 is available on Amazon, starting at $299. Buy now.
Drone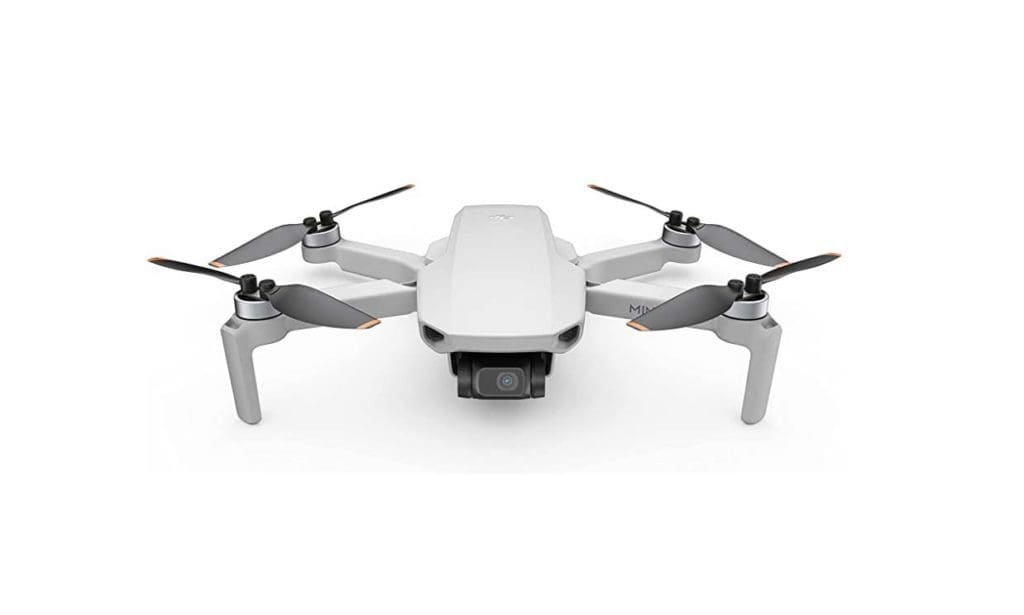 Take your family vacation to new heights with a drone! This tiny, flying device (which sometimes has a camera) is a great gift for dads who love photography or videography. Next time you visit a scenic location, you can watch the drone soar above the landscape, capturing an aerial view of everything underneath! A DJI Mini 2 is lightweight and foldable drone with 3-Axis Gimbal and 4K Camera. For dads who want a more advanced option, The DJI Mavic Air 2 – Drone Quadcopter UAV with 48MP Camera comes with a 4K Video and 34min Flight Time. No wonder this is one of the best travel gifts for dad!
Inflatable Kayak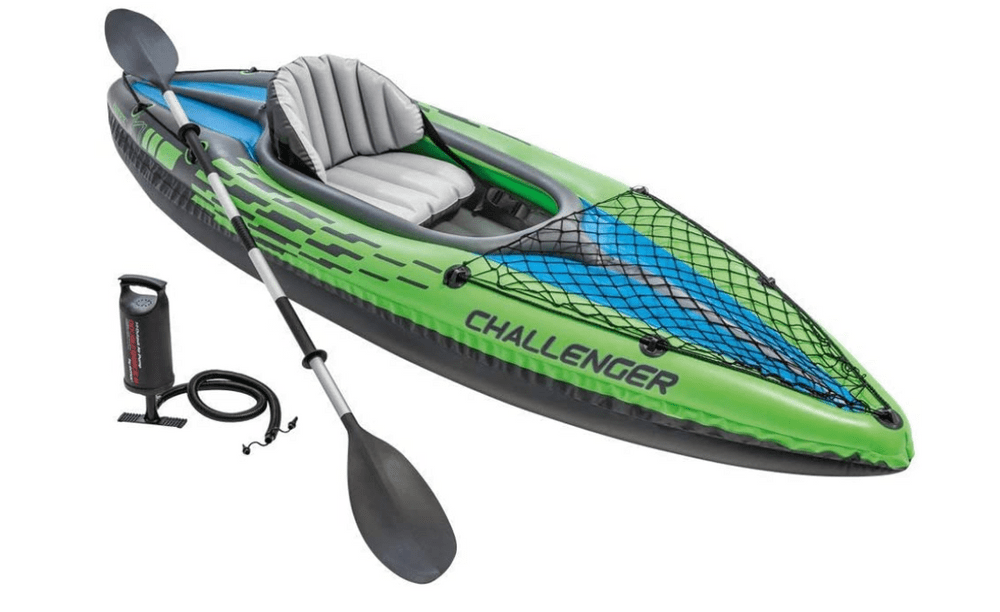 Outdoorsy dads will love an inflatable kayak! For families who want to explore beaches, lakes, ponds, or rivers during the summer, an inflatable kayak is a must-have. With the same reliability as hardshell kayaks only lightweight and travel-friendly, you'll love how easy they are to store or transport, especially when camping. Choose from models like the two-seat Intex Challenger Kayak, designed for easy paddling and portability. Ideal for all water types, this bright green kayak provides visibility to ensure a safe experience. Intex also sells the K2 Kayak, a larger version designed for smaller bodies of water like lakes and mid-rivers.
We suggest these options:
Fishing Pole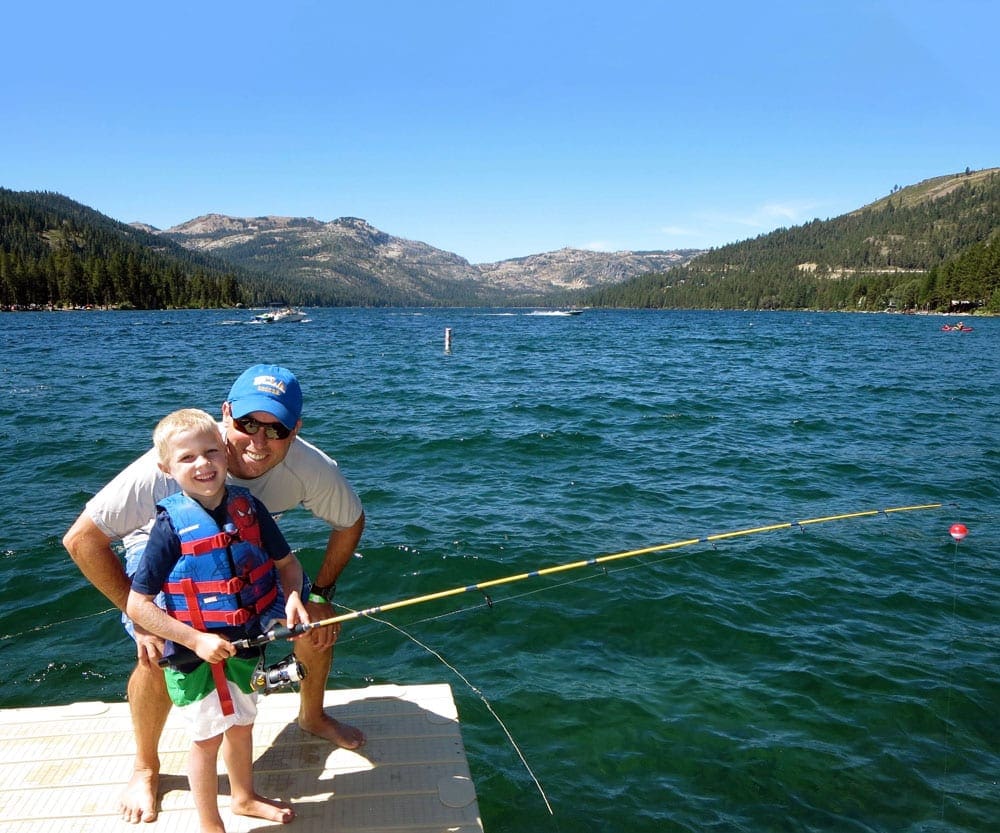 A fishing pole is a great gift for dad! Outdoorsy families will love the chance to bond together during a nature-oriented vacation, whether by a pond, lake, or bay. This is surely one of the best travel gifts for dad! For dads who know already know their way around a fishing pole, PLUSINNO sells a comprehensive fishing rod and reel combo made of Carbon Fiber. Sougayilang also sells Fishing Rod Combos with Telescopic Spinning Reels and Carrier Bag.
Camping Gear
Dads planning an epic outdoor adventure will definitely need some camping gear! Whether you're visiting a state park, national park, or a local campground, you'll want to bring along basic gear such as tents, stoves, or sleeping bags. Available in four and six-person options, the Marmot Limestone Camping Tent is great for families thanks to its waterproof material and color-coded, easy-pitch poles. Dads who love an instant set-up will adore this 6-Person Cabin Tent from Coleman, offering advanced ventilation and weatherproof material.
Coleman also offers a budget-friendly Sundome Tent, available for up to six sleepers. For cooking on the go, Coleman also sells a fantastic, two-burner classic propane stove. Or, buy dad The Solo Stove, which has a more compact design. Remember to pack your sleeping bag!
We suggest the following items:
Matching Father & Son Swim Trunks
What better way to celebrate Dad than with matching father and son swim trunks? Show up to the beach or hotel pool in style with a pair of colorful and patterned shorts that kids and adults will love! Available in sizes starting at six months for children and up to XXL for dads, Stivali sells a cute pair of flamingo swim trunks for your next tropical getaway. For more fun patterns like alligators or flowers, you could buy a pair of father and son swim trunks from Chubbies, which offers a variety of styles to choose from. Though they're not available in sets, Fair Harbour also offers similar colors for their Men's and Kid's Bayberry Swim Trunk. Both come in super durable, water-resistant material and have comfy pockets!
We suggest these options:
The Stivali Father and Son Matching Swim Trunks are available on Amazon, starting at $24.99. Buy now.
Chubbies Father & Son Matching Swim Trunks are available from Chubbies, starting at $69.50. Buy now.
Fair Harbour Kid's Bayberry Trunks are available from Fair Harbour, starting at $48. Buy now.
Travel Gifts for Dad You Can Personalize
If you're looking for a more customized way to show your appreciation for dad, these gifts can be personalized! Plus, that personal touch is perfect for creating gifts for dads who want nothing.
Plus, you can also find more great gift options in our Families Who Love To Travel Gift Guide!
Customized Map Cufflinks
Personalized map cufflinks are a great way to help the men in your life remember past travels or important locations! For your husband, think about where you got married, where your "home" is, where your kids were born, or your favorite travel location. For your own dad, consider where you were born or grew up, or the location for his favorite family trip. The choices are endless! Spiff up any outfit, customized map cufflinks are one of the best travel gifts for dad.
Two great options are available on Etsy:
Custom Cufflinks, and Bronze from Bookity, starting at $29.51. Buy now.
Custom Map Cufflinks from dlkdesigns, starting at $58.00. Buy now.
Personalized Luggage Tags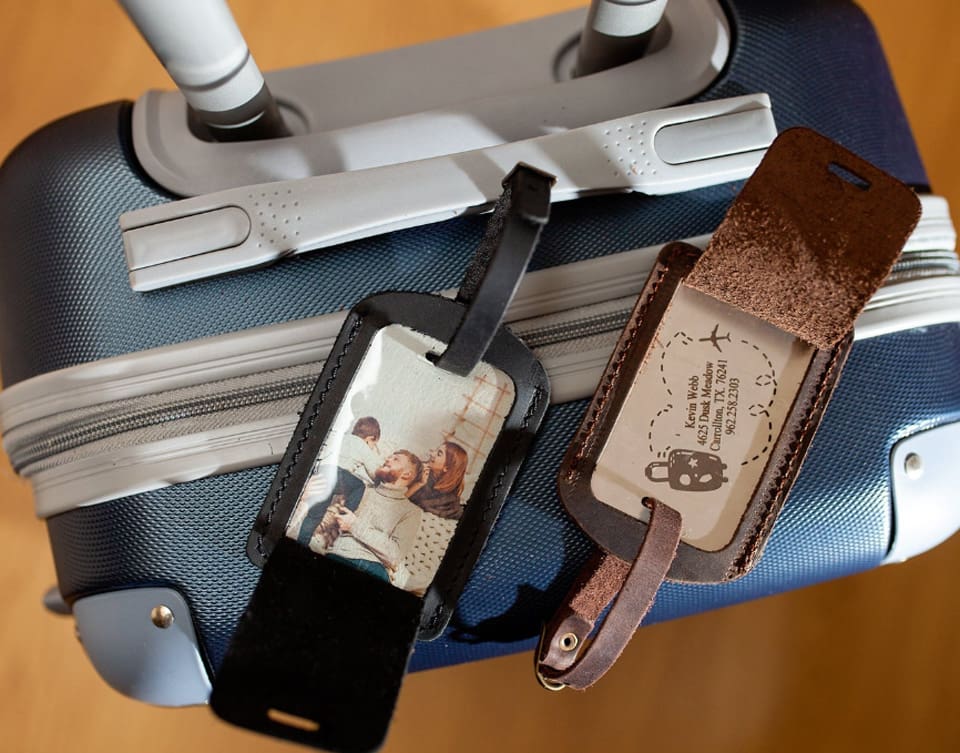 Suitcases can all look the same. Help dad's suitcase stick out with a personalized luggage tag! Dad will love getting a personalized luggage tag that highlights his love for travel, which can also work well for identifying gym bags and briefcases. Plus, kids will delight in knowing dad can take this gift with him wherever he goes, making this one of the best travel gifts for dad for birthdays or holidays. Finally, with personalized options from places like Shutterfly, the kids can get in on the fun too! Let them select special pictures to commemorate past travels as he prepares to embark on new ones.
We suggest one of these options:
Custom Gift Luggage Tags from Rachiba, starting at $24.50. Buy now.
Personalized Luggage Tags from TAleatherworks, starting at $10.07. Buy now.
Or, design your own travel pictures with Shutterfly starting at $9.99. Buy now.
Travel Charm Bracelets
What better way to help dad remember his travels than with a travel charm bracelet? This fantastic bracelet allows you to add the GPS coordinates of up to 5 charms! Help him remember all the important locations to you and your family, from where your children were born to favorite travel destinations to places you've lived around the world. Dad will love sporting this daily reminder of his love for travel! It is truly one of the best gifts for dads that has everything.
Available on Etsy from drakedesignsjewelry starting at $53.95. Buy now.
Engraved Swiss Army Knife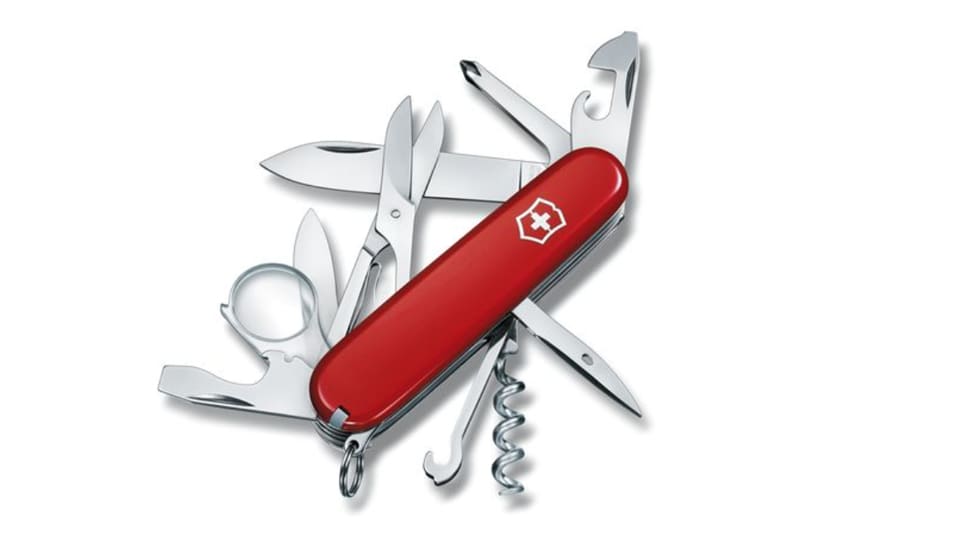 The special men in your life will love this practical gift with a personalized message from you (or your kids!). There are several swiss army knife styles from Victorinox to choose from, including travel-inspired names like Jetsetter, Climber, and Explorer. Outdoor enthusiasts, in particular, are sure to love this personalized gift to remember family adventures. It is definitely one of the best travel gifts for dad for birthdays or holidays. Just make sure you check it when traveling by air!
Available at Victorinox starting at $16.99. Buy now.
Travel Gifts for Dad to Remember Past Adventures
Dreaming of your next family vacation? For now, help the men in your life remember past travels with these fantastic gifts!
RELATED: The Ultimate Guide To The Best Family Travel Gifts 2022-2023
Travel Map with Push Pins
One of the best ways to remember past travels is with a map. Dad will love marking past memorable vacations and travel destinations on this magnetic travel map! Display it with pride and use it as a conversation piece. Who doesn't love talking about their favorite trips? Additionally, you can color code the magnets to indicate future travel destinations too! This is one of the best gifts for dads who want nothing more than to remember their amazing travels with their kiddos.
Buy Push Pin Travel Maps starting at $119.99. Buy Now.
Digital Picture Frame
Dad will display his digital picture frame with pride! Plus, pictures can be added directly from your phone – from anywhere in the world! You can even send pictures while you are still traveling. Or, give this digital picture frame to grandpa so that he can see his grandkids travel the world. Grandpa is sure to love showing off his grandkids with pictures that can change every week! With no limit to the number of pictures, this gift will continue to inspire and delight year after year. It is convenient and easy to use, truly making it one of the best travel gifts for dad for birthdays or holidays.
Available at Aura Frames starting at $199.00. Buy now.
Cork Globe
If you don't have the wall space for a map, try a cork travel globe! Perfect for any desk or shelf, dad will love remembering past travels with this perfectly sized cork globe. Use the push pins to mark past trips and memorable locations with ease. Similar to the map, you can color code the push pins to indicate future travel destinations. This desk-top globe is one of the best gifts for dads that have everything. Not to mention, the perfect fit for any office.
Country Rings from Traveller Collective
Traveller Collective commemorates past adventures with engraved travel rings! Truly a unique gift for dad, they offer necklaces and clips that can be customized with his past travel destinations. Every ring is handmade in Vancouver, Canada. Choose thematic options like countries or cities, as well as national parks or mountains. Dad will love carrying the memories of his travels with him wherever he goes! Plus, you can continue to add to this travel gift for dad each birthday or Christmas.
Available at Traveller Collective, the price varies by type and number of rings. Buy here.
Happy Shopping for Travel Gifts for Dad!
No matter how you spend your time together, we hope you find a pleasant surprise for dad, grandpa, or the special men in your life on this list featuring 24 Incredible Travel Gifts Dad Will Love. Whether you need a gift to inspire future travel, remember past travels, or a practical gift to help him on his travels, this list is sure to please any travel-loving dad! Plus, you can pack it all in one of the Best Travel Luggage, Carry-Ons, and Backpacks for Kids and Families. Finally, for more gift-giving occasions, check out these Travel Gift Ideas!
This post may contain affiliate links that may earn us a small commission, at no additional cost to you. Affiliate links in no way inform the hotels, sights, products, or other recommendations included in our articles. All opinions and recommendations expressed here are compiled from submissions submitted by the generous members of our Families Who Love To Travel community.
READ NEXT:
For a fairly quaint island, St. Lucia is jam-packed with kid-friendly activities. With stretches of...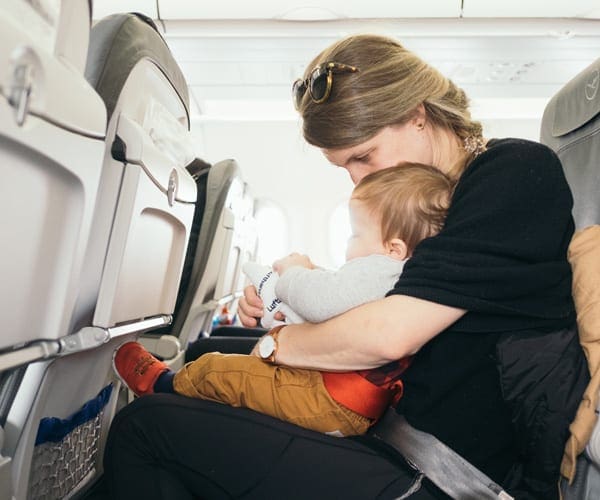 Families Who Love To Travel contributor Meghan Oaks provides her 10 best tips for your...