Cool down on a summer day by embarking on one of the best family beach trips within three hours of NYC! Whether you're looking for fun boardwalk activities to attract kids of all ages or want to recline in the sun all day, we guarantee there's a beach nearby awaiting your arrival. Visit destinations along the Jersey Shore like Long Beach Island, Spring Lake, and Ocean City to take a nice swim, for example; or drive to Long Island for an alternative experience! Other destinations, like Fire Island and Bayville, present endless opportunities for family fun. Using contributor tips and advice, we've rounded up some of the best choices for our list of the 12 Best Family Beach Trips Within Three Hours Of NYC! With so many spectacular beaches within driving distance, it's easier than ever to start planning your next memorable family vacation!
RELATED ARTCILE: Best Water Parks in the Northeast for Families (By Age)
Fire Island, NY
Fire Island provides a one-of-a-kind escape from New York City! Accessible via ferry from Bay Shore, Sayville, or Patchogue, a no-car rule gives it a laid-back feel perfect for families. (Drive-in from Robert Moses State Park to see the famous Fire Island Lighthouse!) Certain communities like Saltaire, Ocean Beach, and Ocean Bay Park offer more kid-friendly locations for your home base. In fact, Ocean Beach boasts free access and playgrounds. Then, Ocean Bay Park offers bike rentals. Or, stroll the boardwalk to encounter other cozy communities within Fire Island, like Kismet Beach, featuring a nearby local market. In Bellport, kids savor ice cream from Carla Maria's while parents shop at nearby boutiques like TOLA. Outdoor enthusiasts will also love visiting Watch Hill, a campground providing ranger-led programs to better acquaint you with the area. From there, walk to Davis to end your night at a delicious restaurant!
Where to stay in Fire Island with kids: If Fire Island has allured you to its shores, you'll want to find an amazing place to stay with your kids! Families can go for a day-trip from NYC, or rent a home from VRBO for a week or the whole summer! If you're looking for a hotel, The Palms Hotel Fire Island offers standard rooms, suites, and cottages.
Long Beach Island, NJ
Long Beach Island is one of the best family beach trips within three hours of NYC! This Jersey Shore hotspot boasts beautiful ocean views, high-end restaurants, and lots of family-friendly fun. Bike to Surf City or Brant Beach, sunbathe in Bayview Park (which also has a playground), open to non-residents and residents alike with a beach badge. Here, older kids surf or paddleboard while little ones wade in idyllic waters. Want a challenge? Climb the Barnegat Lighthouse! Beach Haven, another popular section, is also famed for its Fantasy Island Amusement Park, which has rides, boardwalk games, and an arcade! At night, check out its summer concert series, play mini-golf, catch a show at Surflight Theater, or head to nearby Bay Village to stroll, shop, and dine. Then indulge in some local fudge from Country Kettle for dessert!
Ready to head to Long Island Beach? While ideal for a day-trip from NYC, it also makes a great location for a summer rental (stay for a week or the whole summer!). Visitors often rent seaside homes from sites like VRBO to enjoy access to the many kid-friendly activities in Long Island Beach.
Shelter Island, NY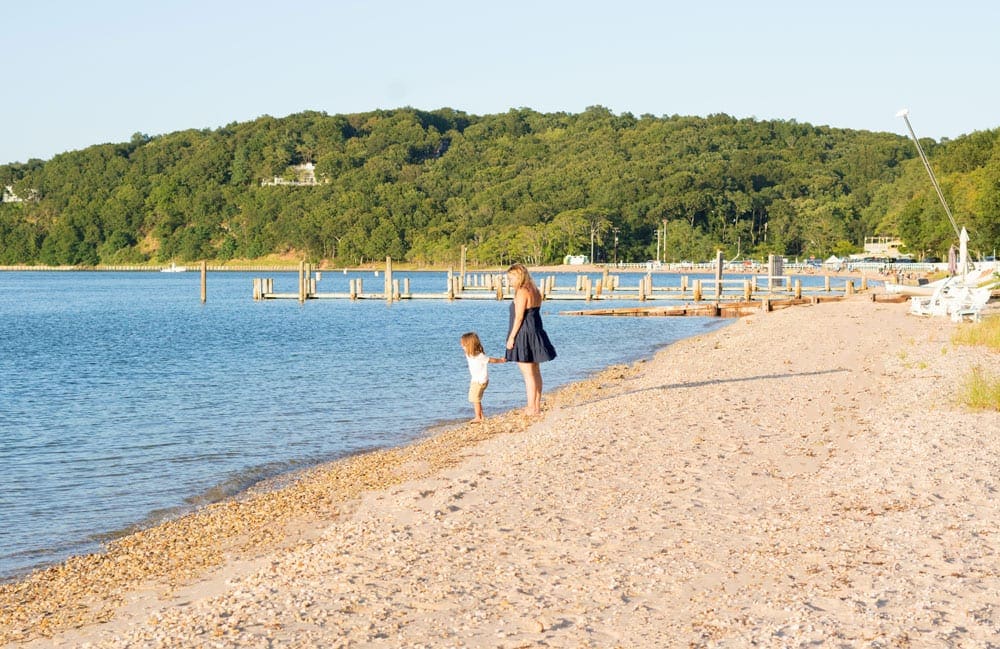 Shelter Island is a secluded seaside destination ideal for families! Located off Long Island's East End, this low-key island sits between the North and South Fork, accessible via ferry. Expect miles of gorgeous shorelines, abundant wildlife, and incredible natural beauty! Visit the public Wades Beach to lounge on smooth sand under umbrellas, or Crescent Beach if you're searching for a less crowded weekend alternative. Toddlers can even blow off steam at the School Street playground! Shelter Island also offers boating at Gardiners Bay, fishing at Second Bridge, or biking to see the scenery! Or, hike along the Mashomack Preserve, a nature center featuring interactive exhibits like a bird-feeding area. At Sylvester Manor, a historic farm, children can attend a summer program to learn about local indigenous communities. Then, The Islander is great for a family dinner! For dessert, gelato at Whale's Tale and fudge at Bliss are a must.
Where to stay in Shelter Island with kids: Indulge in a long weekend or month-long in Shelter Island. Families looking for a hotel experience can consider Ram's Head Inn, which offers a central location and activities like bocce ball, paddleboarding, and kayaking. Looking for something a bit cozier? Consider booking an oceanfront rental on VRBO.
Northport, NY
Visit Northport to experience old-school New York charm! This historic maritime village offers off-the-beaten-path beaches, a walkable Main Street, and a scenic marina overlooking Northport Bay. Kids will love the quaint ambiance at establishments like Tim's Shipwreck Diner, a great place to grab a classic breakfast. After breakfast, head to the beach! Steers Beach is Northport's home-base for sunbathing, swimming, kayaking, paddleboarding, and more! They even have picnic tables for lunch. Afterward, stroll along Northport Village Park to watch boats whiz by the iconic town gazebo. Then, treat kids to a few hours at Cow Harbor Park, an enclosed playground for little kids to safely play! Of course, along Northport's victorian Main Street, you'll find plenty of places to stop for dinner or dessert. Plus, every Tuesday during the summer, Northport showcases a Main Street "family night" on the boulevard, headlining with live music, shopping, and more!
If you're looking to lengthen your stay in this charming village, considering finding a home to rent on VRBO. More days in Northport mean more opportunities to hit the beach and make a lifetime of memories together!
Ocean City, NJ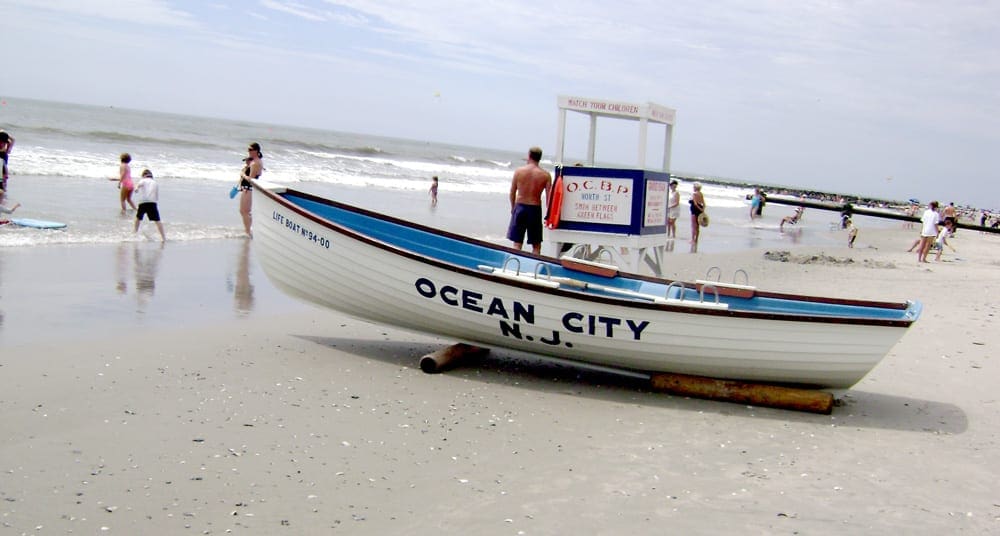 Ocean City is nicknamed America's best family resort! Located two hours from NYC, you'll find plenty of beach, boardwalk, and nighttime entertainment to keep you occupied here! Plus, its eight-mile-shoreline contains some of the cleanest sand in New Jersey, making it a great first beach trip with little ones. Regardless of which access point you choose, waters will be shallow enough for children to enjoy, as long as you remember to secure a beach tag! Ride your bike past souvenir shops on the boardwalk, grab a slice from Manco & Manco's, and some ice cream for dessert. Or, stop into an arcade to beat the heat for a bit. OC Waterpark is another alternative! Thrill-seeking toddlers will love Playland's Castaway Cove, an amusement park with kiddie rides ideal for preschool and under. Enjoy a family spin on the giant Ocean City Ferris Wheel when you visit the famous Gillian's Wonderland Pier!
Families looking to stay in Ocean City typically prefer renting a house through VRBO. A long weekend means your family can continue to explore and delight in one of the best family beach trips within three hours of NYC!
Bayville, NY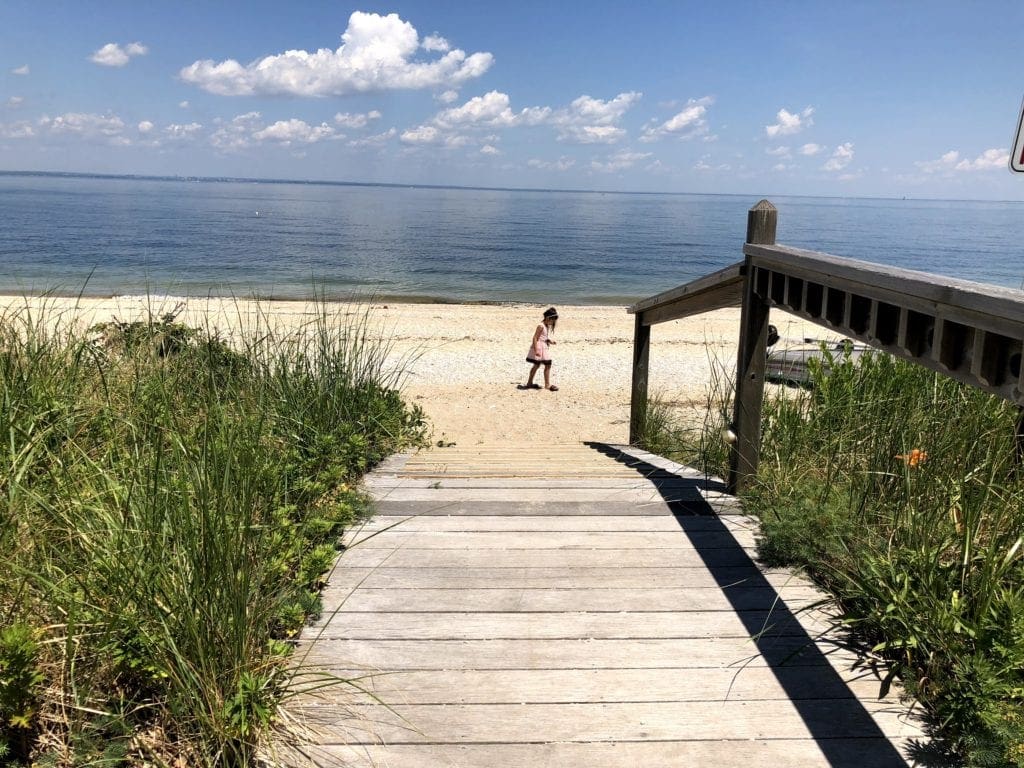 Make Bayville your next Long Island family beach day-trip! This waterfront town is ideal for a casual adventure, particularly for active families who love spending their entire time outdoors! As a plus, Bayville's two public beaches, Bayville Beach and Charles E. Ransom Beach, are both great for children. In fact, Charles E. Ransom Beach even features a few restaurants and rental shops along its pier. Take a tranquil hike to visit Centre Island Beach, where you can also canoe, kayak, and go rafting. Sound Side Beach Park, another enclosed nature area, contains a fishing pier, a playground, and a splash park! Of course, families visiting Bayville can't miss its main attraction: Bayville Adventure Park! Play mini-golf, enjoy rides, or climb obstacle courses at this kid-friendly wonderland! Stop at Cantina Bay for dinner if you like Mexican, or Mill Creek Tavern for American.
Long Beach, NY
Long Beach makes another short and sweet escape! Located on Long Island via LIRR or car, it's one of the cleanest beaches nearby, perfect for a day trip or a weekend visit. Due to its lifeguards and calm waves, Ocean Beach Park is often a popular choice amongst families. You'll also find plenty of other access points along Nevada Avenue and Pacific Boulevard. The nearby 2-mile-boardwalk also has a stretch of food trucks and picnic tables if you want to have lunch! Or, little kids can head to a local playground, like the spacious one on Clark Street. Older kids visiting Long Beach will particularly love its access to surfing, featuring plenty of rental shops and schools along its pier. Hungry families are also in luck. Head to Laurel Diner for an amazing burger, then end your day at Frozen Cow with some ice cream!
Where to stay in Long Beach with kids: Extended your time in Long Beach with kids by staying at Allegra Hotel, Long Island's only oceanfront hotel. Standard rooms and suites are available depending on your family's needs. If you prefer something with a little more room to spread out, considering renting a house from on VRBO.
Newport, RI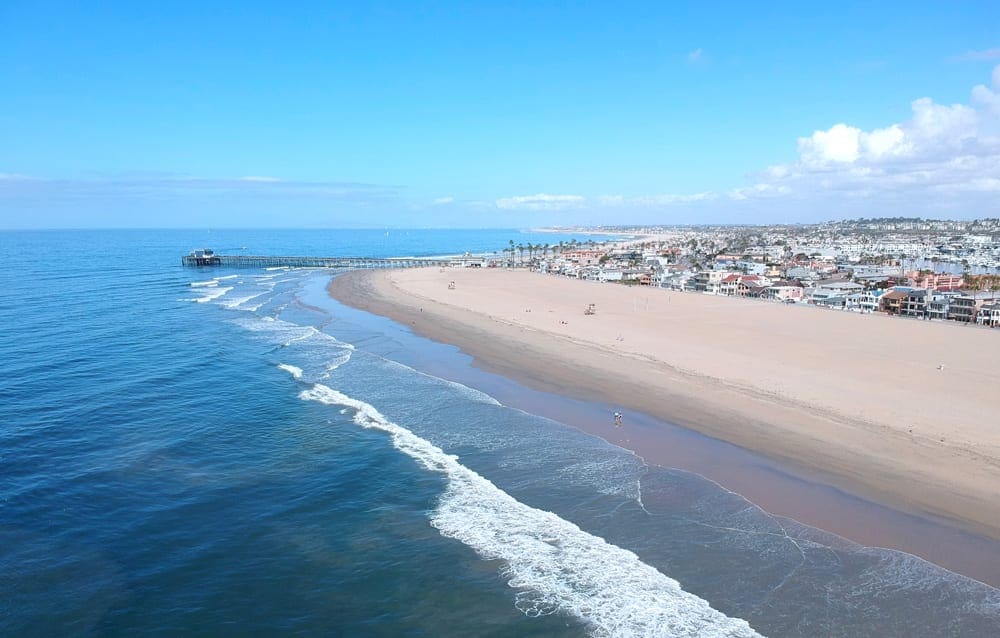 Take a family vacation in Newport to experience this dazzling seaside playground! Known for its Gilded Age mansions, marina with expensive sailboats, and walkable wharves, this Rhode Island destination is particularly popular during the summer. Families with young children will love swimming at the peaceful Easton's Beach, whose concession stand sells some of the best lobster rolls in town. Don't forget to ride the vintage carousel too! Then, saunter down its Cliff Walk to get a feel for Newport's natural beauty, a 3.5-mile trail overlooking opulent properties along the Atlantic Ocean. If your kids are more interested in seeing one of these historic mansions up-close, however, tour one of many publically open options, like The Breakers or The Elms. Or, cruise the streets in a Newport Trolley for an educational tour of the area. Afterward, kids will delight in a visit to Newport Creamery or Newport Fudge!
Where to stay in Newport with kids: Families interested in staying a while will find an abundance of options in Newport. Consider Gurney's Newport Resort & Marina, offering standard rooms and suites. Go low-key with Newport Marriott, providing ocean-view rooms, some of which include balconies. Then, Ocean House includes a beachfront location. Finally, The Vanderbilt, Auberge Resorts Collection is just minutes from the waterfront. With so many options, you'll be able to stay and play on one of the best family beach trips within three hours of NYC!
The Hamptons, NY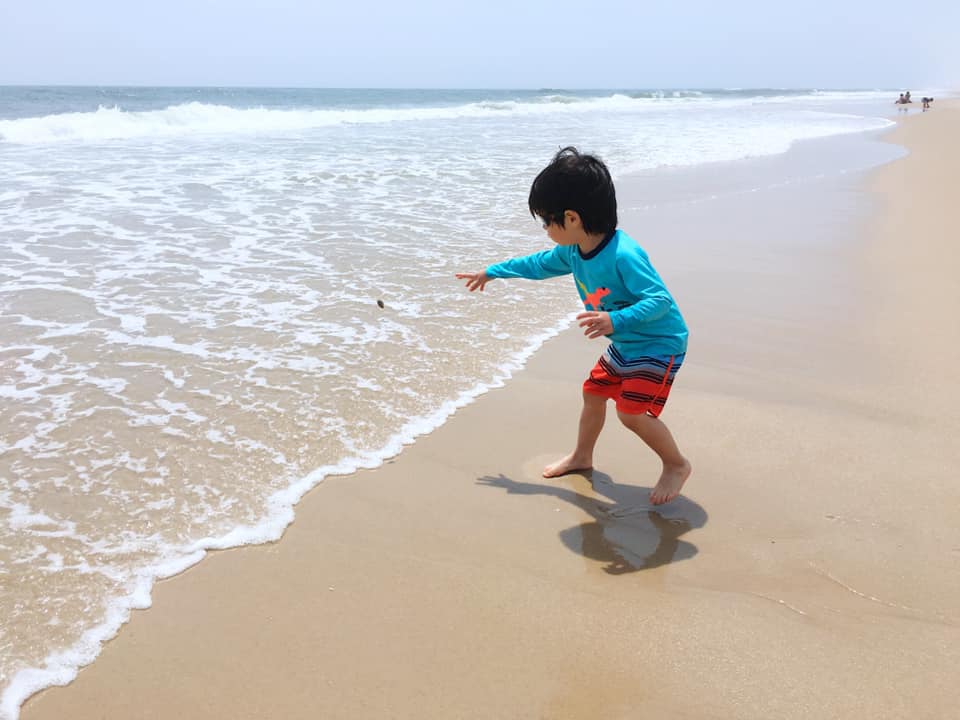 With miles of white sand, there's no doubt The Hamptons will impress any age! Stop in tranquil Long Beach if you have littles in tow, or Sagg Main Beach in Sagaponack Harbor if you have older kids who don't mind a tide. Don't miss the Sagg Main Monday drum circle! Then, grab a slice from World Pie Pizza as well, and visit the famous Buddhaberry for frozen yogurt. Or, visit Hampton Bays, Meschutt Beach has calm waves and a snack bar to satisfy the kids! In East Hampton, visit Main Beach, or Atlantic, if you're near Amagansett. Families staying in Westhampton will love the low-key Ponquogue Beach, which also hosts live music performances. Shock Ice Cream is a must-visit here! Cooper's Beach in Southampton is also popular among families, followed by dinner at 75 Main. Remember most beaches require daily parking passes and tags!
Where to stay in Hamptons with kids: Most families reserve summer homes from sites like VRBO. If you're hoping for a hotel stay, The Hampton Maid offers standard rooms and suites in the heart of The Hamptons. Then, Sea Crest Resort in Amagansett includes quick access to the ocean and seasonal cabana service.
*Thank you to Hamptons Moms contributor for helping us compile this section.
Read about our recommendations for the Best US Lakes For Families To Visit During Summer!
Cape May, NJ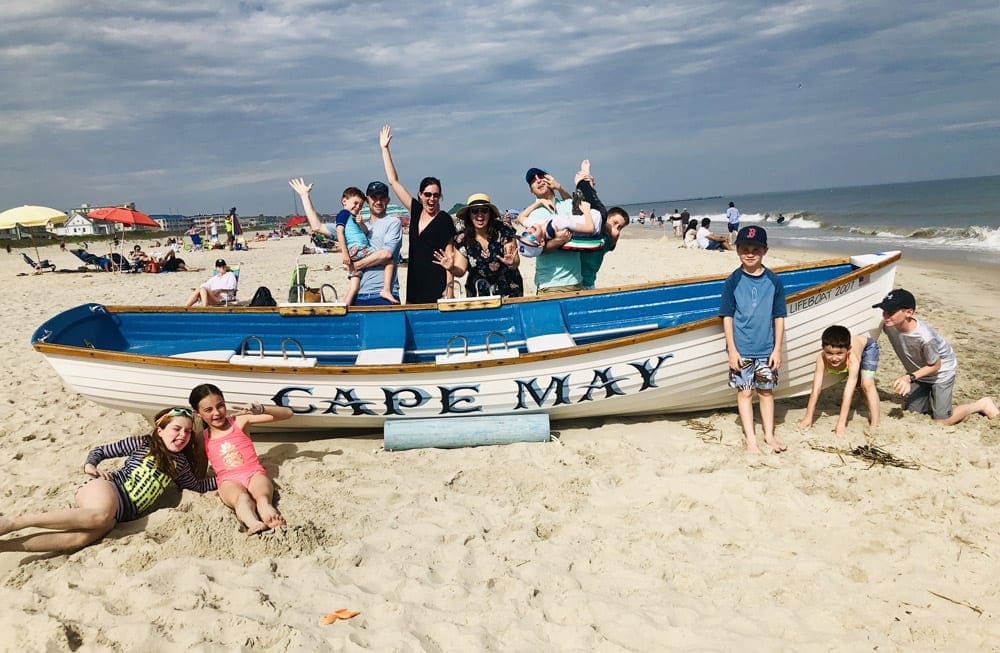 Cape May is one of the best family beach trips within three hours of NYC! Summers in this New Jersey town are filled with long days in the sun and tons of kid-friendly fun! Visit Cape May Public Beach, offering funky architecture alongside chances to swim, build sandcastles, or dine alfresco at nearby restaurants like Mad Batter. Though not ideal for swimming, Sunset Beach has magnificent views in the evening! Nearby, you'll also find Cape May State Park, a protected area housing native wildlife, a beach, and the famous Cape May Lighthouse. At the Washington Street Mall, the main shopping strip, stroll boutiques, enjoy live performances, or take in twinkling lights via a horse and carriage ride! Hotels like Congress Hall also usually host events for families, like game nights or movie nights. If you have more time to explore, visit the Beach Plum Farm or the Cape May Zoo!
Where to stay in Cap May with kids: Many families staying overnight in Cape May with kids select home rentals through VRBO or local realtors. However, if you're looking for a hotel stay, consider Sea Crest Inn, which offers standard hotel rooms and two-room suites. Then, The Montreal Beach Resort is a family-run hotel providing standard rooms, suites, and kitchen suites. Finally, Carroll Villa Hotel is just half a block from the beach and has standard rooms and suites.
Wildwood, NJ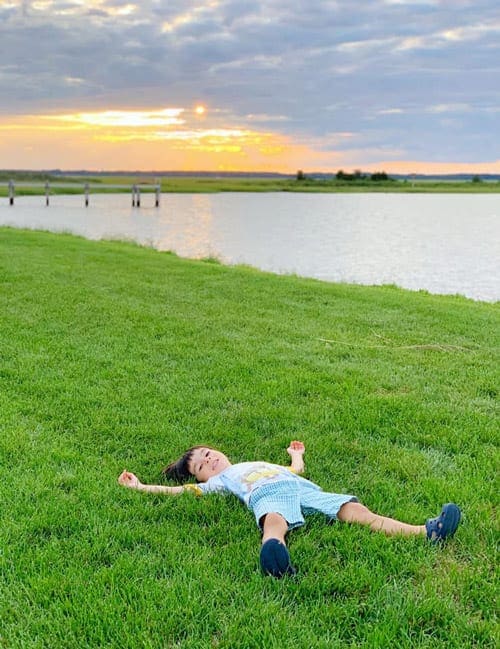 Wildwood's vintage ambiance will appeal to your entire family! This Jersey Shore town's 40-block-boardwalk contains miles of stunning beaches, family-friendly attractions, and daily events! (Programming like sandcastle building contests or outdoor movies are available throughout beach access points!) Most families rent property in Wildwood Crest, whose shoreline is clean, calm, and ideal for young kids. Wildwood is also famous for its boardwalk, which encases the massive Morey's Piers Amusement Park, with slides, rides, and more. Cool down on a hot day at Raging Waters Water Park and Ocean Oasis Water Park & Beach Club! Wildwood's boardwalk also flaunts arcades, an aquarium, mini-golf, bike rentals, go-karting, and Ripley's Adventure Maze! When sunset approaches, a view from north Wildwood's Hereford Inlet Lighthouse will impress any kid. At night, grab a slice at Sam's Pizza, seafood from Jumbo Seafood Grille, Beach Creek, The Wharf, or Jersey Girl, and dessert from Sea Shell Ice Cream!
Where to stay in Wildwood with kids: If you're hoping to stay in Wildwood, consider options like The Adventurer Oceanfront Inn, Seapointe Village Resort, Port Royal Hotel, Pan American Hotel, and Fleur de Lis Beach Resort. Or, rent a spacious home from VRBO. No matter what your family's needs are, you're sure to find the ideal accommodations in Wildwood!
Spring Lake, NJ

Head to Spring Lake for a quieter Jersey Shore! Families love this tranquil town, sporting a bikeable boardwalk and gorgeous central lake area for fishing, boating, or spotting architecture. Nearby, Divine Park also has an expansive tennis court open to families! Since no food is allowed on the beach, many families pack a picnic or visit nearby Asbury Park Beach, known for its restaurants, shopping district, and live music. Sunbathe or swim in Spring Lake via access points throughout the beach area, provided you purchase a tag. Families also love Third Avenue features, a cute commercial hub lined with boutiques, restaurants, and rental shops. Stop for a slice at Spring Lake Pizzeria or skip straight to Hoffman's Ice Cream for some delectable dessert!
Where to stay in Spring Lake with kids: Families staying awhile can find cozy, oceanfront accommodations on VRBO. Or, consider The Breakers on the Ocean, which is within walking distance of restaurants, local activities, and the Wildwood Boardwalk. Then, Chateau Inn and Suites offers a variety of rooms and suites, including kitchenette options.
Montauk, NY
Montauk is another of the best family beach trips within three hours of NYC! Located at The Hamptons' very end, it is a walkable town, particularly for older kids. Teens who love surfing will enjoy Ditch Plains Beach, home to numerous surf schools, and plenty of waves to practice. Kirk Park Beach is also suitable for those with younger children. Every Wednesday during summer, The Surf Lodge also hosts a family night with live music, activities, and more! Montauk offers plenty of additional family-friendly attractions, too, like visiting the Montauk Point Lighthouse or exploring the historical Camp Hero State Park. Aside from hiking, Montauk is also a great spot for fishing, chartering a boat, or renting a bike to ride through town. Or, horseback ride at Rita's Stable! Either way, stop at Crow's Nest for dinner, which has a huge beach area for kids to roam!
Where to stay in Montauk with kids: Families looking to stay in Montauk will find no shortage of kid-friendly options! Consider hotels like Gurney's Montauk Resort & Seawater Spa, located directly on the beach. Or, Hero Beach Club, which offers several spaces to curl up with a good book, like the beautiful beach, on pool-side loungers, or in the garden. Hotels like Driftwood On The Ocean, Beachcomber Resort at Montauk, and Beach Plum Resort are also worth considering
*Thank you to Hamptons Moms contributor for helping us compile this section.
Book Gurney's Montauk Resort & Seawater Spa using Hotel.com now.
Thank You to Our Community
No matter where you visit, we're sure you'll love your next summertime adventure near NYC! A special thank you to the Families Who Love to Travel Facebook community who helped to compile this list of 13 Best Family Beach Trips Within Three Hours Of NYC! Families Who Love To Travel is a group of amazing families who love adventure and exploring through travel. Join the Facebook community and the Instagram community to connect with other families who love the unique experiences travel has to offer.
*Due to the COVID-19 pandemic, many of the accommodations, restaurants, or activities on this list may also be closed or have reduced services. Please ensure availability before making your decision.
*This post may contain affiliate links that may earn us a small commission, at no additional cost to you. Affiliate links in no way inform the hotels, sights, products, or other recommendations included in our articles. All opinions and recommendations expressed here are compiled from submissions submitted by the generous members of our Families Who Love To Travel community.
READ NEXT:
Best Cute Towns To Visit With Kids Near NYC
Best Kid-Friendly Summer Lakes Within 4 Hours of NYC
6 Stunning Family-Friendly Beaches And Swimming Holes In The Catskills
Planning a family vacation to the Hawaiian Islands promises an unforgettable experience filled with stunning...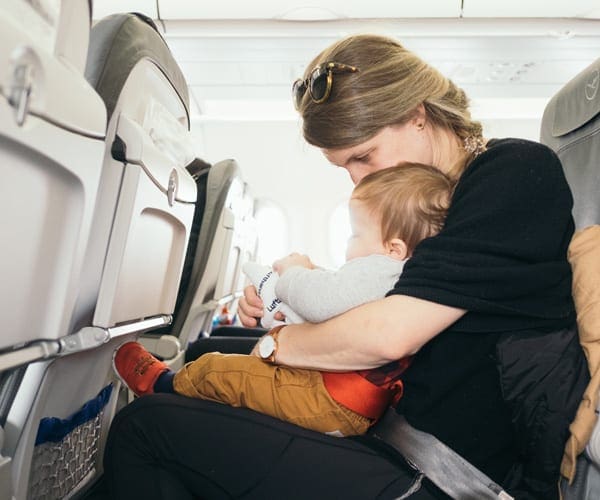 Families Who Love To Travel contributor Meghan Oaks provides her 10 best tips for your...