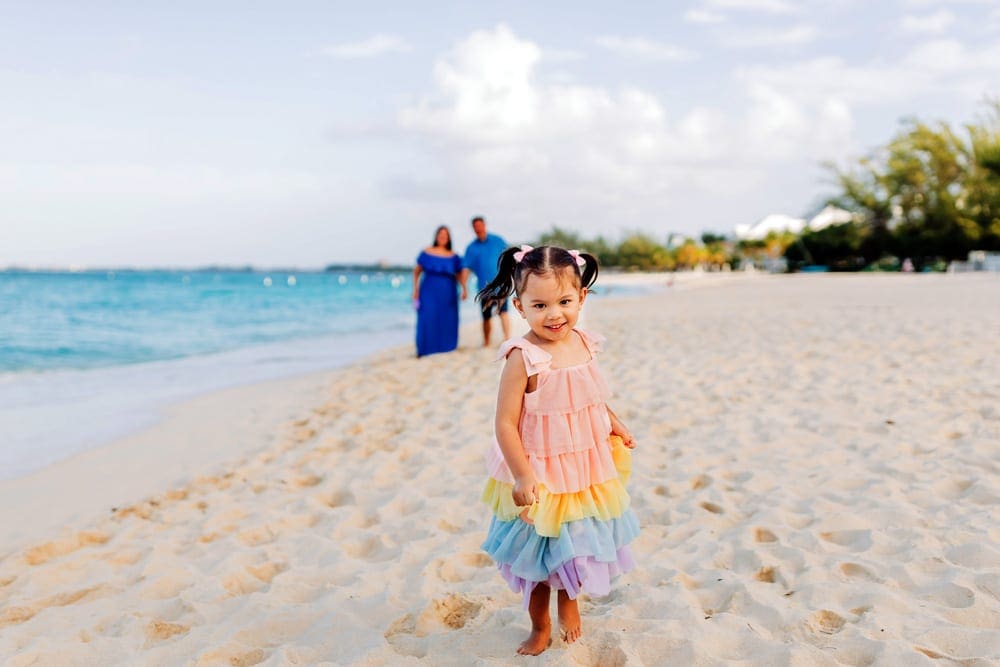 If you're searching for the best resorts in Grand Cayman, you've come to the right place! Famous for its stunning white-sand beaches, modern tourist infrastructure, and delicious cuisine, this Caribbean island appeals to travelers of all ages and interests. Whether you're in the mood to sunbathe all day, take a local tour of the island, or try your hand at water sports, you'll find endless opportunities to step outside of your comfort zone on Grand Cayman. Of course, you'll need somewhere to rest your head at the end of the day. That's why we've cherry-picked some of the best accommodations around! From luxury hotels like the Caribbean Club Hotel to reliable chains like the Ritz Carlton, families will have their choice of some of the sweetest digs imaginable. Next time you need some suggestions, check out this parent-approved list of the Best Family Resorts in Grand Cayman!
The Ritz-Carlton, Grand Cayman
Reserve your suite directly at The Ritz Carlton, Grand Cayman on RitzCarlton.com!
Book your trip to The Ritz Carlton, Grand Cayman with Agoda today!
Book your stay at the Ritz Carlton for your next Grand Cayman vacation with kids! Spanning a scenic 144 acres along Seven Mile Beach, this luxury Grand Cayman hotel offers families an elevated island experience. In fact, it combines the reliability of the famous Ritz Carlton brand with a spontaneous local spirit, making for a one-of-a-kind adventure! Families can appreciate the authenticity of the Cayman Islands through whimsical, elegant, and kid-friendly accommodations or amenities. Signature spa treatments draw inspiration from the Caribbean Sea, dining infuses local flavors into international dishes, and hotel activities excite the entire family. This includes a nine-hole golf course and Jean-Michel Cousteau's Ambassadors of the Environment outdoor program, aiming to engage guests of all ages! It's no wonder this is one of the best family resorts in Grand Cayman!
Why The Kids Will Thank You
Active kids will love The Ritz Carlton Grand Cayman! Featuring two outdoor pools and an oceanfront soaking tub, guests of all ages will find entertainment here. The Ritz Kids Program is also open to children from 4-12 years old. It offers outdoor activities, obstacle courses, dance parties, karaoke, and so much more! Kids will also love the Blue Iguana Volunteer Program, stargazing with a telescope, and snorkel lessons which are all offered through the hotel.
Additionally, the resort has its tennis club, basketball courts, and a nine-hole golf course. Water sports are also offered by the hotel, including sailing, snorkeling, kayaking, rafts, and water toys. Take a Glass Bottom Boat Expedition or join Ambassadors of the Environment on a hydrofoil boat to observe historical shipwrecks, colorful reefs, and active marine life. Hotel guests also have access to the Starfish Cay, a waterpark with attractions for the whole family!
Why Parents Love It
Parents have a lot of reasons to love The Ritz Carlton in Grand Cayman. Here, adults can experience Swiss spa expertise at the hotel's La Prairie Spa, which offers facials, massages, and body treatments. If your spouse wants to tag along, the spa also features relaxing sanctuaries for both men and women. The Ritz Carlton Grand Cayman also has a state-of-the-art fitness center open daily to squeeze in a workout. Aqua facilities, group training, and fitness classes are also available, depending on the hotel's schedule. This elegant lounge offers island-inspired cocktails, Caribbean cigars, afternoon tea, and live entertainment on Friday and Saturday evenings. Babysitting (with an option for extended hours) and car rental services are available on request!
What Our Families Say
"The Ritz Grand Cayman is awesome for kids! We went two years in a row! They have an awesome mini water park and kids eat free (we never knew this until half of our first trip was over). It's also a very safe island and you can take public transportation anywhere! Lots to do for kids on the island too!"

– Karen Pedri Tran
RELATED ARTICLE: Click Here to Read This Parent Review: Ritz-Carlton Grand Cayman
Kimpton Seafire Resort + Spa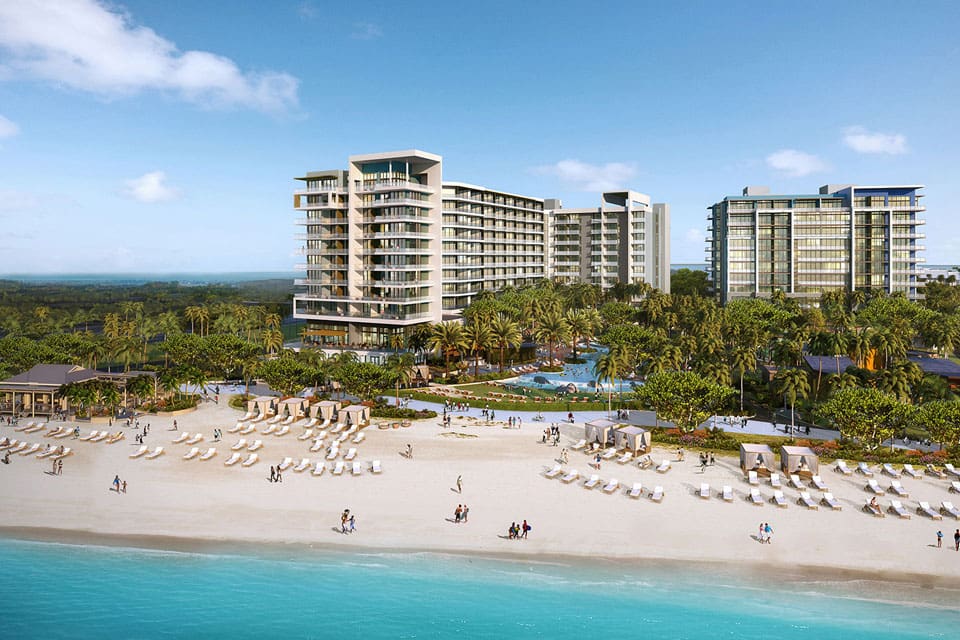 Reserve your stay at The Kimpton Seafire with Hotels.com today!
Find the best deals on The Kimpton Seafire by using Expedia now!
The Kimpton Seafire caters to kids of all kinds! Set on the world-famous Seven Mile Beach, this family-friendly resort will impress you from the moment you arrive here. The scenic property offers new adventures at every turn, with winding paths that lead to lush gardens, pristine pools, and an amazing view of the ocean. Plus, as one of the best resorts in Grand Cayman, you'll find an abundance of activities for little ones of all ages here! Between water sports, lounging by the pool, and taking a tour of nearby Grand Cayman, you'll find plenty of time to enjoy the great outdoors. Inside the hotel, personalized, attentive service, comfortable guest rooms, and stunning architecture add to the ambiance. Not to mention amenities for adults too! Whatever you're seeking from your Grand Cayman family vacation, you'll definitely find it at the Kimpton Seafire.
Why The Kids Will Thank You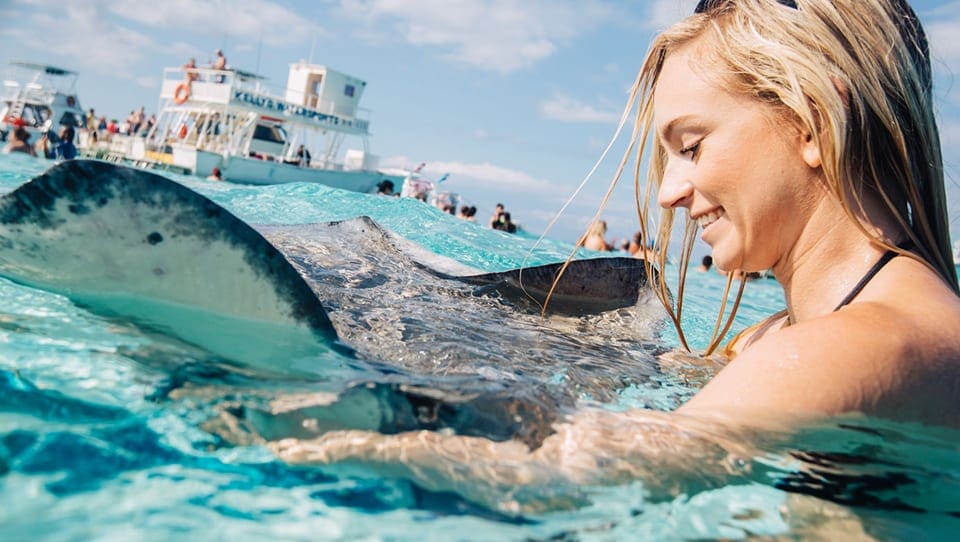 Kids can't wait to visit the Kimpton Seafire! Surrounded by comfy lounge chairs and private cabanas, The Seafire Pool is a family-friendly spot to spend your afternoons relaxing. For the more active families, there are also watersports. Try kayaking, sailing, paddle boarding, and jet skiing! If kids want to make friends, the kids club, Camp Seafire, offers well-planned programs for ages 4-12, featuring a creative theme each day! When the sun sets, Camp Seafire's evening program provides a unique alternative to the typical sunset cruise. Camp Seafire at the hotel also organizes summer camps and special packages. When families want to leave the hotel, the resort also has a partnership with Red Sail Sports whose tours and activities are ideal for experiencing Grand Cayman. Be sure to book the North Sound Eco Safari which takes you on Grand Cayman's crystal clear waters aboard a luxurious catamaran.
Why Parents Love It
Why should parents visit the Kimpton Seafire? Because adults need alone time too! Catering to older guests, The Kimpton Seafire Resort & Spa has a fully-equipped fitness center with state-of-the-art equipment: treadmills, elliptical cross trainers, exercise bikes, weight machines, and more. There are occasional fitness classes offered, which include beach yoga, Boxfit, and paddleboarding. For when parents want to relax, the adjacent spa features seven treatment rooms with a range of services: massage therapy, body treatments, facials, manicures, pedicures, and more. Need to end your day with a drink or two? The resort hosts Featured Foodie Nights, featuring anything from margarita nights to weekly social dining experiences. There is something for any discerning gourmet to enjoy! For smaller children or families who would like childcare in their guestrooms, Camp Seafire provides a nanny service. Parents can also take the opportunity to extend their date night!
What Our Families Say
"Absolutely loved the Kimpton Seafire in Grand Cayman. They have a great kids club. A smaller resort, but customer service is impeccable!"

– Hazel V. Adriano
RELATED ARTICLE: At-A-Glance: Grand Cayman Trip Review (Click Here)
The Westin Grand Cayman Seven Mile Beach Resort & Spa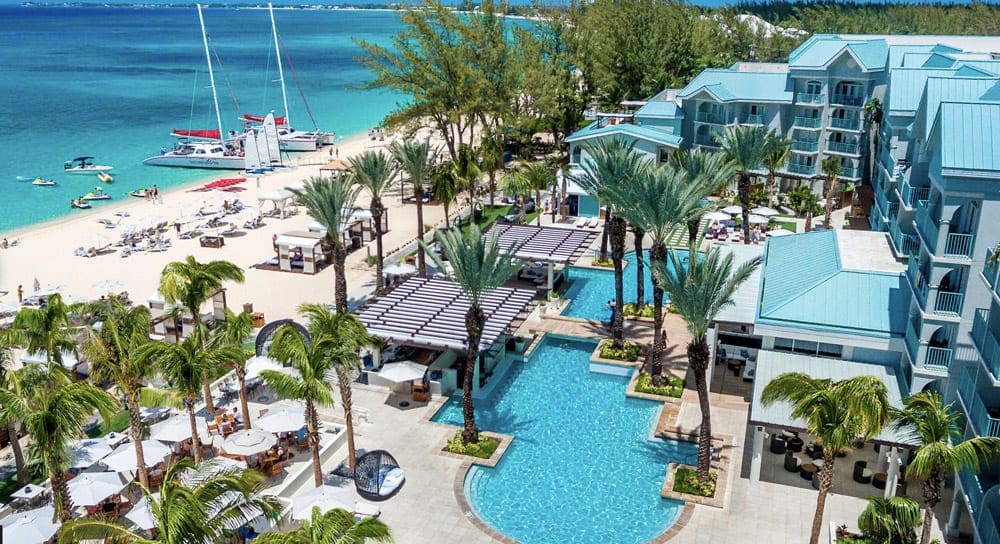 Ready to book your stay? Reserve directly through Marriott.com now!
Interested in this hotel? Book your stay through Hotels.com today!

The Westin Grand Cayman Seven Mile Beach Resort & Spa is one of the best family resorts in Grand Cayman! Overlooking the famous Seven Mile Beach, this family-friendly Caribbean resort is located in the heart of Grand Cayman's tourist center. That means you're never too far away from the island's hustle and bustle, including some of its best attractions! Guests will have everything they need for a relaxing getaway here, with easy access to shopping, golf, and water sports. Plus, you can't beat the view! The Westin is regarded as one of the most pristine properties in Grand Cayman, nestled along a white sand beach. Luxurious accommodations range from lavish suites to one-, two-, or three-bedroom apartments. Spend your afternoons with kids relaxing seaside, by the pool, or discovering the island's unique local culture. Make your family's next Grand Cayman vacation a memorable one by booking a stay at The Westin!
Why The Kids Will Thank You
Kids can't get enough of The Westin Grand Cayman! For little ones who love splashing, the hotel boasts the largest freshwater pool in Grand Cayman, as well as two hot tubs. Water sports include banana boat rides, kayaking, stand-up paddleboarding, wakeboarding, and water skiing. The Westin Grand Cayman has also partnered with Red Sail Sports to provide guests with discounts on local tours. Or, learn to dive at the resort under the guidance of professional instructors! Other activities include Breakfast with the Rays, an early morning sail aboard a catamaran to Stingray City.
Why Parents Love It
If you and yours need some hours to relax away from the kids, The Westin Grand Cayman has you covered. Parents can treasure quality time while little ones are off at the kids club. Start your afternoon with a cocktail from the poolside bar, sunbathing in a stylish setting. Multiple restaurants on-site selling food also means you'll never go hungry! In need of some pampering? First, head to The Hibiscus Spa, which promotes a total lifestyle approach that encompasses body, mind, and soul. Holistic treatments provide the most complete and beneficial services to each guest. If you need to break a sweat, The WestinWORKOUT® Fitness Studio is also the perfect place to keep up with your daily exercise routine. With countless amenities for all ages, it's no wonder The Westin Grand Cayman is one of the best family resorts in Grand Cayman!
What Our Families Say
"Grand Cayman was one of our best and most memorable family vacations! We stayed at the Westin Seven Mile Beach. They had Friday night fireworks, weekend dinner specials/events. Their chef is awesome! They have water activities like kayak, paddle boarding, etc. Their kids' zone (daycare) was really nice as well. We had a great experience on the whole island. We also did the stingray tour through Red Sail-they are awesome! This tour will also take you to the starfish beach which was a great experience! We also went to the turtle farm. Lots of good restaurants all around the island. Enjoy!"


– Charo Bautista
RELATED ARTICLE: Here are the Best Blogs for Visiting the Cayman Islands with Kids to Help You Plan!
Regal Beach Club
Book your family's stay at The Regal Beach Club using Hotels.com today.
Reserve a room at The Regal Beach Club using Booking.com now.
Let your worries fade away at The Regal Beach Club! Situated along Seven Mile Beach, this luxury, kid-friendly resort invites families to unwind in a legendary location. Staying here will almost be like your own private sanctuary, with manicured pathways leading to outdoor pools, elegant accommodations, and the stunning Caribbean Sea. Plus, families staying at the Regal Beach Club can even book vacation rental condos – two and three-bedroom Villas offering luxurious accommodations for a family vacation. No wonder it's one of the best family resorts in Grand Cayman! With all the amenities you'd expect from a big resort, the hotel also provides a uniquely tranquil ambiance for your tropical getaway. Relax seaside with a drink in hand while kids sunbathe, swim, or play watersports. Then, escape to island shops, restaurants, or family-friendly evening entertainment nearby. The fun is endless when you stay at the Regal Beach Club!
Why The Kids Will Thank You
Kids are treated like royalty at the Regal Beach Club. For little ones who love the water, the resort offers direct beach access, alongside multiple swimming pools and a Jacuzzi. Plus, there's even a special kids pool with shallow water (and a flowing waterfall!) where little ones can play with friends! If you prefer the beach, you'll be delighted to discover complimentary beach chairs and toys along Seven Mile Beach. There, you'll also have access to a variety of water sports depending on your child's interests or age. Many rental shops are located in nearby Camana Bay or through the Marriott Hotel. The club also has a tennis court if you want to challenge each other to a friendly game. Of course, don't forget to savor the scenery! Take a peaceful family stroll along the white powder sand at sunrise or sunset for a spectacular experience you'll never forget.
Why Parents Love It
Adult amenities at the Regal Beach Club will impress any well-seasoned traveler. While little ones explore, feel free to lounge by one of many pools, hot tubs, or Jacuzzis. There's even a special adult pool where parents can sit back with a drink in hand. In case you want to fit in a workout, be sure to head to the fitness center for access to top-notch equipment. You're also within walking distance of the Cayman Yoga Club, a wonderful studio where adults can book classes. Nearby, you'll also find coffee shops, delicious restaurants, and the Marriott Hotel. Here, guests of the Regal Beach Club can enjoy afternoon tea or scrumptious Sunday brunches. In the mood for a shopping spree? Nearby Camana Bay also boasts a lively atmosphere no matter what time of day. Satisfy your cravings at a local farmer's market, browse boutiques, and enjoy the ambiance!
What Our Families Say
"The Regal Beach Club is our FAVORITE place! We have been three times with our kids the first time when they were 3, 3, and 8.

Excursions: Stingray City – we have tried out different tours and prefer Acquarius. They serve lunch and have a bathroom on board – very helpful when traveling with kids! We have been to the Turtle Farm but we were not wildly impressed. We thought Rum Point was fun but it's about a 40-minute drive from Seven Mile. If you head to the Eastern part of the island the Blowholes were cool too!

Restaurants that we love: The Wharf (kids get to feed the tarpon which they find fun), Cassanova (best service!), Coconut Joe's (great for lunch/super casual), Verandah (at the Marriott), and Papagallo. Again, if you head to the eastern part of the island we love Tukka (you can feed the frigate birds which is pretty cool) and Taco Cantina, both owned by the same person. Have fun – the locals are SO friendly and it is an overall beautiful island!"

– Kristen Kralovenec Roy
RELATED: Best Things To Do In Grand Cayman With Kids (Off-Resort)
Grand Cayman Marriott Beach Resort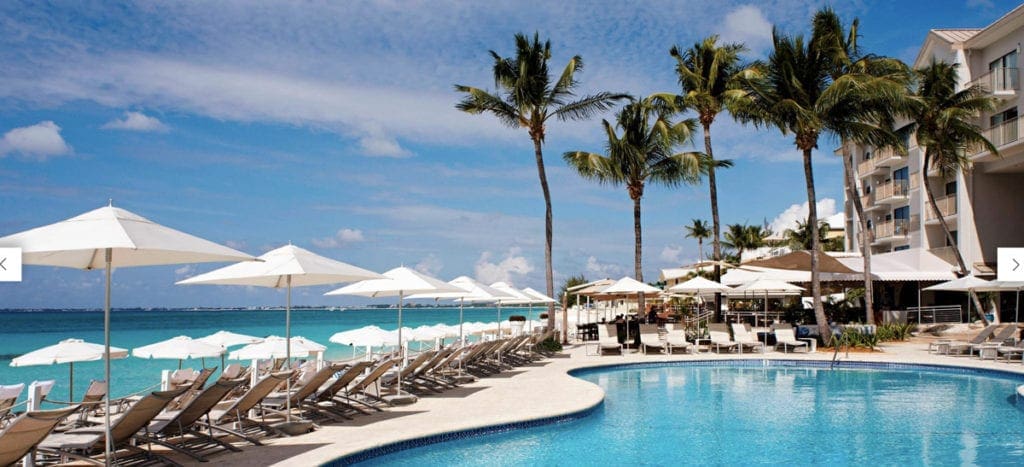 Reserve a room at Grand Cayman Marriott Beach Resort using Expedia now.
Book your family's stay at Grand Cayman Marriott Beach Resort using Travelocity today.

Cherish endless fun in the sun at the Grand Cayman Marriott Beach Resort! Located on the iconic Seven Mile Beach, this kid-friendly oceanfront resort showcases the very best of Grand Cayman. Families staying here also have access to a wide variety of activities, from snorkeling to paddle boarding or swimming. Soak up the atmosphere all year long at one of the best family resorts in Grand Cayman! Not only will you find plenty to keep you entertained on-site, but you'll also be situated in the island's tourist center. Head to nearby Stingray City for a family-friendly excursion all ages will enjoy. From farm-to-table restaurants to upscale suites with private balconies, every detail is fitted to perfection here. Parents can relax and kids won't ever be bored! Definitely consider The Grand Cayman Marriott Beach Resort on your next family vacation.
Why The Kids Will Thank You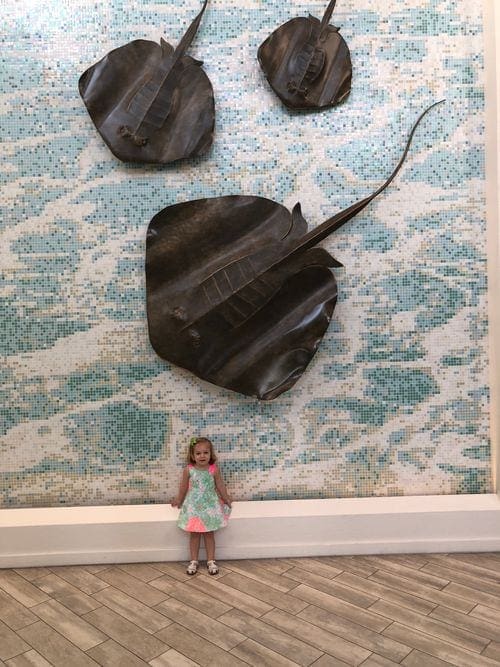 The Grand Cayman Marriott Beach Resort is perfect for active children on Grand Cayman family vacations. Take in amazing views of the Caribbean sea as little ones splash in the hotel's beachfront freshwater pool.
Plus, the hotel's strategic location on Seven Mile Beach will work to your advantage. Guests of the Grand Cayman Marriott Beach Resort have access to unlimited watersports! Kids will love kayaking, sailing, jet-skiing, and more. Or, dive to the depths of the ocean with a certified snorkeling instructor. This snorkeling spot is well-known across the island! There are also bike rentals to explore nearby trails. On rainy or hot days, indoor activities like a jam-packed game room provide children with something else to do. When parents want some alone time, the Kids' Club caters to children between ages five and twelve with daily activities. On certain Fridays, the whole family can come together for a Buccaneer's Feast!
Why Parents Love It
Parents can customize their stay at the Grand Cayman Marriott Beach Resort. If you want to sunbathe and relax all day, sprawl out by the pool with a drink while kids are off playing. Once you're tired of the heat, you'll find plenty to do inside. Pamper yourself at the Botanika Union, the hotel's on-site spa. Nourish your mind, body, and soul with any treatment you choose! The hotel also has a fully-equipped fitness center for parents who want to workout. After, treat yourself to a handcrafted cocktail from one of the hotel's elegant restaurants. Plus, the resort also offers babysitting services for couples who want to spend a date night together. The Grand Cayman Marriott Beach Resort is also just two miles away from the island's bustling capital, George Town. Browse the shops or try a meal from one of the local restaurants!
What Our Families Say
"We loved the Marriott in Grand Cayman – from the moment you walk in their doors the staff is so accommodating. They went above and beyond for my daughter when she broke her toy turtle. Instead of telling us where to find a new one, they went out of their way to get her a brand new one and delivered it to her the next day! The hotel offers great food and live music, as well as easy access to the beach and their tethered floats and the pool that is a peaceful oasis. The hotel is also a quick walk to Camana Bay which is a great place for kids! We loved it there!!"

– Tara Nechev
RELATED ARTICLE: 12 Best Caribbean Islands for Families
Caribbean Club Hotel Grand Cayman
Book your hotel stay at Caribbean Club Hotel with Hotels.com now!
Interested in this hotel? Reserve your stay through Travelocity today!
Families shouldn't hesitate to make the Caribbean Club Hotel in Grand Cayman a home-away-from-home. As one of the most exclusive Caribbean boutique hotels, this luxury resort caters to travelers seeking an up-scale experience. It's also great for families to enjoy a wide array of activities for all ages! Between spacious one-, two-, or three-bedroom suites, villas overlooking the water, and fully-equipped kitchens, your every need will be cared for here. Nearby Seven Mile Beach provides the perfect backdrop for your family's vacation itinerary too, with access to water sports, beach chairs, and other warm-weather fun. Not to mention nearby attractions that are a must-visit for tourists! All the while, you'll feel like you're living in a tropical paradise. After all, The Caribbean Club Hotel is known as one of the best family resorts in Grand Cayman because guests always leave feeling refreshed, pampered, and grateful for a new day.
Why The Kids Will Thank You
Kids will jump for joy because of the Caribbean Club Hotel's extensive activity roster! Though there aren't any specific kids' clubs here, families will be more than satisfied with all the amenities the hotel offers. Of course, all ages are welcome to stay, but the Caribbean Club Hotel is known as one of the best Grand Cayman resorts for older kids or teens due to this lack of on-site childcare. Nonetheless, anyone who loves the water will have a blast at the beachfront pool, framed by the luscious flora and a cascading waterfall. When you want to venture out, the hotel is happy to arrange excursions with local tour companies or water sport rentals. Try paddleboarding, snorkeling, or jet-skiing during your vacation! Two of the most popular tour companies here are Red Sail Sports and Waterman. Outside babysitting services can also be arranged by the concierge.
Why Parents Love It
Parents will be pampered to no end at the Caribbean Club Hotel Grand Cayman. While you're lounging by the beachfront pool, don't forget to peruse the menu for a drink or bite to eat. The hotel also offers a unique feature for adults who want to bring luxury straight to their suite. If you're craving a little relaxation, book an in-room massage through the concierge! You'll receive all the best parts about visiting a spa without ever leaving your room. Or, sneak in a workout at the fitness center to start your day on a high note. By evening, the property allures adults with the promise of a nice meal and good company. Luca, the on-site restaurant, has an amazing wine selection. Book a babysitter for the night and go on a date! Flexibility is why this is one of the best family resorts in Grand Cayman.
What Our Families Say
"It's GREAT for families because you can get a condo with up to four bedrooms with full kitchen and laundry room. If you get a ground floor unit, it's just steps to the ocean and pool. Also, the pool and beach are never crowded and 7 mile beach is gorgeous!"

– Sarah Aaronson
RELATED: 6 Parent-Trusted Tips For Snorkeling With Kids
Happy Travels!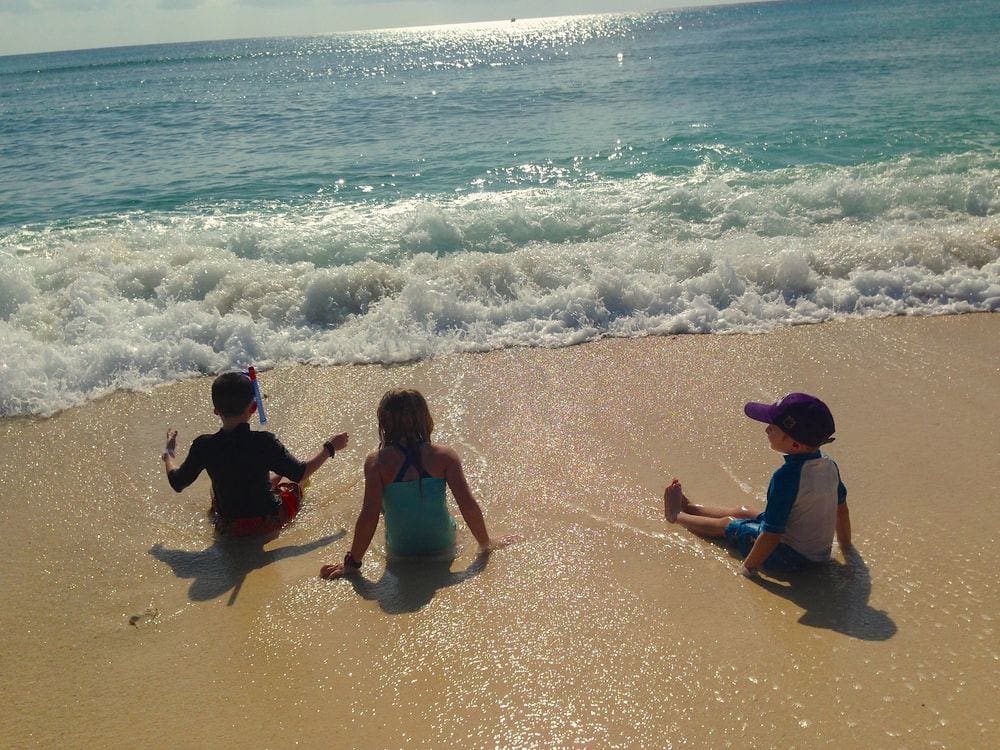 We hope you've enjoyed our list of the Best Family Resorts in Grand Cayman! Regardless of when you visit this stunning Caribbean island, you'll have a blast with your family. Grand Cayman family vacations are sure to inspire memories for a lifetime. Have fun in Grand Cayman with kids!
*This post may contain affiliate links that may earn us a small commission, at no additional cost to you. Affiliate links in no way inform the hotels, sights, products, or other recommendations included in our articles. All opinions and recommendations expressed here are compiled from submissions submitted by the generous members of our Families Who Love To Travel community.
READ NEXT: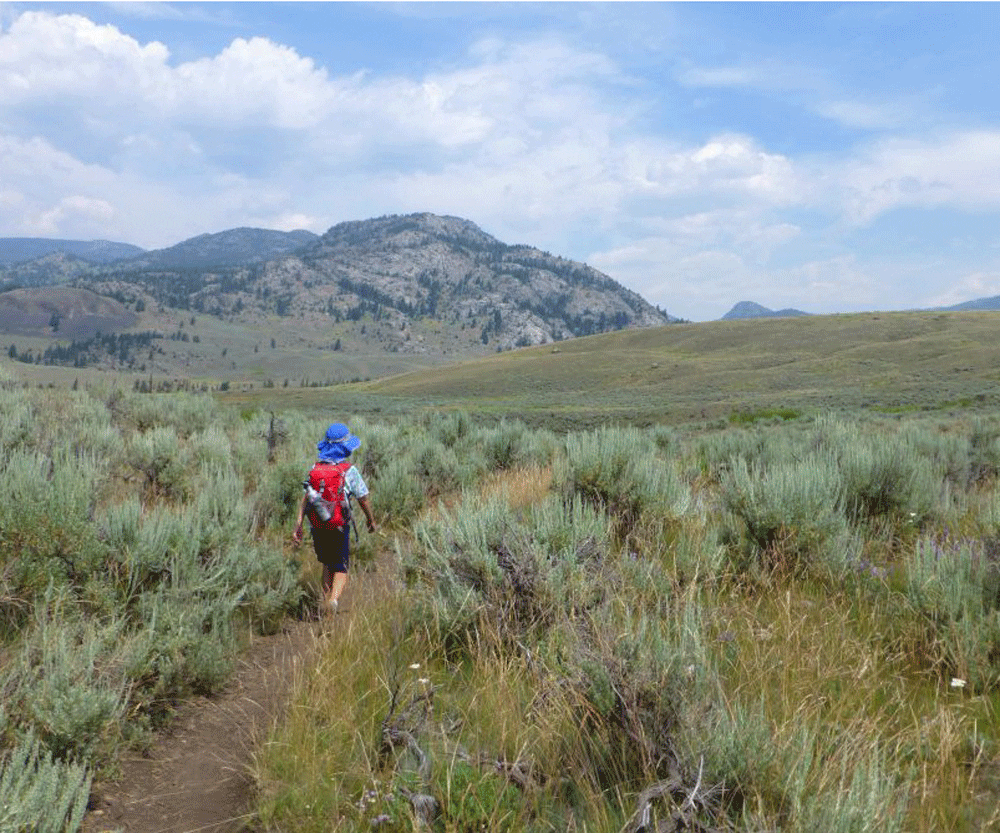 Everyone knows that Yellowstone National Park makes for a classic family vacation. Strolling the boardwalks...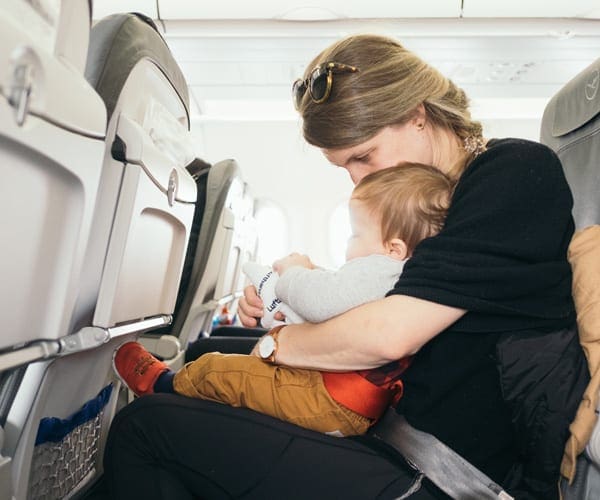 Families Who Love To Travel contributor Meghan Oaks provides her 10 best tips for your...