What could be more unique than visiting a one-of-a-kind New York City restaurant with your kids? While every family planning a trip is consumed with researching attractions, don't forget to take breaks in between to eat! From the Upper West Side to Brooklyn, foodies will find plenty of inspiration throughout the boroughs. Whether you want to enjoy an elegant afternoon tea at The Plaza Hotel or get spooky at Beetle House, New York City truly has it all! Some restaurants may be costlier than others, but people often visit for the novelty value. Depending on your children's ages and where you'll be staying, we recommend choosing at least one or two from this list for a special occasion. For your convenience, we've also divided our choices by neighborhood. Keep reading for our list of 12 Unique New York City Restaurants To Visit With Kids!
RELATED: Best Things To Do In New York City With Young Kids
Unique Restaurants in Midtown to Visit with Kids
Unique attractions are all around you in Midtown, and the restaurants here definitely match. Whether you're in the mood for singing waitresses or to eat surrounded by rock-n-roll memorabilia, you won't be short on options. Here are our favorites for families!
Gayle's Broadway Rose
Listen to some of New York's rising talent at Gayle's Broadway Rose! Nestled in the heart of Times Square on 44th Street and 8th Avenue, this family-friendly restaurant captures the magic of nearby Broadway through its singing waitstaff. From the moment you arrive, you'll feel like you're watching a real musical with an interactive twist, since the staff is friendly and immensely talented. Choose from specialty sandwiches such as braised brisket, burgers, or even fish and chips on the menu. Though there's no Kids' Menu here, the regular menu is pretty extensive and has options kids will like. For example, you could order chicken strips, mac & cheese, or grilled cheese. Enjoy your food as your server belts out some Broadway classics, including some pop songs in the mix. Without a doubt, this special experience is one of the most unique New York City restaurants to visit with kids!
Ellen's Stardust Diner
Ellen's Stardust Diner is without a doubt one of the most unique New York City restaurants to visit with kids! Located on 51st Street and Broadway in the heart of the Theater District, this kitschy, 1950s-themed diner has it all. Expect great food, a hopping ambiance, and even singing servers! You'll find anything from mac and cheese bites to burgers, pasta, and meatloaf on the extensive menu. There's even a specific kiddie menu with chicken nuggets, mozzarella triangles, and hot dogs. Parents will appreciate the fully-stocked bar. If not for the food alone, come for the experience of seeing an impromptu Broadway show inside a diner. There are multiple floors, but some of the best entertainment always seems to be on the first, where families can interact with the servers and immerse themselves in the show. Who knows, if you request a song, they may even sing it!
NOTE: Ellen's Stardust Diner is temporarily closed due to COVID-19, but plans to reopen sometime in August. Keep an eye on their website for updates! 
Redfin asked us about our favorite unique activity in New York City. Check out the article we were featured in: Get in the Empire State of Mind with These 15 Unique Things to Do in NYC | Redfin
Unique Restaurants near Central Park to Visit with Kids
Strolling through Central Park can sure work up an appetite! If you're looking for unique restaurants in the area, keep reading! 
Afternoon Tea at The Plaza Hotel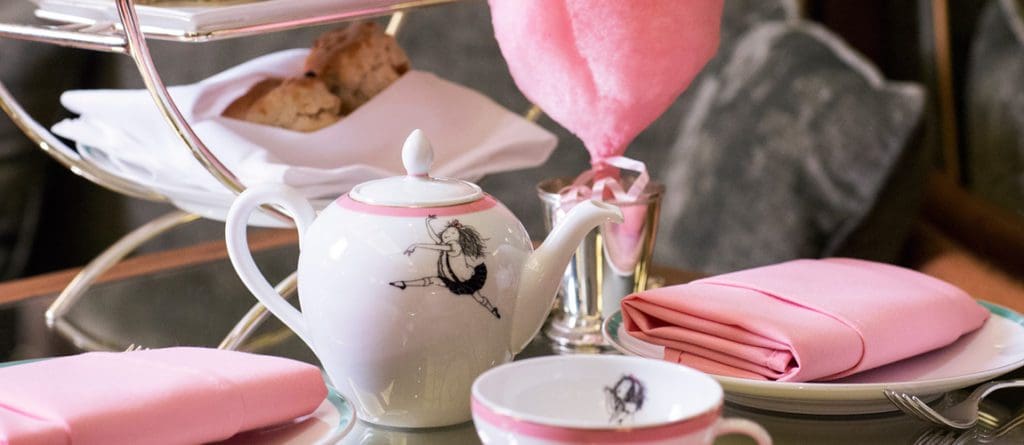 Kids can't pass up the opportunity to feel like they're in Eloise At The Plaza! Located on 5th Avenue and 58th Street across from Central Park, the iconic Plaza Hotel is famous for its afternoon tea. Served daily from 10:30 AM to 5:30 PM at The Palm Court, you can enjoy a variety of tea flavors accompanied by small finger food. Kids will love the different kinds of cookies, scones, and other sweets! There are three packages: a standard one including a pot of tea and three tiers of sweets and sandwiches, one for parents with champagne, and a special Children's Eloise Tea. Though it's a bit more expensive, this package is great for kids because it includes extra touches like peanut butter and jelly sandwiches and cotton candy. No matter which option you choose, make a reservation since afternoon tea is really popular!
Don't lug the baby gear with you on your next trip to New York City! Rent everything you need using BabyQuip.
Alice's Tea Cup
Brunch at Alice's Tea Cup is the perfect way to spend an afternoon near Central Park! Located on West 73rd Street and Columbus Avenue, it's one of three locations, but surely the most iconic. (There's another Chapter on East 64th and Lexington Avenue, and a to-go one in Brooklyn.) We'd definitely consider it one of the most unique New York City restaurants to visit with kids! With an adorably decorated dining room, this tiny tea room has a rotating menu of local and exotic blends, accompanied by a small selection of kid-friendly, light fare. Choose from green tea, earl gray, Indian chai, and a variety of other teas. Plus, enjoy delicious pumpkin, banana, or savory scones! There's also plenty of vegan, vegetarian, and gluten-free options, as well as a few entrees like roast chicken and ham sandwiches. Try to visit during the week to avoid wait times!
Unique Restaurants in Downtown Manhattan to Visit with Kids
Downtown Manhattan houses some of the city's most famous sights, so it's no surprise some of the best restaurants in New York are here too! From Greenwich Village to Union Square, check out these awesome places to eat.
Beetle House
Fans of Tim Burton can't miss the chance to visit Beetle House! Inspired by popular movies like The Nightmare Before Christmas, it's located on East 6th Street and 2nd Avenue in the East Village. Though this spot is fairly small, just like its menu, it's still a worthwhile stop to enjoy the ambiance. Inside, you'll find themed decor sure to catch your kids' eyes. There isn't an official Kids' Menu here, but the regular menu has options little ones may enjoy, like mac & cheese, wings, or burgers. Specialty cocktails for parents also come according to themes, like the Alice's Cup O' Tea. Keep in mind the atmosphere changes the later it gets since it's also a bar. Visit earlier in the evening for the best experience with younger kids. Teens may also enjoy how Beetle House is one of the more unique New York City restaurants to visit with kids.
RELATED ARTICLE: 14 Best New York City Outdoor Activities For Kids
Max Brenner's
Dessert lovers can't go wrong with Max Brenner's, a restaurant specializing in all things chocolate! Somewhere between formal and casual, it's the perfect conclusion to a day of sightseeing in Union Square. Luckily, they also serve delicious food, which makes it a one-stop-shop for an amazing dinner in New York City with kids. Though the menu has become smaller in recent years, it still has good options for parents, like savory mac and cheese, burgers, pizza, or pasta. On the kids' menu, choose from tiny cheeseburgers, chicken fingers, and more tasty treats. Of course, don't forget about trying one of the decadent desserts! People love the Italian hot chocolate (you can even get it frozen in the summer), the creamy milkshakes, or the sweet waffles. Adults shouldn't miss the opportunity to try the specialty chocolate martini. If you really want to splurge, order the chocolate fondue too!
Black Tap
Black Tap is a fresh twist on the classic New York City burger joint. Dine at one of its many locations and you'll quickly realize what all the hype is about! There's one on Lower Manhattan on Broome Street, one near Herald Square on 35th Street, or one near MoMa on 55th Street between 7th and 6th Avenue. With craft beer for parents, milkshakes for kids, and a diverse menu, there's no doubt your entire family will enjoy their meal here. Try the all-American burger, the crispy chicken sandwich, and the fried mozzarella. Or, if you want something more unique, the chili cheese, pizza burger, and Mexican burgers are also an interesting fusion of flavors. Get some BBQ wings, fries, or onion rings on the side. Be sure to leave room for one of their famous "Crazy Shakes" made of cake batter or cotton candy!
Spot Dessert Bar
Sample some of the sweetest treats in New York City at Spot Dessert Bar! Perfect for kids of all ages, this family-friendly establishment on St. Marks Place combines Asian and American flavors to produce truly one-of-a-kind desserts. Choose from signature specials such as the golden toast topped with strawberries and ice cream or the Matcha Lava Cake, filled with warm, gooey chocolate. Kids can even order The Harvest, a super fun cheesecake served in a pot sprinkled with oreo crumbs to resemble dirt! Or, the Cookie Camp, a s'mores-like dessert topped with ice cream. Try one of their delicious cookies too, available in flavors such as Nutella. Bubble tea lovers can also browse the menu for something to wash their desserts down with. (There's also coffee for parents.) If you'd prefer ice cream, they also offer some more unique flavors alongside classic ones, such as taro or raspberry sorbet.
Unique Restaurants in Uptown Manhattan to Visit with Kids
Searching for the most unique restaurants in uptown Manhattan to visit with kids? If you're staying on the Upper East Side or the Upper West Side, don't worry! You also have plenty of options, so here are our suggestions.
Serendipity 3
Serendipity 3 has been an Upper East Side fixture since the 1950s. Located on East 60th Street between 2nd and 3rd Avenue, it remains an iconic spot for all things dessert, which is sure to be enticing to children! With hanging chandeliers and an intimate atmosphere, its dining room enchants visitors all over the city looking to get their sugar fix. Here, the stars of the show, are the ice cream sundaes and frozen hot chocolates, served in a cup so big it seems like a chalice! Since portions are enormous, likely you won't even be able to finish unless you share. Of course, the menu also has regular food for kids to snack on, like burgers and fries, chicken parmesan, mac and cheese, and a variety of sandwiches. If you just can't get enough, don't forget to also grab some frozen hot chocolate to-go from the gift shop!
Sugar Factory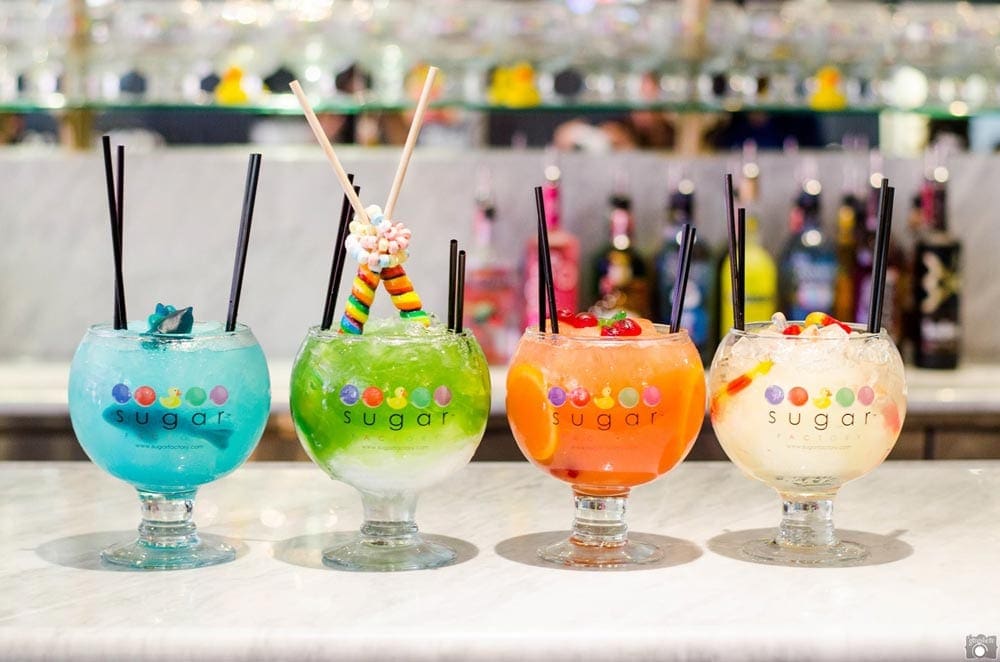 Indulge your family's sweet tooth at the Sugar Factory! Located on West 60th Street and Broadway, this famous destination has made a name for itself with the trendy, younger generation. So, if you're visiting New York City with teens, definitely put it on your itinerary! It's known for its expansive dessert menu, specialty drinks, and couture pops, but you can also order regular food and drinks too. On the menu, choose from unique options like rainbow sliders, served on different colorful buns, Or, try one of the "insane milkshakes," jam-packed with chocolate, whipped cream, or other tasty delights. Kids will love the Nutella Banana shake or the one inspired by Cookie Monster. Parents can try one of the specialty alcoholic beverages, or the whole family can share an even bigger dessert. Options range from classic chocolate cake to the King Kong Sundae, which can feed up to twelve people!
Unique Restaurants in Brooklyn to Visit with Kids
Exploring Brooklyn with your kids? Once you're in the mood for some grub, be sure to stop at this unique restaurant!
Junior's Restaurant and Bakery
Looking for the best cheesecake in New York City? You'll find it at Junior's Restaurant and Bakery! Located in downtown Brooklyn at the intersection of Dekalb and Flatbush Avenue, there's no doubt this is one of the most unique New York City restaurants to visit with kids. Junior's serves breakfast, lunch, and dinner from a menu of simple staples like BLTs, chicken sandwiches, and BBQ. However, this spot is most famous for its adjacent bakery, which serves all different types of cheesecake. Choose from classic plain cheesecake, strawberry cheesecake, or even more inventive options. Some unique flavors Junior's offers include red velvet cheesecake, carrot cake cheesecake, and even apple crumb cheesecake. Some are available by the slice, while others will require you to buy a whole cheesecake. Whatever you order, you can either take it to-go or grab a seat inside to enjoy your dessert surrounded by old-school Brooklyn memorabilia.
Where to Stay in New York City with Young Kids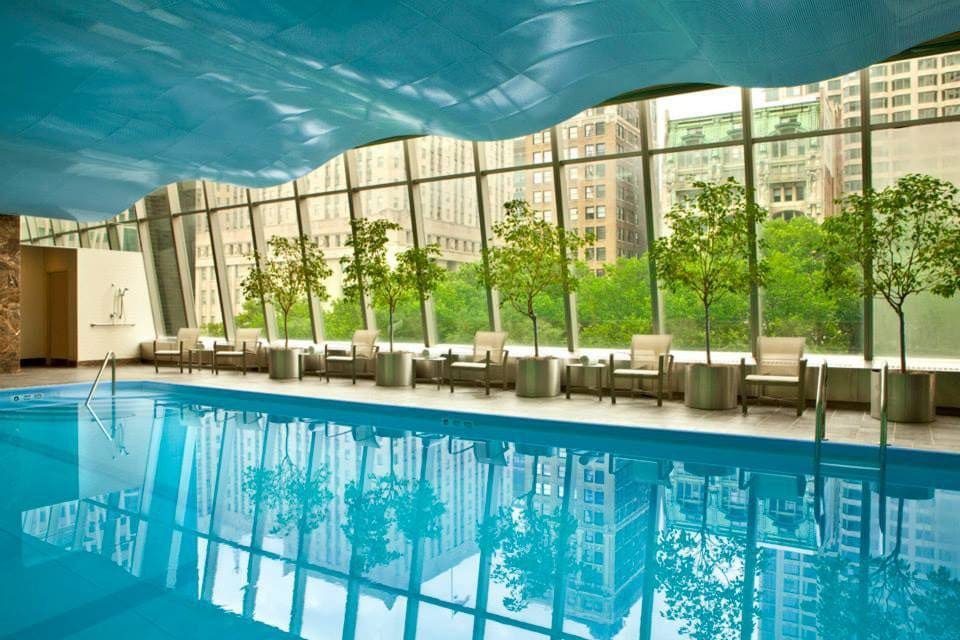 Need accommodations in New York City for your family? If you're staying in lower Manhattan, try the Millennium Hilton New York Downtown in the Financial District. Or, the trendy Greenwich Hotel in Tribeca. In Midtown Manhattan, families will love the Loews Regency New York. Finally, for an unforgettable luxury stay, we also suggest the nearby St. Regis New York.
RELATED: Best Family Hotels In New York City With A Pool (Includes 1- to 3-Bedroom Suites!)
Happy Travels!
We hope you liked this list of 11 Unique New York City Restaurants To Visit With Kids! Whether you're in the mood for American classics, delicious desserts, or more, you won't ever go hungry in the Big Apple. Enjoy New York City with your kids!
*Due to the COVID-19 pandemic, some of the attractions, accommodations, or things to do on this list may be closed. Please ensure availability before making your decision.
*This post may contain affiliate links that may earn us a small commission, at no additional cost to you. Affiliate links in no way inform the hotels, sights, products, or other recommendations included in our articles. All opinions and recommendations expressed here are compiled from submissions submitted by the generous members of our Families Who Love To Travel community.
READ NEXT: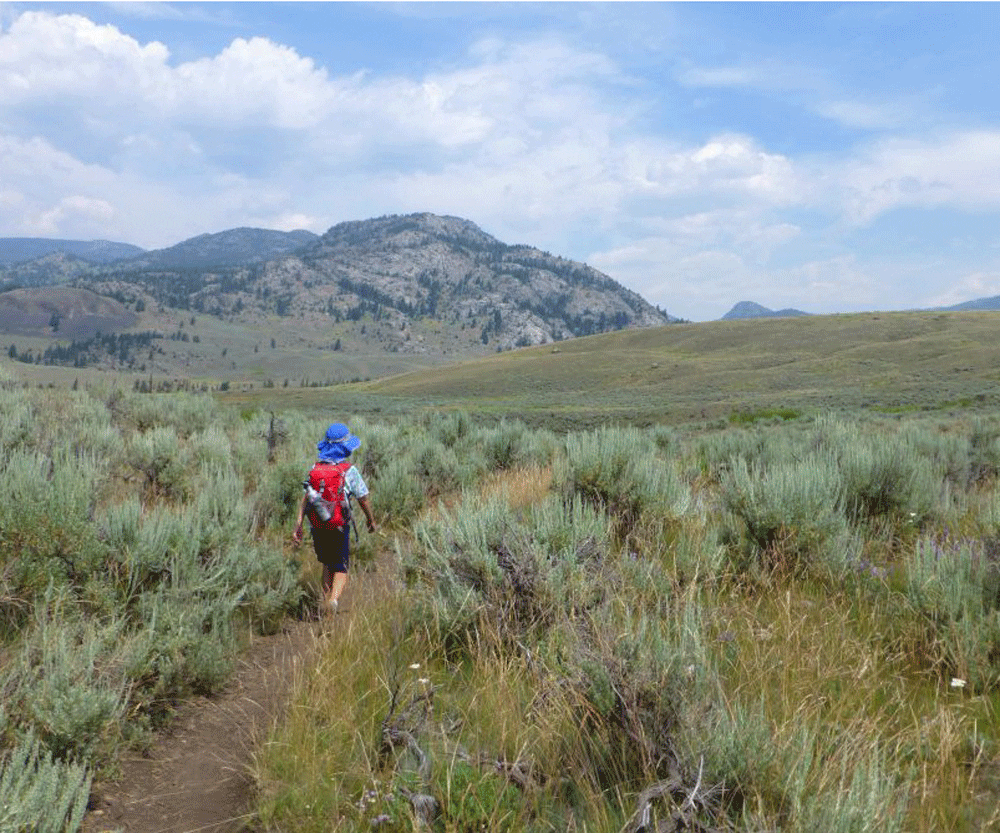 Everyone knows that Yellowstone National Park makes for a classic family vacation. Strolling the boardwalks...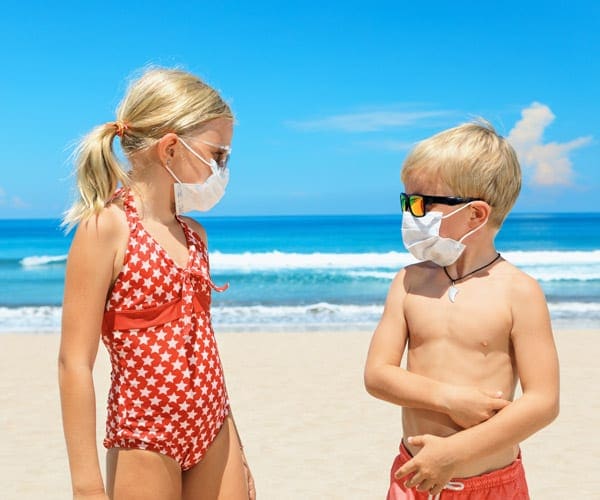 Coronavirus restrictions are now lifting across the country. We believe families need to make the...