Who's ready for some fun in the sun at these 9 best Florida beaches for families? Fortunately for parents looking to flock to a warmer paradise, the Sunshine State boasts plenty of kid-friendly attractions! Whether you prioritize extreme water sports, lounging seaside on a beautiful shoreline, or family activities around town, Florida is guaranteed to have what you're searching for in a vacation. Explore Tarpon Bay in Sanibel Island, for example, or visit Everglades National Park in Naples. From Pensacola down to Anna-Maria Island, we've compiled a list of the 9 Best Florida Beaches for Families for all kinds of interests! Use it as a resource to help plan your next itinerary with kids!
Siesta Key Beach
Siesta Key is one of the best Florida beaches for families! Accessible by car, Amtrak, or airport, lounge on three miles of Sarasota's white quartz shoreline while kids build sandcastles. For a family lunch, Siesta Beach also has picnic tables. Then, there is a tennis court and a playground to keep little ones occupied. Adventurous children can also enjoy watersports, ranging from kayaking to parasailing. Siesta Key is also famous for dolphin and whale spotting, which you can book locally to get a closer glimpse! A free trolley service provides trips from Siesta Key Village to Turtle Beach with many additional stops. Outside of the beach area, families can also explore Siesta Key Village, a boulevard lined with boutiques, restaurants, and ice cream shops. Siesta Key is one of the most popular family beaches on Florida's Gulf coast.
Pro tip: On Sundays, visit the Siesta Key Farmers Market for fresh produce, seasonal goods, and cute trinkets. Each week in Siesta Key also ends with an interactive drum circle, a dance party filled with props like hula hoops, instruments, and more!
*Be aware that while Siesta Key beach is excellent for kids, it's also known to occasionally carry dangerous rip currents.
Where to Stay near Siesta Key for Families
For ocean-front living, we recommend booking Hyatt Residence Club Sarasota, Siesta Key Beach, while visiting Siesta Key. This family-friendly Florida resort offers two- to four-bedroom condos, ideal for families who want to spread out. Or, try Siesta Key Beachside Villas, which offers no-frills amenities and studio or multi-room condos steps from the beach.
Check out parasailing at Siesta Key Beach through Tripadvisor here!
Destin Beach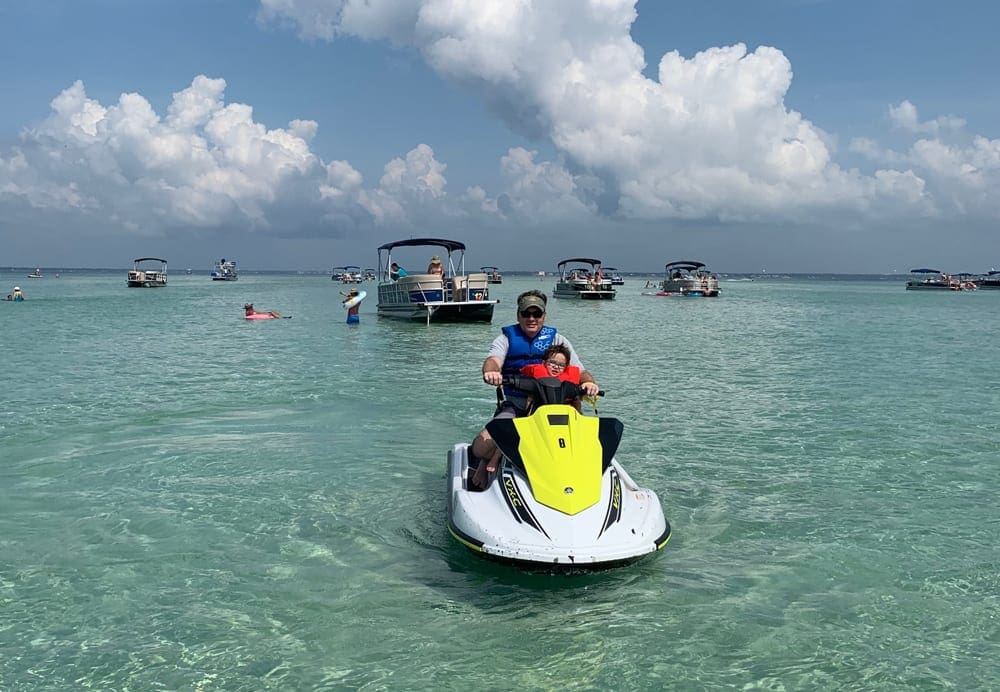 Destin Beach is a glittering turquoise gem within Florida's Emerald Coast. Located off Fort Walton and accessible by car or airport, it's world-famous for fishing, exquisite dining, and family fun! Plus, with twelve different access points, vacationing along this beautiful 8-mile beach is sure to be a breeze. At Henderson Beach State Park, find a shallow waterfront perfect for little ones and spotting dolphins, sea turtles, or rare birds. Aside from sunbathing, hit the waves by parasailing, kayaking, and other watersports also offered in town. Daredevil kids may particularly love visiting Gator Beach at Fudpucker's, a famous family-friendly restaurant that hosts an interactive Alligator Game Show!
Outside, the city boasts many kid-friendly attractions, like the celebrated Big Kahunas Waterpark or the Track Family Recreation Center for mini-golf, go-karting, etc. Stroll through the iconic Destin Harbor Boardwalk at night for dinner and some ice cream!
Where to Stay near Destin Beach for Families
When visiting Destin Beach, we recommend Sandestin Golf and Beach Resort. Here, families will find various accommodation options that will suit every vacation desire. With access to water sports, golf, shopping, and more, no one will get bored here! Plus, Embassy Suites by Hilton Destin Miramar Beach offers inexpensive, family-friendly suites with access to a private beach, pool, and made-to-order breakfast.
READ NEXT: 6 Best Florida Hotels With A Water Park Or Lazy River On The Gulf Coast For Families
Sanibel Island
Sanibel Island is a natural oasis tucked in Florida's Western coast. A short drive from Fort Myers, it's known for its stunning landscapes, family attractions, and landmark, the Sanibel lighthouse! Spend your days at the kid-friendly Bowman's Beach for calm waters, a sizable playground, and extra privacy from crowds. Along its shores, seashell collectors will love Sanibel Island's variety of shell shapes, sizes, and colors! Active families can also traverse miles of paved bike trails spanning the island. Or, hit the water in a canoe, paddleboat, or pontoon to explore Tarpon Bay!
Sanibel Island's seclusion from mainland Florida also provides a home for a variety of exotic wildlife, which you can learn more about at sanctuaries like the J.N Ding Darling National Wildlife Refuge. No matter how you spend your days, sunsets are when Sanibel Island truly comes alive. Venture to the lighthouse for an incredible vista over the horizon!
*Those planning to visit Sanibel should be cautious of its abundant "no-see-ums" insect population around dawn and dusk.
Where to Stay near Sanibel Island for Families
Plus, there is no shortage of kid-friendly Florida hotels on Sanibel Island! First, our families recommend Island Inn, Sanibel. This gulf-front property offers standard rooms, as well as family suites and cottages. Its location is also ideal for beach-goers and shell-seekers! Or, consider South Seas Island Resort which offers beach access and a nature reserve, which is home to resident dolphins and manatees. Finally, 'Tween Waters Island Resort & Spa is situated between Pine Island Sound and stunning gulf waters, offering endless views of both. Not to mention, an array of family fun and time on the beach!
Pensacola Beach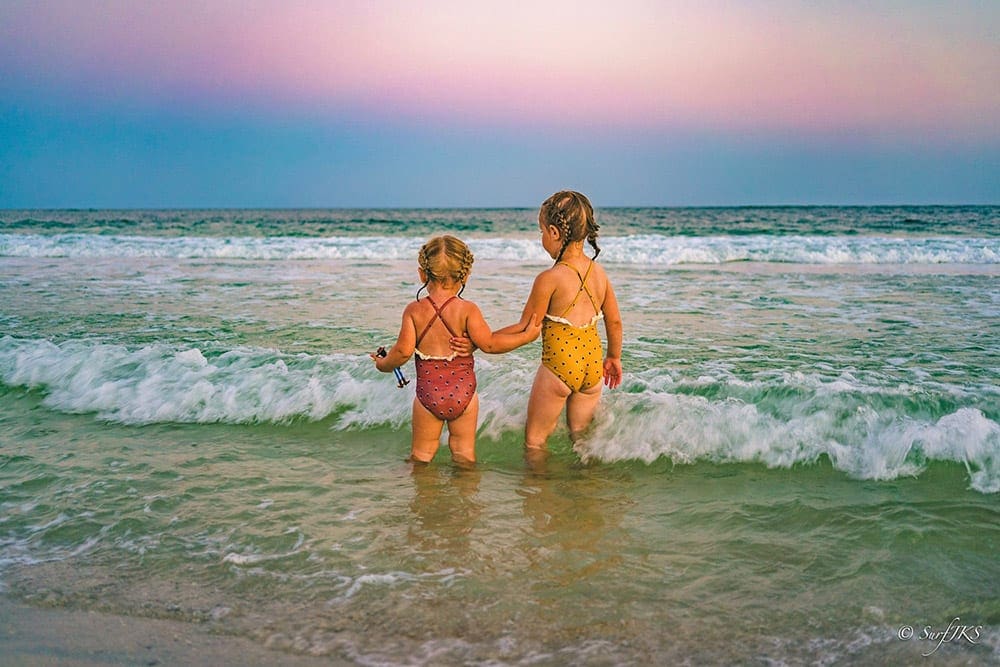 Head to Pensacola for a perfect family vacation at one of the best Florida beaches for kids! Located along the safe and shallow Santa Rosa Sound, its emerald waters host beach fun for all ages, accessible by car or flight. Dip your toes in sugar-white sand on Quietwater, a tranquil enclave to spot wildlife like hermit crabs, loggerhead turtles, and seagulls. Businesses along Little Sabine Bay also provide rentals for kayaking, wave running, and paddle boats. Big Lagoon State Park offers complete immersion in nature across acres of natural saltwater marshes and oak trees.
For a more action-packed day, kids can also zip line at Adventures Unlimited! To dive into Pensacola's history, visit Historic Pensacola, Europe's first U.S. settlement. The Wentworth and Naval Aviation Museum are both open to the public. And don't forget to take a stroll along the Pensacola Beach Boardwalk to discover boutiques, restaurants, and live performances!
Where to Stay near Pensacola Beach for Families
Located near the beach, families looking for a hot breakfast and no-frills rooms should consider Residence Inn by Marriott, Pensacola Medical Center/Pensacola International Airport. Plus, it's located close to the airport and pet-friendly! Or, treat your kids to the time of their life at Portofino Island Resort, one of the most kid-friendly hotels in Florida! Select the beach condo that suits your family's needs and prepare for endless family fun on the beach or relaxing poolside. Plus, Laguna's, a nearby adventure park, provides plenty of fun in the sun for families.
Clearwater Beach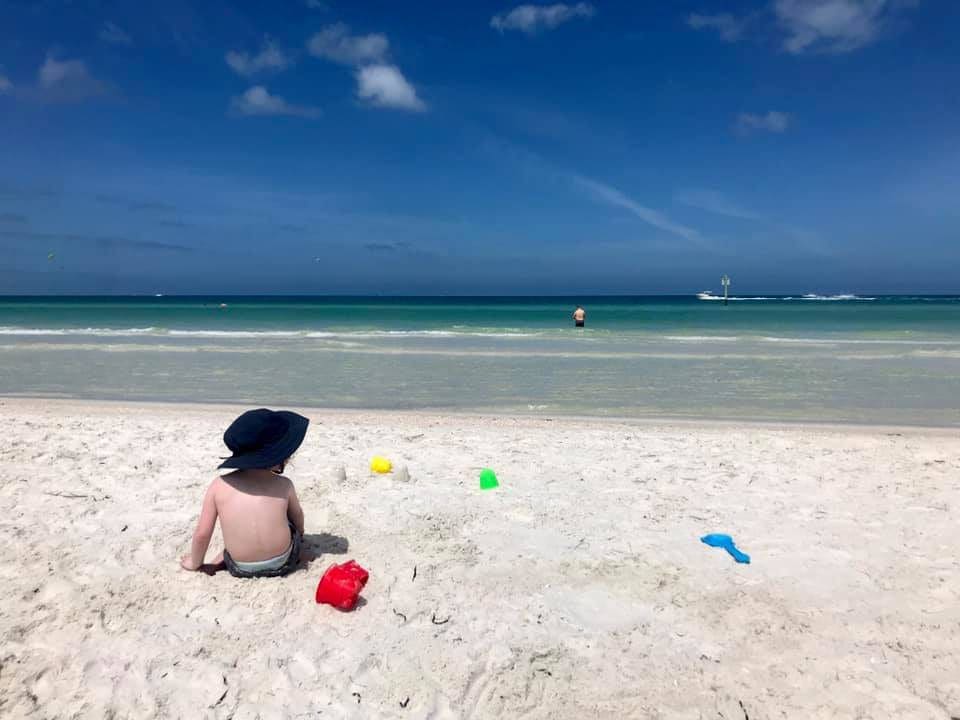 Clearwater Beach's dazzling shoreline invites everyone to take a dip! Accessible by drive, Amtrak via St. Petersburg, or flight, this is one of the best beaches on Florida's gulf coast. Clearwater Beach boasts scenic sunsets, miles of sugar sand, and family-friendly entertainment. The beach also offers umbrellas and chairs to rent, so even if it's crowded, you'll still find space to relax! Eco-tours are popular here, too, given the area's abundance of dolphins, shells, and other marine life. For more extreme sports, older kids can rent jet skis, parasail, or go snorkeling!
You'll also love the small-town ambiance in Clearwater's village and along Pier 60, where you'll find the legendary eatery Frenchy's South Beach. Then, venture to the Clearwater Marine Aquarium to meet local celebrities Winter and Hope from Dolphin Tale! Then, families can attend the nightly Sunset Festival. The four-hour extravaganza showcases musicians, street performers, and even some pirates!
Check out Speedboat Adventures, Helicopter Tours, and other things to do at Clearwater Beach with Viator here!
Where to Stay near Clearwater Beach for Families
Sandpearl Resort offers families the option of standard rooms or suites in Clearwater. Plus, you'll have access to a white-sand beach, pool, and Kids Club. At Camp Ridley, kids aged five to 10 can make new friends, swim, and more under professional staff supervision the whole day!
Or, stay in nearby St. Petersburg (a 45-minute drive) at The Vinoy Renaissance St. Petersburg Resort & Golf Club. Here, you can expect tasteful rooms, a complimentary fitness class, and a waterfront location featuring a private marina. Finally, The Don CeSar, located in St. Pete (a 40-minute drive), offers another family-friendly option near Clearwater Beach. Your family can choose from standard rooms, suites, or nearby residence-inspired suites – all with immediate private beach access.
Navarre Beach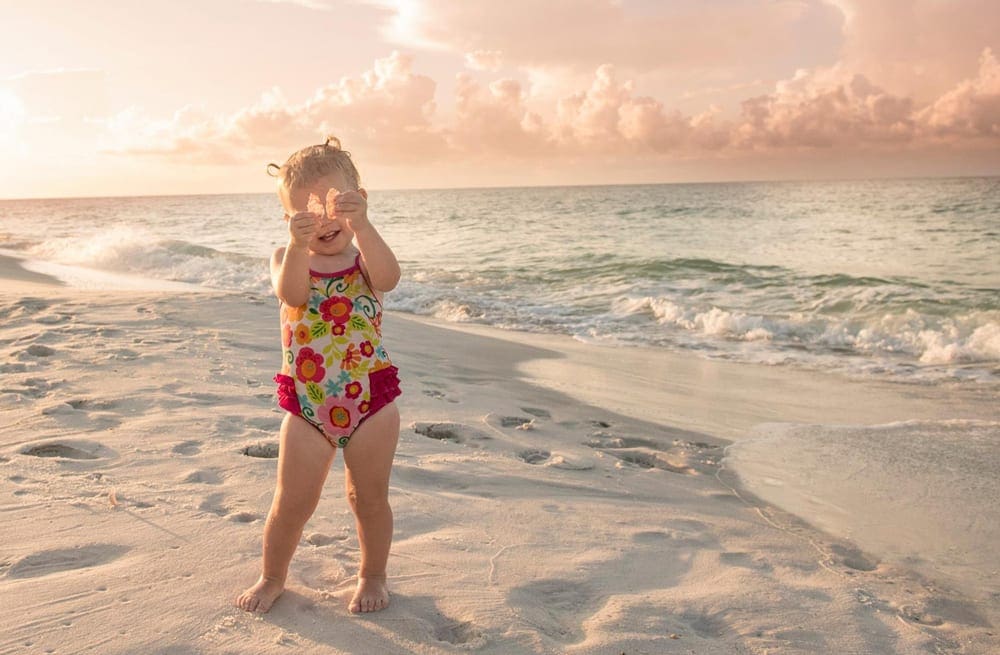 Navarre Beach is one of the best Florida beaches for kids. Accessible by car or plane, it's perfect for a Florida family getaway! Here, splash in Santa Rosa Island's calm waters on a compact shoreline, just east of Pensacola. Florida's longest, The Navarre's Beach Pier, is also great for water sports, like paddleboards, jet skiing, or boogie boards. The Navarre Children's Park offers a playground with beautiful views of the area's landscapes, dotted with colorful houses!
Parents can also just relax while kids play with community beach toys thanks to the "Borrow Bin," a toy trove near Navarre's Beach Sea Turtle Conservation Center. Come back to learn more about Florida's sea turtles. (And maybe see some for yourself!) At the Marine Science Station, kids can also explore interactive exhibits related to ocean life. Or, visit adorable creatures like dolphins, sea lions, and seals, at the Gulfarium Marine Adventure Park!
Where to Stay near Navarre Beach for Families
Nestled along a gulf-front beach, SpringHill Suites by Marriott Navarre Beach provides family suites, as well as stunning sunsets and complimentary breakfast. Here, families will also have immediate beach and pool access at one o the most kid-friendly resorts in Florida. Then, just 40 minutes from Navarre Beach, your family will delight in staying at Portofino Island Resort! With various condo options, your family can spend all day at the beach, in the pool, and making memories at Laguna's, the nearby adventure park!
Panama City Beach
Panama City Beach is one of the best Florida beaches for families for a reason. Alongside a 27-mile shoreline, it also has two state parks and delicious seafood restaurants, and is accessible via plane or car! Relax among Panama City Beach's many family-friendly access points, like Schooner's or Spyglass, which are a bit more secluded for younger kids. Local joints like Ocean's Bar and Grill along the pier serve tasty oysters, clams, and more! St. Andrews State Park also encloses a protected "kiddie pool," and a public beach known for watersports.
To explore more uninhabited enclaves, visit Camp St. Helen State Park, featuring trails, Lake Powell, and the famous Rainbow Cottages. Plus, in the spirit of Panama City's fame as a popular tourist attraction for amusement parks, make time for a trip to Race City PCB. Shipwreck Island waterpark is another great option to cool down on a hot day!
Where to Stay near Panama City Beach for Families
Holiday Inn Express & Suites Panama City Beach – Beachfront is a great home base for families wanting to explore Panama City Beach. Offering indoor and outdoor pools and beach access, families can expect a cozy stay and a complimentary hot breakfast. Or, consider The Sandpiper Beacon Beach Resort, where families can choose from rooms or suites with access to an indoor lazy river ride, waterslides, and mini-golf! Plus, it's a pet-friendly location too.
Anna-Maria Island
Anna-Maria Island is an idyllic seaside escape and one of the best family beaches on the Gulf Coast. Accessible by car or flight, this seven-mile strip sits separate from Florida's mainland for secluded family fun! It also dates back to 1911, giving it a historic ambiance. Spend your days sunbathing on popular family-friendly beaches like Coquina, Holmes, or Manatee, which feature calm waters, picnic areas, and other kid-friendly amenities. Active water sports and kayak eco-tours are also popular attractions here. Book a tour to spot local wildlife like dolphins or whales. Larger areas, like Bayfront or Manatee Park, also boast public beaches, playgrounds, and other facilities. Families can even find shops to rent beach chairs or purchase new beach toys.
Afterward, stroll restaurants, and boutiques, or spot birds along the famous Anna Maria City Pier, a 700-foot-long historic landmark. For a more old-Florida-style experience, the nearby Bridge Street Pier is also a great place to grab sweets. If you're a donut lover, though, don't miss dessert at The Donut Experiment!
Where to Stay near Anna-Maria Island for Families
Our families recommend two great stays while exploring Anna-Maria Island. First, consider Tortuga Beach Resort, offering everything from standard rooms to 3-bedroom condos. Plus, you'll be able to claim complimentary beach chairs, beach towels, and umbrellas for long days on the beach! Anna Maria Beach Resort is another parent-recommended resort in Florida! This luxury resort offers the ideal location for exploring the island, relaxing on the beach, and enjoying various family-friendly activities. In fact, you'll be able to rent beach cabanas and chairs, as well as access the on-site island trolley stop!
Naples Beach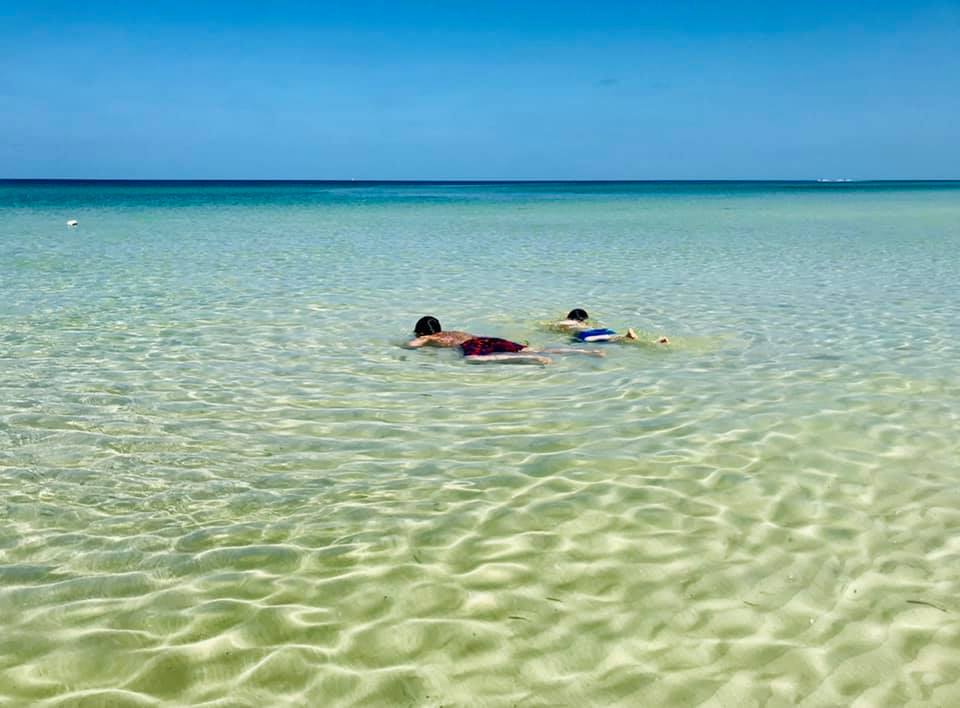 Naples Beach is another one of the best Florida beaches for families! Known as the "Paradise Coast," this laid-back area is reachable by Amtrak, airport, or car ride from nearby Fort Myers. Picturesque like a postcard, Barefoot Beach Preserve offers turtle spotting, soft white sand, and shallow waters for little kids. Lowdermilk Park, a beachfront park with two playgrounds, volleyball courts, and a concession stand, is also popular with all ages!
Outside Naples Beach, places like the Naples Botanical Garden or the Naples Zoo provide a glimpse at local wildlife in a controlled habitat, perfect for shaking up your day plans. Or, explore a public beach with wildlife and water sports, Clam Pass Park, or drive farther to Everglades National Park. All offer families something fun and unique! By evening, however, don't forget to head back to the Naples Pier to watch boats zip past a beautiful sunset.
Where to Stay near Naples Beach for Families
Looking for a hotel? Nearby Bonita Springs offers one of the best Florida resorts with a baby club: Hyatt Regency Coconut Point. Only 30 minutes drive from Naples Beach, you will have access to a lazy river and five waterslides, while also benefiting from the proximity to Naples! Or, stay on nearby Marco Island. Kids will love living the island life at JW Marriott Marco Island. Here, you'll discover a wide array of kid-friendly amenities and easy access to Naples Beach.
RELATED: Read our list of 11 Amazing Things to Do in Naples with Kids!
Happy Traveling!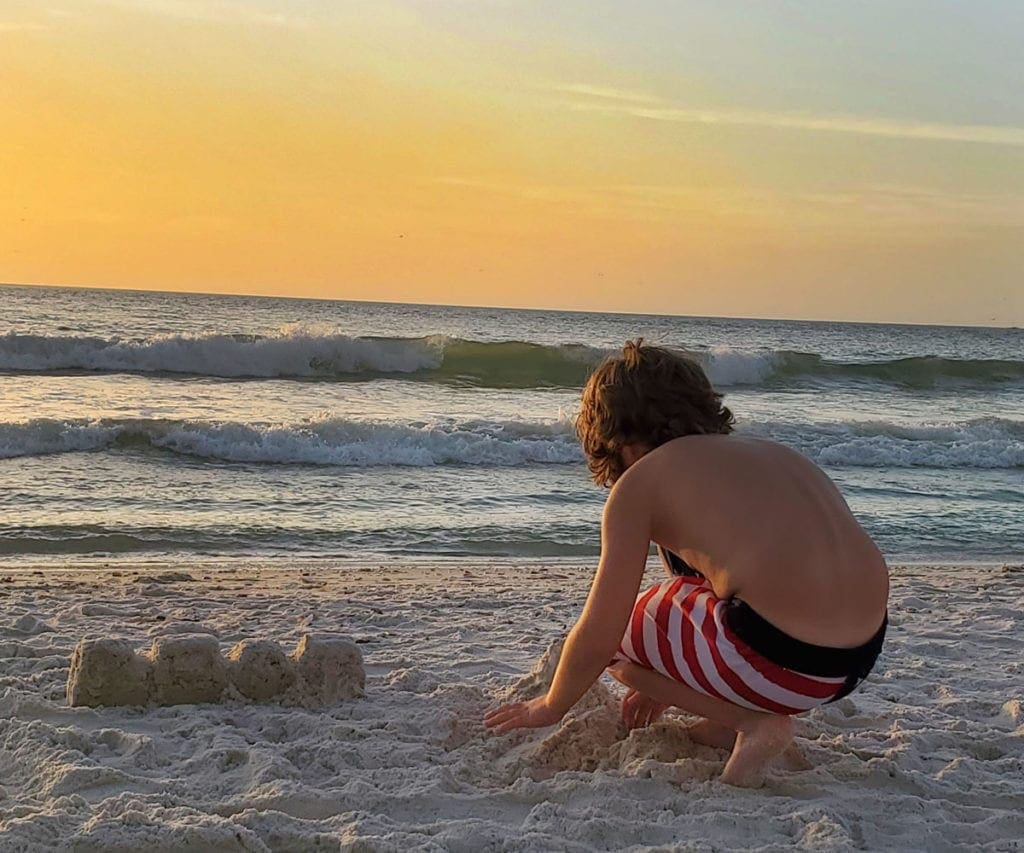 Little ones will love a visit to these best Florida beaches for kids! No matter where in Florida you choose, though, we're sure you'll enjoy the quality time spent with your loved ones. We hope you've enjoyed our list of the 9 Best Florida Beaches For Families!
Looking for more recommendations to add to your list of locations to explore on your Florida beach vacation with kids? Here are some additional kid-friendly Florida beaches that might interest you:
Daytona Beach
Cocoa Beach
Treasure Island
St. Augustine Beach
Palm Island
Amelia Island
New Smyrna Beach
Marco Island
Thank You to Our Community!
A special thank you to the Families Who Love to Travel Facebook community who helped with the research for finding the best Florida beaches families will love. They are a group of like-minded families who love adventure and exploring through travel. Join the Facebook community and the Instagram community (@families.love.travel) to connect with other families who love the unique experiences travel has to offer.
*Due to the COVID-19 pandemic, some of the best Florida beaches for families on this list may have limited services or experience temporary closures. Please ensure availability before making your decision.
This post may contain affiliate links that may earn us a small commission, at no additional cost to you. Affiliate links in no way inform the hotels, sights, products, or other recommendations included in our articles. All opinions and recommendations expressed here are compiled from submissions submitted by the generous members of our Families Who Love To Travel community.
READ NEXT: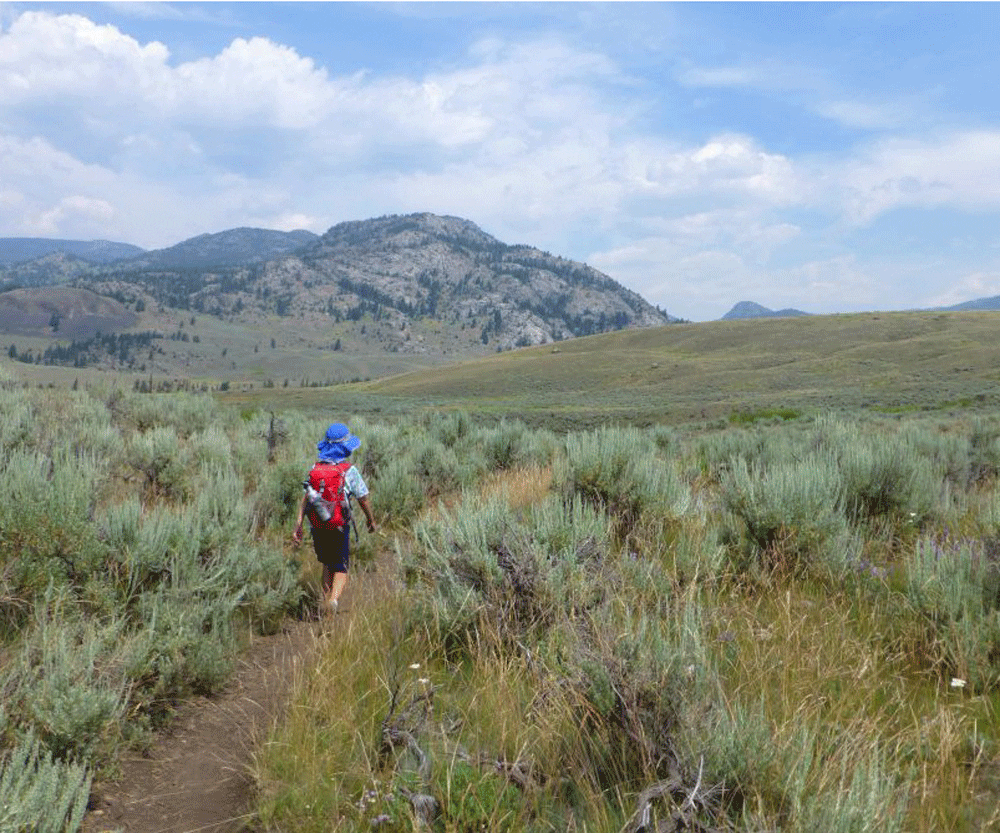 Everyone knows that Yellowstone National Park makes for a classic family vacation. Strolling the boardwalks...
You can do all the research and pack all the right things, but it's hard...