By Kevin Zanes

To climb, or not to climb Nohoch Mul with kids, that is the question! While many Mayan pyramids in the Yucatan no longer permit visitors to climb, Nohoch Mul, one of the tallest, remains open for your next family adventure in Playa del Carmen! Thousands of visitors make the climb each year, but very few do so with young children in tow. It is hard enough to manage children on flat ground, but climbing an ancient pyramid takes the challenge to another level! My family managed to make the climb with children ages 4.5 yrs, 2.5 yrs, and 8 months using a few tips for guaranteed success. To help your family plan your next trip to Nohoch Mul with kids, here's some advice to ensure your climb is a success!
Arrive Early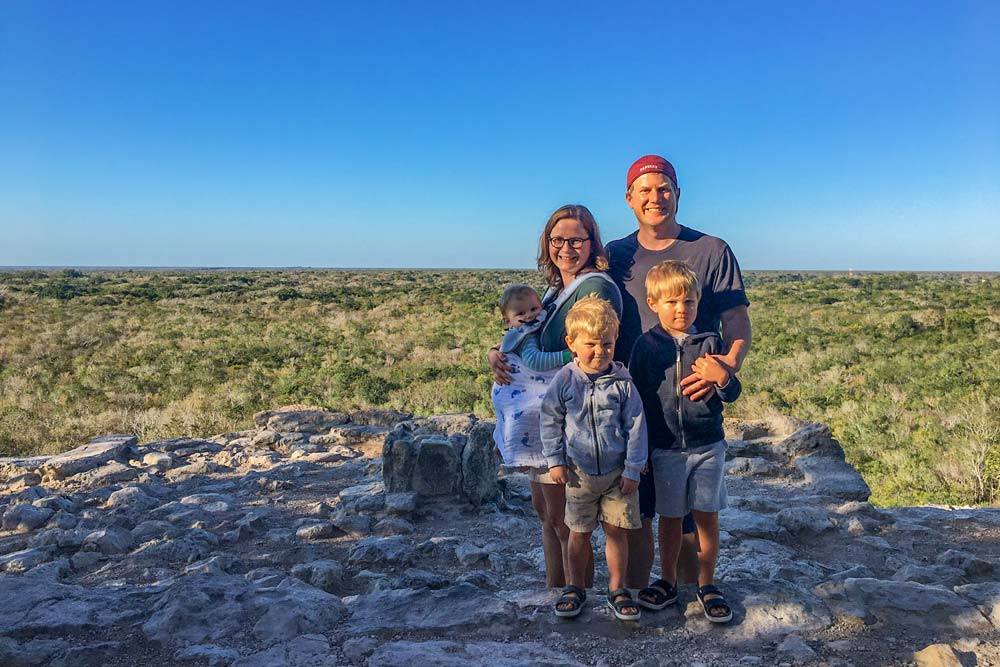 Arrive at Coba bright and early to start your day fresh-faced! The best and safest way to climb Nohoch Mul with kids is with the fewest visitors possible. Though the stairs up are quite wide, there's often a capacity limit placed on the path due to deterioration. Still, there are ways for you to beat the morning rush! Nohoch Mul opens at 08:00 and the large tour buses start trickling in from Tulum and Cancun between 09:00 and 10:00. To almost have the experience to yourself, the ideal time to climb Nohoch Mul is between 08:00 and 09:00. At 8:30, there are only 10-20 visitors at the pyramid! P.S. Bring hats, sunscreen, and water! Lots of water!
Straight to Nohoch Mul with Kids
Coba itself is a massive archaeological site with tons to see. Distance from the Coba entrance to Nohoch Mul is roughly 3km, which isn't bad considering. With three small children, the walk takes just over an hour. Thankfully, right after the entrance is a rental bike stand where you can grab some gear and hit the road! As an added bonus, the bike stand has "bici taxis" for hire, which is a fantastic option with multiple small children. Both the bikes and "bici taxis" are available for a one-way, round-trip, or point-to-point rentals. The ride from the stand to Nohoch Mul lasts around 10-15 minutes.
A Slow and Steady Climb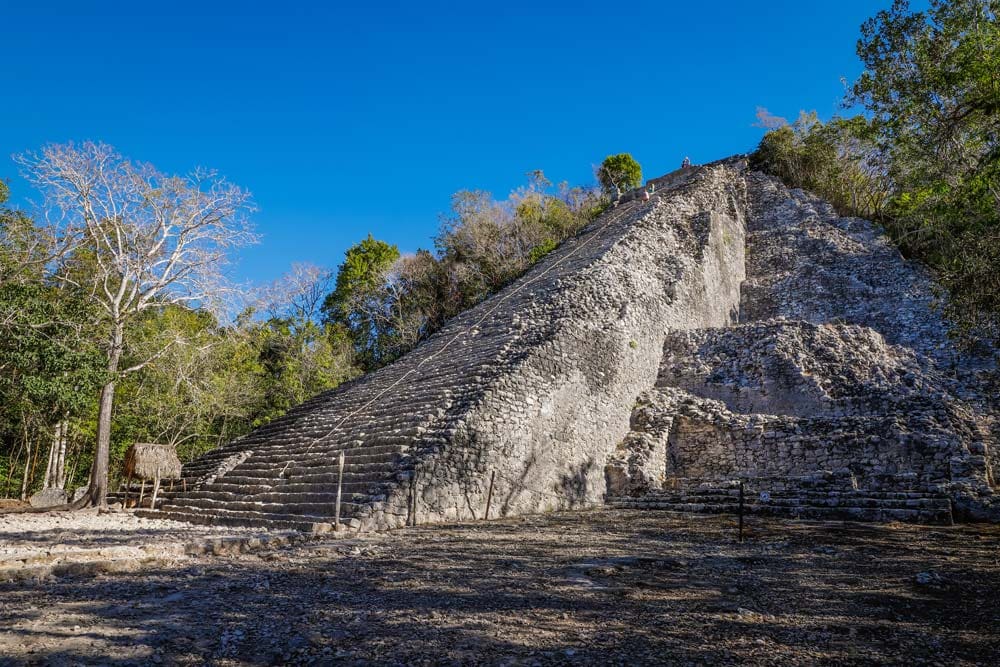 The Nohoch Mul Pyramid has a guide rope to help all visitors make the climb. Surrounding the rope, you'll find the best-preserved path up to the pyramid. When climbing Nohoch Mul with kids, the most important thing to remember is to let children proceed at their own pace. The climb may take longer than you anticipated, but everyone will arrive safely, and it will definitely be an adventure they remember positively! Plus, keep a few safety tips in mind during the process. It's always best to always have at least one parent between the children and the ground at all times. The other parent can climb along the side of the children, in case they need help.
Enjoy the View at the Top of Nohoch Mul with Kids!
Congratulations on making it to the top of Nohoch Mul with kids! The view from this Mayan pyramid is truly spectacular in the early morning sun; an unforgettable experience for any travel-loving family. Take in the panoramic vista as you savor the fruits of your labor. The nearby forest stretches on for miles in every direction, with a few of Coba's other structures peeking above the tree line. Wander to the top of the pyramid for a spell before the descent. Before heading back, a quick snack is a great way to keep the children still and give them more energy!
Strap In
Now comes the hardest part of climbing Nohoch Mul with kids: the descent! If any of your children are younger (i.e. < 3 yrs old) and scared to climb down, do not force them. If possible, carry younger children down, even those who made the climb up, in an age-appropriate carrier. As a general rule, front carry children < 1 yr old and back carry children > 1 yr old. Unlike on the way up, children can "sit" from stair to stair on the way down; the stairs are more than large enough to accommodate.
At the bottom, celebrate the great accomplishment of tackling Nohoch Mul with kids… and breathe a HUGE sigh of relief!
Bonus: Celebratory Snack!
After your climb up Nohoch Mul with kids, take a few minutes to gather your bearings before exploring the rest of Coba. A great way to celebrate and rest before continuing is with a special snack. Settle in on a shaded bench off to the side of the pyramid where you can relax to calculate your next move. From here, children can watch other visitors climb the pyramid while enjoying a special treat!
Want to see more from Kevin? Check out his website.
If you'd like to be part of the Families Who Love To Travel community and have your voice heard, please join our Facebook group.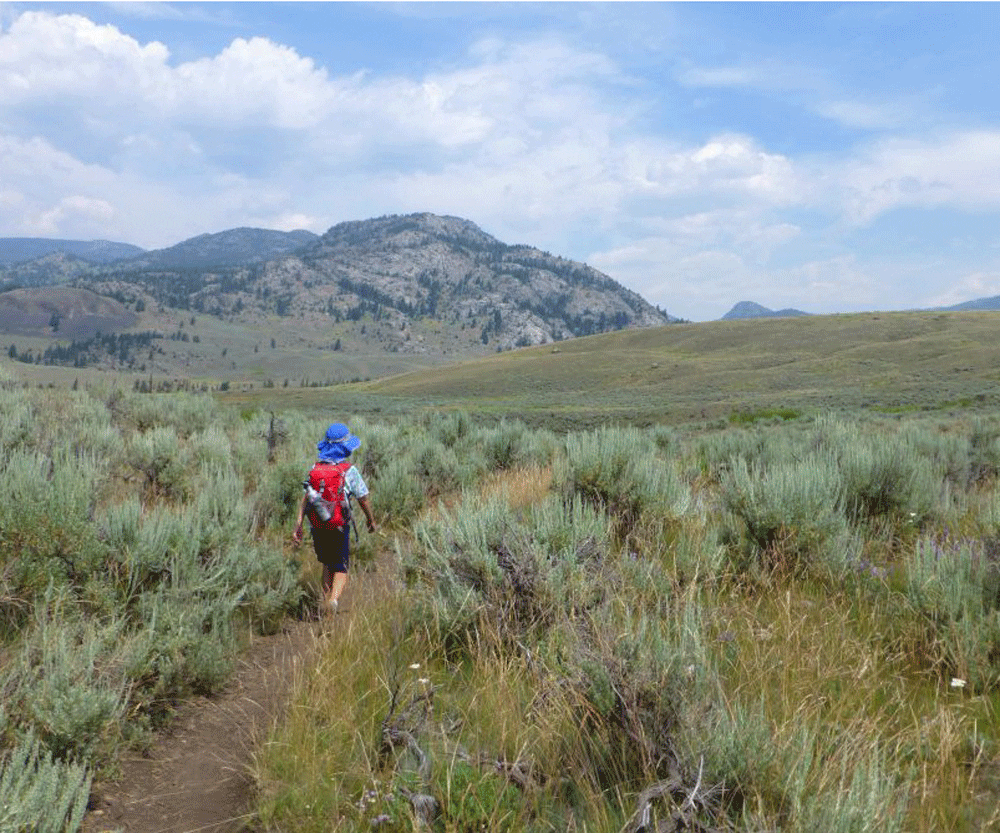 Everyone knows that Yellowstone National Park makes for a classic family vacation. Strolling the boardwalks...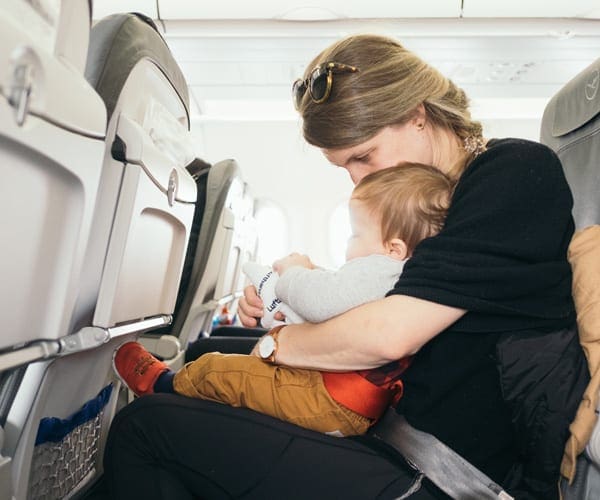 Families Who Love To Travel contributor Meghan Oaks provides her 10 best tips for your...