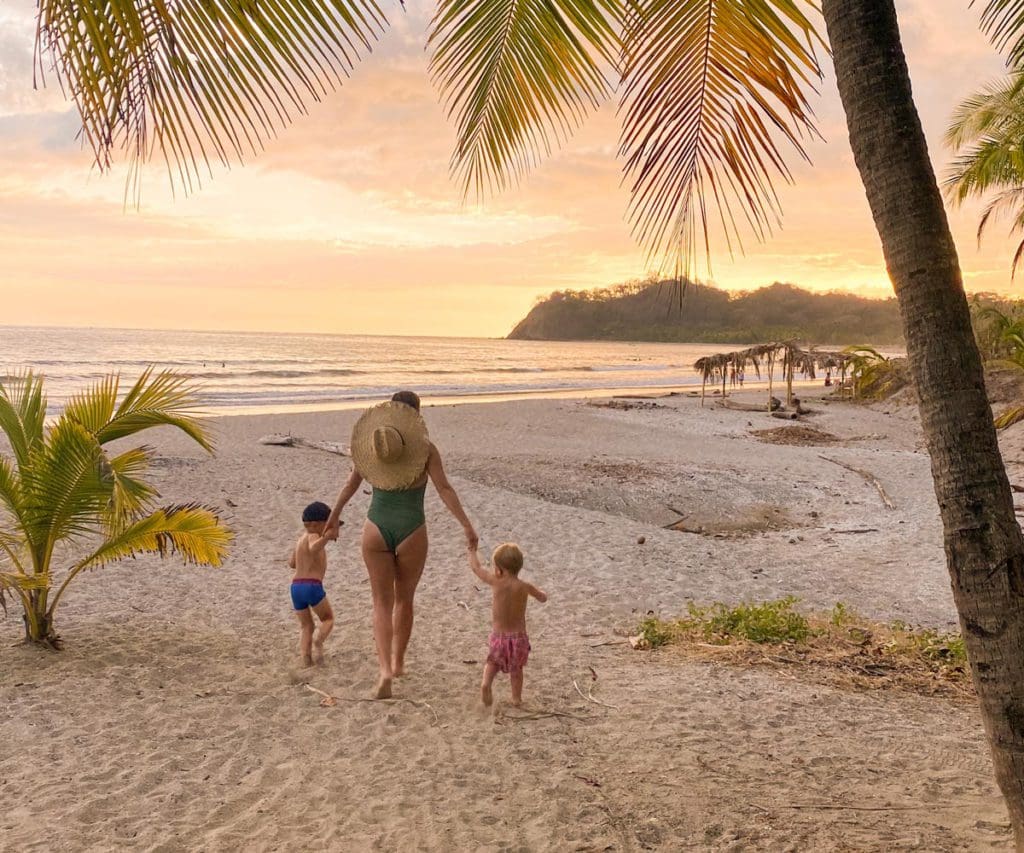 Families traveling to Costa Rica may want to add a trip to Sámara with kids to their itinerary! Playa Sámara, also known as simply Sámara, is a wonderful beachfront town to visit with kids, located on the Nicoya Peninsula in the Guanacaste province of Costa Rica. From surfing to boat tours, kayaking, and horseback riding, this white-sand paradise is perfect for families who want a mix of adventure and relaxation. After my recent trip to Sámara with kids, I've compiled a few tips on visiting the area, including where to stay, the best restaurants, and things to do with kids. Keep reading to learn more tips and All About Sámara With Kids!
Why Visit Sámara with Kids?
Sámara showcases the very best of Costa Rica. For one, the food is delicious, organic, and locally sourced. People are genuinely happy and the town is family-centered as well. Overall, the atmosphere is very casual. (My boys basically lived in their swim trunks and occasionally wore shoes!) Plus, there's so much to do! We stayed two weeks and barely scratched the surface of what this diverse area has to offer. None of the excursions we tried had a 'tourist trap' feel, either. Of course, the amount of wildlife around is unbelievable. We saw iguanas, monkeys, whales, sea turtles, dolphins, and much more! My screen time went down while my mental health went up. I definitely recommend visiting Sámara with kids!
Best Time to Visit Sámara for a Family Vacation
Costa Rica is known for its biodiversity and at times unpredictable weather. So, when visiting Sámara with kids, it's best to do your research on different seasons. Generally, Costa Rica's "dry season" is from December/January to mid-April. May through December tends to be rainier, and thus a less popular time to see Costa Rica. Though this changes slightly in different parts of the country, Guanacaste tends to follow the same weather pattern. Locals told us their favorite time of year in Sámara is specifically mid-November through early March. This is when the sun is out, the waterfalls and rivers are full, and everything is splendidly green!
How to Reach Sámara with Kids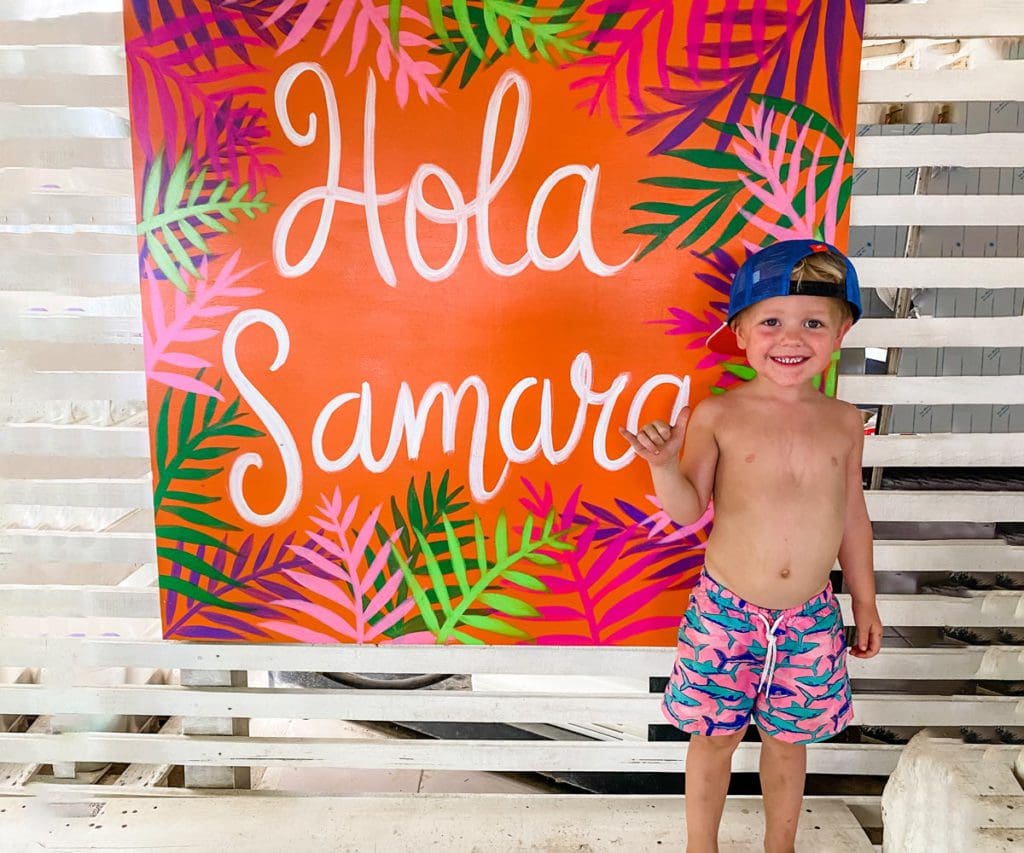 Wondering how to reach Sámara with kids? Located in the Guanacaste province on Costa Rica's Pacific coast, this quaint destination is accessible via a domestic flight to Nosara Domestic Airport (thirty minutes away) or an international flight to Liberia International Airport (two hours away). From Liberia, you'll have to take a two-hour shuttle to Sámara. Our accommodations provided the transfer for us, but there are tons of other companies to use. One popular option is Tropical Tours Shuttles, which offers two trips daily departing at 9 AM and 3 PM. If you want a private shuttle, Viator is a good choice. If you're flying into San Jose, there's also a bus every day to Sámara departing at noon.
About the Town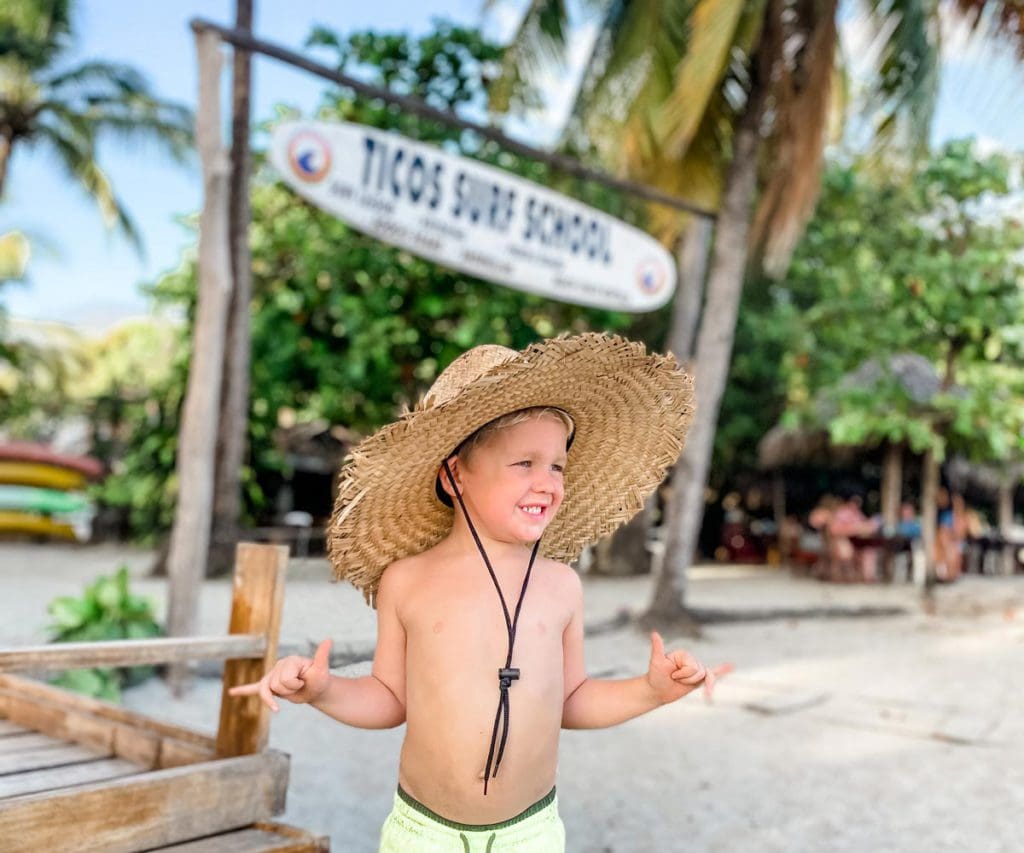 Popular among surfers, ex-pats, and immigrants, Sámara is a compact and walkable beach town with a health-conscious vibe. In and around Main Street is where you'll find most major hotels, restaurants, and rental shops in the area. From here, you'll also have easy access to the beachfront, aka Playa Sámara. It's only around a 10-minute walk from Main Street to the beach, so you could easily vacation here without a car. If you do choose to bring a car with you, just keep in mind parking is often limited. Most people get around using ATVs or golf carts, which we'll cover later on in my list of the best things to do in Sámara with kids.
A Few Tips For Visiting Sámara With Kids
In case you have any more questions about planning your Costa Rica family vacation, I have a few more tips for visiting Sámara with kids.
Download WhatsApp, since this is how almost everyone communicates.
Bring lots of cash! A lot of people don't take cards here, and even if they do, it often doesn't include AMEX.
Don't pack too fancy, either. No dress-up shoes are necessary, just some flip flops and sneakers to feel comfortable.
One thing I wish I would have known is to bring along sun-protective clothing, including long-sleeved shirts with rash guards, for all the long days we spent in the sun. Also, a few hats! 
Want local tips and personalized advice for your trip to Costa Rica? Connect with Jorge from Go Ask A Local! He's a local guide based near Arenal who works all over the country and offers trip planning consultations.
Things to Do in Sámara with Kids
Once you've figured out where to stay and what to eat, it's time to tackle the best things to do in Sámara with kids! From beachside adventures to zip-lining through the treetops, your kids won't ever be bored in this epic Costa Rica destination. Stay tuned to learn more!
Visiting Costa Rica with young kids? Check out this Exciting One-Week Itinerary In Costa Rica With Young Kids!
Learn to Surf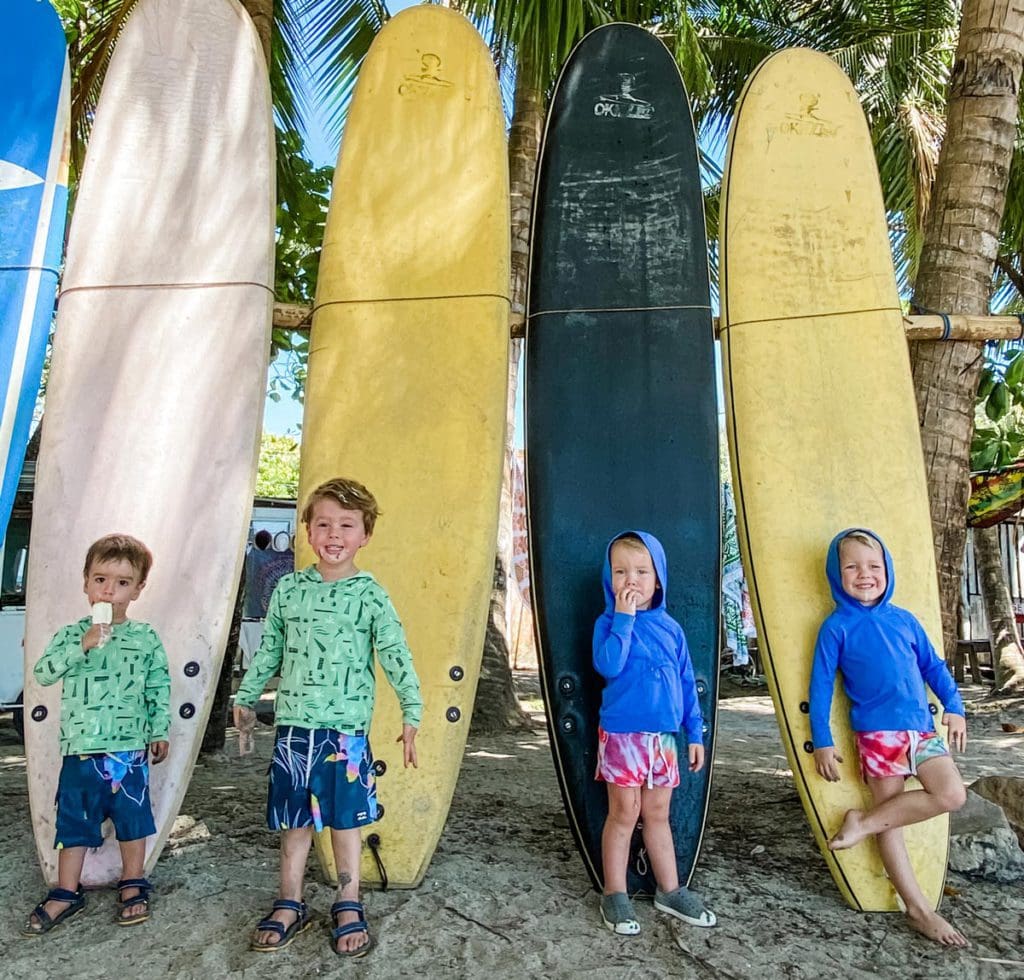 Surfing is definitely one of the best things to do in Sámara with kids. With calm waves framed by a scenic view of the mountains, the water is protected by an outer reef, making it ideal for catching some waves. If your little ones want to learn, book a lesson through a local surf school. My family liked Choco's Surf School because it has lessons for beginners and more experienced surfers. There are children's classes for kids under twelve, and also the option to book a private or group lesson for older kids. Other local surf schools we didn't try include Pato's Surf School, C&C Surf School, and Sámara Adventures. You can also rent SUP boards.
Reserve a 3-Hour Sunset Paddle with Samara Adventures through Viator here!
Go Horseback Riding
One beautiful way to explore Sámara with kids is on horseback. We booked an adventure through Explore Samara Tours and it was a magical experience! On the mountain and beach tour, families can ride through the jungle up a mountain, then continue to Buena Vista Beach. Lasting around two and a half hours, the tour provides amazing ocean views and the chance to see wildlife like monkeys. In the end, you stop at a turtle conservation center to learn more about the local wildlife and enjoy fresh fruit. If you're lucky, you may even see baby turtles hatching! There's also an option for a shorter one-and-a-half-hour tour, plus a chance to ride at sunset.
Book the Explore Samara Tours Jungle and Beach Tour Horseback Riding with Viator now!
Reserve the Safari & Buenavista Beach Horse Riding Tour through Viator here!
Take a Boat Ride
Want to explore Sámara by boat? Book an excursion with Samara Adventures! With the Island Boat Tour, families can explore nearby Isla Chora on a motorized boat fit for five people. Once you reach the island, get ready to snorkel and discover colorful marine life! If you want to spot even more sea life, you can also take a Catamaran Seafari Tour, which departs from Sámara Beach and also includes a snorkeling session. Families can see whales from November through August and bottlenose dolphins most times of the year on this tour. Other tours for families include the Turtle Nesting Tour, ideal between June and December. The experienced bilingual guides know all the best places to see turtles hatching!
This is just one local provider in Sámara we used during our vacation, but there are plenty of others that come highly recommended for families, like Samara Sea Tours, Carrillo Adventures, and Samara Eco Adventures.
Try Other Water Sports
Costa Rica showcases a wide array of water sports, and Sámara is no different. During our vacation, my family enjoyed renting a kayak and journeying to Isla Chora with Esteban from DondeJaviTours. This small, local tour company helps visitors book a variety of personalized excursions, including kayaking and snorkeling. You can also feel free to rent kayaks or snorkeling gear from local vendors along the beach – there are plenty to choose from! Besides Isla Chora, the best place to go snorkeling in Sámara is the Cangrejal at the town's western end. Kids will love exploring the tropical reef, home to vibrant fish and other sea creatures!
Choose this Ocean Kayak and Snorkeling to Chora Island through Viator!
Explore Via Golf Cart or ATV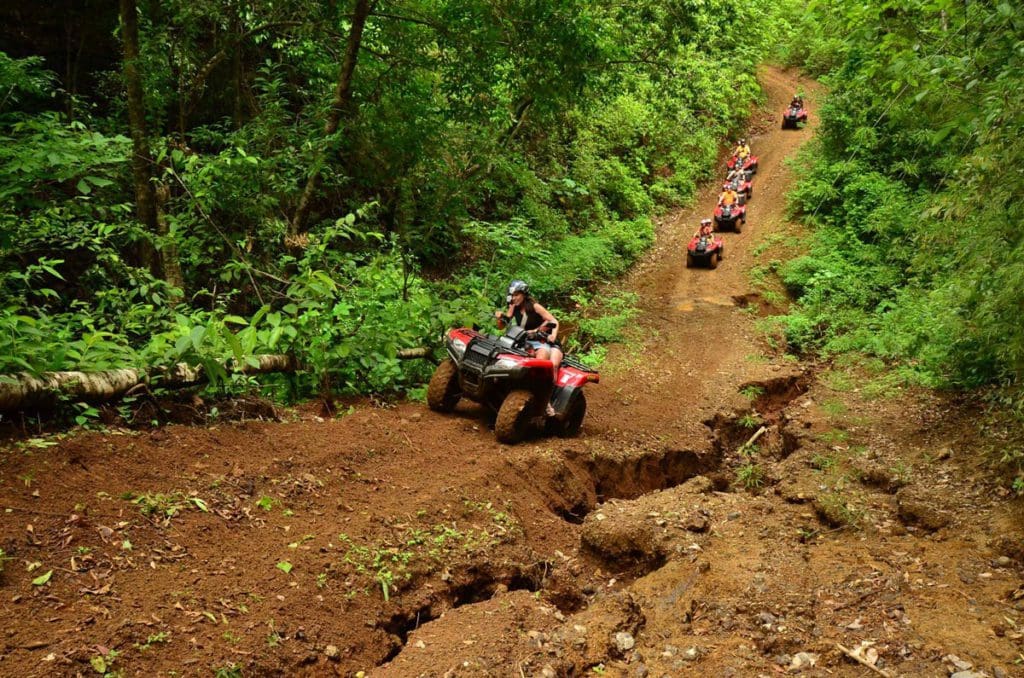 If you'd rather explore Sámara by land, you should consider renting a golf cart. We rented two for two weeks, and it was our main transportation everywhere. There are a lot of places in town to rent one, so it shouldn't be hard to find a local provider. You can use your golf cart to explore other nearby beaches like Playa Carrillo, which is just a short drive away. For a more rugged adventure, families can take an ATV tour from outfitters such as Outback Quads, offering excursions to the Rio Celeste Waterfalls, along the beach to Punta Islita (watch out for colorful Macaws!), or through the jungle. It's an exciting way to learn more about Costa Rica's ecosystem!
Reserve your Outback Quads ATV Mountain & Beach Tour through Viator here!
Soar Through the Tree Tops
What better way to see Sámara than by gliding through the treetops? Take daredevil kids to WingNuts Canopy for a fun adventure! With 9 cables and 2 rappels, local guides will teach you about the forest and its four-legged inhabitants as you glide through the verdant jungle. Or, kids can try a unique activity called canopy surfing, where they'll soar through the jungle while standing on a surfboard. Talk about an adrenaline rush! Combination tickets are available, and they also include a ride on the Superman zipline, featuring breathtaking views over the mountain and ocean. Tours run anywhere from two to three hours and include refreshments. Kids under twelve get a discount on tickets.
Research this Monteverde Cloud Forest day trip from Samara Beach on Viator today!
Visit Neighboring Beaches
When visiting Sámara with kids, I highly suggest you take a day trip to see neighboring beaches in addition to spending time at Sámara Beach. I already mentioned renting a golf cart and riding to Playa Carrillo, which is a perfect place to grab a pizza from Hula Jungla and watch the sunset. Sámara is also nearby some other incredible beaches, like Playa Barrigona, featuring gorgeous white sand and turquoise water. You'll need a 4×4 to get here, but it's totally worth the trip! If you want a hip vibe akin to Tulum, look no further than Playa Guiones, a charming beach town with lots of local eateries. It's a cute place to watch the surfers and grab dinner!
Plan a Day Trip
Aside from nearby beaches, families can also plan a day trip from Sámara with kids. About an hour car ride away there's the Ostional Wildlife National Refuge, one of few places in the world where turtles congregate en masse. The best time to see them waddle along the beach is from May through December. Barra Honda Caverns National Park is another fantastic day trip about an hour away. Here, you can explore the Caverna Terciopelo via tour, or go hiking. Cave tours last around 4 hours and are available for kids ten and older. Families can also visit nearby Palo Verde National Park to see monkeys, iguanas, and more animals in their natural habitat!
Find more things to do in Costa Rica on this list of 15 Amazing Things to Do in Costa Rica with Kids!
Best Restaurants in Sámara for Kids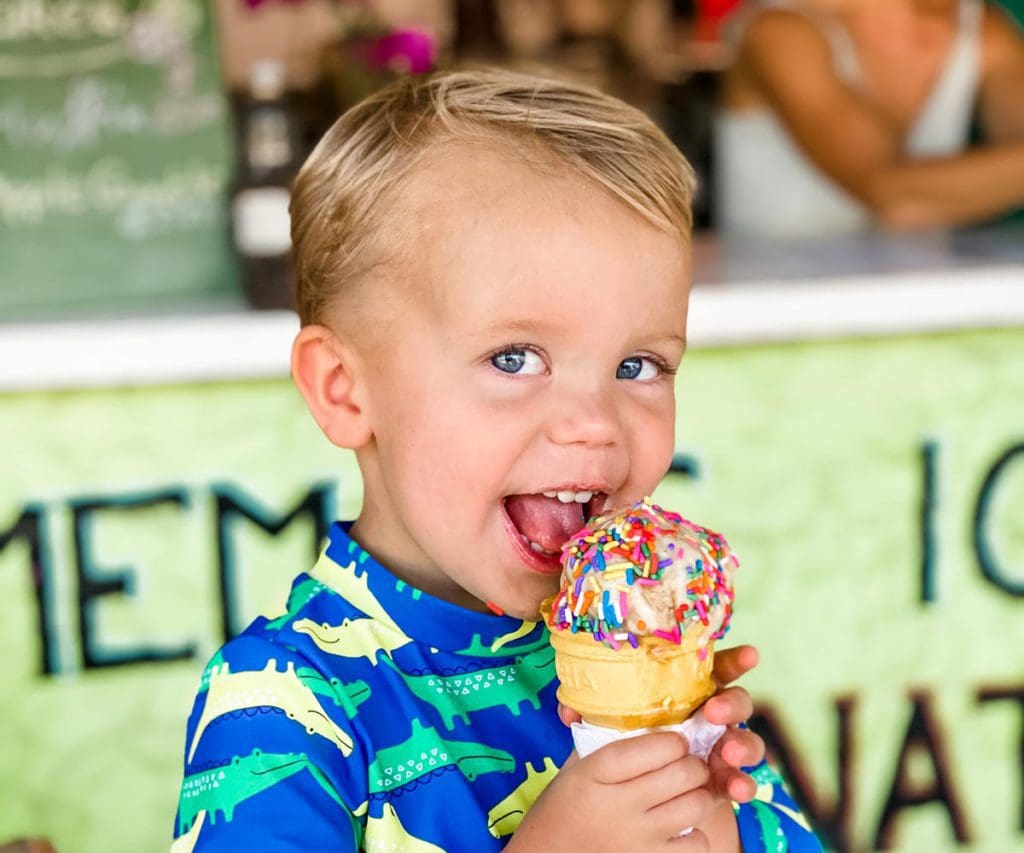 Sámara has so many tasty restaurants to choose from, your family may have a hard time deciding! For breakfast, don't miss the melt-in-your-mouth croissants from Roots Bakery & Cafe. For a casual lunch like pizza, you can't go wrong with Lo Canda or Hula Jungla, located right near Carrillo Beach. Samara Organic Market is the perfect place for local fruit, veggies, and fresh juice. Families who want to eat on the beach will love La Luna, Lo Que Hay, or Gusto. Or, if you'd prefer seafood, try Samara Sushi for dinner. For a date night, parents can visit Bar Arriba, a rooftop bar, or the Gilded Iguana, an on-site restaurant at the Gilded Iguana Hotel.
Where to Stay in Sámara with Kids
If you need somewhere to stay in Sámara with kids, I have a few suggestions. Many families choose to rent houses from AirBnB or VRBO, as this is the easiest option and provides a homey feel. However, there are also hotels in the area if you'd prefer that. Hotel Samara Beach puts you in the middle of all the action, with rooms only steps away from the beach. Meanwhile, Hotel Sol Samara is in a quieter area of town if you want a more low-key stay. Looking for an all-inclusive resort? Try Hotel Villas Playa Samara! Families who want a mix between a cozy home and a hotel can book a stay at Villas Kalimba, featuring six independent villas.
Looking for a local experience for your family vacation in Samara? Book a home rental using Vrbo today.
For more places to stay in Costa Rica with kids, you'll love these Best Costa Rica Resorts & Lodges For A Family Vacation (All-Inclusive Included)
Happy Travels!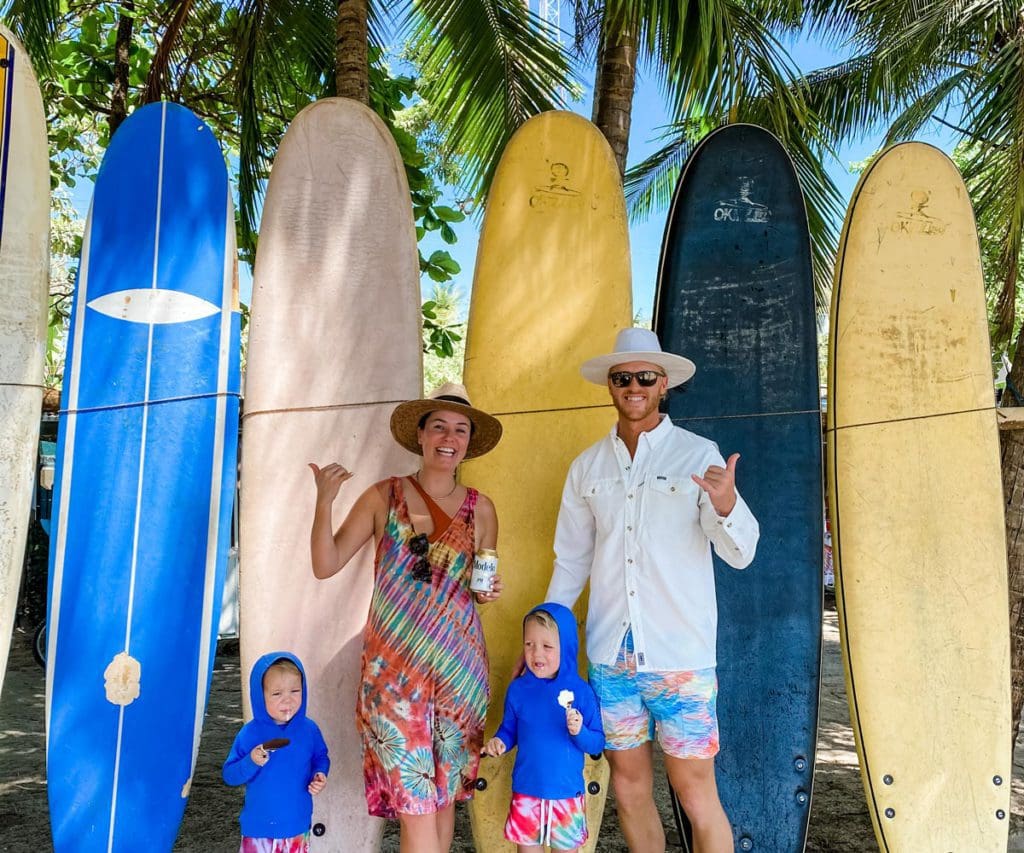 We hope you found this article All About Sámara With Kids helpful in planning your own trip to this Costa Rican paradise! From thrilling adventures in the water to exciting excursions on dry land, there's so much to explore in this scenic Costa Rica destination. Enjoy your vacation to Sámara with kids!
Written by Families Love Travel Contributor, Allie Reed!
*Due to the COVID-19 pandemic, some of the attractions, accommodations, or things to do on this list may be closed. Please ensure availability before making your decision.
*This post may contain affiliate links that may earn us a small commission, at no additional cost to you. Affiliate links in no way inform the hotels, sights, products, or other recommendations included in our articles. All opinions and recommendations expressed here are that of the attributed author.
READ NEXT: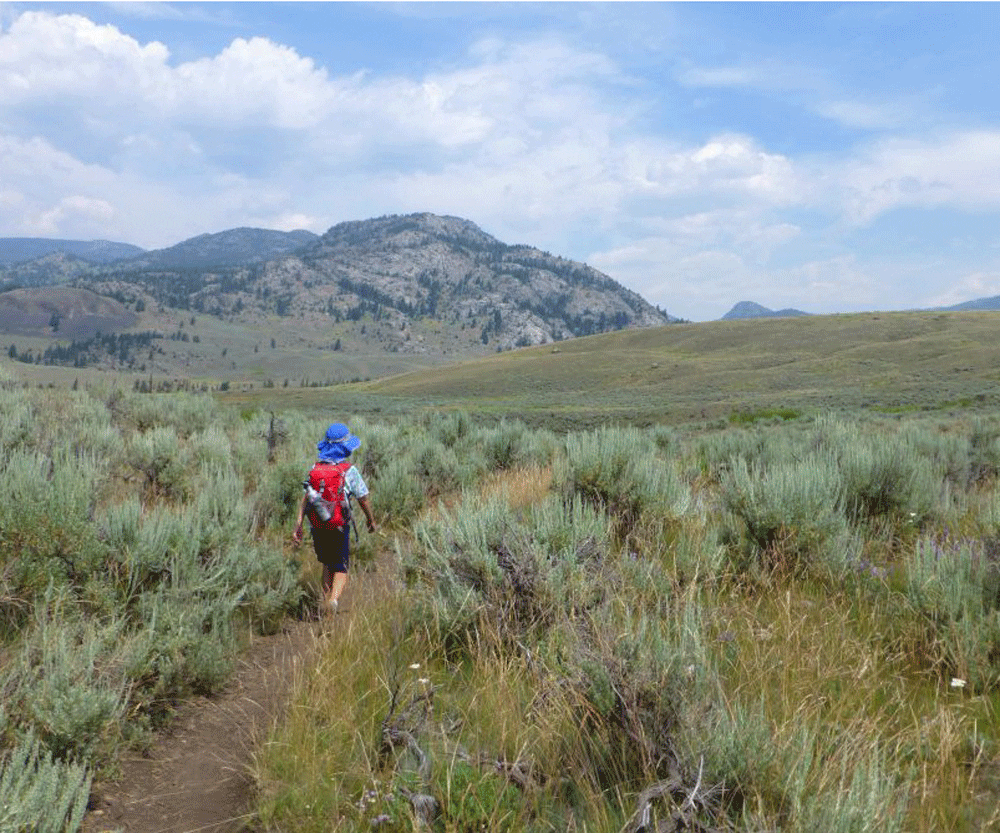 Everyone knows that Yellowstone National Park makes for a classic family vacation. Strolling the boardwalks...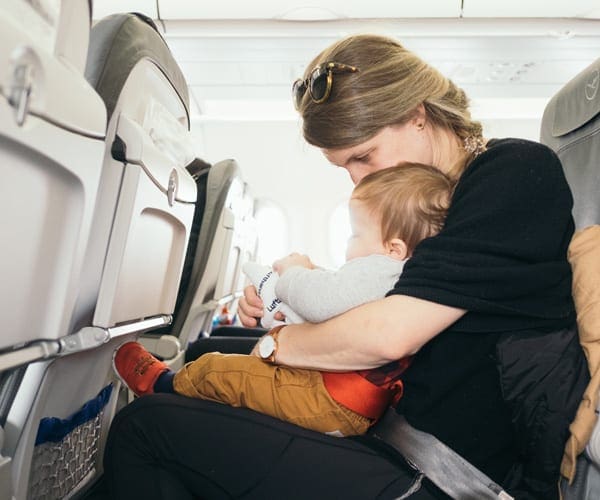 Families Who Love To Travel contributor Meghan Oaks provides her 10 best tips for your...