*This review of the BÉIS Kids Roller is sponsored by BÉIS. All ideas and opinions expressed within this article are that of Families Love Travel team members, Gunjan Prakash and Antonia Grant. Find additional disclosure information at the bottom of this article.*
Sometimes packing and staying organized is the toughest part of traveling with kids. There are so many extra items family travelers need to pack – favorite stuffies, spare clothes, extra books, tablets – the list can be endless. As seasoned family travelers and experts in the travel industry, we are often asked about stress-free, functional, and affordable luggage for kids. Luggage created for children is either cute and fun or highly functional – but often not both. Not to mention, the wide-ranging price points for luggage that may not last or grow with your children. Parents desire luggage that is functional and long-lasting, but also fun enough that kids are willing to carry it. Well, we may have just found the answer that solves all of these questions. BÉIS Kids Roller is a game-changer for young travelers! Keep reading to discover why in this review of BÉIS Kids Roller and accessories.
What is BÉIS Luggage?
Well-known in travel circles for its functionality and affordability, BÉIS offers a variety of luggage, bags, and accessories perfect for travel. From jaunts to the gym or across town and weekend getaways to worldwide destinations, BÉIS never compromises when it comes to functional, stylish, and affordable travel gear. Founded by world traveler and Canadian actress Shay Mitchell (of Pretty Little Liars fame), BÉIS takes pride in creating pieces that are as timeless as they are versatile. Plus, BÉIS knows the challenges travelers can face when it comes to packing and staying organized on the go – and their luggage and bags are designed with those challenges in mind.
For years, trendy travelers have appreciated the thoughtful and well-designed features of BÉIS luggage, and now, family travelers can appreciate the same details with the new kids' collection! Plus, there are matching pieces between the adult line and the kid's collection, meaning your mommy and me adventures just got upgraded to first class.
Review of the BÉIS Kids Roller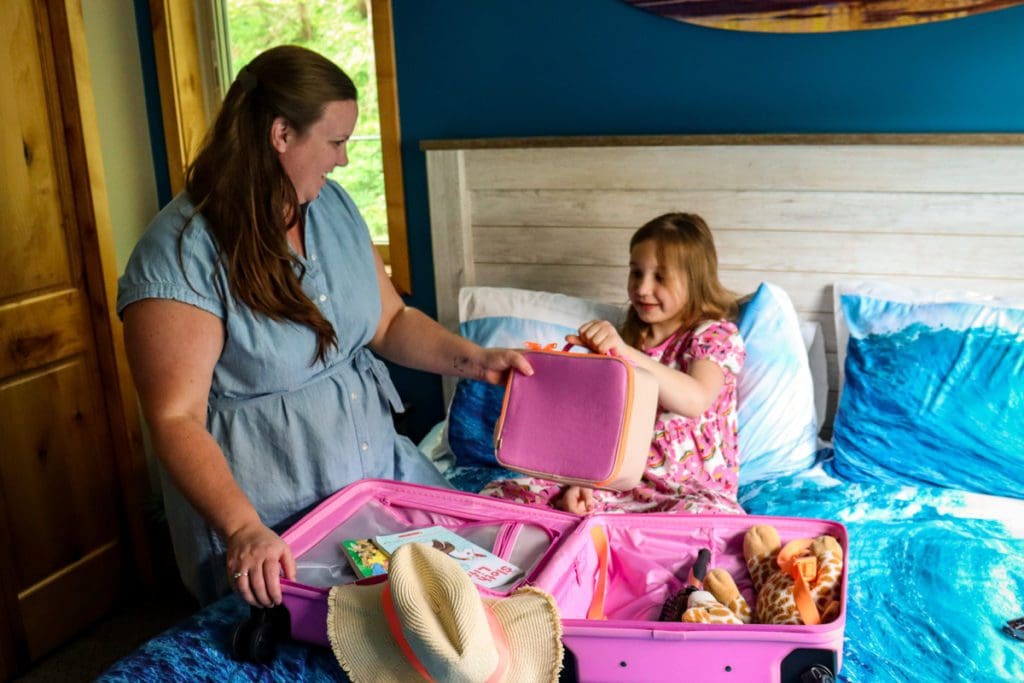 Now that you know a little more about BÉIS, let's dive into our review of their new kids' travel luggage. Two of our team members – Gunjan Prakash, our CEO & Founder, and Antonia Grant, our PR lead and a writer – tested out the Kids Roller, Kids Backpack, and Kids Lunch Box with their children, ages 8 and 12, respectively. Our review will cover the collection's functionality, quality, and design. Is this the best new luggage for kids? Keep reading to learn more in our review of the BÉIS Kids Roller.
READ NEXT: A Travel Editor's Review of the Liene Pearl Portable Photo Printer
Stress-Free Functionality + Quality Design
Finally, luggage for kids that's just as functional as adult luggage! Not only is the BÉIS Kids Roller practical when it comes to packing, but it is durable and easy to use for everyone. Our favorite features include the kid-friendly size, the spacious front pouch for tablets, the adjustable trolley handle with three heights (that is also cushioned!), the hard shell and durable wheels, and the adjustable cross-body strap – just in case you need to carry it along with your own luggage. In our search for the best luggage for kids, these functional features certainly rank highly!
Kid-Friendly Size
We found the kid-friendly size of the BÉIS Kids Roller to be a considerable advantage. It comfortably accommodates all the necessities for longer trips, as well as sleepovers with friends, school excursions, and weekend getaways. This means you don't need more than one suitcase for kids – the BÉIS Kids Roller accommodates all travel opportunities! Plus, when looking for hard-shell kids' luggage, you want to know if the wheels and handle will also hold up to use by kids. And, in this case, we think they do. Not only that, but we believe this suitcase for kids will grow with them. This way, families can invest in one high-quality, yet affordable, piece of luggage for kids without needing to constantly replace it as they grow and their interests change.
We appreciate the sense of independence it provides kids, as they can effortlessly maneuver the suitcase with its sturdy wheels and adjustable trolley handle. Alternatively, the BÉIS Kids Roller also comes with an adjustable strap that parents can use as a cross-body strap to carry over-shoulder, or kids can use it to pull their luggage if they don't like the trolley handle. Having more than one way to maneuver the suitcase means that kids and parents can choose the best way for them.
Exterior Pouch for Tablets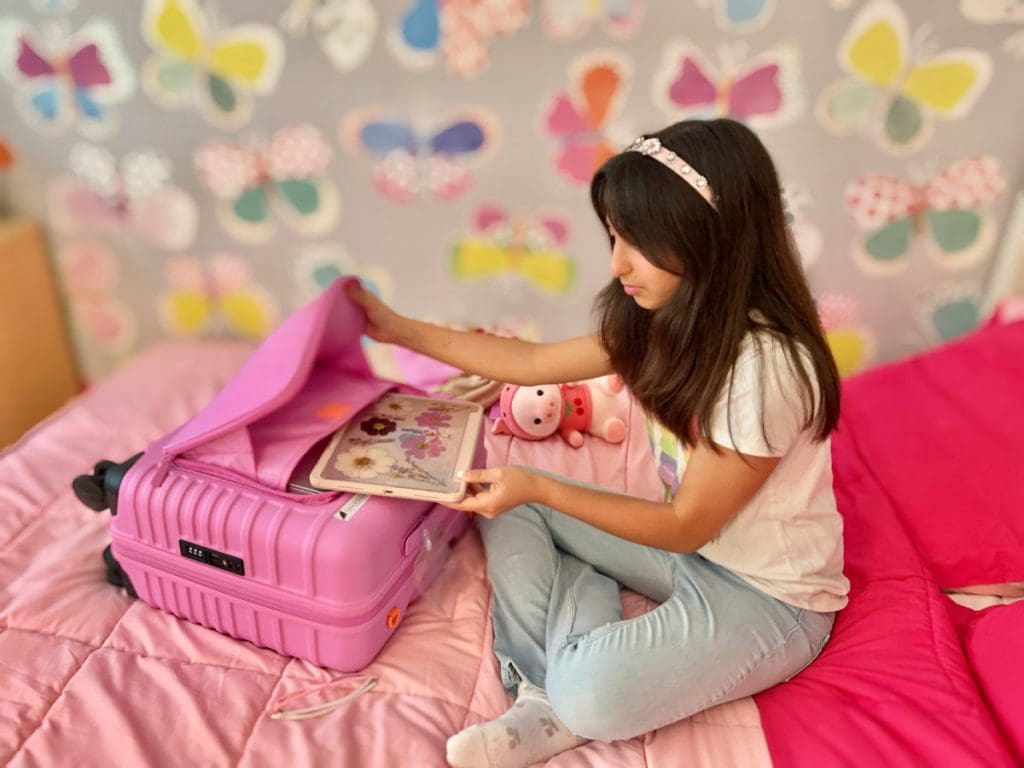 As moms, we have always found it challenging to meet our child's growing technological needs while traveling. Nowadays, kids are inseparable from their devices, whether it's for homework, research, or indulging in creative projects. Carrying multiple gadgets in their backpacks often results in discomfort and a heavy load for both our children and ourselves. As such, one of the standout features of this suitcase for kids is the spacious front pouch, specifically designed to accommodate various devices.
Now, our kids can easily access iPads, Kindles, and even computers without rummaging through backpacks. It not only keeps their gadgets secure, but also saves us precious time, as kids can easily retrieve items whenever they want, whether at the airport or in the hotel. Furthermore, the front pouch offers ample room for chargers and other essential accessories, ensuring everything stays organized and within reach. This is such a great feature in well-designed kids' travel bags.
Well-Designed Extra Touches
We also really loved the extra detailed touches included in the BÉIS Kids Roller. Firstly, the well-designed interior compartments, complete with secure zippers, ensure that all of their belongings remain intact throughout the journey. Whether you are organizing your kid's belongings or they are, there are plenty of interior spaces to keep everything neat and tidy. Additionally, the inclusion of a laundry area is a thoughtful touch, making it easier to separate dirty clothes from clean ones. Finally, the zipper-secured TSA lock is ideal for families concerned with travel security. These extra touches add to why we find this to be some of the best kids' travel luggage available.
Cons to Consider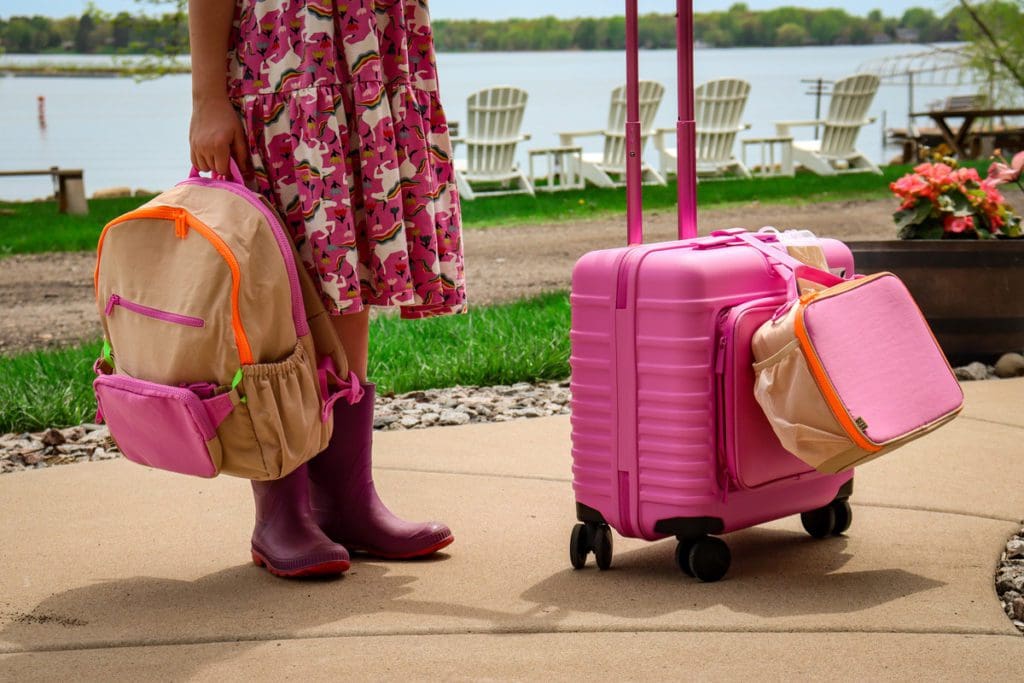 One of the aspects of the BÉIS Kids Roller that was hit-and-miss with our kids was the coloring of the accessories. For the older of the two children, the only aspect she wished could be improved was the backpack's color. As a pink-loving individual, she adored the bubble gum pink suitcase, but was not a huge fan of the beige and orange backpack combination. She hopes that the company will introduce new color combination options, such as pink, purple, and blue, to cater to a wider range of color preferences. Unfortunately, the accessories just aren't as bright as the roller bag; however, the coordinating colors will likely still be enjoyable for most kids.
Secondly, double-check the measurements before ordering. In our review of the BÉIS Kids Roller, we thought some families might find it to be too small, or smaller than expected, for their needs. While we found it to be a good size for kids' luggage or a carry-on suitcase, we think some families may assume it will be a full carry-on size. Due to its square design, it can feel small upon first impression, but we assure you it still holds a lot!
User Experience for Kids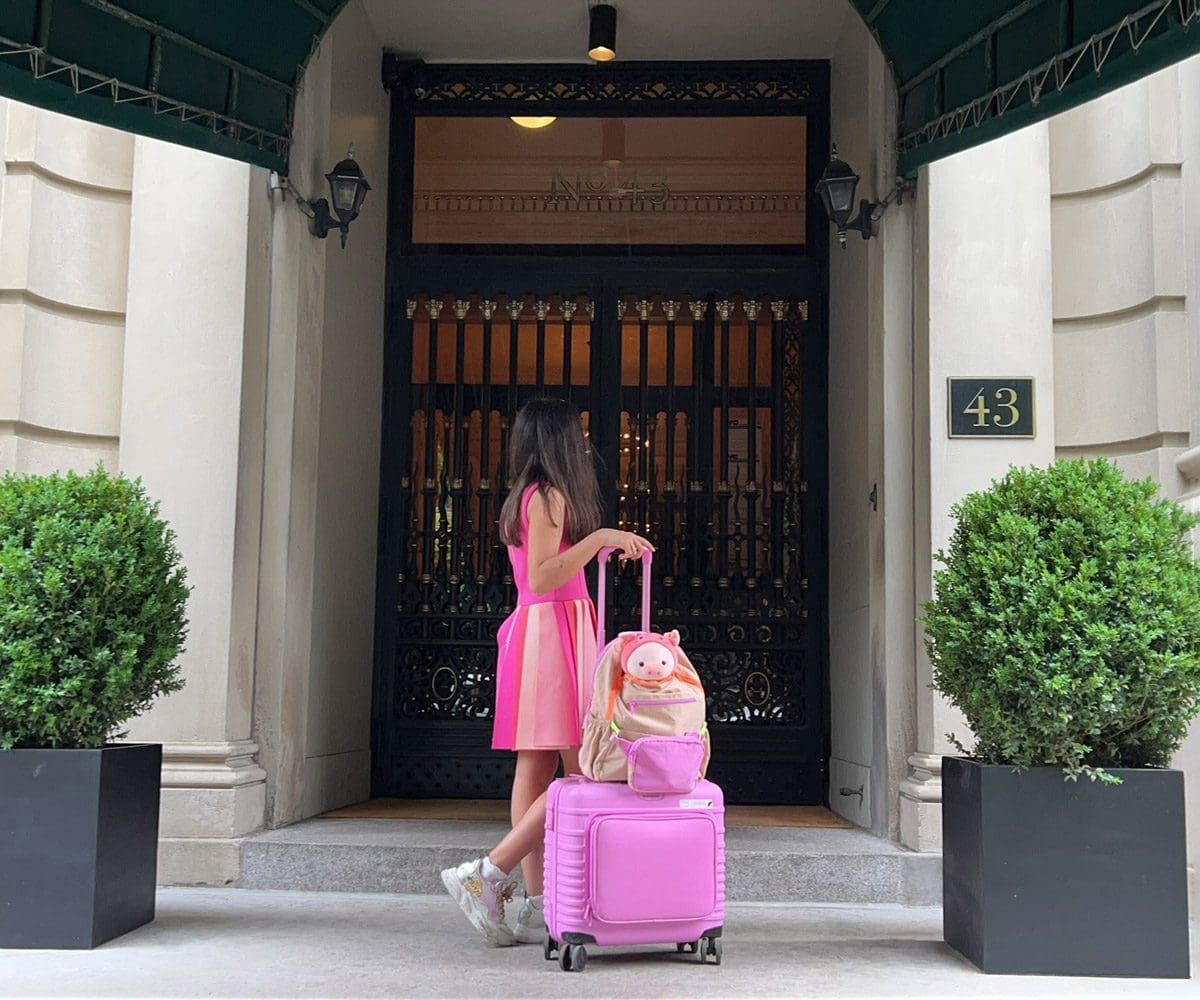 Our kids were thrilled to try out and review the BÉIS Kids Roller. In fact, it has quickly become a go-to companion for sleepovers with friends and our family getaways. Our kids admired the cushioned handle (a feature we haven't seen before), which provides comfort during our travels. Even as they grow, the many features of the BÉIS Kids Roller will come in handy for carrying books, homework, favorite toys, etc. Not to mention, the adjustable trolley ensures that everyone, from toddlers to teens, can transport it with ease. Plus, the user-friendly design, including the front pouch, and fun colors of berry (purple) and citron (green), greatly appealed to our kid's sense of adventure. These are just a few of the many reasons we think this collection makes an excellent choice when looking for luggage for kids of all ages.
Then, compared to smaller kids' suitcases and luggage sets for kids we've tried, the BÉIS Kids Roller offers far greater utility and convenience. Its spaciousness, coupled with the ability to store and access electronic devices securely, has made it an instant hit with our kids (and us as moms!). Indeed, our kids eagerly look forward to our upcoming summer family vacations, where they can have tablets by their side at all times, accompanied by a backpack filled with their favorite books and toys, without feeling burdened by the weight of the gadgets and electronic devices. We can't wait to make our summer travels a tad bit easier and less stressful by using this kids' luggage set from BÉIS.
What Our Kids Say
Want to hear from our kids? Here's what they had to say in their own little reviews of the BÉIS Kids Roller and accessories.
"The best part about this luggage is the pouch to carry my laptop and iPad," says Sanara (age 12), "Before, I used to carry them in my backpack, and it made my backpack really heavy. But now, I'm so excited that I no longer have to carry my laptop in my backpack. I can use my backpack for fun stuff like art supplies and other things."

– Sanara, age 12
"I love all the zippers. The suitcase stores all my things in their own spaces and pockets. Plus, it's my FAVORITE shade of pink. And I love that everything matches. I can't wait to take it on all our trips this summer!"

– Sweet Pea, age 8
So, What Age is the BÉIS Kids Roller Best For?
One of the things we really value about the BÉIS Kids Roller, and something we always look for when trying new kids' luggage, is whether or not the suitcase can grow with them. There are many options on the market geared towards toddlers and young kids or teens. However, there aren't many luggage sets designed with kids in mind that can also grow with them. In this case, we believe that the BÉIS Kids Roller works for all ages.
In our experience, the BÉIS Kids Roller is just as easy to pack and maneuver for young kids as it is for older kids. With the multiple strap and trolley options available, toddlers to teens can transport this luggage with ease. In the younger years, the BÉIS Kids Roller is perfect for storing all of their prized possessions, from rain boots to favorite stuffies and coloring supplies. Then, tweens and teens will find their favorite carry-on companion in the BÉIS Kids Roller, allowing them to store clothes, tablets, chargers, and more. Regardless of the age of your children now, the functionality, versatility, and stylish look will remain timeless as they travel and grow.
READ NEXT: A Travel Mom's Honest Review of Little Passports
Add-On BÉIS Accessories Kids Will Love
Our review of the BÉIS Kids Roller would be incomplete without sharing the fun add-on accessories available in the collection. Many families love coordinating kids' luggage sets, which is just one of the reasons why the BÉIS Kids Roller may be an excellent fit for your family!
READ NEXT: Best Hacks & Products For Sleeping On Long International Flights With Kids
The Kids Backpack
The 8-year-old reviewer loves having a matching luggage set of her own in her favorite color (pink!), and the option to mix and match the pieces whether she was going to school or getting ready for a family weekend away. Available in coordinating gray and beige, the BÉIS Kids Backpack comes in a classic shape with modern features for organization, including a laptop/tablet pocket. As parents, we appreciate the ergonomic design with a chest strap and trolley sleeve, while our kids love the trendy removable fanny pack that they can carry with them on all of their adventures. We also really appreciated the inclusion of a whistle for safety, whether kids are waiting for the school bus or traveling through crowded cities. In today's world, this little addition is much appreciated.
The Kids Lunch Box
Then, the Kids Lunch Box is also available in grey or beige with coordinating accent colors, similar to the backpacks. The lunch box is insulated and comes with a water bottle pocket. Kids can carry it with the attached handle or the included over-the-shoulder strap. The 8-year-old reviewer has been searching for a fun lunch box to carry on the plane during their family travels and was thrilled to finally have one that matched her new luggage. We found the interior pocket ideal for small snacks on the go or for adding ice packs to keep things cool. From school days to road trips and taking flights, the lunch box is an excellent accessory for our travel-loving kids!
The Travel Buddy + the Neck Pillow
Just as travel can be stressful for us, it isn't always easy for our kids. Having a travel buddy or neck pillow can make the journey less stressful and more fun! The colorful leopard travel buddy helps kids stay calm and feel loved no matter what happens during the trip, from overnight flights to long days of exploring. Plus, the attached straps mean kids can easily carry their new friends, even when they are done snuggling. There is even a secret pocket for kids to store precious rocks, coins, or other tidbits they find throughout the day.
Then, the vibrant neck pillow ensures that kids can comfortably sleep in the car or on the plane. The hood feature helps the pillow stay in place, and provides kids will a little bit of shade. Undoubtedly, when searching for fun kids' travel luggage, these added perks will make it even more exciting and comfortable for your kids.
Mommy + Me Coordinating Options
If you're anything like us, you love options for mommy and me travel gear! Well, BÉIS has you covered there too! The new kids' travel bags can match or coordinate with the pieces from the adult Sherbert Collection. Not only will kids love that you want to match their cool new pieces, but it will also make finding your luggage on the carousel much easier. Who doesn't love luggage in vibrant colors like berry, creamsicle, and citron? We absolutely adore this opportunity to have coordinating or matching gear. It is such a fun twist on family travel luggage!
Our Final Thoughts + Why Families Will Love the BÉIS Kids Rollers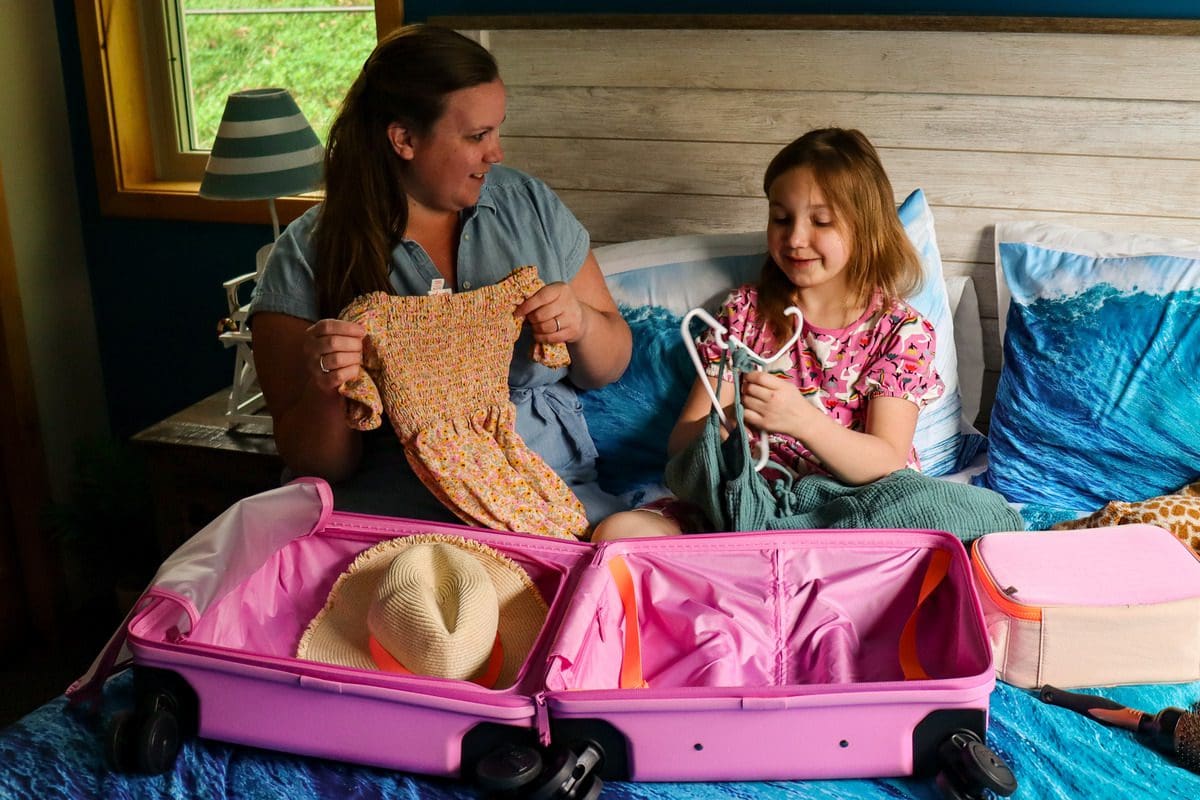 Overall, the BÉIS Kids Roller exceeded our expectations, revolutionizing how we travel with our tech-savvy children. Its practical design, generous storage capacity, and ease of maneuverability make it an ideal companion for our young explorers. Whether it's a family vacation, a sleepover, or a school trip, this suitcase ensures that your child's favorite gadgets and essential belongings are always within reach. Embrace the joy of stress-free travels with the BÉIS Kids Roller, a game-changer for kids of all ages.
READ NEXT: Fun Activities To Keep Kids Entertained While Traveling
Happy Travels!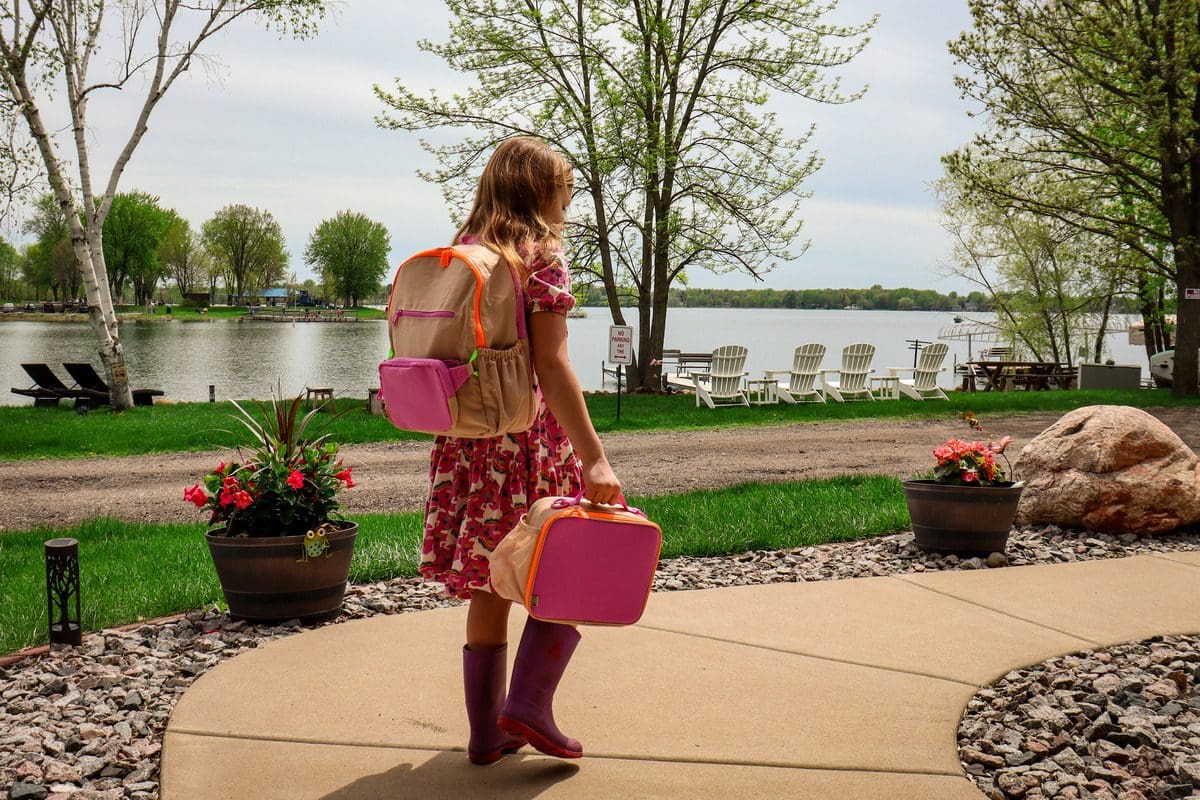 We hope our review of the BÉIS Kids Roller helped you make your decision in investing in new luggage for your kids. From its detailed functionality and versatility to its stylish design and fun colors, we believe kids and parents alike will love this new family collection from BÉIS. Whether you are looking for kids' luggage sets, kids' luggage on wheels, or hard-shell kids' luggage, we think you will appreciate the BÉIS Kids Roller and its accessories just as much as we do. Undoubtedly, they have become new favorites for our kids, and we can't wait to sport them on all of our upcoming summer travels!
*Unless otherwise noted, all images within this article belong to and are courtesy of Gunjan Prakash or Antonia Grant, respectively.
*Due to the COVID-19 pandemic, some of the attractions, accommodations, or things to do on this list may be closed. Please ensure availability before making your decision.
*This post may contain affiliate links that may earn us a small commission, at no additional cost to you. Affiliate links in no way inform the hotels, sights, products, or other recommendations included in our articles. All opinions and recommendations expressed here are that of the attributed authors, Gunjan Prakash and Antonia Grant.
READ MORE: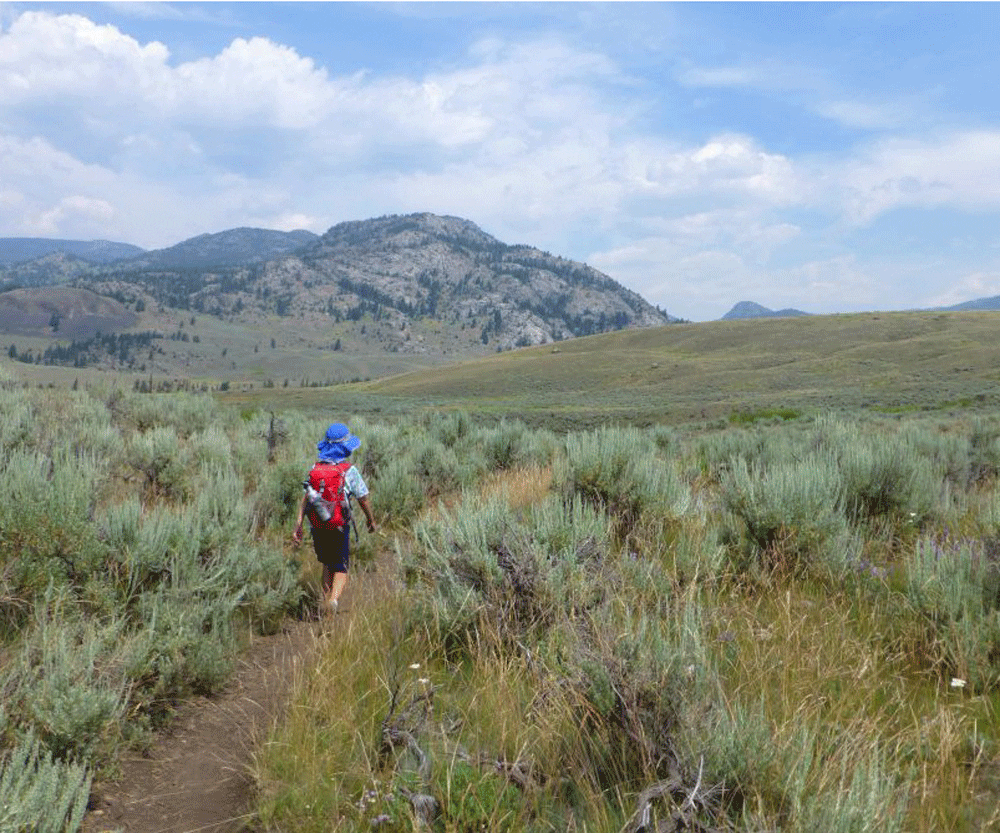 Everyone knows that Yellowstone National Park makes for a classic family vacation. Strolling the boardwalks...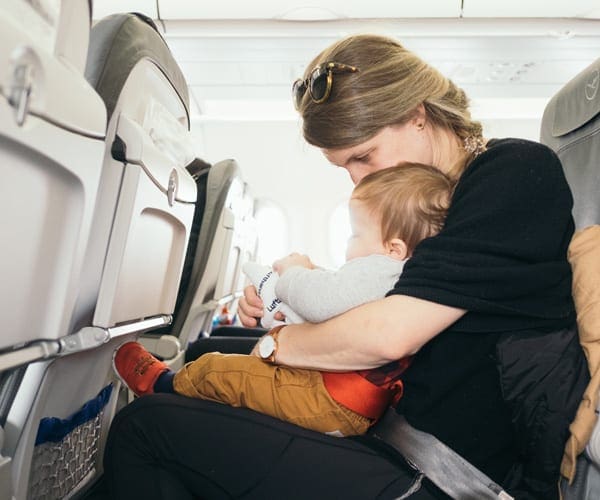 Families Who Love To Travel contributor Meghan Oaks provides her 10 best tips for your...