Parents searching for the best baby carriers for family travel are in the right place. Whether you're preparing for your first vacation with your child or need something more up-to-date, the options on this list are plentiful. Choose between baby wraps, all-position baby carriers, shoulder carriers, and more! Active families will especially benefit from all the ergonomic designs, since it'll be easy to take your kids on hikes, tours, or other sightseeing adventures. Even if you just want something simple for everyday use at home, you can't go wrong with these options, either. Now, you'll be able to keep your little ones close and stay comfortable too! Of course, some parents are traveling on a budget, which is why we've included a range of options to fit your needs. Keep reading to learn about the 14 Best Baby Carriers for Family Travel!
RELATED: A Comprehensive Guide on How to Travel with Kids
Best High-End Baby Carriers For Families
From popular models, as well as some hidden gems, you'll love our diverse list of options. Stay tuned to see the best high-end baby carriers for families!
RELATED: Exciting Mexico Family Resorts With Baby Clubs (All-Inclusive Included)
Lillebaby SeatMe All-Seasons Carrier
Lillebaby's SeatMe All-Seasons Carrier is surely one of the best baby carriers for family travel. Designed for newborns, small babies, or toddlers between 7 and 49 lbs, this unique padded shelf seat is ideal for nursing, family outings, and more. It also features five different carrying positions to give your kids some variety, plus a removable shelf seat insert. That way, you can also transform it from a regular carrier to a hip seat with ease! Many families love using their Lillebaby while traveling long distances with kids, whether on a hike or sightseeing tour. Additionally, if you need to store some belongings, zippered pockets make it easy for this to be your go-to, everyday baby carrier too!
Tula Coast Explore Mesh Baby Carrier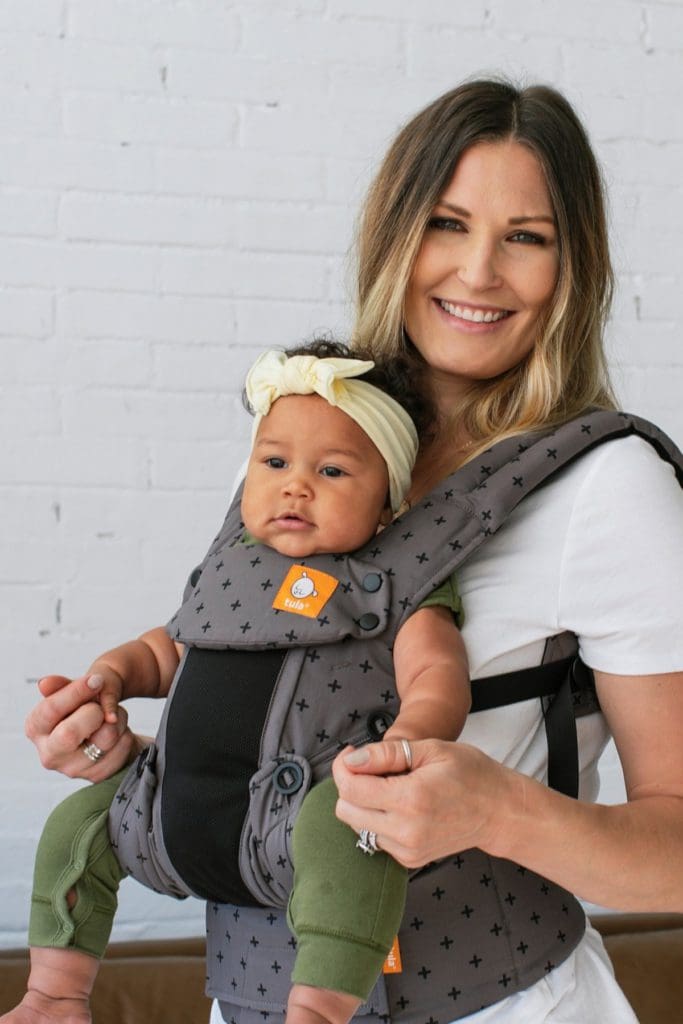 Looking for a front-facing baby carrier? You'll love the Tula Coast Explore Mesh Baby Carrier! It fits babies and toddlers between 7 and 45 lbs, featuring adjustable head support and both front and back-facing options. Traveling families especially love how it's padded for extra support, but never feels too bulky. You can also adjust the width as your baby grows! Finally, as a huge plus, if you're living in a hot climate, you'll love the lightweight, breathable mesh material. Keep yourself and your baby cool all vacation long!
Ergobaby Omni 360 All-Position Baby Carrier
The Ergobaby Omni 360 All-Position Baby Carrier With Lumbar Support truly does it all. It'll grow with babies from when they're a newborn to a toddler, as it fits kids between 0 and 48 months, 7-45 lbs. You can also expect maximum comfort regardless of whether you have your baby in a front-facing, hip, or back-carrying position. Though Ergobaby makes a similar model from mesh, families often prefer this model's cotton material because it's softer and adaptable to all seasons. Plus, not only will it grow with your baby, but it's also flexible enough to adjust to various adult body types. Finally, other features include a hood for sun protection, a detachable storage pouch, and a lumbar support waistbelt with double adjusters. What a perfect accessory for your next family vacation!
MiniMeis G4 Shoulder Carrier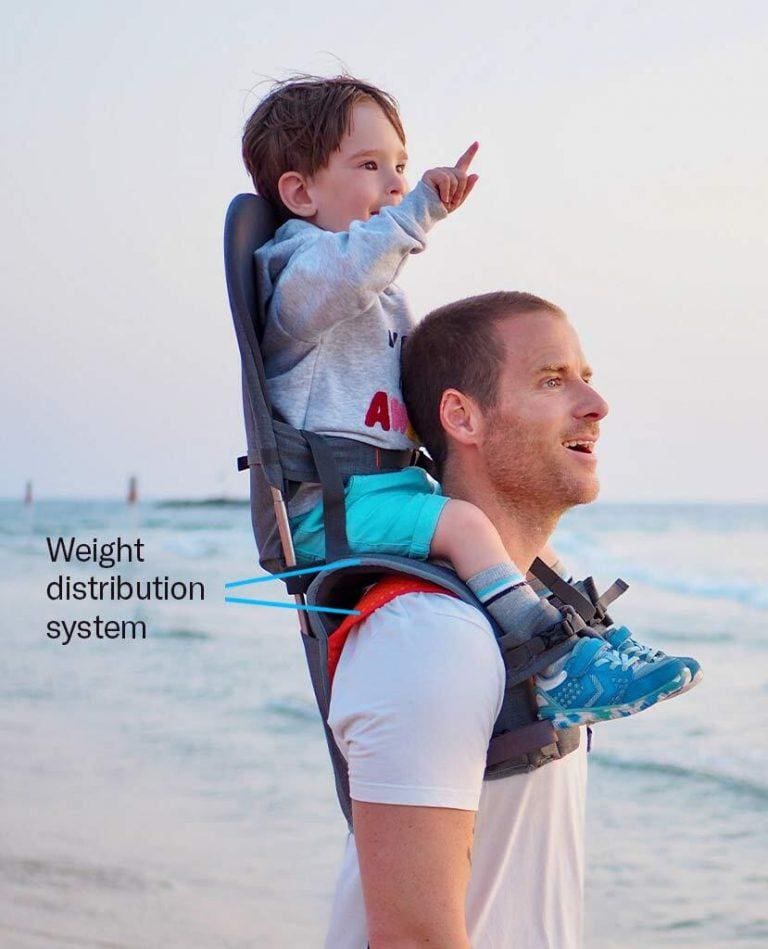 One of the most unique baby carriers for family travel is the MiniMeis G4 Shoulder Carrier. Help your kids see the world from new heights with this safe, easy, and fun shoulder carrier! Secured with a waist belt and leg straps, it's made for children between 6 months and 5 years old, or up to 48 lbs. We also consider this one of the best baby carriers for dads, since you can bring kids along to concerts, hikes, and more fun events. Additionally, a padded seat and comfortable headrest ensure your kids will be cozy the whole time! Ideal for traveling, it also folds down into a laptop-like shape that's easy to store in a suitcase. Lastly, it's available in cute colors too, like red, yellow, or blue!
Happy Baby Carrier
Families searching for a soft and stylish baby carrier should buy the Happy Baby Carrier. Featuring a sleek, minimalist design, this lightweight and breathable baby carrier is perfect for warm-weather destinations. In fact, parents can take advantage of two carrying styles for kids between 7 and 45 lbs: inward-facing or back-carrying. You'll also love how it's fully adjustable to grow with your baby, with padded leg openings for extra comfort. It also has hidden pockets, comes in multiple cute patterns, plus it folds down to easily fit in your diaper bag. We're not surprised it's one of the best baby carriers for family travel!
RELATED: 10 Best Caribbean Family Resorts With Baby Clubs
Osprey Poco Plus
Adventurous families will make great use of the Osprey Poco Plus Child Carrier. Since kids must be a minimum of 16 pounds and a maximum of 48 lbs, it's ideal for larger babies or toddlers. Featuring a double halo harness, front-facing arm loops, and adjustable straps, the Osprey Child Carrier grows with your little one and adapts to your size too. Certainly, on-go-go parents can easily use this to go hiking, walk through the park, or just as a way to simplify everyday tasks. Then, for easy storage, enjoy removable stirrups, a drool pad, and a zippered compartment. There's also a built-in sunshade so your little one can be protected from harmful UV rays, making it one of the best baby carriers for family travel!
MiaMily Baby Carrier
If you're on a vacation with lots of walking, you need the MiaMily Baby Carrier. Perfect for newborns to four-year-olds (or 44 lbs), it features a hip seat plus lumbar support to ensure your baby is in the correct position. Then, the hip seat is detachable, which means you can enjoy six different carrying positions, including front and back. Additionally, thanks to the carrier's comfortable support system and adjustable straps, you won't even be able to feel the weight! Your baby will be super cozy too since the carrier grows as they do. Finally, double-shoulder straps and built-in storage for parents make it easy to take on and off for everyday use as well!
Beco Toddler Carrier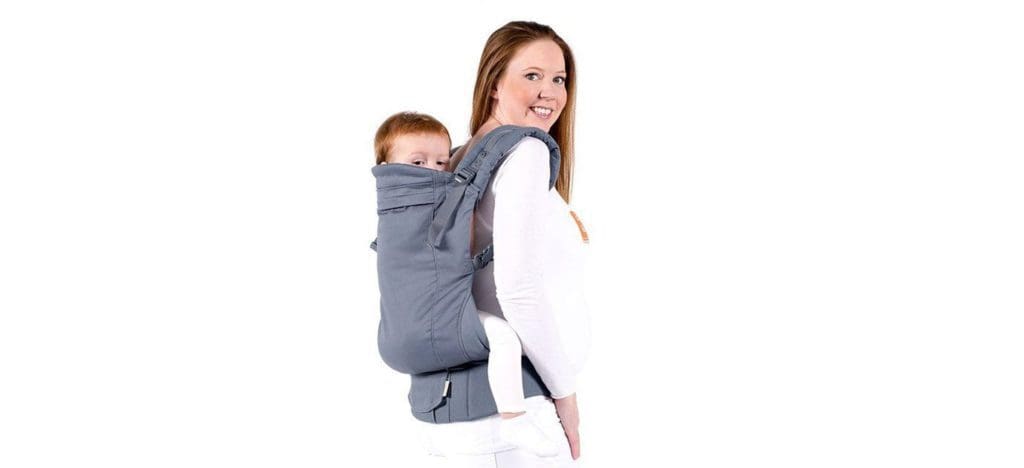 Beco Toddler Carrier is another one of the best baby carriers for family travel. It can fit kids who are between 20 and 60 pounds, which is roughly between one and four years old. Since parents can wear it on the front or back, it's also super comfortable for when you're on the go during a vacation. In fact, the Beco Toddler Carrier has the highest panel of all the company's models to ensure extra back support for your little ones. Adjustable straps also grow with your kid, and there's even a detachable sleeping hood and zippered bag. Many families also enjoy the cool, breathable material for when it's hot outside!
BABYBJÖRN Baby Carrier Mini
Need the best baby carrier for newborns? Your best bet is the Babybjorn Baby Carrier Mini. Suitable for newborns up to twelve months old, it's perfect for keeping your hands free while you carry your little ones. A flexible design, adjustable seat, and headrest make it easy for the carrier to grow as your child does too. There are also two front-carrying options. Then, it's available in three lightweight materials: jersey, mesh, or cotton. Certainly, this is one of the best baby carriers for family travel!
ClevrPlus Cross Country Baby Backpack Hiking Child Carrier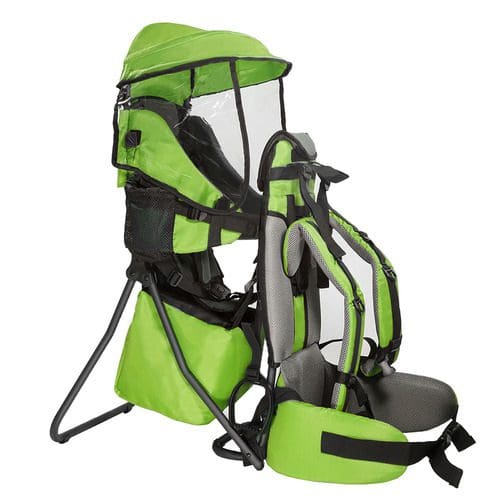 Bring your kid wherever you go with the ClevrPlus Cross Country Baby Backpack Hiking Child Carrier. Made from strong but lightweight oxford cloth, it has a maximum weight of around 33lbs, ideal for kids between nine months and 4 years old. Like many baby carriers, it also grows with your child. However, a lot of families find this one particularly great for hiking or other outdoor adventures due to its multitude of spaces. You will also enjoy multiple pockets, thick shoulder straps, two side water bottle holders, and an extra-large back pocket. There's also a sun and rain roof for unpredictable weather. Compact and foldable, put it in your suitcase, everyday bag, or wherever else you want to bring it along! ​​
Best Baby Carriers for Families on a Budget
If you're looking for something more affordable, don't worry! We also have baby carriers for families on a budget. Here are our favorites!
RELATED: 25 Best Travel Hacks To Plan Your Next Family Vacation
Baby K'tan Baby Carrier
Babies will simply love Baby K'Tan Baby Carrier's soft and stretchy material! Designed for newborns up to 35 lbs, it's rated as one of the best baby wraps on the market. You won't experience the typical long, confusing straps with this baby carrier – it's easy to assemble, comfortable to wear, and comes in different sizes so you can find your perfect fit. In fact, the patented, double-loop design functions as an all-in-one sling, wrap, and baby carrier! Enjoy hands-free babywearing and go about your day while keeping your little ones close. Breastfeeding mothers can also use it for discreet nursing too. Of course, it's also ideal for taking them along on travel adventures!
Evenflo Breathable Baby Carrier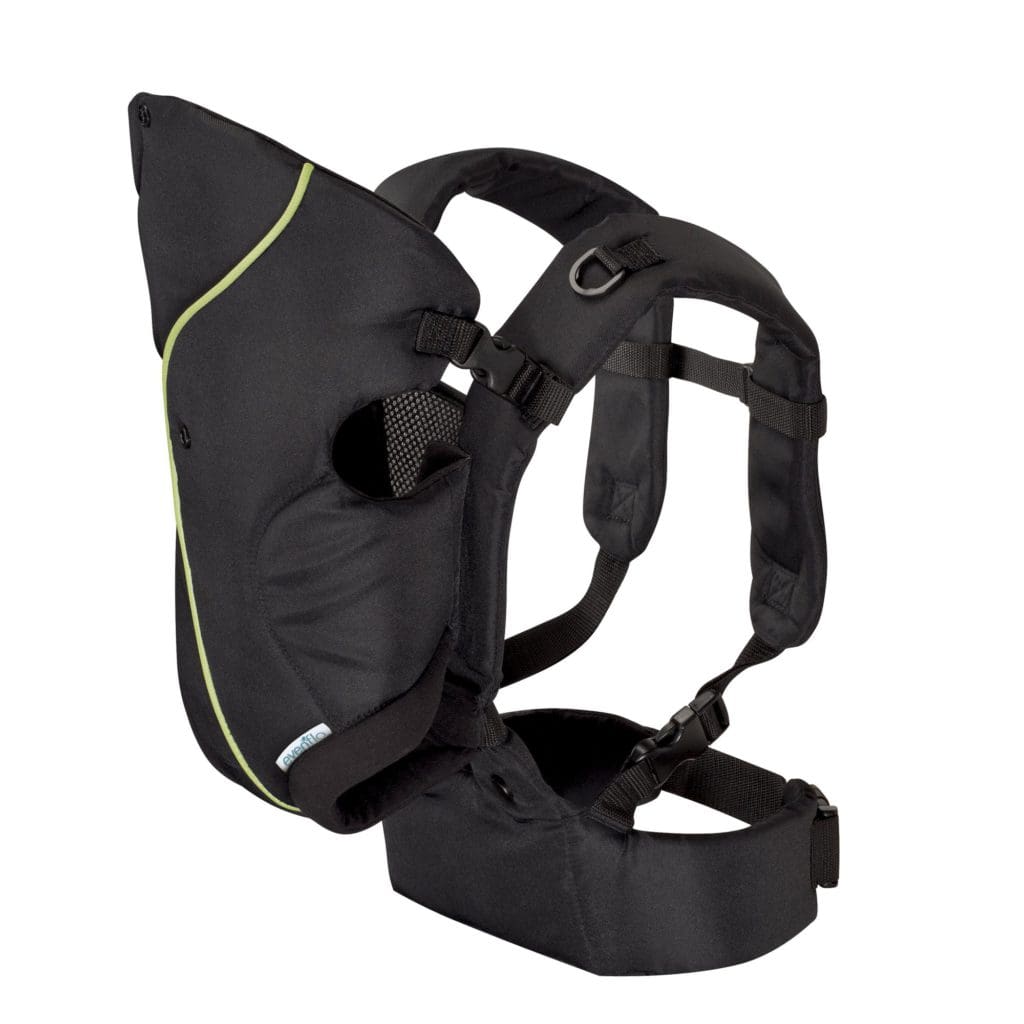 If you love the feeling of snuggling your little one all day, you'll appreciate the Evenflo Baby Carrier. As one of the best budget baby carriers for family travel, it's functional without all the fuss, comfortable for kids and adults, and easy to assemble and wash. Expect it to fit kids between 7 and 26 pounds. Parents can also take advantage of the two carrying positions to let little ones face forward or toward them. Then, breathable mesh panels help keep everyone cool. Additionally, the padded straps won't harm your posture. Finally, it comes with a removable bib too!
Infantino Flip Advanced 4-in-1 Carrier
Use your baby carrier for every occasion when you buy the Infantino Flip Advanced 4-in-1 Carrier. This uniquely flexible baby carrier can hold children between 8 and 32 pounds, so it's ideal for newborns to toddlers. With narrow and wide seat positions, you can carry your baby facing in, facing out, or on your back. There's also adjustable head support, extra-padded shoulder straps, and a flexible waist belt. Certainly, kids will love being close to you without feeling strapped in like a typical baby wrap. Parents will also appreciate the pockets to hold your keys, wallet, and anything else you may need!
​​Solly Baby Wrap
Families searching for the best baby wrap will love the Solly Baby Wrap. Available in various cute designs and colors, it can hold babies between 8 and 25 pounds. Of course, it's perfect for parents who want to go hands-free and bring their little ones with them on vacation! It also has a universal fit that stretches and grows with your baby, providing countless hours of comfortable use.  As opposed to other popular baby wraps, many parents find this one more lightweight, therefore ideal for summer. 
Happy Travels!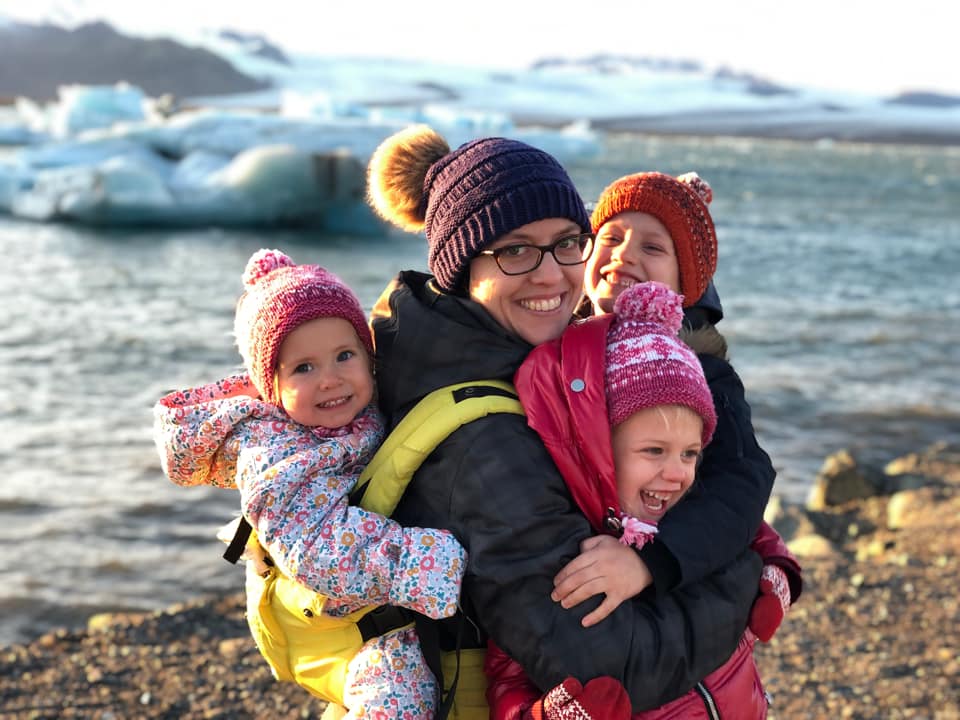 We hope you liked this list of the Best Baby Carriers For Family Travel! Whether it's your first trip with your little one or you're a seasoned traveler, the options on this list are endless and great for all different types of families. Finally, we hope selecting one of these baby carriers helps you have the best vacation possible with your kids!
RELATED: Use These 10 Tips For Your Baby's First Flight
*This post may contain affiliate links that may earn us a small commission, at no additional cost to you. Affiliate links in no way inform the hotels, sights, products, or other recommendations included in our articles. All opinions and recommendations expressed here are compiled from submissions submitted by the generous members of our Families Who Love To Travel community.
READ NEXT: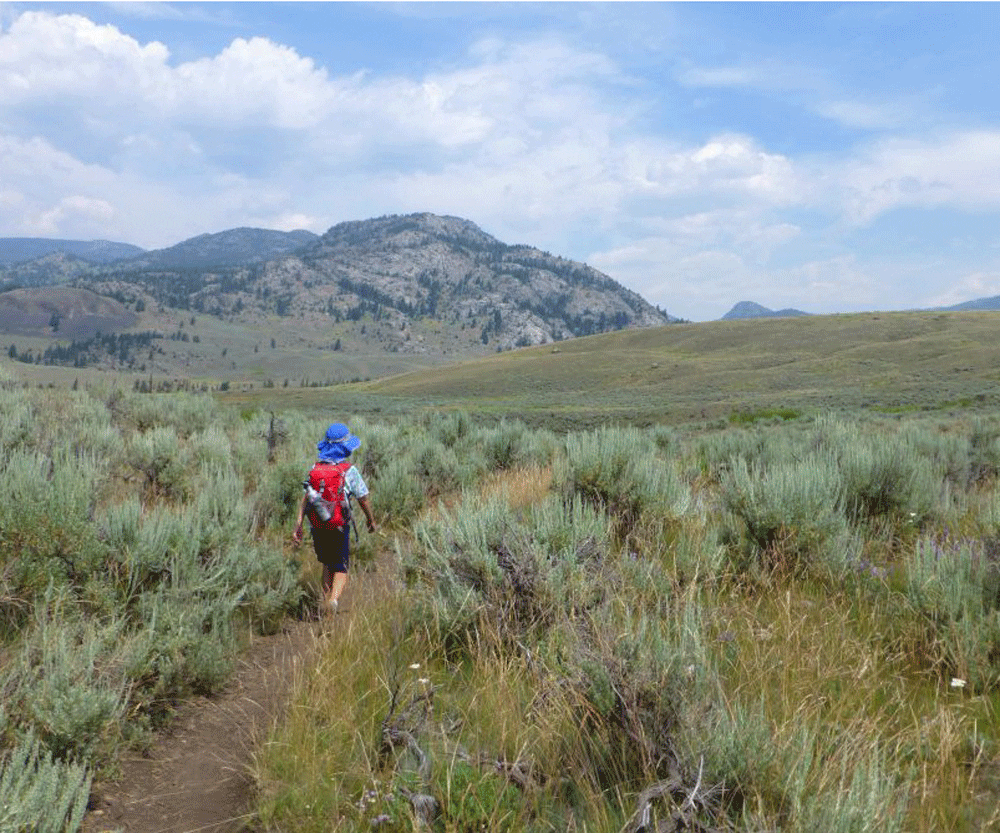 Everyone knows that Yellowstone National Park makes for a classic family vacation. Strolling the boardwalks...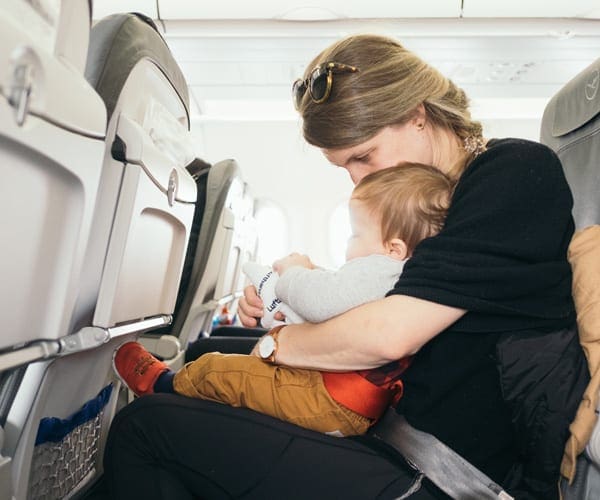 Families Who Love To Travel contributor Meghan Oaks provides her 10 best tips for your...