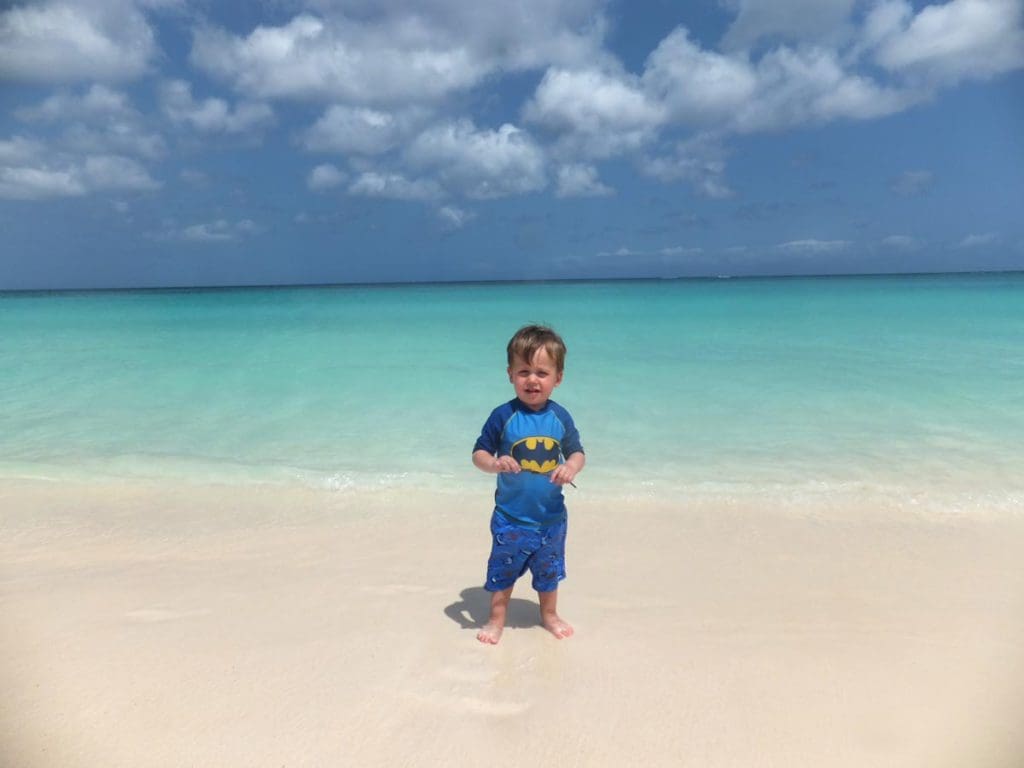 Enjoy the sun, salt, and sand at some of the best beaches in Aruba for families! Whether you want to lounge or hit the waves, this Caribbean island features a variety of family-friendly beaches to choose from. Enjoy the bustling shoreline and facilities at Palm Beach or head to lesser-known locations, like Arashi Beach or Mangel Halto. Meanwhile, destinations like Baby Beach are ideal for young kids who want to enjoy shallow waters. To help you decide which beach is best for you, we've also included tips. Plus, some of the best hotels in Aruba for families. Keep reading for our list of the Best Beaches in Aruba for Families!
Read, next: 12 Things To Do In Aruba With Kids
Palm Beach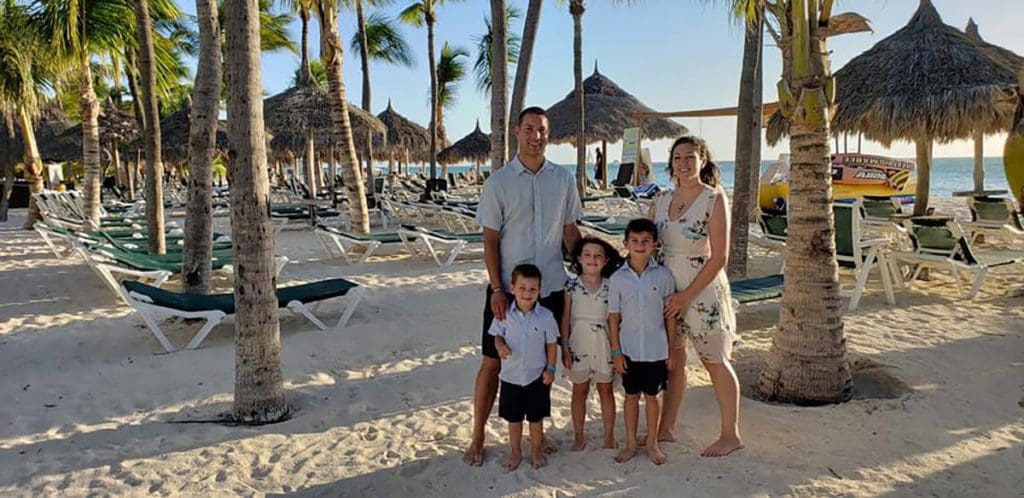 Palm Beach is a resort area in Oranjestad, on the northern coast of Aruba. As the name suggests, palm trees dot the shore, offering a bit of shade so you can spend the whole day enjoying the sun, sand, and scenery. It's renowned for its long white sandy beach and calm, clear waters perfect for young children as there are barely any waves.
Plus, the beach isn't the only attraction. There are plenty of dining options, as well as family-friendly activities as the strip is lined with bars, restaurants, and watersport shacks offering jet skiing and boat rides. For nature lovers, there is also the Bubali Bird Sanctuary, as well as the Aruba Butterfly Farm nearby, with free-flying butterflies in a jungle enclosure. Parking may be a bit of a challenge, but this beach is so popular for good reason and is definitely worth the visit to one of the best beaches in Aruba for families!
Book an Aruba Sightseeing tour through Viator! This tour stops at the Aruba Butterfly Farm!
Don't miss booking tickets for these amazing Palm Beach attractions for families!
Eagle Beach
Eagle Beach is another beautiful beach in Oranjestad. It's known as the most expansive beach in Aruba, featuring a wide shoreline perfect for playing games or lounging. Due to its stunning, soft white sand, it's also one of the best beaches in the world. Gorgeous turquoise water, which is shallow and calm, makes this a relatively safe spot for kids to swim and check out the resident fish and stingrays. Kids who are daredevils in the water can also try sports such as jet skiing and parasailing.
There's also a pedestrian walkway alongside the sand, boasting several restaurants and beach bars offering food and refreshments. Try Terraza Italiana, Las Ramblas, or the Islander Bar & Grill. Alongside its gorgeous scenery, Eagle Beach is also famous for its abundance of Fofoti trees, a type of species native to Aruba. Stick around for sunset to take an incredible photo of your kids at one of the best beaches in Aruba for families!
Baby Beach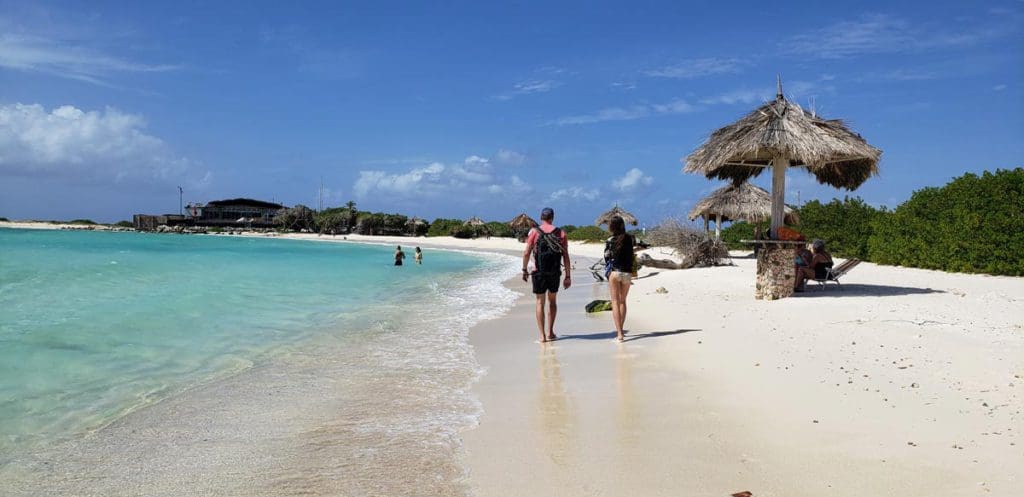 Baby Beach, officially known as Klein Lagoen, is a shallow, sheltered man-altered lagoon located in the Mangle Cora locality, close to San Nicolas. As the name suggests, this is a great beach for kids, especially younger ones! Here, you'll find fewer crowds than in other touristy parts of Aruba. Not to mention crystal clear water and an abundance of wildlife to see, including turtles, eels, conchs, and various fish! With toddler-friendly waters, this is certainly one of the best beaches in Aruba for families
If you really want to spot turtles, we suggest visiting Baby Beach early in the day. As more people start to swim later in the day, the turtles often move further from the shore. Once you've had enough of playing in the water, explore the hiking trails alongside the beach. You might even spot the iguanas who walk casually in and out of the bushes! There aren't many vendors here, so bring your own chairs, cooler, and snorkel gear if possible.
Iguana and Flamingo Beaches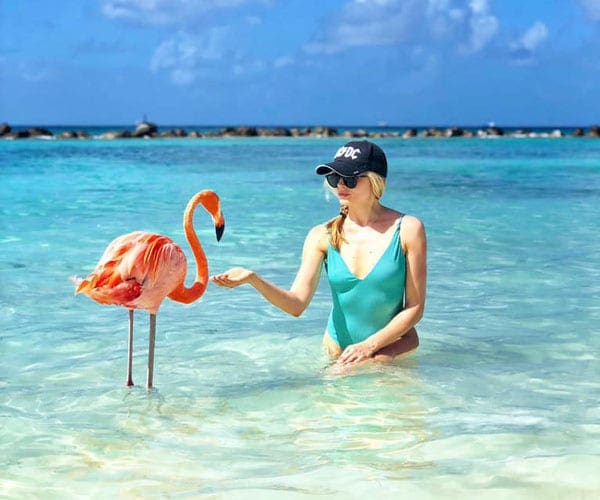 Iguana Beach and Flamingo Beach sit next to each other at the southwest part of Renaissance Island. If you aren't a guest at the Renaissance Aruba Resort & Casino, you'll need a day pass and transfer by boat. Towels, raft floats, hammocks, palm leaf palapas, and chairs are available at Iguana Beach, plus there are also two restaurants and two bars.
If you want to relax and feel pampered, rent a cabana with a cooler with waters, champagne, and a fruit platter. Families will love the other amenities the safe and quiet Iguana Beach offers, including the chance to spot iguanas in their natural habitat. Just a short walk away, Flamingo Beach has a family-friendly section that offers soft white sand and a protective stone break wall to ensure the water is calm. If you hadn't guessed, there are flamingos on the beach. Bring some coins to buy the pellets to feed them!
Don't lug the baby gear with you on your next trip to Aruba! Rent everything you need using BabyQuip.
Boca Catalina
Looking for the best beaches in Aruba for families who want a secluded oasis? Visit Boca Catalina in the Malmok Beach area! This low-key bay features beautiful, tranquil waters, which is why it's one of many local gems. Families love coming here for a private swim and snorkel experience in Aruba, since it's usually not crowded on weekdays.
In fact, Boca Catalina is one of the best snorkeling spots in Aruba, with a myriad of fish to see, even in the very shallow waters close to the shore. As you venture a little further out, you'll find even more marine life and coral at only about 12ft deep, like green sea turtles! On weekends, the beach attracts a fun mix of local families and tourists. You can access this white sandy beach easily by a staircase down from a large parking area alongside the road.
Prins Beach
Families who want to spend time in nature will love a visit to Boca Prins, aka Prins Beach. Situated along the northeast coast in Arikok National Park, this secluded beach is one of Aruba's iconic north shore destinations. Although we don't recommend Prins Beach for swimming because of the strong currents, it's still a breathtaking spot to stop by during your visit to the park. Easily accessible using the stairway down to the beach, you'll come upon pristine white sand and a magnificent ocean view. It makes for a wonderful stop to stretch your legs and take some photos while children play in the sand dunes. No wonder this is one of the best beaches in Aruba for Families.
Dos Playa Beach
Visitors of Arikok National Park in Santa Cruz can indulge in pure beach bliss at Dos Playa (two beaches), a pair of bordering coves carved out of the island's limestone. It's a must-see for people who enjoy an unspoiled beach experience and especially families with older kids. Easily accessible by foot, one of the coves is a favorite for surfers who are willing to brave the waves crashing over the reef.
Swimming is not recommended because of the rough conditions, however, visitors can still enjoy watching the fearless locals, sunbathing, or relaxing under the shade of the seagrape trees while taking in the spectacular views. Hiking the surrounding mountains is also an option if you're an active family looking for something else to do. Don't expect facilities or services here; just take in natural beauty at its best.
Hadicurari Beach
Hadicurari Beach is surely one of the best beaches in Aruba for families. Located between Malmok Beach and Palm Beach, it's also known as Fisherman's Huts, named after the small huts they built here. Although the water is serene and clear, making it great for snorkeling, this beach is also renowned for being windy. As such, it's one of the most popular spots in Aruba for families looking to learn or practice wind and kite surfing.
There are several surf schools and watersport rentals in the area, such as Windsurfing Aruba. You can expect to pay about $35-50 for 2 hours of windsurfing rental equipment, which is an incredible deal compared to the US. Beginners can also take lessons to learn the ins and outs of windsurfing from a professional. What a cool way to spend your beach day in Aruba!
Rodgers Beach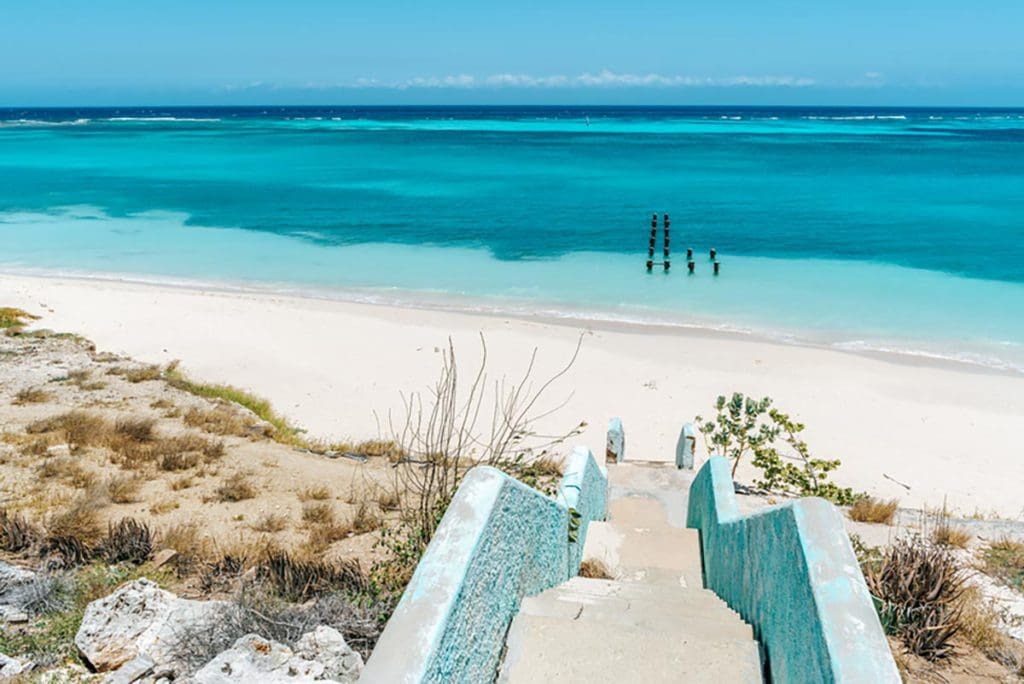 Rodgers Beach in San Nicolas, also known as 'Nanki,' is a small quiet beach immediately west of Baby Beach. With beautiful white sand, it also features calm waters. Families will appreciate how it has a private, secluded feel, despite being a public beach. Young kids can splash in the calm, shallow water, but it also gets a little deeper for more confident swimmers.
Although this is still one of the best beaches in Aruba for families, keep in mind there's not much shade on the actual beach. Additionally, there are very few facilities and no vendors. Be sure to bring your own snacks or anything else you may need. Once kids get hot and need to refresh, they can jump off the pier into the cold water. Kids can also bring their fishing gear and go fishing off the pier.
Malmok Beach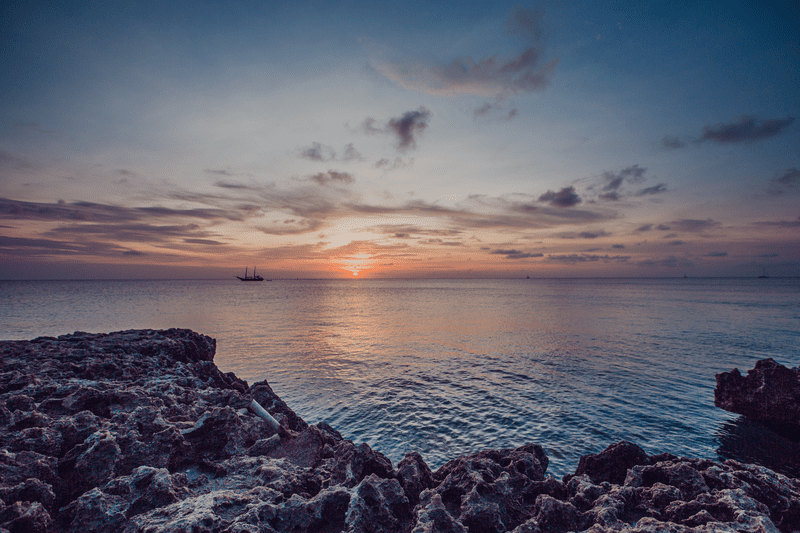 Pack your snorkel gear when heading to Malmok Beach. Located on Aruba's northern shores, this narrow sandy stretch cuts across the limestone and rocky terrace along Malmok's coast. However, it's better known for its beauty beneath the water than the sandy shoreline, which is a bit rocky. Featuring shallow clear Caribbean waters with rocks and coral, it's one of the most popular snorkeling spots in Aruba for families!
Many snorkel tour companies choose this designation to anchor their boats, so it'll be easy to find a guide. Bring your own gear or rent some from a local vendor. Palm Beach and Aruba's main tourist area is around a 30-minute walk away, so it's doable if you're up for the adventure. Divers will also appreciate all the reefs and sunken wrecks, plus there's plenty of fish and sea life.
Pro Tip: We recommend water shoes for walking over the rocks as you enter the water, but once inside, you can float through the calm turquoise waters and enjoy the scenery.
Mangel Halto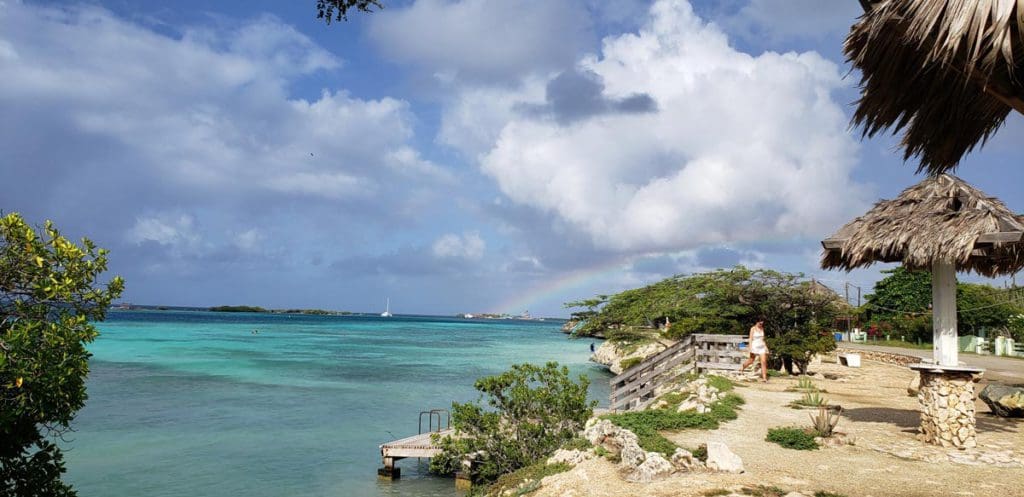 A list of the best beaches in Aruba for families would be incomplete without Mangel Halto. Located mid-island, this secluded beach offers swimming, sailing, kayaking, and snorkeling. Perfect for young kids, it showcases calm, shallow, and turquoise waters teeming with sea life. Mangel also hosts fewer tourists than Eagle, Palm, or Baby Beach. It's also one of few beaches in Aruba without shade, so you can soak up the sun all day.
Enjoy a sand beach, a wooden sun deck, and access through the mangroves for open water kayaking and stand-up paddleboarding. Shallow inlets provide a wonderful splash pool for babies, and there's a small pub for adults. Or, bring a picnic, take shelter inside the public beach huts, and watch the sunset. A beautiful reef just offshore welcomes snorkelers of all abilities. Venture about 40ft into the water to explore a sunken ship with sea creatures and parrotfish!
RELATED: 4 Days in Aruba with Kids Itinerary
Arashi Beach
Looking for a quiet beach for your family to enjoy in Aruba? Visit Arashi Beach, a settlement on the northwestern tip of Aruba, in the Noord district. It's close to Malmok and Kudarebe, with a great view of the California Lighthouse. With shallow water perfect for swimming and letting kids play in the waves, it's ideal for a family day out. Enjoy a big parking lot, plenty of space to sunbathe, plus access to palm leaf umbrellas for shade.
Artists can even take advantage of quality sand for sculpting! There's also a beautiful snorkeling site to see the variety of colorful fish. After a full day in the sun, you can wash up at the showers and visit Arashi Beach Shack, which serves ice cold drinks for the adults and ice cream for the kids. Occasionally, there's even live music at the beach bar!
Before you go, book your Tickets for these Family-Friendly Aruba Attractions!
Where to Stay in Aruba with Kids
If you need somewhere to stay in Aruba with kids, we have a few resorts to consider before visiting the best beaches in Aruba for families. Barceló Aruba is within minutes of Aruba's only golf course and includes a kids' club. Or, try Marriott's Aruba Surf Club whose Matey's Hall Kid's Club organizes games, crafts, and more for little travelers (ages 4 and 12). Then, the Renaissance Aruba Resort & Casino includes access to their nearby private island. Read our full list of the 7 Best Family Resorts In Aruba (including All-Inclusive) for more recommendations!
If a hotel isn't your scene or you're looking for accommodations for a larger family, try finding a home rental through Vrbo. Aruba is safe and convenient if you're searching for a private rental. Here's the list of the best 50 home rentals in Aruba.
Happy Beach Day!
We hope you liked this list of the Best Beaches In Aruba For Families! Whether you're already on a family vacation in Aruba, or busy planning a trip, whichever you choose, you won't be disappointed. There's nothing quite like spending quality time with your children in Aruba!
All About Aruba With Kids: Important Information You Need to Know
*Due to the COVID-19 pandemic, some of the attractions, accommodations, or things to do on this list may be closed. Please ensure availability before making your decision.
*This post may contain affiliate links that may earn us a small commission, at no additional cost to you. Affiliate links in no way inform the hotels, sights, products, or other recommendations included in our articles. All opinions and recommendations expressed here are compiled from submissions submitted by the generous members of our Families Who Love To Travel community.
READ NEXT: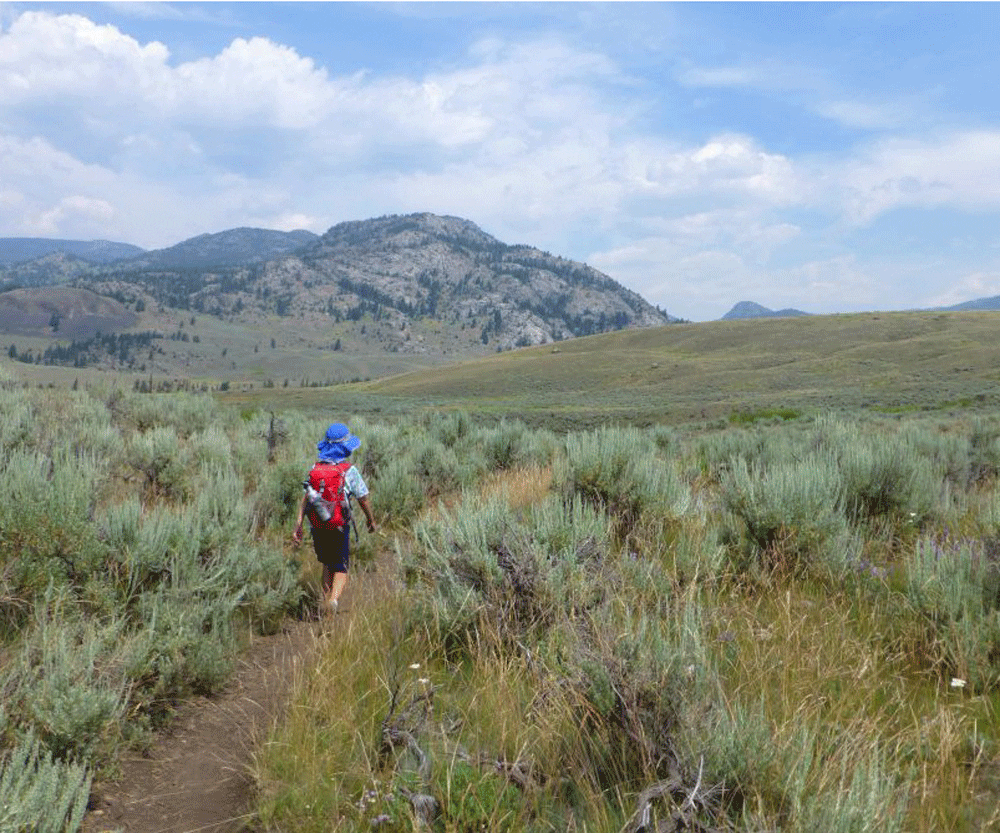 Everyone knows that Yellowstone National Park makes for a classic family vacation. Strolling the boardwalks...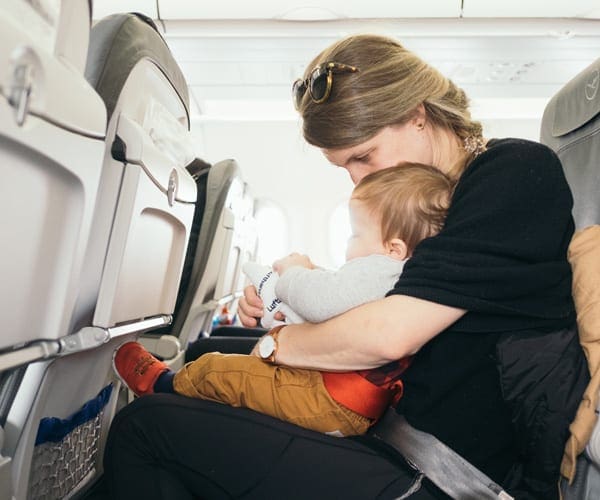 Families Who Love To Travel contributor Meghan Oaks provides her 10 best tips for your...