While San Francisco has been marketed as a millennial hub, that doesn't mean the city isn't a fun destination to visit with kids. As these travel bloggers note, it has plenty of things to do with kids. Whether you want to spend a day overlooking The Golden Gate Bridge, strolling through the nearby Japanese Tea Garden, or navigating the dizzying streets of Russian Hill, let San Francisco be a host to your family's next escapade. Each of these guides outlines detailed instructions on how to spend your time around town, adding in a few pro tips along the way.
Wandermust's Best Things to do in San Francisco with a Toddler in Tow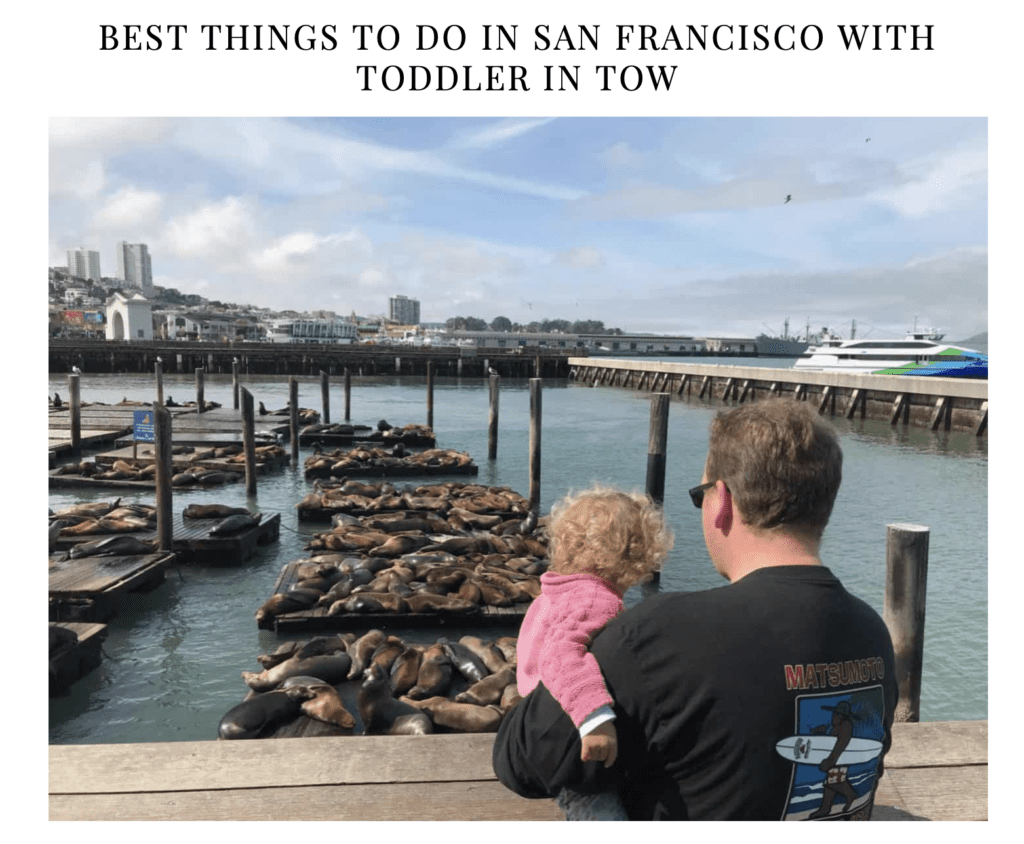 Traveling with toddlers isn't easy, but fortunately Wandermust Family created a comprehensive guide for tackling San Francisco with younger kids. Take a morning stroll along Fishermen's Wharf and Pier 39, where any child would be delighted to see the famous San Francisco sea lions in action. The area also has plenty of attractions to keep the whole family busy. Visit the Aquarium of the Bay, for example, or ride the Pier 39 Carousel. Seize the opportunity to explore beyond the bay, however, and you can take a cable car to the San Francisco Zoo. Kids can get up-close-and-personal with giraffe's at the Giraffe lodge, or see a grizzly being fed its breakfast at the bear enclosure. For an indoor educational experience, Wandermust Family recommends bringing toddlers to the Children's Creativity Museum. There, children can familiarize themselves with robotics, animation, music, and other STEM or STEAM concepts. Finish your day with dessert in Ghiradelli Square, renowned for its chocolate production and various specialty shops. Read the full blog post here.
Tiny Trailblazer's San Francisco with Kids
Writing for Tiny Trailblazers, Sarah debunks the myth that San Francisco isn't a kid-friendly city. Begin a day of family activities with breakfast at Tartine, famed internationally for its fresh croissants and morning buns (make sure to get there early to beat the crowds). Nearby, kids can also enjoy the playground at Dolores Park. Then, take the cable car to The Museum of Ice Cream for some more sweet treats. Children can jump in a pool full of sprinkles, learn more about the ice cream making process, and even taste some for themselves. Assuming you aren't too full from all the dessert, consider grabbing lunch down Market Street at Super Duper Burgers. Once you've refueled, you can take the J Tram to the Exploratorium, which has a collection of hands-on science and art exhibits, ranging from topics like kinetic energy to antigravity and color theory. At the California Academy of Sciences, children could spend hours in the planetarium alone. If you have any energy left, though, spend the rest of the afternoon relaxing at Baker Beach, watching the waves crash into the shore.
Read the full blog post here.
October Acre's San Francisco with Kids Travel Guide
Brittany from October Acres has created a guide for families who want to explore San Francisco beyond its popular tourist attractions. Starting in Chinatown, take a couple of hours to meander the area and appreciate its cultural diversity. From paper lanterns to authentic Chinese architecture, kids will have a great time examining the multi-lingual signage and numerous dragon depictions, culminating at the area's famous Dragons Gate. For an even more iconic photo op, take your kids to the Painted Ladies, a row of Victorian and Edwardian houses resembling the background of Full House. If there's no fog, you may just get the perfect family portrait you've been searching for. To get a scenic view of everything San Francisco has to offer, however, Lands End is one of your best bets. The National Recreation Area has trails overlooking the Legion of Honor and a memorial to a U.S WWII cruiser. If you have some extra time in town, however, Brittany suggests traveling outside of San Francisco for a short day trip. The John Muir Woods is located about 11 miles north of the Golden Gate Bridge and has a Junior Ranger Program for kids between 5 and 12 years old.
Read the full blog post here.
Trips With Tyke's 25 Free Things to Do in San Francisco with Kids
Trips With Tyke's 25 Free Things To Do in San Francisco With Kids
For families on a budget, Leslie from Trips With Tykes has detailed a variety of free activities to do in San Francisco. Take kids to Telegraph Hill so they can hike up Coit Tower, rewarding them with awe-inspiring views of the San Francisco skyline and a few colorful murals. Or, bring thrill-seeking children to the Seward Street Slides, one of San Francisco's hidden gems. Tucked inside a neighborhood park, kids can bring their own cardboard and soar down the slabs of concrete. Spend the rest of the time visiting some of San Francisco's legendary landmarks, like the dizzying corners of Lombard Street. Kids will appreciate the crooked twists and turns of this Russian Hill staple, and parents can have some downtime in the adjacent gardens. After, you can scope out the Palace of Fine Arts, a Greco-Roman structure built in 1915. The surrounding lagoon is the perfect place to escape the city and bring a picnic. End your day with a sunset view from Twin Peaks, two hills overlooking the city at 922 feet of elevation. Just remember: if it's foggy, the hike will likely be a bust. Read the full blog post here.
We Go With Kids' San Francisco Family Vacation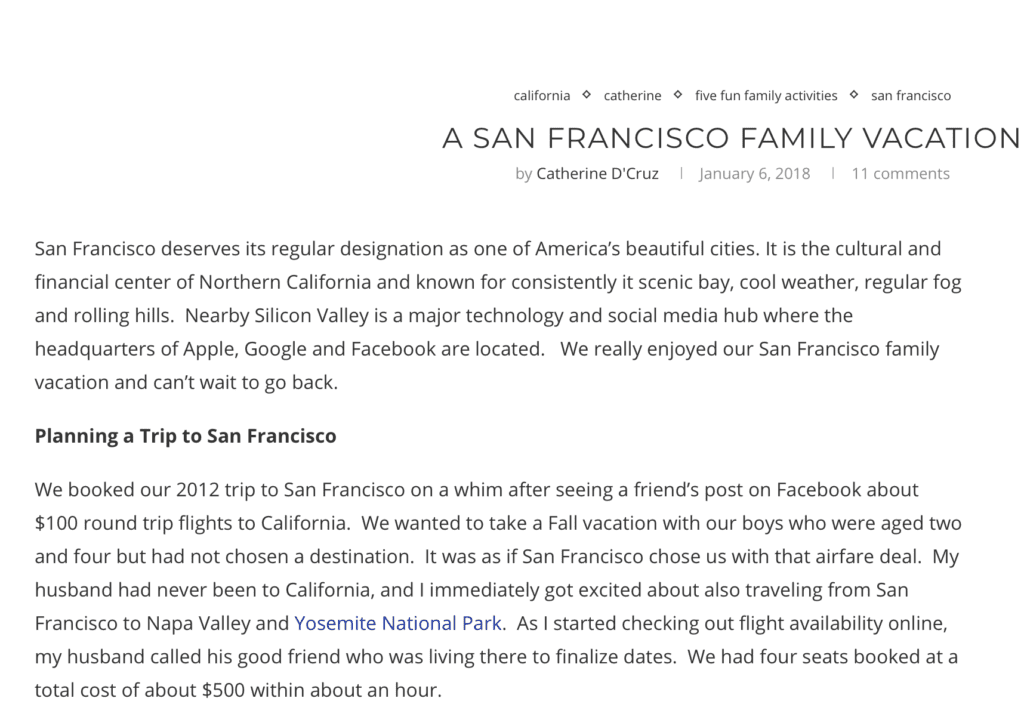 Catherine from We Go With Kids has compiled a list of some of San Francisco's most famous sights. Even when visiting with children, you can't miss the Golden Gate Bridge, an Art Deco landmark that has become emblematic of the city itself. In the surrounding area, kids can explore Golden Gate Park and all its attractions. Spend the afternoon at the Japanese Tea Garden, where the family can learn more about Japanese culture in a tranquil setting lined with manicured paths, ponds, and miniature pagodas. Then, stop for lunch at PiBar, a pizza spot that specializes in affordable slices and craft beer. Carry some out, or stay and rest for a little while. Either way, your next stop should definitely be Alcatraz, especially if you have children over the age of 10. The former U.S Military Prison turned San Francisco icon has a tour available to teach families more about the prison and its famous inmates, like Al Capone and George Kelley, as well as immerse them in the experience through historical footage and authentic interviews. Conclude with some ice cream at Humphrey Slocum, a dessert spot that specializes in unique flavors like Dr. Pepper or Red Bean. Read the full blog post here.
If you're a blogger who would like to be included in this post or write a guest post for Families Love Travel, please email us at contribution@familieslovetravel.com!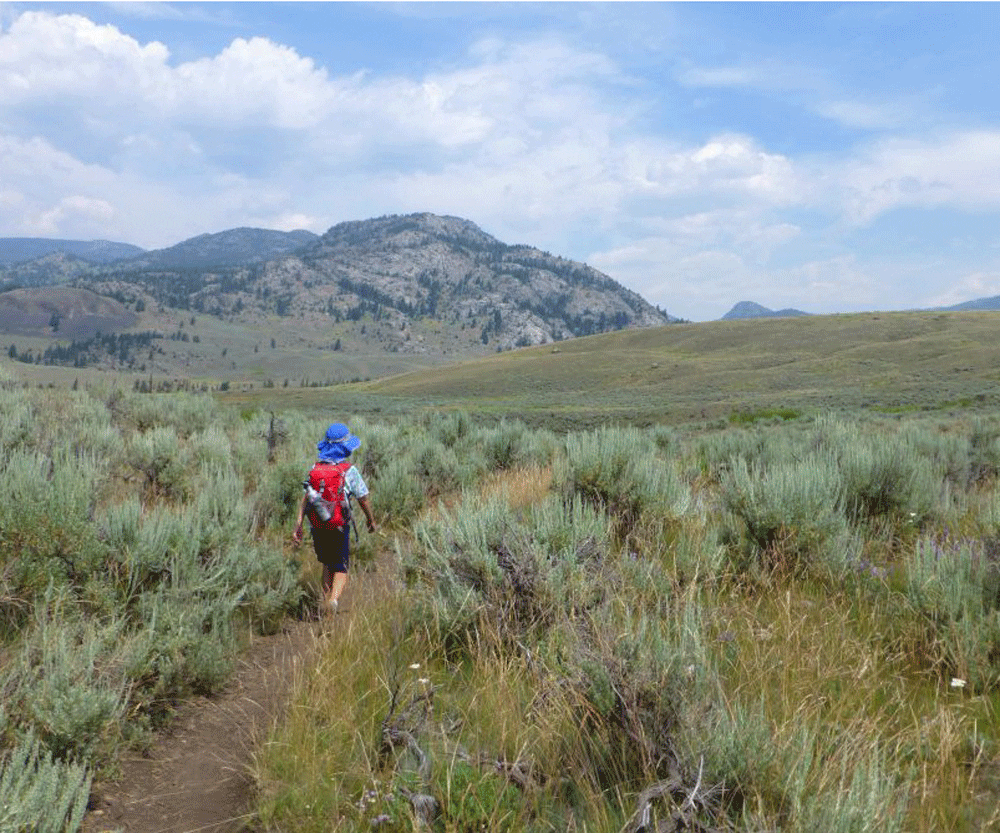 Everyone knows that Yellowstone National Park makes for a classic family vacation. Strolling the boardwalks...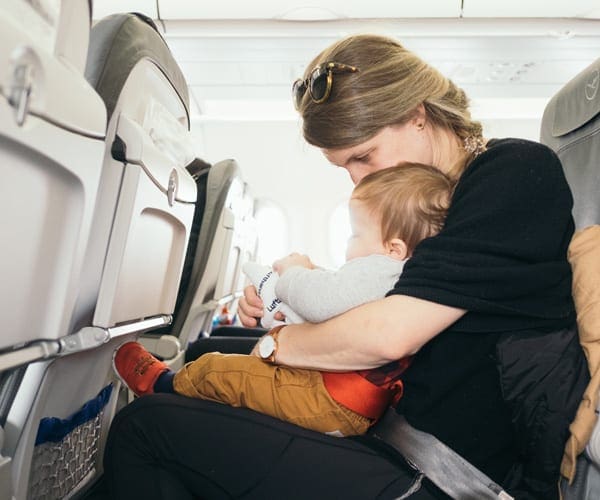 Families Who Love To Travel contributor Meghan Oaks provides her 10 best tips for your...