When it comes to eco-friendly travel, you can't go wrong with a hotel in the United States that offers families a variety of amenities designed to make your stay as environmentally friendly as possible. From recycling programs to sustainable building practices, these hotels go above and beyond to make a positive impact on the environment. Plus, most of them offer excellent customer service, making them the perfect places to stay while in the U.S. In addition, many eco-friendly hotels are LEED certified, which means they've been audited and meet high standards for maintaining environmental quality. Whether you want to relax on a beach in Florida, experience an authentic dude ranch in Montana, or go skiing in Colorado, these eco-friendly hotels offer families everything they need for an epic adventure. Here are the 15 Best Eco-Friendly Hotels In The United States For Environmentally Conscious Families!
Best Eco-Friendly Hotels for Families on the East Coast
Looking for an eco-friendly hotel that also provides a great experience for families? Look no further than these East Coast options! From Pennsylvania to Florida, these hotels are perfect for families who want to stay somewhere that is both environmentally friendly and comfortable. Keep reading to learn more about the best eco-friendly hotels on the East Coast for families!
Nature Inn at Bald Eagle
Howard, Pennsylvania
Book Bald Eagle using Hotels.com now!
Reserve your next stay at Nature Inn at Bald Eagle by using Expedia!
The Nature Inn at Bald Eagle is one of the best eco-lodges in the nation, and for a good reason! With its exceptional lakeside location in central Pennsylvania, it provides families with unlimited access to land and water adventures within Bald Eagle State Park. The Inn has also plenty of Natural light and fritted glass, locally sourced furniture, extensive recycling, and rainwater harvesting have earned the LEED Gold rating.
Accommodations at the Nature Inn have been thoughtfully designed while keeping in mind travelers and families of all sizes. There are 16 guest rooms and suites featuring private balconies overlooking the lake, gardens, and refreshing views of the Bald Eagle State Park.
Why Families Love It
If you're looking for an eco-friendly vacation with kids, then this is the place to be! Bald Eagle State Park is perfect for families looking for outdoor adventures all year round! Enjoy family fun in the heart of Pennsylvania, from stunning landscapes to fantastic hunting, fishing, and hiking opportunities, as well as the chance to see wildlife. Ask the hotel for a birdwatching packet to see how many rare ones you can find!
In the summer, the 1,730-acre lake has its fair share of attractions too. Enjoy thrilling water sports ranging from swimming, skiing, and paddleboarding to fishing and kayaking with the entire clan! There's a beach for families to relax on too. Whether you're planning a much-awaited family reunion or want to make your next trip as eco-friendly as possible, Nature Inn should be your go-to place for a remarkable stay!
Beachmere Inn
Ogunquit, Maine
Beachmere Inn is a beachfront inn and hotel with direct private access to the renowned Marginal Way, with balconies opening to the stunning views of the Atlantic Ocean. Surrounded by the beautiful scenery of Ogunquit, the hotel offers the perfect hotel for travelers looking for a tranquil seaside getaway. The private, secluded location paired with the Victorian-inspired accommodations and serene melody of the waves crashing makes for an unforgettable experience!
The hotel offers five different buildings as accommodations, each equally gorgeous and well-equipped with luxurious amenities, fantastic ocean views, fireplaces, kitchenettes, and patios.
Why Families Love It
Beachmere Inn wholeheartedly welcomes families to its beachside charm, with a variety of accommodations just steps away from the Maine coast. Here, you can enjoy miles and miles of luscious greenery. Plus, a variety of family-oriented fun activities take place around the year! Take a relaxing stroll on the rugged terrains of the Marginal Way footpath, watching the sunset behind the rolling waves.
Families can also take part in the Easter egg hunt, weekly lobster bakes, New Year's Eve celebrations, and much more! For parents, there's a fitness center, on-site spa, and saltwater hot tub. The property is also ideally located between Perkins Cove and Ogunquit. That means you have full access to unlimited shopping, dining, and exploration!
Inn by the Sea
Cape Elizabeth, Maine
Book The Inn by the Sea using Hotels.com now!
Book The Inn by the Sea using Travelocity!
Inn by the Sea is a beautiful ocean-front eco-resort that has set new standards of luxury, environmental preservation, and exceptional service for guests! Situated on a sandy beach on Maine's southern coast in Cape Elizabeth, the hotel is one of the few in the state that has taken an eco-friendly initiative, infusing every single aspect of your stay with sustainability and herby reducing their impact on the environment.
The hotel offers 62 spacious guest rooms and suites to choose from, most with ocean views and outdoor patios, king-sized bedrooms with exteriors featuring traditional shingled architecture. Plus, the Cove & Beach suites have fully equipped kitchens. It's also the perfect spot to explore the historical lighthouse in Cape Elizabeth, the Casco Bay Islands, and the Portland Museum of Art!
Why Families Love It
If you're looking for a luxurious escape while retaining your environmental responsibility, then Inn by the Sea is the best eco-friendly option for your family! Here, indigenous gardens and blooming wildlife will surround you. The hotel even offers "Bug's Life Garden Tours" for kids as a way to explore the ecosystem. Families can also enjoy tide pools and guided beach walks. Other activities include roasting s'mores by the fire, complimentary arts and crafts classes, and so much more.
A stay at the Inn by the Sea would be incomplete without a family dinner at the Sea Glass Restaurant. Here, menus feature locally harvested, produced, and sustained food. For parents, the hotel also has a fitness center and the "Portland Spa," which features separate men's and women's sanctuaries. If you're looking for an eco-friendly vacation with kids, then Inn by the Sea is exactly what you need!
Blockade Runner Beach Resort
Wrightsville Beach, North Carolina
Secure a Deluxe Room at Blockade Runner Beach Resort on Travelocity now!
Book Blockade Runner Beach Resort using Orbiz!
What started as a unique coastal destination has now become one of the most popular and eco-friendly hotels in the country! If you're planning a visit to North Carolina, add Blockade Runner Beach Resort to your list. Located on Wrightsville Beach, this family-friendly hotel has been serving the community remarkably since 1964. The resort is also proudly committed to fostering and protecting the environment. It has since introduced various initiatives like Pack for a Purpose and the Blockade Runner Green Team, proof of its road to achieving sustainability.
The resort offers incredible accommodations. Choose between guest rooms, cottages, and the Garden Apartment, a luxurious three-bedroom oasis with a private oceanfront entrance.
Why Families Love It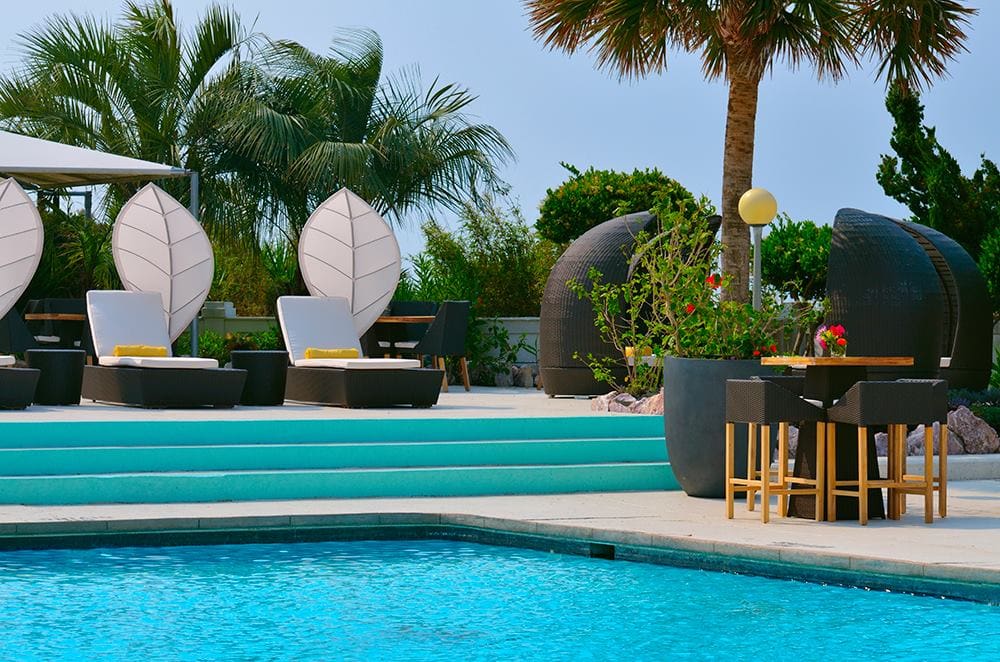 Blockade Runner Beach Resort provides an authentic experience in all aspects of your stay, whether it's the accommodations or various adventures. Here, you will find a variety of water adventures like sailing, eco-paddle tours, harbor cruises, surfing, and dock fishing. Enjoy the soft sand of the nearby beach or lounge by the outdoor pool. The tranquil surroundings of the resort make it ideal for seaside yoga too! Kids can enjoy different programs oriented around learning and exploring, perfect for toddlers.
Adults can visit the fitness center or take a peaceful stroll through the gardens. A pool bar and on-site dining are also available if you want to just relax and enjoy a delicious martini by the pool!
The Breakers Palm Beach
Palm Beach, Florida
Book The Breakers Palm Beach using Hotels.com now!
Book The Breakers Palm Beach on Expedia today!
The Breakers Palm Beach is a historic, Renaissance-style luxury hotel situated on 140 acres of private oceanfront property. Founded on the sandy shores of Palm Beach in 1896, this Italian resort welcomes guests into a world of seaside glamor and opulence. Considered one of America's most iconic resorts, The Breakers have earned a reputation for giving attention to their social impact on the environment.
They are dedicated to preserving and protecting natural resources by increasing the scope and quality of all environmental programs, promising to enhance the quality of life for future generations. The resort features spacious and elegant accommodations including oceanfront suites, rooms, and the exclusive Flagler's Club, an intimate boutique hotel.
Why Families Love It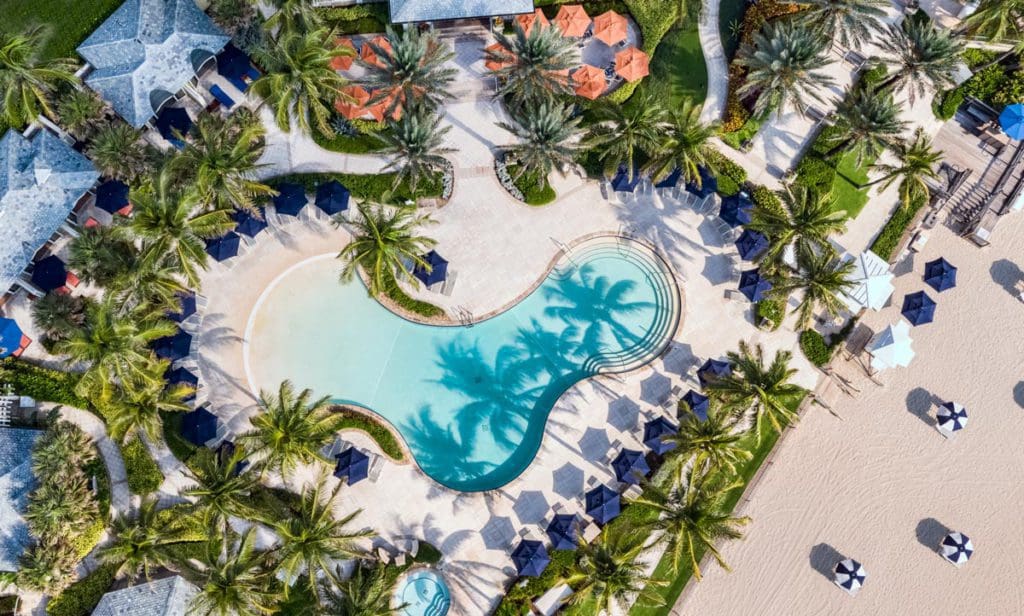 The Breakers is famous for its stunning historic architecture with a touch of modernism. Kids will love the four glittering pools, where parents can relax and enjoy the scenery! Or, take the family on a water adventure on the half-mile private beach, giving you the ultimate fun and intimacy. Camp Breakers also provides kid-friendly activities for two age groups: shortboards (ages three to five) and longboards (ages six to twelve). Outdoors, an expansive playground even features plenty of slides, tunnels, puzzles, and games for your little ones to enjoy. There's also a playroom for toddlers.
For parents, other amenities include the spa, fitness center, tennis court, and Florida's oldest golf course, which is a must-see for golf enthusiasts!
The Ritz-Carlton, Naples
Naples, Florida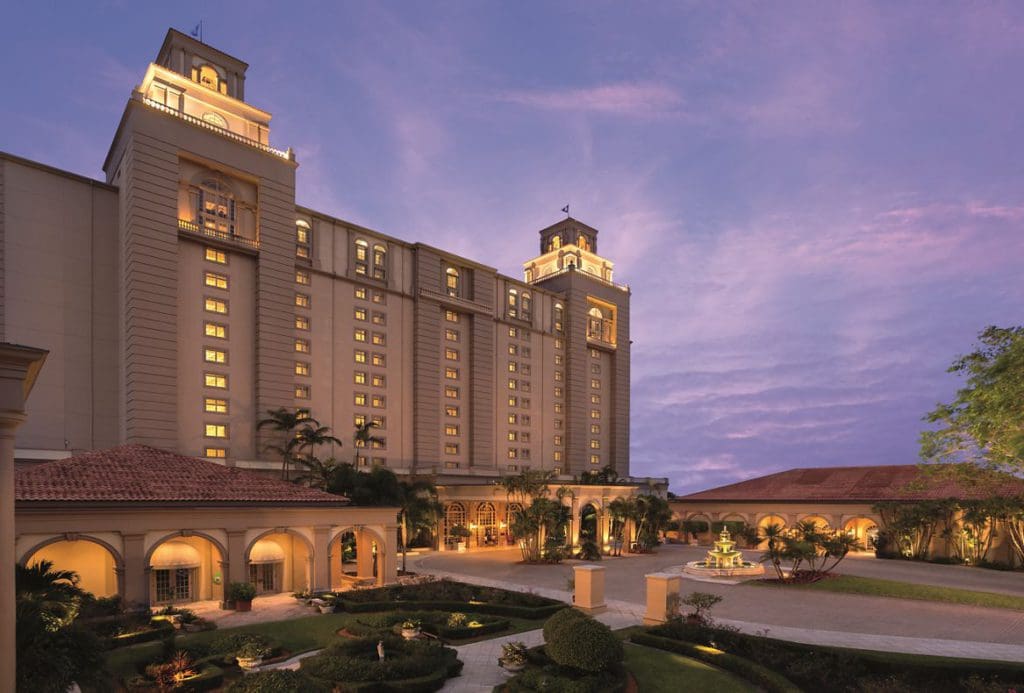 The Ritz-Carlton, Naples is a renowned luxury beach resort and also one of the best eco-friendly hotels in the United States for families! Nestled on Florida's Paradise Coast, it provides families with unfiltered access to the sparkling waters and white sandy beaches on the Gulf of Mexico. The hotel is a favorite for most travelers, enabling individuals, families, and couples to make fond memories of their stay in paradise. 
Here, you will find indulgent accommodations, from standard rooms with balconies to signature one, two, and three-bedroom variants, featuring balconies and patios overlooking the gorgeous Gulf vistas.
Why Families Love It
The Ritz-Carlton, Naples is more than just a hotel; it's a symbol of luxury, Florida's natural beauty, and impeccable service that is well-maintained to make your experience as pleasant as it can be! Upon arrival, kids will receive a fun goodie bag containing activities to complete during their stay. They'll also love splashing at the outdoor family pool, which has cabanas for parents. Plus, with beachfront access, you can also enjoy kayaking and paddle boarding! Guests between five and twelve can also enroll in the Nature's Wonders Program.
Parents can visit the fitness center, spend a day at the spa, or take a free shuttle to the golf club. On-site dining caters to all kinds of eaters, from seafood to casual sandwiches. 
PLEASE NOTE: This resort is currently closed after Hurricane Ian and is accepting reservations for arrivals beginning March 2023.
Cool down from the Florida heat at one of the 6 Best Florida Hotels With A Water Park Or Lazy River On The Gulf Coast For Families!
Best Eco-Friendly Hotels for Families in the Mountain States
If you're visiting Colorado, Montana, or other mountain states, choose hotels that are eco-friendly. They're a great option for families who want to stay in a comfortable setting while helping the environment. There are even two great options for families looking to ski this winter. Here are our favorite options!
Gateway Canyons Resort & Spa
Gateway, Colorado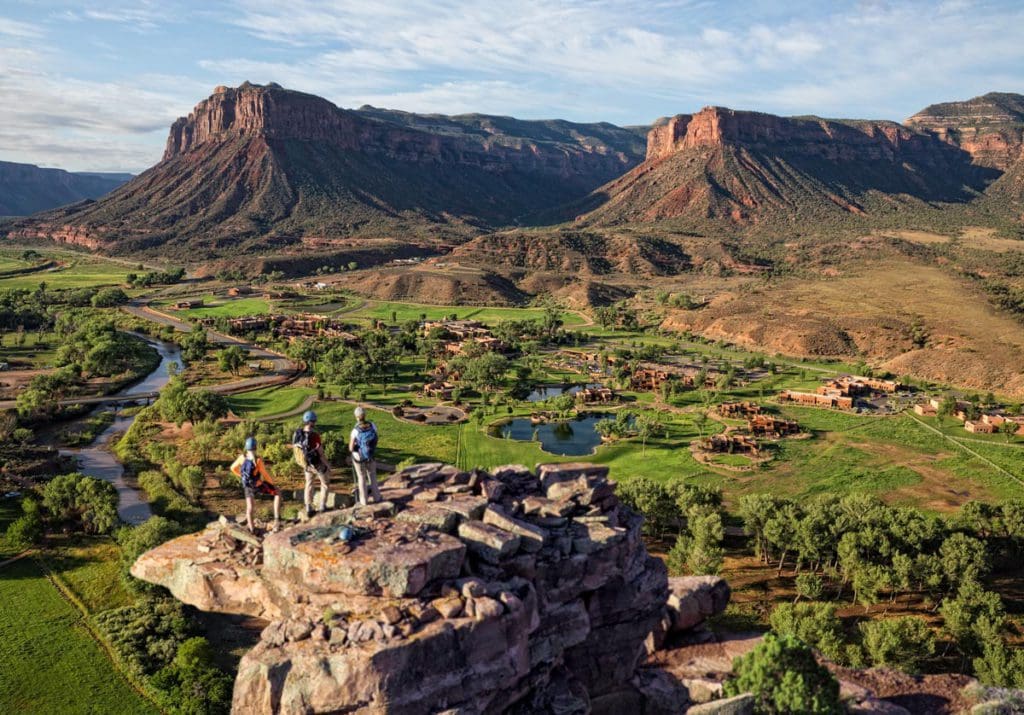 Book your family room or casita at Gateway Canyons Resort and Spa using Hotels.com!
Reserve your family vacation at Gateway Canyons Resort and Spa by using Expedia today!
A haven for adventure lovers, Gateway Canyons Resort & Spa is nestled between the Palisades of Western Colorado. And, it's one of the world's first discovery resorts! The goal of this resort is to encourage visitors' sense of wonder. That means you'll have lots of opportunities for exploration and discovery within a setting that is both beautiful and unique.
Inspired by Anasazi architecture and built with sustainability in mind, the resort is a model of eco-friendliness. Whether it's a poolside guest room or a sprawling Casita, every accommodation is equipped with breathtaking views and luxurious amenities that will make your stay as comfortable as possible!
Why Families Love It
Scale peaks, unearth dinosaur bones, horseback ride, hike in the wild, off-road on UTVs, and take a thrilling mountain bike ride. These are just a few of the countless adventures that you can experience exclusively at the Gateway Canyons Resort! Wine aficionados are welcomed to an incredible wine-country tour. Meanwhile, young exotic car enthusiasts can head to the Gateway Auto Museum. There's also a heated outdoor pool and hot tub for warming up after a long day of exploring!
Parents can also kick back, relax and pamper themselves with facials, massages, and body treatments offered by The Spa at Gateway. Then, call it a night with remarkable locally sourced dining! The best part about staying at the Gateway Canyons is that you get easy access to all the amazing national parks and monuments in Colorado. Don't forget to pack for an adventure!
Viceroy Snowmass
Aspen, Colorado
Accommodations are specially designed for different seasons to make visitors feel at home away from home. These include luxury studio residences, suites, rooms, and penthouses. Each features distinctive modern decor, exceptional mountain views, and natural, indigenous materials. A truly unparalleled experience awaits you at Viceroy Snowmass, the best eco-friendly hotel in Colorado!
Viceroy Snowmass is the only luxury resort in Aspen's Snowmass Village comprising some of the most majestic biking, hiking, and skiing trails in the country. The resort is a year-round eco-friendly destination for families, with award-winning Colorado architecture that complements heavenly with the soaring peaks of Snowmass.
Why Families Love It
If you stay at the Viceroy Snowmass during winter, then you're in for a treat! The hotel offers award-winning ski trails for skilled skiers and ski lessons for beginners. During peak winter, families head to the Elk Camp for some collective activities like snow tubing, snowboarding, and s'mores on bonfires. Complimentary rides can also take you to the Snowmass Village. Here, kids can ice skate at The Snowmass Village Ice Rink.
Ski rental equipment is also available so all you have to worry about is having unlimited fun and adventure! During summer, the Rockies is the perfect playground for an outdoor adventure. Take a Hot Air Balloon tour, play a game of Disc Golf with a mountainous twist, or spend a day at the Anderson Ranch to celebrate the arts and crafts community. Parents will appreciate The Spa at Viceroy Snowmass or the hotel's state-of-the-art fitness center.
Planning a winter trip? There are four nearby ski areas to know about. Read our Guide To Skiing in Aspen With Kids This Winter!
The Little Nell
Aspen, Colorado
Visit Priceline to save money on your next stay at The Little Nell!
Book your apartment or residence at The Little Nell with Trip.com now!
The Little Nell is surely one of the best eco-friendly hotels in the United States for families! Nestled in the foothills of the glorious peaks of Aspen, the hotel is renowned for taking numerous environmental initiatives over the past years, expanding sustainability to its Gardens, dining, and other services.
Each hotel room, apartment, and residence has been tastefully designed. They complement Aspen's laid-back ambiance and overlook Aspen Mountain, Red Mountain, the Continental Divide, Durant, and Spring streets. This is where luxury meets relaxation and nature in its most elementary form!
Why Families Love It
While Aspen is famous for its winter excursions, summer adventures are all the more exciting at the Little Nell. Enjoy offroading adventures through summer wildflowers, personalized family fly fishing trips to the Roaring Fork River, or cycling through the scenic Aspen routes. You can go wine tasting with your better half or take the family to stargaze on a beautiful starry night in Aspen.
Winter activities include traditional mountain adventures like snowboarding, skiing, Snowcat Powder Tours, Nastar Racing, and everything else that comes to mind when you think of Aspen! Certainly, ski families will appreciate that there are four ski mountains nearby ideal for hitting the slopes, whether you are a novice or experienced skier. Then, at the end of the day, you can come back to the hotel to unwind in the outdoor heated pool and hot tub.
Parents will appreciate the 24/7 in-room dining, on-site bars, and the health center with spa services. The hotel offers also two restaurants, so there are plenty of dining options for the picky eaters in the family!
The Ranch at Rock Creek
Philipsburg, Montana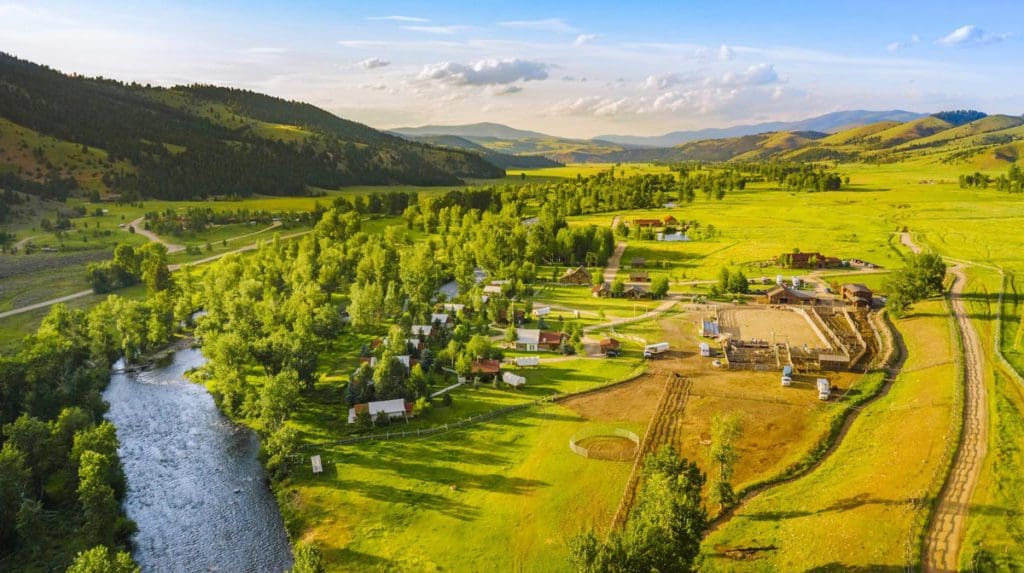 The Ranch at Rock Creek is located southeast of Missoula in the mountainous ranchland of Montana. This luxurious ranch is perfect for families, couples, and groups of friends who want to experience the "real West" with a touch of grandeur and comfort. Covering more than 10 square miles of verdant meadows and undulating slopes, the ranch is framed by snow-capped peaks in the distance; offering a traditional and unmatched ranch experience in one of Montana's most pristine valleys. Plus, all-inclusive packages mean you'll never have to leave the ranch!
Accommodations here are divided into four distinct categories, varying with what you're looking for. These include Glamping Cabins, Luxury Homes, Historic Barn, and Granite Lodge, each offering a once-in-a-lifetime experience to travelers!
Why Families Love It
Sustainability has always been a big priority for The Ranch at Rock Creek, which has led to various steps like reduced emissions, waterway protection, single-use plastic elimination, local culinary sourcing, and much more! The extent of Montana's rich hospitality is seen by its Ranch Ambassadors, individuals who are dedicated to each family or couple and make sure your stay is personalized to your liking. Your ranch itinerary can include activities like archery, mountain biking, horseback riding, downhill skiing & snowboarding, fly fishing, and different clubs and programs for kids.
Of course, adults will love the relaxing hot tub or a visit to the day spa for a massage. Undoubtedly, The Ranch is one of the best environmentally friendly destinations in the West!
Montage Deer Valley
Deer Valley, Utah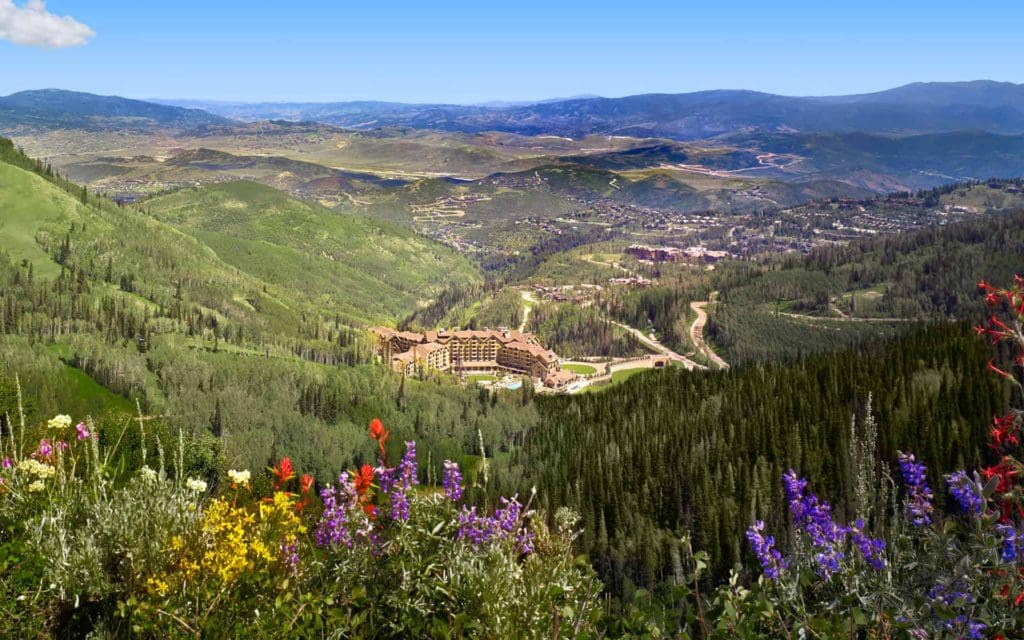 Book your next stay at Montage Deer Valley using Hotels.com now!
Save on your suite at the Montage Deer Valley by using Priceline today!
Montage Deer Valley is without a doubt one of the best eco-friendly hotels in the United States for families! Located in a valley dominated by lush greenery and bordered by Park City's picturesque Wasatch Mountains, this alpine retreat offers a peaceful and relaxing setting for all ages. It's also the first hotel in Utah to receive a LEED Certification (Silver) by incorporating sustainable features into the hotel layout which helped to reduce waste, keep open space intact, and make use of renewable energy sources.
Accommodations vary between standard rooms or one, two, and three-bedroom suites. Each features a rustic mountain-inspired design and is packed with gourmet amenities.
Why Families Love It
Winter in Utah is next to paradise for adventure lovers, with miles and miles of the finest ski trails in the country. The iconic landscapes call for snow activities like skiing and snowboarding at the Montage Deer Valley. During summer, you can choose between golfing, fishing, biking, and exploring Utah's incredible national parks all day! The resort offers an exclusive Camp Compass for children between five and twelve who aren't shy of little adventures and PaintBox, an arts & crafts program to unleash your child's creativity!
When adults want to relax, there's a fitness center or Spa Montage, which offers relaxing massages. On-site dining is also plentiful, from sushi to burgers!
Click here to Plan An Exciting Visit To Park City / Deer Valley This Winter With Kids!
Best Eco-Friendly Hotels for Families Who Want an Island Escape
Enjoy the sun, sand, and so much more at these eco-friendly hotels! Not only can you take advantage of a stunning setting and amazing amenities, but you can rest easy knowing that you're positively contributing to the environment. Here are our favorite eco-friendly hotels in the United States for families!
Andaz Maui at Wailea Resort
Maui, Hawaii
Find amazing savings at Andaz Maui at Wailea Resort using Hotels.com!
Book your family room at Andaz Maui at Wailea Resort using Expedia!
Andaz Maui at Wailea Resort is one of the best eco-friendly hotels in the United States for families! Spanning over 15 beachfront acres of the tropical Mokapu Beach in Maui, the resort is a great place to reconnect with nature. Explore Maui's exotic Polynesian culture and history, surrounded by sandy beaches and palm trees.
The hotel strives to integrate its eco-friendly philosophy into every aspect of the property, whether it's a solar-thermal system, reusable water bottles, or local snacks provided free of cost to reduce waste. Accommodations range from rooms with one king bed or two queens, suites with separate living rooms, and one to four-bedroom villas. Some are equipped with modern furnishings, spacious designs, plunge pools, hot tubs, and sweeping views of the Pacific.
Why Families Love It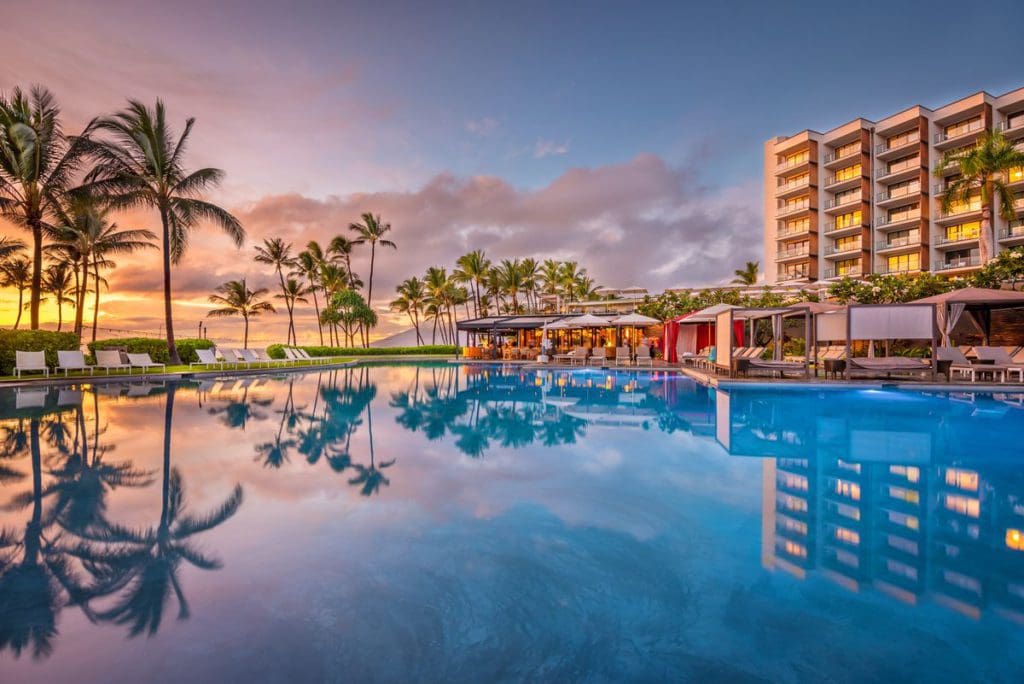 At Andaz Maui, you can choose from five distinct Maui pools to unwind and soak up the sun, including a lagoon pool, a tranquility pool, and three ocean-facing, cascading infinity pools. Canoe, paddleboard, kayak, and surfing lessons are also available so you can have the most thrilling adventure during your stay! Plus, with the hotel's Kids' Activity Program, there are special amenities like a toddler pool, various toys, and lawn games for the whole family.
Andaz Maui is rated as the best eco-friendly destination for families, and now we know why! The Hawaiian Islands are known for their exotic cuisine, so don't forget about the dining options. Parents can lounge by the Bumbye Beach Bar, get a treatment at the Wailea Spa and Salon, or stop by the fitness center.
For more Hawaii hotel suggestions, read Best Family Hotels in Maui for an Enchanting Vacation!
Hyatt Regency Waikiki Beach Resort and Spa
Honolulu, Hawaii
Find a great deal on your stay at Hyatt Regency Waikiki Beach Resort and Spa on Travelocity!
Book at Hyatt Regency Waikiki Beach Resort and Spa by using Expedia!
Plan your next family vacation at Hyatt Regency Waikiki Beach Resort and Spa! Situated across from the renowned Duke Kahanamoku Statue in Honolulu, it's close to Diamond Head Crater and in the heart of a vibrant city center, just steps from the pristine waters and fine sands of Waikiki Beach. The hotel is dedicated to providing comfortable accommodations and a relaxing environment while focusing on the environmental impact of the hotel.
Accommodations have a timeless and modern layout, emphasizing sophisticated and minimal Maui-inspired decor. Families can choose between standard rooms with king-sized beds or even larger suites. For those who want to connect with the soul of Hawaii and get the most out of their island experience, the resort offers the ideal setting!
Why Families Love It
The Hyatt Regency is one of the best eco-friendly hotels in the United States for families for a reason! In addition to outdoor pools for little ones to splash in, there's also a Kids' Club for ages four to twelve with daily activities. You can also spend some time at the fitness center or take the family for some souvenir shopping at the world-class Pualeilani Atrium Shops. Dine under the tropical Hawaiian skies in the open-air restaurant, with delicacies made using local produce and farm fresh ingredients. The resort is pet-friendly, so you can let the kids bring their cats and dogs on the family vacation.
For parents, the best part about staying in the Hyatt Regency Waikiki is that you get to rediscover yourself and relax at the Na Ho'ola Spa, a tranquil oasis with a Hawaiian spirit.
RELATED: 20 Best Hotels In Hawaii For A Family Vacation
Hyatt Regency Maui Resort and Spa
Maui, Hawaii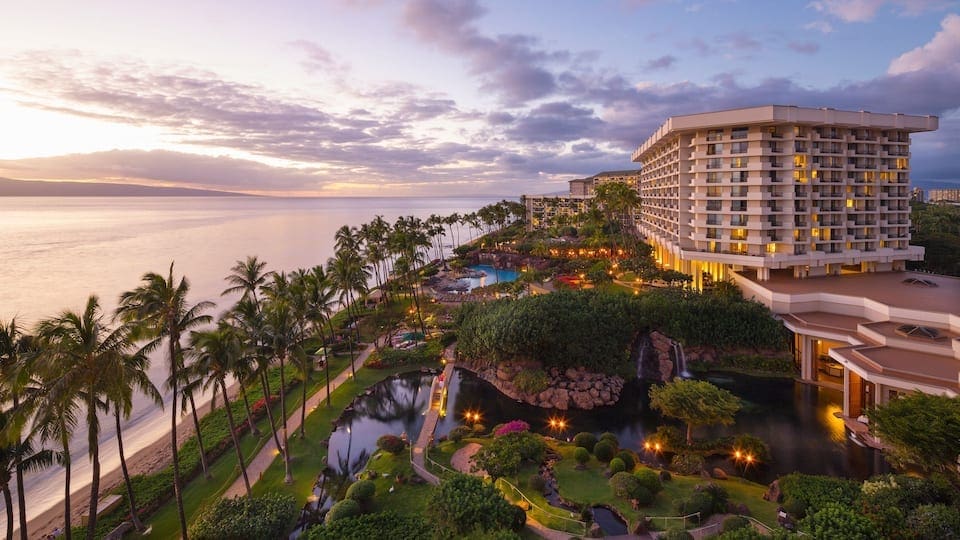 Book your stay at Hyatt Regency Maui Resort and Spa using Priceline!
Reserve your stay at Hyatt Regency Maui Resort and Spa by using Expedia!
Enjoy the roaring Pacific Ocean, the West Maui Mountains, scenic golf courses, and luscious gardens from the hotel's accommodations. Choose from rooms and suites with one king bed, two queens, or even a combination of both with sofa sleepers.
Set on the soft, powdery sand of Ka'anapali Beach in Hawaii, Hyatt Regency Maui Resort and Spa is a hidden paradise for travelers! The oceanfront resort welcomes families with classic Hawaiian hospitality paired with the most spectacular tropical views of the ocean. In addition to the LEED Gold award, the hotel has been thoroughly recognized for its dedication to sustainability and eco-friendly practices.
Why Families Love It
The Hyatt Regency Maui Resort and Spa is every vacationer's dream come true! Here, you will find six free-form pool areas for kids and adults, plus private oceanfront cabanas to relax in when you want to visit the beach. Kids will love the Camp Hyatt Program, available for ages five to twelve, alongside the Three Mermaid Experience. They can learn how to swim just like a mermaid!
Adults can visit the Kamaha'o Marilyn Monroe Spa. Take a fitness class, go shopping in nearby Lahaina, or enjoy the on-site restaurants and bars. Don't forget to take out time and experience the authentic Drums of the Pacific Luau, a night so vibrant it will dazzle your senses!
Sheraton Puerto Rico Hotel & Casino
San Juan, Puerto Rico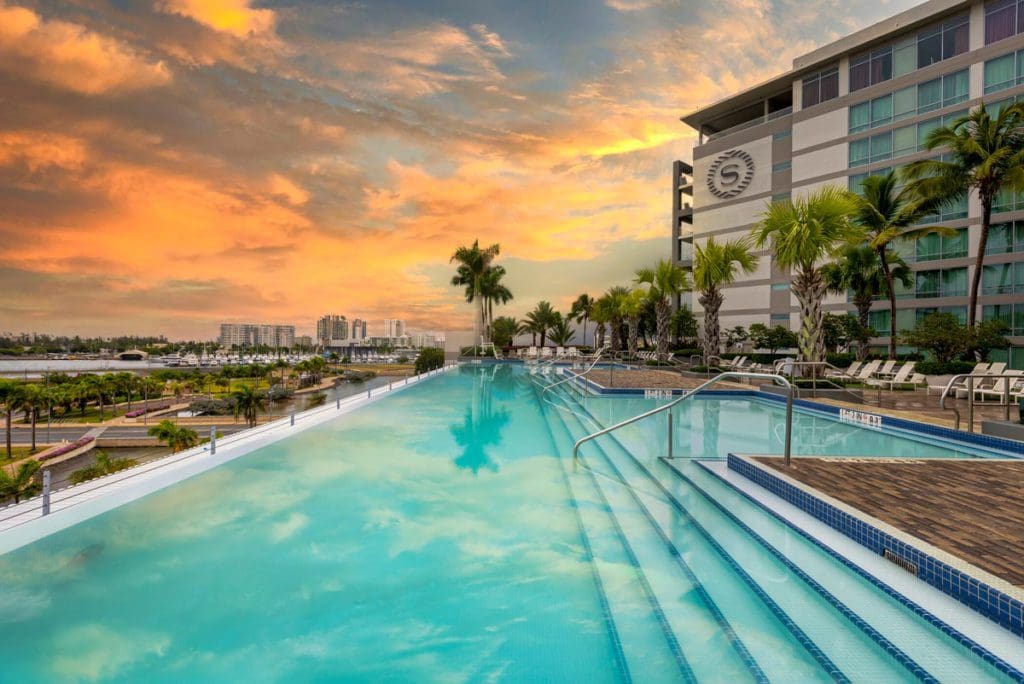 Visit Hotels.com to book your trip to Sheraton Puerto Rico Hotel & Casino!
Save on your deluxe room at Sheraton Puerto Rico Hotel & Casino with Priceline!
Sheraton Puerto Rico Hotel & Casino is a sophisticated and up-to-date urban resort, consistently among the best hotels in San Juan for families. The hotel is situated in a prime location in the Convention Center District. Plus, it's just minutes away from the historic district of Old San Juan.
In terms of accommodations, the hotel features traditional, deluxe, superior rooms with city views. Plus, comfortable suites overlooking San Juan Bay.
Why Families Love It
The location of the hotel is perfect, just a stroll away from the bustling nightlife of Puerto Rico, filled with scintillating music, art, culture, and food, and the possibilities are endless! The hotel also offers an infinity pool, whirlpool, and children's pool so the whole family can have fun together. Sheraton also has a wide variety of restaurants that can satisfy anyone's unique cravings!
Parents can pamper the mind and soul at the Zen Spa Retreat or break a sweat at the fitness center. The Casino Metro is at arm's reach, so don't shy away from trying your luck!
Eco-Friendly All The Way!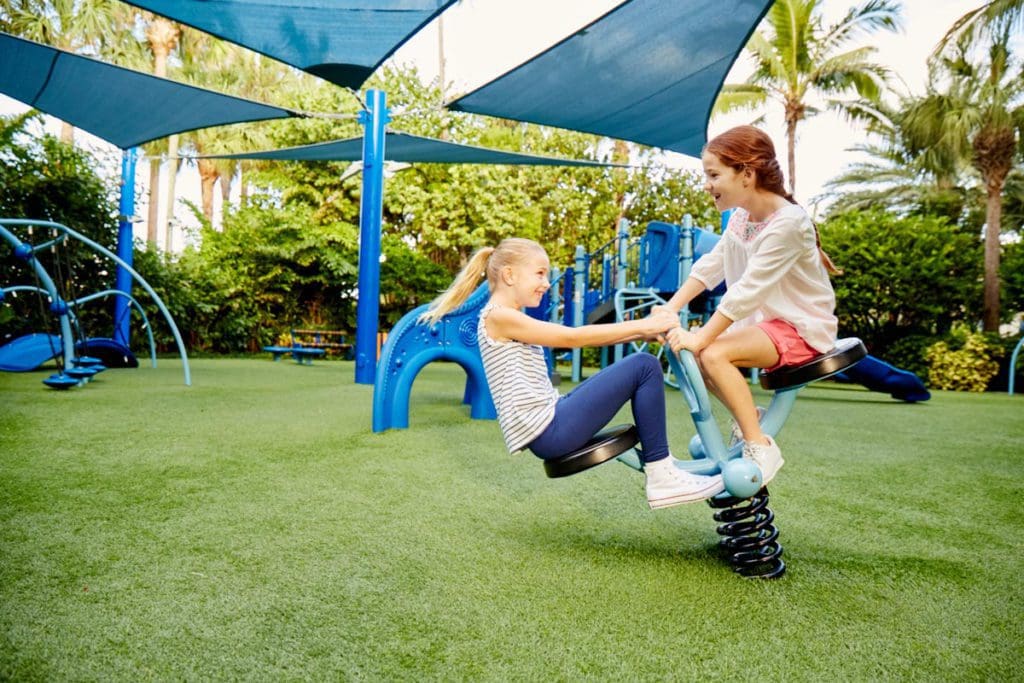 We hope you liked this list of the 15 Best Eco-Friendly Hotels In The United States For Environmentally Conscious Families! Adapting sustainability in our lives and during travel is the most essential step toward a better world for us and future generations! Enjoy traveling sustainably to these eco-friendly hotels in the United States for families!
*Due to the COVID-19 pandemic, some of the attractions, accommodations, or things to do on this list may be closed. Please ensure availability before making your decision.
*This post may contain affiliate links that may earn us a small commission at no additional cost to you. Affiliate links in no way inform the hotels, sights, products, or other recommendations included in our articles. All opinions and recommendations expressed here are compiled from submissions submitted by the generous members of our Families Who Love To Travel community.
READ MORE: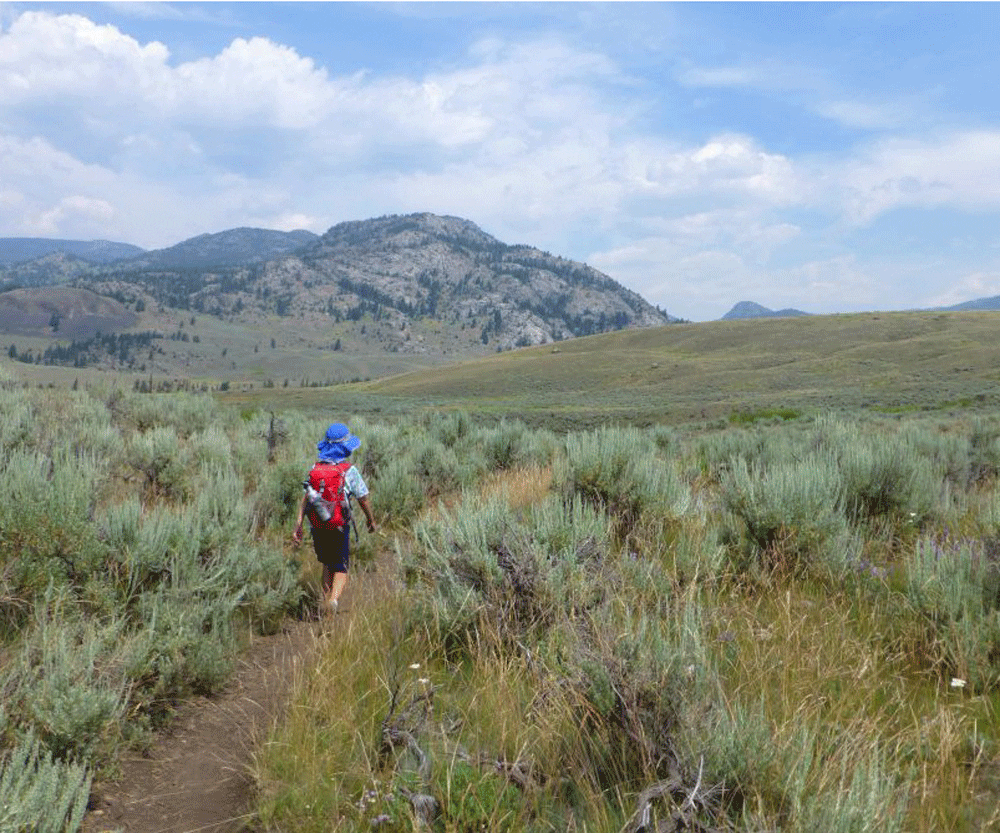 Everyone knows that Yellowstone National Park makes for a classic family vacation. Strolling the boardwalks...
If you're planning a trip with Delta Airlines, it's important to know a few things...