It can be overwhelming to plan a trip to a city like London — there's just so much to do! Here, we have rounded up some of the best family-friendly London itineraries. They each vary in length, style, and sights to help you plan your family's itinerary to London. Whether you're in London for a weekend or for a week or more, we hope these suggestions help you plan an amazing family vacation to London!
3-Day Itineraries in London
Three-Day London Itinerary for Families, Itinerary by Traveling Mom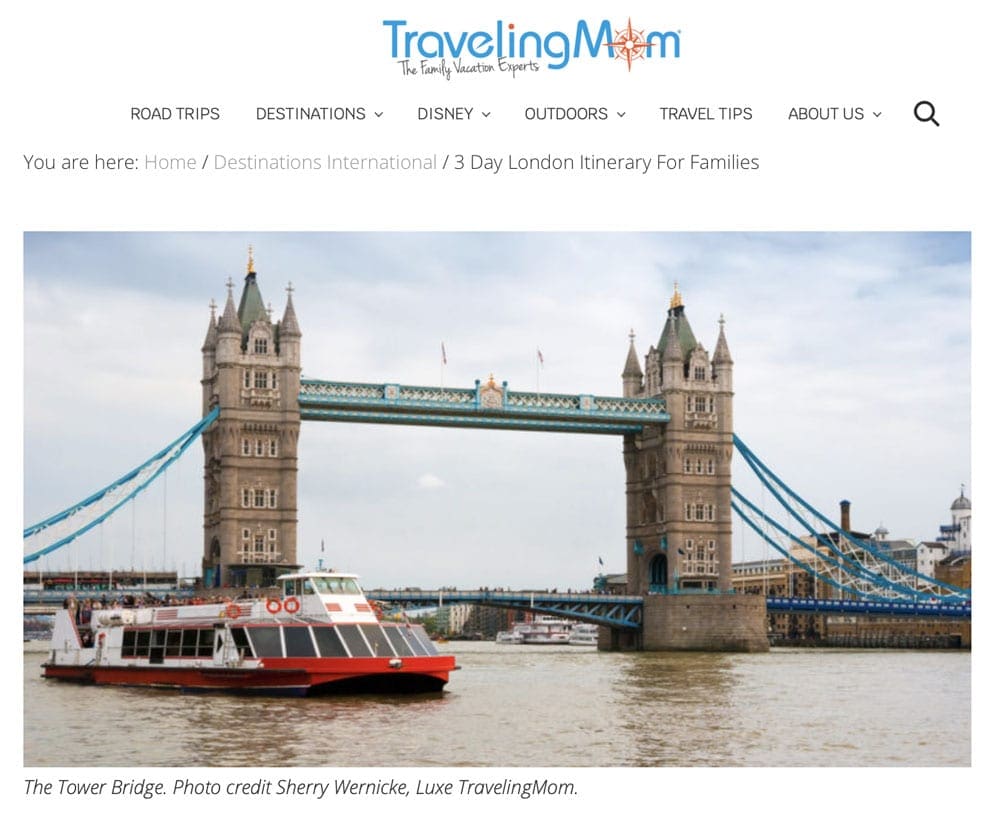 Traveling Moms, Dana and Sherry, share their London musts for a three-day visit. Their list includes a number of fantastic stops and sights to give you a true taste of London. This family-friendly city has the perfect mix of action, public transportation, and culture! Through this itinerary, enjoy an afternoon soaking up the sun in Hyde Park and lunch at the Lido Bar and Cafe. Next, try the Science Museum or the Natural History Museum. Either (or both!) are sure to pique your family's curiosity. You'll also maximize the Hop On Hop Off Bus by visiting a number of tourist hot spots. End your itinerary with a mix and match day where you get to choose your own adventure! Travel Moms gives you a number of great options to choose from! Don't miss their tips for traversing London and their hotel recommendations. Read more here.
Three Days in London with Kids, Itinerary by Local Passport Family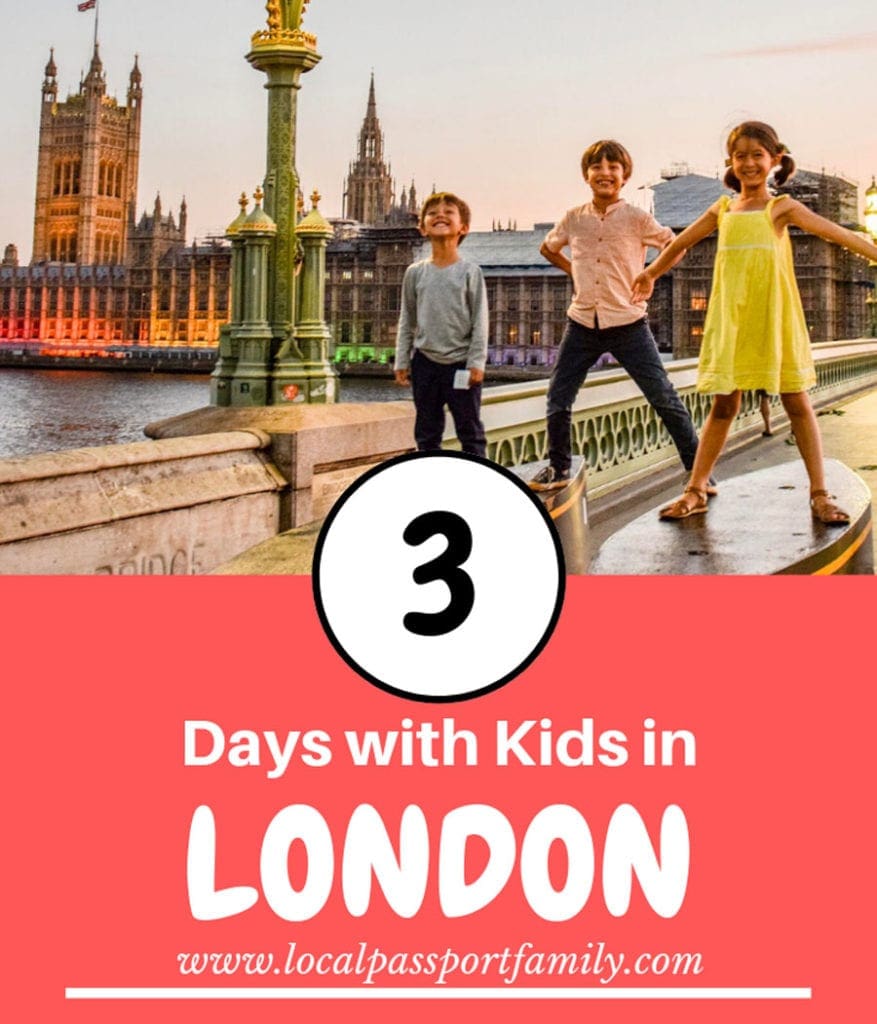 Preethi, the mom of 5 behind Local Passport Family has traveled to 38 countries with her kids! Her London itinerary includes classics like Kensington Palace, the Princess Diana Memorial Playground, and tips for where to enjoy afternoon tea as a family. First, enjoy a family picnic at the Princess Diana Memorial Playground. This is a great spot to enjoy one of London's wonderful green spaces! Be sure to do at least one-afternoon tea – it's a true cultural experience! Preethi recommends Fortnum & Mason. Next, don't miss the London Transport Museum. Vehicle-loving kids are sure to be amazing at all the interactive exhibits. Finally, check out the Buckingham Palace for a glimpse at royal history and treasures. This itinerary is packed with family-friendly finds and recommendations. Read more here.
Three Fun Days in London with Kids, Itinerary by Well Traveled Kids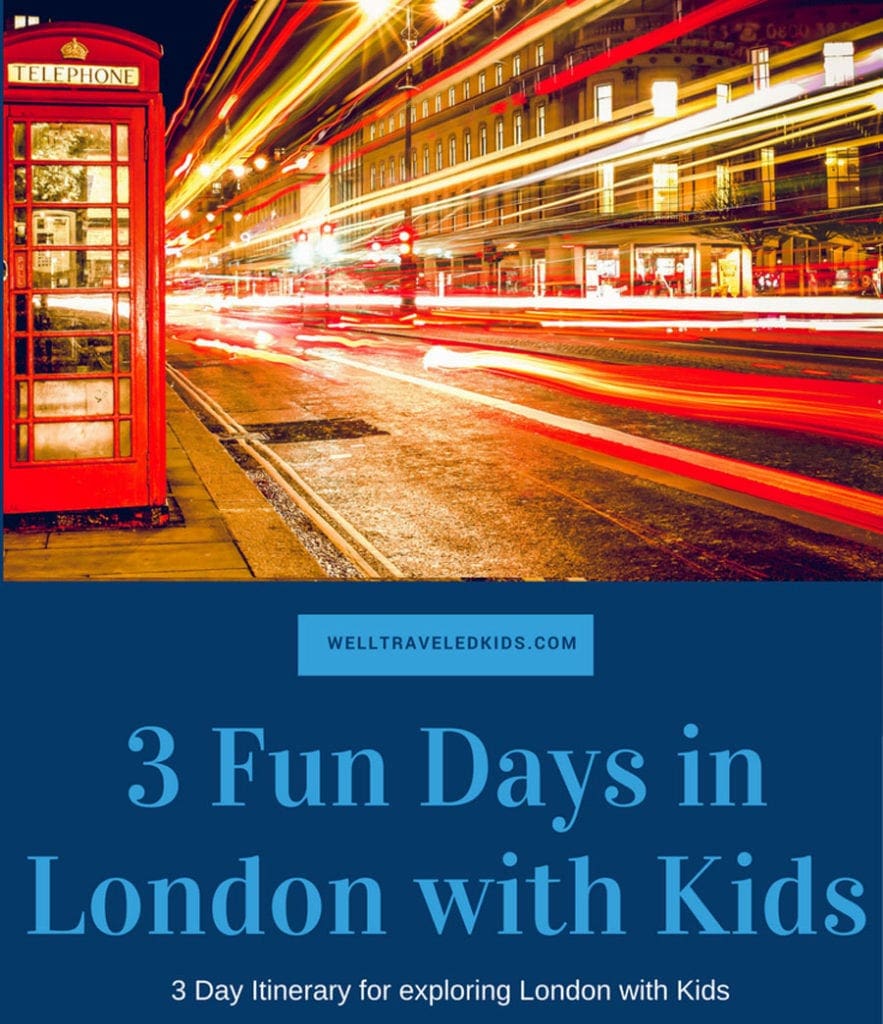 Well Traveled Kids is a luxury travel blog put together by a team of parents. This itinerary was written by Dr. Jennifer Meece, the mom to two kids aged 3 and 6. Their London itinerary includes amazing visits to the River Thames, the National Gallery, Convent Gardens, and much more. Striking family pictures and detailed information make planning London fun and easy! This blog is a great read for detailed planners and those new to family travel. Through this itinerary, kids will love finding art they have learned about in school at the National Gallery or the Tate Modern museum. Additionally, the London Eye is a must-see when in London with kids! Kids will love it by day or night. It provides such a great view of the city! Read more here.
Three-Day Itinerary and London Recap, Itinerary by The Spring Break Family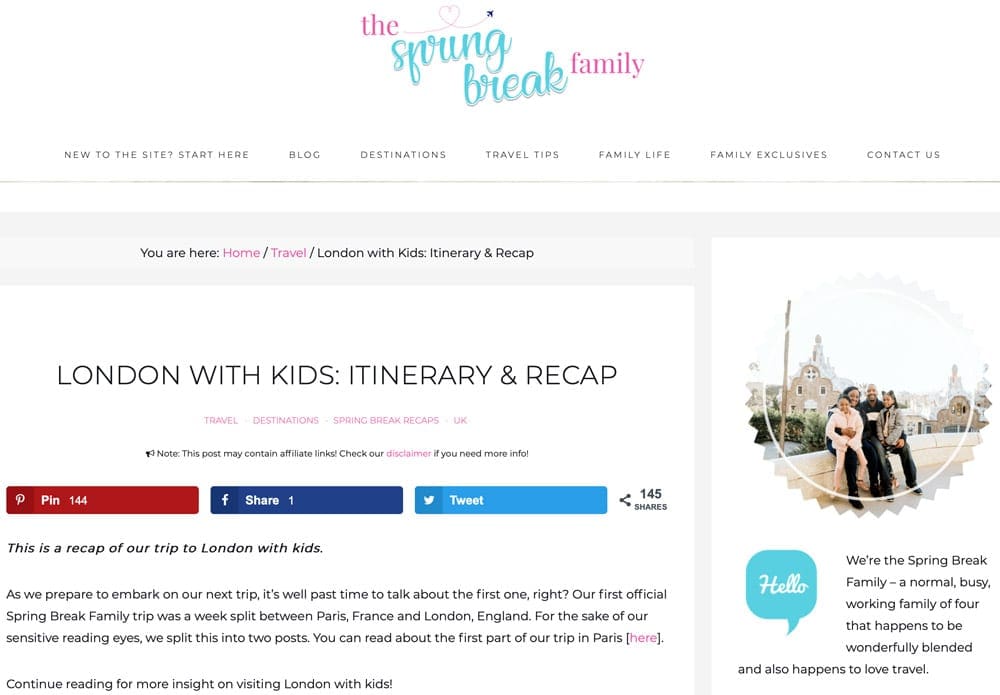 Monty, the mom behind The Spring Break Family, is a working mom who loves to travel in her spare time. Her London itinerary includes a full, detailed agenda for maximizing London as a family. This easy to read itinerary includes stops in Trafalgar Square, Covent Garden, Buckingham Palace, and the London Eye to name just a few. Additionally, most sections include great restaurant recommendations. Kids will love trying afternoon tea at Patisserie Valerie! Monty also includes some stroller-friendly information to keep in mind while traversing London with littles. Don't miss their cute family video at the end of the blog! Read more here.
4 or 5 Day Itineraries in London
The Perfect Four-Day London Itinerary, Itinerary by the Wandermust Family
Leona, of the Wandermust Family, has lived in many different countries and loves to travel with her kids! Her London itinerary includes visits to Big Ben, Westminster Abbey, Covent Gardens, and more. First, stop at the Borough Market. Kids will love searching the stalls in the oldest market in London. Have a Shakespear lover in your family? The Globe Theater is a must! Next, check out the London Eye. It is sure to be a family favorite by the end of your trip. Need a break from the busy city? Head to Covent Gardens for a quick snack or a meal. It's a great place to unwind and enjoy good food. Finally, don't miss the Tower of London. Kids will be amazed by this military prison and fortification. Read more here. Planning a longer stay? Check out their Perfect 5 or 7 Day London Itinerary with Kids.
Five Days in London with Kids, Itinerary by The Passport Kids
The Passport Kids is a Canadian family of four who recently spent a year traveling around the globe. Their London itinerary includes 8 family-friendly finds that you can mix and match for your own trip. The Harry Potter Warner Bros. Studio Tour is a must for the Potterheads in your family! Kids are sure to delight upon seeing iconic scenes and costumes! Next, kids will marvel at the amazing creatures at the London SeaLife Aquarium. There is even a penguin area! Those traveling for Wimbledon won't want to miss this blog. Don't miss the tips for where to stay in London at the end of the blog. Great family pictures and wonderful reviews make this blog a must-read when planning your trip! Read more here.
Ultimate Five-Day London Itinerary, Itinerary by Earthtrekkers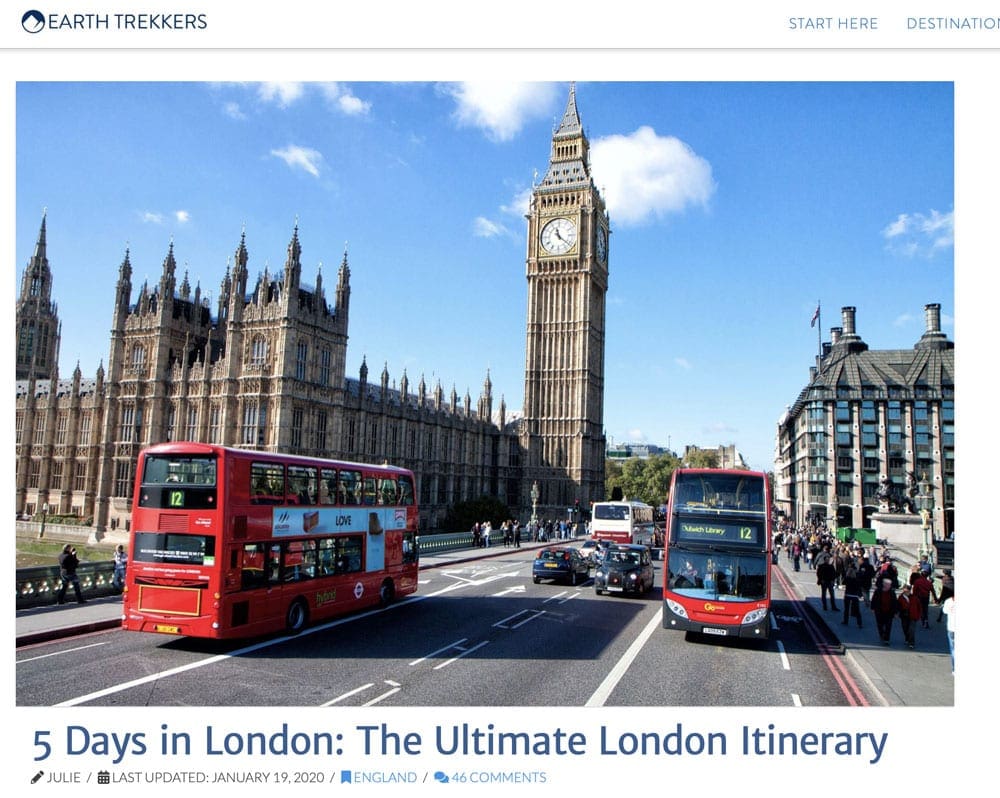 Earthtrekkers is a family of four who recently spent 13 months traveling the world. Their suggested itinerary for London includes a number of London hot-spots like the London Eye, the Prime Meridian, and Borough Market. Julie, the mom behind the blog, has a practical, straightforward writing style. She shares family tips and insights in a helpful way without too much fluff. Each section also includes the cost, hours, and how to get there via public transportation. Kids will marvel at the Churchill War Rooms, where they can learn more about World War II. Visiting the Parliament and #10 Downing Street will round out their understanding of history and government in London. Read more to see if you should get an Oyster Card (a London pass)? Additionally, don't miss the interactive maps to help you plan each day. Read more here.
7-Day Itinerary in London
How to Plan a Perfect Week in London, Itinerary by We 3 Travel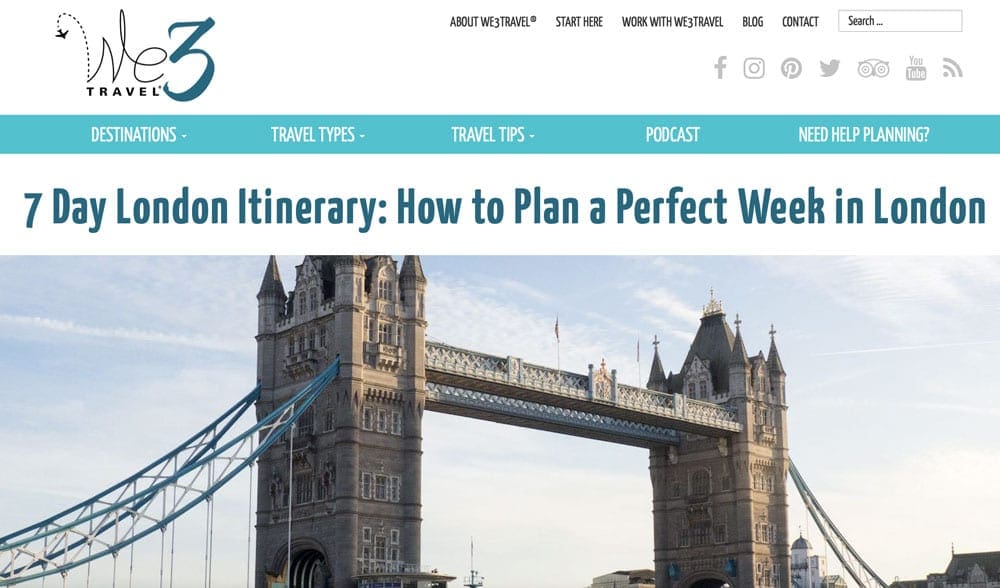 The Grubers are the triangle family behind the blog We 3 Travel. They have visited 24 countries and 49 states together. Their itinerary includes a lovely mix of London favorites that are paired by location for ease of travel! Start with a hop on hop off tour to get your bearings of the city. Or, spend your arrival day in Hyde Park relaxing before your busy week of exploring! Day two is all about the Royals. Spend your morning at Westminster Abbey. Next, head to the Tower of London. On day two, spend part of it exploring Covent Garden, where you can enjoy lunch at Chez Antionette. The rest of the blog is choc full of museums, shopping, and more! Finally, end your London itinerary with a day trip outside of the city. Don't miss their thoughts on the Oyster Card, as well. Read more here.
The best things to do in London with kids, a 7-day itinerary by Kids and Compass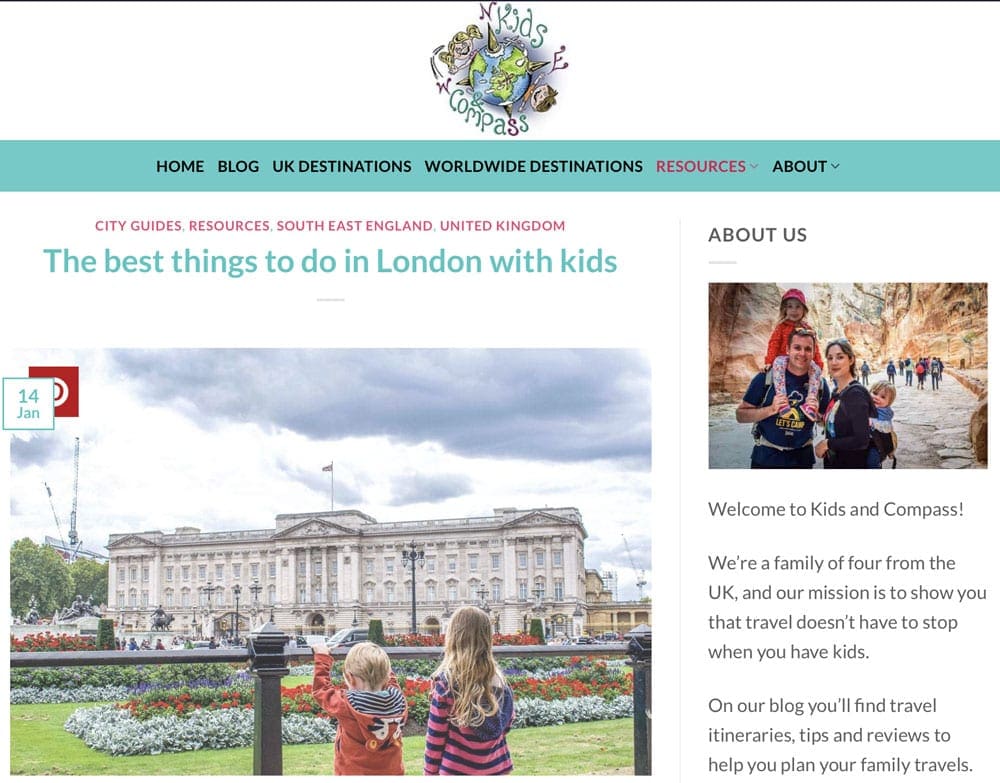 Kids and Compass, a UK-based family, share their 7-day itinerary to help you plan your own family trip to London. Through this itinerary, explore the best of London with your kids. First, soak up some history with the Tower of London and a bus tour. Next, kids will love exploring the sky garden. This sky-rise garden will give you some of the best views of London! Borough Market is sure to be a hit with the whole family. You can eat in the market, or better yet grab a few things for a lovely picnic by the nearby riverfront. Don't miss their unique recommendations, including the Clink Prison Museum and the London Dungeon. Adventurous kids are sure to love these recommendations and more! The suggestions are mainly recommended for ages 7+, as many of the history-focused attractions, which may have some graphic stories behind them. Read more here.
Happy Planning!
You and your family are sure to fall in love with London! Regardless of what fills your itinerary, traveling to London as a family is sure to create a lifetime of memories. We hope these best itineraries for vacationing in London with kids help you get started making travel plans and memories! Have you been to London before? Share your favorite family-friendly London itinerary suggestions below.
If you're a blogger who would like to be included in this post or write a guest post for Families Love Travel, please email us at contribution@familieslovetravel.com!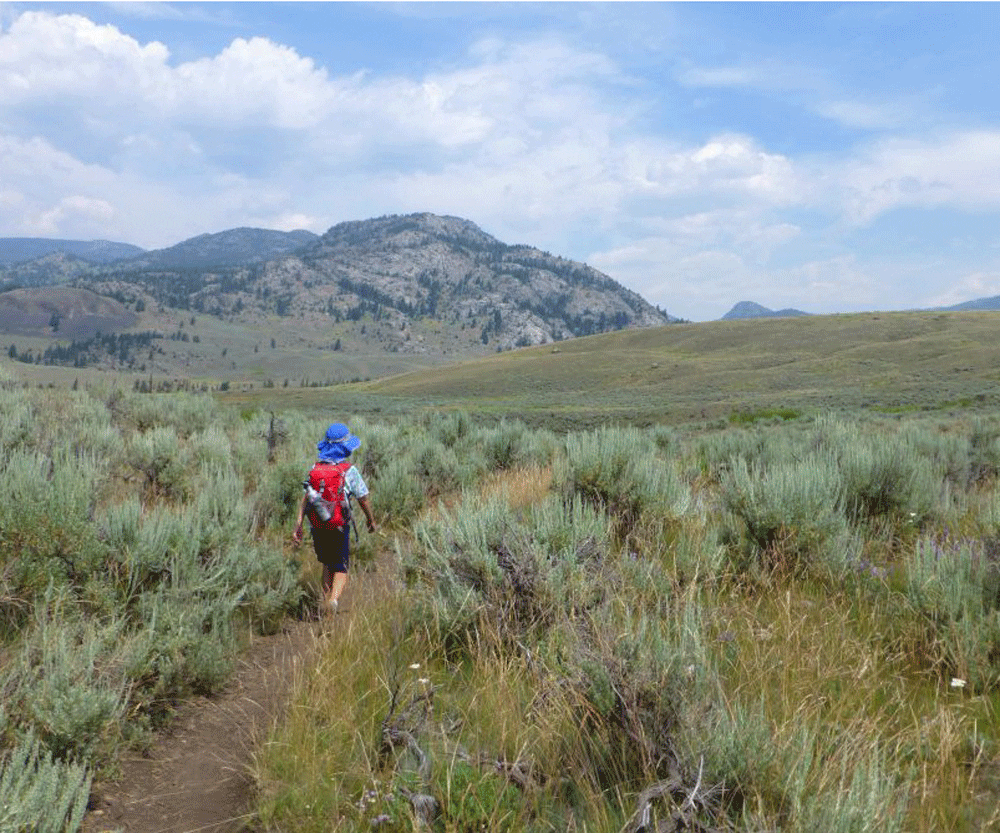 Everyone knows that Yellowstone National Park makes for a classic family vacation. Strolling the boardwalks...
You can do all the research and pack all the right things, but it's hard...