Guarantee an amazing Mexican vacation with kids by booking these best family resorts in Cancun! Nestled on the country's southeastern shore off the Yucatan Peninsula's tip, it's known for dreamy white sand beaches, child-friendly resorts, and lively local culture. As a plus, many hotels in the area are located within convenient driving distance of the airport. (Or nearby other sightseeing attractions!) That means you'll always be a short drive away from your next family adventure! When it comes time to settle in for the night, however, parents should seek a reliable hotel, especially one catering to little ones and adults alike. But how do you decide among endless choices? Detailing family-friendly amenities like pools, kid's clubs, and adult-centric offerings, this article includes budget and luxury recommendations polled from our Facebook group. Keep reading to discover which family resorts in Cancun will be best for your next memorable trip with children!
RELATED: 6 Things To Do In Cancun With Kids
Best All-Inclusive Resorts in Cancun for Families
If you're looking for the best family all-inclusive resorts in Cancun, you can end your search! We've compiled incredible, parent-recommended options for your Cancun family vacation. In fact, your kids won't ever want to leave these fantastic all-inclusive resorts in Cancun!
Finest Playa Mujeres
Book your stay at Finest Playa Mujeres using Travelocity now.
Reserve a room at Finest Playa Mujeres using Hotels.com now.
Finest Playa Mujeres is exactly the oasis families dream of when planning a tranquil escape from reality! Set among soft sand and crystal blue waters, this is one of the best all-inclusive resorts in Cancun for families. It is also gated to ensure your privacy, enclosing a spectacular sanctuary within its grounds. At the same time, your family's stay here will also be accessible, whether you're looking to visit nearby downtown or driving to Cancun International Airport! Who would ever want to leave this kid-centric playground, though? From riveting land excursions to seaside family fun, little ones staying at Finest Playa Mujeres can also take advantage of indoor play areas, parent-free zones, and programming for toddlers, tweens, and everyone in between! All ages are welcome to celebrate together at one of the best Cancun resorts for kids!
Why The Kids Will Thank You
Kids will love the rotating activity roster at Finest Playa Mujeres! The hotel is divided into three kid's clubs: mini, maxi, and teen. The Mini Club is best for little children six and under, featuring a mini pool playground, changing rooms, and tons of multi-purpose games. (Those younger require parental supervision.) Kids ages seven to eleven can enjoy the Maxi Club instead, where they'll find an inside plaza area with a mini spa, theater, video games, and books. Play ping pong or air hockey outside! Teens twelve to sixteen also have customized activities at the Teen Club, like roasting marshmallows around a bonfire, movie nights, and kickball tournaments. When the weather warms up, and families want to take a dip in the pool, however, you'll have plenty of choices, too. Finest Playa Mujeres has twelve swimming pools scattered throughout the property and a couple of hot water jacuzzis!
Why Parents Love It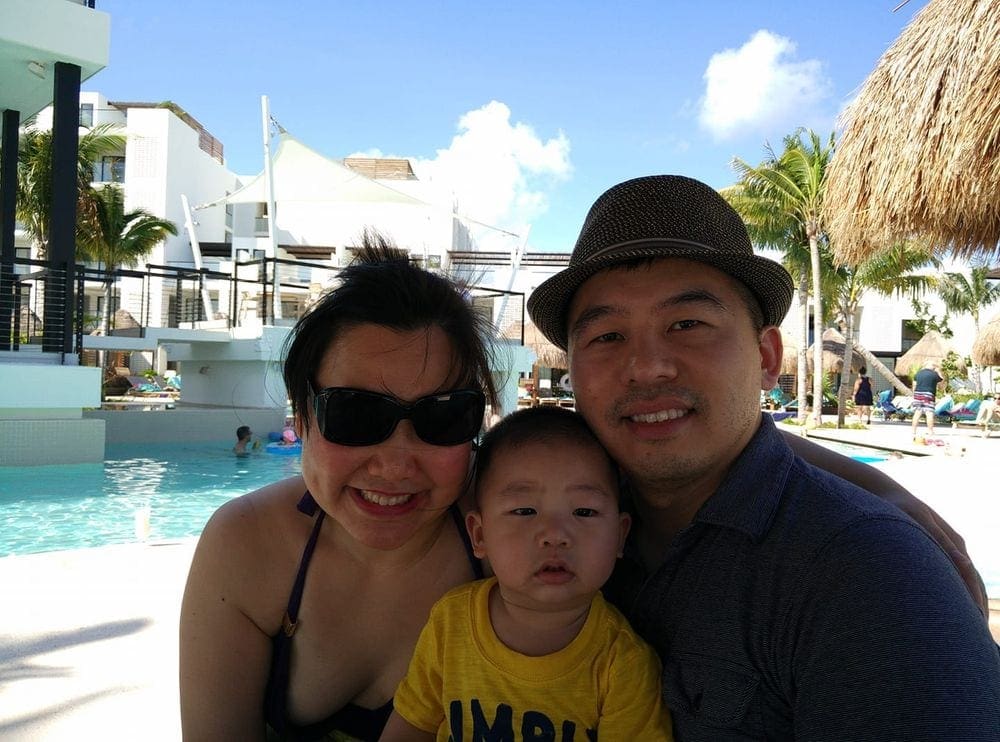 Parents will soon discover why Finest Playa Mujeres is one of the best family resorts in Cancun! Though vacationing with kids is always great for bonding, you'll also have substantial alone time when staying here. In fact, the hotel offers a special child care program for kids three and over during hectic hours like breakfast and dinner. Certified nannies will watch little ones for 90 minutes at a time so adults can sit back and relax for a spell! In the meantime, enjoy the hotel's amenities by working out in the fitness center or getting a treatment at the luxurious spa. Or, cap your day off by visiting one of the on-site bars, whether poolside or in the lobby, to unwind with a drink or two!
Family Fun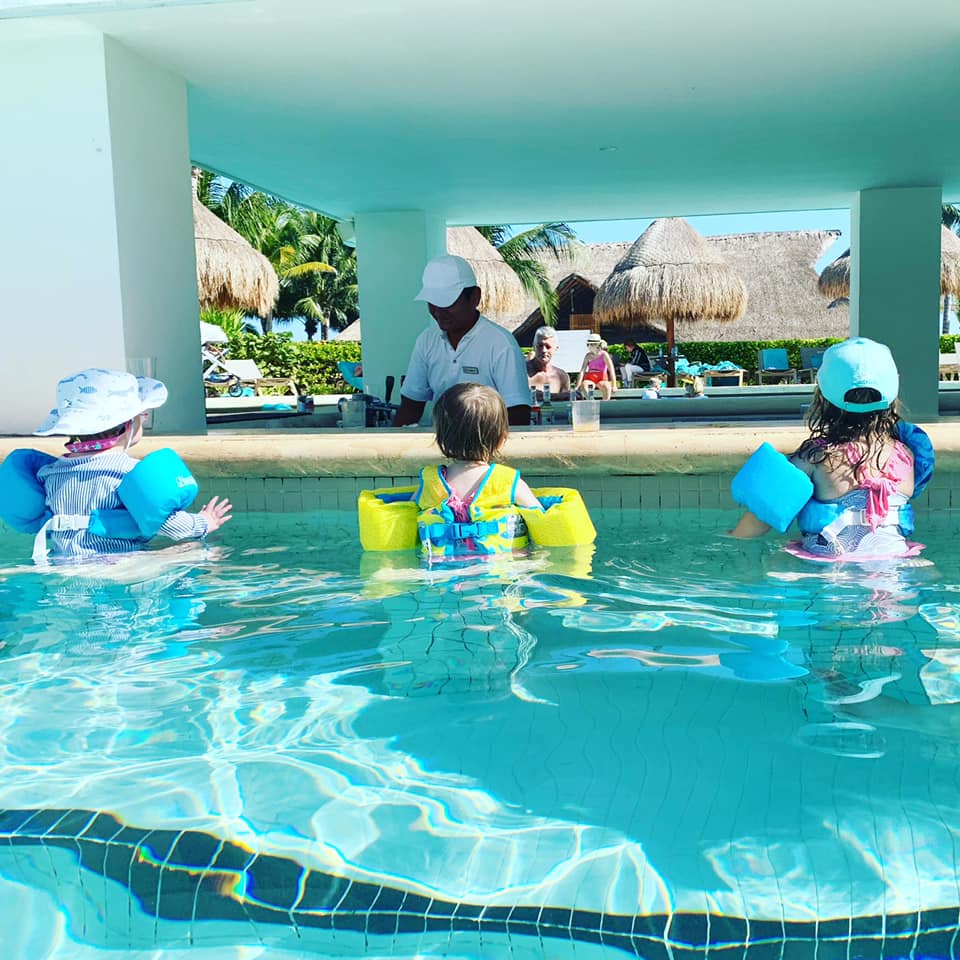 Aside from activities specifically tailored to adults or children, Finest Playa Mujeres also provides plenty of fun for the entire family! From the 18-hole golf club to scuba diving, deep-sea fishing, tennis lessons, and private yachting excursions, you'll never lack adrenaline-pumping activities here. Together, you can play beach volleyball, paddleboard, kayak, snorkel, or try archery and air rifle shooting, among other activities. For older children, the hotel also organizes a variety of motorized and non-motorized water activities on-site. However, on rainy days, even youngsters can participate in family-friendly dance and cooking lessons organized by the hotel. Live bands, nightly performances in the theater, and fantastic shows for adults and kids alike are also available to entertain everyone throughout your next all-inclusive stay! It's no wonder this is one of the best all-inclusive resorts in Cancun for families!
Cancun Travel Deals! Save up to $24 off our Fees on Flights with promo code CUN24
Moon Palace The Grand – Cancun
Reserve directly from Moon Palace The Grand – Cancun here!
Book your stay at Moon Palace The Grand – Cancun now Travelocity.
Moon Palace The Grand – Cancun is a worthy contender on our list of best family resorts in Cancun! Boasting beautiful surroundings, your vacation with kids here will be brimming with endless opportunities to experience modern Mexican opulence and convenience. In fact, the elegance is unparalleled at this lavish; this is the best all-inclusive resort in Cancun for families who want all the small details to be taken care of for them. Indulge in signature amenities geared toward guests of all ages, lovely room options, and even dining that accommodates children! Luckily, a visit here also gives you some bang for your buck regarding access to other Cancun attractions. Those staying here also have access to two other family resorts on the Moon Palace Cancun property; Sunrise and Nizuc.
6th night free. Make up for missed travel. Up to 30% off all-inclusive luxury at The Grand at Moon Palace. Safe travels. Book now!
Why The Kids Will Thank You
With nine swimming pools and a waterpark catering to little ones, kids will spend days splashing. (On a slide or in the wave pool!) The kid's club for ages four to twelve is also packed with big fun for little guests! The Sunrise Playroom features a creativity area, a fashion catwalk, a dollhouse, and video games. Teens also flock here for the Xbox room, comfy theater, labyrinth, or sandbox. There's also a baby area, a swing garden, monkey bars, and a seesaw. Designed with a focus on interactive and outdoor activities, the Playroom in Nizuc, its sister hotel, also has a market, school, baby area, and creativity area for younger kids. The upper floor is for kids 4-7 years old and the ground floor is for kids 8-17 years old. With so many kid-friendly options, Moon Palace The Grand – Cancun is certainly one of the best Cancun resorts for kids.
Why Parents Love It
While the kids enjoy time among friends, parents can revel in privacy at one of the best Cancun resorts for families! Ease the strain of a busy work week at the hotel's on-site spa, where guests can customize their bliss with an invigorating menu of massage treatments, which also includes complimentary hydrotherapy. Need to stick to your workout schedule? The hotel also has a fitness center! Or, take a few laps around the adults-only pool, where you'll enjoy a fantastic afternoon DJ alongside craft cocktails, snacks, and other refreshments. Moon Palace The Grand – Cancun's on-site club, Unique, also showcases signature cocktails and an upscale ambiance if parents want to spend the night dancing. The hotel also has 9 bars where you can sip and enjoy a cocktail.
Family Fun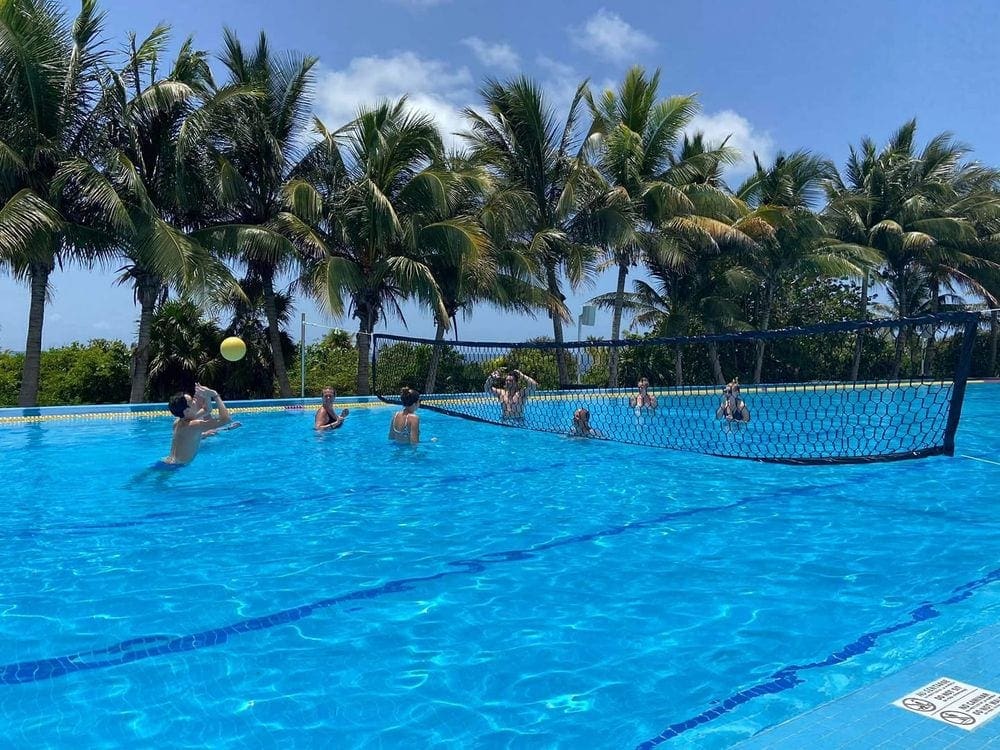 Outdoor fun awaits your family at Moon Palace The Grand – Cancun! Between non-motorized water sports, exotic scuba tours, or paddleboarding (with yoga!), there's truly no way you'll ever be bored here. The hotel also provides bikes for families to explore the surrounding areas. Children will also have the time of their lives at the on-site water theme park, with a selection of slides, obstacle courses, and the awesome lazy river. There are also so many beautiful natural attractions and fascinating cultural sites nearby! Snorkel deep into the ocean, adventure around Cancun on a boat, or traverse ancient Mayan ruins. You can even swim with the dolphins while you're at it! Moon Palace The Grand – Cancun also has a 27 hole signature golf course, offering both individual and private lessons for all ages. Additionally, the hotel also organizes a variety of poolside games and contests for families!
RELATED CONTENT: Exciting Mexico Family Resorts With Baby Clubs (All-Inclusive Included)
Hyatt Ziva Cancun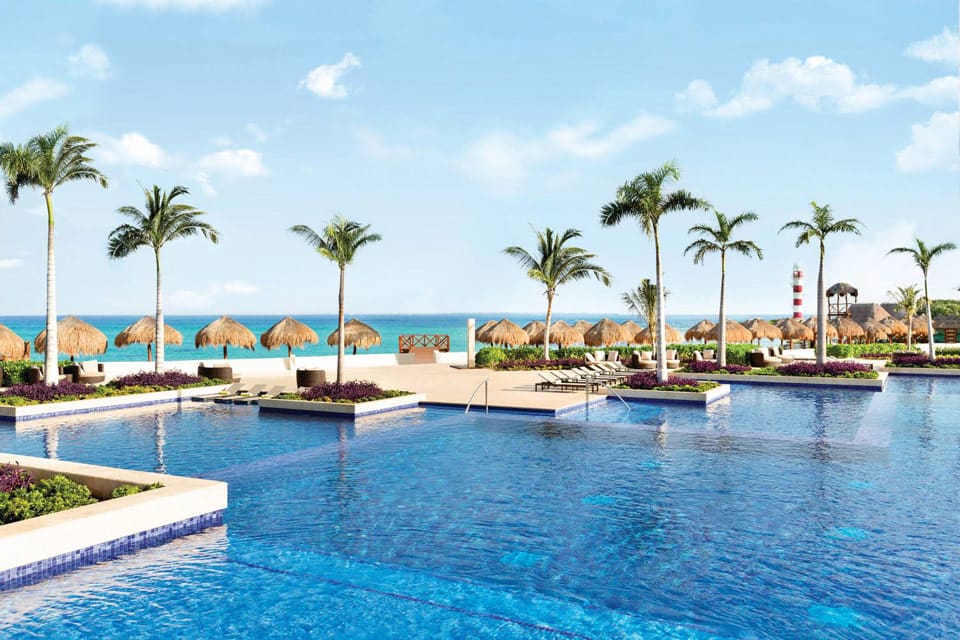 Book your stay at Hyatt Ziva Cancun now using Travelocity.
Book your family's stay at Hyatt Ziva using Hotels.com today.
No family ever regrets a well-earned stay at the Hyatt Ziva with kids! This stunning, all-inclusive beachfront resort is situated along Punta Cancun's most beautiful shoreline strip, framed by the incandescent Caribbean Sea. Luckily, aside from being awe-inspiring, it's also a one-stop shop for all your next amazing adventure with little ones! A clean, Minimalist design harmonizes with the hotel's eco-friendly ambiance to create an aura of tranquility for your entire family. Even seasoned travelers will be impressed by this playful family escape on Mexico's Yucatan Coast, between its access to exciting activities, accommodating staff, or on-site kids club! Spend time together here as well as apart, inspiring everyone to live in the moment while living out their fantasies at The Hyatt Ziva Cancun, one of the best family-friendly resorts in Cancun.
Why The Kids Will Thank You
Kids of all ages can spend blissful days on Hyatt Ziva's white-sand beaches, wading through clear blue Caribbean waters. Stay cool in one of three infinity pools or relax in two generous-sized hot tubs! Children ages four to twelve will also love the KidZ Club at Hyatt Ziva, where they can make new friends and join in on the fun! Supervised pool games, like water volleyball or splashing around in the mini waterpark, will keep them cool all day long here. Other adventures also include arts and crafts, video games, and beach excursions. Teens won't ever want to leave the @Moods Lounge and Club, the resort's exclusive teen-only spot to chill out and socialize! For example, during the day, they can check out the hotel's virtual reality simulators. By night, dance the evening away with karaoke sessions and mocktails as @Moods transforms into the ultimate party zone.
Why Parents Love It
Parents will have plenty of time away from the kids at the Hyatt Ziva Cancun! Start each day in a peaceful trance during beachside yoga. Or, work up a sweat in the world-class fitness center, testing out the latest cardio and strength training equipment! A variety of fitness classes are also available here for parents to sample. The exercise will be incorporated into the hotel's stunning property, like aqua spinning or kickboxing in one of the on-site pools. Once you're working out, prepare to relax in an eco-holistic, Mayan-inspired sanctuary; It boasts 13 treatment rooms and six beachfront palapas! If you prefer your tastings in a more spirited form, there are 6 bars on the property. Of course, that includes a microbrewery and three lounges at one of the best Cancun resorts for families!
Family Fun
Each day brings new experiences with your kids at the Hyatt Ziva Cancun! Enjoy a variety of non-motorized water sports like kayaking, paddleboarding, snorkeling, and scuba diving throughout your family's stay here. At night, delight in family-friendly presentations at the alfresco amphitheater, where you'll see professional musicians, brilliant dancers, and gasp-inducing acrobatics! When it rains, however, the hotel also has you covered with scheduled programming to keep kids of all ages entertained. Test your luck playing Black Jack, for example, or take a lesson on how to paint a handmade keepsake. The Hyatt Ziva also offers dance classes and opportunities for kids and adults alike to sharpen their Spanish skills!
Hard Rock Hotel Cancun
Book your stay at Hard Rock Hotel Cancun now using Travelocity.
Interested in this hotel? Book your stay through Hard Rock Hotel today using Hotel.com!
What's better than a stay with kids at the iconic Hard Rock Hotel? This popular hotel chain's Cancun location combines the reliability you'd expect from the famous brand alongside magnificent Mexican hospitality. All-inclusive with multiple pools and tons of family fun, it also means you may never have to leave the resort if you don't want to! Music fans vacationing here will love this beachfront hotel's unique flairs, from its kitschy decor to music-themed activities and live, kid-friendly performances paying tribute to pop stars. Whether your family prefers to scour on-site restaurants for the best cuisine or spend days lounging under the sun, you'll find plenty of shoreline space to accommodate your needs here. The Hard Rock Hotel's stunning location means year-round access to Cancun's beautiful beaches!
Why The Kids Will Thank You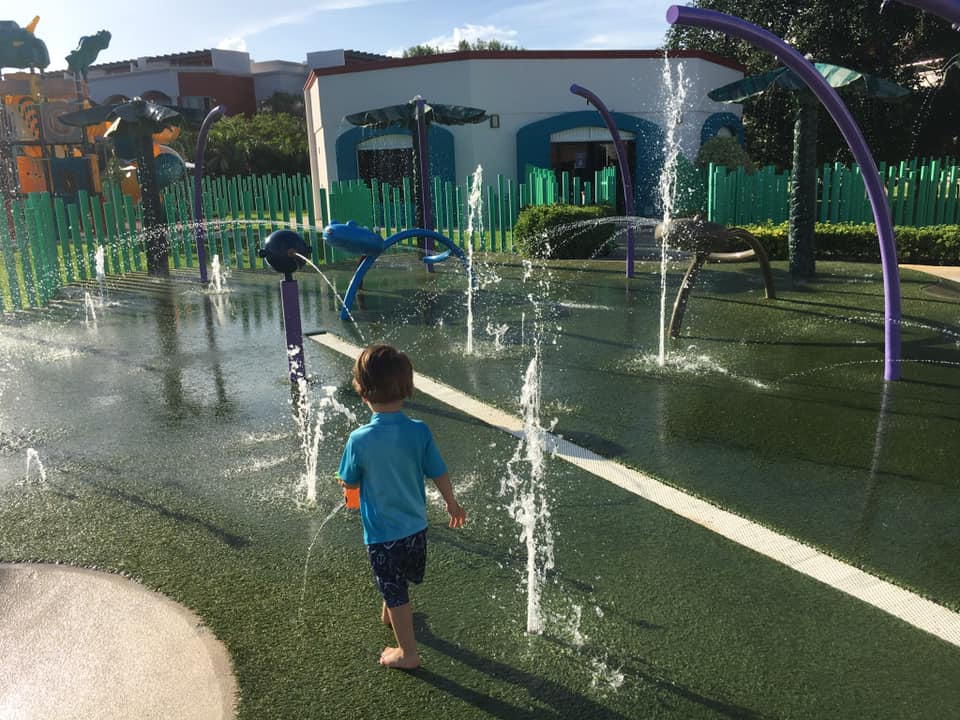 Kids can treat the Hard Rock Hotel like a much-needed getaway! At the on-site Hard Rock Roxity Kids Club for ages four to twelve, little ones can enjoy themed programming to ensure it's a vacation they never forget. Soar down a jumbo pool slide, jump on a trampoline, play Xbox 360, and so much more! Activities rotate throughout the seasons. Older kids twelve and up can even live out their rockstar fantasy at the on-site Music Lab. There, you'll find props, instruments, and costumes to make your very own music video! Or, enjoy an age-appropriate movie at the mini-cinema, ideal for all interests. This kid-friendly fun also extends to the hotel's four on-site pools, one of which is specifically geared toward children. Unwind in one of the hot tubs while your youngsters take advantage of balloon animals and arts and crafts. Or, hit the playground, complete with water slides!
Why Parents Love It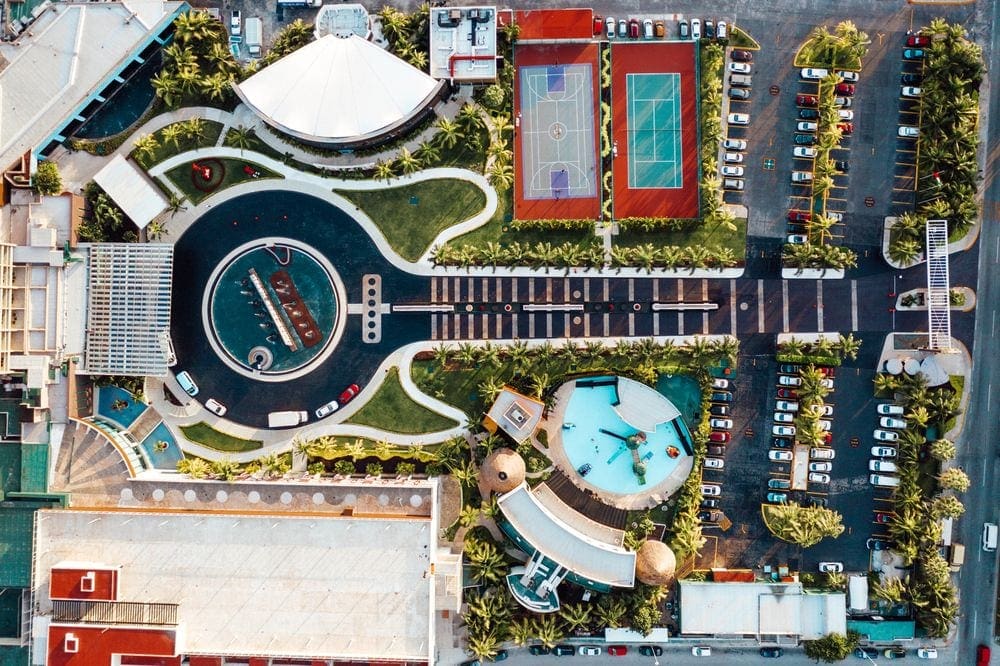 Parents love The Hard Rock Hotel for its dedication to adults-only privacy! Enjoy up to three hours of babysitting from a vetted nanny while you indulge in amenities like the Rock Spa (along with a complimentary care package). Choose from lavish massages, facials, and body scrubs aimed at giving you the "celebrity treatment." Or, hit the gym by heading to the fitness center and signing up for scheduled classes! In the mood for a shopping spree? On-site, the Rock Store showcases a selection of themed souvenirs to take home as a memento from your wonderful trip! The in-house Posh Beauty Salon also awaits your next makeover, whether with a manicure or a new haircut. In addition to these amenities, the Hard Rock Hotel also organizes wine and tequila tasting sessions for parents who wish to indulge in some extra kid-free time at one of the best Cancun resorts for families!
Family Fun
Families can also participate in tons of activities together at one of the best family-friendly resorts in Cancun! The Hard Rock Hotel Cancun offers access to a Vacation Planner, who will book nearby non-motorized water activities for kids who want to snorkel, kayak, or scuba dive, among other ocean getaways. If you'd prefer to hit the court, the property also provides ample space to play tennis, as well as basketball. Between playing a round of golf at the world's only Hard Rock golf courses or taking an action-packed adventure at the region's most breathtaking cenotes, you'll never be out of options here. In fact, you're now probably wondering how you can squeeze in as many of these activities as you can during your family's stay at The Hard Rock Hotel in Cancun!
Read 12 Best All-Inclusive Resorts In Cancun For Families for more all-inclusive resort options.
Best Resorts in Cancun for Families
Additionally, families looking for alternatives to all-inclusive resorts can enjoy one of these Cancun resorts for families. Your kids will adore exploring nearby things to do in Cancun, as well as making memories as a family on the beach or in the pool. Rest easy and enjoy yourself when you start your Cancun family vacation at one of the best hotels for kids in Cancun!
Nizuc Resort and Spa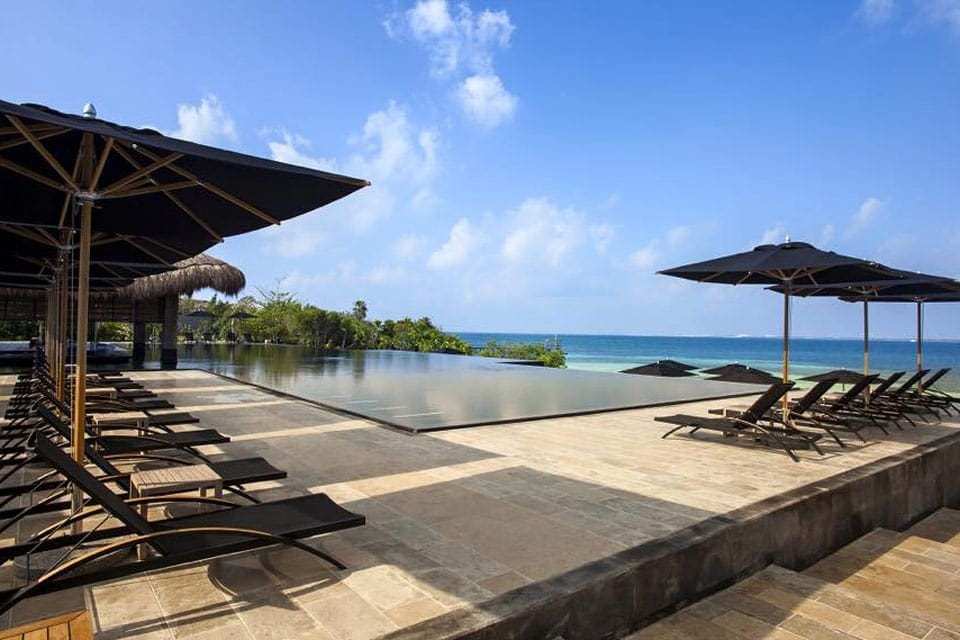 Book your stay at NIZUC now using Travelocity.
Research your stay at NIZUC by using Hotels.com.
Head to the NIZUC Resort and Spa to relax with kids among one of Cancun's most stunning natural oases! Located on the Yucatán Peninsula, this opulent, beachfront resort places you within a spectacular setting and nearby various local attractions for little kids. (Among them are Playa Delfines and the Interactive Aquarium Cancun.) Nizuc also offers families a secluded stay, surrounded by protected mangrove jungle, making it one of the best Cancun resorts for kids. So whether you want to sunbathe on a sparkling beach with a drink in hand or jet off for more daring adventures, Nizuc Resort and Spa provides a cozy bed to return to when it's all said and done. Don't forget to take advantage of its versatile location on the Mesoamerican Barrier Reef!
Why The Kids Will Thank You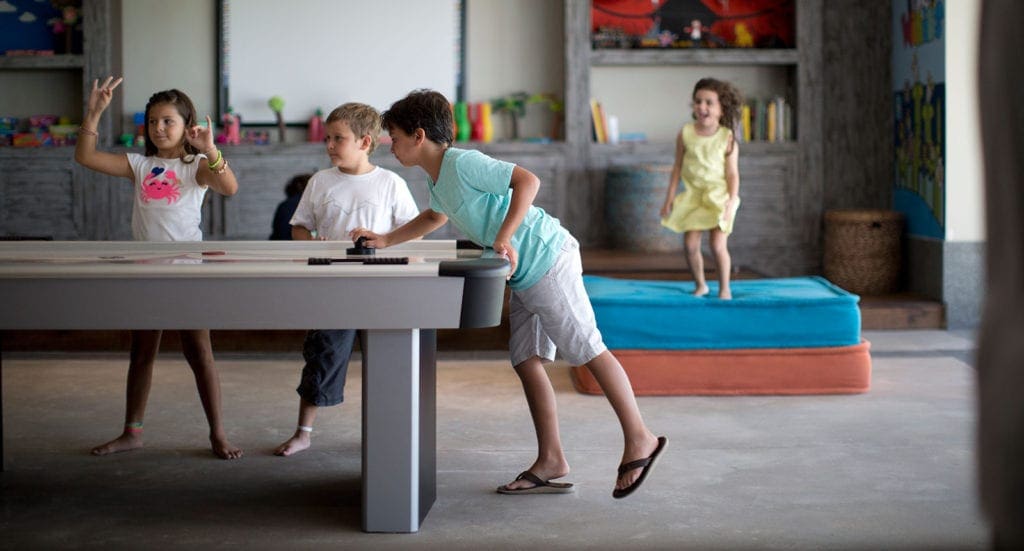 Kids will definitely appreciate a stay at NIZUC Resort and Spa! Winik's Kids Club organizes daytime activities for children to enjoy, like piñatas, arts and crafts, and face painting. It's available for ages 4 to 12. For older ones, the Terra Nostra Lounge also offers billiards and foosball. Plus, plenty of TV screens for teens to take advantage of during their stay! For days when you want to splash in the pool, the hotel also offers plenty of options. Three swimming pools throughout the property cater to families looking for a quiet time under the sun. The hotel also has two beaches, one of which is only for kids ages 16 and older! With so many options, this is certainly one of the best family-friendly resorts in Cancun.
Why Parents Love It
Nizuc Spa by ESPA is a good reason for parents to book a stay at one of the best family resorts in Cancun. Signature services here include the Mayan Cacao, where warm cacao oil is poured onto your forehead, or the Nizuc Renewal, sea salt and agave body scrub, warm stone treatment, and scalp massage. Parents can also head to the salon for a blow-out or the cafe for a quick coffee. Or, indulge in a variety of fitness classes held within the resort! Showcasing mahogany detailing and a black-and-white checkered floor, The Mahogany Lounge offers parents hand-rolled cigars and rums from the Caribbean on a night away from the kids. Nearby, also try out Bar A-Kan, a quiet hideaway perfect for pre-dinner drinks, overlooking the sea. No matter your needs, you'll find them here, at one of the best Cancun resorts for families!
Family Fun
Families staying at NIZUC Resort and Spa have endless opportunities to branch out and experience Cancun! In fact, the hotel even arranges tours to the nearby ancient Mayan ruins. Check out Chichén Itzá, Tulum, and Coba, ideal for giving kids a brief history lesson on the area! You can also embark on offsite golf and fishing excursions, as well as take advantage of the hotel's tennis court. NIZUC also organizes other activities for families to enjoy, like snorkeling, kayaking, and paddleboarding, amongst plenty of other options. When the weather is gloomy, don't worry too much! NIZUC organizes cigar rolling classes for parents and sushi-making lessons for youngsters. In the evenings, relish in smooth Jazz music played by a live local band. These are just some of the many perks of staying at one of the best family resorts in Cancun!
Thank You to Our Community!
We hope this list of 5 Best Family Resorts in Cancun provides great suggestions for an upcoming family vacation! No matter where you book your stay, though, you'll have the time of your lives together with your kids! A special thank you to the Families Who Love to Travel Facebook community who helped to compile this list of 5 Best Family Resorts in Cancun. Families Who Love To Travel is a group of amazing families who love adventure and exploring through travel. Join the Facebook community and the Instagram community to connect with other families who love the unique experiences travel has to offer!
Visiting Cancun As A Family: Important Information You Need To Know
*Due to the COVID-19 pandemic, many of the amenities mentioned on this list may be unavailable, or the hotel may also be closed entirely. Please ensure availability before making your decision.
Free Cancellation: Get a full refund up to 24 hours in advance on most experiences.
*This post may contain affiliate links that may earn us a small commission, at no additional cost to you. Affiliate links in no way inform the hotels, sights, products, or other recommendations included in our articles. All opinions and recommendations expressed here are compiled from submissions submitted by the generous members of our Families Who Love To Travel community.
READ NEXT: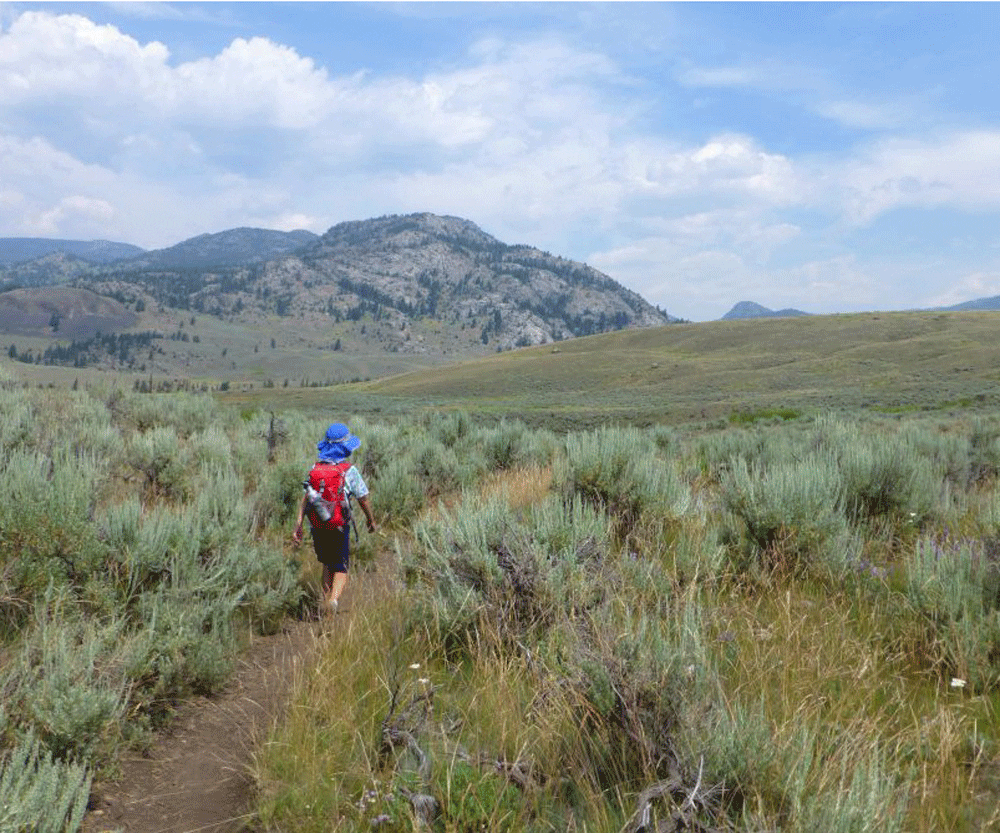 Everyone knows that Yellowstone National Park makes for a classic family vacation. Strolling the boardwalks...
From finding the best flights to booking a hotel, there are tons of decisions you...