If your family is traveling to Italy, Florence simply can't be missed! Little aspiring artists, chefs, and historians in your family are sure to delight in the wonders of Florence. From stunning renaissance art to local architecture to some of Italy's best cuisine, Florence will leave a lasting impression on travelers of all ages. Kids will love walking along the Arno River, climbing to new heights through the Duomo, or enjoying a cooking class in the heart of Italy! Plus, Florence is about 90 minutes from Rome by train, making it the perfect day trip or home base to explore central and northern Italy. Check out these best itineraries for vacationing in Florence with kids for more information on your next trip! They're sure to make planning your travel itinerary creative and fun.

1 Day in Florence:
Learning Escapes: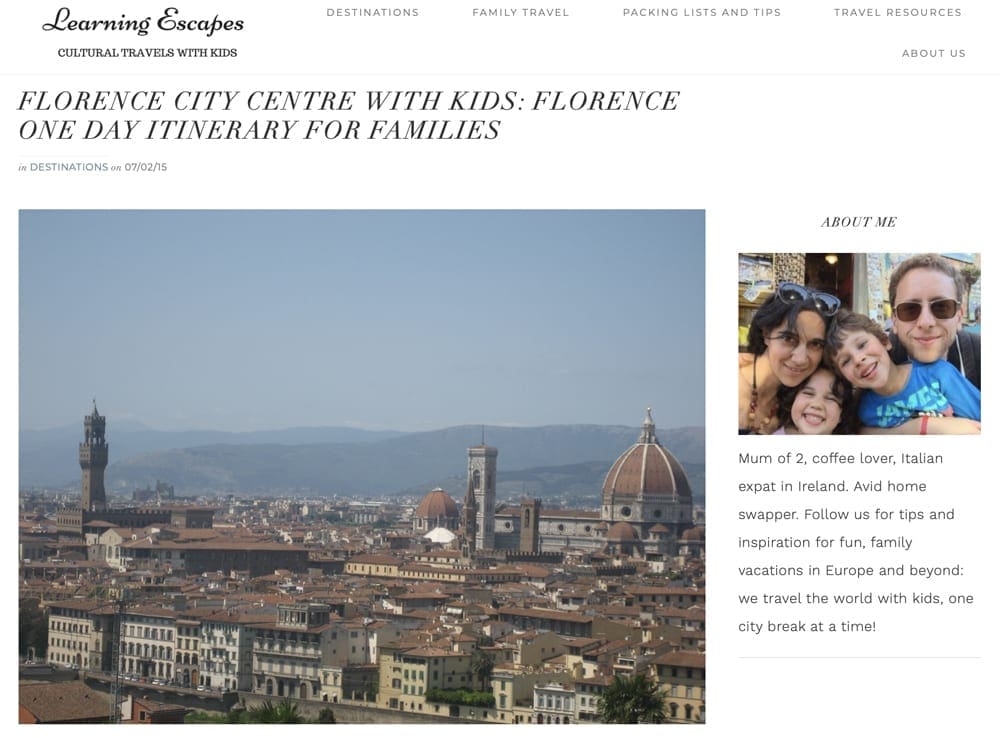 Written by an Italian expat, Marta, this itinerary from Learning Escapes is perfect for families who have one day in Florence – or who have small children in tow. Marta gives a great account of how to plan time in Florence with small kids, paying particular attention to how to get around the city and not over plan. Her itinerary also shares a walking tour approach to seeing several sites in Florence. Sites include Santa Maria Novella, Piazza Duomo (where you can get a great view of the city), Ponte Vecchio, and more. Great gelato stop recommendations are also included, which are an absolute must. Marta also offers a fantastic planning guide for families traveling with kids of all ages, which can be found here. This guide includes the very best of Florence, including a fun playground and family-friend restaurant recommendations. Read more here.

Our Globetrotters:
Our Globetrotters, Keri and her three children, have traveled the world, sharing their tips and tricks along the way. Not sure if your kids are ready for a museum or room after room of art? Keri recommends starting with Palazzo Strozzi. Offering plenty of space to roam and interactive exhibits, Palazzo Strozzi is Keri's top pick for Florentine museums with small children. Looking to do a little shopping? Keri shares her favorite boutique for spoiling babies. Several family-friendly restaurants, from gelato to sit-down spots, make this post well worth reading when planning a trip to Florence! Read more here.

3 or 4 Days in Florence:
We Go With Kids:
We Go With Kids writer Catherine offers the ultimate planning guide to Florence with Kids. This is a must-read for great tips and itinerary suggestions for a long weekend in Florence. Not sure Florence is right for your family? Catherine does a great job of sharing the best of Florence with kids. Kids will love climbing the 463 steps to the top of the Duomo, a must-view of Florence when visiting. Or, climb fewer steps to the top of Giotto's Bell Tower, adjacent from the Duomo. Strolling Ponte Vecchio also will give families a gorgeous view of the Arno River, while picking up a few souvenirs for home. Kids interested in military history will also enjoy exploring Fort Belvedere. For a deeper look at planning a trip to Florence with kids, read more here.
We 3 Travel:
Tamara, with husband and teenage daughter in tow, make up We 3 Travel. They offer wonderful travel advice and itineraries all over the world, particularly for families with teens! If you are traveling with a teenager, this post is a must-read, as it is written by Zacahry, Tamara's teen cousin. He offers a lot of great insights and highlights the favorite Florence sites among teens. Zachary highly recommends the Uffizi for seeing great works of art and the best of the Renaissance, like Botticelli's The Birth of Venus. The recommendations for food tours and restaurants will be a hit for the aspiring chefs in your group. We particularly enjoyed his review of Trattoria Cammillo, a local favorite with a great history. Tamara's advice at the end makes booking and saving itinerary suggestions a breeze. Read more here.
2 Idiots Travel:
Natasha and AJ make up 2 Idiots Travel, which now includes their little one! Avid travelers, they offer great accounts of what makes family travel successful and memorable. Their 4-day itinerary for Florence highlights why travel to Florence – and what to do one you get there. If you are on the fence about going to Florence, this is a great read! We love this post for its quick view itinerary, followed by detailed recommendations. Great family pictures also accompany the sites, making Florence come alive! Small children will delight in the carousel found at piazza Della Repubblica! One of their son's favorite finds in Florence! If you are considering the Florentine Gardens, Natasha does a wonderful job of sharing their day exploring the grounds and making family memories. Don't miss the kid-friendly tips at the end (for example: look for diapers in the pharmacies!). Read more here.
A Week or More

Earth Trekkers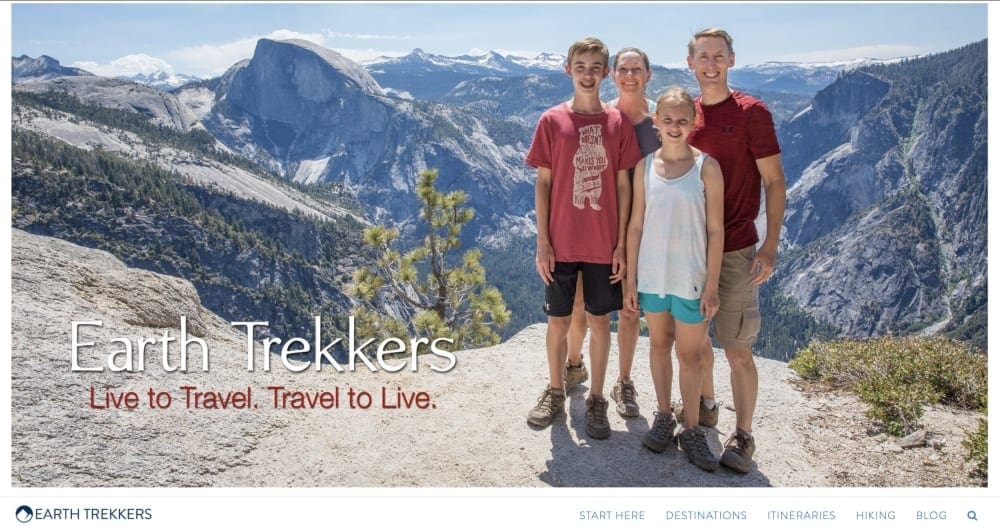 Julia and Tim of Earth Trekkers have traveled the world with their two children, now 15 and 16. Their 10-day itineraries offer three unique ways to incorporate Florence into a long vacation in Italy! As a family traveling with teens, they also offer a great perspective on how to keep older kids in mind while traveling. Gorgeous pictures help highlight the culture and beauty of Italy. Julie also offers great advice on where to find the most stunning views in Florence. Highlighting the usual views of the Duomo's Campanile, they also include other unique perspectives like the Boboli Gardens, which offers sweeping views of Florence from the other side of the Arno Rivers. Read more here.

Florence is a must for family travel! With so much to do, you certainly won't hear "I'm bored" while traveling in Florence. From some of the world's best art museums to racing to the top of the Duomo to classic Tuscan fare, Florence is sure to become a family favorite. No one is too small or too young to enjoy what Florence has to offer. We hope this list of best itineraries for vacationing in Florence with kids helps you plan the perfect family vacation to Florence!

If you're a blogger who would like to be included in this post or write a guest post for Families Love Travel, please email us at contribution@gamilieslovetravel.com!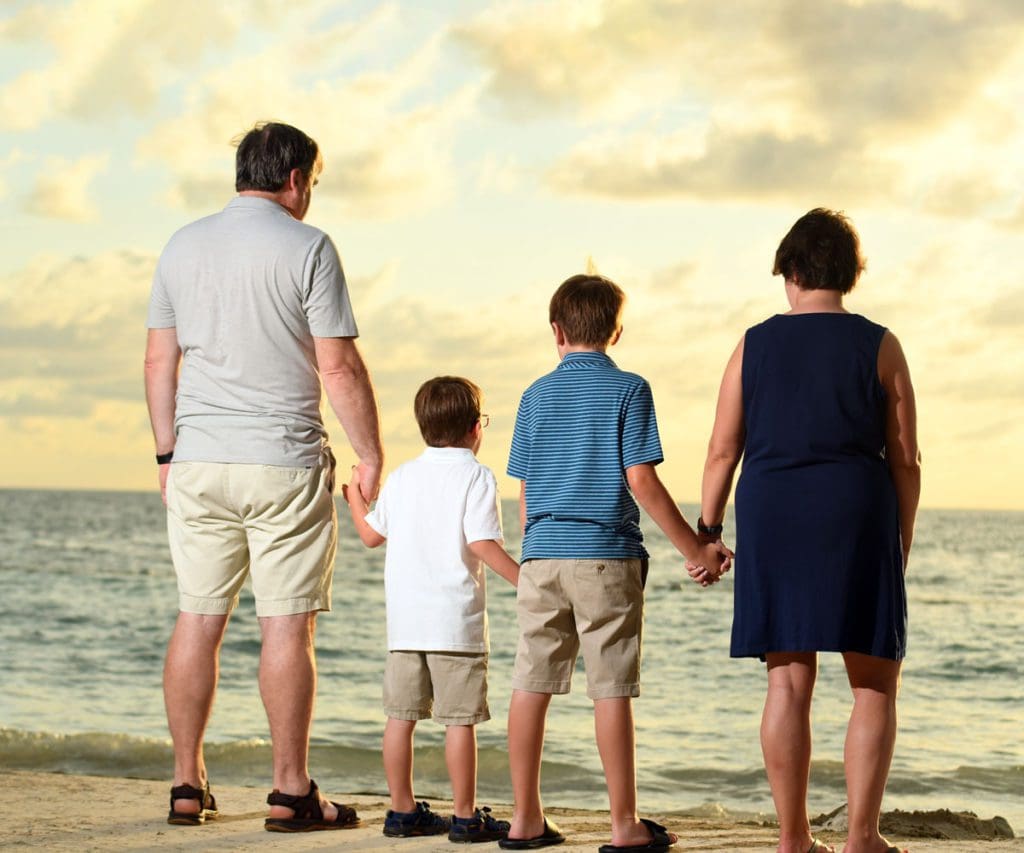 If you're looking for fun in the sun and so much more, plan your next...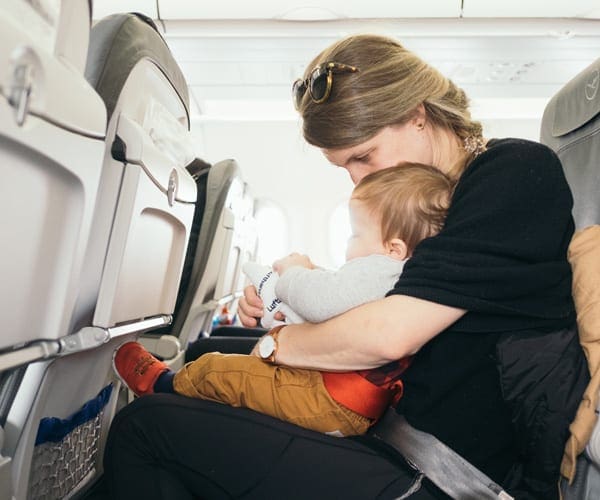 Families Who Love To Travel contributor Meghan Oaks provides her 10 best tips for your...