Niagara Falls is a "must-see" for travelers. It is a delight for people of all ages. Viewed by boat, air, or observation tower, Niagara Falls is sure to be a memorable family vacation destination. The large waterfall system (a group of three waterfalls total) straddles the American-Canadian border. On one side is New York, and on the other side, Ontario. In addition to the natural beauty of the falls, there is a wonderful array of activities to do in the Niagara area. If you have a passport, it's worth bringing it to see both sides! From boat rides to butterfly gardens, this vacation hot spot is sure to be a hit! Check out our top picks of best itineraries for vacationing in Niagara Falls with kids. They are sure to answer your travel questions and help you plan a memorable trip with your family!
48 Hours in Niagara Falls, Itinerary by Earth Trekkers
Looking to spend one night in Niagara Falls? Check out Julie's wonderful itinerary with older kids. Her recommendations include the American side (the best "get-up-close") and the Canadian side (best "views of the Falls"). Begin your day on the American side with a Maid of the Mist tour. Expect to get wet and to enjoy one of the most powerful views of the falls! Kids will love the Cave of the Winds tour. There, your family will have the chance to go down into the Niagara Gorge and stand behind the falls. Spend day two exploring the Canadian side. Head to the Skylon Tower for one of the most stunning views of the falls. Enjoy the rest of the day at Clifton Hill. Here you will find a number of family-friendly activities; mini-golf, the Niagara SkyWheel, and Ripley's Believe It or Not are all great options! Read more here.

2 Days in Niagara Falls with Kids: What to Do in Niagara Falls, Itinerary by The Daily Adventures of Me


Mom and travel blogger, Jamie, put together a wonderful kid-focused itinerary for traveling to Niagara Falls. Offering tips for the Canadian and American side, it's the perfect mix of enjoying the falls and activities surrounding the falls. On the American side, check out the Cave of Winds. Prepared to get wet and see the falls from the inside! Don't miss Niagara Falls State Park for lovely hiking or a trolley ride. On the Canadian side, enjoy the best view of the falls and the amenities of a large city. Kids will love riding in the Funicular to get down to the falls! Take a Hornblower tour (think Canada's version of the Maid in the Mist) to get up close and personal with the falls. Don't miss tips on how to best get to Niagara Falls at the end of the post. Read more here.
VISITING NIAGARA FALLS WITH KIDS: WEEKEND ITINERARY, Itinerary by Learning Escapes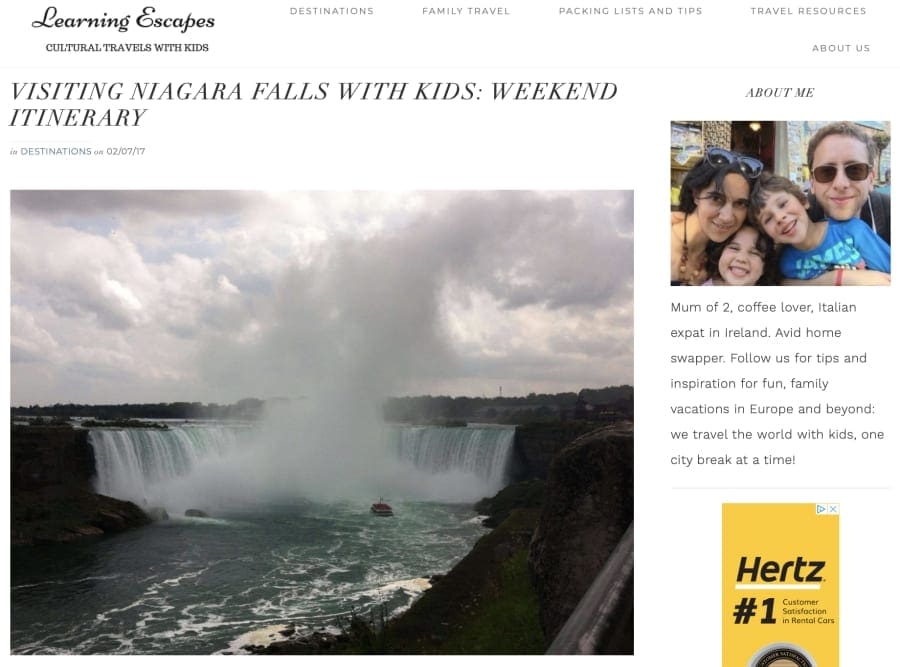 Marta and her family visited Niagara Falls as part of a longer holiday in Toronto. Marta includes a number of great tips, so no matter the length of your stay, it is worth a read! Through this itinerary, stay on the Canadian side. In the morning, enjoy a Hornblower tour to view the falls by water. Back on land, take the Journey Behind the Falls tour to see the falls from the other side. On day two enjoy some family time at Fallsview Indoor Waterpark or the Botanical Gardens. The Botanical Gardens have a butterfly conservatory, making it the perfect spot for aspiring entomologists. Finish the day relaxing and dining in Clifton Hill. Read more here.

How to Spend 4 days in Niagara Falls with Kids, Itinerary by Traveling Canucks

Looking to enjoy a long weekend in Niagara Falls on the Canadian side only? Look no further than this wonderful blog by Cam and Nicole. With two young boys in tow, they explored the falls and the best family-friendly attractions in the area. Tour with Journey Behind the Falls to go behind the falls. View Niagara's Fury to get an in-depth history of the falls. Then enjoy the falls by water with a Hornblower boat cruise. Experience Clifton Hill through the Clifton Hill Fun Pass. The pass includes 7 fantastic activities, including Ghost Blasters and Dinosaur Golf! Kids will love the Niagara SkyWheel, the largest observation wheel in Canada. Don't miss the Bird Kingdom, the world's largest indoor aviary. Aspiring ornithologists will love feeding the lorikeets at Lorikeet Landing! Thinking of staying at the Great Wolf Lodge? Check out their review for great pictures and information. Read more here.

Most travelers find that 2 days to a long weekend are enough to explore Niagara Falls. What to enjoy a longer vacation? Consider pairing Niagara Falls with another city. Toronto, Ontario, is your closest large city option and is less than two hours by car. Or go stateside and explore Rochester or Syracuse, New York, both less than 2.5 hours by car. Looking to go further afield? Consider Cleavland, Ohio (less than 4 hours), Philadelphia, Pennsylvania, or New York City (both less than 6.5 hours). Whatever you choose to do, you are sure to have a wonderful time!

Happy Travels!
A "must-see" for travelers worldwide, it is no wonder that Niagara Falls has been a steadfast travel destination for decades.  You and your family are sure to love viewing the falls from all angles, hiking the area, and creating many memories together! We hope these best itineraries for vacationing in Niagara Falls with kids will help you get started making travel plans and exploring this true natural wonder!
  
If you're a blogger who would like to be included in this post or write a guest post for Families Love Travel, please email us at contribution@familieslovetravel.com!
Need more things to do to fill your Niagara Falls family itinerary? Click here for the Best Things To Do In Niagara Falls With Kids!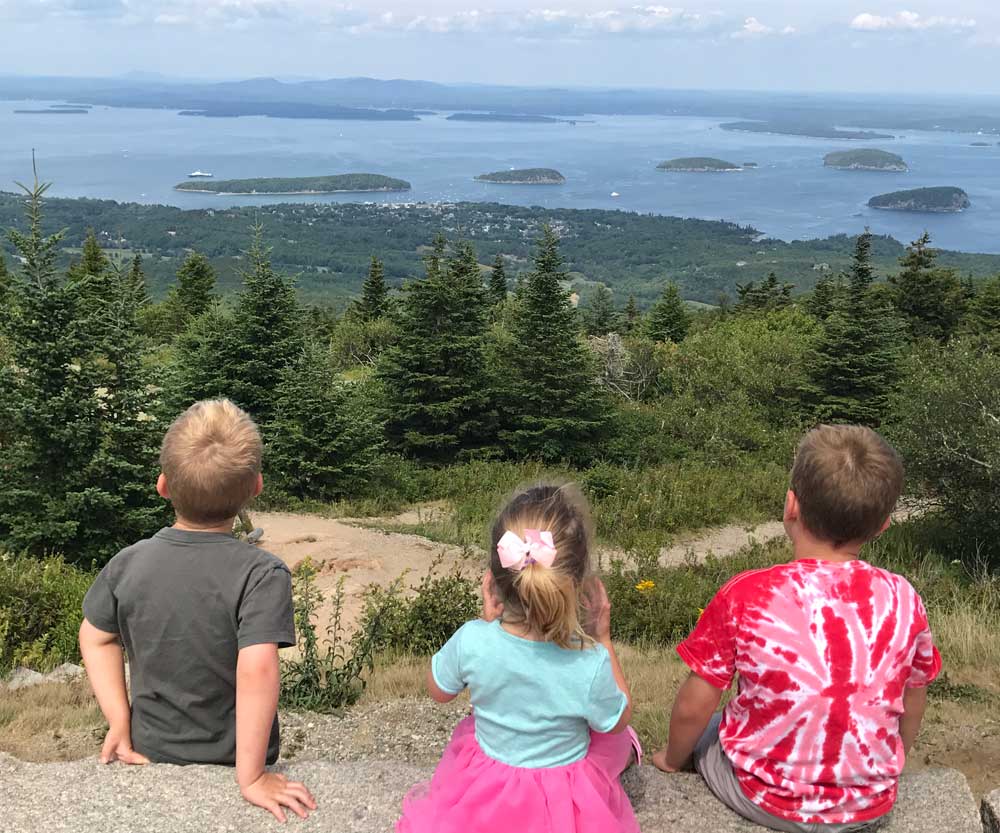 We drove to Acadia National Park in Maine from Northern Virginia. It's a long drive...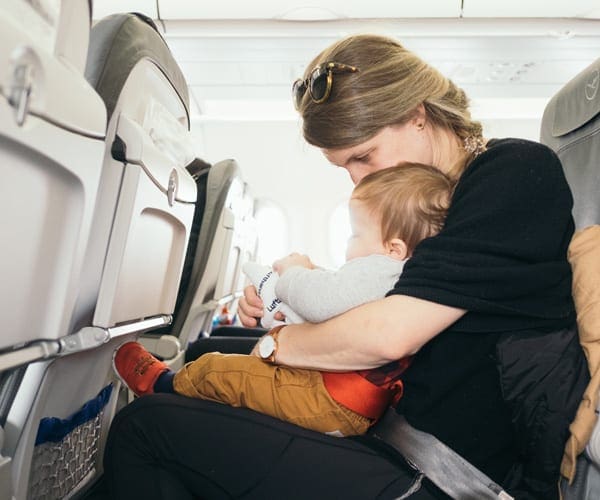 Families Who Love To Travel contributor Meghan Oaks provides her 10 best tips for your...