Singapore is a very clean, safe city with a lot to offer family travelers! An island city-state situated along the southern border of Malaysia, Singapore offers tropical weather, walkable neighborhoods, and a mix of global cultures. Due to its modern vibe and family-friendly amenities, Singapore is one of the world's best family travel destinations. Whether you are looking to relax on the beach, engage in a culturally rich experience, or explore charming neighborhoods and cafes, Singapore is sure to please the whole family. This vibrant city will captivate travelers of all ages with its culture, wildlife, and global fare. With so many things to do in Singapore, the hardest part will be narrowing down your list!
Whether you are staying in Singapore or using it as a layover to other parts of Asia, you are sure to marvel at this true crossroads of culture and tradition.  Check out our list of the best itineraries for vacationing in Singapore with kids to help you plan your next family getaway.
A Short Stay in Singapore with Kids
2 Days in Singapore Itinerary, Itinerary by Mum on the Move
If you're doing a layover or short visit, Marianne has your "musts" covered in this itinerary. Start with a unique breakfast with orangutans at the Singapore Zoo! This world-renowned zoo is a must in Singapore with kids! After the zoo, check out Yum Cha for dim sum in a charming, family-friendly environment. Next, explore Singapore's unique mix of cultures by visiting the Colonial District and Chinatown. End your day with a river cruise and street food at the hawker centre. Day 2 is all about family play! Head to Sentosa Island for Universal Studios Singapore. After lunch, kids will delight in the Southeast Asia Aquarium. With over 800 species, kids will love getting up close to so many amazing sea creatures (including a goliath grouper!). Or maybe Adventure Cove Waterpark is more your style? Either way, day 2 is all about having fun making memories as a family. Read more here.
3 Days in Singapore with kids: Low-cost and Family-friendly, Itinerary by World For a Girl
Budget travelers will love this itinerary!  Kristy, the mom behind World For a Girl, shares fantastic, low-cost ideas for Singapore.  Spend day 1 enjoying East Coast Beach. This seafront playground is perfect for making family memories!  After lunch at Kith, stroll the riverwalk to Merlion Park. Then go to the Supertree Grove to enjoy the Sound and Light show.  Day 2 is all about Gardens by the Bay and more family play. Families who love heights should get tickets for the OCBC Skyway and walk amongst the Supertrees!  Far East Organization Children's Garden is perfect for an afternoon of adventure. This wonderful kid's space has 5 interactive play zones! On day 3, check out Haw Par Villa, a free, eccentric theme park with giant statues.  End your trip on Sentosa Island relaxing on the beach. Don't miss Kristy's other budget tips at the end of the blog! Read more here.
THE PERFECT 4 DAY SINGAPORE ITINERARY FOR FIRST TIME VISITORS, Itinerary by Phenomenal Globe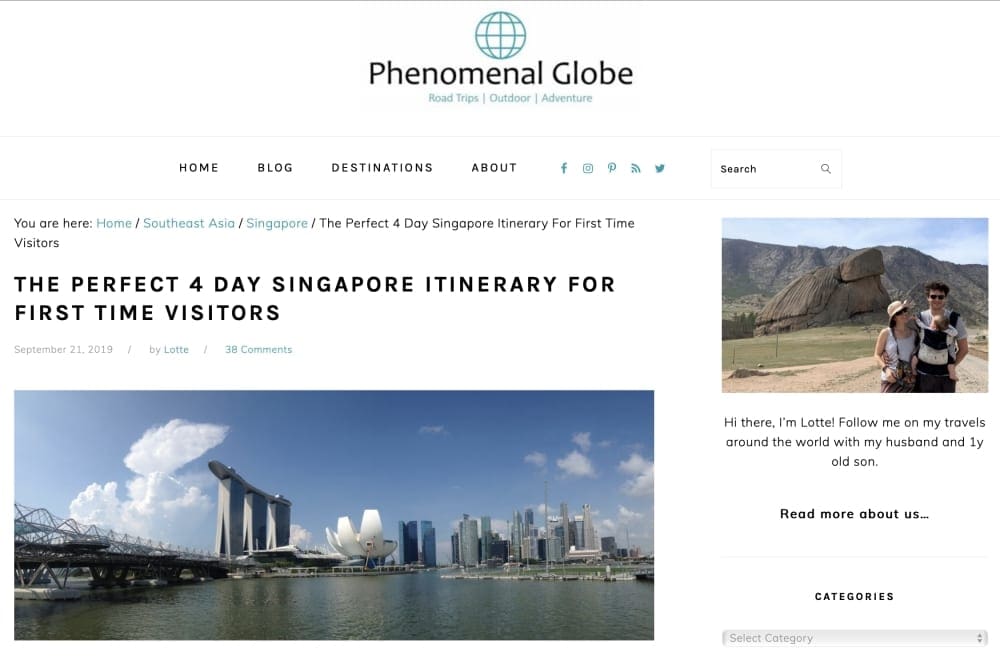 Lotte shares a ton of great advice and insights in this packed, family-friendly itinerary. Day 1 is all about Gardens by the Bay, the view from Marina Bay Sands, and exploring Chinatown. Don't miss the Children's Garden near the Supertree Grove! In Chinatown, look out for the Sri Mariamman Temple, Singapore's oldest Hindu temple. On day 2, check out Little India, Clarke Quay, and Robertson Quay. Families will love the buzz of this historic trade center. Take a break from the chaos of the city at Fort Canning Park. Day 3 is spent on Sentosa Island, enjoying the sun and sand. Families can also enjoy Universal Studios, located on the island. On your final day, explore the Mount Faber Loop and do the Canopy Walkway. Kids will love trying to spot monkeys in Mount Faber Park. Hotel and budget-saving tips can be found at the end. Read more here.
Our Complete Guide to Things to do in Singapore with Kids, Itineraries by Where's Sharon
Sharon includes 5 Itineraries that range between 3 and 5 days — perfect for families looking for tons of examples. The itinerary examples focus on family-friendly activities, Singapore on a budget, Sentosa Island, and the foods of Singapore, respectively. Through most itineraries, families will enjoy the Singapore Zoo or the Night Safari. Both are perfect for children of all ages! Kids will love seeing nocturnal animals active on the Night Safari! Gardens by the Bay is also featured in Sharon's itineraries. On a budget? Pack a picnic for the Children's Garden. On Sentosa Island, check out the Port of Lost Wonder and the Skyline Luge Sentosa. Families with 5 days must check out the Singapore River Bumboat cruise! Kids will delight in seeing Marina Bay by water. These action-packed, wonderfully family-friendly itineraries are sure to get you and your family excited for a trip to Singapore! Read more here.
Self-Plan 1: Singapore by Wake Up Kins
Arun of Wake Up Kins describes his first self-planned trip to Singapore in this comprehensive blog. Not only does he offer tips and advice, such as the best time to visit Singapore and where to find the best food to suit your family's palette, but he also shares his itinerary! Arun and his family spent 6 days in Singapore. Day 1 includes a visit to Little India. On day 2, they visited Chinatown and embarked on a Singapore Night Safari. Day 3 featured a ride on the Singapore Flyer, a trip to the Gardens on the Bay, and the OCBC Skyway. Day 4, Arun and his family spent time in Sentosa, where they had a lot of fun riding the cable cars, visiting the S.E.A Aquarium, ziplining, and more. On day 5, they had a magical time at Universal Studios before heading home on day 6. It's definitely worth checking out Arun's itinerary, should you be in Singapore for 6 days! Read more here.
A Week or More in Singapore with Kids
Travel Singapore with Kids | 7 Day Singapore Itinerary, Itinerary Travel by Karma
Gitanjali recommends families "take is slow and optimize fun" — which means at least a week in Singapore. Spend day 1 at the Singapore Zoo and Night Safari. Singapore Zoo is the best zoo in the world and shouldn't be missed! Day 2 includes the River Safari and Jurong Bird Park. Don't miss the King of Skies show. Kids will love seeing the birds in action! Days 3 and 4 are all about Sentosa Island and Universal Studios Singapore. Relax on the beach or head to WaterFront Adventure Cove. Spend day 5 exploring the Botanical Garden and Gardens by the Bay. Kids will adore feeding the turtle at the Botanical Garden. Next, see the iconic Merlion and enjoy dinner in Clarke Quay. Day 6 is spent shopping on Orchard Street, featuring budget shopping to high-end brands. End your week exploring Little India or another of Singapore's wonderful neighborhoods. Read more here.
Singapore 7 Day Itinerary with Kids, Itinerary by Saffron Trail
Nandita offers a family-friendly itinerary with many insights and food recommendations. Enjoy day 1 in the gardens at the Botanical Garden and Gardens by the Bay. Don't miss the Healing Garden, which features medicinal plants. Start day 2 with the Jurong Bird Park. Definitely worth seeing at least one live show! Head to Little India for dinner and a neighborhood stroll. Day 3 is all about fun at Universal Studios Singapore! On day 4, check out the Singapore Zoo, River Safari, and Night Safari. Kids will delight in the animal encounters throughout the day! Day 5 is back on Sentosa Island exploring the SEA Aquarium and seeing the iconic Merlion. End your evening on Arab Street for dinner. On days 6 and 7, go shopping, relax, and eat some of Singapore's best fare! Be sure to explore Chinatown and Orchard Road. Both offer lovely walks and sight-seeing. Read more here.
Singapore with Kids – Our Complete 9 Day Itinerary, Itinerary by Seven Wanderers
Erin, the mom behind Seven Wanderers, shares a packed, family-friendly itinerary, as part of a 5 week South East Asia tour. Enjoy your first dinner at Hawker Centre, buzzing with locals and tasty food! Spend day 2 at Sofitel Singapore Sentosa Resort & Spa with swimming and high tea. Curious kids will be captivated by the fish spa! Looking to do a food tour, Erin recommends SingaBites. Spend one of your many days at KidZania, where kids can undertake dramatic roleplays! Gardens by the Bay, the OCBC Skyway, and the Supertree Grove deserve a full day. Kids will love exploring the gardens and huge trees! Be sure to pack swimwear for the Children's Garden. Families shouldn't miss Wild Wild Wet, the water park attached to D'Resort. The huge waterslides and lazy river are sure to impress the whole family. Humor and delightful family pictures accompany this wonderful blog! Read more here.
Families will love the kid-centered attractions, animal encounters, and adventure offered in Singapore! With so much to see and do, your kids won't want the adventures to end. Hopefully, this list of the best itineraries for vacationing in Singapore with kids gets you started making family memories. No matter what's on your bucket list, Singapore will delight and amaze travelers of all ages!
If you're a blogger who would like to be included in this post or write a guest post for Families Love Travel, please email us at contribution@familieslovetravel.com!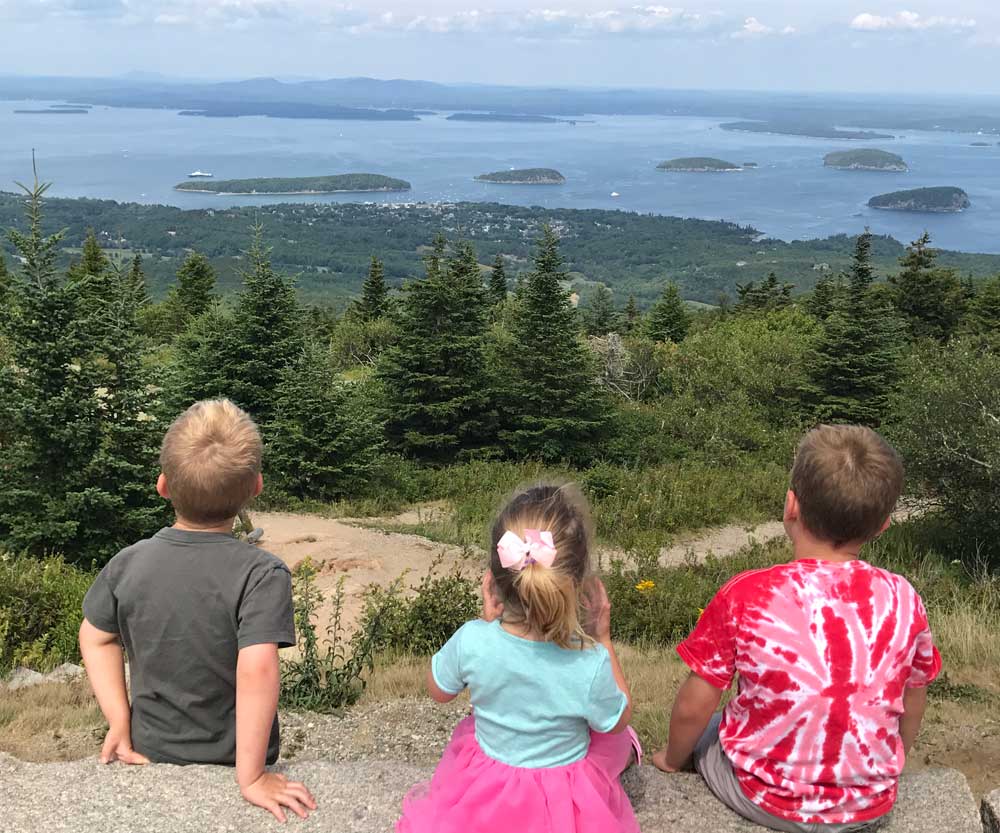 We drove to Acadia National Park in Maine from Northern Virginia. It's a long drive...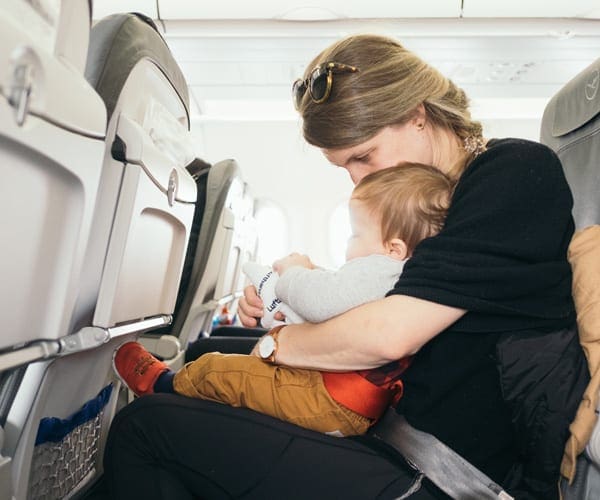 Families Who Love To Travel contributor Meghan Oaks provides her 10 best tips for your...