Located along the northeastern coast of Spain, Barcelona is the largest city in the Catalonia region of Spain. A global hub for art, culture, commerce, and tourism, Barcelona is the perfect family-friendly vacation destination! No matter what is on your travel bucket list — sports, museums, food, beaches — Barcelona has it. Kids will love watching Barça (FC Barcelona) play in their home stadium. Or maybe exploring the historic works of Antoni Gaudí is more your style. From the Church of the Sagrada Família to Park Güell, the artists in your family are sure to be inspired. To make planning a family vacation to Barcelona simple and fun, we've pulled together some of the best itineraries for vacationing in Barcelona with kids. Take a look and you'll discover why Barcelona is one of the top European destinations for family travel!
RELATED: Best Things To Do In Barcelona With Kids (By Neighborhood)
3 Days in Barcelona
3-day Itinerary With Kids in Barcelona, Itinerary by Passports and Adventures
Justina, a Barcelona transplant, provides her top picks for three days in her home city. Justina has lived in Barcelona for over 10 years. Leveraging her passion for family travel, she truly shares the best Barcelona has to offer in three days! This itinerary includes everything from exploring Gaudí's famous Park Güell to time on the beach. Kids will delight in the mosaic snake and dragon statues in Park Güell! On the beach, embrace the sun and check out Xiringuito for a seaside coffee or cocktail. Families with Tintín fans should end one of their three days with tapas at Kuletos for great food and a travel vibe inspired by Tintín. Read more here.
3 Days in Barcelona: The Perfect Itinerary for Your First Visit, Itinerary by Earth Trekkers
Interested in Barcelona, but not sure where to start? Julie provides a fantastic, straight-forward guide on the city including what to do, where to eat, and where to stay. We love this itinerary because it breaks down each site and includes details on hours, cost, links, and directions – not to mention helpful insights for each site! On this itinerary, explore Casa Milà, one of Gaudí's famous works and a UNESCO World Heritage Site. Don't forget to take in the amazing view of Barcelona from the top of the building! At least one lunch should be spent in Mercado de la Boqueria. There are many tapas restaurants that are perfect on the go or to sit and enjoy. One evening, enjoy Tibidabo and the Sagrat Cor and the stunning view of the Barcelona skyline. Stay in the area for a wonderful sunset dinner at Bunkers of Carmel or Alaire Terrace. Spend the whole day in this part of Barcelona and take the kids to the Tibidabo amusement park! Don't miss the day trip recommendations at the end of the tips on saving money with discount attraction cards. Read more here.
Barcelona with kids: the perfect 3 day Barcelona itinerary, Itinerary by Kids and Compass

From budget savers to places to stay, not to mention a great itinerary, Emily has your every travel need covered. If you are looking for an extensive planning guide, this is a must-read. On day one, get an early start at Casa Batlló. Kids will be amazed by the multi-colored exterior. Be sure to stand across the street and encourage kids to find the rainbow dragon! Explore La Boqueria, one of Spain's most established markets, operating for almost 200 years. Kids will love exploring the many vendors and searching for the perfect souvenir to bring home. Looking to take a boat tour around the harbor? Emily includes great tips on how to explore Barcelona from the sea. Soccer fans will love reading about Camp Nou and seeing a Barça match with kids. Families who can't attend a match can still check out the museum at the stadium to get a glimpse into Spain's favorite pastime. This 3-day itinerary is perfect for families looking to incorporate a mix of Barcelona "musts" and a few things off the beaten path. Stunning family pictures make Barcelona come alive throughout the blog! Read more here.
4 or 5 Days in Barcelona
BARCELONA WITH KIDS: ITINERARY & RECAP, Itinerary by the Spring Break Family

Montoya definitely understands the balancing act between having an agenda and being flexible when it comes to family travel. Her itinerary is fantastic, as it allows for that flexibility, while also including a lot of fantastic recommendations! The quick navigation at the beginning gives you a good overview of what is included in this wonderful itinerary before going into detail. Looking for the best churros in Barcelona or at least a well-situated afternoon snack? Montoya swears by Churreria Latina. Families looking to do family pictures in Barcelona will also appreciate Montoya's recommendation of Flytographer. They did a family photoshoot in Park Güell and loved it! We love this blog for its videos and fantastic family pictures! This itinerary is also a super helpful guide for families of color and/or those with mobility accessibility needs traveling to Barcelona. Read more here.
5-DAY BARCELONA ITINERARY WITH KIDS, Itinerary by Exploring Through Life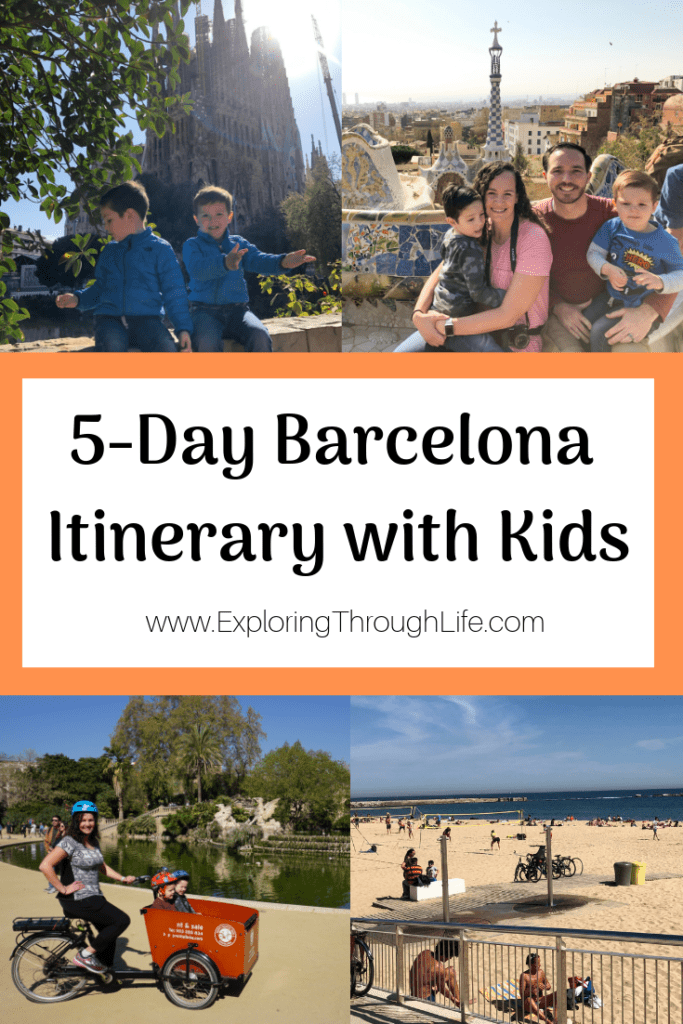 Looking to relax in Barcelona? Check out Molly's laid back itinerary to make relaxing in vibrant Barcelona a breeze. Families with littles should also check out Molly's itinerary for recommendations that suit their pace and needs. Through this itinerary explore Park Güell and the many playgrounds within the city park. Young kids will love exploring the fanciful park and its mosaic creatures. Next, make the trek to Montjuic to ride the cable cars. A truly unique experience, riding the cable cars will give you a great view of the city! Kids will love getting to take in the sites and soar through the air. Don't miss the Magic Fountain at the top, which offers a super fun fountain show in the plaza in front of the Catalonian Museum of National Art. Take time to relax on the beach and enjoy time together as a family. Make memories splashing in the water and building sandcastles. Tons of family pictures will give you a great sense of what to expect with this itinerary. Read more here.
Barcelona with Kids, Itinerary by Travels with Ted

Liona is the mastermind behind this lovely blog following her children, Ted and Esme. We love Liona's snapshot itinerary and the quick list of Barcelona's best activities for kids. After reviewing the list, deep dive into Liona's recommendations for the perfect week in Barcelona as a family. After a relaxing first day taking in the city, head to Plaça de Catalunya for an evening of entertainment (and possibly some bubbles!). On day two, explore Las Ramblas and Mercat de la Boqueria. While in the market, pick up some fresh fruit and a yummy smoothie for lunch or a snack. One afternoon should be spent enjoying some time on the water taking in the harbor by boat. During the final few days, check out some of Gaudí's most important works and the Magic Fountain show. After visiting La Sagrada Familia, do lunch at La Trocadero for the best vegan meal in Barcelona. For cranky kids, remember there is always a play area and churros around the corner in Barcelona! Read more here.
À La Carte & Day Trip Suggestions

My 9 Barcelona Essentials and my 4 Easy Peasy Day Trips, Itinerary by Daddy Travels Now

Jason structures his itinerary suggestion in an à la carte style, making it perfect for families who want to mix and match or who need flexibility in planning. Fun family pictures accompany each site recommendation! Check out La Boqueria Market an hour or two before the market closes, this is the best time to get discounts on food and drinks. Montjuic offers a visual treat and a stunning location for evening strolls. Stay for the Magic Fountain show and sunset views over Barcelona. Looking for an offbeat recommendation? Check out the Hospital de Sant Pau. Part hospital, part historic museum, Hospital de Sant Pau gives a stunning historical and cultural perspective of Barcelona and its people – not to mention truly incredible architecture. Looking for the best day trips out of Barcelona? Jason provides four great options with their own itineraries. Day trips include Tarragona, Girona, Sitges, and Montserrat. Each offers a unique perspective of Spain's food, culture, and geography. Read more here.



You and your family are sure to fall in love with Barcelona! Regardless of what fills your itinerary, traveling to Barcelona as a family is sure to create a lifetime of memories. We hope these best itineraries for vacationing in Barcelona with kids help you get started making travel plans and memories!

If you're a blogger who would like to be included in this post or write a guest post for Families Love Travel, please email us at contribution@familieslovetravel.com!
READ NEXT:
Best Family Hotels in Barcelona by Neighborhood
Best Itineraries for Vacationing Barcelona with Kids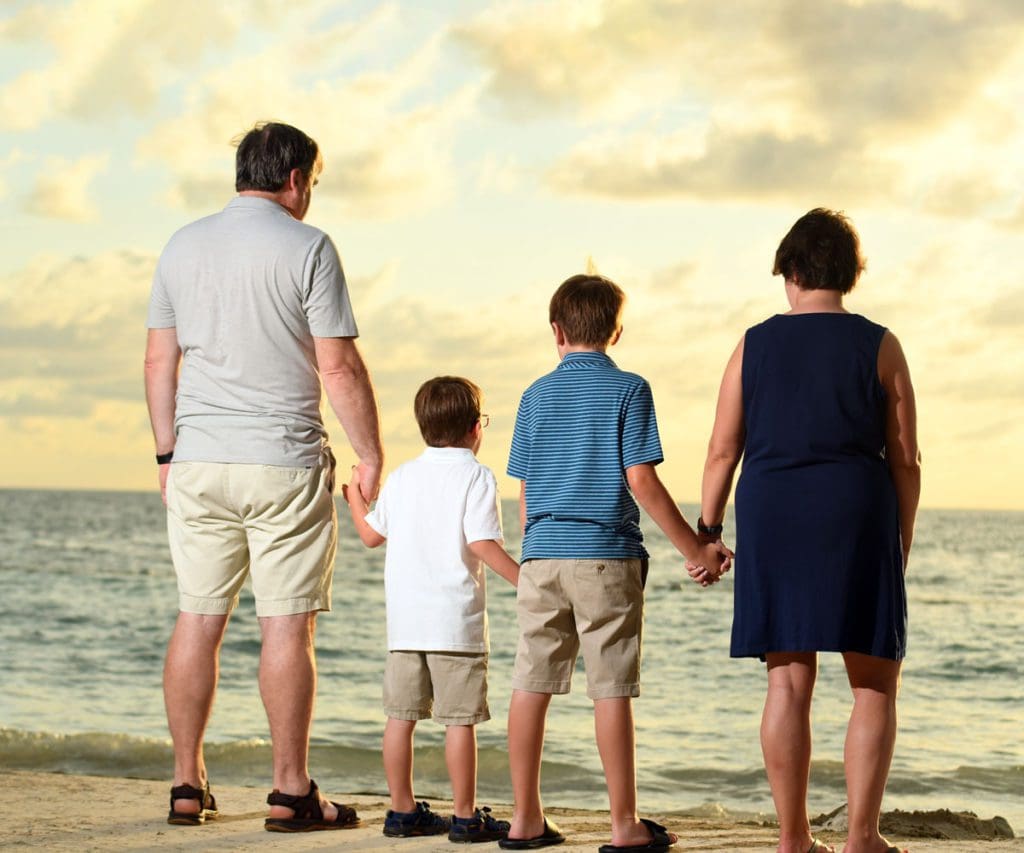 If you're looking for fun in the sun and so much more, plan your next...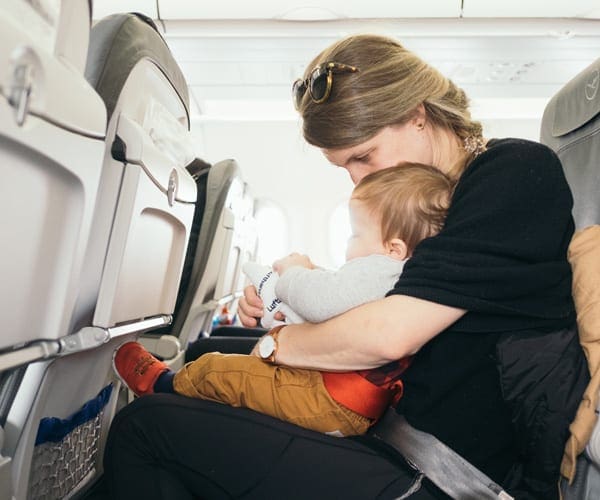 Families Who Love To Travel contributor Meghan Oaks provides her 10 best tips for your...