Venice is a unique city on the Italian seaside with a lot to explore. Located on the northeastern coast of Italy, Venice has always been at the crossroads – or cross-canals, rather – of Italy's economics and commerce, architectural history, and trade with the rest of the world. Venice is built upon over 100 small islands, making it a unique place to visit for people of all ages! With few roads and many waterways to travel, Venice is sure to be the perfect place for a fun family getaway or a romantic retreat. History, art, and culture can all be found in Venice, so figuring out what, exactly, to see and do can be overwhelming. Below, we've rounded up some of the best itineraries for vacationing in Venice with kids. They are sure to help make designing your Venice itinerary a breeze!
Best 1 or 2-Day Itineraries for Venice with Kids

1 DAY IN VENICE – THE PERFECT ITINERARY, Itinerary by Finding the Universe
If you just plan to stop over in Venice for the day, this 1-day itinerary is your best bet. Laurence and Jessica are the couple behind Finding the Universe, and they explored some of the top attractions in the city on their short trip to Venice. St. Mark's Square is a must-see if you are in Venice for a short visit. It is at the center of a number of Venetian sites, making it the perfect spot to start your sightseeing. From there, check out the Venice skyline by climbing to the top of the Campanile di San Marco. After climbing down, head to the Rialto Bridge, one of the most famous of Venice's many bridges. Since you are only in Venice for the day, it is worth taking a gondola ride to continue your tour of the city by water. End your gondola ride at the Bridge of Sighs to explore the Doge's Palace to take in some important Venitian history. Don't miss the tips at the end for parking in Venice, where to stay, information on the Venice City Pass, and more. Read more here.
2 Days In Venice, An Itinerary For First Time Visitors, an Itinerary by Travel Passionate
While not family-specific, this brief itinerary is perfect for a short, but sweet trip to the Floating City. It can be easily adapted for a family, as it includes the top sites most visitors want on their itinerary! Chrissy, of Travel Passionate, provides a wonderful description of Venice's colorful buildings and winding canals, making this a great read for anyone on the fence about traveling to Venice. Spend the first day exploring St. Mark's Basilica. Kids will marvel at the beautiful carved marble and mosaics found within the cathedral. Let the kids roam in Piazza San Marco to enjoy some free time – and maybe a bit of gelato! The pizza is lined with cafes and restaurants for families ready for a quick snack or lunch. Next on the list is the Doge's Palace. Older kids will enjoy the tours geared toward discovering the "secret" parts of the castle like the attic and hidden chambers! On day two, continue to explore Venice by foot and by gondola. Check out the Rialto Market for fresh fruits and other Italian favorites. If you are familiar with the Guggenheim of New York City, you will delight in the Peggy Guggenheim Museum in Venice! It is full of modern art and interesting collections – don't miss the chance to stroll through the sculpture garden. At the end of the blog, Chrissy includes information on where to stay, offering several recommendations based on her visits. This blog is also available in French. Read more here.
YOUR PERFECT VENICE ITINERARY FOR 1, 2 OR 3 DAYS, Itineraries by Learning Escapes
Marta, the mom behind Learning Escapes, is an Italian expat currently living in Ireland. She put together this itinerary, ideal for spending 1 to 3 days in Venice. This flexible itinerary touches on many of the top family-friendly sites in one of the most beautiful cities in the world! It is the perfect read for families spending the weekend or those just making a quick stop. Families looking to stay in or explore a local, relatively undiscovered neighborhood, should consider Cannaregio. Easy to access from the train station, it has maintained a lovely neighborhood vibe just minutes from Strada Nova. After wandering the neighborhood, pick up a light dinner of focaccia with prosciutto from one of the many neighborhood bakeries. Kids will love this play on ham sandwiches! Find a traghetto (canal shuttle) or gondola to embark on a tour of Venice by the canal. Get off the gondola at Rialto to explore the local market and take it all of its sites and smells. Looking to do a little shopping? Check out Fondaco de' Tedeschi for chic fashion options to modern shopping needs. Aspiring chocolatiers will love stopping at Vizio Virtu, a chocolate maker near Rialto. Find these unique itinerary suggestions and more by reading Marta's blog. Don't miss the practical advice throughout the blog, like the best places to stay in the city, how to get around the city, and what to pack. Read more here.
Best 3-Day Itineraries for Venice with Kids

3 DAYS IN VENICE: CITY BREAK WITH TEENAGERS – OR WITHOUT, Itinerary by Map and Family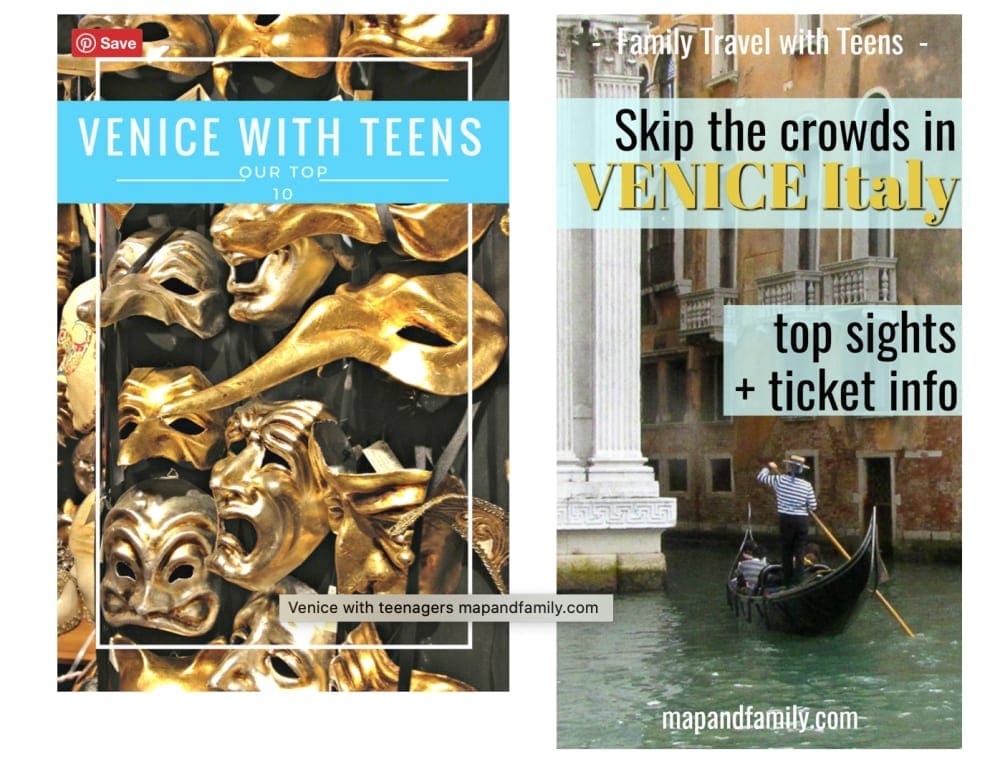 This great itinerary, written by Nancy of Map and Family, includes their top 10 sites in Venice with teens! Venice is perfect for a teen holiday. Map and Family recommend tons of places to stay as a family and spectacular sites to see. First, Nancy suggests seeing all Venice has to offer by taking a famous gondola ride down the Grand Canal. Teens will love taking the elevator up to the top of Piazza San Marco's famous bell tower for fantastic views of the whole city. Nancy recommends going early or late in the day to miss the long lines. For art lovers and the aspiring artists in your family, they propose visiting the Gallerie dell'Accademia and the Peggy Guggenheim museum. Embrace a creative look by taking home a Venetian mask. Ca' del Sol is one of the best mask shops – for purchasing or for browsing the unique collection of captivating masks. Have a foodie in your crew? Nancy includes her favorite teen fare from quick pizzas at Antico Forno to classic Italian evening meals at Alle Rivetta. Sports fans in your family can catch a game and a bite at Bar Verde. Read more here.
VENICE WITH KIDS: ITINERARY & RECAP, Itinerary by The Spring Break Family

Montoya, of the Spring Break Family, knows that even the best-laid plans need a certain level of flexibility when traveling with kids. In her words "Realize the destination is the agenda." Montoya and her family explored Venice for three days, as part of a greater Italian vacation. Through this itinerary, take in the best Venice has to offer and embrace some unique kid-centered activities. Day one is all about settling in and getting grounded in the city. Day two is a packed day of exploring the "sinking city." Climb the Rialto Bridge and take in the stunning views spanning the Grand Canal. Montoya urges families with small children to consider wearing their babies, Venice is not very stroller friendly. Families with small children should also know that the bell tower of St. Mark's Basilica does not allow children under 6 to climb it. Small kids will, however, delight in Bettini Junior and Libreria Acqua Alta. A fabulous children's library, Bettini Junior, has an amazing collection of children's books and a play space (great for rainy days!). Libreria Aqua Alta is a bookstore that cannot be missed! With its creative book storage (think gondolas and bathtubs), kids will love exploring and choosing a souvenir for home! Don't miss their review of Flytographer at the end – great for anyone wanting to do family pictures in Venice. Read more here.
THE PERFECT 3 DAYS IN VENICE WITH KIDS, Itinerary by The Traveling Child
Monet, the mom behind The Traveling Child, spent three days in Venice with her young family. She offers practical advice; like how to get to the city and where to stay in Venice – very helpful for first-time visitors! Monet's itinerary will have your family enjoying Venice's most famous sites and getting you to some of the many islands surrounding Venice. The first day focuses on seeing Venice on foot and by gondola. Enjoy the sites and sounds that Venice has to offer off the Grand Canal. On day two, hit the major sites like St. Mark's Square and the Doge's Palace. Be sure to climb the bell tower of St. Mark's Basilica for a truly breathtaking view of the city. On your final day, explore the nearby islands of Burano and Murano. Both are accessible by ferry or group tours. Murano is famous for its glass blowing – a perfect stop for anyone looking for a new bracelet! Kids will marvel at the Glass Museum and getting to learn how murano beads are made. Burano is about 30 minutes from Murano so they are easy to pair together. In Burano, enjoy the brightly colored homes that line the canals! Read more here.
BEST THINGS TO DO IN VENICE WITH KIDS AND A 3 DAY ITINERARY, Itinerary by Outside Suburbia
Priya, the mom behind Outside Suburbia, spent three lovely days in Venice with her family. This is the perfect blog for families looking to travel to Venice is style. Priya's posh recommendations will keep kids entertained and you enjoying everything that has made Venice famous! Priya shares the romance and whimsy of Venice throughout her blog and suggests that Venice is done best without an agenda. First, she recommends starting each day early to see the beauty of Venice in the morning light! Strolling through the neighborhoods and sailing through the canals is where Venice is best. In your wandering, Priya recommends going to Piazza San Marco and marveling at the famous Venitian architecture of the square. Keep wandering to take in the views of the Rialto Bridge. Looking for a great souvenir? Consider a book from Libreria Acqua Alta or an authentic Venitian mask. Older kids will love the option to visit a traditional atelier and create their own mask during a mask workshop! Looking for the real taste of Venice? Don't be fooled by the overpriced cafes that line Piazza San Marco. Instead, embrace the culture of Cicchetti (similar to Spanish tapas), best enjoyed standing around cozy high-top tables. Families looking to take family pictures while in Venice will appreciate her review of Flytographer. Don't miss seeing Murano and Burano while in the region! Both offer another gorgeous perspective of the Adriatic seaside. Stunning family pictures accompany this wonderful review of what to do in Venice with kids. Don't miss Priya's recommendations for when to go and where to stay at the end of the blog. Read more here.
Best 4-Day Itineraries for Venice with Kids
4 days itinerary in Venice for a family, Itinerary by From The Poolside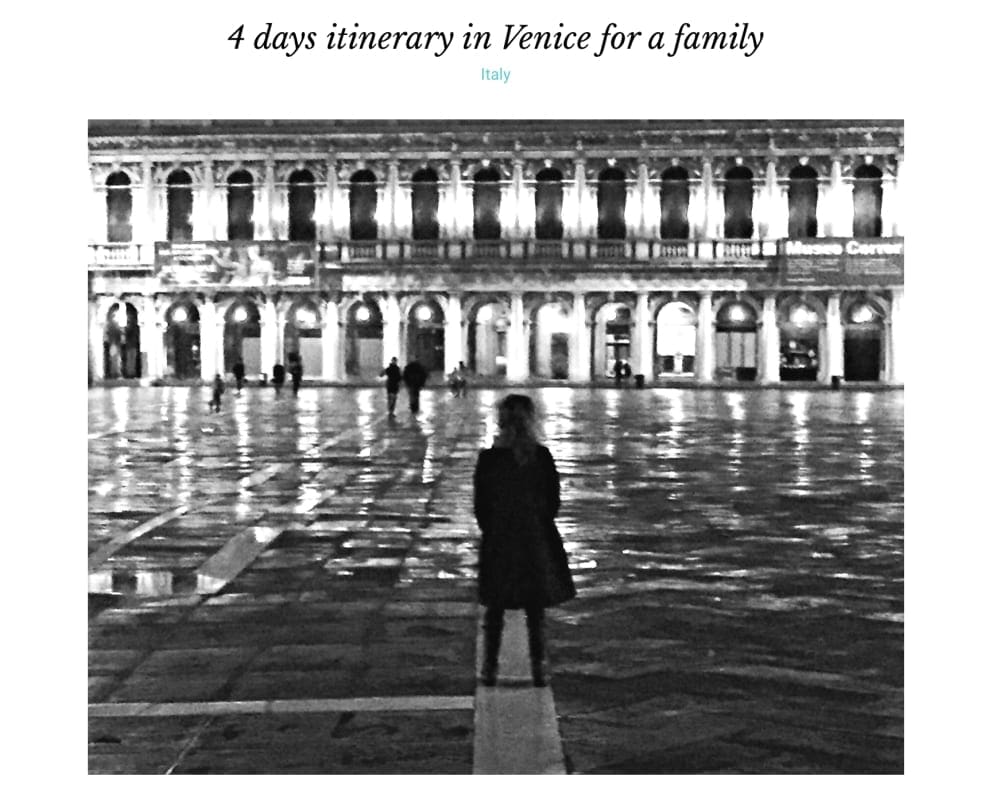 Stéphanie is the mom behind From The Poolside. She and her young daughter, affectionately called Mademoiselle, spent four days in Venice. This itinerary is a comprehensive review of what they did and why you should do it too! Stéphanie breaks down each section with bullet-points in a straight-forward, easy to read manner. It is perfect for families looking for a quick, no-nonsense guide. On the first day, enjoy a lovely meal to soak in the tastes of Venice and get your grounding in the city. Save the busy site-seeing for days 2 and 3! If you are looking for a low-budget way to enjoy Venitian art, check out Institute Cultural, which offers great modern art and lovely views of the canal. Then head to the Gallerie dell'Accademia for a more classic take on Italian art and art history. Kids will delight in choosing an afternoon snack at Pasticceria Tonolo, complete with wonderful cookies and cakes. Take a stroll through Venice and end your day at Osteria alle Trestere for a lovely seafood dinner (reservations recommended). Day two includes more sightseeing with stops at the Doge's Palace, Rialto Bridge, and a little shopping. On your final day, explore the neighborhoods of the Ghetto, Cannaregio, and Castello. Enjoy an afternoon treat at Vizio Virtu, a great chocolate shop that is sure to delight your kids! Check out this blog for more great restaurant recommendations and Stéphanie's hotel recommendation. Read more here.
Ultimate Itinerary And Things To Do In Venice With Kids, Itinerary by 2 Idiots Travel
This wonderfully written blog is crafted by AJ and Natasha, who travel with their small son, Aarav, around the world. They have a passion for inspiring families to travel! Their family spent four full days in Venice, and each recommendation includes pricing to help with budget-friendly planning. From the train station, they recommend hiring a porto to help with bags, instead of higher-priced water taxis. On the first day, attend a free walking tour of the city to get a lay of the land. Soak in the sights and sounds of the city, especially around Rialto Bridge. Spend the second day visiting the islands of Murano and Burano. Kids will love seeing the glassblowing and lace-making demonstrations on the islands! On day three, spend the day exploring the neighborhood of Cannaregio and Piazza San Marco. Local and less commercial shopping can be found more easily in Cannaregio. Finally, splurge on one or two of the many art museums or the Doge's Palace. This itinerary is perfect for visiting Venice on a budget! Don't miss the Venice-specific kid-friendly tips at the end! Be prepared to let kids loose in the squares, as Venice doesn't have many parks or green spaces to roam. Read more here.

Venice is a stunning seaside city with much to offer for families – and romantic getaways! Whatever you decide to do while you are in Venice, you are sure to make lasting memories. Wonderful food, phenomenal architecture, and relaxing gondola rides await you in Venice. We hope this list of the best itineraries for traveling to Venice with kids is helpful in planning your dream vacation!

If you're a blogger who would like to be included in this post or write a guest post for Families Love Travel, please email us at contribution@familieslovetravel.com !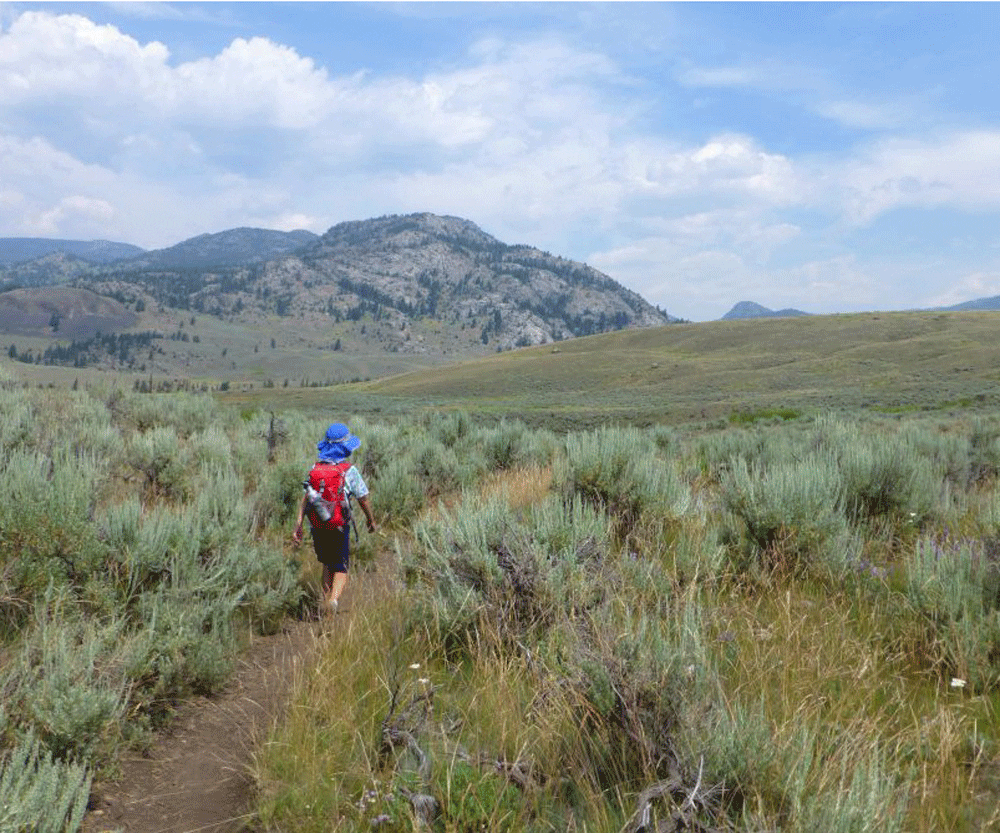 Everyone knows that Yellowstone National Park makes for a classic family vacation. Strolling the boardwalks...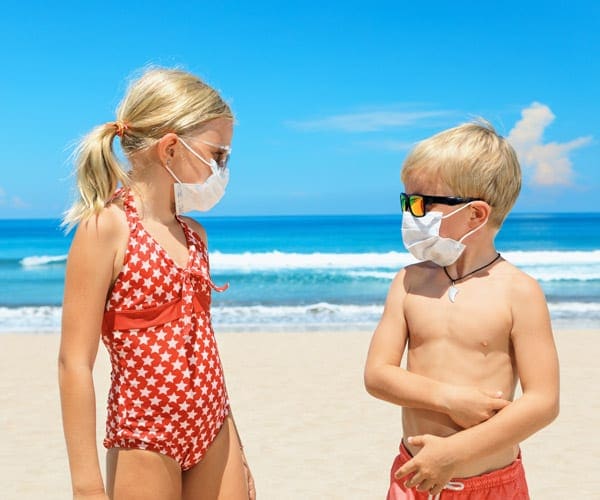 Coronavirus restrictions are now lifting across the country. We believe families need to make the...