Curious about the best Maldives resorts with slides for kids? A bucket-list destination for many, this small archipelagic state in Southeast Asia attracts adventurers looking for ultimate island luxury. Imagine upscale bungalows, clear turquoise waters, and sand stretching as far as eyes can see. Though the Maldives has a reputation for being a honeymoon destination, it's still a great place to vacation with kids. From Ozen Reserve Bolifushi to Soneva Jani, multiple luxury hotels cater to families. Each offers its own unique perks, from an open-air ice skating rink to an ice cream bar to a fun Kids' Club. Not to mention, villas with private pools and water slides so kids can splash endlessly! Next time you're debating which destination to visit, let our guide convince you to add the Maldives to your list. Keep reading for the Best Maldives Hotels with Slides Your Kids Will Love!
Ozen Reserve Bolifushi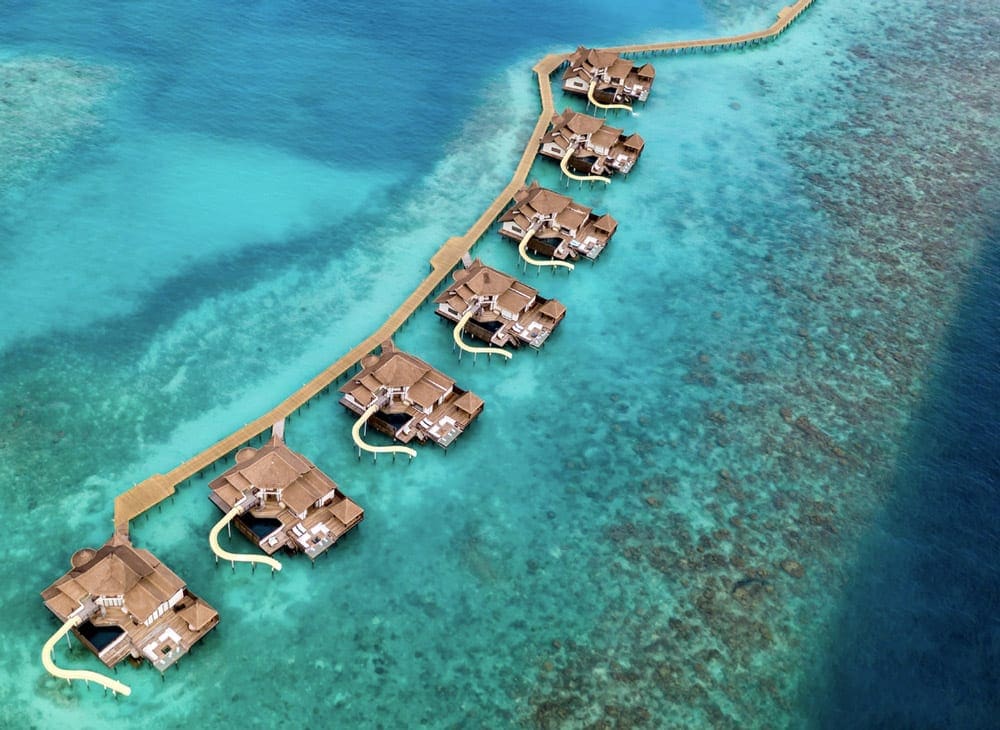 Book your stay at the Ozen Reserve Bolifushi using Hotels.com today.
Reserve your family's Ozen Reserve Bolifushi vacation using Travelocity today.
Your family's vacation fantasies will come alive at the Ozen Reserve Bolifushi. Accessible via a 20-minute Catamaran or speedboat ride from Velana International Airport, this secluded, family-friendly resort in the Maldives is located on Bolifushi Island and showcases the very best of Maldivian hospitality. Surrounded by white sand, palm trees, and calm turquoise waters, parents seeking a picture-perfect vacation free from stress will find it at Ozen Reserve Bolifushi. Finally, select from 90 gorgeous villas overlooking the water or beach as the home base for your stay.
Why The Kids Will Thank You
Ozen Reserve Bolifushi is perfect for visiting the Maldives with kids! Each villa has a private infinity pool, where children can splash about with their own water slide. Your hotel package also includes non-motorized water sports like canoeing, kayaking, or windsurfing. The hotel's PADI-certified dive center has your equipment needs covered. Then, a butler service can arrange everything else you may require, including booking activities and coordinating breakfast. Near the main pool, there's also a Kids' Club for all ages, featuring a supervised children's pool, game room, and daily activities. The Teen Lounge provides a hang-out spot for older kids. For an extra charge, families can also take a boat to the site of a shipwreck! Kids will love spotting turtles and colorful schools of fish beneath the surface. Additionally, a Bertram 54 boat is available to charter for a fishing trip. Finally, don't forget the open-air ice skating rink!
Why Parents Love It
Parents will have just as much fun at Ozen Reserve Bolifushi. While little ones are enjoying the kids' club, indulge in a swim or a drink while overlooking the turquoise waters of the Indian Ocean. Or, check out the Talise Spa, where parents can reconnect with nature through a variety of holistic treatments such as massages, body scrubs, or facials. Plus, you can't beat the view from the hotel's fitness center, which is situated right over the water! End your day by relaxing with a craft cocktail at the hotel's Main Bar, which overlooks the ocean and occasionally hosts shark feedings that'll interest adults and kids alike. We recommend booking your vacation for at least one Friday night – the hotel hosts a weekly special dinner at its restaurant Vista Del Mar. Finally, parents can also arrange babysitting services to extend their alone time.
Ozen Reserve Bolifushi, one of the best Maldives hotels with slides for kids is also welcoming guests in adherence to COVID-19 protocols. Learn more by calling the hotel directly.
Soneva Jani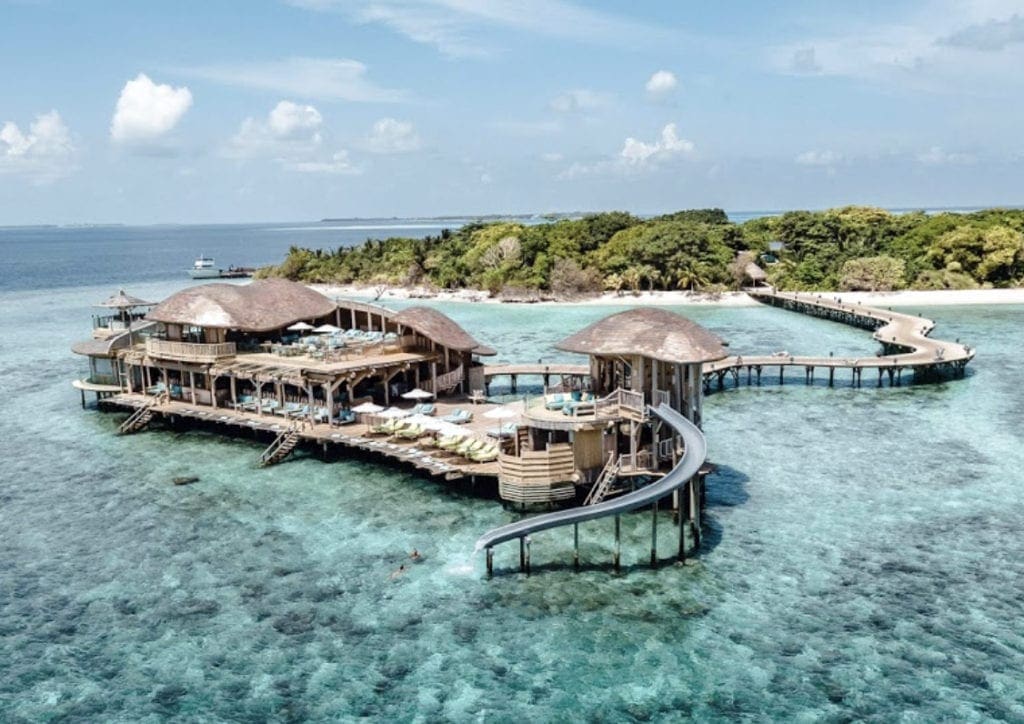 Ready to book your stay at Soneva Jani? Book now using Expedia.
The Soneva Jani is waiting for you! Book your stay using Travelocity today.
Book your next family vacation at Soneva Jani! Surrounded by a private lagoon, this secluded resort can be reached by a seaplane from the Malé International Airport or a speedboat ride, or a half-day cruise from Soneva Fushi. It comprises five small islands in the Medhufaru lagoon in the Noonu Atoll, the largest of which is Medhufaru. Upon arrival, you'll be greeted by crystal clear waters, a pristine beach, and very attentive staff. At the Soneva Jani, it's easy to experience true Maldivian luxury.
Why The Kids Will Thank You
Kids will have so much fun at Soneva Jani, one of the best family hotels in the Maldives! Each of the luxury water villas showcases private pools, and most feature their own waterslides into the lagoon. The hotel also offers complimentary non-motorized water sports, including kayaking, windsurfing, kite-surfing, and more. Then, the Soleni Dive Center offers several small diving courses and equipment rental. Older kids can also surf in the Baa and Noonu Atolls (accessible by speedboat) or with the hotel's E-Surf technology. Other experiences suitable for kids include going on a fishing trip with local fishermen, shadowing a Marine Biologist to learn more about the Maldives ocean life, and planting eco-friendly coral. Families can also enjoy a continental breakfast along the seashore together. Finally, end your day by watching a private viewing of a classic movie beneath the stars as a chef prepares comfort food.
Why Parents Love It
When parents book a Chapter Two Water or Island Reserve, they can take advantage of unlimited access to Soneva Jani amenities. This includes the Soneva Spa, which is complemented by the adjacent gym and yoga pavilion. In fact, adults will find everything they need to de-stress, including saunas and steam rooms. An in-house therapist can even help you target your needs efficiently. There's also complimentary access to the hotel's tennis court, which offers private lessons. The Soneva Jani also offers guests the opportunity to experience unique dining excursions. For example, you can request a private lunch on a deserted island prepared by your own personal chef. Afterward, take a sunset cruise to watch dozens of playful dolphins, accompanied by canapés and Champagne. Finally, take an unforgettable adventure under the stars with the hotel's resident astronomer.
The Soneva Jani, one of the best Maldives hotels with slides for kids, is accepting guests. Learn more about its COVID-19 protocols here.
Soneva Fushi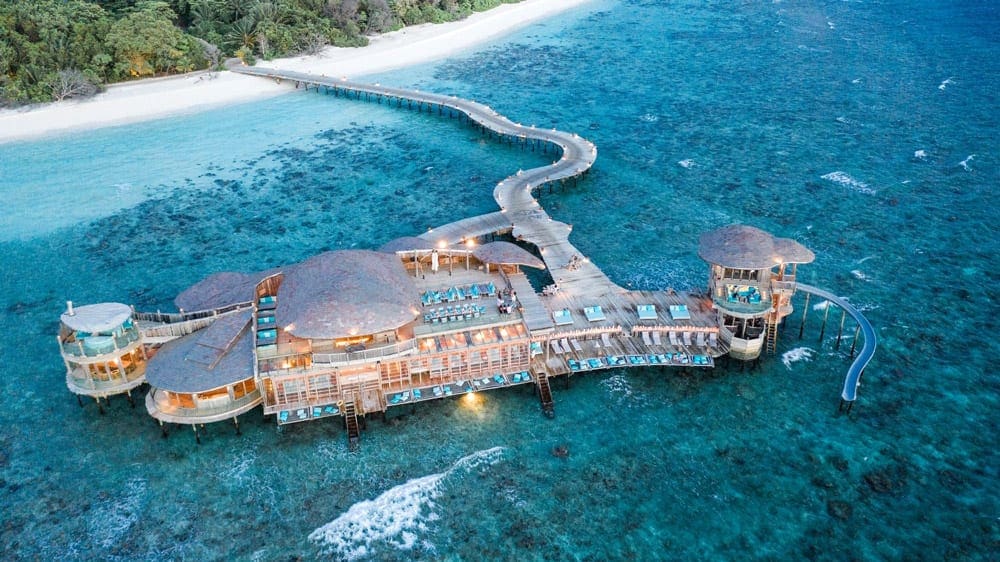 Book your stay at the Soneva Fushi today using Travelocity.
Reserve your perfect family vacation at Soneva Fushi now, Hotels.com.
Soneva Fushi guarantees families the ultimate Maldives vacation experience. From Malé International Airport, it's accessible through a half-hour seaplane or a domestic flight to Dharavandhoo Airport, followed by a 10-minute speedboat ride. Then, you'll arrive at the stunning Soneva Fushi resort, surrounded by the clear turquoise waters of Baa Atoll. Harmony with nature is one of the hotel's strongest assets. Select one to nine-bedroom villas, which are integrated beautifully into the island's landscape. They're divided between the livelier Sunset Side, ideal for snorkeling, or the Sunrise Side for extra seclusion. Then, the four or nine-bedroom villas, also include gym access, a sauna, and a kids' playroom. Finally, the Private Reserve, the hotel's largest villa, sleeps fourteen adults and nine children.
Why The Kids Will Thank You
Kids will feel at home at Soneva Fushi! With a private pool and water slide in your villa, it's easy to lounge together. The hotel also offers non-motorized water sports like kayaking, snorkeling, windsurfing, and more. Or, try unique activities such as freediving, riding a SEABOB or E-Foil, and eco-friendly surfing. The Soleni Dive Center also offers small diving courses and equipment rental. Don't forget about the Soneva Fushi Kids Club, accessible to kids four and older, showcasing its own water slide. In addition to scheduled activities here, there's also The Den, a technology-free zone for children. Among other things, it features a game room, library, and a separate teen area. Kids may also enjoy other hotel experiences, such as fishing trips, wildlife safaris, shadowing a Marine Biologist, and watching a private viewing of a movie.
Why Parents Love It
Soneva Fushi provides parents with their own piece of paradise. With your hotel package, you'll also receive complimentary access to a fully equipped fitness center and tennis court. Private lessons are also available. Some of the larger villas even feature their own spas, saunas, and gyms on-site, so you don't need to leave your villa! For all guests, the Soneva Soul is an oasis of tranquility, offering anything from body scrubs to Tibetan hot stone massages. Visit one of the four on-site restaurants once you're hungry – offerings range from Japanese to Mediterranean-inspired fare! Families should also take advantage of the hotel's many experiences. Enjoy lunch on a deserted island prepared by a personal chef, take a sunset cruise to spot dolphins, or enjoy a night of stargazing with the hotel's 3D telescope. Certainly, this is one of the best Maldives resorts for families!
Soneva Fushi is welcoming guests in adherence to COVID-19 protocols. Learn more here.
Gili Lankanfushi Maldives
Gili Lankanfushi Maldives is waiting to welcome you with open arms. Book your stay today using Agoda.
Gili Lankanfushi Maldives is one of the best family hotels with overwater bungalow featuring slides for Kids! Located a twenty-minute boat ride from Malé International Airport, this luxurious resort rests on its own private island in the North Malé atoll. Interconnected by a boardwalk, villas range from suites or residences with a pool to the Private Reserve, its biggest and most secluded accommodation. Families like the family villa with a pool, which also includes a large living room/dining area, an overwater sundeck with daybeds and direct ocean access, plus a pantry. Certainly, Gili Lankanfushi makes a Maldives vacation with kids special for everyone!
Why The Kids Will Thank You
Kids will love Gili Lankanfushi Maldives! Most villas and residences have their own private pool with a waterslide. With the Ocean Paradise Dive Center, a PADI-certified location, beginners can also try a Discover Scuba Diving Session. It lasts three hours, covers the basics, and is available for children ten and older. Plus, Gili Lankanfushi's location makes it ideal for surfing. Kids of all ages are also welcome to take a one-hour Lagoon Lesson for an introduction. Or, book a special snorkeling trip with the hotel's resident Marine Biologist, where children can learn about corals, sharks, and other marine life. Other water sports for children over eight include Catamaran sailing, windsurfing, wakeboarding, and waterskiing. Fun activities families can do together include taking cooking classes, touring the organic garden, and watching a movie at the "Jungle Cinema." Remember to stop by the ice cream bar for a cold treat!
Why Parents Love It
Gili Lankanfushi is a playground for kids and parents alike. In addition to relaxing by your private pool, the hotel also has a resort pool with an overwater bar. Parents who want to go above and beyond can book The Private Reserve, a multi-level villa with its own steam room, sauna, and spa pavilion. A private boat lets you come and go as you please. All hotel guests can rejuvenate themselves at the Meera Spa, which flaunts six over-water treatment rooms overlooking the Indian Ocean. Nearby, you'll find a seaside yoga and meditation Champa that you're free to use. Guests staying at Gili Lankanfushi also have access to the hotel's fitness center, in addition to the tennis court. If families want to take an excursion together, consider setting up a sunset dolphin cruise or sunrise/sunset fishing trip. Need to shop for souvenirs? Browse the hotel's gifts and jewelry store!
Gili Lankanfushi Maldives is open and committed to ensuring its guests' safety amid COVID-19. Learn more here.
Did you know the Maldives is one of the 13 Best Places To Snorkel With Kids Around The World? Click here to find out who else made our parent-recommended list!
Happy Travels!
The Maldives awaits your family! From upscale Maldives resorts for families with over-ocean bungalows to clear turquoise waters to endless opportunities to play in the sun and sand, your family will love relaxing and making memories together on your upcoming Maldives vacation with kids! No matter what you're looking for in a resort, we are confident our list of the best Maldives hotels with slides for kids will help you identify one that meets your family's needs. More importantly, we know they will provide the ideal backdrop to making memories and connecting as a family. Happy travels!
RELATED: 10 Best Caribbean Family Resorts With Baby Clubs
Due to COVID-19, some of the accommodations, restaurants, or kid-friendly activities on this list of the best Maldives hotels with slides for kids may be closed or have reduced services. Please ensure availability before making your final decision.
*This post featuring the best Maldives hotels with slides for kids may contain affiliate links that may earn us a small commission, at no additional cost to you. Affiliate links in no way inform the hotels, sights, products, or other recommendations included in our articles. All opinions and recommendations expressed here are compiled from submissions submitted by the generous members of our Families Who Love To Travel community.
READ NEXT:
The most expensive photo ever sold in the world was taken at Antelope Canyon. It...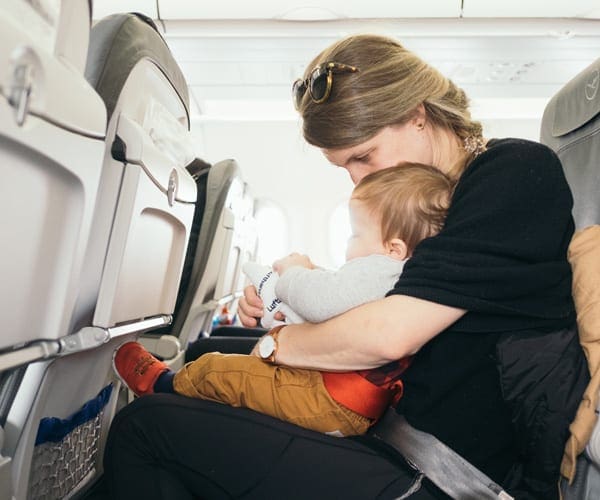 Families Who Love To Travel contributor Meghan Oaks provides her 10 best tips for your...