Plan your next vacation with kids to one of these marvelous Maine hotels for families! Famous for its rocky coastline, maritime history, and breathtaking natural areas, this northeasternmost U.S. state appeals to travelers all year round. An adventure in Maine offers families an unparalleled landscape, enviable seafood, and laid back atmosphere. Of course, before planning your Maine itinerary with kids, you'll want to decide where to stay. Luckily, we've compiled our top picks for the 10 Best Maine Hotels for Families with the help of our Facebook community. Keep reading to discover which of the best Maine hotels for families is right for your next trip with kids!
Best Hotels in Boothbay or East Boothbay for Families
Boothbay Harbor and East Boothbay are great places to stay with your family if you're looking to relax at one of the best hotels in Maine. With lovely coastal views, both towns offer a variety of accommodations that will suit your family's needs, whether you're looking for a place to stay for a night or two or an extended vacation. Keep reading to learn more!
RELATED: Best Places to Visit in Maine with Kids this Summer
Spruce Point Inn Resort & Spa
88 Grandview Ave, Boothbay Harbor, ME
Book your stay at Spruce Point Inn Resort & Spa using Hotel.com now.
Reserve a room at Spruce Point Inn Resort & Spa using Travelocity now.
Spruce Point Inn is undoubtedly one of the best Maine hotels for families. Nestled along the cozy Boothbay Harbor, this southern Maine hotel is perfectly poised between woods and sea. Travelers also love its proximity to major cities like Portland, about an hour away. Besides, where else can children find a stunning oceanfront property intertwined with sprawling gardens and trails in Maine? Finally, you can't beat the view from this picturesque property, which is brimming with history and several spirited activities for the entire family!
Accommodations include standard rooms, cottages, and even larger townhomes with multiple bedrooms. Not to mention, an attentive staff, a chic ambiance, and free parking!
Why The Kids Will Thank You
Kids will love staying at the Spruce Point Inn Resort & Spa! When the sun is out, you'll be delighted to discover the hotel houses two outdoor saltwater pools. While parents enjoy some time for themselves, kids can also sign up for one of Spruce Point Inn's children's programs, including the Kids' Camp, available for ages 5 through 12 from June through August.
Kids can also check out the on-site Lighthouse Recreation Hall, a fun children's area on hot or rainy days. From old-fashioned pinball to ping pong, air hockey, and more, the Lighthouse is great for choosing a puzzle or board game to enjoy. You can even take some activities back to your room with you!
Why Parents Love It
Parents should expect ultimate relaxation when staying at the Spruce Point Inn Resort & Spa! Set among the cooling spines, the Spa at Spruce Point Inn is a boutique destination that encompasses four treatment rooms, changing facilities, and a secluded hot tub and lounge area on a private deck. It's ideal if you're in the mood for a luxurious massage or even just need a few hours away from the kids! In case you're in the mood for a workout too, the strength training and cardio fitness room is also equipped with a treadmill and other state-of-the-art equipment.
Family Fun
Families can choose from various activities at Spruce Point Inn Resort & Spa, including two tennis courts, a private boat launch, and a sailing sloop. Active guests will love kayaking, paddle boarding, hiking, and bicycling. Or, challenge each other to a friendly game of croquet or shuffleboard. Families can work together in the hotel's on-site fairy village to build a creative fairy house!
Of course, once night falls, there's nothing like snuggling up around a (seasonally available) fire pit and roasting some s'mores. Finally, the resort can also organize whale watching and other seasonal excursions to local attractions. With so much to offer, it's no wonder the Spruce Point Inn Resort & Spa is one of the best Maine hotels for families!
Linekin Bay Resort
92 Wall Point Rd, Boothbay Harbor, ME
Reserve your next stay at Linekin Bay Resort using Hotels.com now!
Book your cabin at Linekin Bay Resort by using Expedia today!
If you're looking for the best hotels in Maine for families, Linekin Bay Resort is the perfect place to stay near Boothbay Harbor. Situated on a beautiful stretch of coastline overlooking Linekin Bay, the resort offers plenty of activities and amenities to keep everyone happy. It's also near the Appalachee Preserve and the Coastal Maine Botanical Gardens.
Accommodations range from cabins with king-sized beds and private bathrooms to rustic-style homes with separate living rooms, full kitchens, and covered porches.
Why The Kids Will Thank You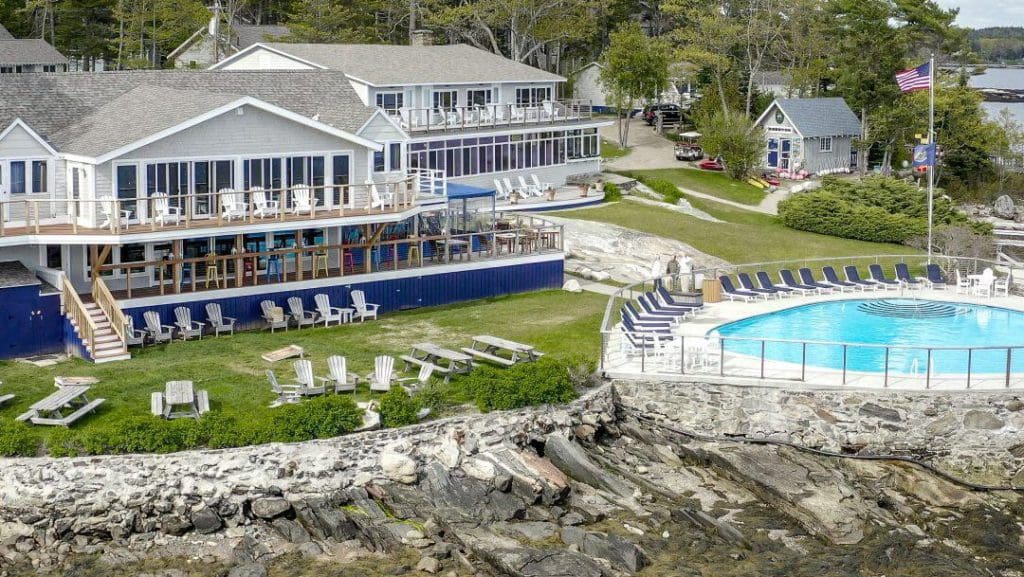 Kids who love to splash will be at home at the hotel's heated seasonal outdoor pool, which faces the ocean. Families can also use the hotel's complimentary canoes and kayaks to take out on Linekin Bay. Or, take one of the hotel's fishing boats out on the bay and see what you catch. And when parents want a break, kids can make new friends at the Kids' Summer Camp, available for ages 4 to 12. Activities include slime-making, arts and crafts, scavenger hunts, and more, making this one of the best Maine hotels for families!
Why Parents Love It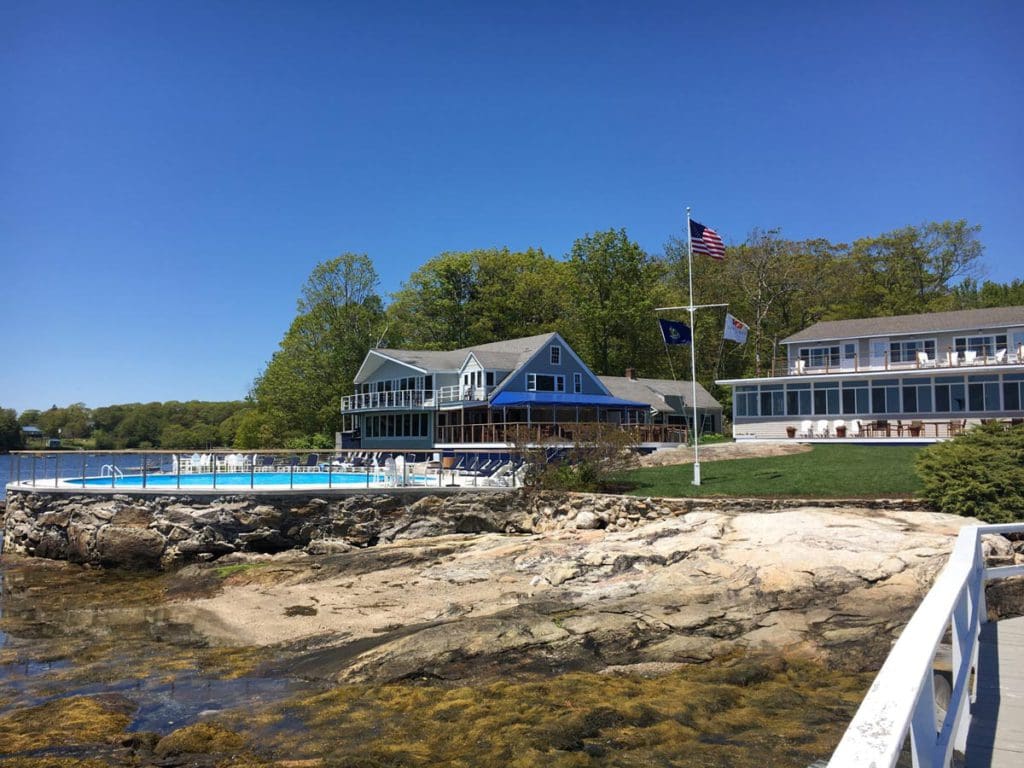 Parents will love taking advantage of the hotel's amenities while their kids are at camp! Check out the on-site dining and visit The Deck Bar & Grill, where you can enjoy great seafood, cocktails, and ocean views.
Family Fun
Families can do many fun things at the hotel and in the nearby area! When you're not in the water, check out some of the hotel's many land activities, like tennis, pickleball, volleyball, basketball, and more. For families who love a little friendly competition, there are also lawn games such as cornhole, badminton, giant chess, and more. Families will also find plenty of things to do in Boothbay Harbor with kids, from shopping to exploring local art galleries.
Smuggler's Cove Inn
727 Ocean Point Rd, East Boothbay, ME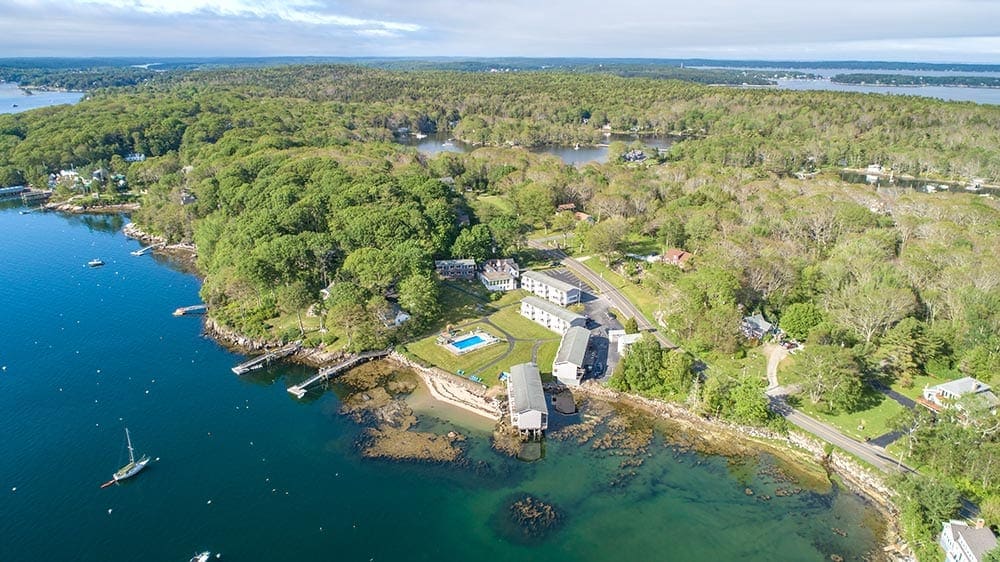 Find the lowest prices for your next hotel stay in Smuggler's Cove Inn using Travelocity.
Smuggler's Cove Inn has everything you need for a perfect family vacation! Formerly known as Sunset Beach, this East Boothbay hotel is centrally located between Boston and Acadia National Park. It's also ideal for families with little kids, thanks to its quaint atmosphere, on-site playground, and countless other things to do!
As a plus, the views here are unparalleled! In fact, all rooms overlook the lovely Linekin Bay from a private oceanfront balcony. Perks like a grab-and-go continental breakfast, complimentary kayaks, and a private dock for fishing make this a popular option for outdoorsy travelers looking for rustic Maine hotels for families.
Why The Kids Will Thank You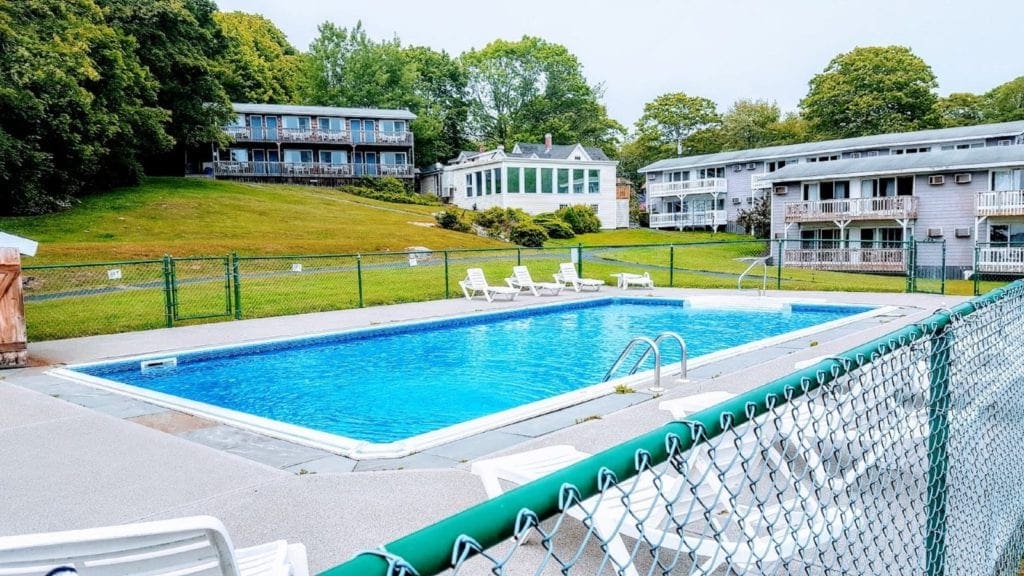 While there isn't an official kids' club here, kids will love the hotel's heated outdoor swimming pool. During the warmer months, little ones can build sandcastles on Smuggler's Cove Inn's private beachfront too. Parents can also help children make friends their own age by bringing them to the newly-renovated playground, with slides, swings, and other outdoor games. Don't worry, the playground is right next to the pool, so parents can still keep an eye out!
Why Parents Love It
Parents can catch up on much-needed self-care when staying at Smuggler's Cove Inn! Relax and soak up the sun on the hotel's private beachfront or the heated pool overlooking the ocean. There's also a small convenience shop on-site for all your immediate needs (with essential items like beverages and snacks). Though Smuggler's Cove Inn doesn't offer an on-site spa or gym, it does put you in proximity to Boothbay Harbor. Here, you can enjoy the Boothbay Harbor Shopping area, which has enough stores to appeal to all interests! If you want to explore Maine's surrounding areas but aren't sure where to start, feel free to ask the hotel concierge for more suggestions!
Family Fun
Family fun is never more than a few minutes away at Smuggler's Cove Inn! This hotel truly shrines in warmer weather, given its private beachfront, fishing dock, and complimentary BBQ grill! Fishing, which the whole family can participate in, is also a great way to keep little ones entertained. Alternatively, boating activities are also available for families.
Then, hike one of three scenic walking trails within a mile of the property to immerse yourself in nature. Or, for guests who would rather see Maine from the water, Smuggler's Cove Inn conveniently offers free use of kayaks and canoes. Families will also find plenty of things to do with kids in nearby Boothbay Harbor. Start by exploring the harbor, where you can watch fishermen haul local lobsters. Afterward, take a whale or puffin-watching trip, play mini-golf, or go on a lighthouse sightseeing cruise. For boaters, moorings are also available for a small fee. Some of the state's most amazing attractions are at your fingertips when staying at this option on our list of Maine hotels for families!
Best Hotels in Kennebunkport for Families
Whether you're looking for a historic seaside town or fresh seafood, it's no wonder Kennebunkport is a popular destination in Maine for families. And when it comes to finding the best hotels in Kennebunkport for families, there are plenty of great options. Here are some suggestions!
Don't miss learning about the 10 Best Vermont Hotels for Families!
Nonantum Resort
95 Ocean Ave, Kennebunkport, ME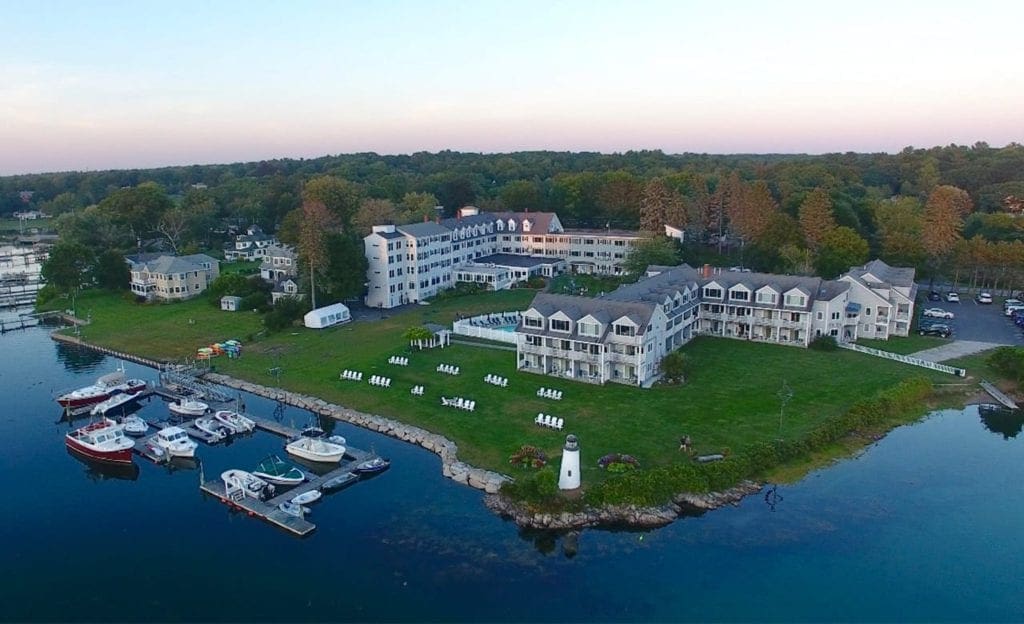 Reserve a room at Nonantum Resort using Expedia now.
Book your family's stay at Nonantum Resort using Travelocity today.
Book a stay at Nonantum Resort to guarantee a convenient family vacation! Overlooking the Kennebunk River, this lush Maine property contains its private lighthouse and waterfront, creating a secluded oasis to escape to. Nonantum Resort is also within walking distance of Dock Square, where you'll find family-friendly shops and restaurants to browse during your leisure time. And it's a half-mile away from Colony Beach, a public area great for seashell hunting.
Families will also be relieved to discover Nonantum Resort offers two unique accommodation choices with everything from single rooms to multi-story suites. Families love the historic Carriage House Inn, also home to the 95 Ocean Restaurant. Or, the more private Portside Lodge, with its magnificent water vistas and contemporary flair. Undoubtedly, Nonantum Resort is one of the best Maine hotels for families!
Why The Kids Will Thank You
Kids will cherish a vacation at Nonantum Resort! During Maine's warmer months, embrace the outdoor pool, splash, and enjoy the view. Parents can drop little ones off at the year-round Kids' Fun Club, where they'll enjoy arts and crafts, scavenger hunts, and seasonal crabbing on the docks.
After hauling one of the mini-crab pots out of the water, children can also learn how to safely and respectfully handle these crustaceans. In the meantime, they'll also learn more fun facts about Maine's local crabs and how they live. Nonantum Resort staff will answer any questions while sharing stories about the kinds of fish, birds, and seals regularly visiting the property.
Why Parents Love It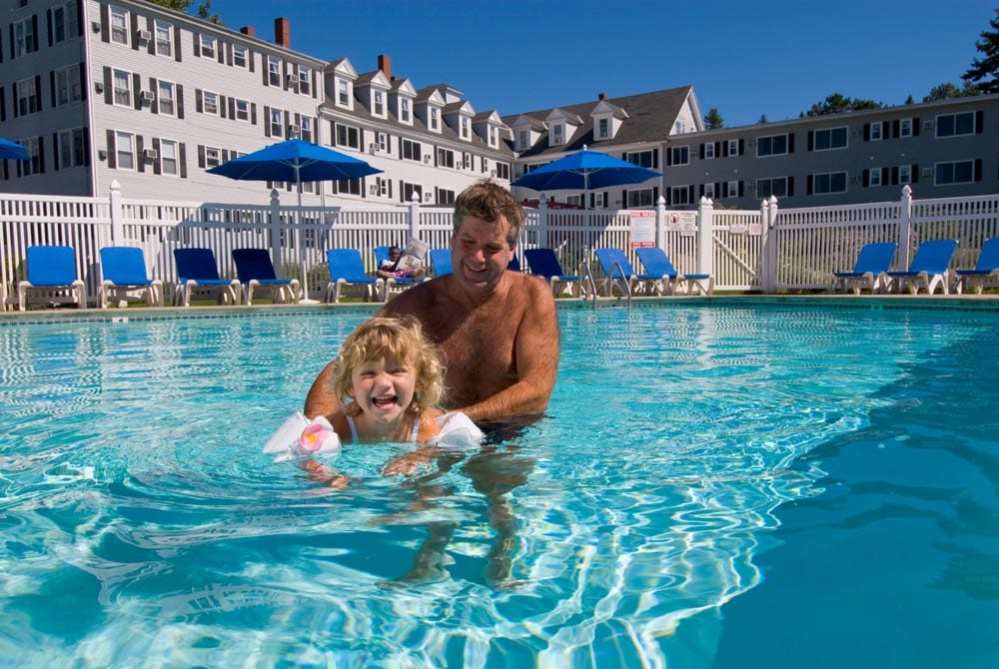 Parents are free to relax while the kids are having fun! Though Nonantum Resort doesn't have its own gym or spa, many nearby options are available in the hotel's vicinity to keep you entertained. Then, treat yourself to a shopping spree nearby Dock Square, which houses jewelry stores, souvenir shops, and other interesting boutiques. Or, Cottage Breeze Day Spa & Boutique, located in the town's Lower Village.
Family Fun
Nonantum Resort promises a vacation filled with family fun! This includes hiking down winding trails or along the hotel's dock and beach. Nonantum Resort also offers free lawn games during the day, in addition to kayaks, paddleboards, and beach cruiser bikes for families to rent by the hour. Other kid-friendly activities to indulge in here include basketball, Jenga, Connect Four, fishing, biking, boat tours, sailing, and much more.
At night, don't forget to visit the nightly campfire, where you'll find age-appropriate sing-alongs and s'more roasting. When you're ready to explore off-property, Nonantum Resort is near a ton of other kid-friendly attractions. Hit up a bowling alley, visit a nearby museum, or head to Evo Rock & Fitness for some indoor recreation!
The Colony Hotel
140 Ocean Ave, Kennebunkport, ME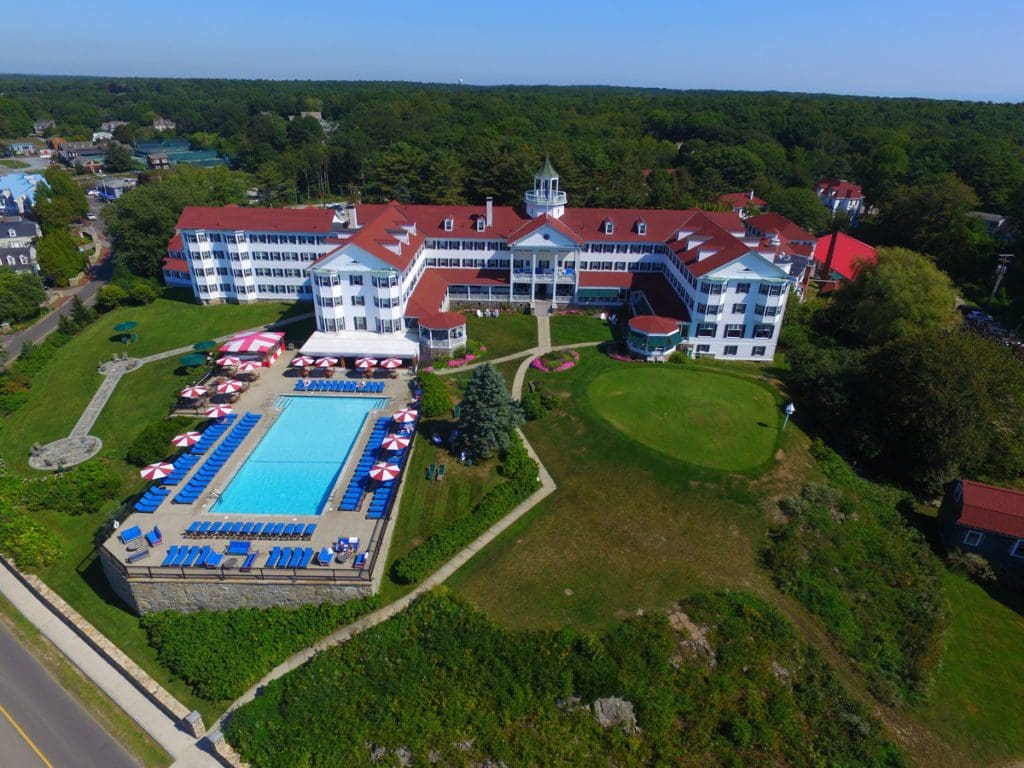 Interested in this hotel? Book your stay through Travelocity today!
Reserve a room at The Colony Hotel using Expedia now.
Searching for a family-friendly hotel in Kennebunkport? Look no further than The Colony Hotel! Boasting spectacular ocean views, natural beauty, and a sense of history, this family-friendly Maine hotel is ideally located within walking distance of southern's Maine's best attractions. From here, you'll be near Dock Square, where you can enjoy shopping, art galleries, and other kid-friendly activities. With a sprawling property to explore, however, you'll likely want to spend all your time on-site.
Accommodations feature bright colors and cottage-style decor, from options with two queen-sized beds to bigger two-bedroom suites.
Why The Kids Will Thank You
Kids will confirm that The Colony Hotel is one of the best Maine hotels for families! Whether you want to splash during the summer or warm up on a chilly autumn afternoon, the property has a heated ocean water pool perfect for kids. This is in addition to a private beach, where kids can build sandcastles, swim at low tides, or go seashell searching.
Though The Colony Hotel doesn't have a dedicated kids club, you'll be having too much fun here to notice! However, the hotel does organize various games and movie nights for families throughout the week. Regarding rainy-day activities, there's a library on-site where families can challenge each other to a board game or two.
Why Parents Love It
Parents will never forget their time at The Colony Hotel! Adults particularly will appreciate how eco-friendly this hotel is, which means you won't feel guilty indulging a little! In the mood for another off-site adventure? Be sure also to explore Kennebunkport's sights of interest, like the Wedding Cake House! Or, take a trolley, walk, or drive to nearby Dock Square. Enjoy a shopping spree at some of Maine's best boutiques, all less than a mile away!
Family Fun
Family fun is so much sweeter at The Colony Hotel! Among the family-friendly games offered here are shuffleboard, croquet, and much more. If you prefer to stay active during your family vacation, there's biking on-site, or activities like sailing and kayaking are available around Kennebunkport! You can also learn more about the hotel's history, enjoy live entertainment, and go fishing. Guests who enjoy golf can access a 9-hole putting green. Then, those who want to take a scenic stroll can explore plenty of great walking areas in the vicinity and enjoy the view of the ocean and surrounding areas.
Given its status as an eco-friendly hotel, The Colony Hotel also offers local, sustainable excursions. Go apple or berry picking depending on the season, visit a nearby fruit or animal farm, or explore natural preserves. There are so many things to do with kids when staying at one of the best Maine hotels for families!
354 Goose Rocks Rd, Kennebunkport, ME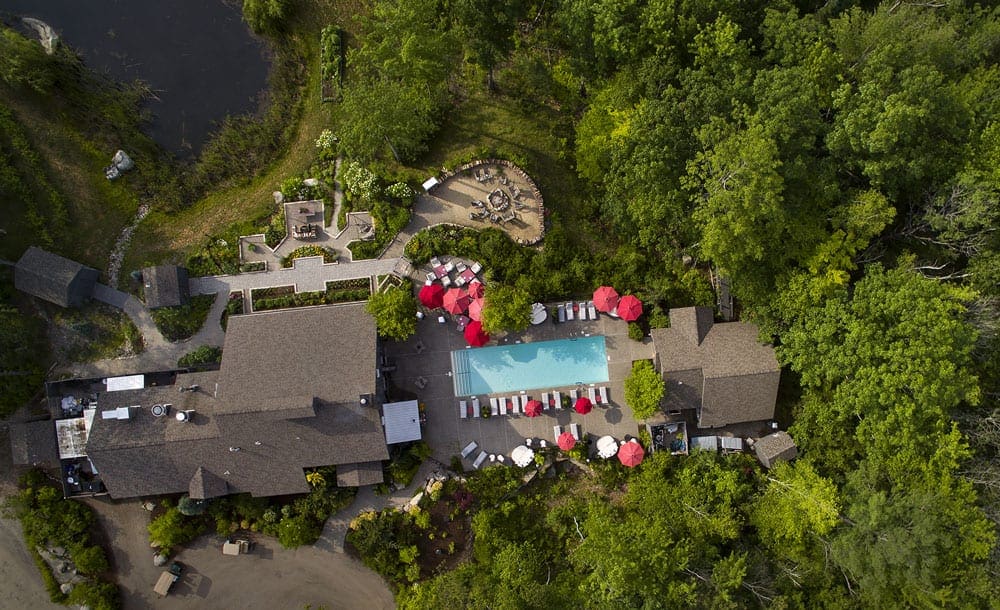 Book your stay at Hidden Pond Resort using Travelocity now.
Book Hidden Pond Resort on Expedia!
Hidden Pond is ideal for your family's private escape to Maine! Tucked away on 60 acres of a pristine birch forest in coastal Kennebunkport, this kid-friendly hotel is exactly the one-of-a-kind luxury you've been searching for. Instead of offering guests a typical resort experience, Hidden Pond has transformed its property into a secluded sanctuary. It's part wilderness retreat, part gated community, and part family-friendly summer camp!
Experience feelings of nostalgia, calmness, and relaxation before settling into your Hidden Pond cottage. Whether you choose a one-bedroom bungalow, a one or two-story, two-bedroom cottage, or one of the Treetop Lodge accommodations, these Maine cottage rentals offer an escape for adults and children alike. Designed for total privacy with considerable space between each cottage, Hidden Pond is the perfect place to reconnect with the natural environment and the most important people in your life!
Why The Kids Will Thank You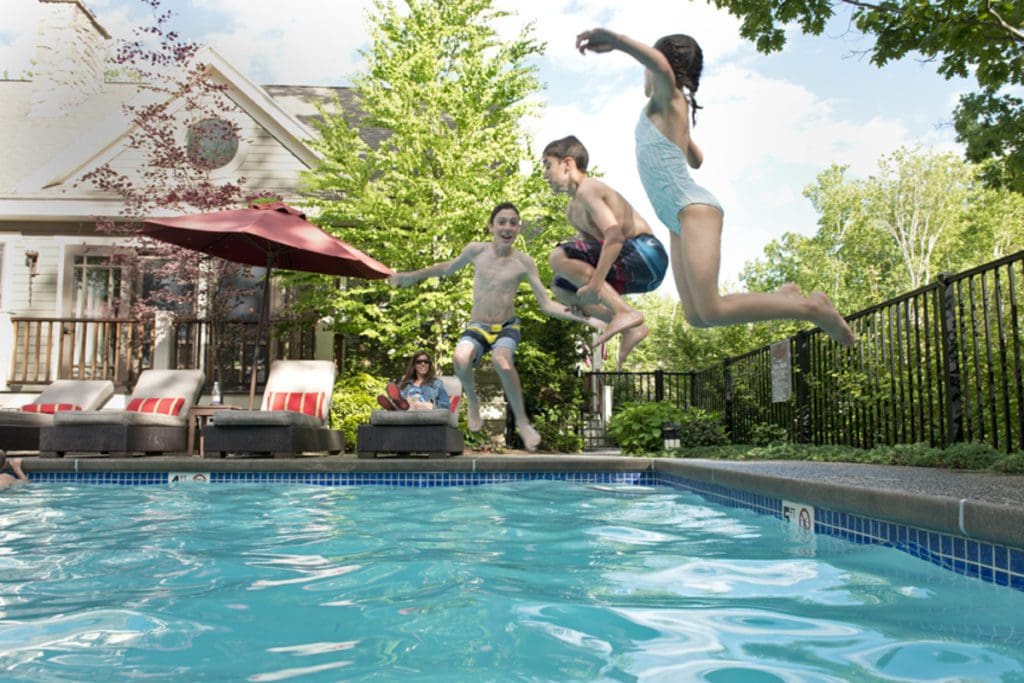 Kids adore staying at Hidden Pond! Families flock to this child-friendly property during the warmer months to take a dip in its outdoor swimming pool, which is shallow enough for all ages. It's located at the Main Lodge, just steps away from the cottages!
Of course, the hotel offers more activities for kids to enjoy, too! Though there isn't an official kids' club, little ones can treat Hidden Pond like a giant playground! Alternatively, check out one of the many activities available, like a campfire with s'mores, tye-dye, and more! Kids can also take a guided nature walk through Timber Point!
Why Parents Love It
Parents will love the privacy Hidden Pond offers! In addition to seclusion from the general population, you'll also have opportunities to explore the hotel's adult-only activities. Nestled in the treetops, the new Tree Spa at Hidden Pond is connected by a catwalk woven through the trees! Here, three treatment rooms offer a selection of massages, facials, and body treatments that focus on restoring your energy and well-being.
Adjacent to the treetop spa, Hidden Pond also has an outdoor, adults-only pool for you to lounge by. Or, sneak an extra workout in at the fitness studio. Afterward, head to the bar at the hotel's restaurant, Earth, for alfresco dining or a signature cocktail!
Family Fun
Hidden Pond is designed to bring families closer together! Choose from various resort activities for both adults and kids during your visit, most of which take place outdoors. Roam the beautiful nearby birch forest with the help of an experienced professional by taking guided walks through the forest. Families can also rent beach cruiser bikes to ride around the resort and Kennebunkport. Or, rent a golf cart to tour the property in style! Alternatively, families can spend the day at Goose Rocks Beach, just a mile down the road.
Hidden Pond also offers a unique opportunity to learn more about Maine's local farm-to-table harvest process. The hotel has an on-site farm where you can gather just-ripened tomatoes, basil, and berries. Finally, Hidden Pond also has an art studio to challenge your creativity and a potting shed!
More Fantastic Hotels in Southern Maine for Families
With its seaside charm, stunning views, and delicious seafood, southern Maine is undoubtedly a popular place for families to vacation, especially in the summer. From Ogunquit to Rockport, here are the best places to stay in Maine with kids!
Also, read: 13 Amazing Weekend Getaways Near Boston For Families.
Inn by the Sea
40 Bowery Beach Rd, Cape Elizabeth, ME
Find the best deals on Inn by the Sea by using Travelocity.
Research your stay at Inn by age Sea by using Hotels.com.
Inn by the Sea is another great choice on our list of best Maine hotels for families! Situated on a sandy beach on Maine's southern coast, this luxury hotel is located on Cape Elizabeth, a few miles away from Portland. You'll also have access to Maine's best family-friendly attractions when staying here, including nearby Crescent Beach State Park. Inn by the Sea also offers family-friendly activities all year round.
Wondering about accommodations? With one or two-bedroom suites with private exterior entrances that can sleep a family of 6, Inn by the Sea is one of the premier Maine hotels for large families!
Why The Kids Will Thank You
Kids love staying at Inn by the Sea! And why wouldn't they? To start, there's an outdoor seasonal swimming pool! Even though Inn by the Sea doesn't have a dedicated kids' club, there are still organized activities to keep them entertained throughout your stay.
Cozy up to the outdoor fire pit at night, make a few friends, and roast some tasty s'mores. Or, sign kids up for a complimentary arts & crafts class to test their creativity. Inn by the Sea also offers occasional cooking classes, which are led by local chefs in Maine. Have an aspiring entomologist in your family? Keep an eye out for the hotel's special bug eco-tour!
Why Parents Love It
Parents can unwind stress-free at Inn by the Sea! The hotel's Portland Spa features separate men's and women's sanctuaries for your next adults-only retreat, whether you want a Swedish, stone, or personalized massage. The hotel also has a fully-equipped cardio and fitness center for parents who want to stay active. Afterward, grab a drink from the on-site bar, check out the on-site restaurant, or head to nearby Portland!
Parents will also appreciate that the hotel is also part of Beyond Green, a small curated group of sustainable hotels around the world. To connect guests with the natural environment, they offer things like Family Beach walks with a naturalist to explore tide pools, beach ecology walks, and more.
Family Fun
Families never have a dull moment at the Inn by the Sea! Outdoor enthusiasts will enjoy the hotel's close proximity to fishing, boating, and nature walks. During warmer weather, beachgoers can also stroll a private boardwalk to Crescent Beach, where a day of sand, surf, and sun awaits your family! Nature explorers will find exciting adventures at every turn here, too, whether it's the hotel's organized Great Pond Walks or a Garden Tour around the property to learn about its resident "Rabitat".
Don't forget to explore the nearby lighthouses within a short drive or bike ride. Pack a family picnic and prepare for a day of exploring! Specific summer activities for guests staying at the Inn by the Sea include adult yoga or family yoga on the front lawn, children's arts & crafts, and s'mores by the fire pit!
READ NEXT: 15 Best Eco-Friendly Hotels In The United States For Environmentally Conscious Families
Samoset Resort
220 Warrenton St, Rockport, ME
Book directly or check out these Samoset Resort Vacation Rentals on Vrbo!
Samoset Resort will be the highlight of your family's Maine vacation! Perched on 230 waterfront acres overlooking Penobscot Bay, this coastal property has a rich history dating back to 1889. Since it's located in the tranquil town of Rockport, just south of Camden, it's also an excellent destination to visit with kids! When your family arrives at Samoset Resort, you'll be welcomed with warm, intuitive service, elegant accommodations, oceanside dining, and a seemingly endless variety of kid-friendly activities.
Accommodations include rooms with one king-sized bed or two queens, a family room with bunk beds, or bigger one-bedroom suites or condos for larger families. There are also cottages with kitchens, porches, washers/dryers, and more comforts to make you feel at home.
Why The Kids Will Thank You

Kids will treasure their time at Samoset Resort! Set on a lush hillside to afford sweeping views of Penobscot Bay, the hotel's "zero-entry" heated swimming pool is this oceanfront resort's jewel. In addition to this expansive outdoor swimming pool, kids can splash year-round in the indoor pool available at The Club, the hotel's indoor fitness center. Hours of fun await little ones at the hotel's "Ultimate Backyard," an on-site recreational area with corn hole, shuffleboard, a playground, and much more!
Why Parents Love It
It's not hard to see why parents love Samoset Resort! The hotel's scenic outdoor pool area includes a multi-tiered deck, hot tub, and the Splash Pool Bar, a full-service café offering delicious light fare, cocktails, and even a special kids' menu.
Adults staying at this luxury Maine resort also love the state-of-the-art fitness facilities and steam saunas at Spa at The Samoset. To unwind, the spa features four luxurious treatment rooms along with inviting indoor and outdoor relaxation areas. Treat yourself to a glass of wine at the on-site Enoteca Lounge afterward!
Family Fun
Samoset Resort has been hosting kid-friendly vacations to Maine vacations for generations! With activities for every age and interest, it's also clear why this is one of the best Maine hotels for families! You'll find everything you need here, whether you want to shoot hoops with your family on the basketball court, gather your group for lawn games like croquet and horseshoes, or show off your skills on the nine-hole Disc Golf Course! Finally, during the warmer summer nights, be sure to end your day with a Samoset Resort tradition: cozying up to the fire pit with family and friends!
Cliff House Maine
591 Shore Rd, Cape Neddick, ME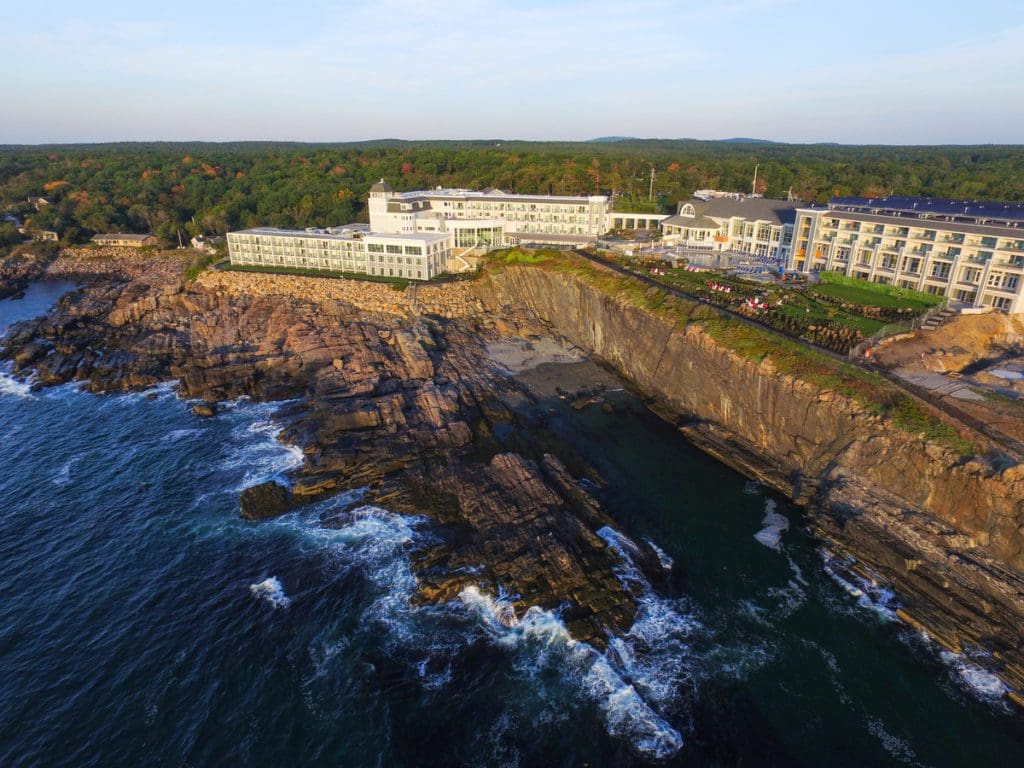 Book your next hotel stay in Cliff House Maine, with Hotels.com.
Find the lowest prices for your next hotel stay in Cliff House Maine, using Travelocity.
Cliff House Maine is the perfect place for your next fun-filled family getaway! Located in Cape Neddick, this iconic Maine resort has welcomed guests since 1872, stretching across a beautiful 70-acre oceanfront. Stay within close proximity to sandy beaches, major metropolises like Boston, and other New England attractions when you book a stay at the Cliff House with kids. No wonder it's one of the best Maine hotels for families!
Plus, with oceanfront rooms with king-sized beds overlooking Maine's rocky cliffs and the nearby Nubble Lighthouse, you'll never need to leave the property to witness the state's gorgeous panoramas.
Why The Kids Will Thank You
Little ones will jump for joy at Cliff House Maine! Swimming enthusiasts will be delighted to discover the hotel has two on-site pools. One is indoors, while the other is outside, boasting unparalleled landscape views. Of course, children love nothing more than splashing all year round!
Cliff House doesn't have a dedicated kids' club. However, family-friendly activities are often organized for guests of all ages throughout the day. The hotel's build-a-bear activity is a family favorite here, where kids can make a furry friend to keep them company! Or, head to the Tidemark Terrace, where little ones can enjoy board games or snacks, while parents sip on spiked hot chocolate.
Why Parents Love It
Parents will revel in luxury when staying at Cliff House Maine! For example, head to the expansive oceanfront Spa at Cliff House, and you'll experience a seaside sanctuary atop Maine's majestic rocky cliffs. Here, choose from signature treatments like holistic massages, facials, and foot soaks. Want to make your trip a bit more romantic? The spa also offers a couple's massage package!
Or, you could also keep your heart rate elevated at the on-site Wellness Center, which is fully equipped with treadmills, weights, and other equipment. The hotel also offers seasonal access to two outdoor pools, hot tubs, and an indoor pool, open daily until 10:00 pm. Finish with a nightcap at The Tiller Restaurant located within the hotel!
Family Fun
Everyone is encouraged to participate in family-friendly activities at Cliff House Maine! In addition to organized excursions around town, the surrounding Maine area offers golfing, biking, hiking, snowshoeing, cross-country skiing, and more. Weather permitting, kayaking, fishing, and even lobster boat trips are available. Animal lovers are in for a real treat, too! Sometimes, the nearby Center for Wildlife stops by the resort to share its story, introducing little ones to their fascinating animal ambassadors.
In the evening, gather around the hotel fire pit to share stories of your family adventures and talk about what is in store for the next day. If you seek entertainment, join other guests in the Hartwig Theatre on select movie nights to cuddle up with an oversized bean bag chair and a bag of popcorn!
Read our contributor review of the Cliff House: Cliff House Maine Review For Families.
Beachmere Inn
62 Beachmere Pl, Ogunquit, ME

Your next family vacation should be spent at Beachmere Inn! This beachfront inn and hotel offer direct private access to the renowned Marginal Way, with balconies opening to the stunning views of the Atlantic Ocean. Surrounded by the beautiful scenery of Ogunquit, the hotel offers the perfect hotel for travelers looking for a tranquil seaside getaway. The private, secluded location paired with the Victorian-inspired accommodations and serene melody of the waves crashing makes for an unforgettable experience!
The hotel offers five different buildings as accommodations, each equally gorgeous and well-equipped with luxurious amenities, fantastic ocean views, fireplaces, kitchenettes, and patios.
Why The Kids Will Thank You
Beachmere Inn offers families a variety of accommodations steps away from the Maine coast to take advantage of the hotel's seaside charm. Here, you can enjoy miles and miles of luscious greenery and various family-oriented fun activities around the year! Take a relaxing stroll on the rugged terrains of the Marginal Way footpath, watching the sunset behind the rolling waves.
Why Parents Love It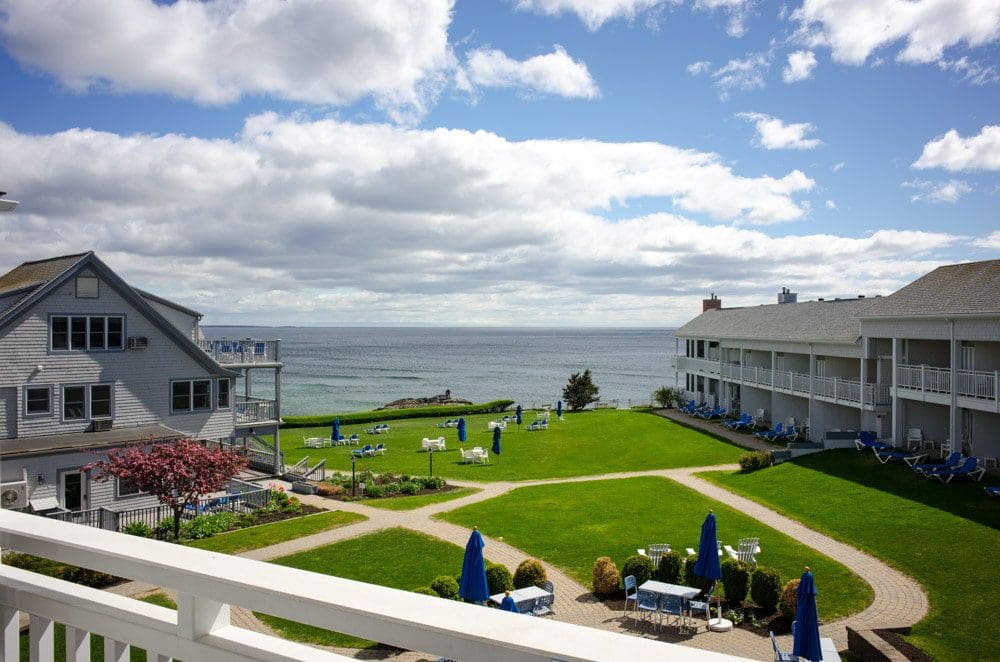 Adults love Beachmere Inn as much as kids do! For parents, there's a fitness center, on-site spa, and saltwater hot tub.
Family Fun
Families can participate in the Easter egg hunt, weekly lobster bakes, New Year's Eve celebrations, and much more, depending on the season. The property is ideally located between Perkins Cove and Ogunquit, giving you full access to unlimited shopping, dining, and exploration!
READ NEXT: Explore The United States On A Budget: 21 Affordable Summer Vacation Destinations With Kids
Happy Travels!
Now that you know our top picks for the Best Maine Hotels for Families, we hope you found the perfect places to stay for your next Maine getaway with kids. From Boothbay Harbor to Portland, there are various fun options for families to consider! One thing is sure: each of these family-friendly Maine hotels will make a lovely home away from home to make memories together! Finally, a huge thank you to the members of our Facebook community, Families Who Love To Travel, who provided their expert insights and recommendations for this article!
*Due to the COVID-19 pandemic, some of the attractions, accommodations, or things to do on this list may be closed. Please ensure availability before making your decision.
*This post may contain affiliate links that may earn us a small commission at no additional cost to you. Affiliate links do not inform the hotels, sights, products, or other recommendations included in our articles. All opinions and recommendations expressed here are compiled from submissions submitted by the generous members of our Families Who Love To Travel community.
READ MORE: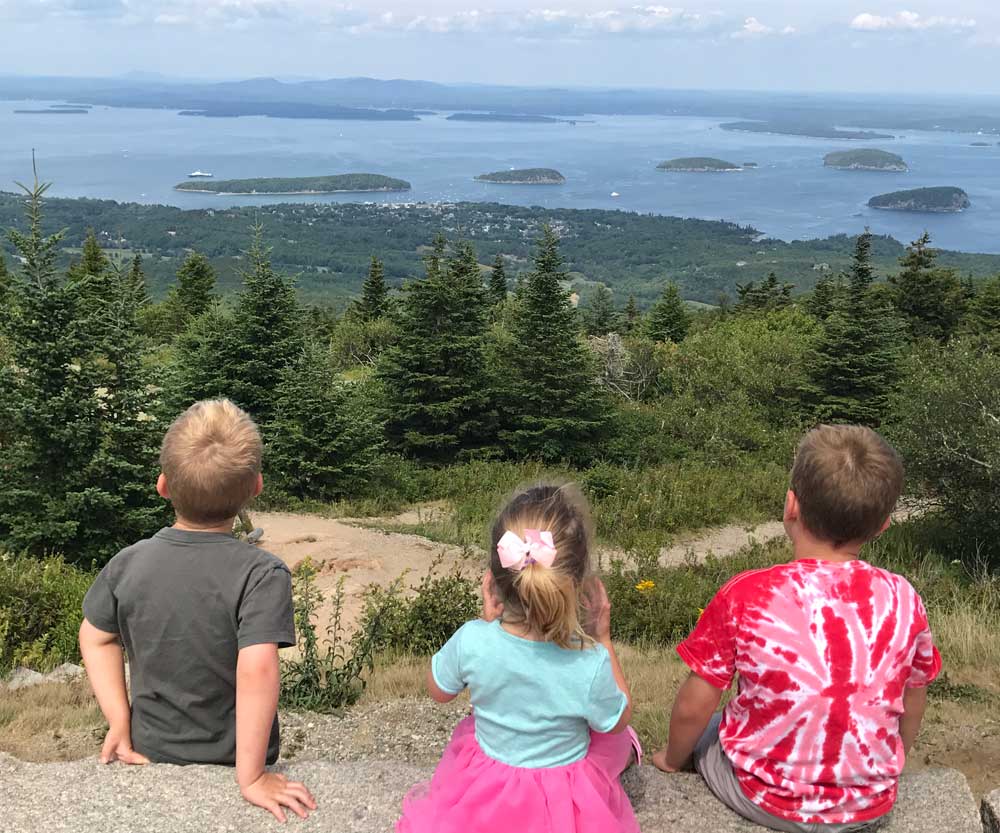 We drove to Acadia National Park in Maine from Northern Virginia. It's a long drive...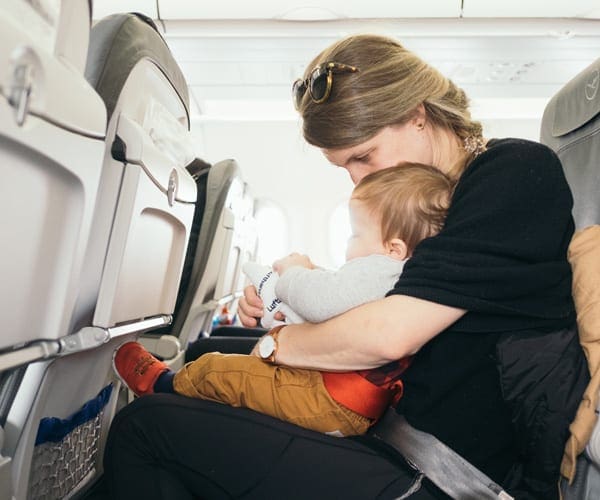 Families Who Love To Travel contributor Meghan Oaks provides her 10 best tips for your...