Plan your next epic getaway to some of the best vacation destinations for families in Canada this summer! From the natural beauty of Alberta to the culture, history, and art in Quebec, this North American country is vast and full of adventures for all ages. Of course, with stunning lakes, sandy beaches, and national parks across Canada, there are plenty of ways to soak up the sunshine. Whether you want to visit Vancouver and bike through Stanley Park or tackle Canada's eastern provinces, like Nova Scotia, this list of the best vacation destinations for families in Canada this summer has it all, from picturesque locations on the East Coast to lush forests in the West. Keep reading to learn more!
Best Summer Vacation Destinations in British Columbia for Families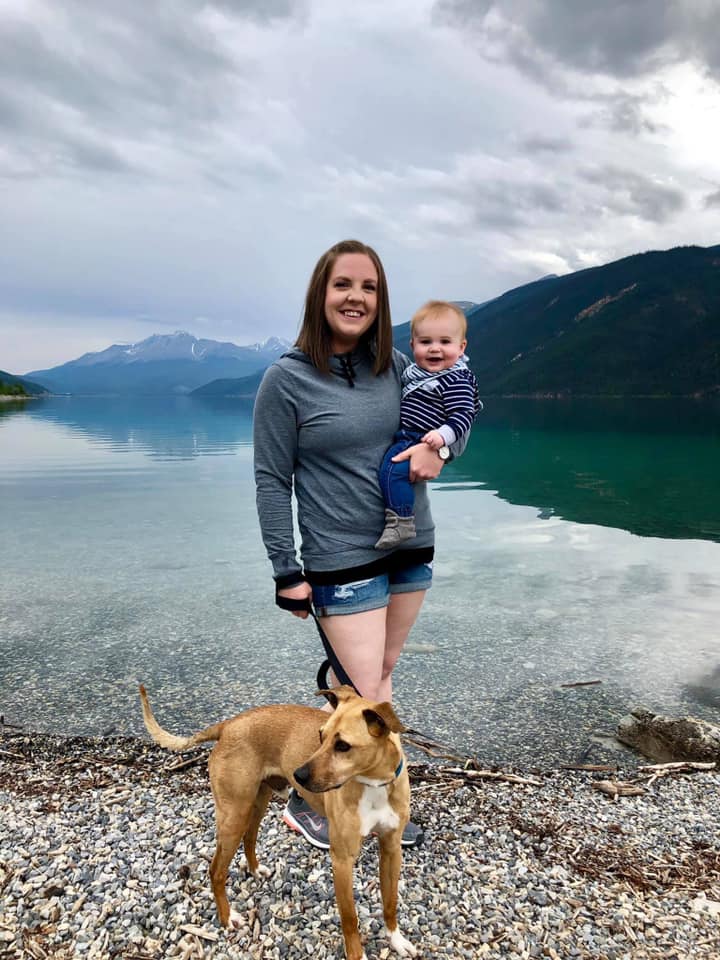 British Columbia is a province in Western Canada known for its beautiful mountains, forests, and lakes. From the Rocky Mountains in the east to the Pacific Coast in the west, this province is one of the best vacation destinations for families in Canada this summer.
With major cities such as Vancouver, cozy mountain towns like Whistler, and remote nature-focused destinations such as Kootenay National Park, British Columbia also provides a perfect mixture of rest and recreation. Vancouver Island, Tsawwassen Beach, and Burrowing Owl Sanctuary are just a few of its great destinations for families. Stay tuned to find out more, including plenty of Canada vacation ideas for families!
Vancouver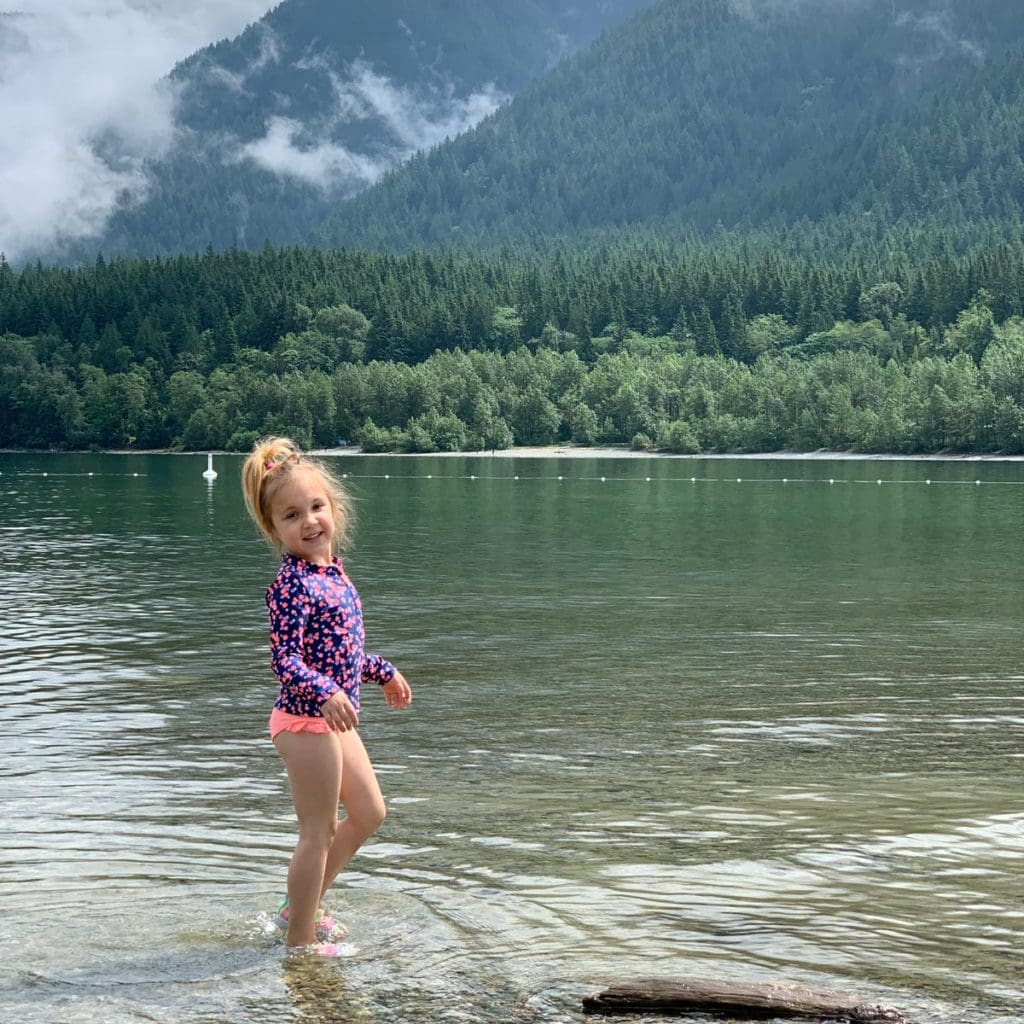 Vancouver is a great city to visit at any time of year, but it's especially beautiful in the summer. There are many activities the whole family can enjoy together here! Start by renting bikes and riding around Stanley Park. Then, visit English Bay Beach to play volleyball or Kits Beach for sunbathing. Families can also pick their own berries at Krause Berry Farm, walk across Capilano Suspension Bridge Park, or visit the Vancouver Art Gallery. Additional family-friendly museums include H.R. MacMillan Space Centre, Science World, and Vancouver Maritime Museum.
As one of the best vacation spots in Canada, Vancouver is also known for its summer night markets featuring Asian cuisine, like the Richmond Night Market. Or, head to Granville Island for great food, shopping, and plenty of kids' activities too. Need to get out of the city? About an hour from downtown, Golden Ears Provincial Park is a beautiful spot to relax with kids on the beach with mountain views. If you're visiting Vancouver in June or July, stick around for special events like Canada Day or the Vancouver Jazz Festival. Certainly, Vancouver should top your list for Canada vacation ideas.
Reserve your tickets for the Capilano Suspension Bridge and the Vancouver Maritime Museum here with Viator! Tickets are discounted with free cancellation up to 24 hours in advance.
Stanley Park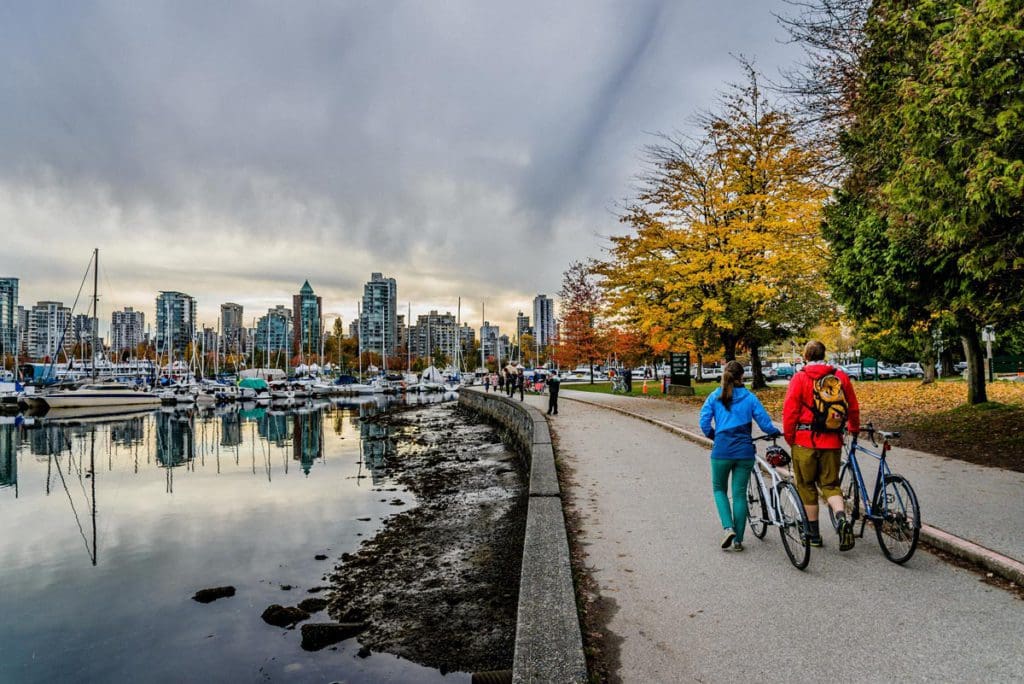 Requiring a spot of its own on this list, Stanley Park is an urban park in Vancouver spanning approximately 1,000 acres! Featuring English-style gardens, towering trees, and beautiful sculptures, this is a must-see while you're in town. There are plenty of ways to enjoy the scenery in the park. Hike the trails near Beaver Lake. Or, a bike and riding along the Seawall, from Coal Harbour to the Lost Lagoon.
Families can also spend a day at the beach in Stanley Park. Try Third Beach, secluded and perfect for watching the sunset, or the family-friendly Second Beach, featuring a playground. Kids will love learning about and seeing the First Nations' story poles at Brockton Point. Plus, don't forget to leave time for the Vancouver Aquarium and a ride on the miniature train.
Reserve this popular Stanley Park Bike Tour through Viator. Viator offers cancellation up to 24 hours!
Whistler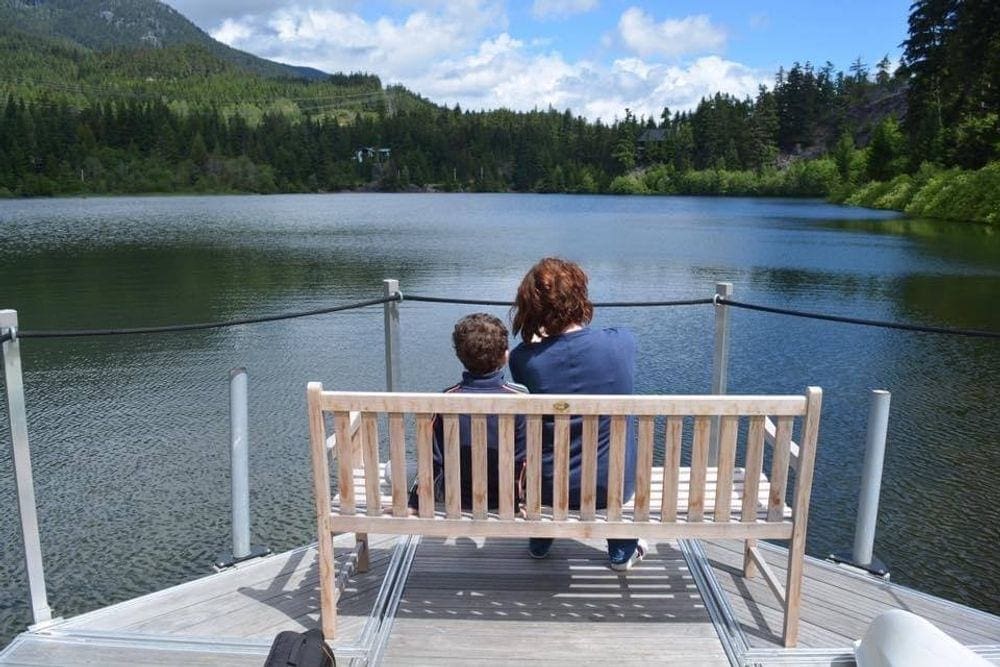 Whistler is a beautiful place for any family to visit in the summer. Though it's located in the mountains and known for skiing, there are many attractions to soak up the warm weather, from hiking to biking. First, families can ride the Peak2Peak Gondola for amazing views of Whistler Village, its surrounding lakes, forests, etc. To see the scenery on foot, hike the easy Rainbow Falls Trail or the Ancient Cedars Trail to spot wildlife.
Of course, families can also take advantage of the weather at Alta Lake. Here, enjoy a sandy beach, children's play structure, and water sports rentals. Then, at Meadow Park, children will love the Whistler Water Park, a fun splash park for all ages! Certainly, this is one of the best destinations in Canada for summer vacation.
Reserve various tours of Whistler here through Getyourguide.com!
Kootenay National Park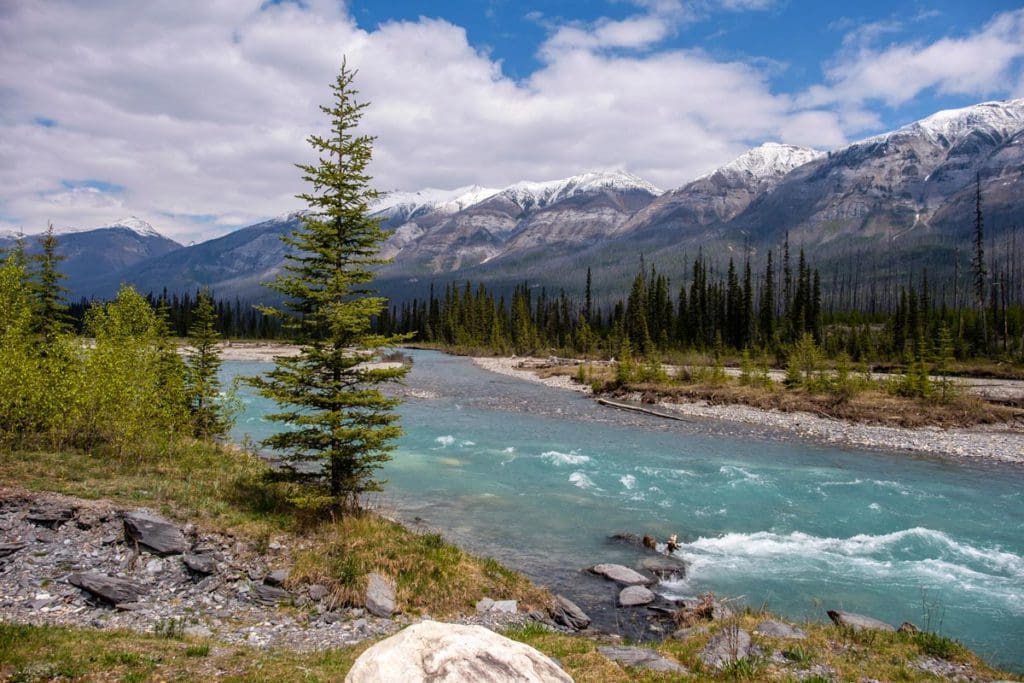 Kootenay National Park is a quintessential Canadian destination for families. Spanning the Canadian Rockies, the park contains scenic mountains, gorgeous glaciers, and pristine lakes. It's also home to around 180 bird species, as well as grizzly and black bears. When families want to visit in the summer, drive through The Banff-Windermere Highway, which also connects to Banff National Park.
For hiking, try the Stanley Glacier Trail with kids. Or, the trail along Marble Canyon, which takes you across seven different bridges and to the edge of the canyon. Camping is also popular throughout the three different campsites. Soak and relax at the RadiumHot Springs after your adventure.
Alert Bay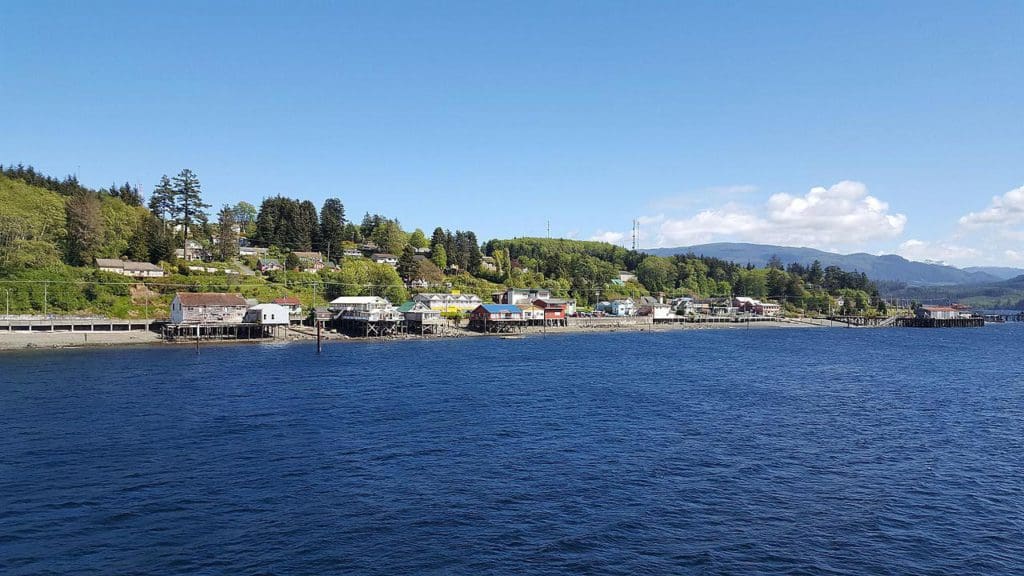 Alert Bay is a small fishing village in British Columbia, located on the northeast tip of Vancouver Island on Cormorant Island. Its coastal beauty also makes it a perfect destination for families to explore in the summer and enjoy Island time. Visitors have access to a wide range of activities such as hiking, biking, and summer program activities. Visit Alert Bay Ecological Park to hike the scenic Alert Bay Ecological Trails or the 16 km of trails throughout the Island. Seasmoke Whale Watching provides a wonderful way to sightsee and spot wildlife. To learn more about the history of the island and its culture, visit the U'mista Cultural Centre and Alert Bay Library-Museum. Then, grab a great cup of coffee at Culture Shock! For more information please check out the Alert Bay Visitor Centre.
Sproat Lake Provincial Park
If you're looking for the best vacation destinations for families in Canada this summer, check out the Sproat Lake Provincial Park near Port Alberni, British Columbia. With its coastal setting, families can go fishing, water skiing, and even windsurfing when the weather is right.
Most of the family fun happens on Sproat Lake. However, there are also a few trails surrounding the lake with beautiful scenery. You can even pass ancient petroglyphs named K'ak'awin, which resemble an ancient sea monster once said to have haunted the lake. Kids will definitely want to hear more about this spooky history! Camping is another popular activity here.
Sea to Sky Highway
Officially known as Highway 99, the Sea To Sky Highway is a legendary drive running from Vancouver to Pemberton, just north of Whistler. Spanning the Pacific Coast, the highway has stunning views of Howe Sound. Plus, it is home to many restaurants, shops, and more. Starting from Vancouver, families can head north to travel through amazing mountains and first-rate lakes.
Along the way, you'll pass famous attractions such as Porteau Cove Provincial Park, a popular scuba diving destination. Not to mention, Shannon Falls Provincial Park, Brandywine Falls Provincial Park, and Mount Garibaldi. Feel free to stop wherever interests you, as you'll see plenty of scenic hikes, breweries, and other points of interest. Don't miss a ride on the Sea to Sky Gondola!
Reserve various Sea to Sky Highway Tours and Tickets here through Viator!
Best Summer Vacation Destinations in Alberta for Families
Alberta's heritage and natural beauty make it a great place to visit during the summer with kids. As one of the best vacation destinations for families in Canada this summer, you can explore the region's history by visiting one of the many national parks. Jasper National Park, known for its glaciers, wildlife, and mountain scenery is a great option. Or, check out the world's largest geyser field, Banff National Park. Plus, with cities like Calgary steeped in Western history, there are plenty of opportunities to learn more about local culture, as well as delicious restaurants. Stay tuned for the best vacation destinations for families in Canada this summer! 
Banff National Park
Banff National Park is one of the most beautiful national parks in Canada. Located near Calgary, it's a popular summer destination. Expect an abundance of outdoor activities such as hiking, cycling, canoeing, and fishing. There are also plenty of opportunities to see wildlife and take scenic tours of the glacial lakes, geysers, and cascading waterfalls. Kids will love trying to spot grizzly bears, lynx, elk, and bighorn sheep!
As one of the best vacation spots in Canada, planning ahead is essential. Some popular destinations like Lake Louise and Moraine Lake are accessible only by transit or shuttle. Book before leaving home. Kid-friendly hikes include the Moraine Lake Rockpile and Johnston Canyon Lower Falls. You can also try the Peyto Lake Panorama Viewpoint. Families can also bike, take a scenic drive, or go canoeing and kayaking on Lake Louise. Regardless of where you are traveling from, this is one of the best Canada vacation ideas with kids!
Book your tour in Banff National Park here with Getyourguide.com!
Calgary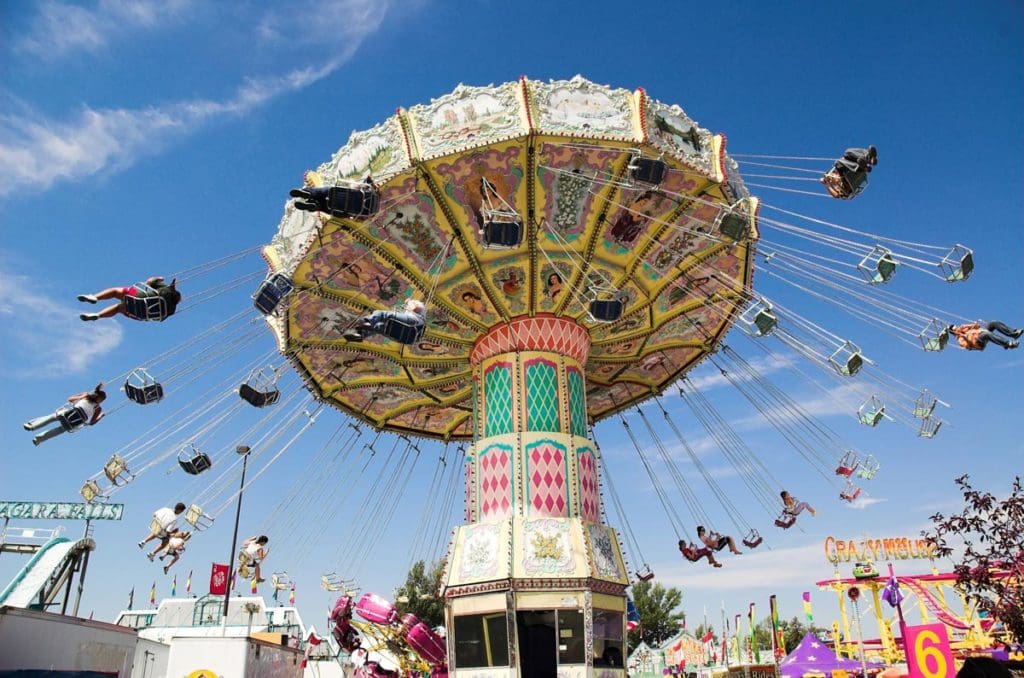 Calgary is one of the best summer destinations to visit in Canada as a family. From museums to shops, hiking, and more, the city has many points of interest for families. Start by getting a panoramic view from the Calgary Tower. Then, say hi to penguins, gorillas, and more animals at The Wilder Institute, Calgary Zoo. Families who want to soak up the sun and enjoy the outdoors can spend an afternoon exploring the trails at Prince's Island Park.
Families also like visiting WinSport, a complex offering mountain biking, skating, and even kids' summer camps. Not to mention, WinSport was home to the 1988 Winter Olympics! Kids looking for a thrill will love all the exciting amusement rides at Calaway Park! To learn more about Calgary, visit the Glenbow Museum, Heritage Park, or The Hangar Flight Museum. With so much to do, no wonder Calgary is one of the best vacation spots in Canada. Final tip, Calgary tends to fill up quickly during the Calgary Stampede, check the dates before making your arrangements – or to plan to attend!
Reserve your Calgary tours and tickets through Getyourguide.com now!
Note: The Glenbow Museum is currently under a multi-year renovation, but there is a temporary exhibit location in The Edison building.
Jasper National Park
Filled with lush forests, wobbly waterfalls, and the majestic Rocky Mountains, Jasper National Park is one of Canada's most beautiful summer destinations. In addition to the natural beauty, it has plenty of things to do as a family. Enjoy everything from hiking to mountain biking, paddling, fishing, and so much more. From downtown Jasper, families can make the scenic drive to Maligne Lake, a remote area with lots of wildlife. For a better view, you can take a Maligne Lake Cruise and tour the area. Another popular summer activity in Jasper National Park is river rafting on the Athabasca River or seeing the Athabasca Glacier. For an easy hike with amazing views, try the Valley Of The Five Lakes Trail.
Once you're done visiting Jasper National Park, one of the best vacation destinations for families in Canada this summer, explore the nearby town of Jasper. Known for its farm-to-table restaurants, boutiques, and local charm, it's the perfect place to spend the day as a family. Families can also try activities near Jasper, like riding the Jasper Skytram, the highest aerial tramway in Canada. No wonder this is one of the best vacation destinations for families in Canada this summer!
Use Viator to book discounted tickets to the Jasper SkyTram and other Jasper National Park tours here!
Drumheller Badlands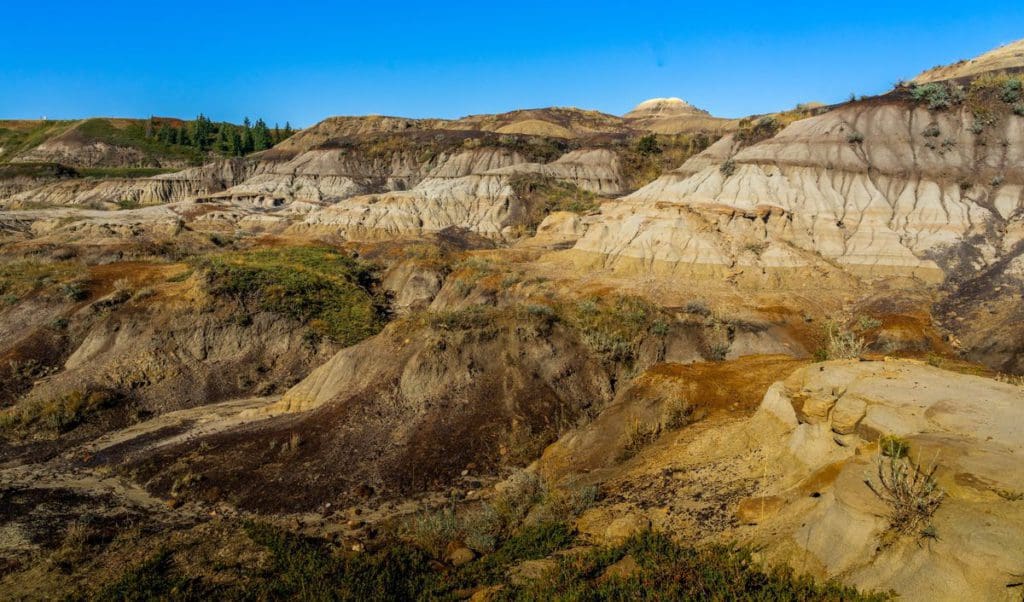 Families with aspiring paleontologists need to add the Drumheller Badlands to their list! Located in Alberta (and within 90 minutes of Calgary), Drumheller is a small city that will capture the imagination of all ages. Like the Badlands of South Dakota, the Canadian Badlands are stunning, featuring canyons, hoodoos, and other unique rock formations. Plus, Drumheller is the Dinosaur Capital of the World!
The charming downtown area has fully embraced its dinosaur theme. In fact, kids will adore climbing the 106 stairs up to the mouth of the dinosaur! Here, you'll have a beautiful view of the whole city. While visiting, drive the Dinosaur Trail, visit The Royal Tyrrell Museum (with 800 fossils on permanent display), and soak in the views from the Orkney Viewpoint. Then, families can trek along Horseshoe Canyon and Horsethief Canyon. You can also traverse the Hoodoo Trail, explore the historic ghost town of Wayne, and hike amongst the iconic Hoodoos. Finally, further out of town you can also treat kids to a visit to Dinosaur Provincial Park, featuring one of the best fossil areas in the world (58 dinosaur species have been discovered here!). Certainly, those seeking adventure will find the Drumheller Badlands to be one of the best vacation destinations for families in Canada this summer!
Best Summer Vacation Destinations in Ontario for Families
Located in eastern-central Canada, Ontario borders the Great Lakes Region, making it a favorite destination for water sports, hikes, and more summer fun. There are many parks, waterfalls, and natural sites in the area, plus various theme parks. No wonder it's one of the best destinations for a summer vacation in Canada with kids! Next time you want to visit Ontario, we've compiled the best vacation destinations for families in Canada this summer!
Note: If you are planning to visit parks and campsites in Ontario, we highly recommend making advance reservations due to capacity issues at the parks (particularly popular ones like Algonquin Provincial Park) – even for day visits. Some campsites may be hard to book as they book months in advance. You can review your options and make bookings at these 33 parks!
Algonquin Provincial Park
Algonquin Provincial Park is perfect for a summer vacation in Canada as a family. Home to numerous lakes, forests, and rivers, the park is well-known for its rugged, rocky terrain. There are also different campsites, hiking trails, and beaches for visitors to explore. Some popular destinations include Cache Lake and Mizzy Lake, accessible via the Mizzy Lake Trail. Though it's a bit steeper, the Lookout Trail also rewards hikers with fantastic views. Or, visit Canisbay Lake or Canoe Lake for swimming and canoeing in crystal clear waters! To learn more about the history of the park, kids will love the hands-on exhibits at the Algonquin Logging Museum or taking a boat tour in search of wildlife.
Camping in the Algonquin Provincial Park is another wonderful way to experience nature. After all, it's one of the best vacation destinations for families in Canada this summer! There are over 1,800 camping sites in the park, which are close to lakes, streams, and hiking trails. Some of the best campsites are on Mazinaw Lake, which is known for its clear waters. Campers can enjoy swimming, fishing, canoeing, kayaking, and biking with their family throughout their stay at the park.
Choose an Algonquin Provincial Park tour through Viator here!
Pukaskwa National Park
Pukaskwa National Park is one of the best vacation destinations for families in Canada this summer. Famous for its pristine wilderness, rolling hills, and majestic cliffs, there are so many things to do with kids. Go for a scenic drive, hike, or try fishing on Lake Superior! Families can also hike the Southern Headland Trail for panoramic views of Hattie Cove, Pulpwood Harbour, and Horseshoe Bay. Or, hike the Beach Trail to head to Middle Beach to cool off in the water. Hattie Cove is perfect for paddling or canoeing. End your day by watching the sunset at Horseshoe Beach, featuring soft sand and relaxing nature. This park often takes more than one day to see, so camping is popular.
Niagara-On-The-Lake
Niagara on the Lake is a picturesque town in southern Ontario. Overlooking the shores of Lake Ontario, it offers beautifully landscaped gardens, great food, and plenty of outdoor activities to do with your family. Soak up the sun at Queen's Royal Beach, located along the Niagara River. Or, take a boat tour on the river with Whirlpool Jet Boat Tours.
As one of the best destinations in Canada for summer vacation, Niagara on the Lake is also home to historic sites, like Fort Niagara and Fort George National Historic Site. Of course, don't forget to explore the historic downtown district. Here, you'll find Queen Street, lined with beautiful flowers and 19th-century buildings. Parents will also appreciate all the wineries and vineyards. Don't forget to catch a show at the Shaw Festival Theater!
Niagara Falls
Niagara Falls boasts picturesque beauty, interesting history, and family-friendly activities. Crossing over into Canada provides an even better view of the three falls: Horseshoe Falls, American Falls, and Bridal Veil Falls. With Journey Behind the Falls, a panoramic observation deck, you can even get near Horseshoe Falls!
Of course, when the weather is nice, families can take a break from the hustle and bustle by visiting Queen Victoria Park. Kids will love strolling through the manicured gardens that run the length of the Rainbow Bridge past Horseshoe Falls. Kids can also have fun at Clifton Hill Amusements, WildPlay, or ride the Niagara Skywheel! Summer is also a wonderful time to venture to Dufferin Islands, home to birds and other wildlife. With so much to offer, you will quickly see why Niagra Falls ranks as one of the best destinations in Canada for summer vacation.
Choose these popular Niagara Falls tours and book through Viator here!
Muskoka
Enjoy a fun vacation with the whole family in Muskoka! Just two hours from Toronto, this summer destination is home to Lake Muskoka. Here, embark on boat tours, go canoeing or stand-up paddleboarding, and more, there are plenty of chances to cool off in the water. From the Dorset Heritage Museum to the Little Norway Memorial, there are also various historical and cultural sites.
With Muskoka Incredible Race, kids can explore the area like a local – all the while completing a series of fun challenges. Adventurous kids will especially love soaring through the treetops with Muskoka Zip Lines & Aerial Park or Treetop Trekking! Plus, don't miss the exciting rides at nearby Santa's Village Theme Park, a Christmas-themed amusement park opening in May!
Best Summer Vacation Destinations in Quebec for Families
Quebec, Canada is a province that offers many beautiful summer destinations. From Iles-de-la-Madeleine near the Gulf of Saint Lawrence to Mont-Tremblant, and, of course, Montreal, it's a popular destination for history, culture, hiking, and so much more. Next time you want to explore Quebec as a family, keep reading for the best vacation destinations for families in Canada this summer!
Jacques Cartier National Park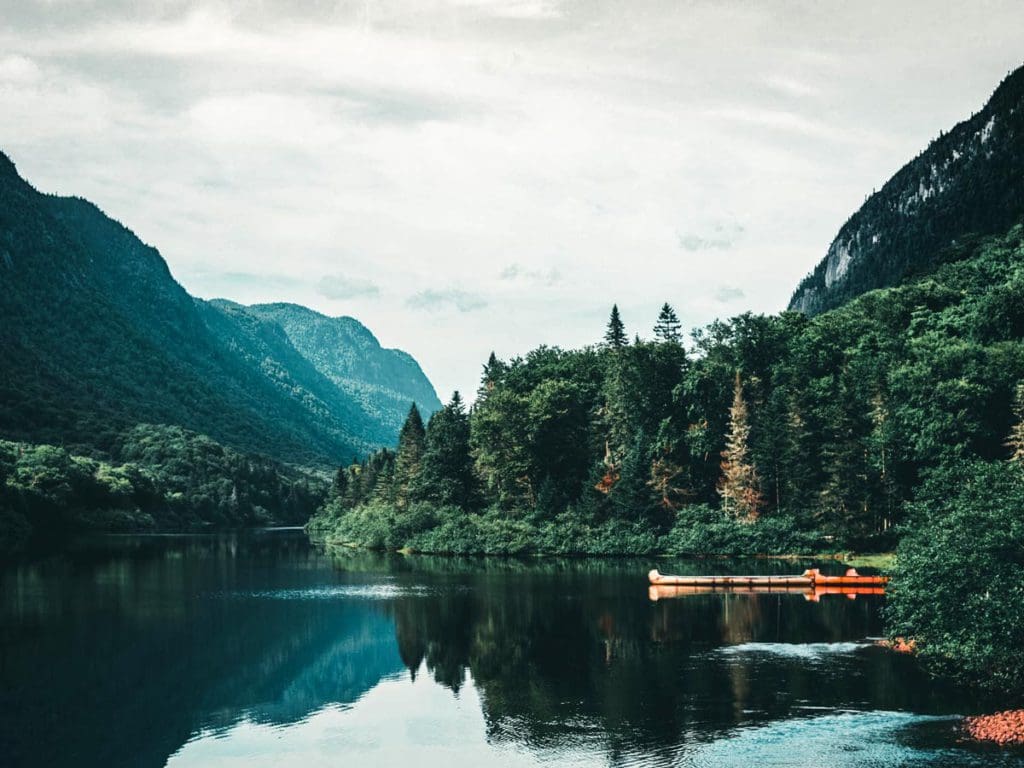 As one of the best destinations in Canada for summer vacation, Jacques Cartier National Park is an incredible place to visit as a family. Located north of Quebec City, it has great hiking trails, rare wildlife, picnic areas, and campgrounds. In the summer, families can canoe down the Jacques-Cartier River, try kayaking, go biking, and hike. One easy trail even young kids will enjoy is Les Cascades Trail, located beside a cascading stream. Fishing can also be fun for everyone and you never know what you'll catch here! With the park's abundance of wildlife, bird watching is another awesome experience to teach young kids about different types of birds.
Taste some of the best cuisines at ​​Our Favorite Restaurants and Activities In Montreal That Families Will Love!
Montreal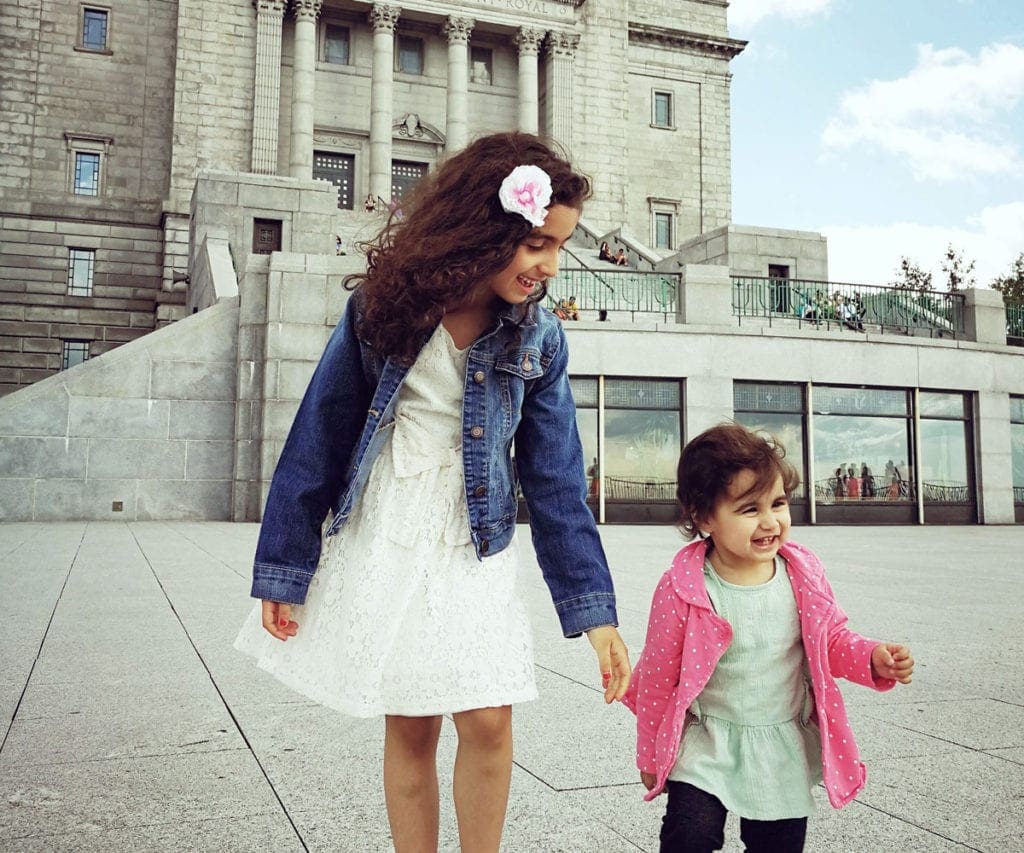 Looking for one of the best cities to visit in Canada with kids? Enjoy a trip to Montreal, showcasing a European ambiance, charming cobblestone streets, and lots of history and culture. Summer weather is perfect for exploring the quaint streets of Old Montreal. Then visit the Old Port to ride La Grande Roue de Montréal.
Families who want to enjoy the sunshine can pack a picnic lunch and head to Parc du Mont-Royal. This park features beautiful views, trails, and a lake with boat rentals. Kids will love the amusement rides at La Ronde. Not to mention, roaming around the Jardin Botanique de Montréal, and seeing the massive murals in Le Plateau. Then, Parc Aquazilla, located in Parc Jean-Drapeau, is a giant inflatable obstacle course that kids will love (age 6+)! With so much to do for families, no wonder Montreal is one of the best vacation spots in Canada.
Planning a trip to Montreal? Check out these 19 Best Things To Do In Montreal With Kids (All Ages)!
Choose Montreal tours from Viator! Reserve now, and pay later!
Mont-Tremblant
Mont-Tremblant is one of the best cities to visit in Canada with kids. Set within the Laurentian Mountains, it's also home to the year-round Mont-Tremblant Ski Resort and Lake Tremblant. A lot of tourists choose to visit here in the summer to enjoy the stunning scenery.
From biking to hiking, horseback riding, and the Night Walk Tonga Lumina, there are plenty of adventures for all ages. Ride the panoramic gondola up the mountain. Or, go ziplining at the Mont-Tremblant Activities Center. Your family can descend through the forest on the skyline luge. Then, kids can ascend the climbing tower to overlook the landscape! Plus, there are many other activities such as mini-golf, birds of prey show, euro-bungy, and more! Plus, families can also enjoy swimming, boating, volleyball, and other summer activities on Lake Tremblant. Finally, you can also visit Brind'O Aquaclub, the resort's on-site water park.
Best Summer Vacation Destinations in the Atlantic Canada Region for Families
Those seeking Canada vacation ideas will love their choices on the Eastern coast. Along the Atlantic shore of Canada, families will find four more provinces worth visiting. Here, explore Nova Scotia, New Brunswick, Prince Edward Island, and Newfoundland and Labrador. Their proximity to one another also makes for fun road trip combinations to some of the best vacation destinations for families in Canada this summer!
One of the most beautiful places in Canada is Nova Scotia. The landscape ranges from mountains and hills to forests, and there are also plenty of lakes, as well as waterfalls, beaches, and rivers. Then, New Brunswick offers family-friendly options from Gagetown to the Bay of Fundy, The Gaspé Peninsula, and more. On Prince Edward Island, discover literary attractions, singing sand beaches, and a lot of Scottish and Acadian history. While Newfoundland and Labrador offer striking natural beauty and Norse legends. No wonder these provinces are among the best places to visit in Canada during the summer with kids!
Cape Breton Island, Nova Scotia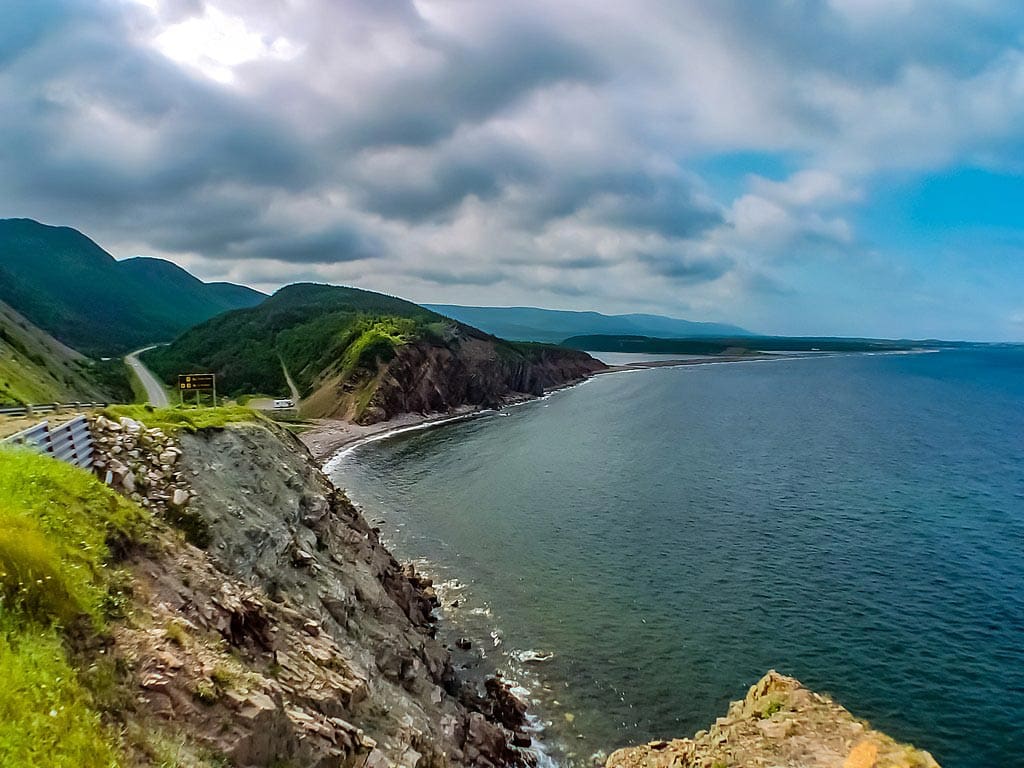 Cape Breton Island is one of the best places to visit in Canada during the summer. From golfing to hiking, this Nova Scotia destination is famous for its breathtaking scenery, rich history, and fascinating culture. See some of the best views in Canada on the Cabot Trail, a loop route encompassing the northwest part of the island that winds its way through verdant forests and rugged coastlines. The drive maneuvers in and out of the Cape Breton Highlands National Park, whose Skyline Trail footpath overlooks the Gulf of St. Lawrence, known for its migratory whales. Kayak with Cabot Trail Adventures or visit the Fortress of Louisbourg National Historic Site for a dose of history. Then, explore the town of Sydney, where you'll find shops, restaurants, and the Big Fiddle, a giant fiddle statue paying tribute to the island's Celtic heritage!
Discover Cabot Trail through these tours with Viator!
Fundy National Park, New Brunswick
One of Atlantic Canada's most beautiful destinations, Fundy National Park in the southeast corner of New Brunswick is one of the wettest places on Earth. With over 40,000 square kilometers of wetlands and forests, hiking trails take visitors through this lush environment to the cliffs overlooking the Bay of Fundy with its unique tides. You will quickly see why this ranks as one of the best places to visit in Canada during the summer with kids.
Easy trails like the Dickson Falls Trail provide views of cascading waterfalls, lush forests, and various wildlife. Kids will love the variety of wildlife throughout the park, including moose, muskrat, beavers, and black bears. For a guided walk, families can also explore the ocean floor with the help of a naturalist, where you'll discover barnacles, rock crabs, dog whelk sea snails, and other crustaceans.
Prince Edward Island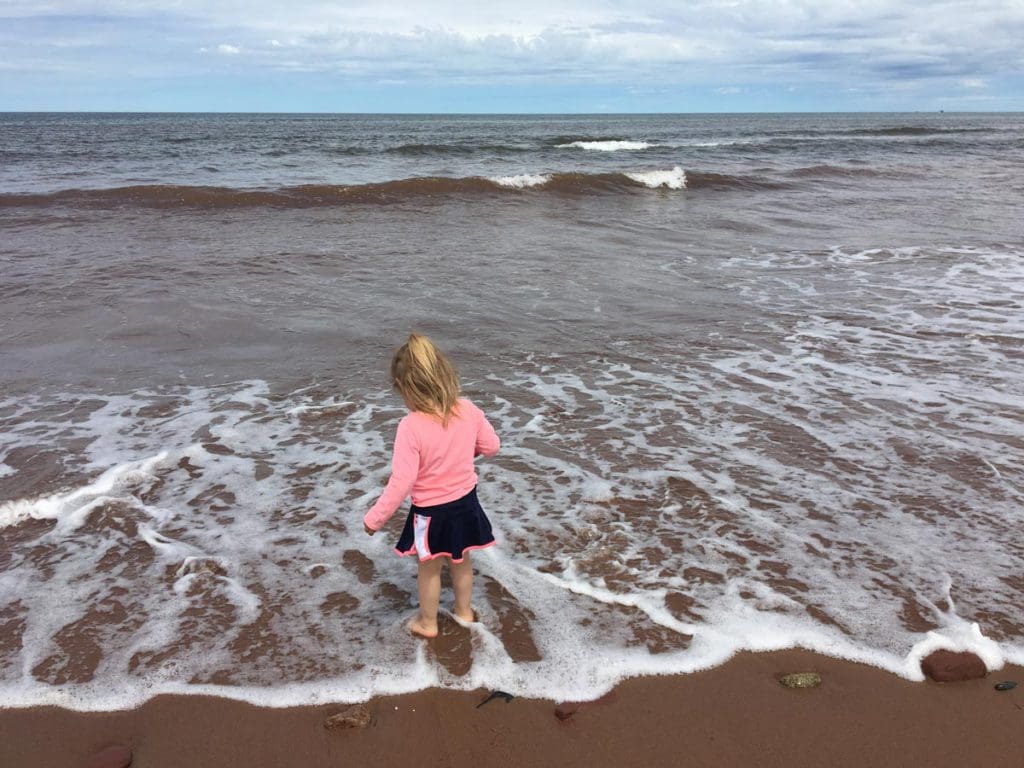 Located in Canada's Atlantic region, Prince Edward Island is well-known for its sandy beaches, beautiful ocean views, and historical sites. It also has a strong agricultural industry which invites visitors to see how farm animals are raised. People who love fishing can try their luck in North Rustico, which also has great beaches.
At Prince Edward Island National Park, families can enjoy sandy beaches, red cliffs, and dunes. Or, try your luck at hearing the singing sands at Basin Head Provincial Park. Cavendish is a resort municipality famous for its miles of pristine shoreline, plus the annual Cavendish Beach Music Festival in July. Cavendish is also home to The Green Gables Heritage Place, based on Lucy Maud Montgomery's novel Anne of Green Gables. Once you visit, you'll understand why it's Canada's most famous literary landmark!
Newfoundland and Labrador
Newfoundland and Labrador, located in the easternmost part of the country, offers beautiful places to visit in Canada in the summer. Find many secluded beaches, as well as hiking trails, lighthouses, and fishing villages. Kids will love seeing how the Vikings lived at the L'Anse aux Meadows National Historic Site, a thousand-year-old Norse settlement. Don't forget to visit Gros Morne National Park, known for its glacial fjords, and St. John's, the capital city. Labrador is more of a rural province with rolling hills and apple orchards. Tourist attractions include the Torngat Mountains, National Park, which takes its name from the Inuit phrase "place of the spirits." We suggest exploring with a guide for the best experience!
Reserve Newfoundland and Labrador tours here through Viator!
Happy Travels!
We hope you found this list of the Best Vacation Destinations For Families In Canada This Summer helpful in planning your own Canadian adventures with kids! Between centuries of history, gorgeous scenery, and lots of outdoor fun for families, there's no better place to take advantage of the warm weather. Enjoy these best places to visit in Canada during the summer with kids!
*Due to the COVID-19 pandemic, some of the attractions, accommodations, or things to do on this list may be closed. Please ensure availability before making your decision.
*This post may contain affiliate links that may earn us a small commission, at no additional cost to you. Affiliate links in no way inform the hotels, sights, products, or other recommendations included in our articles. All opinions and recommendations expressed here are compiled from submissions submitted by the generous members of our Families Who Love To Travel community.
READ MORE: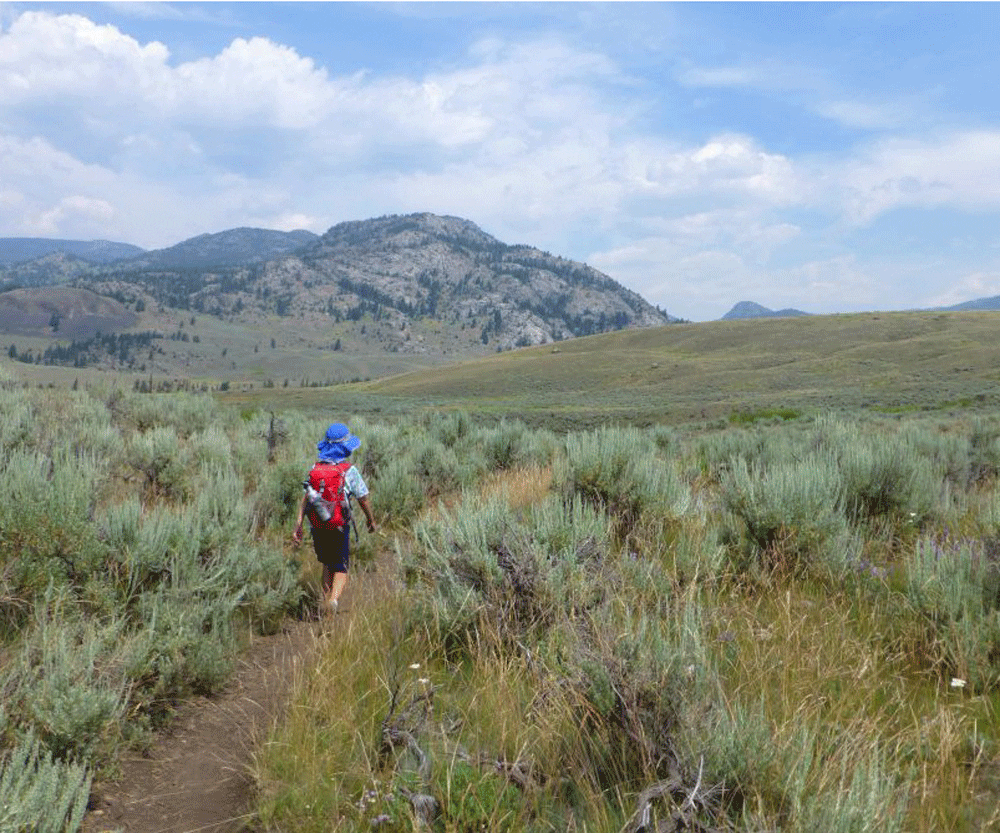 Everyone knows that Yellowstone National Park makes for a classic family vacation. Strolling the boardwalks...
You can do all the research and pack all the right things, but it's hard...