If you're looking for the best weekend getaways near San Diego for families, expect fun in the sun, great food, and so much more! With year-round mild weather, gorgeous beaches, and endless family-friendly activities, this Southern California area provides access to some of the coziest cities. So, whether you're a local San Diego family who wants to shake up their vacation or a traveler looking to extend their trip to San Diego with kids, this list is for you. With so many world-renowned vacation spots, including surf spots, beaches, parks, etc, you might feel overwhelmed when planning an itinerary. Keep reading for our tips, including the Best Day Trips and Weekend Getaways Near San Diego For Families!
Why Visit Southern California with Kids
There's no better place for some fun in the sun than in one of the picturesque beach cities around San Diego. Whether you want to surf, dive, snorkel, or play beach sports, you'll find somewhere your whole family will love. In fact, the San Diego area has 70 miles of golden-sand beaches where each member of your family can enjoy a fun-filled day. From hiking to biking, jogging, searching for seashells, and admiring the beautiful sunset, there are so many reasons to visit San Diego and Southern California with kids.
Want to see more of the San Diego area? Check out The Best 7-Day San Diego Itinerary with Kids!
Best Day Trips or Weekend Getaways near San Diego for Families
If your kids are bursting with energy – and kids usually are – you can start your weekend getaway on a sandy beach with watersports or sunbathing. Or, venture off the beaten path to see some unique wildlife inhabiting the San Diego area. Either way, keep reading to discover the best day trips and weekend getaways near San Diego for families!
Consider reserving Go City® San Diego to save on admissions, tours and experiences!
Find Family-Friendly Vacation Spots in Encinitas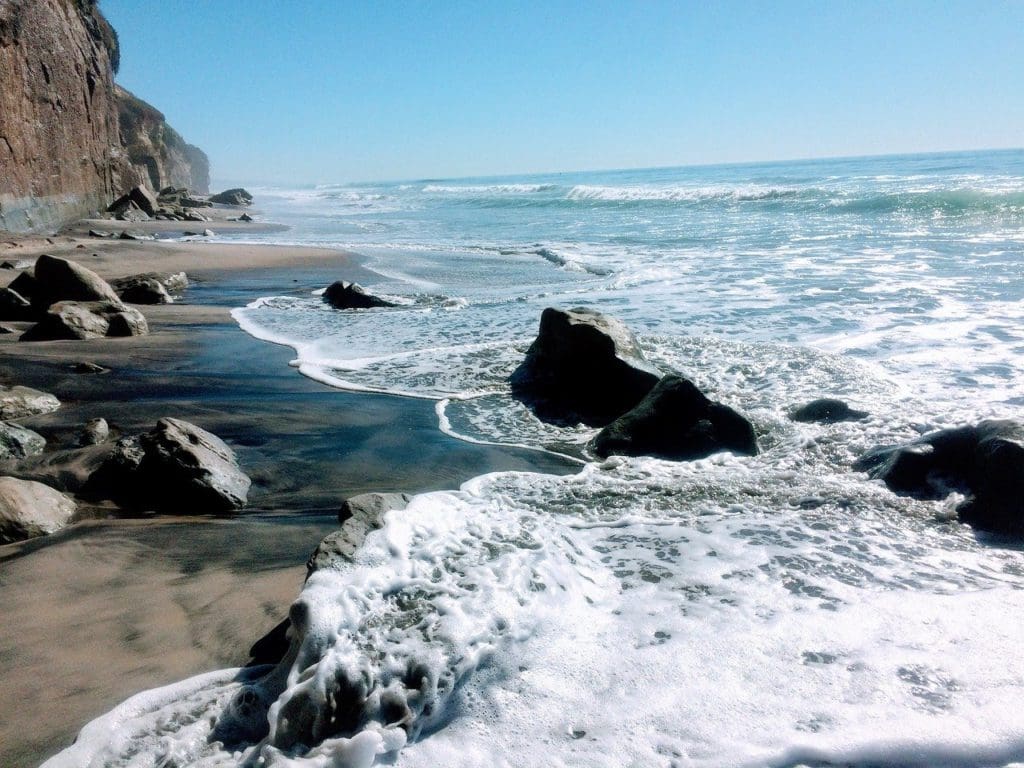 Encinitas is surely one of the best day trips and weekend getaways near San Diego for families. Located a half-hour north of San Diego, this beach city is family-friendly and offers plenty of opportunities to soak up the sun. Families can spend most of their time on Moonlight State Beach, the main and most popular beach in town. The beach has volleyball nets and a grass park with a kids' play area. While you have your well-deserved sunbath, your kids can build sandcastles or spend time in the park's playground. You can also go back in the evening for a picnic and sit around one of the fire rings spread across the beach.
Reserve a 2 Hour Private Group Surf Lesson in Encinitas with Viator here!
Where to Eat: The Crack Shack in Encinitas is your go-to place to eat if your little ones crave fried chicken. The menu includes delicacies like fried Jidori chicken breast, nuggets, and grilled chicken with fries and carrots. Plus, the restaurant has a play area for the little ones. Certainly, it will be a delicious end to one of the best day trips and weekend getaways near San Diego for families.
See more of SoCal when you visit one of the ​​12 Warm U.S. Spring Break Destinations Families Will Love!
Share the Beach with Sea Lions and Seals in La Jolla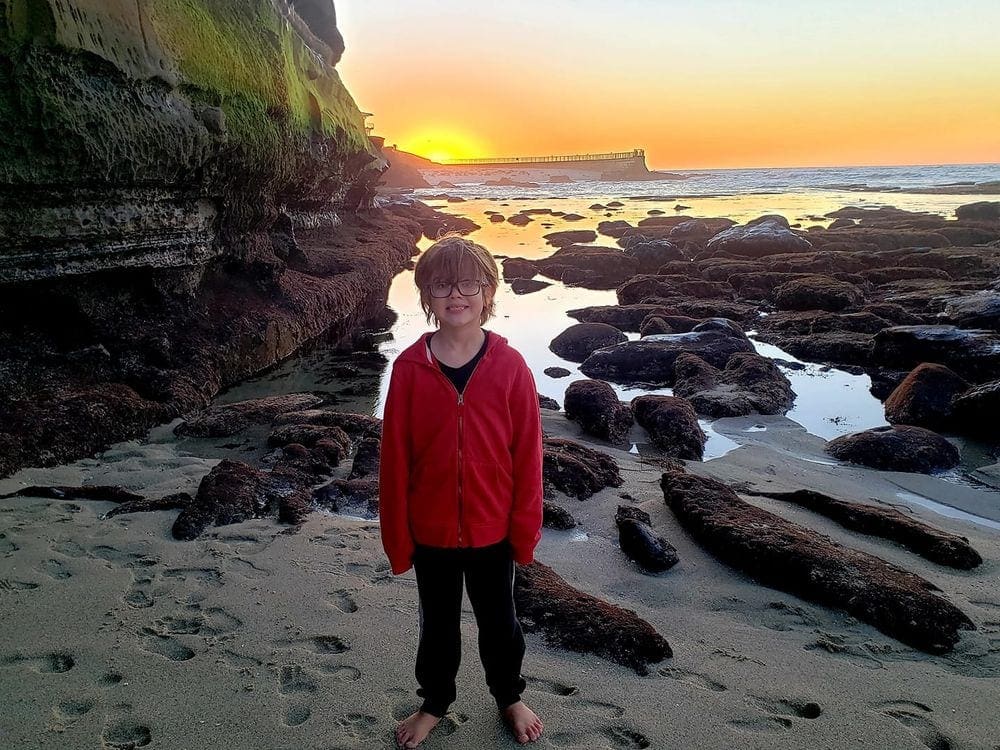 If your kids watched all the episodes of My Animal Friends, take them to the Children's Pool Seals and La Jolla Cove Sea Lions. It's technically located within the greater San Diego area, so this seaside community is perfect for a day trip. Originally designed to create a safe place for children to swim on, the beach became a haven for sea lions to give birth and raise their pups. Your kids will love to share the beach with seals and sea lions. These animals are accustomed to people but remember, they might get aggressive if provoked. Although it's allowed to swim there, officials don't advise this due to safety concerns.
Pro Tip: The beach is off-limits to the public during the pupping season, from December to April, but you can still watch the animals from the sheltering wall. Either way, this is certainly one of the best day trips and weekend getaways near San Diego for families!
Explore the Sea Caves of La Jolla in Kayaks through this tour from Getyourguide.com!
Explore Torrey Pines State Beach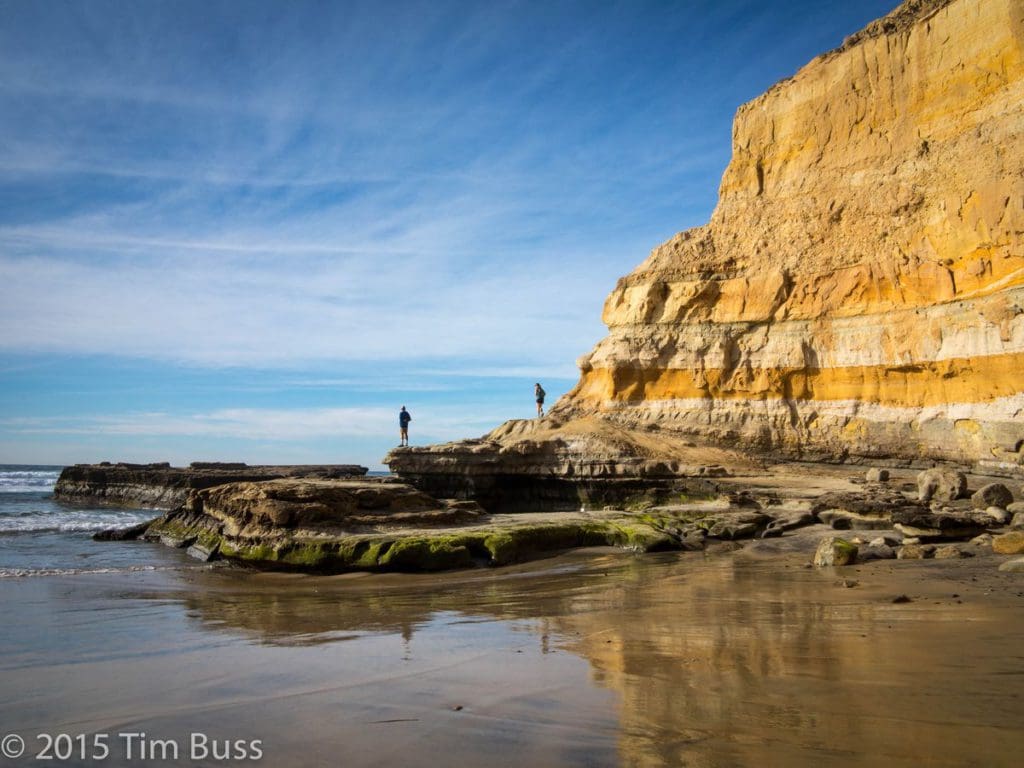 Planning a trip to the San Diego area with your teenage kids? Visit Torrey Pines State Beach! Located just north of La Jolla, along historic Highway 101, it has a lot to explore for young adventurers. It's also one of the best day trips and weekend getaways near San Diego for families! Besides watersports and fun beach activities, you can go hiking. Some family-friendly options include the Torrey Pines Beach Trail, Yucca Point Trail, or the Guy Fleming Trail. For beautiful views of wildlife and the rare Torrey Pines, families can also combine the Red Butte, Yucca Point, and the Razor Point Trail. Don't miss the tide pools, as they offer a great chance to learn about ocean life!
Head to Carlsbad for LEGOLAND® California & More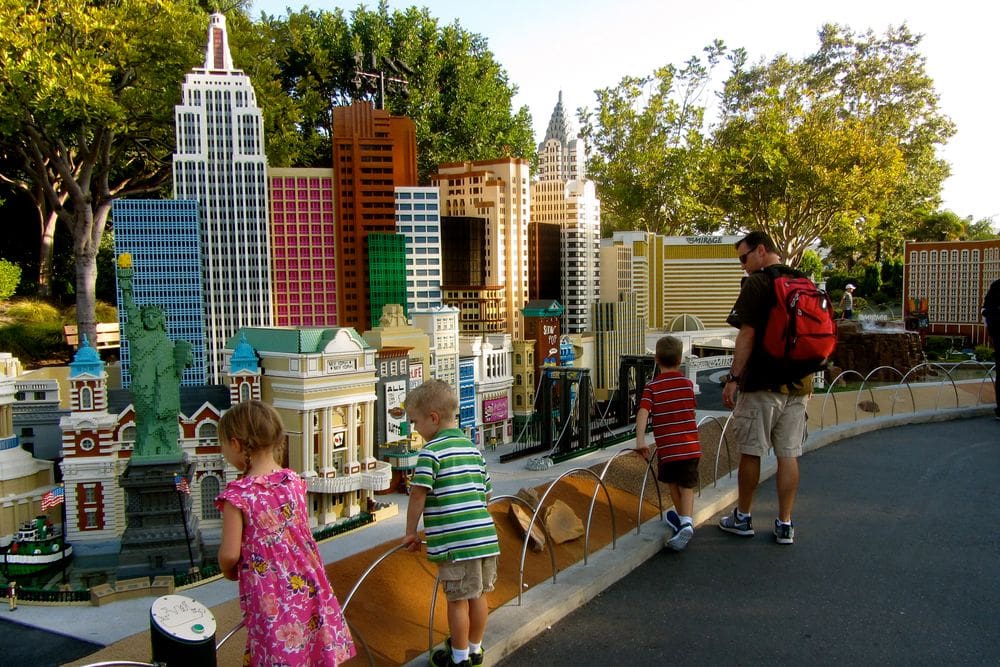 Families who aren't interested in a day on the beach will still find other options to enjoy in the San Diego area. One of them is visiting LEGOLAND® California in Carlsbad, around 40 minutes away from San Diego. Kids will love exploring this thrilling theme and water park, which features a 200,000-gallon ocean tank to walk below sharks, tropical fish, and other sea animals. Not to mention thrilling amusement rides modeled after their favorite LEGOS! Other exciting spots for families in Carlsbad includes The Flower Fields and the State Street Farmer's Market. To visit a family-friendly park, try Aviara Community Park, Alga Norte Community Park, or Leo Carrillo Ranch Historic Park.
Where to Eat: Pizza Port has locations in Carlsbad, Solana Beach, and Ocean Beach. It's famous for its pizza and craft beer selection. Pizza Port in Carlsbad is ideal for families as it has a multi-level seating area, both indoors and out. Then, Campfire in Carlsbad is a rustic restaurant where you can savor their flat iron steak or grilled cheese at tables or around firepits. Regardless of which one you choose, your kids are going to love visiting Carlsbad, one of the best day trips and weekend getaways near San Diego for families.
Book this 2-day admission to LEGOLAND® and SEA LIFE® Aquarium California through Tiqets.com!
Enjoy World-Renowned Surf Spots in Cardiff-by-the-Sea
Cardiff-by-the-Sea is one of those family-friendly beach cities where you can book cozy accommodation for a weekend and forget about your daily hassles. Around a half-hour north of San Diego, one of the best places to spend the day here in Cardiff State Beach. This 2-mile-long beach is next to the San Elijo Lagoon, and it's home to the Cardiff Reef and the world-renowned, beginner-friendly Pipes surf spot. This gently sloping sandy beach is also a perfect place for snorkeling. At low tides, the reef gets exposed to the shore, and your kids can see various sea creatures. Your kids will recognize many of their friends from Finding Nemo, including sea stars, sea anemones, barnacles, and crabs.
Appreciate the Beautiful Scenery at San Elijo Lagoon Ecological Reserve
Families who have a bit more time should consider adding more of the best day trips and weekend getaways near San Diego for families. From Cardiff State Beach, you can easily reach the San Elijo Lagoon Ecological Reserve And Nature Center. Providing a lush habitat for nearby bird species and other unique animals, this gorgeous nature preserve features multiple trails for families to explore. Though it can get slippery, the Annie Canyon Trail via the North Rios Trailhood Loop is mostly flat with amazing views. Several trails are accessible by the residential areas in Solana Beach and connect wetland habitats of salt marsh, freshwater marsh, etc. Kids can enjoy TRACK Trails, a nature-themed scavenger hunt to win online prizes!
Book your next stay at one of these Best Themed Hotels On The West Coast For Families!
Best Family-Friendly Accommodations near San Diego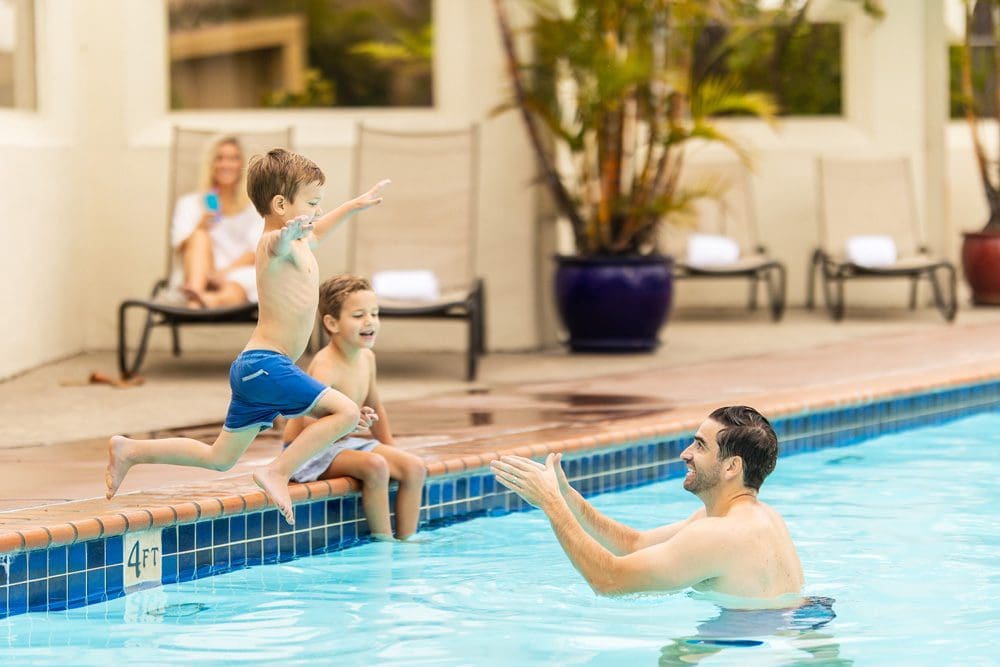 It won't be hard to find family-friendly accommodation in or near San Diego. In fact, the only challenge you'll face is choosing one for your family weekend, since so many picturesque beach towns make it difficult! These communities are laid back, with friendly people and many kid-friendly amenities. In San Diego, families will love hotel options like Bahia Resort Hotel, Omni San Diego Hotel, Manchester Grand Hyatt San Diego, and San Diego Mission Bay Resort. Alternatively, in La Jolla, consider La Jolla Beach and Tennis Club or La Jolla Shores Hotel.
Although hotels have first-class amenities, we also recommend checking out local vacation rental options. A lot of families choose to rent beach houses on Vrbo. Families can also rent cottages from local providers with breathtaking ocean views. A luxury condo or cottage gives kids space to play in the garden while parents savor a glass of wine on the deck and admire the sunset. You'll also have a fully-equipped kitchen, spacious living room, and BBQ.
Reserve an exceptional homestay in San Diego here with Plum Guide, the new global quality standard for vacation homes!
Looking for a hotel near San Diego? You'll find something to love on this list of the Best Waterfront Hotels in San Diego for Families!
Happy Travels!
We hope you liked this article on the Best Day Trips or Weekend Getaways Near San Diego For Families by our contributor Cristina Turner! From seaside adventures to scenic hikes, wildlife, and more, there's so much to discover in the dynamic San Diego area. Enjoy your California getaway with your kids!
*Due to the COVID-19 pandemic, some of the attractions, accommodations, or things to do on this list may be closed. Please ensure availability before making your decision.
*This post may contain affiliate links that may earn us a small commission, at no additional cost to you. Affiliate links in no way inform the hotels, sights, products, or other recommendations included in our articles. All opinions and recommendations expressed here are compiled from submissions submitted by the generous members of our Families Who Love To Travel community.
READ MORE: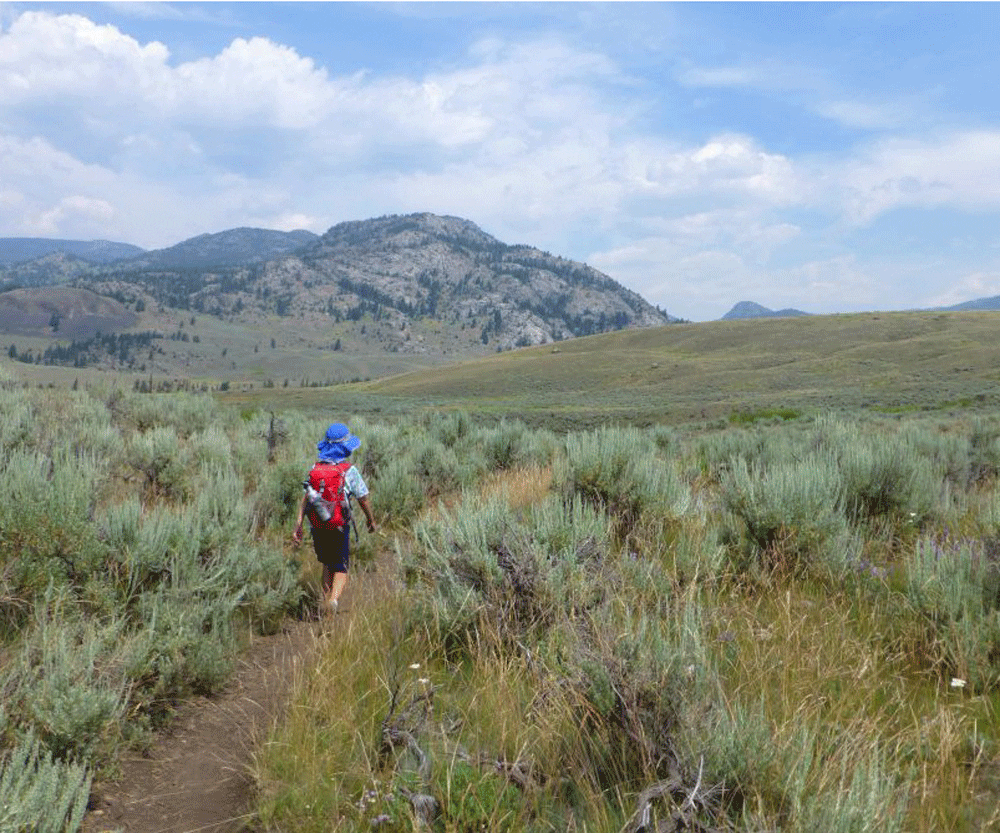 Everyone knows that Yellowstone National Park makes for a classic family vacation. Strolling the boardwalks...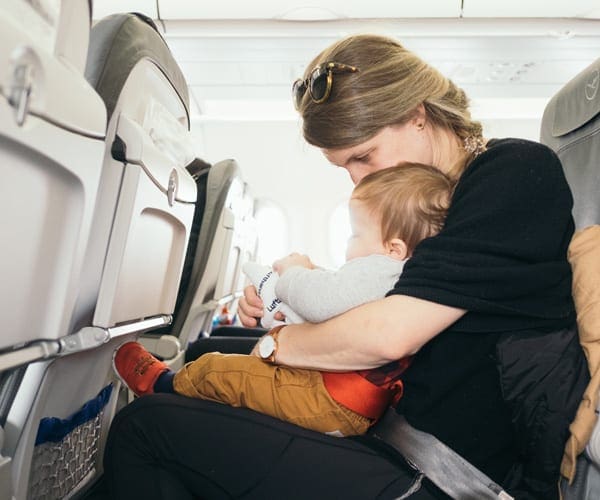 Families Who Love To Travel contributor Meghan Oaks provides her 10 best tips for your...