By Lauren Swartz
Day 1: Upper Antelope Canyon
Page, Arizona
The most expensive photo ever sold in the world was taken at Antelope Canyon. It sold for a whopping $6.5 million dollars to a private collector in 2014. Since then, crowds have been flocking to see the famous canyons and capture the beauty of the Navajo sandstone.
Traveling with a 9 month old baby, we were disappointed to see that most tour companies did not allow small children under a certain age. Because of the narrowness of the canyons, no backpacks, carriers, bags, or diaper bags are allowed inside. Fortunately, when we arrived we spoke with a few locals who told us about visiting the Lower Canyon and that Ken's Tours would accommodate babies and small children. We were ecstatic! But the Antelope Canyons are extremely popular and only accessible by a tour group, so most tickets were sold out for all tour companies. Luckily we were able to snag 2 tickets for the early morning tour. (Tip: It's recommended to book tickets in advance).
There are two separate canyons: Upper Canyon and Lower Canyon. Upper is the most popular of the two because of its famous streaks of light and the $6.5 million dollar photo was taken here. It's also a shorter canyon, an easier walk, and more handicap accessible. However, you are not able to drive to this canyon and will need to meet at your tour company's office and then be driven to the location. This will require a car seat for each child and a hefty fee for about a 10 minute drive.

The Lower canyon is longer, has some of the most beautiful rock formations, and some say the prettiest colors. You can also drive to the tour operator's office which is located right outside of the entrance to the canyon! Therefore, there was no need to drive in a tour bus and we saved a lot of money! Ken's Tours offered the best prices, had great reviews, and children 7 and under were free! They even allowed us to bring our Osprey backpack for our infant son.
Our tour lasted for a little over an hour. Our tour guide, Skye (highly recommended you ask for her), even took the time to tell us how to take the best photos with our iPhones. I can't believe the amazing photos we got with just our cell phones!
The Basics
Where we stayed: Hyatt Place in Page, Arizona
Tour Company: Ken's Tours – Lower Antelope Canyon
Costs: $50.00 per adult and children 7 and under are free

Tips: Book in advance and choose a time when there will most likely be less people. We chose early morning.
Day 2-3: Zion National Park
Springdale, Utah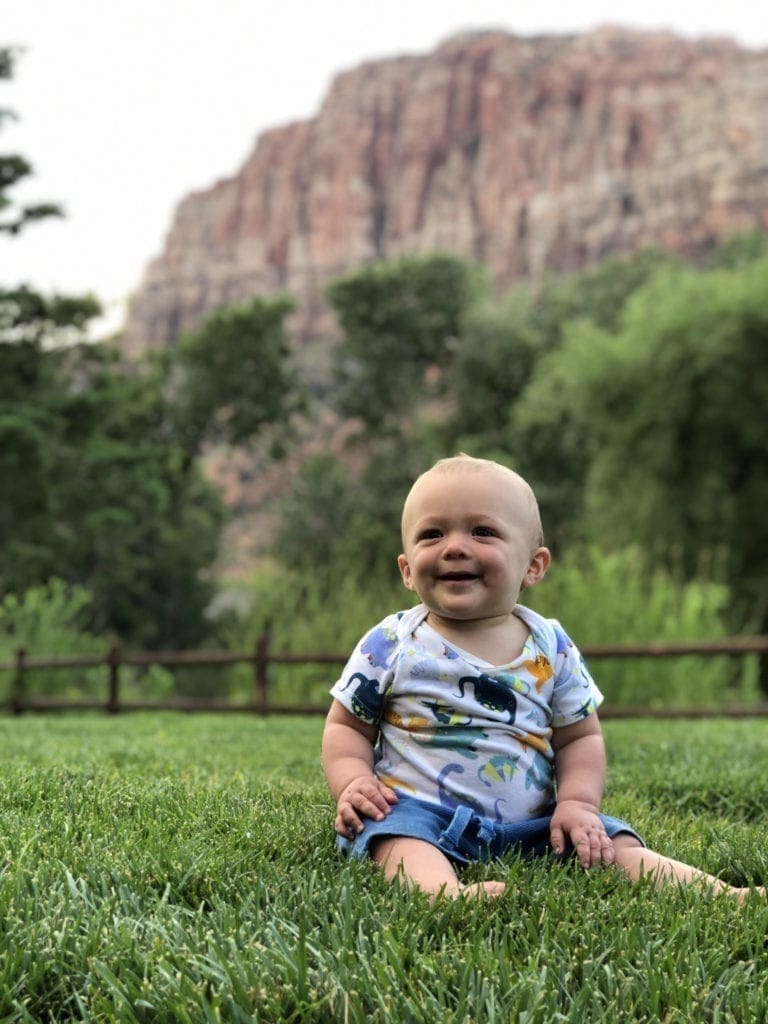 When visiting Zion's National Park, we made sure to scope out the kid friendly hikes. There are about 3-4 great hikes that we saw a lot of families doing. Make sure to go to the Visitor Center ahead of time so that the park rangers can give you a map of the area, point out which trails are closed, and recommend hikes for children of all ages. We visited the park in the month of June and the weather was in the high 80's to low 90's, so we made sure to get out and start our hikes early before the crowds came.

If you want to stay in a hotel close to the park, we highly recommend spending the night in Springdale. It was a cute tourist town located right outside the entrance of the park and had a ton of great restaurants, cute souvenir shops, and a good variety of hotels. We stayed at the Holiday Inn Express and it was probably the nicest one we have ever been too. And not to mention the views were amazing!
The Basics
Where we stayed: Holiday Inn Express
Cost of Park: Day visit $35 per vehicle or unlimited entrance with an Annual National Park Pass ($80)
Tips: Get your hikes in early in the morning and make sure to visit the information desk before you head out.
Day 3-4: Bryce Canyon National Park
Bryce, Utah
Between the two parks we visited, Bryce Canyon had our favorite hike. When we arrived in Bryce, Utah, it was considerably cooler in temperature compared to Zion National Park. We wore light jackets in the morning and evening.

Once again, make sure to stop by the visitor center first thing to get a map of the park and to learn the best hiking options with kids. This park was different to Zion National Park in that a lot of the viewpoints you could drive to, hop out of the car, and take a picture. But the rock formations (known as Hoodoos) in this park were stunning!
They recommend either getting up at sunrise or being there before sunset to see the stunning colors of the canyon. We arrived at sunrise and it was an amazing sight to behold. After sunrise, we headed to our hike on the Navajo Loop down to the Queen's Gardens. This is the most popular hike and you will quickly see why once you head down into the canyon. If you don't want to make the full loop, just end your hike at the Queen's Gardens and head on back the way you came. But be prepared for a steep hike back up!

Note: There were plenty of families with children making this hike.
Make sure to take lots of pictures during your hike! The views are stunning and make for some great photo opportunities!
The Basics
Where we stayed: Bryce Inn These were cute little cabins that were as nice as a hotel room. It was also located by a really good pizza place. There are not a lot of options to stay near the park, so make sure to book in advance!
Costs of Park: 7 Day Admission $30 per vehicle or unlimited entrance with a National Park Pass ($80).

Hike: Navajo Loop to the Queen's Gardens
About the Author: Lauren and James (aka The Passport Parents) love to travel. Their new adventure is their son Jaxon, who they are traveling the world with one country at the time. Keep up with The Passport Parents on Instagram and Facebook.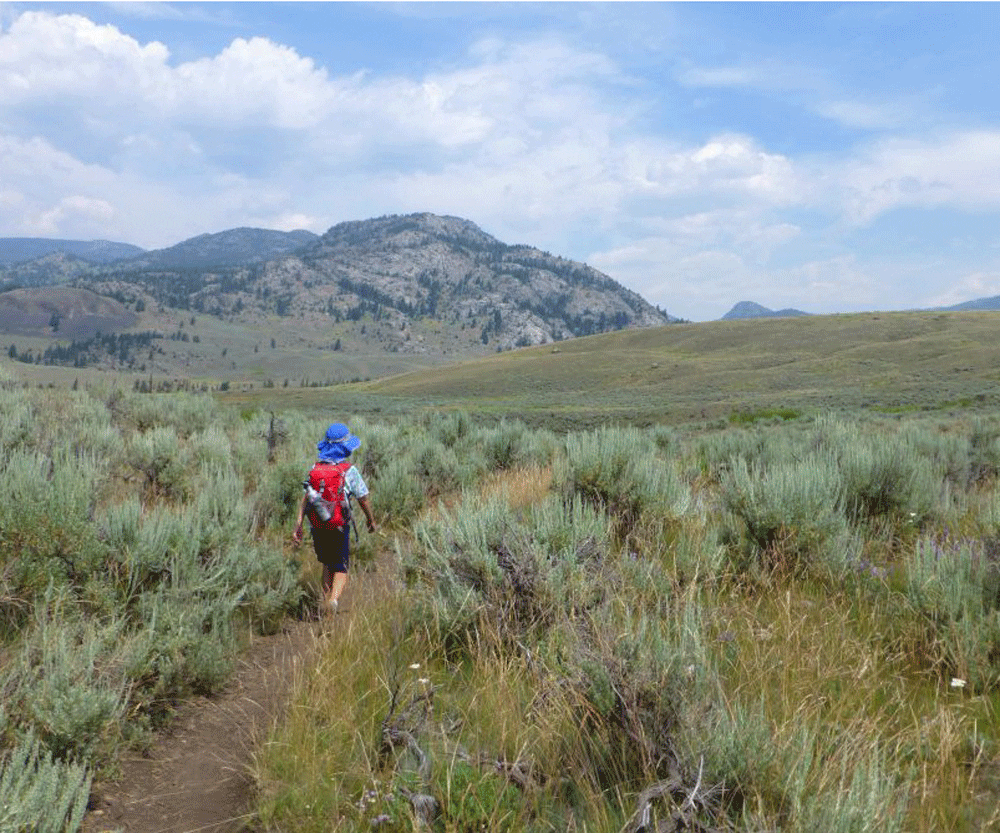 Everyone knows that Yellowstone National Park makes for a classic family vacation. Strolling the boardwalks...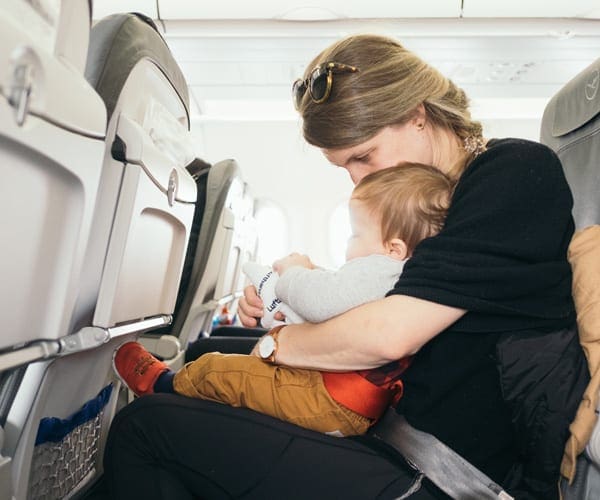 Families Who Love To Travel contributor Meghan Oaks provides her 10 best tips for your...