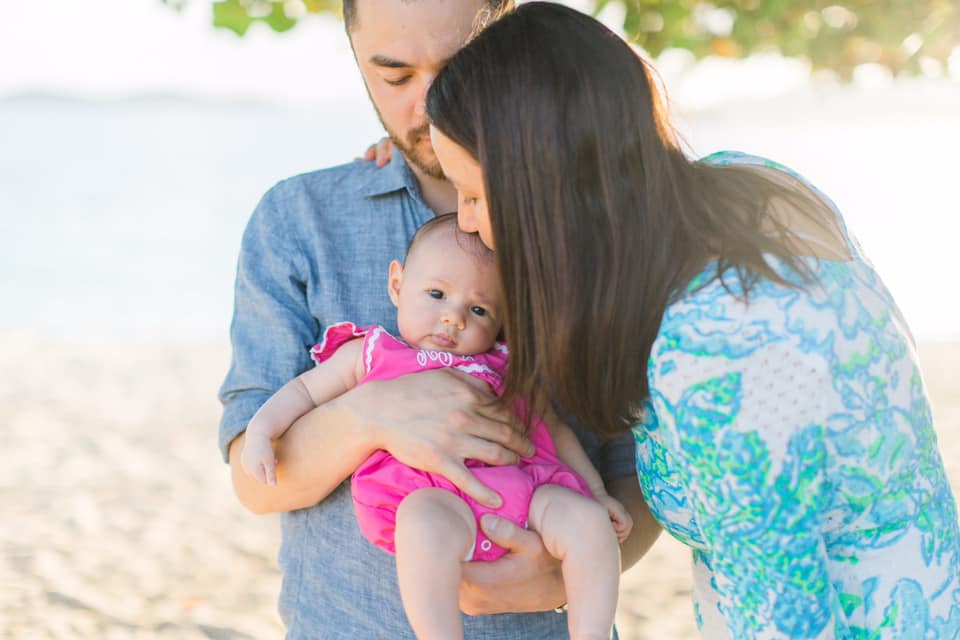 Many factors come to mind when choosing the perfect Caribbean island for a family vacation. Families often consider details like proximity to the airport, type of vacation (relaxing, adventurous, all-inclusive), hotel amenities, and more. Additionally, some families prefer pristine turquoise beaches, while others like to venture out and explore the island. Using suggestions and insights from our Facebook group, we've compiled the 12 Best Islands to Visit in the Caribbean for Families! Parents adore this cluster of countries located along the Caribbean Sea. They are brimming with fascinating cultures, beautiful beaches, and countless kid-friendly activities. Each offers a unique adventure, however, which is why deciding what's best for your family is so important!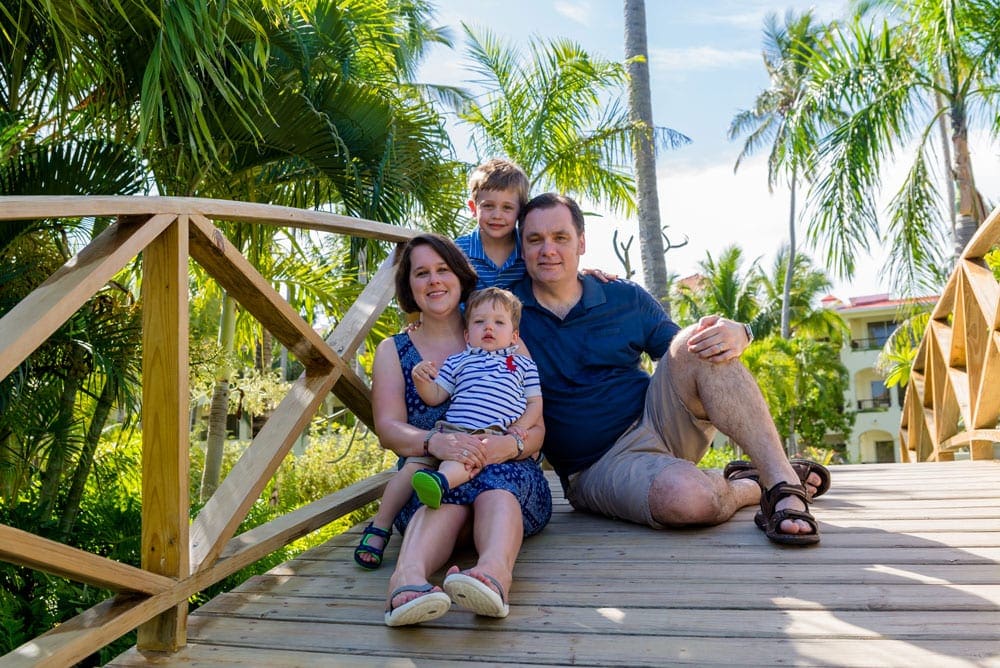 Families with babies or toddlers often prefer to stay at all-inclusive hotels in the Dominican Republic or Jamaica. Here, you can spend your time on-site with everything you need nearby. Traveling with teens or more adventurous trekkers? You may appreciate a more laid-back, less-commercialized island where you can venture out, like St. Lucia or Antigua. All of these Caribbean islands for families provide a gorgeous getaway any time of year. However, many travelers choose to escape the cold here from December to April. Finally, no matter which island you choose, you will soak up the sun and take home plenty of memories from one of the best Caribbean islands for families!
RELATED: Best All-Inclusive Resorts In The Caribbean For Families By Country
Aruba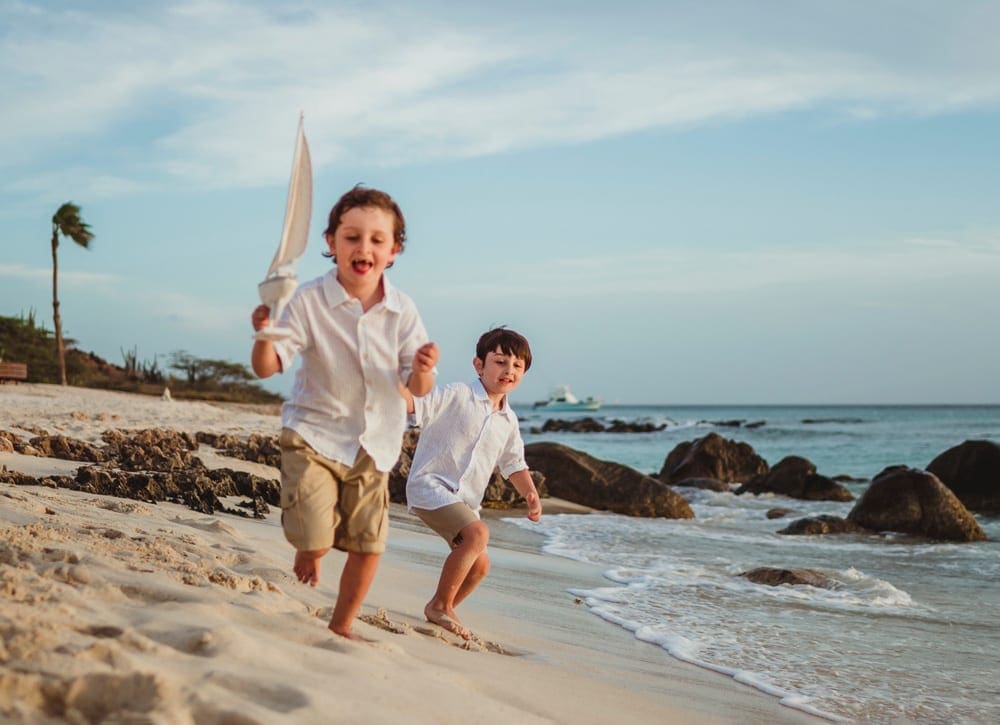 Beautiful beaches and many kid-friendly activities await you in Aruba. Lovingly called One Happy Island, this palm-tree paradise can be a bit expensive and touristy at times. However, the perks of clear shallow waters, long stretches of pristine beaches, guaranteed good weather, and friendly locals make up for it! Aruba also features numerous all-inclusive resorts to ensure each member of your family is spoiled. Then, hit up Baby Beach if you're staying in San Nicholas, known for its spectacularly soft sand. Eagle Beach is also outstanding! Afterward, check out De Palm Island for its waterslides, banana boat rides, and snorkeling excursions. Finally, animal lovers can't miss attractions like the Butterfly Farm, home to hundreds of crystallizing insects! Next, read the full list of 12 Things To Do In Aruba With Kids.
Where to Stay in Aruba with Kids
If you've decided on Aruba with kids, here are a few resorts to consider. Barceló Aruba is within minutes of Aruba's only golf course and includes a kids' club. Or, try Marriott's Aruba Surf Club whose Matey's Hall Kid's Club organizes games, crafts, and more for little travelers (ages 4 and 12). Then, the Renaissance Aruba Resort & Casino includes access to their nearby private island. On the island, they even reserve a patch of shoreline exclusively for families. Read our full list of the 7 Best Family Resorts In Aruba (Includes All-Inclusive) for more recommendations!
Find Top 50 Aruba oceanfront, beachfront vacation rentals on Vrbo.com.
What Our Families Say
"Hands down, Aruba! People are so friendly, it's safe, and the beaches are beautiful with blue waters. It's my all-time favorite!"

– Lisa Rihn-Whale
Turks & Caicos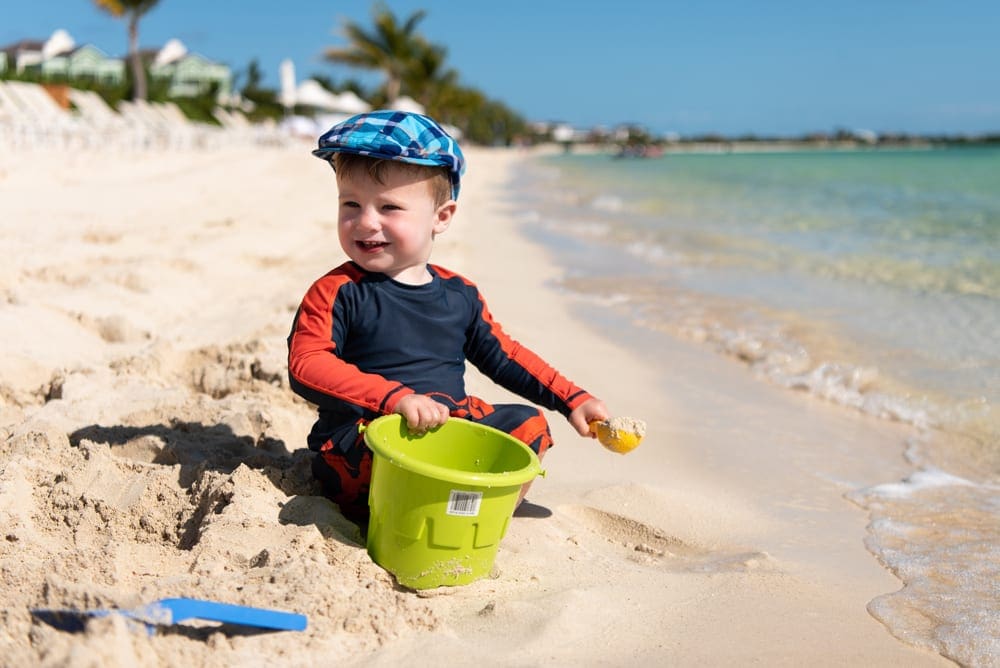 Home to pristine white-sand beaches and numerous luxury, all-inclusive resorts, Turks & Caicos offers a dreamy paradise. In fact, some of the world's best snorkeling and scuba diving makes Turks & Caicos ideal for adventure seekers! From kitesurfing lessons to relaxing poolside, there are ample things to do in Turks & Caicos. With littles, you'll likely spend most of your time simply lounging on beautiful beaches, like Grace Bay Beach or Sapodilla Bay. Turks & Caicos is also a haven for natural beauty. Additionally, kids will love the Flamingo Pond Overlook, where they can experience the charm and grace of West Indian flamingos. Finally, spend a day wandering Little Water Cay with endangered rock iguanas in their natural habitat! Read next, Fun Things To Do In Turks & Caicos With Kids.
Book a 4-hour Group Catamaran Sail and Snorkel Tour from Grace Bay from Viator today!
Where to Stay in Turks & Caicos with Kids
Located in Grace Bay, Beaches Turks & Caicos offers everything your family will need. This includes a kids' club, access to water activities, babysitting services, and more! Located on its own private archipelago, COMO Parrot Cay is another family-friendly option. Find all of our recommendations by reading our list including the 7 Best Family Resorts In Turks & Caicos.
Find Turks Islands Vacation rentals & more on Vrbo.
What Our Families Say
"Turks and Caicos has clear blue water, waves aren't too strong for little ones, and you can already see beautiful fish in shallow water. We stayed at Beaches and it was heavenly."

– Cindy Millan Plante
Cayman Islands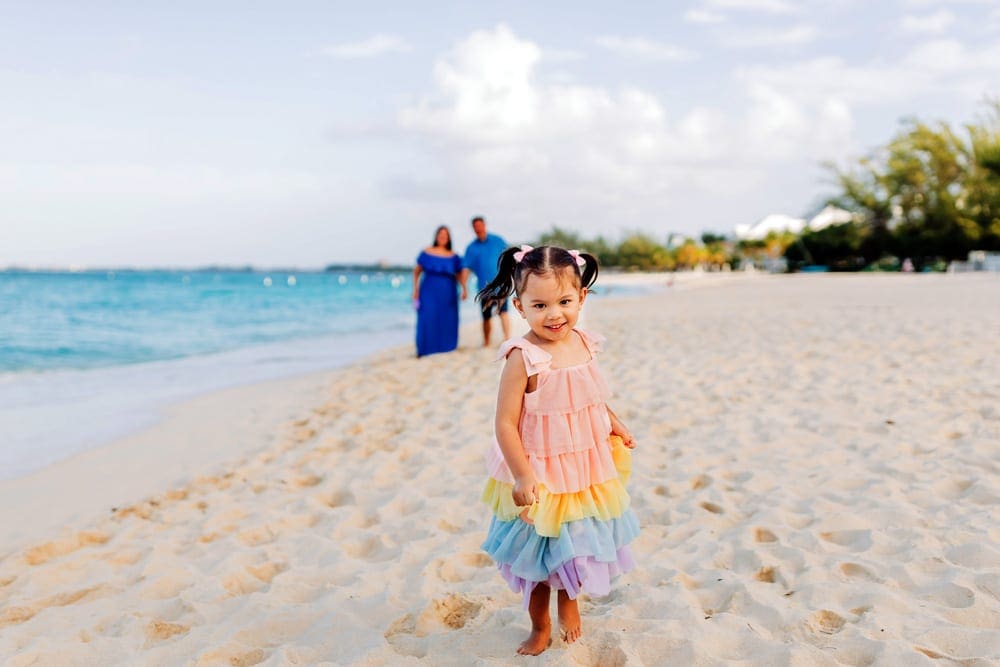 Flaunting exquisite blue skies, shimmering turquoise waters, and modern infrastructure, the Cayman Islands provide a safe, family-friendly destination. Grand Cayman is the most popular of the three islands. Cherish postcard-perfect views no matter where you make your home base in the Cayman Islands. After settling in, interact with live rays at Stingray City, one of the best things to do in the Cayman Islands with kids! Afterward, take an Atlantis Submarine Ride to explore marine life up-close or visit the Cayman Turtle Center. Macabuca Restaurant is also scrumptious for lunch! Animal enthusiasts will delight in spotting giant sea turtles at Boatswain's Beach. Lastly, take a day trip to Little Cayman for a snorkeling adventure! Stick around for Pirates' Week in November to experience parades, fireworks, and other fun activities! Check our list of The Best Things To Do In Grand Cayman With Kids.
Reserve your Stingray City Experience Plus Two Snorkeling Stops with Tripadvisor today!
Where to Stay in the Cayman Islands with Kids
Are you ready to hit the beach in the Cayman Islands with kids? Consider staying at The Ritz Carlton Grand Cayman where kids can go star-gazing and snorkeling, in addition to endless hours splashing in the outdoor pools. Then, Regal Beach Club is another family-friendly resort in Grand Cayman situated along Seven Mile Beach. Need more recommendations? Read our full list of the 6 Best Family Resorts In Grand Cayman.
What Our Families Say
"The Cayman Islands are family-friendly and there aren't too many tourists that are actually staying on the island."

– Hazel V. Adriano
U.S. Virgin Islands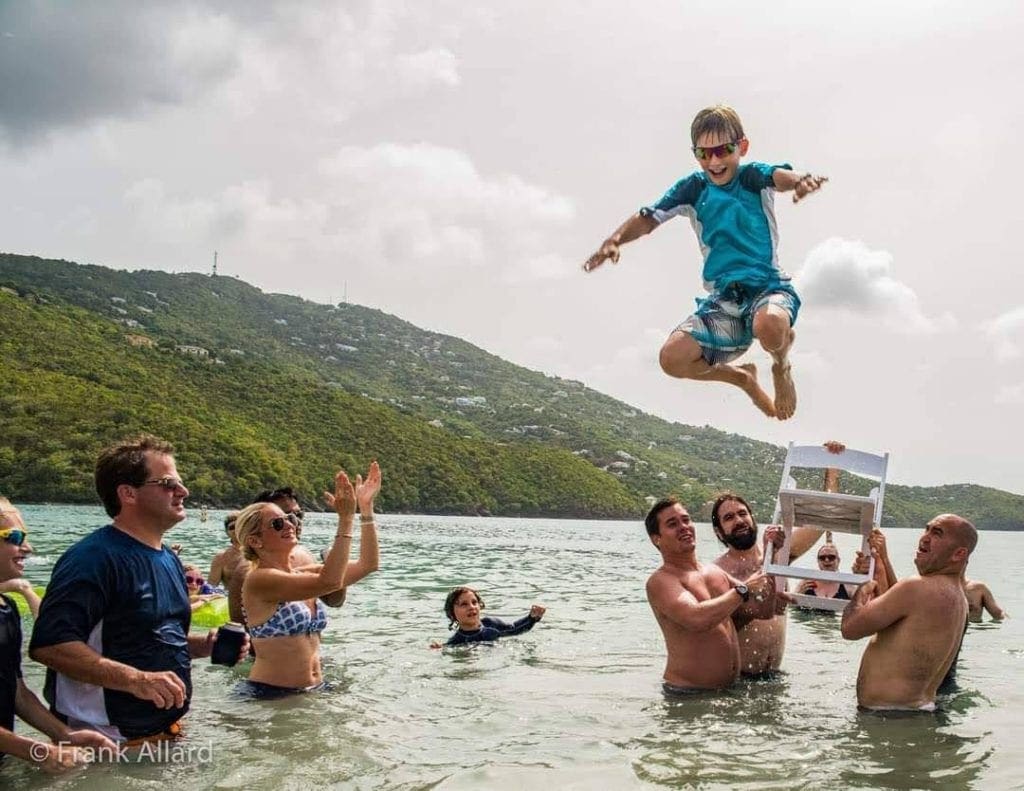 A ticket to paradise in the U.S. Virgin Islands doesn't require a passport for U.S. citizens! Boasting white-sand beaches, coral reefs, and rolling green hills, St. Thomas, St. John, and St. Croix form this family-friendly U.S territory. St. Thomas is particularly popular for families with active tweens or adventurous teens, showcasing snorkeling, delicious dining, and historical sites. Outdoor adventure beckons families to Magens Bay Beach, where you can kayak and paddleboard! Nearby, marvel at amazing views from the trailhead at Magens Bay. Or, gaze upon the massive cruise ships in the marina while wandering Main Street in Charlotte Amalie. Families can also take the ferry to St. Johns, a less commercialized island teeming with native wildlife. Virgin Islands National Park is the best place to experience this natural reserve. Finally, spend your day hiking, snorkeling underwater at Trunk Bay Beach, or turtle-spotting at Hawksnest Bay Beach!
Reserve your St John Island and Trunk Bay Beach Tour from St Thomas with Tripadvisor now!
Book your Snorkel St. John Tour from Sapphire & Margaritaville with Viator today!
Where to Stay in the USVI with Kids
If you're considering the US Virgin Islands with kids, there are a number of great options, including hotels and home rentals, like VBRO. In St. John, consider The Westin St. John Resort Villas. Offering standard rooms and villas, you'll also have access to a spa and a quarter-acre-sized pool in one of the best Caribbean islands for families! Then, those who want to make St. Thomas their home base should consider The Ritz-Carlton® – St. Thomas, which offers standard rooms and suites. Finally, families also adore Marriott's Frenchman's Cove, also located in St. Thomas. Offering two- and three-bedroom villas, families can spread out and enjoy their own separate living and dining areas, as well as a balcony or terrace.
RELATED ARTICLE: The Best US Virgin Islands Resorts For Families
What Our Families Say
"St. John is number one for me for the best beaches, not overly commercial, very safe feeling, and just gorgeous."

– Laura Tye
Puerto Rico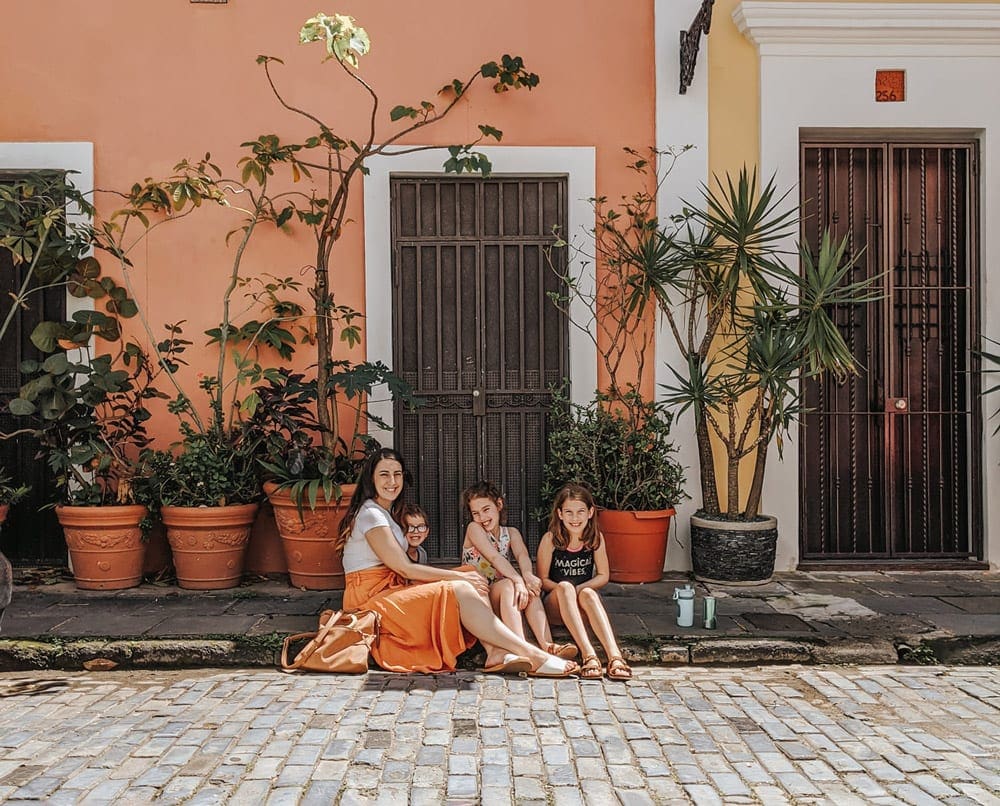 Puerto Rico with kids offers a stunning tropical backdrop, with added American conveniences (think Costco). Things to do in Puerto Rico include everything from lounging on gorgeous beaches to experiencing local culture and history. In Puerto Rico, spend your days sunbathing at Balneario El Escambron. This family-friendly beach boasts secluded coves, adventurous water sports, and shallow waves. Afterward, wander cobblestone streets in search of tasty morsels, while appreciating the iconic Castillo de San Cristobal.
Puerto Rico is also on our list of the 10 Warm U.S. Spring Break Destinations For Families – check out who else made the list!
RELATED ARTICLE: Best Things To Do In Puerto Rico With Kids
Where to Stay in Puerto Rico with Kids
San Juan hosts multiple family-friendly hotels near Old Town San Juan Marriott Resort, for example, is perfect for families who desire a beach vacation combined with a city feel. Or, book your stay at El Conquistador Resort, one of the best family resorts in Puerto Rico. Here, little ones can take advantage of the resort's on-site water park! Looking for a rural getaway? Consider a hotel near El Yunque National Rainforest, a must-visit for nature enthusiasts. Then, families adore Dorado Beach, a Ritz-Carlton Reserve, offering suites and residences ideal for large families or extended stays. Finally, The St. Regis Bahia Beach Resort, Puerto Rico is nestled between the El Yunque National Forest and Espíritu Santo River State Preserve, making it easy to get to both!
Read: The Best Family Resorts in Puerto Rico (Including All-Inclusive Options)
Reserve your El Yunque Rainforest Guided Hiking with Waterfall Tour today at Viator!
Book your El Yunque Rainforest Off the Beaten Path and Bio Bay Kayaking Combo Tour with Tripadvisor now!
What Our Families Say
"Puerto Rico has it all within easy reach in just one island. Beautiful beaches, delicious food, rich culture, and so much fun!

– Alexandra Michelle
Grenada
Grenada guarantees a gorgeous getaway for all ages! Home to colorful architecture, rolling hills, and delicious cuisine, this kid-friendly destination is another one of the best Caribbean islands for families! Parents who prefer a low-key, less crowded experience will certainly appreciate the laidback ambiance here, especially at kid-friendly hotels adjacent to St. George's, the island's capital city. Settle in on the shores of Grand Anse Beach for calm waves and access to scuba diving, parasailing, and windsurfing! Annandale Falls, a cascading waterfall framed by flora, is another must-visit for nature lovers, offering intermediate trails with amazing views. Lastly, save time for a hike in nearby Grand Etang National Park to overlook Grenada's very own rainforest!
Book your Grenada Island Tour using Tripadvisor today!
Where to Stay in Grenada with Kids
Firstly, Blue Horizons Garden Resort is a favorite among families who prefer eco-conscious, apartment-style accommodations. Then, Mount Cinnamon Resort & Beach Club is a great option too, boasting a kids club and babysitting services.
What Our Families Say
"Grenada is laid back and beautiful."

– Michelle Ristuccia
Dominican Republic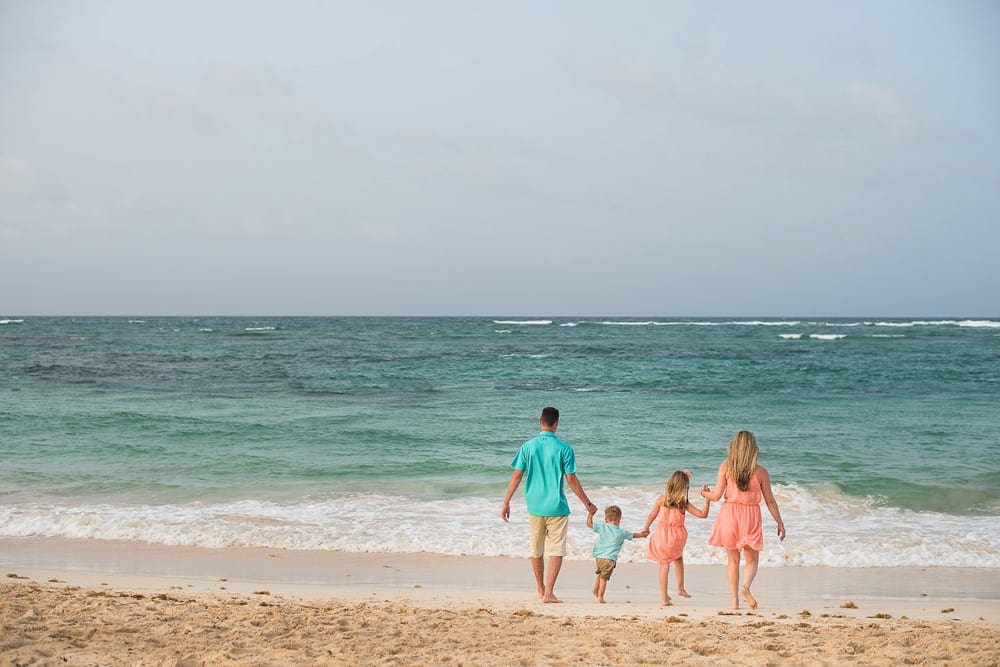 Known for stunning beaches, kid-friendly activities, and all-inclusive resorts, the Dominican Republic is a diverse Caribbean island ideal for tiny globetrotters. In fact, if you're looking for a vacation where you never need to leave the resort, you'll find that here. Punta Cana and Bavaro Beach, also called the Coconut Coast, is a favorite among families. It is also famous for its strip of luxury accommodations. Outside the resort strip, you'll find inexpensive Airbnbs, making the Dominican Republic a cheap and reasonable island too. Then, discover numerous activities for families across the island. Families can enjoy windsurfing and kayaking, along shimmering shores shaded by palm trees. You may also even catch acrobats taking center stage on the beach!
Note: It is generally recommended that families stay on-site at their resort due to ongoing safety issues with lesser developed areas.
Where to Stay in the Dominican Republic
When visiting the Dominican Republic with kids, create a home base at The Reserve At Paradisus Palma Real, Punta Cana. Here, enjoy the peaceful and picturesque Bávaro Beach with access to an on-site kids' club, game room, and more! Then, read more details about this resort and the remaining 10 Best Caribbean Family Resorts With Baby Clubs here!
What Our Families Say
"I'm from The Dominican Republic, so it's hard not to pick that one because I love it. The water/sand is just beautiful."

– Maringly Morrobel
Curaçao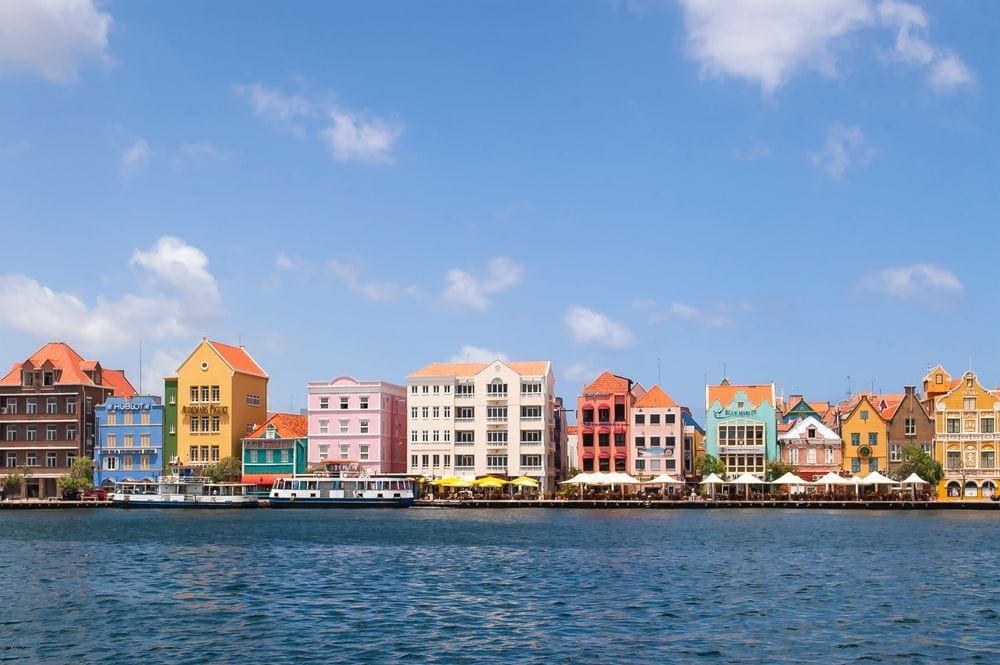 Book your Safari Tour to Curaçao's Ostrich Farm through Tripadvisor today!
Reserve your tour to Hato Caves through Viator now!
Choose Curaçao for your next family vacation in the Caribbean! Famous for its friendly locals, coral reefs teeming with marine life, and secluded beach alcoves, this Dutch territory boasts culture, great restaurants, and affordability. In particular, Willemstad, Curaçao's capital city, is lined with vibrant architecture, historical attractions, and kid-friendly all-inclusive hotels. A lot of Curaçao's kid-friendly attractions are spread out throughout the island, but don't let that discourage you from venturing out to natural wonders like Christoffel and Shete Boka National Park. Animal enthusiasts will also delight in visiting Curaçao's Ostrich Farm! Enjoy sun, sand, and waves at Kenapa Beach or explore underground mysteries while wandering the Hato Caves. Don't forget to walk over the illuminated Queen Emma Pontoon Bridge at nightfall!
RELATED ARTICLE: Best Things To Do In Curacao With Kids.
Where to Stay in Curaçao with Kids
Families love staying at Renaissance Curaçao Resort & Casino, where kids under twelve eat free. Additionally, consider Santa Barbara Beach & Golf Resort, where kids under eighteen stay-for-free! Finally, Baoase Luxury Resort offers standard rooms, suites, villas, and options on their private island!
What Our Families Say
"My family spends the summer in Curaçao and has had amazing experiences, especially the kids camp at the Sea Aquarium. Swimming with dolphins, feeding sharks, snorkeling, lobster class and so much more!"

– Christina Noordstar
St. Lucia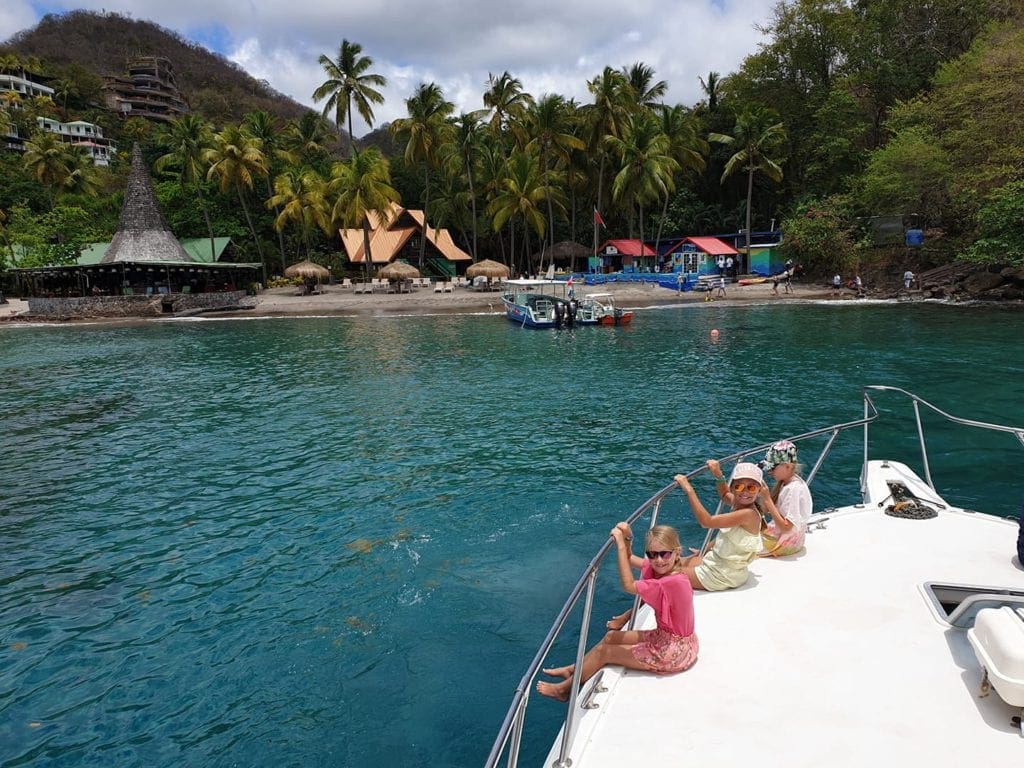 Reserve your Soufriere Full-Day Land and Sea Combo Tour here from Tripadvisor!
Looking to book your Hike to Gros Piton? Use Viator today!
St. Lucia is a lovely Caribbean island for families! Home to dark volcanic-sand beaches, quaint fishing villages, and kid-friendly resorts, St. Lucia also offers adventurous families a low-key, albeit spendy getaway. Due to its long flight path, St. Lucia may better suit older kids and teens. Daredevil families will also love the rugged terrain, as St. Lucia is more mountainous than other Caribbean islands. Explore acres of lush rainforest and scores of waterfalls through guided tours. Then, explore by sea through a Pirate Cruise. The island's highest point, Mount Gimie best exemplifies the island's natural beauty. Additionally, two other mountains form St. Lucia's iconic Pitons, a UNESCO World Heritage site. Finally, treat kids to a drive through the island's volcano, Mount Soufriere. Kids will love how close you are to the eruption site!
RELATED ARTICLE: Here are our favorite Things To Do In St. Lucia With Kids
Where to Stay in St. Lucia with Kids
Consider booking your stay at Coconut Bay or Sugar Beach A Viceroy Resort to experience pure vacation bliss! Next, consider The Landings Resort & Spa, which offers villas with full kitchens, en-suite bedrooms, and more in a private, gated location. Finally, families will love the Mediterranean-style villas and standard rooms with stunning ocean views at Windjammer Landing Villa Beach Resort. Read our full list of the Best Resorts In St. Lucia For Families (All-Inclusives Included).
What Our Families Say
"I love St. Lucia! From the rainforest to the beach, there is a lot to love about this island. Additionally, the locals are super friendly and the food is amazing. Snorkeling in crystal blue waters and visiting the island's gorgeous waterfalls were definitely highlights of our time in St. Lucia! We also loved learning about the local culture and history through tours organized by our resort. It is truly one of the best Caribbean islands for families. We can't wait to go back."

– Antonia Grant
The Bahamas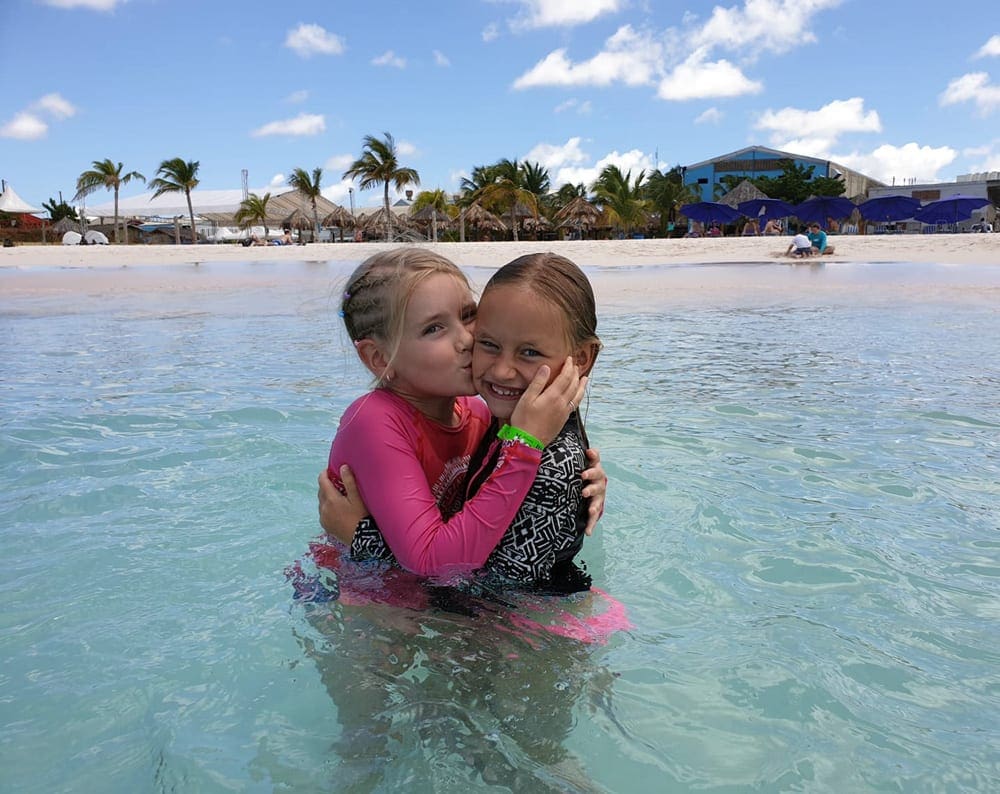 Book your tour to Pig Beach today with Tripadvisor!
The Bahamas ranks among the best Caribbean islands for families. Take a quick flight from the East Coast and you'll arrive in this scenic archipelago consisting of multiple islands. While The Bahamas can be one of the spendier islands, its unique attractions make it well worth the expense! Spend your afternoons relaxing on calm shores along Cabbage Beach or Goodman's Bay. Additionally, children can build sandcastle creations at the iconic Pink Sands Beach, accessible via ferry from Nassau to Harbour Island. Then, splurge on an excursion to Dolphin Cay and you can swim with friendly marine life! Meanwhile, a day trip to Pig Beach allows you to take a plunge with piglets! Lastly, visit the Pirates of Nassau Interactive Museum in George Town.
Where to Stay in the Bahamas with Kids
Kids will love staying at the ever-popular Atlantis Resort, featuring six distinct hotels. Then, The Reef offers a quieter setting with ample kid-friendly activities. Our families also love The Ocean Club, A Four Seasons Resort, Bahamas! No matter where you stay, the Bahamas with kids is sure to be paradise! Read our full list of the The 15 Best Hotels In The Bahamas For Families
GET 4th Night Free! Atlantis Bahamas.
What Our Families Say
"Though we've been to about 11 different islands, we really like The Bahamas."

– Juliet B Rady
Jamaica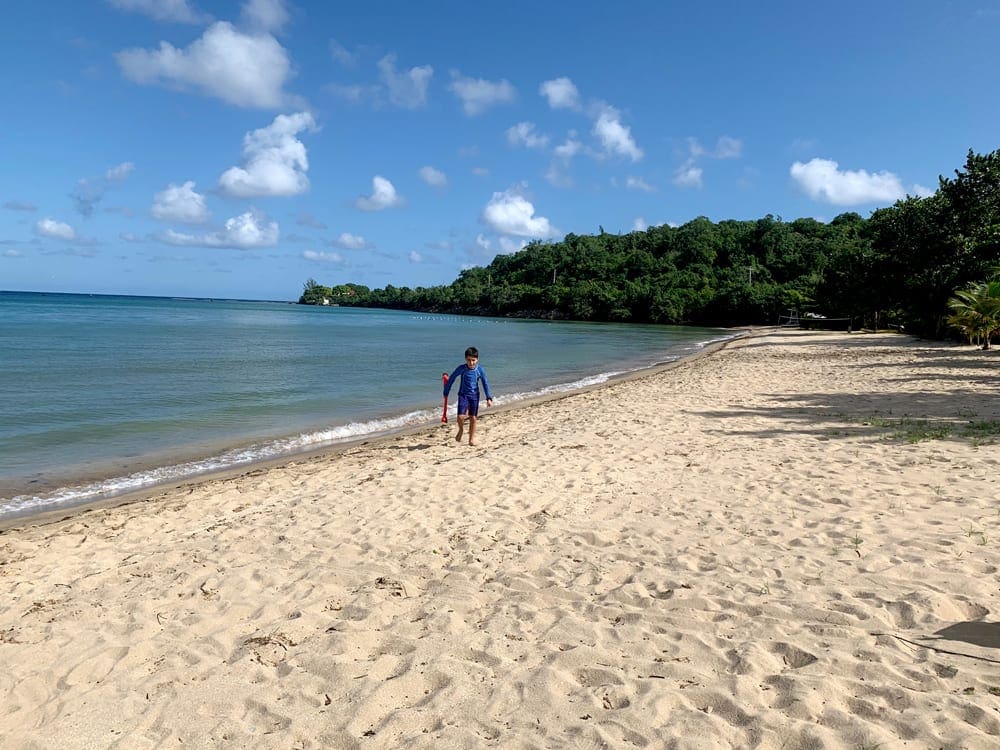 Book your Tour to Dunn's River Falls and Mystic Mountain on Tripadvisor!
Reserve a tour to Green Grotto Caves using Viator today!
Journey to Jamaica for everything from all-inclusive pampering to adventurous outdoor sports! Tourist hubs Montego Bay and Negril are popular destinations for families to visit on the island's west coast. Jamaica also features several families-friendly all-inclusive resorts ready to spoil your family. We especially recommend visiting Jamaica with babies or toddlers because hotels like Beaches Negril and The Holiday Inn Montego Bay have everything you'll need on-site. Take advantage of the designated baby or kids clubs, scenic views, and dining all in one place! Older kids or teens will appreciate Jamaica's reputation for adventure sports, whether it's paddleboarding, river rafting, or zip-lining. Dunn's River Falls is another must-visit for Jamaica with kids. This famous, 180-foot waterfall near Ochos Rios welcomes thousands of tourists to climb it each year! Finally, head to the north shore and tour the Green Grotto Caves in Runaway Bay for a tropical treat.
Where to Stay in Jamaica with Kids
As one of the best Caribbean Islands with kids, you know you'll find amazing places to stay too! Our families love Beaches Negril, Jamaica located along Seven Mile Beach. Then, consider Holiday Inn Montego Bay, Jamaica where the Granny Nanny Program welcomes infants 6 months of age to 3 years, and children ages 4-12 can enjoy the Sunspree Vacation Club. Find all the details and more of the 10 Best Caribbean Family Resorts With Baby Clubs here.
What Our Families Say
"I've been all over the Caribbean and for our active family, we really enjoy Jamaica. We've had the best experiences there and met some fantastic people."

– Jennifer Christman Pace
Antigua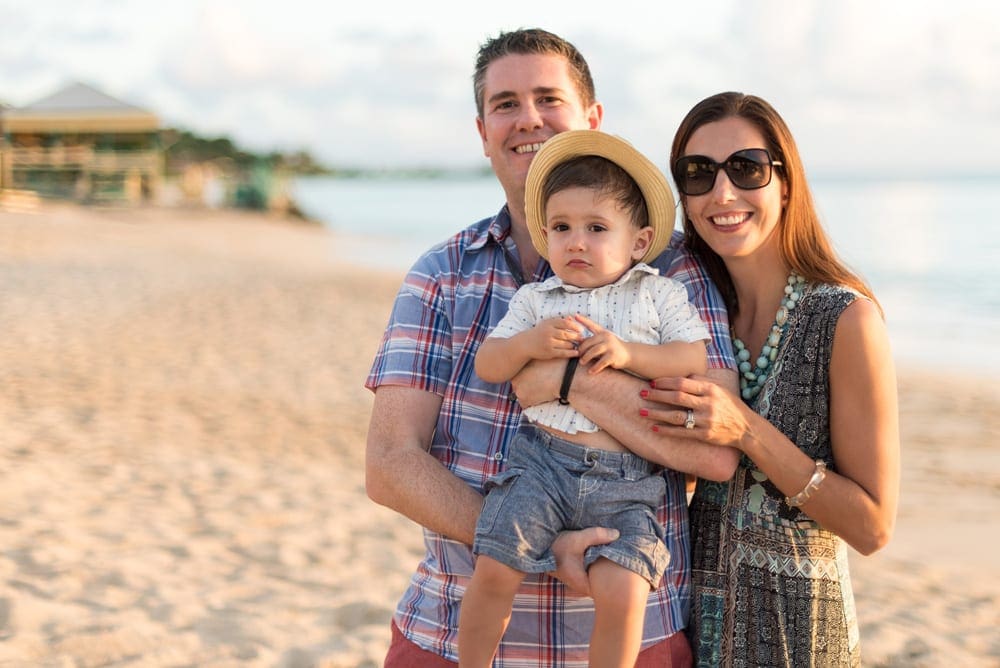 For the ultimate experience, book Adventure Antigua – The Extreme Circumnavigation on Tripadvisor today!
Plan an amazing family adventure to Antigua! From St. Johns to English Harbour, this Caribbean island houses all-inclusive resorts, sandy beaches, and rich local history. In Antigua, expect equal amounts of education and excitement. Between a Rainforest Zip Line Tour or a tour of Betty's Hope, a restored sugar plantation with an iconic windmill, families will delight in exploring Antigua. Animal lovers will also fancy a Safari Tour to spot local wildlife. In English Harbour, Nelson's Dockyard is now a UNESCO World Heritage Site, featuring a superb children's museum! Then, visit the famous military fortifications at Shirley Heights for incredible views. In fact, Shirley Heights Restaurant and Bar even hosts a family-friendly barbecue each Thursday. Consequently, this underrated Caribbean island will quickly become a family favorite!
RELATED ARTICLE: 8 Things To Do In Antigua and Barbuda With Kids
Where to Stay in Antigua with Kids
As one of the best Caribbean Islands for families, Antigua offers several kid-friendly places to stay! Firstly, Jumby Bay Island Resort is situated on its own private island where families can splash all day together, or have kids participate in the activities offered by the Jumby Explorers program. Then, consider Curtain Bluff, which offers the Cee Bee Kids Camp for children between ages 3 and 10. St. James's Club & Villas, Antigua – All-Inclusive offers a great option with kids in tow too. Next, read the full list of the 7 Best Family Resorts In Antigua for more recommendations!
What Our Families Say
"For a bit of culture and beauty, we loved Antigua. We stayed at Carlisle Bay but also explored the island: Shirley Heights, Nelson's Dockyard, English Harbor, and Stingray City."

– Kelli Levesque Wein
Thank You To Our Community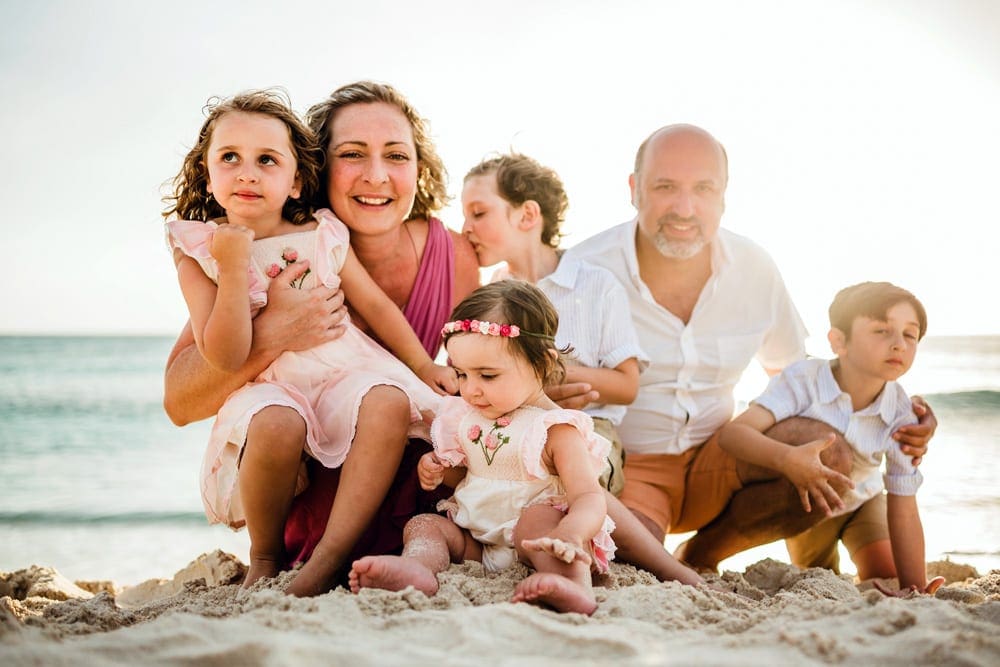 Finally, this article on the 12 Best Islands to Visit in the Caribbean for Families would not have been as helpful, informed, or family-friendly without the contributions and input from the amazing members of our Facebook group, Families Who Love To Travel! Furthermore, travel recommendations on the best Caribbean islands for families or other vacations with kids can also be found by joining us on Facebook at Families Who Love To Travel. It's a community of dynamic families who also love to adventure and explore through travel. Then, follow us on Instagram (@families.love.travel) to connect with other families who love the unique experiences travel has to offer – and to get sneak peeks of upcoming articles!
*This post featuring the best Caribbean Islands for families may contain affiliate links that may earn us a small commission, at no additional cost to you. Affiliate links in no way inform the hotels, sights, products, or other recommendations included in our articles. All opinions and recommendations expressed here are compiled from submissions submitted by the generous members of our Families Who Love To Travel community.
Read Next: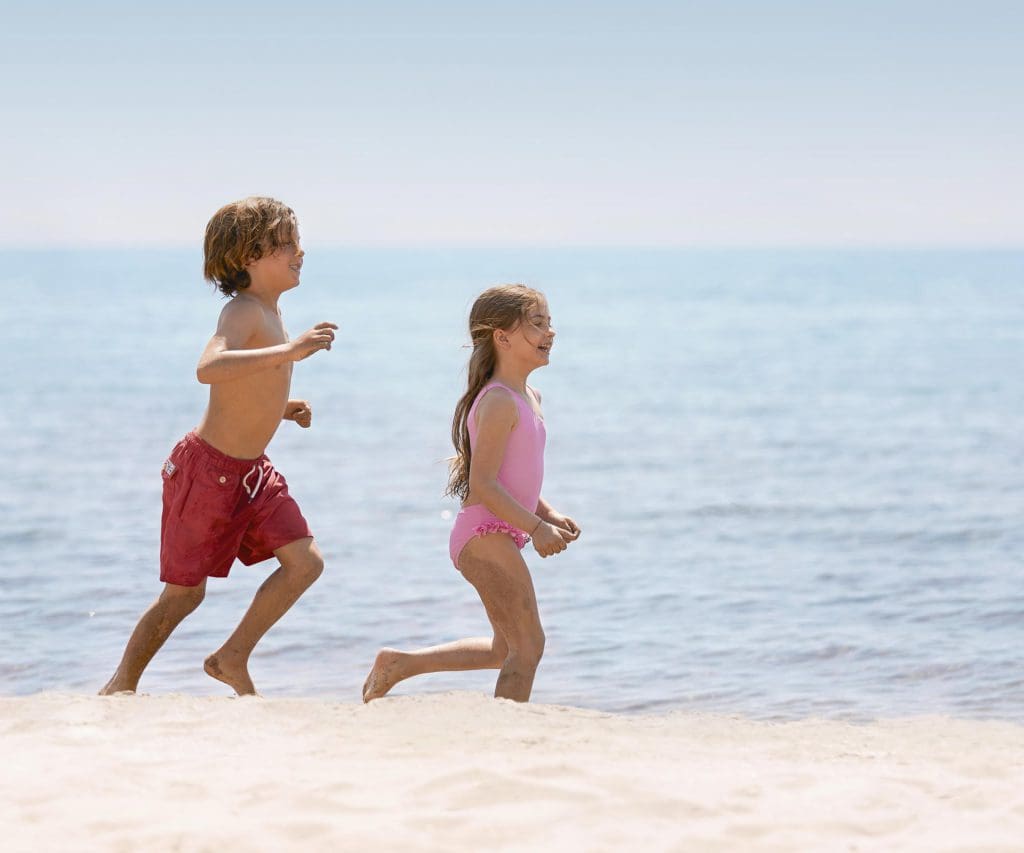 ​​From the sun-kissed beaches of Crete to the rugged terrain of Rhodes, these all-inclusive hotels...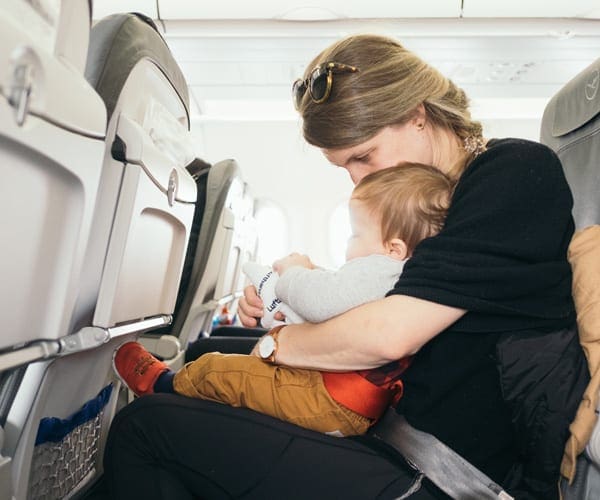 Families Who Love To Travel contributor Meghan Oaks provides her 10 best tips for your...