Plan a few fall family trips with your kids to take advantage of an amazing autumn together! Parents with little children are surprised to discover the sheer amount of autumn activities to do as a family from coast to coast. Plus, it's possible some of the best places to see the fall foliage with kids are located near you! Marvel at mesmerizing fall foliage in Colorado, for example, where active families can hike, drive, or take a railroad loop to get the full experience. Kids of all ages will delight in age-appropriate activities available during these fall family trips too. There's honestly no better way to enjoy the crisp autumn air during fall on the West Coast. Take a photo of the red rock landscape covered in a flurry of fantastic foliage!
East Coast families can take an autumn adventure to New England with kids. Be wowed by a myriad of wonderful fall colors! No matter if you visit Vermont, Massachusetts, Maine, or New Hampshire, you'll return with a camera full of photos and unforgettable memories. Families near NYC will also find a variety of destinations to see the fall foliage near NYC, whether locally in Staten Island or upstate in the Hudson Valley. Plus, there are so many ways to see the fall foliage in style. Take a car, train, or boat cruise and enjoy the ride! From vintage railway cars to stunning overpasses, you're sure to discover a route your children adore. Kids can also appreciate a more active approach and pick-their-own apples at these best apple-picking orchard near NYC! Tiny travelers will treasure a trip to pumpkin patches near you. What a spooktacular treat as Halloween approaches!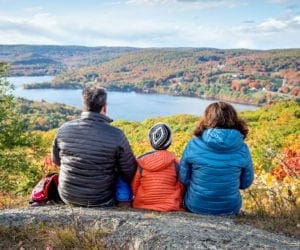 Fall is the perfect time for an inspired drive, train, or boat cruise with your family! If you live in the Northeast or are planning a family vacation there, be sure to put these family-friendly experiences on your fall visit bucket list. We have a number of great recommendations kids will love!
Read More