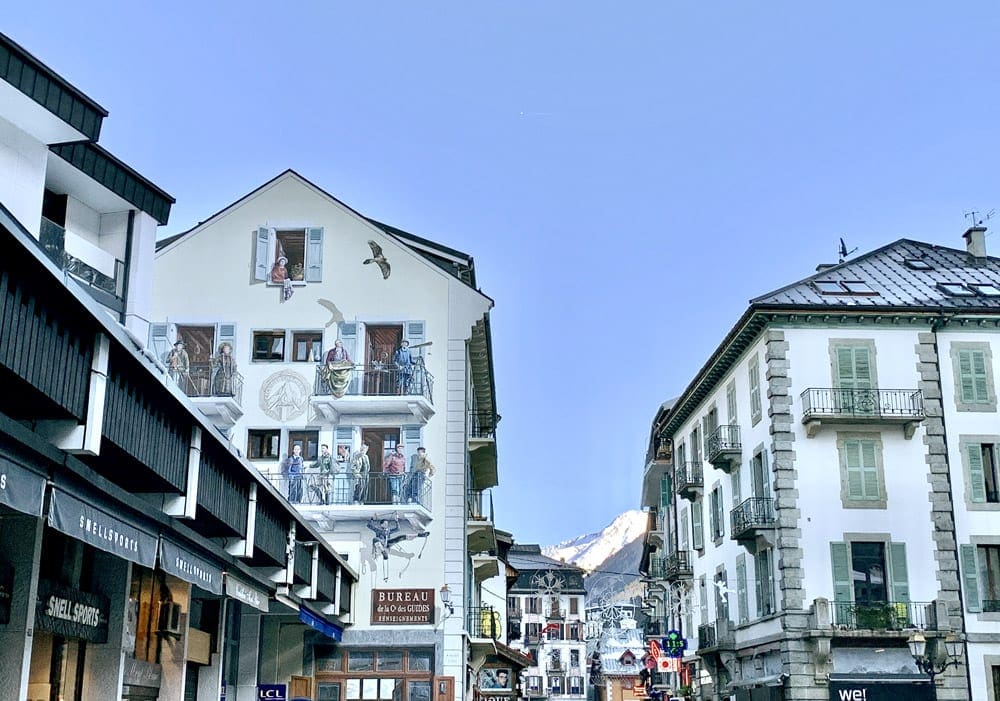 Chamonix is a fantastic winter wonderland with kids! Known for its skiing and mountain sports, the area encompasses five different resorts in a picturesque European city center, providing a plethora of options for those looking for a cold-weather escape. From dog sledding with adorable Siberian huskies to day trips to Italy and amazing views overlooking Mont Blanc, there's no shortage of activities for kids of all ages in this picturesque French village. Even exploring the adorable cobblestone streets is an activity within itself! Still, visiting Chamonix with your family is always easier when you have a few destinations in mind. That's why we've compiled some of the Best Winter Things to Do in Chamonix With Kids to give you easy access when planning your next trip. Keep reading to get inspired for your future family vacations!
Explore the Town of Chamonix
The bustling, main resort town in the Chamonix Valley, the town of Chamonix offers a plethora of experiences for family travelers. Chamonix is a lively market town. Kids will love exploring its friendly streets and unique shops. It's also known for being both a world-class ski resort, as well as a fantastic summer destination for hiking and rock climbing. In fact, the 1924 Olympics were held here! Additionally, Chamonix has a vibrant and walkable main town.
Plus, Chamonix has a great selection of restaurants. Even the pickiest of eaters can find something to love here! The town comes alive in the winter months, but families should consider Chamonix all year round. This charming village won't disappoint! Then, the surrounding Mont-Blanc Valley also offers a mix of traditional and modern amenities and is worth exploring as a family.
Also, check out: The Best Family Guide To Skiing In Zermatt This Winter
Marvel at the Best Views in Chamonix
Chamonix is famous for its enchanting vistas over Mont Blanc! Though there are countless places to witness these breathtaking panoramas in Chamonix in the winter, these are some family favorites.
Aiguille du Midi
Take in fantastic views of the French, Italian, and Swiss Alps from Aiguille du Midi! Certainly one of the best winter things to do in Chamonix with kids, families can take an iconic cable car to this mountain peak's top. This is one of the fastest ways to experience Chamonix's most dramatic vistas. The rocky ride isn't for the faint of heart, however! Families traveling with young kids should be aware of possible altitude sickness, as this excursion isn't recommended for those under the age of five.
Once you reach the top, the resort staff can take your photos within the glass skywalk called "Step Into the Void," an adrenaline-pumping observation deck suspended in air! From there, kids can also explore the Museum of Alpinisme, the highest museum in the world.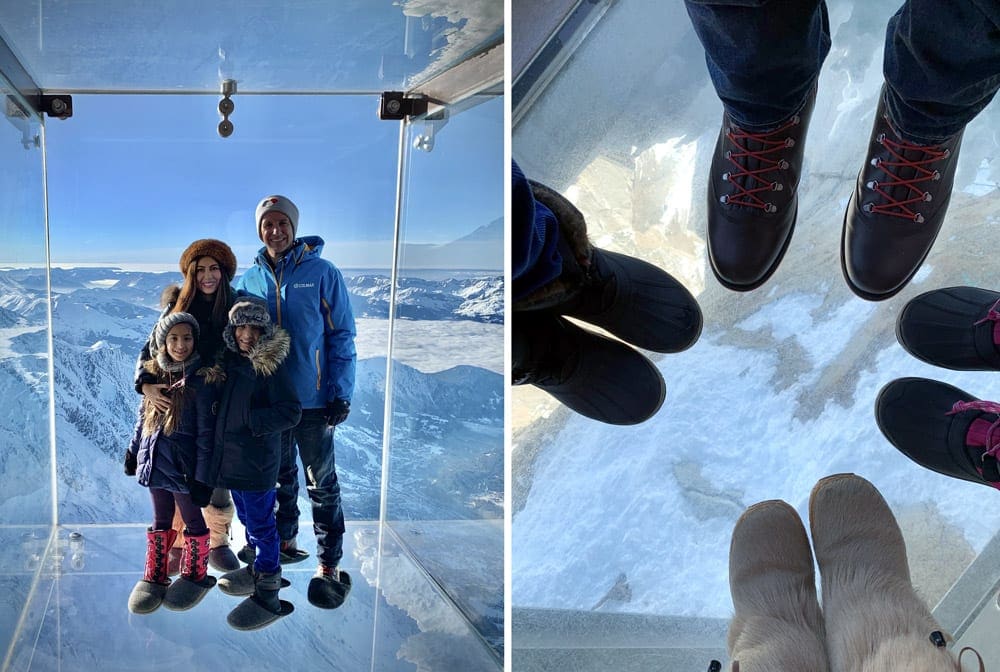 There are also a few restaurants and cafes on the top, though we recommend making a reservation if you want to be guaranteed a table. Just remember to dress in warm layers, because the higher up you travel in Chamonix in the winter, the colder it becomes! Admission to the Aiguille du Midi gondola can be included with an unlimited Mont Blanc skiing pass.
Mer de Glace Train
Loop around Chamonix's famous glacier on the Montenvers train! Arguably the most famous attraction in town, this brilliant red railway transports families to the incredible Montenvers Station. Departing from Chamonix center, behind the main SNF train station, the ride only takes about twenty minutes. Plus, it offers stunning panoramas in the process! Marvel at remarkable views overlooking Mer de Glace. This is definitely one of the most popular attractions for families in Chamonix, and it's for a good reason too. Though the ride itself is picturesque, families will be even more amazed once they reach the top of this stunning glacier!
Pro Tip: Entry to Aiguille du Midi & Montenvers Train is included in Mont Blanc Unlimited pass! If you want to experience both of these fantastic winter things to do in Chamonix with kids, we recommend getting the pass.
The Ice Grotto/Cave
From the Mer de Glace glacier, families can take another small cable car, then walk nearly 415 steps down to a series of ice caves located below the glacier. (Even though it's somewhat tiring, it's worth it in the end!) Since the glacier moves about 70m each year, the grotto has to be dug out every summer. Photographs definitely do not do this adventure justice, which is why we recommend you experience it for yourself. We promise kids of all ages will have a blast navigating this natural wonder! Ultimately, keep in mind that tackling the steps is a lot of walking, and can be challenging for some little ones.
Pro Tip: Once you're done exploring Ice Caves and the Mer De Glace area, it's likely you worked up an appetite. Luckily, the Montenvers Station has a cafe and restaurant where you can enjoy panoramas of nearby peaks. Even if you're not in the mood for a full meal, treat yourself to a sweet treat. Sip hot chocolate and overlook one of the most gorgeous panoramas in the entire world!
Embark on Mountain Adventures
Chamonix's high-adrenaline activities are best experienced as a family! Daredevil kids will love the mountain area's rugged terrain, which is perfect for sports like snowboarding, dog sledding, and skiing. Keep reading for more things to do in Chamonix with kids this winter!
Skiing
The Chamonix Valley is one of the best freeride ski destinations worldwide! From Les Houches to Vallorcine, the town has nearly ten altitude and ski areas showcasing beginner slopes. If your kids love to venture out, this is easy to do in Chamonix. Plus, families who like saving money will be pleased to know Chamonix-Mont Blanc is part of the Ikon Pass Program.
Wondering about the best places to ski in Chamonix with kids? Here are some of our top picks:
Teleski de Savoy is ideal for young children who are still learning, conveniently located at the foot of the Brevent Cable Car. Families vacationing here also enjoy Brévent-Flégère, a sun-soaked ski area featuring its very own Kid Zone.
La Poya is another great beginner option for little children. And, the pistes are easy on the wallet as well.
In Les Houches, discover fantastic skiing, as well as a kids' snow playground area called Ski Camp, where youngsters can snow tube, swing, and even zip wire!
La Vormaine is located at the bottom of Le Tour, and is another excellent option for families.
When there's snow, Chosalets, at the bottom of Grands Montets, is also a worthwhile option.
Don't forget to use our Ultimate Guide To Ski Gear For Kids to pack your bags!
Ski Schools
If you are looking for ski schools near Chamonix for kids, we recommend enrolling your children at ESF Chamonix for the week. With this ski school, they can sharpen their slope skills, in addition to interacting with skiers their own age. ESF Chamonix is one of the most prominent schools in the area, offering dynamic private and group lessons for kids as young as three years old. Ski and snowboarding lessons are available at both Le Savoy and Les Planards. The school is also famed for its Chamonix parade, which you definitely have to appreciate in person during your visit!
During the parade, ski instructors wear funky matching outfits and march through the streets singing and carrying torches that illuminate the striking Chamonix mountaintops. The experience is truly extraordinary! Not to mention, it is one of the best winter things to do in Chamonix with kids.
RELATED: Where To Ski In Europe With Kids: The Best Countries And Why
Dog Sledding/Husky Rides
Spend your day surrounded by cuddly canines by dog sledding! This fun-filled sport is becoming increasingly popular in ski areas like Chamonix, where families can race alongside adorable huskies.
Huskydalen is one of the few companies in the region that offers such a service, and they usually book up fast, so be sure to secure your spot in advance! Located in Le Golf, a short drive from Chamonix's city center, it involves learning how to dog mush and handle your own sleigh. It may not be great for young kids with no athletic ability. However, those who can hold their own will love whizzing through the snow with their cute companions! Seeing the Chamonix valley from a different perspective will be almost as unforgettable as spending a few hours alongside enthusiastic sled dogs!
Located a short drive away in Bonneville, Evasion Nordique is another place that offers family-friendly dog sledding.
Sledding/Tobogganing
Enjoy a day of sledding or tobogganing at free, family-friendly hills throughout Chamonix! Families can rent sleds from ski rental companies around the area, which include disc and traditional "paret sledging" or toboggans. Take your gear to the top of Parion in Les Houches and prepare for a wild ride! La Vormaine at Le Tour is another popular area for family sledding or tobogganing.
In the Le Savoy beginners area, you'll also find a mound of snow near the "magic carpet," best used for sledding during the mid-season. Alternatively, take the train from Chamonix to La Vallorcine and walk ten minutes behind the La Poya Tourist Office, where you'll also discover a "Piste-de-Luge" secured specifically for sledding! If you'd prefer to stay nearby in Chamonix, Bois du Buchet is only a few minutes from the town center. Near the Montenvers train station, Les Planards provides more sledding fun for everyone!
Ice Skating
Ice skating is one of the best winter things to do in Chamonix with kids. Don't miss the outdoor skating rink in Les Houches, situated in the heart of the village. Skate with your family while gazing out upon the mesmerizing Mont-Blanc! Opening times depend on the season, but the rink even hosts occasional events, like themed Friday nights. Admission to the Les Houches skating rink is also free for Mont-Blanc Unlimited and Via Cham cardholders. You'll also get discounts with your tourist guest card, which Chamonix All Year will give you on arrival. Children under six enter free, and you can rent skates if you don't have your own. Little ones learning to ice skate can even rent sliders to help them glide easier on the ice.
During other times of the year, families can also visit the indoor Olympic rink for family fun.
Snowshoeing 
Snowshoeing is a great way to get outside and enjoy the winter scenery in Chamonix! It's also a great workout for the whole family. Instead of simply skiing, families can choose between half-day or full-day outings with a mountain guide to explore the picturesque backcountry of Chamonix.
Though it's not completely necessary to hire a guide, we definitely recommend it due to safety issues and simply navigating the terrain. There are plenty of places to go snowshoeing in Chamonix, so either way, you'll be spoiled for choice. Some of the most popular snowshoeing trails run through Les Houches or the Vallorcine area. Just remember to dress in lots of warm layers and bring along some snacks to refuel!
READ NEXT: The Ultimate Ski Trip Packing List For Families This Winter
Paintball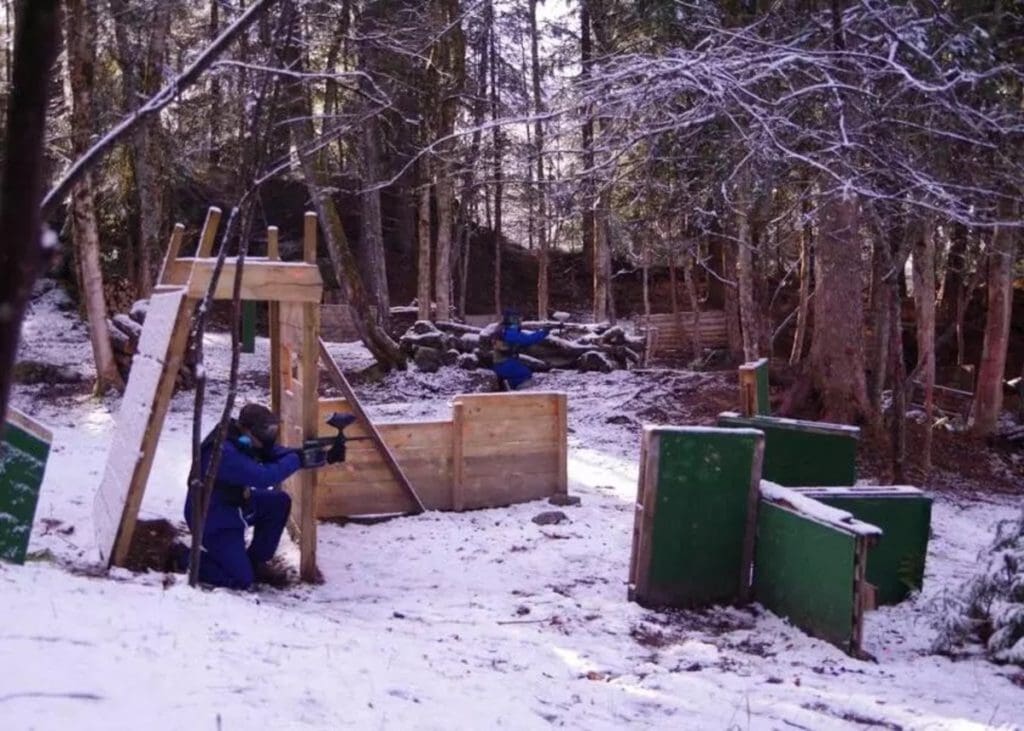 Paintballing is a great way to get outdoors and active in Chamonix, even in the cold weather. If you're looking for things to do in Chamonix with kids this winter, bundle up and head out to a paintball course for a day of fun and adventure! Paintball Mont-Blanc Chamonix, located just outside of the ski area, is one of the most popular and convenient options for families.
Plus, ​​paintball is perfect for kids of all ages – from younger ones who love to run around and shoot at targets to older ones who strategize and plan their moves. What a wonderful way to bond with your kids by engaging in a little healthy competition! Families can also teach kids about teamwork and cooperation while enjoying a fun day out in the snow and appreciating the gorgeous mountain scenery.
Prices vary depending on how long you want to play and how many people are playing, but it's generally very affordable.
Ice Climbing
There are few better places to enjoy the winter with kids than in Chamonix, France! And if you're looking for something to do with your kids that is both adventurous and exciting, then ice climbing is a great option. This exhilarating sport requires strength, agility, and endurance. And what better place to do it than in the stunning surroundings of the French Alps? Not only will your children love the challenge of scaling an icy wall, but they'll also get to enjoy some breathtaking views!
Ice climbing is best for older kids, preferably teens or tweens who are comfortable with heights. But even younger children can enjoy it if an adult supervises them. If you're new to the sport, there are plenty of instructors in Chamonix who can help you get started. Once you've got the basics down, you can start exploring all the different routes up the glaciers. A few companies we suggest include Chamonix Guides and Chamex.
Luge Alpine Coaster
Experience an exciting mountainside adventure on the Alpine Coaster! Located in Domain des Planards, a Chamonix recreational area, the coaster is known in French as the luge sur rails. Even better, it's right outside the beginner ski area, convenient for little ones who are still learning!
Kids could easily spend a whole day here if you let them. Though adults usually have a pretty great time, too! The coaster takes you downhill through the slopes and can fit two people per ride, making it easy to convert the experience into a friendly family race toward the finish line! The alpine coaster is open all year round, suitable for ages three and up. An adult must accompany those under eight during the ride. After you ride, you can also explore the nearby Domain des Planards area, which has a small playground and a number of other activities!
Helicopter Tour
If you're looking for an adrenaline-pumping activity to try with your family, soar over Mont Blanc for a breathtaking panoramic vista! This is an extremely popular option for tourists visiting the area. Companies such as Chamonix Mont Blanc Helico and Fly Mont Blanc offer families the ability to see Chamonix from a birds-eye view through a thrill-seeking helicopter ride, perfect for adventurous older kids!
Companies differ in their approach to the excursion, but prepare for it to last anywhere from one to two hours, including pick-up time. In the process, you'll glide over Mer de Glace, Bossons Glacier, and other points of interest throughout the mountain range. No matter how long you plan on visiting, don't miss this one-of-a-kind photo opportunity!
Best Day Trips From Chamonix for Families
Chamonix's location in the French alps also provides easy access to various ski towns around Italy and Switzerland. If you're visiting with kids, consider taking a day trip to these fantastic nearby cities! A day trip to a neighboring country is one of the best winter things to do in Chamonix with kids!
Courmayeur
Embark on a day trip to Courmayeur! Families should definitely take advantage of the French Alps' convenient location to visit this stylish Italian city, which is easily accessible by either bus or private car. In particular, we recommend Courmayeur for a family-friendly excursion, since the chic city is only twenty minutes from Chamonix!
Just on the other side of Mont Blanc, you'll easily be able to spot the difference in culture in this inviting, shopping-centric destination. Stroll through this picturesque Aosta Valley village to soak up some of the best boutiques and restaurants in the region. Or, take a nature walk through Val Ferris and Val Venny, two of the most popular valleys in town. No matter what you choose to do in Courmayeur, it's surely a nice change of pace. Don't forget to end your trip with some amazing Italian hot chocolate!
Megeve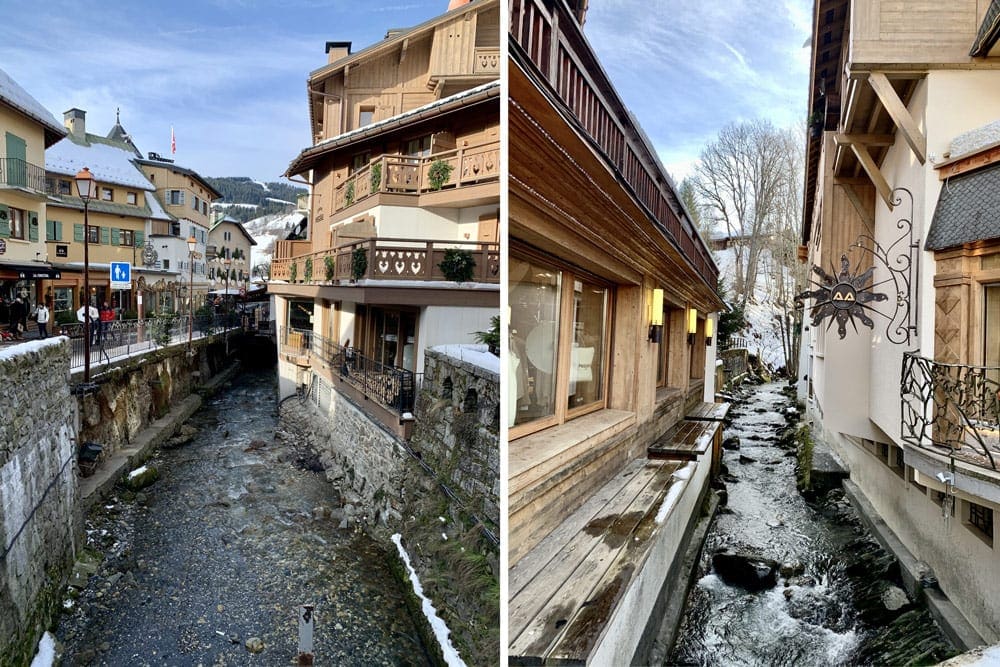 Megeve is another nearby ski town perfect for a day trip from Chamonix in the winter! In contrast to Courmayuer's tranquil, quaint ambiance, this French destination boasts a bustling downtown area with various cafes and shops to explore. It's still less than an hour away from Chamonix, though, so we recommend fitting both of the day trips into your itinerary if you have a chance!
Try your hand at a new set of ski slopes, particularly designed for beginners. Then, wander narrow cobblestone streets while you peruse luxury jewelry, perfume, and clothing brands. Or, simply spend your day people-watching!
Megeve is also famous for hosting a weekly Friday winter market, where you can purchase souvenirs, sample regional produce, and bargain for other artisanal products.
Where to Stay in Chamonix with Kids
Visiting Chamonix in the winter and need somewhere to stay with your kids? For a convenient ski-in/ski-out option, families love Les Grands Montets Hotel & Spa or Hôtel Le Dahu, located in nearby Morzine. Some other fantastic hotel options include Grand Hotel des Alpes, Hotel Mont-Blanc, and Heliopic Hotel & Spa. None are too far from the nearest lift, plus they feature amenities like an outdoor heated pool to warm up in the winter!
Families who are larger or want more room to spread out can also benefit from the apartment-style accommodations at residences like Le Hameau de Pierre Blanche or Residence & Spa Vallorcine Mont-Blanc, which feature kitchens, multiple bedrooms, and more amenities. There are also a ton of condos families can book on Booking.com.
READ NEXT: The Best Family Guide To Skiing In Zermatt This Winter
Chamonix Interactive Map
Discover the best places to stay, restaurants, and local attractions with our interactive map. You can filter by what you're looking for, so it's quick and easy to select which area you want to explore.
Enjoy Chamonix with Kids!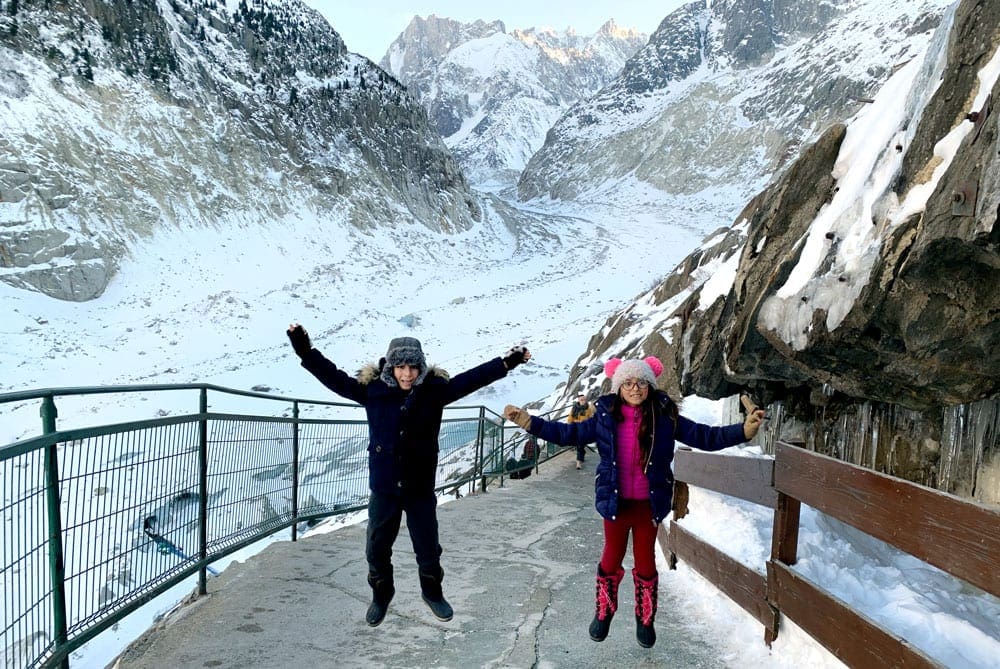 We hope you enjoyed this article on the Best Winter Things to Do in Chamonix With Kids! From delicious meals overlooking Mont-Blanc to endless winter sports, this French ski destination in the alps will definitely have something for you. No matter where you decide to spend your next winter vacation, though, at least you'll always have memories of the adventures you experienced together! We're looking forward to the next time we can visit charming Chamonix with kids.
*All images included in this article, unless otherwise noted, belong to and are courtesy of Gunjan Prakash.
*This post may contain affiliate links that may earn us a small commission, at no additional cost to you. Affiliate links in no way inform the hotels, sights, products, or other recommendations included in our articles. All opinions and recommendations expressed here are compiled from submissions submitted by the generous members of our Families Who Love To Travel community.
READ NEXT: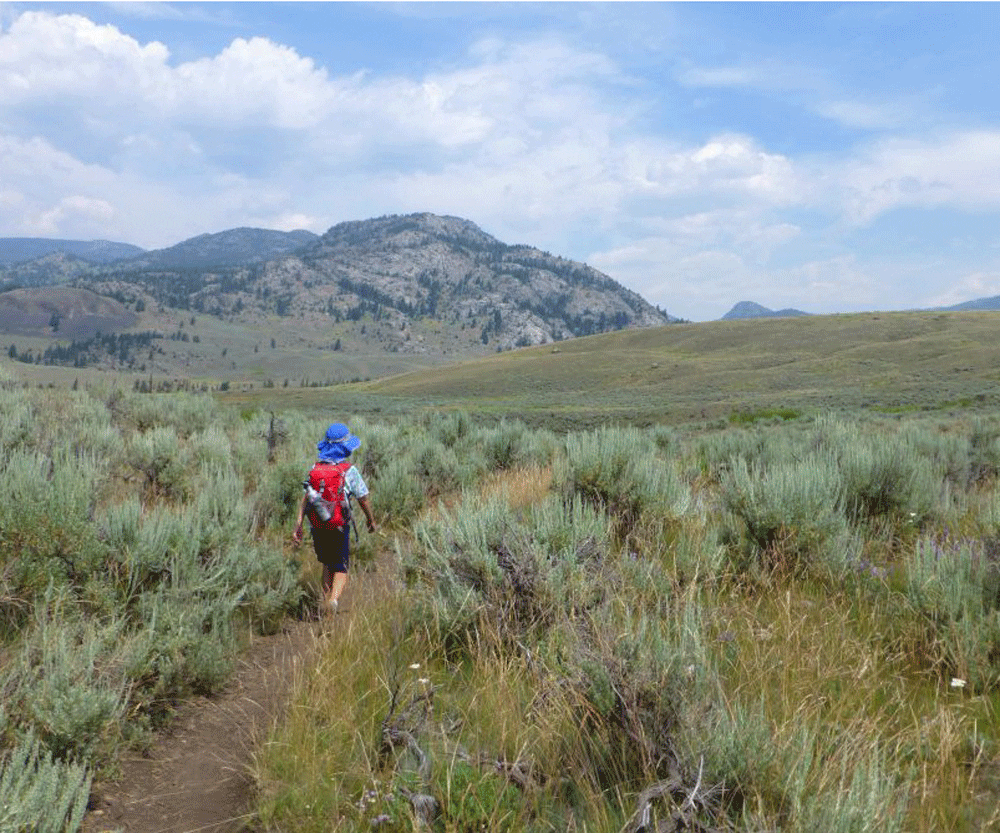 Everyone knows that Yellowstone National Park makes for a classic family vacation. Strolling the boardwalks...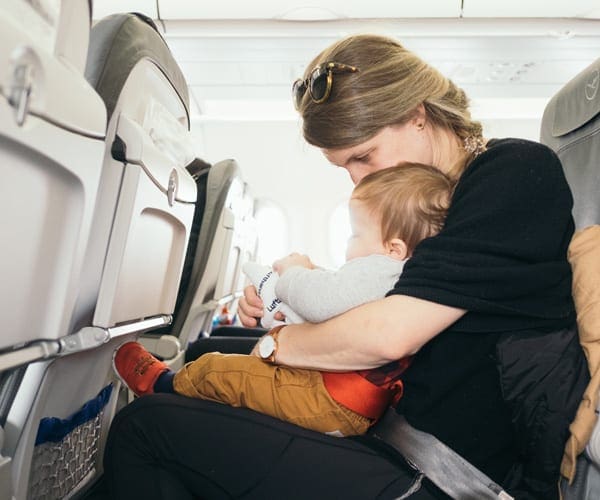 Families Who Love To Travel contributor Meghan Oaks provides her 10 best tips for your...