Italy
An adventure to Italy with kids will truly be an unforgettable one! Families visiting this Mediterranean playground often find it ideal for adults and children of all ages. Home to many of the world's greatest works of art, architecture, and gastronomy, Italy vacations also attract families worldwide; mostly with promises of dessert, welcoming culture, and a glimpse at Europe's most treasured UNESCO sites. Have a little one obsessed with Gladiators? You'll also find endless things to do in Rome with kids to impress them! Visit the towering Colosseum and wow children with tales of ancient kingdoms and victorious battles. Then, take your own Gladiator lesson to authentically live like an Ancient Roman!  Foodies will also love discovering cuisine-related Rome tours with kids! The entire family can participate in a pizza-making class to learn more about the country's cuisine.
From Rome's central location, you'll also have the option of traveling to Northern cities. Florence with kids makes a fantastic trip, for example, known for its hiking trails and grand palazzos. Or, head to Venice with kids for a one-of-a-kind gondola ride through its winding canals. During the winter, active families will also appreciate the bold, sweeping cliffs of various family-friendly ski resorts in the Dolomites. In the south, soak up the sun on beaches throughout Sicily, Capri, or Naples, each destination more astonishing than the last. Plus, they call Italy la dolce vita for a reason – any trip is better with a gelato in hand! Remember to take advantage of whatever moments arise. No matter when you travel, these resources are only some of the best places to visit in Italy with kids. Discover even more magic by booking your next Italian holiday!
LATEST ARTICLES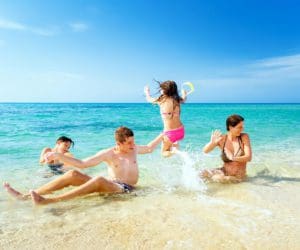 Families who want a once-in-a-lifetime vacation should know – there are few destinations that can compare to the all-inclusive resorts in Italy! This beautiful country has something for everyone, from stunning coastal towns to breathtaking mountain villages. So, next time you're browsing for vacation inspiration, we put together this fantastic list of all-inclusive resorts in Italy for families. Whether you're a luxury-seeking family or just looking for a nice excursion, take a look!
Read More
​​As the popularity of all-inclusive resorts continues to rise, more and more families are looking for the best countries in Europe for an all-inclusive family vacation. From the beaches of the Mediterranean to the castles of Austria, the continent boasts breathtaking scenery, historic landmarks, and delicious cuisine. And, of course, one of the best ways to enjoy everything a family vacation in Europe has to offer is by staying at a wonderful resort. Here are some of the Best Countries For An All-Inclusive Family Vacation In Europe!
Read More