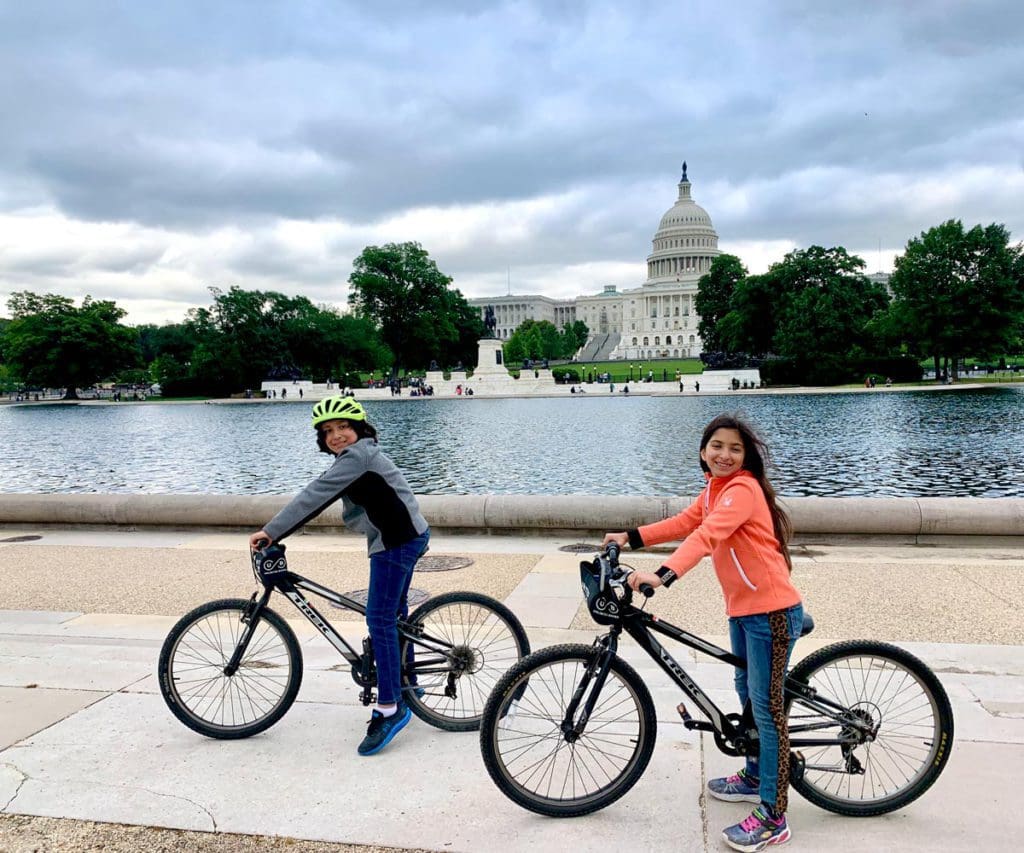 Plan an amazing DC field trip itinerary for families with elementary-aged kids thanks to the advice on this list! From the National Mall to Eastern Market, DC is bustling with all types of activities for families. Of course, when visiting with elementary-aged kids, a lot of parents like to put an educational twist on their vacation, since there's so much history in DC. With this itinerary, we've combined some of the best things to do in DC with kids with some advice to help families make the most of their trip, like where to stay and what to eat. Next time you're planning a getaway, keep reading for our Amazing DC Field Trip Itinerary For Families With Elementary-Aged Kids!
Day 1: See the Sights on the National Mall
Home to the city's most iconic monuments, the National Mall is a must-see when planning an amazing DC field trip itinerary for families with elementary-aged kids! Keep reading for our suggestions!
Memorials and Monuments
The National Mall spans about two miles, with plenty of monuments and museums to keep families busy for days! The Western half of the Mall offers a great jumping-off point to stretch your legs and take in some of the most iconic venues in DC. On the walk from the Lincoln Memorial down to the Martin Luther King Jr Memorial and around the Tidal Basin, families can take in more than a half dozen monuments to past presidents and 19th-century wars in about 2 ½ miles. Save your legs as you reach the Washington Monument and opt for an elevator ride to the top. Timed tickets are required and become available 30 days in advance, 10 a.m. the day before and a limited amount the morning of.
Save on attractions with The Washington DC Sightseeing Pass now!
Freedom Plaza-Area
Just north of the Washington Monument is Freedom Plaza, dedicated to Martin Luther King Jr., who developed his "I have a dream" speech nearby. Surrounding the plaza are restaurants to rest and refuel for more exploration. One of the most iconic DC restaurants is Old Ebbitt Grill, Washington, DC's oldest saloon (opened in 1856). Or for a quicker bite, Puro Gusto, Roti, and District Taco each offer something for everyone on the same block.
Book your Washington DC Tours, sightseeing & museums through Trusted Tours and Attractions!
The White House
If you plan, a visit to the White House is possible. Self-guided tours are generally available Friday and Saturday (excluding federal holidays) on a first-come, first-served basis. Requests can be submitted up to three months (and no less than 21 days) in advance by contacting your Member of Congress. Note that no bags are permitted, and there are no on-site storage facilities. You can also visit the White House Visitor Center to see historical artifacts, photos, and a short film; tickets are not required and the center is open from Wednesday through Saturday with a few exceptions.
Day 2: Visit Museums Built for Kids
If you're looking for an indoor activity in DC for kids, a museum may be your answer. Whether your little ones want to challenge their creativity or learn more about American history, visiting a museum is an essential part of a DC field trip itinerary for families with elementary-aged kids. Stay tuned for our favorite picks!
Ronald Reagan Building
Located in downtown DC, The Ronald Reagan Building is a great spot to rest on your DC field trip itinerary for families with elementary-aged kids. You can also grab lunch in the food court. The National Children's Museum is also housed there, which makes it a quick trip to fuel up!
Look for alternative things to do in Washington DC with Feverup!
National Children's Museum
National Children's Museum is one of the newest museums to make its way to Washington, DC. It's situated downtown, just a few minutes from the White House and within walking distance of other DC attractions on Pennsylvania Avenue. Exhibits offer something for every child under twelve years old. For example, Little Dreamers put kids in the pilot's seat to explore aviation- and weather-themed adventures. Art + Tech immerses creative children in the underwater world of SpongeBob Squarepants or a rescue mission with PAW Patrol. Tinkerers Studio invites little ones to design, create, build, and play with their creations. And that's just scratching the surface of what's on offer!
There's a reason this is one of the best Washington DC museums for kids! Tickets can be purchased for on-the-hour entry (advance reservations are recommended), and even members need to reserve a spot to ensure the museum will remain within capacity. For more tips to prepare for your visit, check out their website.
Smithsonian National Postal Museum
Does your family love a good journey? Check out vintage planes, mail trucks, and mailboxes at the Smithsonian National Postal Museum, one of the best DC museums for young kids! Located on DC's East End, it's a little further than most downtown attractions and other museums, but worth venturing to nonetheless. Here, little ones can learn about how the U.S. Postal Service came to be and serves us now. This reasonably-sized museum makes it perfect for exploration with younger kids, since it won't take longer than an hour or two to see. Plus, most exhibits have an interactive element to keep kids entertained. Explore the Pony Express, sort different packages, create postcards, or design your own stamp!
Smithsonian museums are free to enter. The National Postal Museum is open daily, making it easy to add to your DC field trip itinerary for families with elementary-aged kids.
Research top tours and things to do in Washington DC with Viator here!
Smithsonian National Museum of American History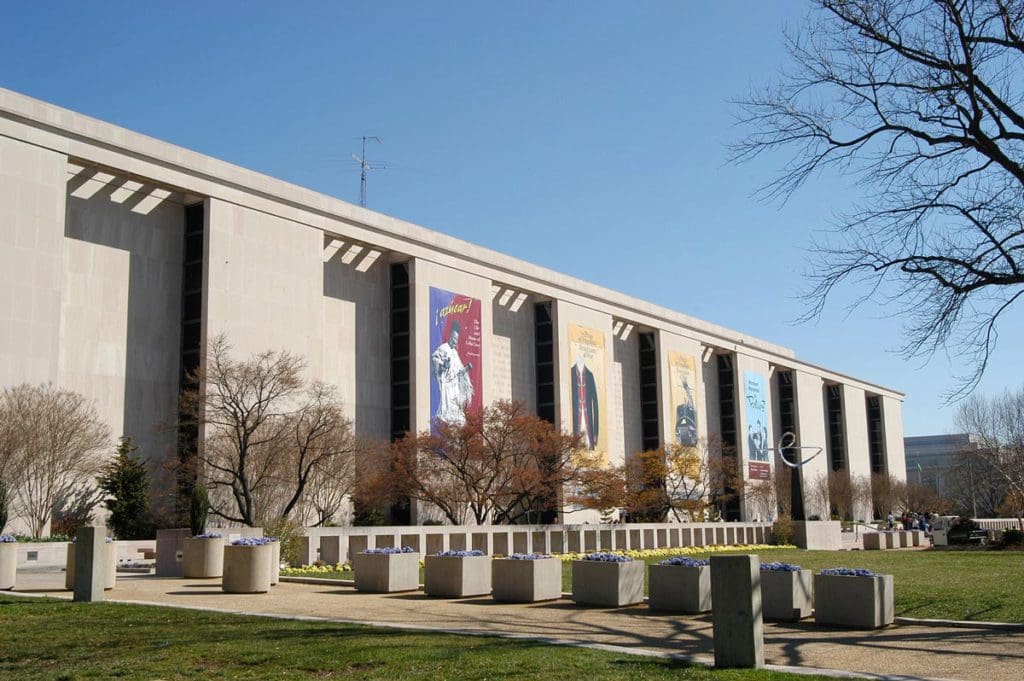 There's so much for families to see at the Smithsonian National Museum of American History! Flanked by the National Mall, this popular DC museum attracts visitors of all ages, but it's fantastic for toddlers too. In fact, it offers kids lots of chances to immerse themselves in the exhibits in a way a typical museum wouldn't. Play president behind the podium, learn about some of the country's greatest inventors, take in chic gowns worn by America's First Ladies, and soak in cultural icons like Dorothy's red slippers from The Wizard of Oz.
For something interactive, Wegmans Wonderplace is the National Mall's first exhibition specifically designed for children 0 to 6. And for older kids between 6 and 12, there is Draper Spark! Lab, which turns kids into inventors! Both exhibitions are currently closed due to COVID-19, but check the website for the latest updates. Learn more on their website.
Reserve your ticket on the Hop-On Hop-Off Washington DC Big Bus Tours here!
For more information on DC's best family museums, read our list of the Best Washington DC Museums For Kids By Age!
Day 3: Explore Outside the City
Families don't have to feel confined to the city center on their amazing DC field trip itinerary for families with elementary-aged kids. In fact, outside of DC, you'll find a variety of fun attractions for the entire family to enjoy. Here are some suggestions!
Steven F. Udvar-Hazy Center
The Steven F. Udvar-Hazy Center in Virginia, part of the Smithsonian National Air and Space Museum, is an expansive space with many types of aircraft on display. There are business and commercial jets, military planes from throughout the 20th century, rockets, and other spacecraft. Learn about the science behind spacecraft that orbit the earth, the technology propelling human flight, and more! In fact, exhibits range from early ballooning into the 21st Century. Can your kids find all 3,000 artifacts on display, including almost 200 airplanes? We think they're up for the challenge! Then, the Observation Tower lets you watch the planes take off.
Lastly, don't miss catching a documentary-style film or the latest Hollywood flick at the Airbus IMAX Theater (currently open daily, check the website for current listings and showtimes).
Go Outside with Zoofari, Great Falls Park, or Clemyjontri Park
Have an outdoorsy kid in your family? While you're west of DC, add these outdoor activities to your DC field trip itinerary for families with elementary-aged kids!
Roer's Zoofari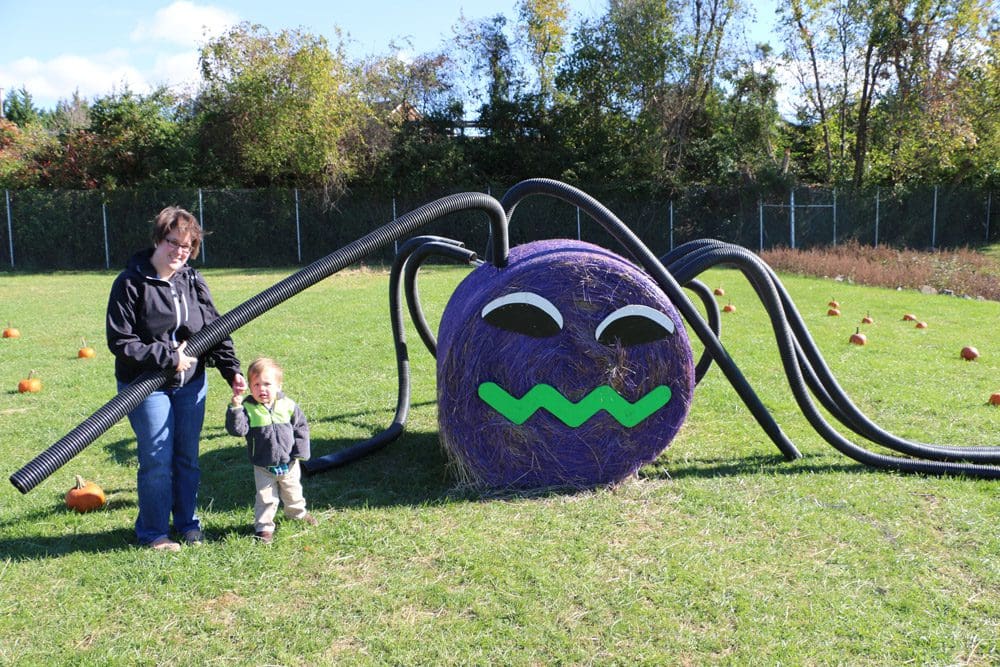 Animal enthusiasts will love the self-drive safari and/or walking tour at Roer's Zoofari. With more than 30 types of mammals, a dozen species of birds, and more than a dozen reptiles and arachnids, families will see animals large and small throughout the zoo and safari areas. Safari goers will see the majestic bison, the lovable llama, and more. The walking tour gets families up close with friendly sheep, goats, camels, and others who appreciate a good petting or a snack (one cup of animal feed is included with your ticket purchase). Check out their website for more; they recommend calling to confirm Monday's availability.
To escape DC for the weekend, visit one of these 9 Exciting Weekend Getaways Near DC for Families!
Great Falls Park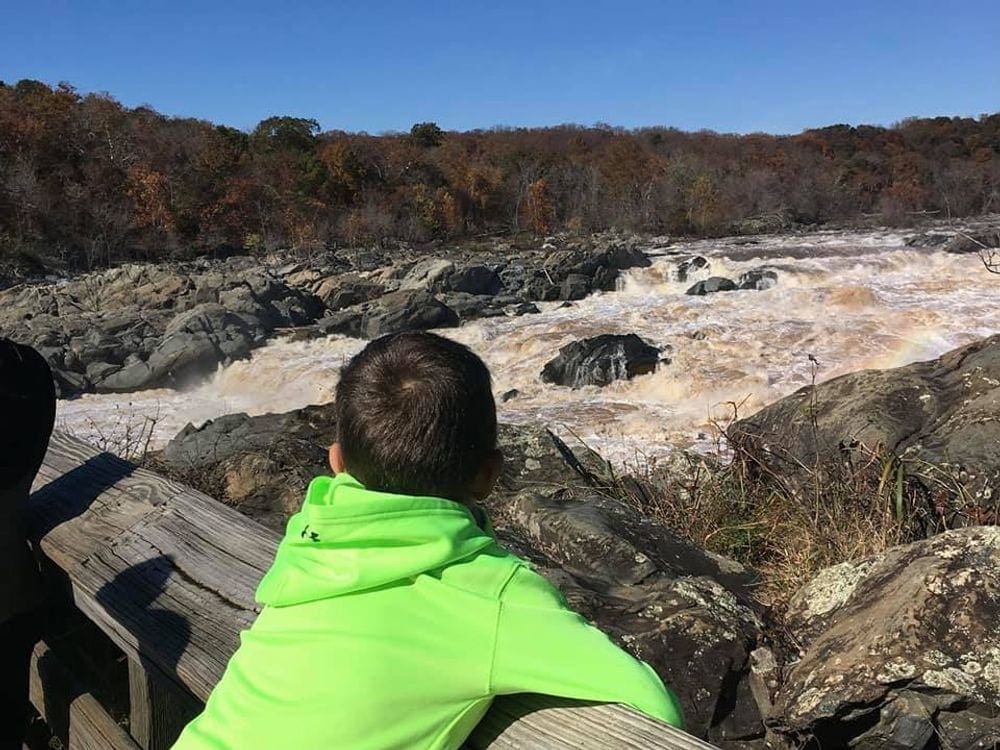 Want to take in some hiking during your trip to DC with kids? Look no further than Great Falls Park! Located just outside of the city in Great Falls, Virginia, this picturesque park features more than fifteen miles of hiking trails near DC for families. If families don't want to venture far for scenic views, there are three overlooks within a five-to ten-minute walk of the main visitor center. One of the most scenic points, the Great Falls, is only around ten minutes from the main parking lot. Plus, two out of the three overlooks are stroller-friendly! On weekends, if the parking lot fills up quickly, the entrance will close.
Pro Tip: Plan to arrive early (it's open from 7 a.m. until sunset) and make the most of your time! After all, it offers some of the best kid-friendly hiking near Washington, DC. There is an admission fee whether arriving by vehicle, bike, or foot.
Clemyjontri Park
Clemyjontri public park is arguably the best in the DC area and caters to children of all physical, sensory, and developmental abilities. From swings, monkey bars, and slides, this park has all the playground favorites, with a picnic pavilion to enjoy a snack or meal. The park also operates a carousel from April through November, as well as a seasonal train ride, for a small fee. The park is open from 7 a.m. to dusk daily. It's definitely worth adding to your DC field trip itinerary for families with elementary-aged kids!
Day 4: Explore Land and Water
See DC from a new perspective on land or by water. Whether you want to take a river cruise, visit the zoo, or do something else entirely, these following suggestions will make fantastic additions to a DC field trip itinerary for families with elementary-aged kids.
Smithsonian National Zoo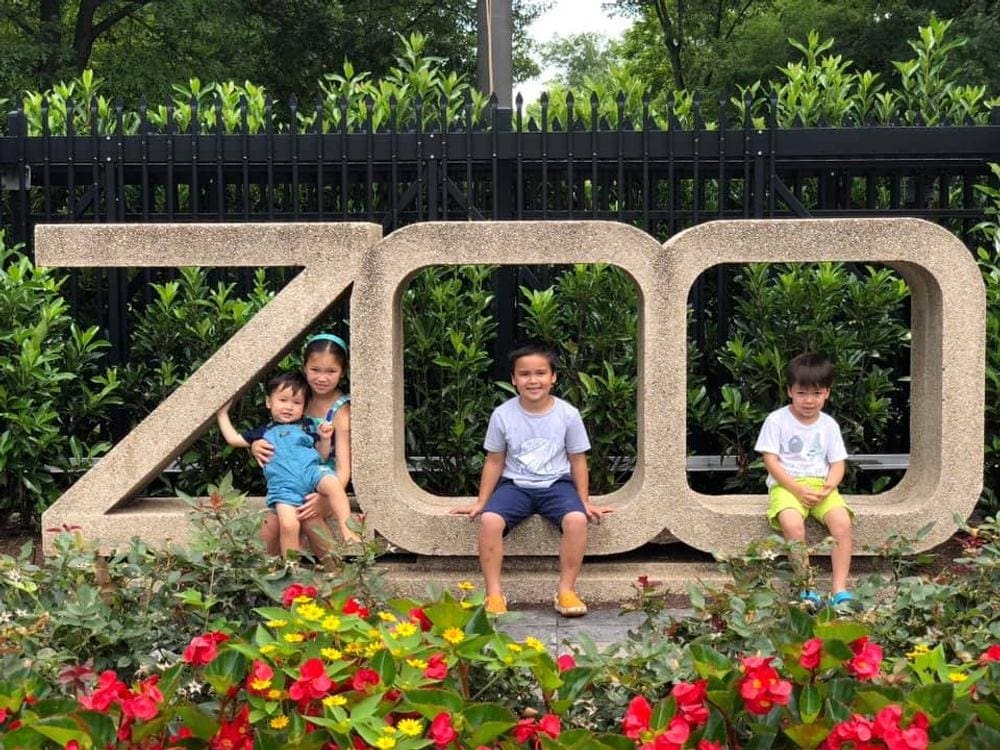 Like other Smithsonian Museums, the National Zoo is free to the public! 2022 marks 50 years of giant pandas at the zoo. And while they are a big draw, there is so much more to see across the indoor and outdoor exhibits! Watch the monkeys and gorillas play, learn about new species of reptiles or small mammals, see an elephant tower over you, or roar with a lion! Entry passes are required to visit (walking is free, parking requires a fee). This is surely a must on any DC field trip itinerary for families with elementary-aged kids.
Potomac River Cruise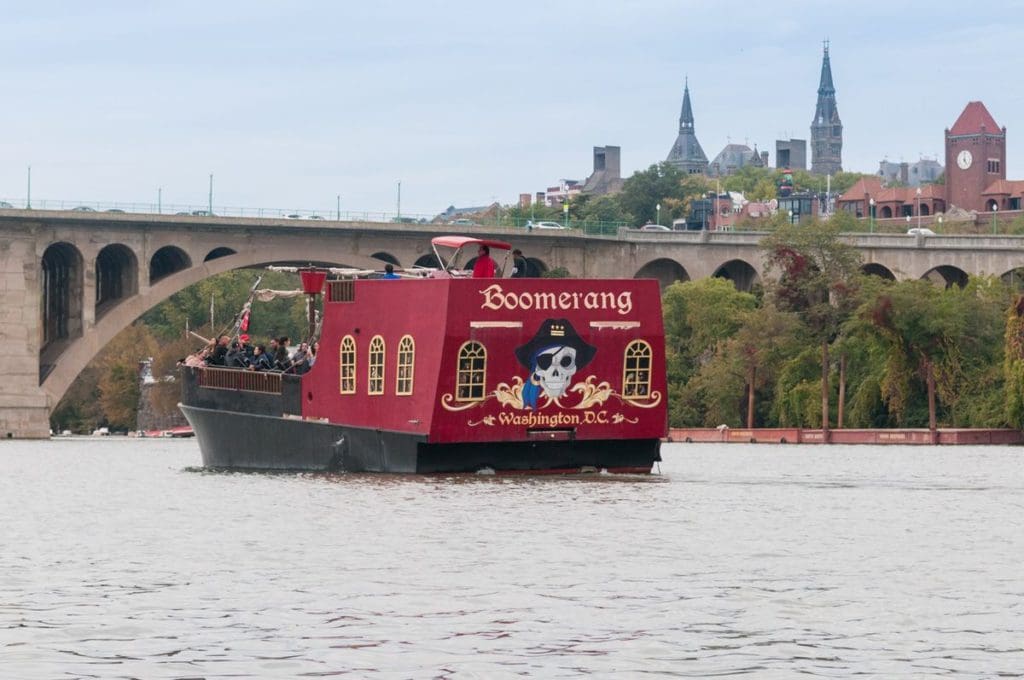 Give those legs a rest from walking around the zoo with a pirate cruise with Boomerang Boat Tours on the Potomac River! Running from May to September, it's a fantastic way to see DC. Or, families can take a sightseeing cruise that's open earlier in the spring and later into October as well. Whether fighting pirates on the open "seas", taking in the monuments from a new angle, or ducking under historic bridges, families with elementary-aged kids are sure to have a great time!
If you need a meal before or after your journey, Farmers, Fishers and Bakers, Sequoia, and Guapo's are kid-friendly spots near the water where your cruise begins, with indoor and outdoor seating options.
Want more ways to entertain your kids in DC? Consult our list of 9 Things To Do in Washington DC with Kids!
Day 5: Combine History with Nature
A DC field trip itinerary for families with elementary-aged kids doesn't have to be all about history. In fact, during your family vacation, you'll find lots of opportunities to combine history with nature, from beautiful gardens to yummy food markets. Here are our favorite picks for things to do in DC with elementary-aged kids!
U.S. Capitol Building
At The U.S. Capitol Building, families can see U.S. history being made; visit the Schedule a Tour page to make reservations up to 90 days in advance to tour the Capitol grounds. A 45-minute, guide-led tour takes visitors to the historic areas of the Capitol including the Crypt, the Rotunda, and Statuary Hall. You'll need separate passes to tour the Senate and House galleries, which can be obtained by asking your Member of Congress. And while you're in the area, be sure to walk by the U.S. Supreme Court!
See some of the best nature DC offers on The Best Hikes Near DC For Families!
Eastern Market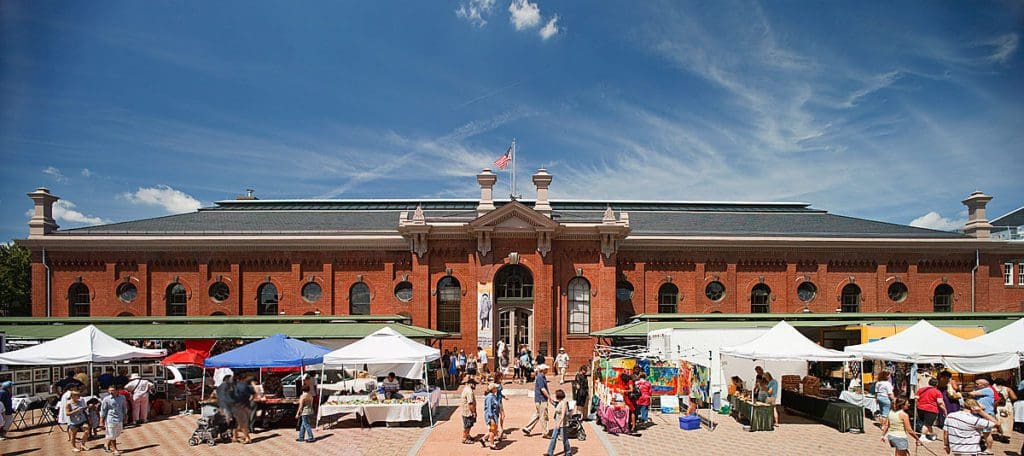 While you're on Capitol Hill, Eastern Market makes a great pit stop. Here, you can browse for a meal, snacks, groceries, and artisan goods from painters, woodworkers, photographers, jewelers, and more. Indoor markets are open daily except for Monday, and outdoor markets add vendors on Tuesdays and weekends.
U.S. National Arboretum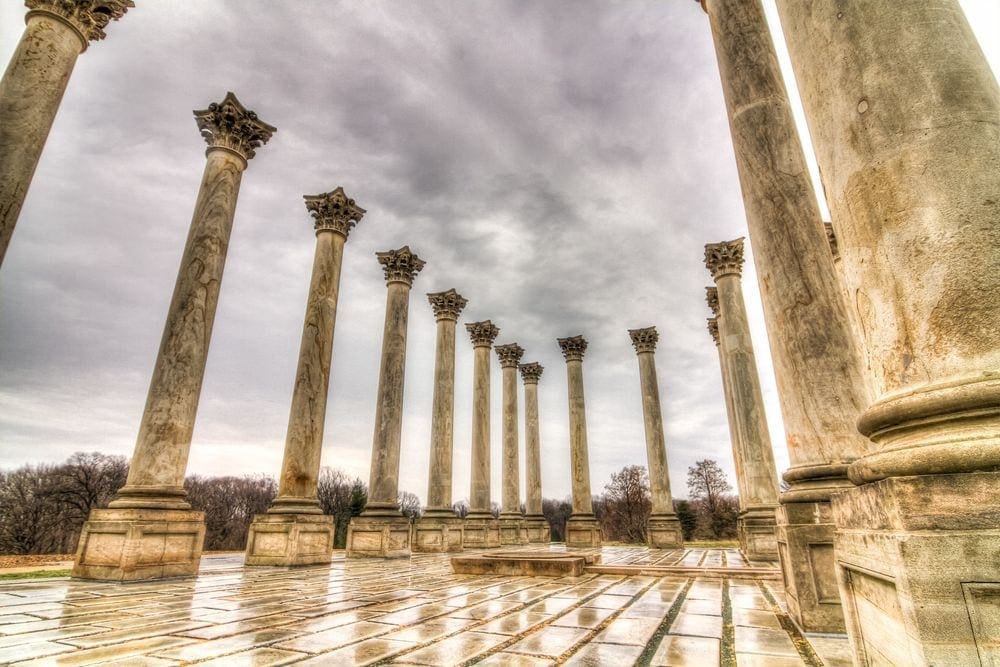 Nature-loving families can't miss a visit to the U.S. National Arboretum! Located in Northeast DC, it comprises nearly 450 acres of diverse horticulture. It's also a great place to bring the kids for a tranquil break from the city, even if you just wander spontaneously for an hour or two. Plus, admission is free! Wondering what you're looking at as you stroll the grounds? Their interactive map, the Arboretum Botanical Explorer, will answer all your questions! Kids will love seeing what flora they can spot, and they'll probably learn something in the process, too. (Not to mention tire themselves out in one of the most incredible places to explore outside in DC with kids!)
Seasonal Activities in DC for Families to Enjoy
Customize your DC field trip itinerary for families with elementary-aged kids with seasonal activities as time permits. In the spring, the National Cherry Blossom Festival offers a street fair, parade, and kite festival while the cherry blossoms are in bloom. Summer brings the Smithsonian Folk Life Festival. From pumpkin patches to scenic hikes, we've also compiled our favorite fall activities in Washington, DC. During the holidays, there are unique offerings like displays at the White House and the U.S. Capitol and surrounding areas including National Harbor. And DC's sports teams offer a fun experience year-round, whether cheering the Washington Nationals, Washington Wizards, or Mystics for basketball, the Washington Capitals, and D.C. United or Washington Spirit for soccer.
Families visiting DC with teens will love this Exciting Washington, DC Field Trip Itinerary For Families With Tweens and Teens!
Where to Stay in DC with Kids
Wondering about the best hotels in DC for families? Kids will love the indoor pool at The Watergate Hotel while parents will appreciate the spa. Meanwhile, The Ritz-Carlton Washington DC offers a special welcome package for little ones, plus fun activities like a scavenger hunt. Families can also stay near famous attractions like The White House or the U.S. Capitol Building by booking a stay at the Hyatt Place Washington DC. Or, venture outside the city center to DuPont Circle and stay at The Darcy for a more contemporary feel.
If a home or apartment rental is more your style during your DC Field Trip Itinerary For Families With Elementary-Aged Kids, check out our recommendations for the best neighborhoods to stay in DC. We cover the reasons why neighborhoods from Georgetown to Capitol Hill make a great home base for your Washington, DC family vacation.
Look here for homestays in Washington DC with Vrbo!
For more information on where to stay in DC with kids, check out our 12 Best Family-Friendly Hotels in DC!
Enjoy Your Field Trip!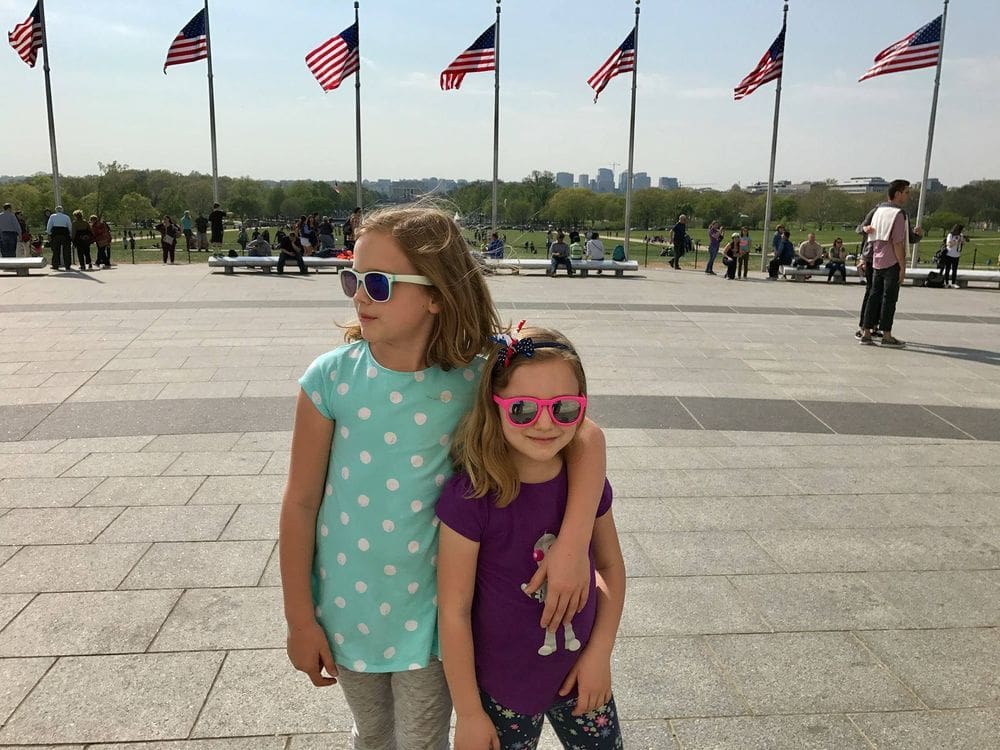 We hope you found this Amazing DC Field Trip Itinerary for Families With Elementary-Aged Kids helpful in planning your own experience! Whether it's your first visit or you're a DC pro, there's always something new and exciting to explore in this dynamic city. Enjoy DC with your kids!
TOURS AND ACTIVITIES IN DC:
*This post may contain affiliate links that may earn us a small commission, at no additional cost to you. Affiliate links in no way inform the hotels, sights, products, or other recommendations included in our articles. All opinions and recommendations expressed here are compiled from submissions submitted by the generous members of our Families Who Love To Travel community.
READ NEXT: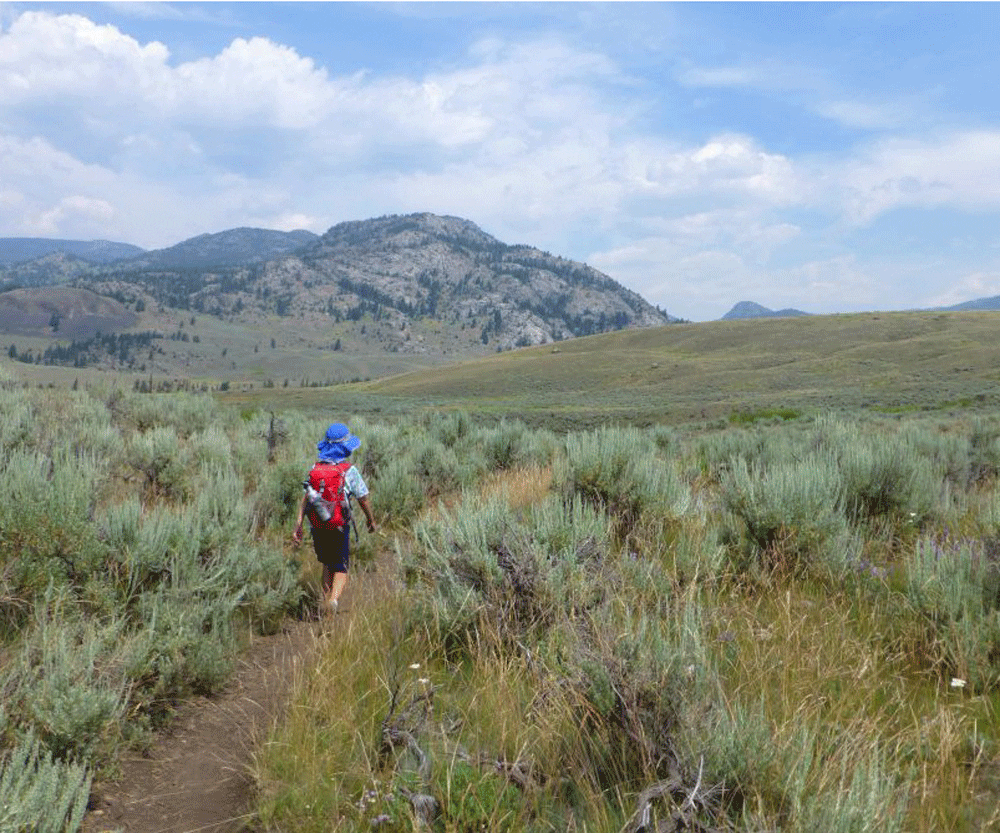 Everyone knows that Yellowstone National Park makes for a classic family vacation. Strolling the boardwalks...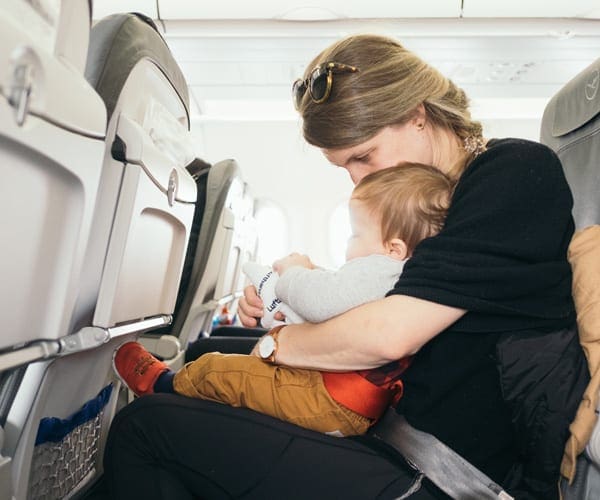 Families Who Love To Travel contributor Meghan Oaks provides her 10 best tips for your...