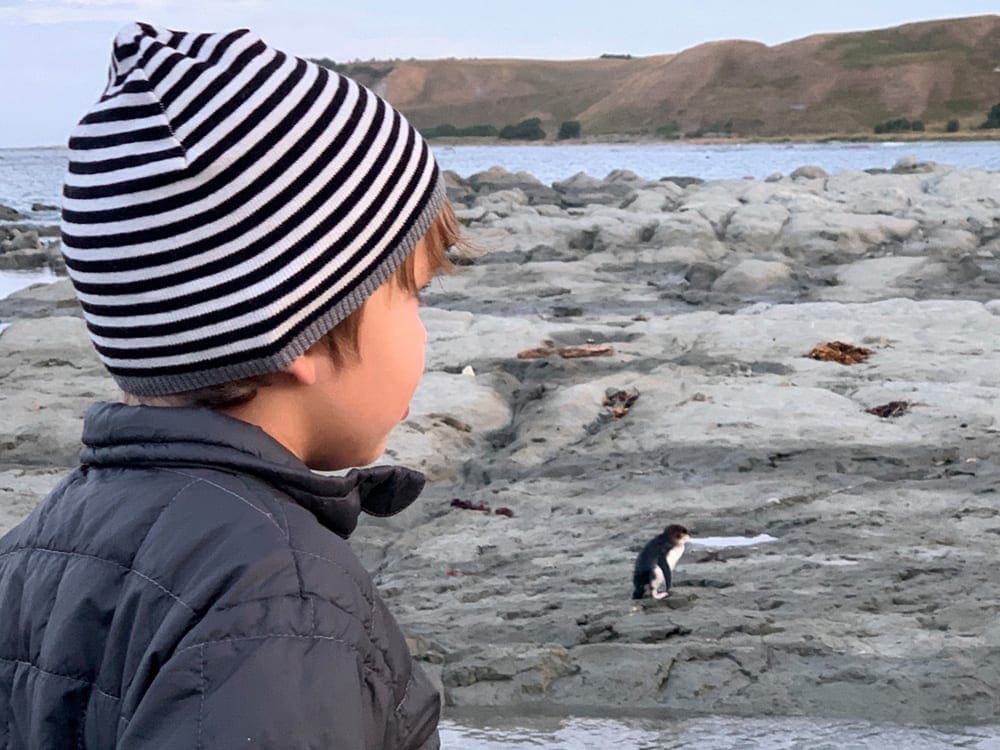 Are you looking for December vacation ideas with kids? Then you'll love this list of our favorite kid-friendly travels around the world! December is a great time to get away with your children, no matter what kind of trip you're looking to find. Enjoy tasty treats like hot chocolate, outdoor fun at ice skating rinks, and overall holiday cheer! Plus, unique excursions like Christmas markets in the U.S. and Europe are only available this time of year. Find guaranteed skiing in North America or family-friendly European countries, like Austria for access to glaciers. If you're looking to escape the cold weather and find a sunny beach for the holidays, we're sharing several of our favorite tropical getaways too. No matter what type of family vacation you're looking for, you'll love these December vacation ideas with kids compiled with the help of our community. Get inspired for your next family vacation!
December Vacation Ideas with Kids that Include Christmas Markets
Visiting a Christmas market in December guarantees family fun! Between cookie making, Christmas caroling, and picturesque carousels, you'll treasure every moment spent at the following destinations. Here are some of the best places to travel in December with your family if you're looking for a magical Christmas market!
Best Christmas Markets in Europe
Visiting a European Christmas market is a fantastic December vacation with kids! Head to Vienna to experience Europe's most famous markets. Starting in mid-November through the end of December, the Christkindlmarkt transforms the city square into an illuminated fairytale, featuring hot cocoa, Christmas caroling, and other winter-themed activities for children, like museum tours or Marionette Theater shows. In France, Strasbourg is another kid-friendly destination to experience a European Christmas market. Open from November 20th to December 30th, 2020 this quaint town hosts multiple markets annually, though the most popular is near the Strasbourg Cathedral and Place Kleber. With the city's giant Christmas tree as your backdrop, you'll find endless family-friendly activities. Choose between a carousel ride, live music, and numerous market stalls, including some for making cookies or gingerbread houses! Germany is also famous for its Christmas markets, which pop up in cities like Stuttgart, Nuremberg, and Berlin.
Best Christmas Markets in the U.S.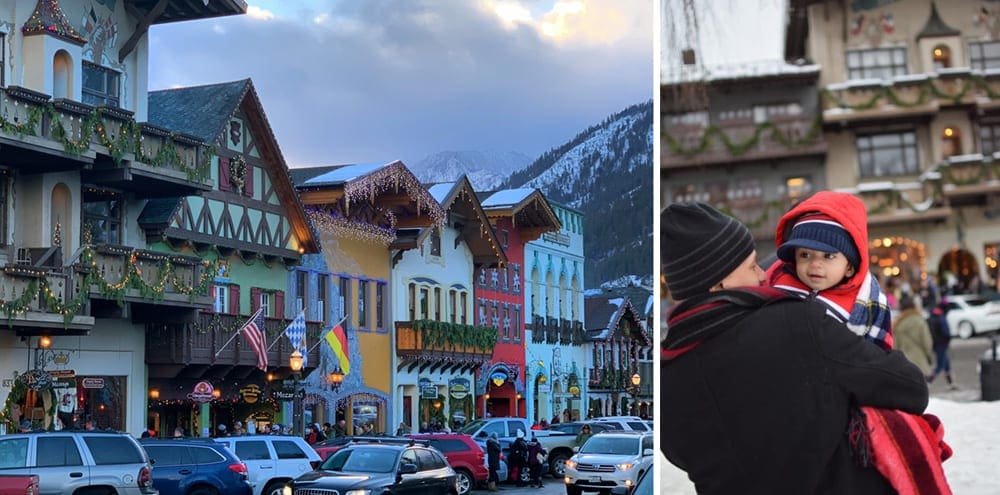 If visiting a Christmas Market in Europe isn't an option, you can still find a similar experience at one of the markets in the United States. Truthfully, your family will equally love visiting one of the German Christmas Markets closer to home! Downtown Chicago hosts one of our favorites, where lights illuminate a truly magical setting. Without a doubt, your kids will love getting involved in the Kinder Club's scavenger hunt! Be sure to plan time to wander through the market's booths too. Of course, you'll also want to try the sweet food and sip hot chocolate or mulled cider. Another one of our favorite Christmas markets takes place in Leavenworth, Washington. Check out the German toys and crafts and definitely take a memento home. These towns also appear on our list of magical Christmas towns in the U.S. for families!
December Vacation Ideas with Kids that Include Skiing
Skiing is another fabulous December excursion for active families! Choose from kid-friendly destinations across the United States and even some in Europe. We're sure you'll find options for beginners and experts alike at these locations. Here are some of the best places to travel in December with your family if you're looking for a skiing adventure!
Best December Skiing in North America
Finding guaranteed skiing in North America during December is tricky. However, there are numerous resorts that start the ski season off early. Colorado is one such place. Not only can your family ski, but the adorable towns here get all decked out for Christmas. This means your entire family can experience the December magic! Keystone, Steamboat, and Vail are three great options for families searching for early season skiing. Go near the end of the month for the best chances of snow cover. For the most certain ski conditions in December, visit Grand Targhee Resort in Wyoming. Here, you'll find deep and powder-like snow ideal for hitting the slopes. Kids will also love the giant kid's adventure zone at the resort! Or, head to Canada to ski at the breathtaking Banff and Lake Louise. The whole area kicks off the season with outdoor adventures and holiday events throughout December.
Best December Skiing in Europe
December is an ideal time for family skiing in the European Alps! Consider a December vacation to Austria, one of Europe's most family-friendly and affordable ski destinations. Kitzbühel, a small Alpine town, is great for families searching for guaranteed snow perfect for beginner skiing. Since the area offers access to glacier skiing from October 19, 2020, to May 3, 2021, you'll never worry if the weather is right! Sölden is another popular area for December skiing, open from November 19, 2020, to May 2, 2021. Featuring two glaciers and three peaks, you'll find slopes for all skill levels here. Kids who are learning to ski will also appreciate Austria's Kinderhotels, which are renowned for their family-friendly winter programming. If you're visiting Switzerland, however, add Zermatt to your itinerary. Open from November 30, 2020, to May 1, 2021, this festive town overlooks the scenic Matterhorn peak and is perfect for exploring!
December Vacations Ideas with Kids that Include the Northern Lights
Immerse your family in the holiday spirit by viewing the Northern Lights! Locations north of the Arctic Circle will be a wintry wonderland to put everyone in a festive mood. Basking in the Northern Lights is an experience many travelers have high on their bucket list. No doubt, your kids will join you in awe of the aurora borealis! Since the shortest day of the year is in December, this means more hours when the sun is below the horizon and bonus opportunities to see the colorful Northern Lights. December in Northern Scandinavia is an especially beautiful time and place to view this natural spectacle. While you can see the Northern Lights here any time of the year, December's darker nights and days offer the greatest chance to see more colorful and plentiful displays.
If you're considering a northern trip in December and you want guaranteed kid-friendly activities, consider Lapland as your destination. We've covered the excitement of visiting Santa and his reindeer in our article on Trips to Plan a Year in Advance. Along with viewing the Northern Lights, you'll find that a trip to Lapland has many things to do that are especially timely in December. When you visit with your kids, you can incorporate the Santa excursions and all the snowy outdoor activities like riding on a dog sled and sleeping in an igloo! Of course, there are places to see the Northern Lights in North America too, but conditions there might not be ideal for December vacations with kids. No matter which destination or month you choose, however, you'll want to remain flexible. There's no guarantee you'll see the Northern Lights on your trip, but you'll have plenty of fun!
December Vacation Ideas with Kids in the Southern Hemisphere
December in the Southern Hemisphere is an exciting change-of-pace for families accustomed to a cold-weather Christmas. Here are some of the best places to travel in December with your family in the southern hemisphere.
New Zealand
New Zealand is a perfect December vacation with kids. Firstly, December marks the start of summer in this island country. Because December isn't the peak summer travel season, your family will find all of the best warm-weather options without the crowds and higher rates that will come later in New Zealand's summer. While the weather can be unpredictable, especially in Auckland, Northland, and parts of the South Island, the average December temperature is a comfortable 64 degrees Fahrenheit. Combined with longer daylight hours, this will give you more time to enjoy outdoor activities on your vacation! Outdoor activities are absolutely a highlight of a New Zealand vacation. Plus, in December, the beaches are beginning to be warm enough to swim. Daredevil families can also explore the country's national parks or embark on a sea kayaking adventure.
Your family will also discover that Christmas festivities in the Southern Hemisphere primarily take place outdoors. One such highlight of the season is watching one of the Santa Parades (which may take place at the end of November in some cities). Prepare to discover how much your kids will love these local events. Kids will be tickled pink to see Santa wearing sandals! In particular, check out the outdoor Christmas events taking place in Auckland, Wellington, and Christchurch. If you're looking for other December festivals, you'll also want to check out The Festival of Lights in New Plymouth. In addition, you'll discover many cultural summer festivals throughout the country. Another highlight of visiting New Zealand in December is the opportunity to see the pohutukawa, also known as the New Zealand Christmas tree, with its bright red blooms! These flowering trees bloom near the North Island's gorgeous beaches.
Patagonia (Chile and Argentina)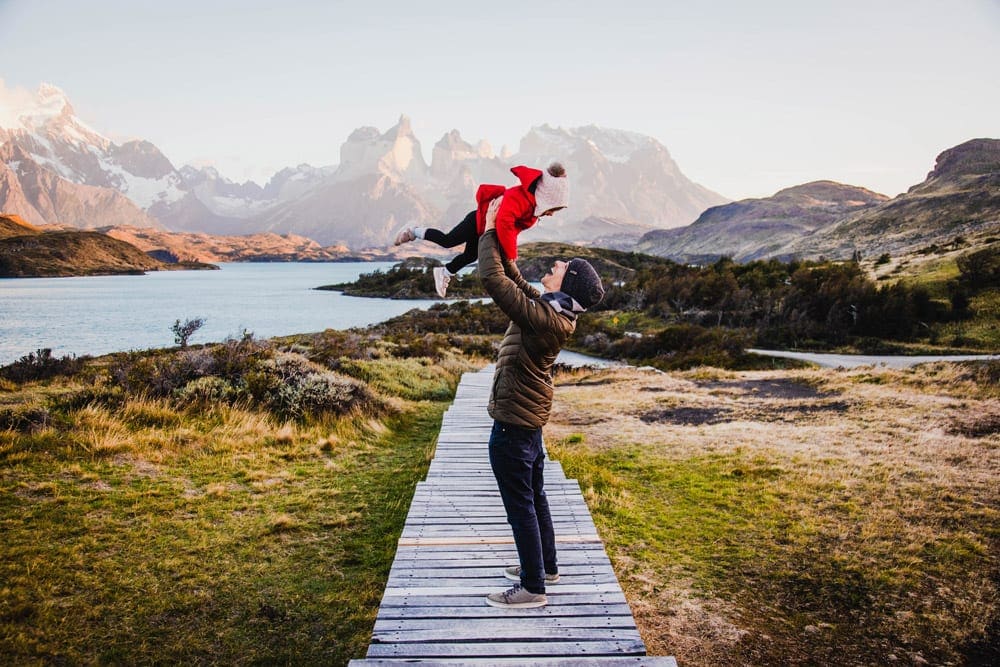 Patagonia is another amazing December vacation idea with kids in the Southern Hemisphere. This wild region covers a huge area in Chile and Argentina. In fact, it covers so much terrain that you'll find a variety of ecosystems here, like pine forests, steppes, glaciers, and crystal clear lakes. The most popular area for tourists to visit is the northern Lake District. However, adventure lovers should also consider traveling to the southern part to visit Torres Del Paine in Chile and Los Glaciares National Park in Argentina. You'll find the weather mild, as it's the beginning of summer. Not only are the days warm, but they're also long, which gives your family more hours of daylight for hiking beautiful trails and glaciers! Although the weather is warm, be prepared for the infamous strong winds, especially in the south.
Warm-weather and an abundance of daylight will give you plenty of opportunities to hike with your family in Torres del Paine. Be aware, however, that if you decide to cover the north and south regions, traveling within Patagonia will take many hours. The wilderness is vast, which is undeniably also part of the attraction! Additionally, families looking to spot wildlife will find December to be a great season for animals like guanacos and rheas. December is also when you'll see elephant seals and sea lions while venturing to Peninsula Valdes. With the mild weather, you'll also be able to explore the El Calafate glacier without all of the bulky winter clothing you'll need other times of the year. Finally, a trip to Patagonia in December may mean you beat the summer travel rush, especially if you visit in the first half of the month.
December Vacation Ideas with Kids Guaranteed To Be Warm
Dreaming of escaping to a warmer climate for your December vacation? Here are some of the best places to travel in December with your family that include long days at the beach! Your family is sure to love these sunny adventures.
Florida Keys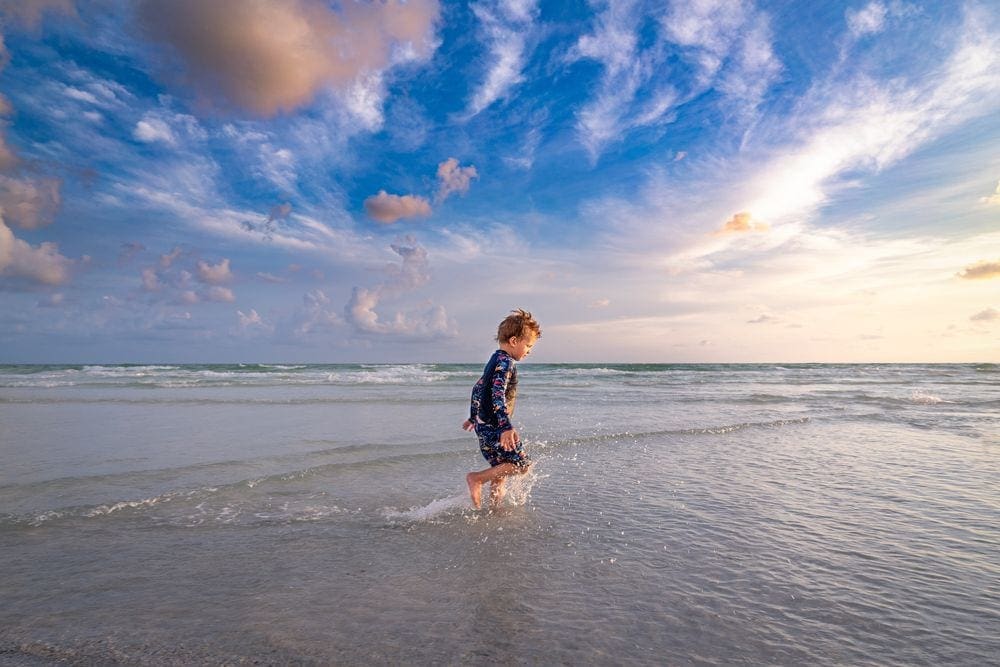 Head to the Florida Keys to experience warm weather while staying in the United States. Generally, the weather here in December is perfect for exploring outdoors, with little rainfall. Plus, you won't have to abandon your family's holiday spirit! In fact, you'll experience exciting ways to take in the energy of this enchanting season. In fact, the Florida Keys host several Holiday Boat parades in December. Watch from afar as glittering decorations illuminate the tropical landscape! In Key West, for example, your kids will also be thrilled to view the lighted houses on the Conch Tour Train. In the first half of the month, make plans to watch one of the Lighted Boat Parades as well. These can be viewed from shore, or you can even take an excursion boat to watch up close. Check them out in Key West, Key Largo, and Key Colony to get started!
Caribbean
Of course, many families dream of spending Christmas on a tropical Caribbean island! A warm sun and gorgeous beaches beckon travelers young and old at any time of year. One special reason to visit the Caribbean in December is to experience Christmas celebrations in diverse ways. Some favorite island-specific traditions include the Cayman Islands, where locals ensure they have a white Christmas by "backing sand" in their yards on Christmas morning! Alternatively, in Barbados, attend Midnight Mass and view the fashion show as residents walk through Queens Park on Christmas morning in their finest clothes. When you're in Barbados, make sure you also have a piece of Christmas Black Cake! Speaking of traditional Christmas food, travel to Puerto Rico in December and enjoy pasteles and roast pork. Music lovers will also appreciate the daily Mass beginning December 15-24 which features aguinaldos, a folk genre sung in Latin American cultures.
Happy Planning Your December Vacation with Kids!
We hope this article has inspired you the best places to travel in December with your family for your next trip! No matter what time of the year you want to travel, we're sure there's a perfect destination specific to that time. Whether you are looking for snow or a little sunshine, we are confident this list gave you a few ideas for your upcoming December vacation with kids!
Thank You To Our Community!
A special thank you to the Families Who Love to Travel Facebook community who generously shared their travel advice and top picks for this list of the Best Places To Travel In December With Your Family. We could not have compiled such a thoughtful and robust list without their dedication to our community. Families Who Love To Travel is a group of amazing families who also love adventure and exploring through travel. Join the Facebook community and also the Instagram community (@families.love.travel) to connect with other families who also love the unique experiences travel has to offer. Then, check out our inspirational Pinterest boards. We're all about making travel accessible and exciting. Join us and start making memories with your family. For more inspiration, check out all of our family vacation ideas!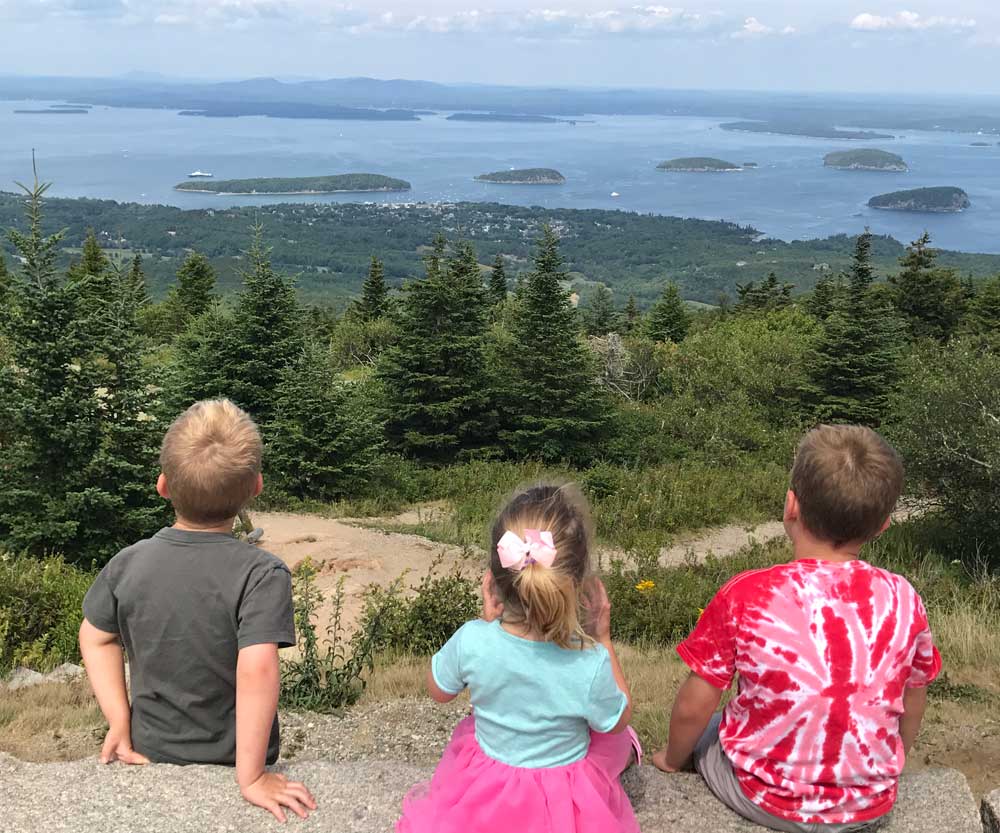 We drove to Acadia National Park in Maine from Northern Virginia. It's a long drive...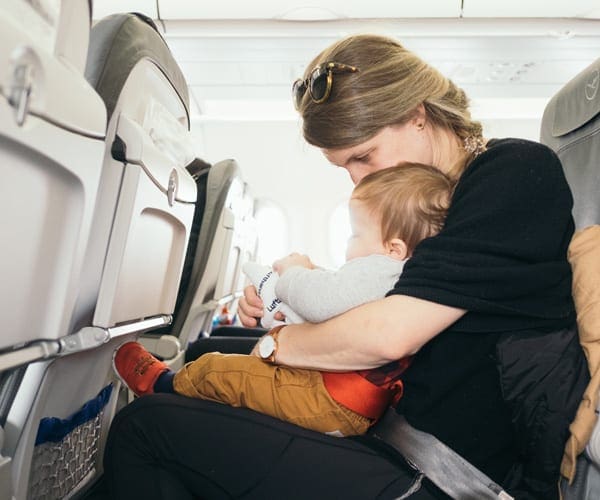 Families Who Love To Travel contributor Meghan Oaks provides her 10 best tips for your...