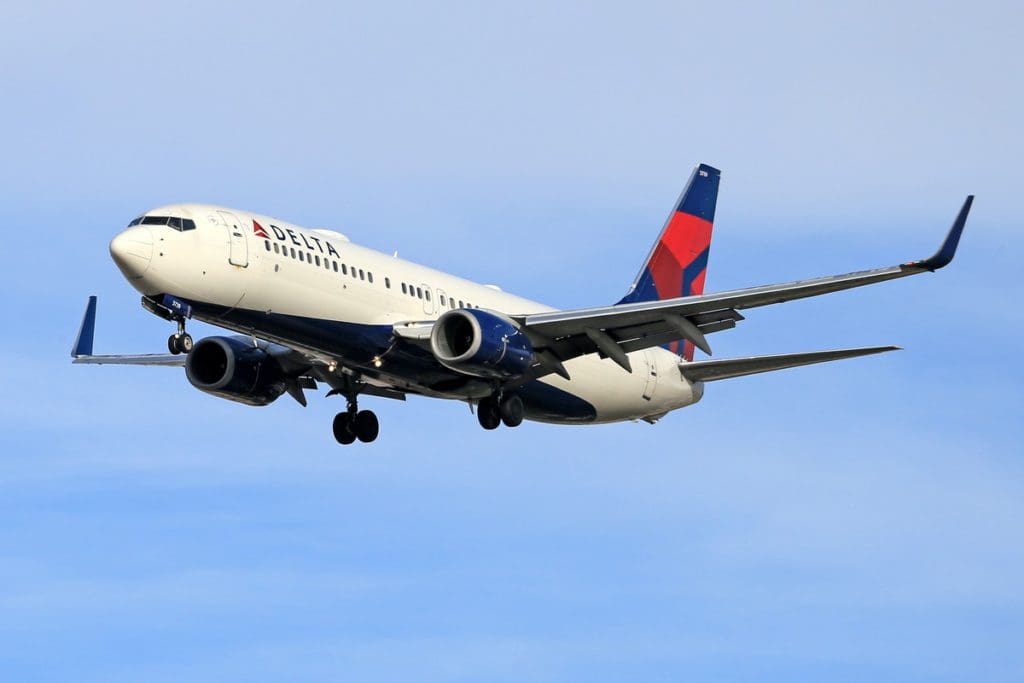 If you're planning a trip with Delta Airlines, it's important to know a few things about the airline and its policies for kids. Some families find traveling with kids to be very stressful, but we're here to prove it doesn't have to be! With different policies on lap infants, seat assignments, etc, picking the right airline can make or break your adventure. This is why Delta Airlines is often a go-to for traveling families. From early boarding to bassinets, the airline has special policies in place for families traveling with small children. In this article, we will cover some important information about the airline, including their policies on children traveling alone, baggage allowance, and more. By understanding these things before you travel, you can help make your trip go smoother and avoid any surprises. Keep reading to learn more!
Use Skyscanner to research the best flight deals now!
Why Fly Delta Airlines with Kids?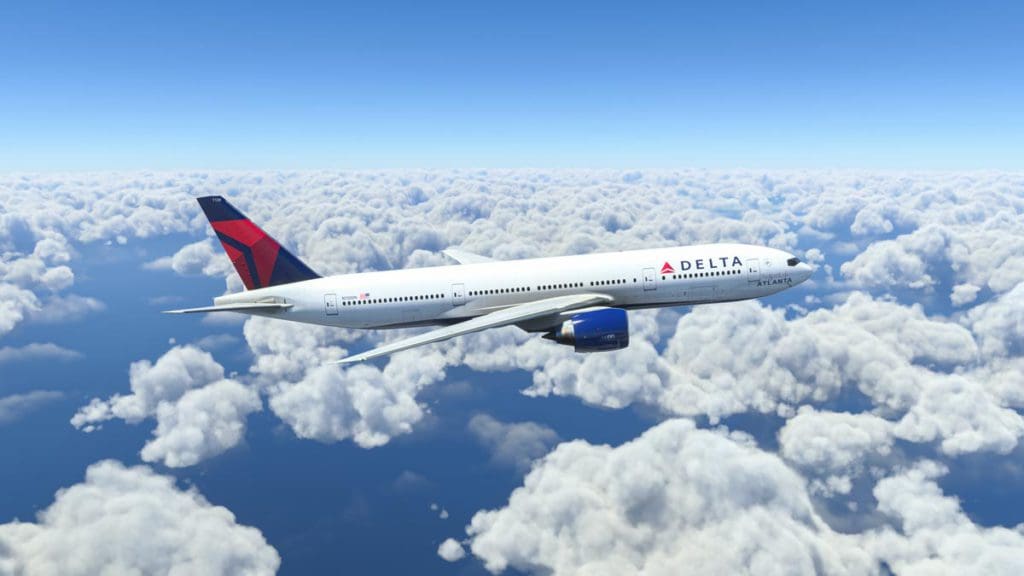 Not every family has the same experience with a certain airline, however, many consider Delta Airlines to be a nice kid-friendly option. It has a good reputation for friendly customer service, making it a favorite among traveling families. Delta also offers a number of amenities and services to make your life easier when traveling with kids.
For example, they offer early boarding for families with small children, so you can get settled before takeoff. They also have a great selection of in-flight entertainment options for all ages, so everyone can stay entertained during the flight. Though flying with kids can be snug, Delta's seats are more spacious and comfortable than the average economy seat. There's also plenty of legroom, so hopefully you won't have to worry about your kids kicking the seat in front of them or being cramped!
READ NEXT: Travel Resources For Families: Where To Book Hotels, Flights, & More
Where Does Delta Airlines Fly Directly?
Before planning a trip on Delta Airlines with kids, you may be wondering about non-stop flights. Delta Airlines flies directly to and from many destinations worldwide, including domestic and international locations. In fact, no matter where you want to go in the world, chances are good that Delta Airlines can get you there with a direct flight!
Some of the places that Delta airlines fly non-stop to in the United States include Atlanta, Los Angeles, New York City, Detroit, Minneapolis-St. Paul, Salt Lake City, Seattle, and more.
Delta also flies non-stop to numerous international destinations such as London, Paris, Tokyo, Beijing, and more.
For more information on planning your trip on Delta airlines with kids, check their website for a complete list of all the places they fly to both in the US and abroad.
READ NEXT: All About American Airlines: Airline Policies & More Important Information For Kids
Check FlightGuru for the best flight deals now!
Delta Airlines Policy for Kids
If you're wondering about Delta Airlines' policy for kids, you're in the right place! When it comes to its travel policies for kids, Delta Airlines tends to be a favorite for a reason. Keep reading to learn more about Delta Airlines' child policy!
Search for discount airfare on Cheapair.com here!
Early Boarding for Families
Delta Airlines policy provides priority boarding to all families traveling with strollers or car seats.
Delta Airlines Policies Specific to Infants, Toddlers, and Young Kids
There are a few policies specific to families traveling with babies, toddlers, and small children. Here is what you should know if you are flying with tiny travelers.
Lap Seat/Infant-in-Arms
Those traveling with babies will want to learn Delta Airlines' infant policy. If you're traveling with children under the age of 2, they can sit on your lap with an infant-in-arms ticket. Some gate agents may require a birth certificate for proof of age. We recommend packing one in your carry-on or personal item, just in case.
Additionally, families flying internationally should call the airline directly to book their flights to ensure all requirements are met for adding an infant-in-arms to an international American Airlines flight. Certain documents or fees may be required. You can find more details for adding an infant-in-arms to your ticket here.
Bassinets
Those traveling with infants under 20 pounds can also request a SkyCot (bassinet). SkyCots can be requested through Delta's Reservations website before arriving at the airport (be sure to confirm everything with the gate agent at the boarding gate). Note, per Delta Airlines' infant policy, they cannot guarantee SkyCots due to a limit of two SkyCots per aircraft and weight restrictions. Finally, SkyCots are only available on some international flights and depend on the aircraft.
Baby Care
When flying with children on Delta Airlines, there are a few extra perks you should be aware of. Depending on how long your flight is, baby care, such as bottle warmers or extra diapers, may be available on a first-come, first-served basis.
Delta Airlines Car Seat Policy
Per Delta Airlines' car seat policy, FAA-approved car seats may be used onboard domestic and international flights. The window seat is the preferred location for an approved child safety seat. You can find more details about approved child safety seats and where to reserve those seats here, as well as which types of seats are not approved.
Jet Kids BedBox™
Delta Airlines has officially approved the use of the Jet Kids BedBox™. The Jet Kids BedBox™ is a compact travel bed that can be used on airplanes, trains, and automobiles. It comes with a built-in mattress, pillow, and comforter, and can be quickly set up and taken down. When flying with children on Delta Airlines, this is a great option for long flights!
Purchase your JetKids™ BedBox™ here directly through Stokke®!
Delta Airlines Child Fares
Children over the age of 2 must have their own seats and ticket, which is a standard fare. If you're wondering, do babies fly free internationally on Delta, you can learn more about Delta Airlines child fares here.
RELATED: Best Hacks & Products For Sleeping On Long International Flights With Kids
Unaccompanied Minors
Delta also has an "unaccompanied minor" policy for kids ages 5-14. With this policy, the child will be escorted by airline personnel from check-in, through security, to the gate, and finally onto the plane.
Baggage/Carry-On Luggage
Luggage allowance is a common question among parents. Thankfully, Delta has clear guidelines as to what is allowed for children:
If children are traveling for free (lap seat/infant-in-arms), they do not have their own baggage allowance (in addition to what is allowed for their ticketed adult). Thus, any baggage for the child counts as part of the adult's baggage allowance.
Children traveling on their own ticket follow the standard baggage allowance, and are likewise allowed one carry-on/one personal item onboard.
Children's strollers and child safety seats (car seats) are not counted as part of the standard baggage and can be checked for free at the ticket counter. Alternatively, they can be gate checked before boarding. Then, in addition to the standard one-bag carry-on allowance, passengers can also bring a booster seat, other infant seat, or bassinet on the plane as an additional free item (subject to carry-on size restrictions). A diaper bag or a breast pump and associated cooler bag are also not counted toward the one carry-on/one personal item rule for luggage onboard.
Food Policy
Kid-friendly food or snacks are available depending on which flight you book. TSA allows several baby items to go through security, as well; you can check that list here.
Special Toys and Games/Entertainment Options
Delta also offers a variety of entertainment options for children as part of the "SkyKids" program, such as in-flight entertainment loaded with games and movies.
Booking a flight for your family? Check out these 12 Best Airlines For Kids – International!
What Documents Do I Need to Fly with Kids?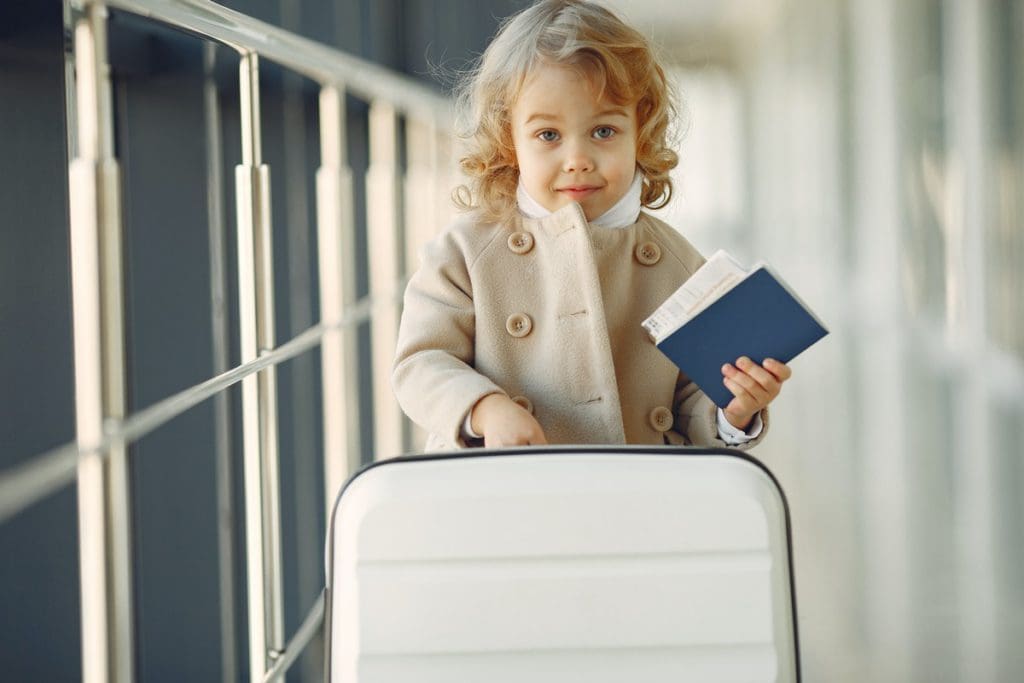 While not strictly Delta Airlines' policies for kids, you may still be wondering, do you need identification for a child or babies to fly? There are a few different documents your children may need, as U.S. citizens, to travel (if your kids have different citizenship, please refer to the rules and regulations for their country of citizenship). Then, other types of child identification may also be needed for Delta Airlines, depending on the airline, destination country, transit country, etc.
What Documents Do I Need for US Domestic Travel with Kids
Generally, no ID is needed: Babies and kids (or, those under the age of 18) do not need to present any identification for domestic travel within the United States (or its territories, like Puerto Rico or the US Virgin Islands).
Birth Certificates: Some airlines, however, may require proof of age for lap-seat infants. In this case, we recommend packing a birth certificate for your children just in case.
Child Travel Consent: If you are traveling without your child's other parent, a letter of consent providing proof of permission to travel alone with your child may be useful. While this is not strictly needed for domestic travel, it may provide peace of mind for traveling parents in the event you are questioned by government or airline staff.
What Documents Do I Need for International Travel with Kids
Basically, babies and children need the same documents for international travel adults do, including:
Valid US Passport: Regardless of age, children with U.S. citizenship need a valid passport for air travel to another country (even babies!). The application process for children under 16 needs to be completed in person. Both parents are required to be present. Children's passports are valid for five years.
Proof of Relationship to Child: While you may not be asked for it, we highly recommend that you travel with some type of document proving your relationship to your child (e.g., birth certificate, adoption certificate, etc.). Please note, some countries or airlines will require this type of document. It is your responsibility to know the documents needed before you depart for your trip.
Child Travel Consent: If you are traveling without your child's other parent, plan on bringing a letter of consent from the other parent to travel alone with your child. Some countries require letters to be notarized. This letter should contain the child's basic information (e.g., name, gender, birthday, place of birth, passport number, etc.), both parents' names and contact information, the traveling arrangements (flights, accommodations, other adults traveling in your party), and the destination.
Additional Documents You Might Need or Want for International Travel with Kids:
Tips for Taking a Long Flight with Kids on Delta Airlines
When it comes to flying Delta Airlines with kids, we have a few tips that can make the experience more enjoyable for both parents and children. Here are some tips to keep in mind:
Take advantage of the airline's priority boarding process to get on the plane as quickly as possible. This allows you time to get every settled in their seats.
Keep your child occupied with activities such as books, coloring, snacks, or electronic devices.
We also recommend timing your flight around your child's natural sleep schedule.
Don't be afraid to take a few breaks to walk around the cabin with them.
Plan an active morning at the park or another activity to wear them out before the flight.
Consider booking a window seat and bringing along a pillow and blanket to make them comfortable.
Don't forget to take advantage of the free Delta Sky Kids entertainment system!
If you're traveling with a baby for the first time, check out our ten tips to prepare for your baby's first flight.
Best Snacks for a Delta Airlines Flight with Kids
Kids love snacks, and there are plenty of great options to choose from when flying with Delta Airlines! Of course, it's important to have snacks that are both nutritious and satisfying, since there's nothing worse than being mid-flight and realizing you have nothing to keep your kids' hunger at bay.
As a general rule, Delta recommends that you avoid bringing messy food on board that needs to be refrigerated or heated. Other than that, feel free to get creative and pack some new and exciting snacks your kids may like, as well as some reliable favorites. Some good choices include PB&J sandwiches, fruit snacks, yogurt, granola or energy bars, popcorn, cookies, pretzels, animal crackers, and so much more. Don't forget the juice boxes or water!
Search cheap flights by destination through Kayak here!
Best Products for Taking a Long Flight on Delta Airlines with Kids
There are a few essential products to bring along if you want to survive a long flight on Delta Airlines with kids. Here are a few to consider as you prepare for your flight:
Then, read more hacks and products for sleeping on long flights with kids in our article!
RELATED ARTICLE: The Best Travel Accessories Families Can't Live Without
Happy Travels!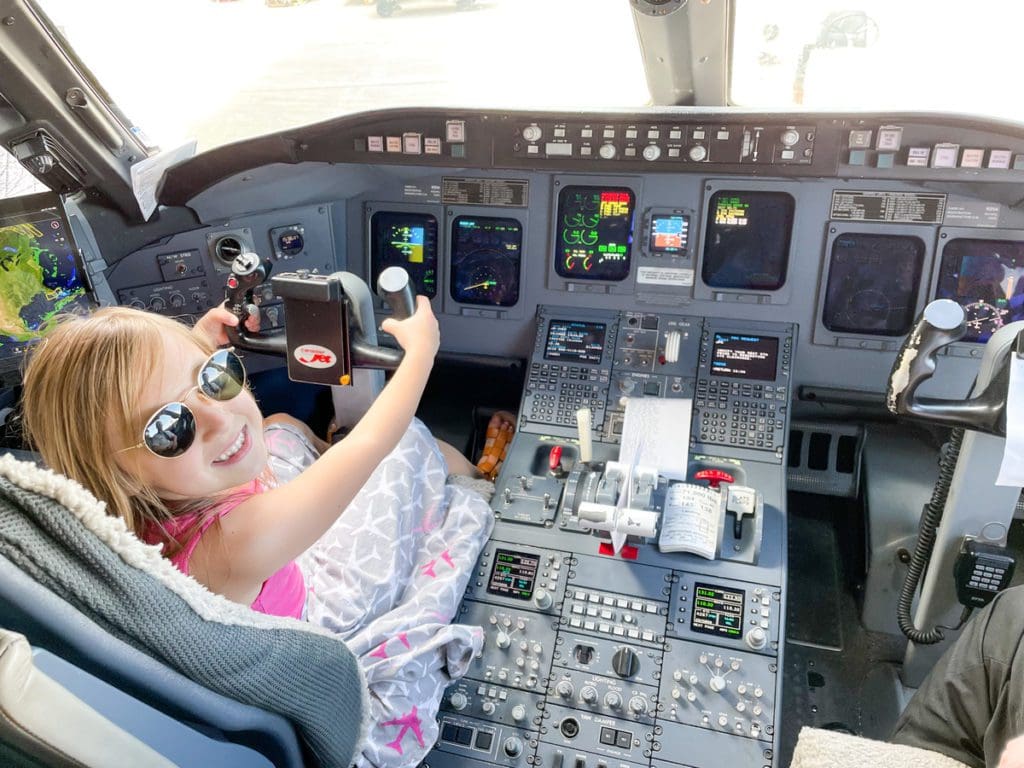 We hope you liked this Guide To Delta Airlines Airline Policies For Kids! Whether you're planning a short weekend away or an extended trip, it doesn't hurt to familiarize yourself with Delta Airlines' child policy. Enjoy your next flight with the kids! 
IMPORTANT NOTE: Airline policies are subject to change and may have been made without our knowledge. Check Delta Airlines' policies for traveling with children for possible updated information.
*This post may contain affiliate links that may earn us a small commission, at no additional cost to you. Affiliate links in no way inform the hotels, sights, products, or other recommendations included in our articles. All opinions and recommendations expressed here are compiled from submissions submitted by the generous members of our Families Who Love To Travel community.
READ NEXT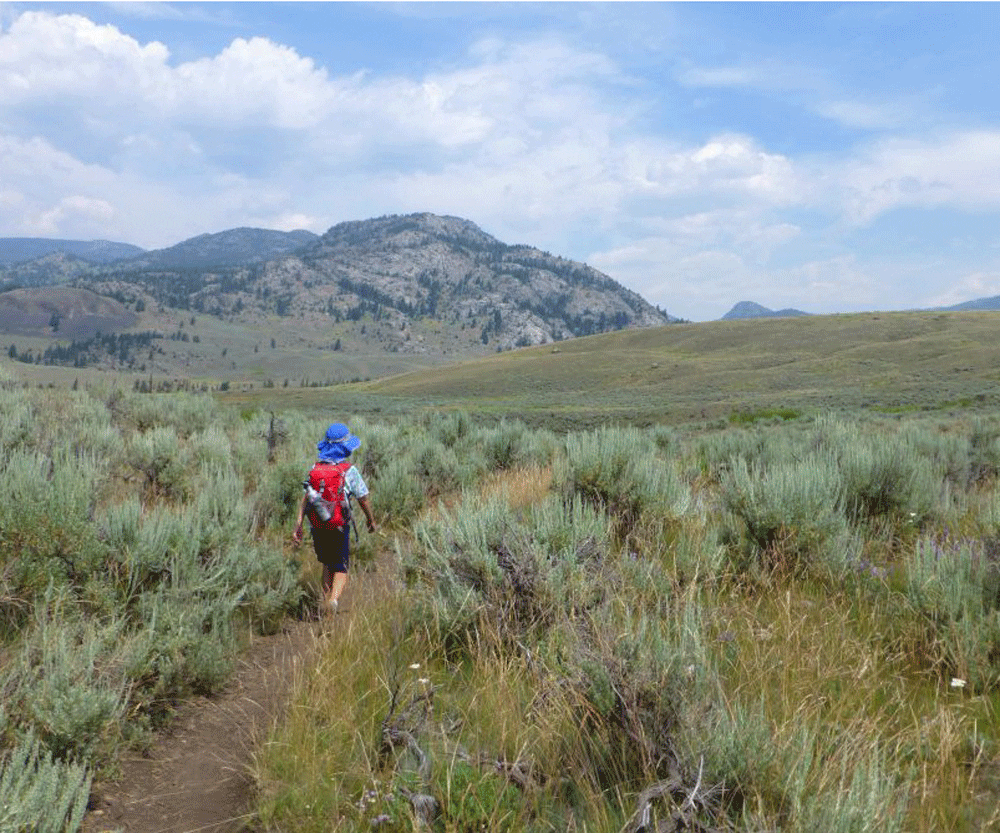 Everyone knows that Yellowstone National Park makes for a classic family vacation. Strolling the boardwalks...
Sorry, we couldn't find any posts. Please try a different search.