Families searching for a memorable vacation can't miss these best destinations to visit in Austria with kids! Known for its breathtaking natural landscapes, charming cities, and world-class ski resorts, Austria has something to offer every family member. From exploring Mozart's birthplace in Salzburg to hiking through the Alps or taking a horse-drawn carriage ride through Vienna's imperial palaces, there are countless best destinations to visit Austria with kids that will inspire awe and create lifelong memories. And don't forget about Innsbruck, nestled in the heart of the Austrian Alps, offering skiing and snowboarding opportunities galore! Whether you're seeking outdoor adventures or cultural enrichment, these top seven family-friendly destinations in Austria will make your vacation unforgettable. Keep reading to learn things to do and more tips for exploring this fantastic country with kids!
Why Visit Austria with Kids
Photo Courtesy: Gunjan Prakash, Gunjan Prakash, © Innsbruck Tourismus / Christian Vorhofer
Austria is a magical destination that's fit for the whole family to explore and create unforgettable memories together! This European country is very family-friendly, and it's absolutely overflowing with exciting activities and unforgettable experiences perfect for children of all ages.
If you're wondering why you should plan a trip to Austria with kids, here are a few reasons!
Safe and family-friendly environment: Austria is a very safe country with low crime rates, making it an ideal destination for families. Many of its cities and towns are also designed with families in mind, with plenty of parks, playgrounds, and other child-friendly attractions.
Variety of activities: Austria offers a wide range of activities for children of all ages, from skiing and snowboarding in the winter to hiking, swimming, and cycling in the summer. There are also many indoor attractions, such as museums, science centers, and play areas.
Educational opportunities: Austria has a rich cultural history and is home to many museums, art galleries, and historic landmarks. These provide opportunities for children to learn about history, art, and science interactively and engagingly.
Outdoor adventures: Austria's stunning natural landscapes offer many opportunities for outdoor adventures, such as hiking, mountain biking, and river rafting. These activities are not only fun for kids, but they also promote an active and healthy lifestyle.
Child-friendly accommodations: Many hotels and resorts in Austria offer special amenities for families, such as family suites, children's menus, and childcare services. There are also many vacation rentals and apartments that are ideal for families traveling with children.
Kinderhotels: In addition to all its family-friendly activities, Austria is also home to one of the most kid-friendly hotel chains in the world, Kinderhotels. From exciting children's programs to toy rooms, swimming pools, and healthy cuisine options, these hotels guarantee a smooth family vacation!
Best Places to Visit in Austria with Kids for History + Culture
Between charming towns, breathtaking scenery, and countless activities to keep both parents and kiddos entertained, it's no wonder Austria is so popular with families. In case you're planning your Austria family itinerary and need somewhere to stay, check out these best destinations to visit in Austria with kids!
Innsbruck
If you're searching for the best destinations to visit Austria with kids, then look no further than Innsbruck! Nestled in the heart of the Austrian Alps, this vibrant and historic city is full of exciting activities that are perfect for families. With its snow-capped peaks, crystal-clear lakes, and lush forests, Innsbruck provides endless opportunities for hiking, biking, skiing, and more – all while taking in some of Europe's most breathtaking natural landscapes.
Families can explore the Innsbruck Old Town, which showcases picturesque cobblestone streets and Medieval buildings. (Stroll down Maria Theresien Street to see the street performers!) Or, check out The Imperial Palace, with its stunning architecture, ornate furnishings, and lavish decor. There are several fascinating exhibits to capture your child's imagination – from historic paintings and sculptures to intricate tapestries and porcelain collections.
Of course, for stunning views over the city, visit The Innsbruck City Tower. Accessible via cable car, Top of Innsbruck also offers a birds-eye view of the surrounding mountains. Nearby, families can also check out Alpenzoo Innsbruck to see all kinds of interesting animals. Then, learn more about the history of ski jumping at Bergisel Ski Jump. Don't forget to see thousands of crystals come to life at Swarovski Kristallwelten!
Click here to find out the 15+ Best Things To Do In And Around Innsbruck With Kids During The Winter!
Where to Stay in Innsbruck with Kids
Wondering where to stay in Innsbruck with kids? There are a variety of top-notch options perfect for a family trip to Innsbruck. Consider Stage 12 – Hotel by Penz, which offers family rooms, a daily continental breakfast, and a great location. Then, in the heart of the old town, Hotel Mondschein offers traditional rooms and suites, as well as a lovely breakfast spread. Families also like Hotel Central – Innsbruck and Hotel Bon Alpina.
Then, click here to Discover the Top 10 Family-Friendly Hotels In Innsbruck!
Vienna
If you're looking for the best destinations to visit Austria with kids, then Vienna is a must-see destination. This magnificent city has so much to offer families, from exciting museums and stunning parks to delicious food and fascinating historical landmarks. From indulging in mouthwatering sweets at Demel Bakery to exploring the sprawling Schönbrunn Palace gardens, Vienna is a playground of endless possibilities for families!
Take a stroll through the historical center, where you'll find iconic landmarks such as St. Stephen's Cathedral and Hofburg Palace, both sure to amaze the young ones. And what's a family vacation to Austria without a touch of culture? Adventurers who crave educational experiences would love visiting Naturhistorisches Museum, where they'll discover fascinating fossils from ancient creatures and learn how Earth came into existence. Or, immerse yourselves in art history with The Belvedere Museum's impressive collection of artwork from Gustav Klimt and Egon Schiele. Families can also enjoy the city's many parks and green spaces, as well as its thriving culinary scene. Lastly, head over to Prater Amusement Park, which offers endless fun and excitement for all ages with numerous thrilling rides, including a giant Ferris wheel from 1897!
Looking for more things to do in Vienna with kids? In the summer months, outdoor activities and swimming are especially popular. Then, check out Schönbrunn Palace, a breathtaking masterpiece of Baroque architecture! There are more hidden gems, such as dazzling chandeliers, ornate furniture, and stunning frescoes lining every wall. Families can also take a horse-drawn carriage through the property. And, as part of the complex, you can also visit Tiergarten Schönbrunn, or the Vienna Zoo, one of the oldest zoos in the world! 
Salzburg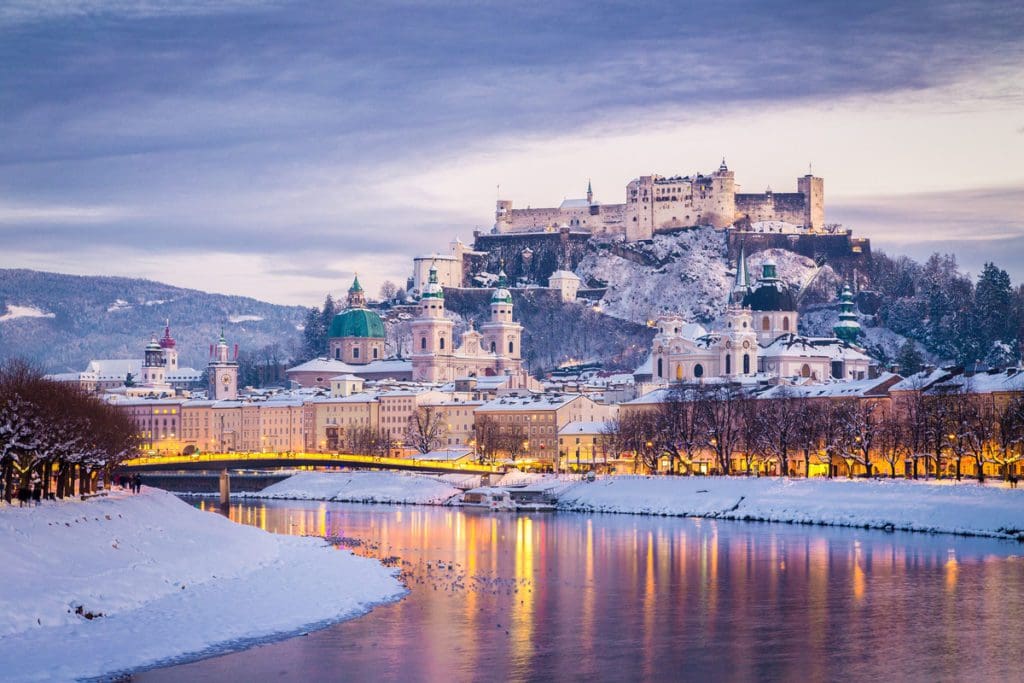 Salzburg is hands down one of the best destinations to visit in Austria with kids! From friendly locals to Medieval architecture, this beautiful city boasts a plethora of family-friendly activities that will keep kids entertained throughout their stay. The Old Town, which is a UNESCO World Heritage site, enchants visitors with its narrow winding streets and historic buildings.
Children can explore the Hohensalzburg Fortress, built in 1077, which offers stunning views over the city from atop one of Europe's most impressive medieval castles. And don't miss out on visiting Mirabell Palace; it's full of impressive statues, gardens, and playgrounds where children can frolic around freely – making it any parent's dream escape! Then, if your little ones are animal lovers, don't miss out on a trip to Hellbrunn Zoo – home to over 140 different species.
For those inspired by music on holiday — or for fans of The Sound of Music — Salzburg has plenty to offer too. Track down filming locations for scenes from the iconic movie. Then, why not pay a visit to Mozart's Birthplace?
And no visit would be complete without sampling some delicious Mozartkugeln in one of Salzburg's charming cafes! Depending on the season, those who love Christmas time won't want to miss spending some sparkling moments at Europe's oldest Advent market- Christkindlmarkt in Cathedral.
Salzburg is also home to some fantastic family-friendly hotels, like The Ellmauhof.
Hallstatt
When it comes to visiting Austria with kids, there are few places that can top Hallstatt. Nestled in the heart of the Salzkammergut region, this charming village is truly one-of-a-kind. With its striking alpine beauty and quaint cobblestone streets lined with cozy cafes and shops, your family will feel as though they've stepped into a fairy tale. But Hallstatt isn't just about picturesque scenery; it's also rich in history and culture too.
Your little ones will love exploring the salt mines that have been operating since prehistoric times, like Salzwelten Hallstatt, the oldest one in the world! It's known for its underground lake, Mirror Lake, which families can explore, as well as its funicular ride. And don't forget about exploring Hallstatt's charming old town filled with pastel-colored houses adorned with flower boxes bursting with blossoms!
For a thrilling experience, take your family on a boat ride across Lake Hallstatt or hike up to its panoramic viewpoints. The area also has several other walking and hiking trails, perfect for getting some fresh air and spending time outdoors as a family. And for those who love outdoor adventures, you'll find plenty of opportunities for hiking, biking, or even taking a dip in Lake Hallstatt on warm summer days!
Graz
Graz is one of the best family-friendly destinations in Austria for families looking to immerse themselves in a world of history, culture, and entertainment! Known for its stunning architecture, picturesque cobblestone streets, and vibrant festivals, this charming city in the Austrian province of Styria offers an abundance of attractions that cater to all ages.
The historic Old Town, which is a UNESCO World Heritage Site, is perfect for a peaceful stroll, where you can marvel at the stunning architecture and cute cobblestone streets. Then, head to one of Graz's many parks, like Schlossberg Park or Stadtpark, where kids can run around and burn off some energy while parents soak up the sunshine. Then, families who are up for a challenge will love climbing the nearly 200 steps to the top of Schlossberg Hill for amazing views and a glimpse at the medieval clock tower!
For those interested in history and culture, there are plenty of museums to check out – from contemporary art at Kunsthaus Graz to interactive exhibits at Kindermuseum FRida & freD. Graz also has plenty of cultural attractions, such as art galleries, theaters, and concerts, that are sure to impress everyone in your family. Certainly, families will find this to be an exciting destination to visit Austria with kids.
Eisriesenwelt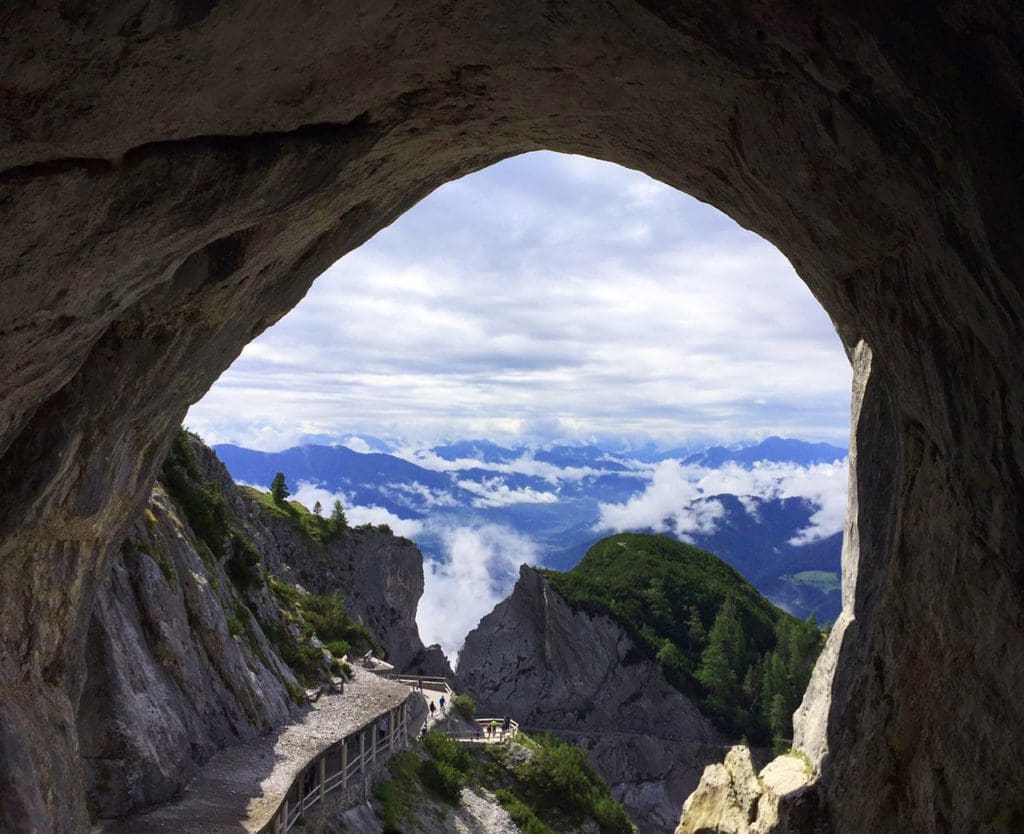 Eisriesenwelt is the largest ice cave in the world and a must-see for any traveler to Austria! Located in Werfen and accessible via a short cable car ride, this natural ice cave is a stunning sight that will leave your little ones utterly awestruck.
Imagine descending into a dark and mysterious world filled with frozen waterfalls, icy stalactites, and glacial pools that shimmer like diamonds underfoot. Families can explore the caves on guided tours, which last about an hour and include a visit to the Ice Palace, where huge icicles hang from the ceiling, and the Great Hall, which is the largest chamber in the cave.
As you wander through tunnels carved by nature thousands of years ago, watch for hidden chambers where hidden sculptures gleam in the flickering candlelight. It's beautiful and intriguing as visitors learn about the history behind this unique geological phenomenon.
Best Places to Visit in Austria with Kids for Skiing
Traveling to Austria with kids for a family ski vacation? If you're hoping to hit the slopes with kids this winter, here are a few more destinations to visit in Austria with kids! From beginner-friendly slopes to kids' programs and more, there is an Austrian ski resort perfect for your family. Keep reading to decide where to go!
Seefeld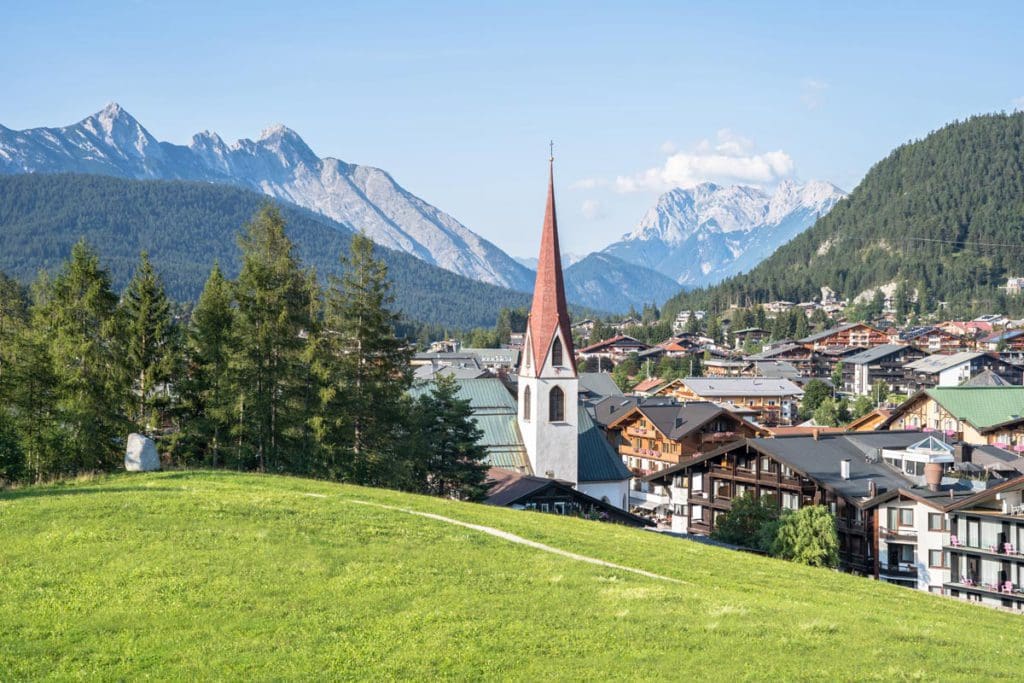 When it comes to the best family-friendly destinations in Austria for families, Seefeld is one name that stands out from the rest. Nestled amid the breathtaking beauty of Tirol's snow-capped mountains, this charming alpine village near the German border offers a plethora of activities and adventures suitable for parents and kids alike. Plus, it's only a 30-minute train ride from Innsbruck – no need for cars or transfers!
As the home of cross-country events during the Innsbruck Olympics, the ski trails allow the town to continue as a cross-country mecca in the Alps today, with over 125 miles of wooded trails, in addition to a full range of downhill slopes. Plus, it's a better value than its Alpine neighbors: Switzerland and France.
Even if winter sports aren't your thing or you're visiting during the summer months, there's still plenty to do! Visit one of the town's many saunas or swimming pools, such as Olympiabad Seefeld, explore winding hiking paths through the mountainside forests, or walk around the charming pedestrian zone. In the summer, families can even visit Lake Wildmoossee, a few miles west of Seefeld, for more fun on the water!
Where to Stay in Seefeld with Kids
If you need somewhere to stay in Seefeld with kids, we recommend Das Kaltschmid, which is part of Austria's family-friendly Kinderhotel chain. It features spacious suites with separate living room areas, apartments with kitchens, an on-site sauna, and a pool with a water slide for kids!
Kitzbühel
Kitzbühel reigns supreme when planning a family ski vacation to Austria! Nestled in the Tyrolean Alps, this charming mountain town features breathtaking alpine scenery, an enchanting town center, and an endless array of family-friendly activities.
During winter, families can hit the slopes together or go tobogganing down well-groomed trails before warming up fireside sipping on hot chocolate or indulging in delicious Austrian cuisine at one of many charming mountain chalets. Kitzbühel Ski Resort also boasts multiple beginner areas, including the Rasmusleiten, Mocking, and Pulverturm practice lifts and moving carpets in Kitzbühel and in Hausleiten (Jochberg). The slopes between the Hahnenkamm and Pengelstein are also ideal for beginners. Children under 15 ski for free on certain days, and the resort is part of the Ikon Pass Program. For a more leisurely pace, take a stroll around Kitzbühel's charming old town and marvel at its picturesque architecture dating back to medieval times.
Kitzbühel also boasts a rich cultural heritage with cobblestone streets and historic landmarks like St. Andreas Church. Or, learn more about the town's history at Museum Kitzbühel. Animal lovers can visit nearby Wildpark Aurach to see deer, lynx, monkeys, and other animals up close!
More Family-Friendly Ski Destinations in Austria's Tyrol Region
If you're looking for the best places to visit in Austria with kids, check out these other Austria ski destinations with kids!
Saint Anton am Arlberg is a charming alpine town known for its exceptional skiing and snowboarding opportunities. With over 211 miles of ski runs and impressive snow parks, there's even a special kids' area with magic carpets. Plus, a ​​'Kikiclub' especially for kids at the ski school!
Sölden is one of Austria's largest ski areas and features an altitude of over 3,000 meters! Located in Ötztal Valley, it boasts some of the most breathtaking views that will take your breath away. A bit above Sölden, families can find a kids' ski area in Innterwald. Plus, there's another one right off the Giggijjoch mountain station with magic carpets.
​​Obergurgl is nestled amidst the soaring peaks of the Ötztal Alps and boasts over 65 miles of slopes suited for all skill levels! In fact, kids as young as three and four can learn to ski on gentle slopes at Bobo's Ski Club. There's also Familypark Obergurgl, the Funslope Hochgurgl, and easy slopes at the Krumpwasserlift.
Ischgl is located in the heart of Tyrol, surrounded by snow-capped mountains, and offers some of the most stunning ski trails – over 148 miles, to be exact! Kids ages three and up can enroll at the Ischgl Ski School. Plus, there's an Idalp children's area and a Viderböden practice area with a magic carpet.
The Stubai Glacier is home to one of Austria's longest runs clocking in at an impressive ten kilometers long! Plus, it's just 50 minutes from Innsbruck and accessible with the free ski bus. Plus, there's an on-site ski school, ski rentals, and a snowpark for all skill levels.
Happy Travels!
We hope you found this list of the Top 8 Family-Friendly Destinations in Austria for an Unforgettable Vacation with Kids helpful in planning your own adventures! From gorgeous mountain scenery to history, culture, and fantastic food, this picturesque country has something to offer every member of your family. Enjoy your vacation to Austria with your kids!
*This post may contain affiliate links that may earn us a small commission, at no additional cost to you. Affiliate links in no way inform the hotels, sights, products, or other recommendations included in our articles. All opinions and recommendations expressed here are compiled from submissions submitted by the generous members of our Families Who Love To Travel community.
READ MORE: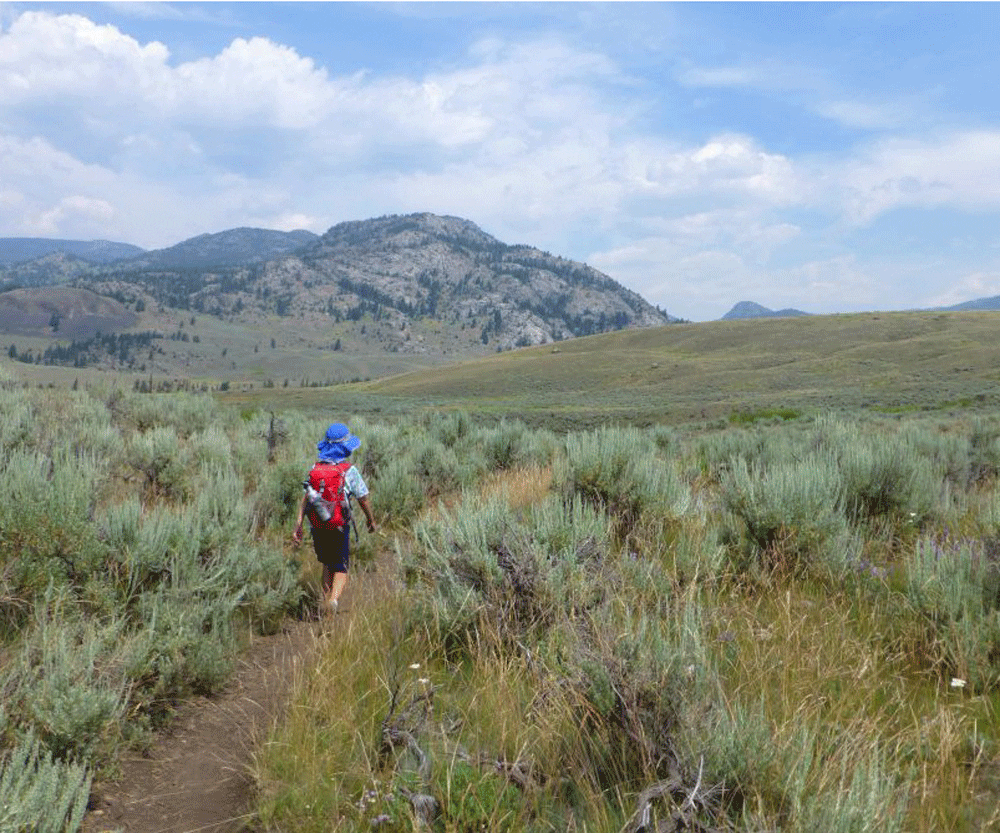 Everyone knows that Yellowstone National Park makes for a classic family vacation. Strolling the boardwalks...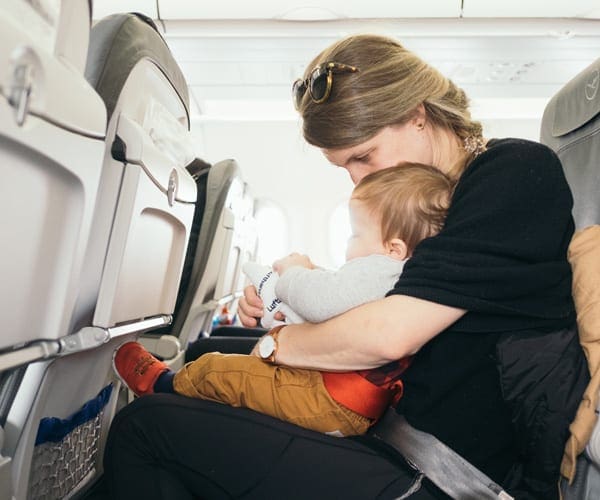 Families Who Love To Travel contributor Meghan Oaks provides her 10 best tips for your...