If you're considering taking your family on an unforgettable vacation to Egypt, you'll want to start by planning an Egypt itinerary that includes all the best sights and activities for families. This North African country boasts a rich history and culture that will fascinate all ages, from the youngest child to the eldest grandparent. In fact, if you're interested in antiquities, few countries rival Egypt in terms of preserved ancient history. And, as a bonus, there are so many amazing things to see and do, from exploring the ancient pyramids and temples to cruising down the Nile River on a traditional felucca boat. Egypt also offers a long coastline of amazing beaches with world-class diving, which is a great way to cap off a trip of busy sightseeing. Based on my own vacation, here's a sample 2-Week Egypt Itinerary For Families!
Tips for Flying Internationally to Egypt with Kids
Before getting into our 2-week Egypt itinerary for families, let's discuss some tips for flying to Egypt with kids. I booked our trip about 11 months beforehand and got a great deal on miles. Egypt Air is the only airline that has direct flights to Cairo and has a few quirks: it's a "dry flight," meaning there's no alcohol on board, but you can bring on your own wine/spirits on the plane with you. It's also not part of the TSA program, and even though you can check in online 24 hours before your flight, you need to pick up physical tickets at the check-in counter. Though the plane was dated, the beds were angled, flat, and comfortable. Plus, the food and service were good.
Tips for Taking Domestic Flights in Egypt with Kids
Domestic airfare is cheap in Egypt, and upgrading to business class costs very little compared to the US. It's roughly an extra $50pp, depending on the plane you get. The seats are quite large, and you also get a small meal. This makes it really easy to see the country outside of Cairo in a fast and convenient way. However, keep in mind that domestic flight times change all the time. Don't plan too much on a travel day, and make sure to check your flight times a few days beforehand (and sign up for updates) so that you can improvise if need be.
Before getting to your gate, there are 2-3 security checks, so I suggest leaving more time than you would anywhere else. You also almost always need to pick up physical tickets at the counter, even if you've already checked in.
An Exciting 2-Week Egypt Itinerary for Families
Now that we've covered some tips for visiting Egypt with kids, it's time to get into our 2-week Egypt itinerary for families. Throughout the span of our 16-day trip, we visited Cairo, Aswan, Luxor, and Sharm el-Sheikh. We could have also squeezed in Alexandria, but we decided to take a more laid-back approach. Here's a sample itinerary to give you an idea of a similar trip your family could take!
Day 1: The Great Pyramid, the Sphinx, Sakkara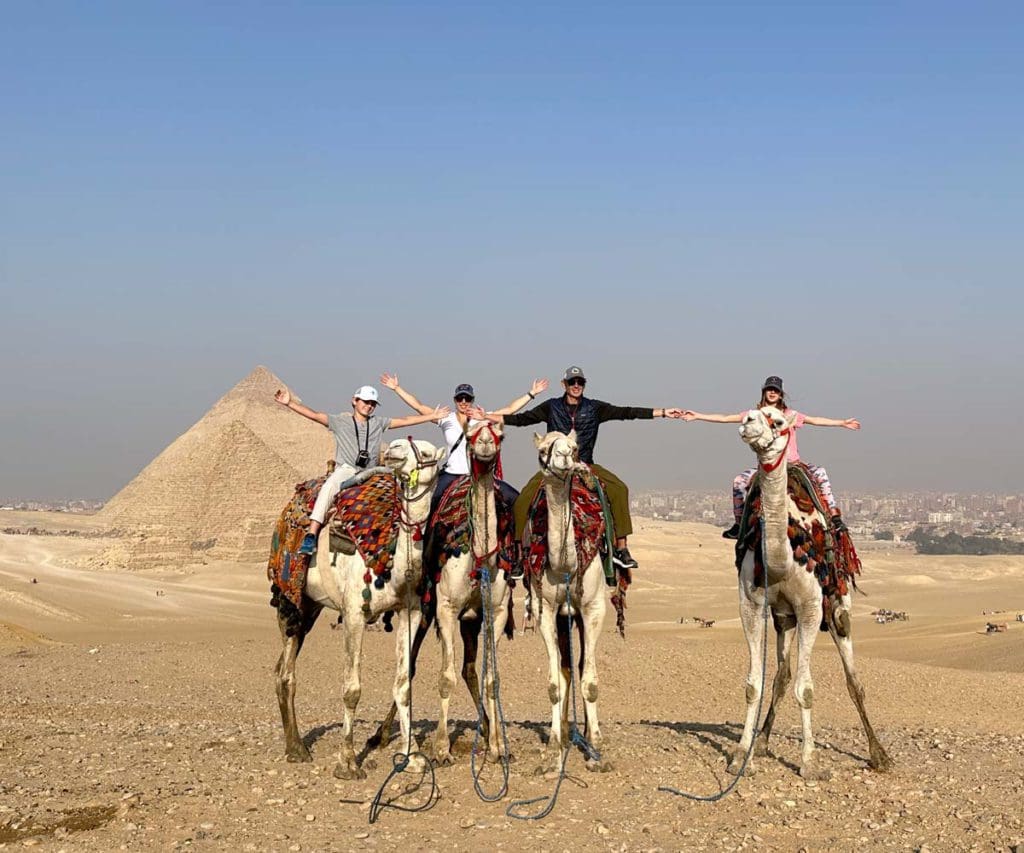 No 2-week Egypt itinerary for families would be complete without a stop in Cairo! I suggest at least two full days to see the city, though I admit this was my least favorite part of our trip. (Cairo is a crowded and bustling city with chaotic traffic.) Still, it's where most international flights land, a good place to start your family vacation in Egypt.
You can explore the city with a local when you book this tour of Cairo: Historical Walking Tour with Local & Dinner through GetYourGuide!
You'll need at least a full day (8 AM to 4 PM) to see some of the city's most iconic sights, like the Giza Necropolis, located on the outskirts of Cairo, which features the Great Pyramid of Giza and the Sphinx. These massive structures are awe-inspiring, and your kids will love learning about their history.
After exploring the pyramids, head over to Sakkara, an important necropolis and pyramid field from Memphis, Egypt's first Capital. This incredible destination is home to the Step Pyramid of Djoser, the oldest pyramid in existence. It's an impressive example of early Egyptian architecture and engineering, awe-inspiring for both kids and adults. You can even stop inside certain parts to see the carvings on the wall and go visit the nearby tombs, where Egyptian royalty are buried.
If you have more time or are up for a longer day, add Dahshur to your day at the Pyramids. This is another pyramid complex just south of Cairo and the Sakkara. Or, you can also spend more time at the pyramids and take the obligatory camel ride. Just keep in mind that whatever pants you're wearing will smell of camel afterward!
See everything by booking a day trip from Cairo: Pyramids, Sakkara & Memphis Private Tour with Lunch using GetYourGuide!
Day 2: Old Cairo, the Citadel, Grand Egyptian Museum
Day 2 of your 2-week Egypt itinerary for families is all about exploring more of Cairo. It's worth visiting the Grand Egyptian Museum, which hasn't technically opened yet due to delays but should be open in early 2023. It's due to be one of the largest and most comprehensive museums in Egypt, housing over 120,000 artifacts from ancient times.
If it isn't open when you visit, or you don't get a chance to see it, you can also consider stopping at the National Museum of Egyptian Civilization. It's located in Old Cairo, aka Coptic Cairo, another fascinating place to explore if you have more time, with its ancient mosques, churches, and fascinating history. Finish up with some bargain-hunting at Khan el-Khalili Bazaar – haggling is half the fun!
If you have more time, you can also add a visit to The Citadel to your 2-week Egypt itinerary for families. This imposing fortress, built in the 12th century, was once the seat of government for the Mamluk rulers of Egypt. Today, it houses several museums and is a popular tourist destination. Or, take a day trip to go sandboarding at Fayoum Oasis, which is around 90 minutes outside of Cairo. Of course, you can also just relax a bit to get acclimated and prepare for the rest of your trip.
Where to Stay in Cairo with Kids
If you don't like the hustle and noise of being in a city, I recommend staying at the Marriott Mena House, Cairo, in Giza. However, they won't guarantee connecting rooms (especially during peak season), and they don't have suites large enough to comfortably accommodate a family (unless you are fine with 2 queen beds in one room).
We recommend the following options if you're seeking luxury or larger accommodations. One luxury option is The St. Regis Cairo. There are also two Four Seasons in Cairo, Four Seasons Hotel Cairo at Nile Plaza and Four Seasons Hotel Cairo at The First Residence, one on each side of the Nile. Finally, families also like Kempinski Nile Hotel Garden City Cairo, Royal Maxim Palace Kempinski Cairo, Sofitel Cairo Nile El Gezirah, Fairmont Nile City Hotel, and The Nile Ritz-Carlton, Cairo, plus many more.
Day 3: Aswan Philae Temple, Felucca Ride, Nubian Village
After visiting Cairo, families can take a flight to Aswan. This city in southern Egypt is a trendy tourist destination because of its beautiful location on the Nile River. You'll need at least a full day to see the main attractions here, but I also recommend an additional day for a day trip outside the city.
Philae Temple (Temple of Isis) is one of Aswan's most popular tourist attractions and a must-visit for families. It's located on an island in the Nile River and can be reached by boat from the city center. The temple was built in honor of Isis, the goddess of motherhood and fertility, and it's surrounded by beautiful gardens.
Then, be sure to take a felucca ride. These traditional wooden boats are propelled by sails, and they offer a relaxing way to take in the sights of the Nile River. You can hire a private felucca for your family or join a group tour.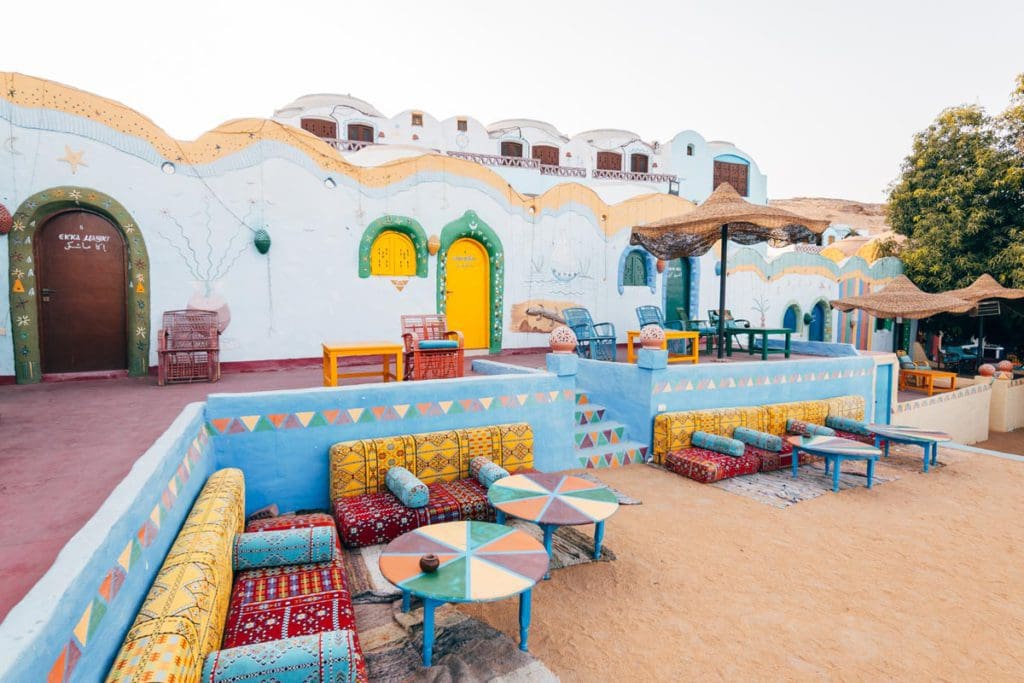 Another site I think is worth visiting (because it's quite unique) is the Nubian Village. Located just outside Aswan, this living museum gives visitors a look into the traditional Nubian culture. It's home to around 300 people who still live according to centuries-old traditions. Families can explore the village, meet the residents, and participate in activities such as cooking and gardening. If you have more time or energy to explore, there's also the Aswan High Dam, which is interesting from a historical standpoint but doesn't offer much to see.
Day 4: Day Trip from Aswan to Abu Simbel
If you're looking for an exciting way to spend two weeks in Egypt, a day trip from Aswan to Abu Simbel is the perfect choice for your family. This quaint village is home to two temples built by Ramses II over 3,000 years ago and is now a UNESCO World Heritage Site.
You can either drive to Abu Simbel, which will give you more time at the site, but it'll also take around 3 hours each way in the car. Or, you can take a short, 30-minute flight. If you fly, most people take the 7 AM flight on Egypt Air and return around noon. You only get to spend around 90 minutes at the site, which is just enough time to see the Great Temple and the Small Temple, but it does feel a bit rushed. If the outgoing flight gets delayed, so does the return, so you'll always have the same amount of time to explore.
You can also take a Full-Day Guided Tour of Abu Simbel Temples, with a pick-up from Aswan with GetYourGuide.
Where to Stay in Aswan with Kids
One of the nicest places to stay in Aswan is the Sofitel Legend Old Cataract Hotel. The hotel is dated, but very charming, and the grounds are majestic, as it literally sits on the Nile.
Day 5: Aswan to Luxor – To Cruise or Not to Cruise?
If you're planning a 2-week Egypt itinerary for families, you may be wondering what the best way to see the country is. Many different tour options are available, but one of the most popular is taking a Nile cruise between Aswan and Luxor. Hundreds of different cruises/companies offer this tour, and most are on a fixed schedule. Sanctuary, Oberoi, and Nour El Nil are among some of the most popular luxury options, but there are many others to choose from. Alternatively, you can book this tour from Aswan: Overnight Nile Cruise to Luxor with Meals through GetYourGuide.
I personally am not a big cruise person. I also really wanted the flexibility to see whichever sites for as long as we needed to, so we opted for the land option. If I were going with a few other families, I would definitely recommend chartering a boat or taking over one of the Nour El Nil boats, which only have a few rooms on them, as this would give you the best of both worlds.
Optional Stops on the Drive from Aswan to Luxor
Since we decided to drive from Aswan to Luxor, we also added a few stops along the way. Usually, it takes around 4 1/2 hours, but our stops added around two extra hours. Of course, these are completely optional on your own 2-week Egypt itinerary for families, but I still highly recommend them! Along the route, there are 3 temples (Kom Ombo, Edfu, and Esna), the first two of which we visited.
Our first stop was at Kom Ombo, which is 1 hour from Luxor. Multiple tour operators tried to discourage us from visiting for reasons unknown to me, but it was definitely worth a stop! There's also a cool crocodile mummification museum at the site, which only takes 15 minutes to see. We then drove about 90 minutes to Edfu (Temple of Horace), where we spent about 1 hour before continuing to Luxor. We skipped Esna, but it's along the route, if you have the time and desire to see it.
Pro Tip: If you decide to drive from Aswan to Luxor, pack snacks or boxed lunches, as there really isn't anywhere to eat a proper lunch. You can get fresh pita, fruit, street food, sunflower/pumpkin seeds, and nuts along the drive.
Where to Stay in Luxor with Kids
If you're looking for places to stay in Luxor with kids, look no further! I suggest either Sofitel Winter Palace Luxor Hotel, Hilton Luxor Resort & Spa, or Sonesta St. George Hotel – Luxor. We stayed in the Winter Palace, which is a bit outdated, but the grounds are beautiful!
Day 6: Valley of the Kings, Temple of Deir al-Bahri, and Valley of the Queens
Undoubtedly, Egypt is abounding in history and culture, and there's no better way to experience it than by visiting Luxor. A must-see on any Egypt family itinerary, Luxor is the richest city in Egypt from an antiquities standpoint. In fact, it's home to some of the most iconic historical sites in the world, including the Valley of the Kings, the Valley of the Queens, and the Temple of Deir al-Bahri (Temple of Hatshepsut). Most people choose to spend at least one full day exploring these destinations, and then another to see the Temple of Karnak and the Luxor Temple.
Valley of the Kings
Valley of the Kings is undoubtedly a must-visit in Luxor! This ancient Egyptian royalty burial site will surely impress your kids with its scale and grandeur. They'll love exploring the tombs and discovering more about the mummies there. Personally, it was one of my favorite parts of our vacation, and it totally blew me away! There are 63 tombs at the Valley of the Kings, but only 10-18 or so are open to the public at any point in time (it's constantly changing).
The basic ticket includes a visit to 3 tombs, and 3 tombs require separate tickets (including King Tut, Seti I, and Ramses IV/V). There's also a ticket that includes all of the tombs. We saw 5 tombs, and I regret not having seen more of them (even if I only popped in for 2 minutes).
Valley of the Queens
Next, make your way to the Valley of the Queens. It has about 4 tombs open to the public, plus the Tomb of Nefertari, which was meticulously restored by the Getty Foundation and the most expensive site at 1400 Egyptian Pounds ($50 USD) – but well worth it! Nefertari was a queen who lived over 3,000 years ago, and her tomb is decorated with vibrant paintings and interesting hieroglyphics that are sure to fascinate your little ones.
You're only allowed 10 minutes inside the tomb, but if you tip the guards, they will let you stay a few extra minutes. The basic admission is only $4 and includes the other tombs (4 of which are open to the public), which most people skip, but I think they are definitely worth a visit.
Temple of Deir al-Bahri (Temple of Hatshepsut)
The Temple of Hatshepsut is one of the most iconic sights in Luxor. It was built in honor of the Pharaoh Hatshepsut, one of Egypt's most successful rulers. It's also situated close to the Valley of the Kings, making it a convenient stop on your 2-week Egypt itinerary for families. The temple is situated against a dramatic backdrop of cliffs and has three levels, each more stunning than the last. Kids will love exploring the different levels and seeing all the intricate details of the carvings and paintings. There's also a museum on site that houses many artifacts from the temple, including statues of Hatshepsut and her family.
Pro Tip: There are other sites near the Valley of the Kings, though, that are worth a visit, and although most guides don't like to tell you, there is a ticket that allows you to see all of the open tombs in the Valley of the Kings which I would have opted for had we known in advance. The Luxor Pass can be purchased at the main antiquities administration office in Cairo and the ticket booths at Karnak Temple and the Valley of the Kings (there are two options, Standard and Premium).
Day 7: Temple of Karnak and Luxor Temple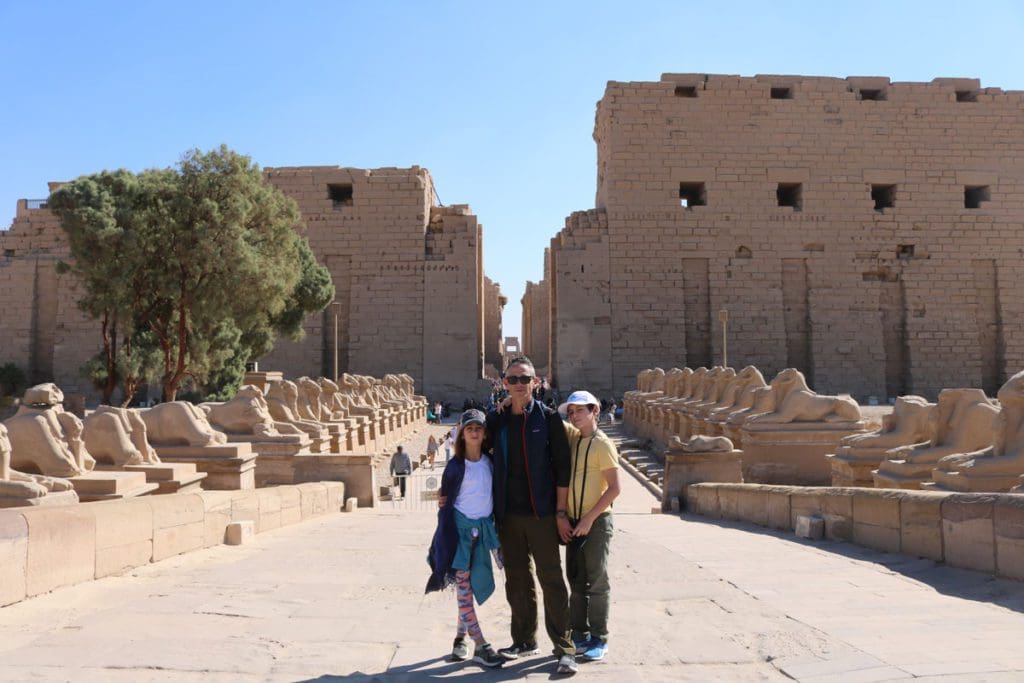 If you're looking for a unique, once-in-a-lifetime experience to share with your kids, visiting the Temple of Karnak is a must! Karnak was once the largest city in the world and is home to some of the most impressive ancient Egyptian ruins. Your kids will be awestruck by the enormous columns and statues, and they'll have a blast exploring all the nooks and crannies of this huge site. Even if you don't have much time on your itinerary, you should spend at least three hours here, since there's so much to see. This includes the Great Temple of Amun, the Temple of Khons, and the Festival Temple of Tuthmosis III.
​​Be sure to take a look at the Great Hypostyle Hall, which is covered in intricate carvings and hieroglyphics. And, the sacred temple of Amun, where you can get up close and personal with some of the many statues and paintings that adorn its walls.
Next, families can also visit the Luxor Temple. Overlooking the downtown district, it's one of the best-preserved temples in Egypt, dedicated to the gods Amun, Ra, and Horus. It was once the center of religious life in Luxor. Today, the temple is a popular tourist destination, and it's full of fascinating ancient Egyptian artifacts. Families can visit the Hypostyle Hall, Peristyle Court, and more.
Additional Activity: Sound and Light Show
If you haven't done so already at the Temple of Isis or elsewhere in Egypt, be sure to check out a sound and light show at the Temple of Karnak. These spectacular shows combine dramatic music and narration with incredible lighting effects to bring ancient Egyptian history to life. Families love them because they're educational and entertaining, and kids will be captivated by the sights and sounds. While it's a bit cheesy and touristy, there's nothing quite like watching the sunset over the majestic temple as you learn about its fascinating past.
Additional Day/Optional: Hot Air Balloon Ride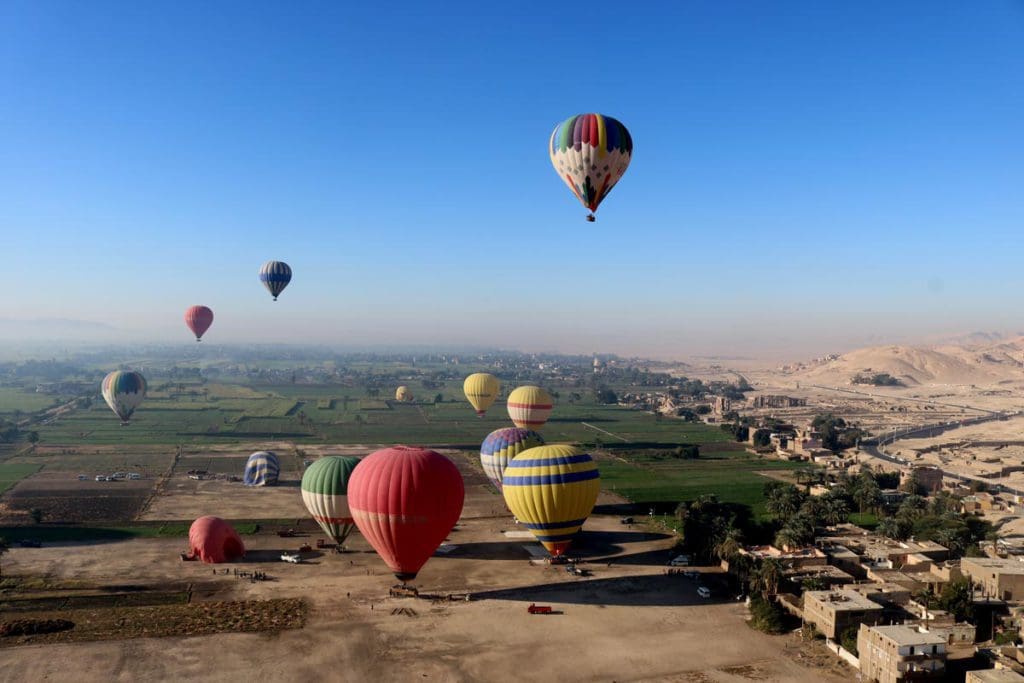 What could be more magical than a hot air balloon ride over the ancient Egyptian city of Luxor? If you're visiting with kids and have extra time on your itinerary, a hot air balloon ride is the perfect way to see the sights of Luxor from a different perspective. With rides usually taking around 45 minutes and flying over the West Bank of the Nile, you'll float gently over the magnificent temples and tombs, getting a bird's eye view of one of the most fascinating places on Earth. It's truly an unforgettable experience for both young and old alike!
Multiple companies around Luxor offer this service. Remember that most leave very early in the morning (between 4 and 5 AM to see the sunrise), so you'll have to schedule this in advance or on a full day in Luxor. GetYourGuide offers a hot air balloon tour in Luxor: Hot Air Balloon Ride.
For more exciting destinations, check out these Best Weekend Getaways From Dubai For Families!
Final/Optional Destination for 5 Days: Sharm El Sheikh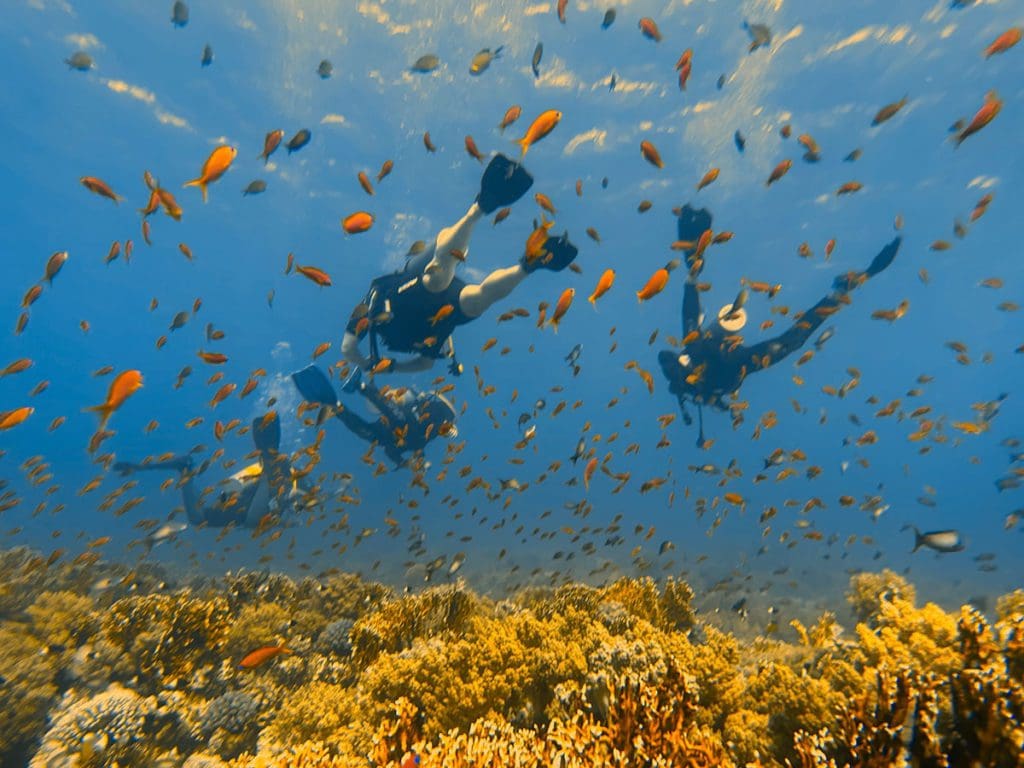 Sharm el-Sheikh, situated on the southern tip of the Sinai Peninsula, is a popular tourist destination for beach vacations and water sports. Cairo and Giza may be Egypt's historical mainstays, but this peninsula city offers a more relaxed vibe to end your hectic week of sightseeing around the country!
Families can take advantage of the many kid-friendly activities available, such as swimming with dolphins, exploring coral reefs through snorkeling, or simply relaxing on one of the many sandy beaches. For those looking for a more adrenaline-pumping experience, there are also kiteboarding and windsurfing lessons available.
After 9 days of sightseeing, we were ready for some beach time, and Sharm El Sheikh exceeded our expectations! We spend 5 days at the Four Seasons Resort Sharm El Sheikh and were sad to go. My 11-year-old got his junior diving certification, and I dove again after taking 10 years off. Even my 9-year-old daughter loved snorkeling! If you enjoy diving or are considering getting certified, book your dive excursions at least a few days in advance, as things do book up during peak season. We also went ATV'ing, followed by a Bedouin dinner, which was a unique experience. Book this amazing experience through GetYourGuide.
Families can also add a unique experience to their time in Sharm El Sheikh with kids by getting Aqua Park Tickets through GetYourGuide (includes transportation).
Day 14: End Your Amazing Family Trip in Cairo
If you're planning a trip to Egypt with your family, be sure to end your itinerary in Cairo before flying back. Most international flights leave from here, so it's the perfect place to wrap up your trip. Plus, there's plenty to see and do in Cairo if you didn't get the chance on your way in, including the Museum of Islamic Art, Al-Muizz li-Din Allah Street, and more.
Click here to read An Exciting Kenya Safari Itinerary For Families!
Interactive Map of Egypt
Use this interactive map to find points of interest, hotels, and more to help plan an exciting family trip to Egypt with kids!
Happy Travels!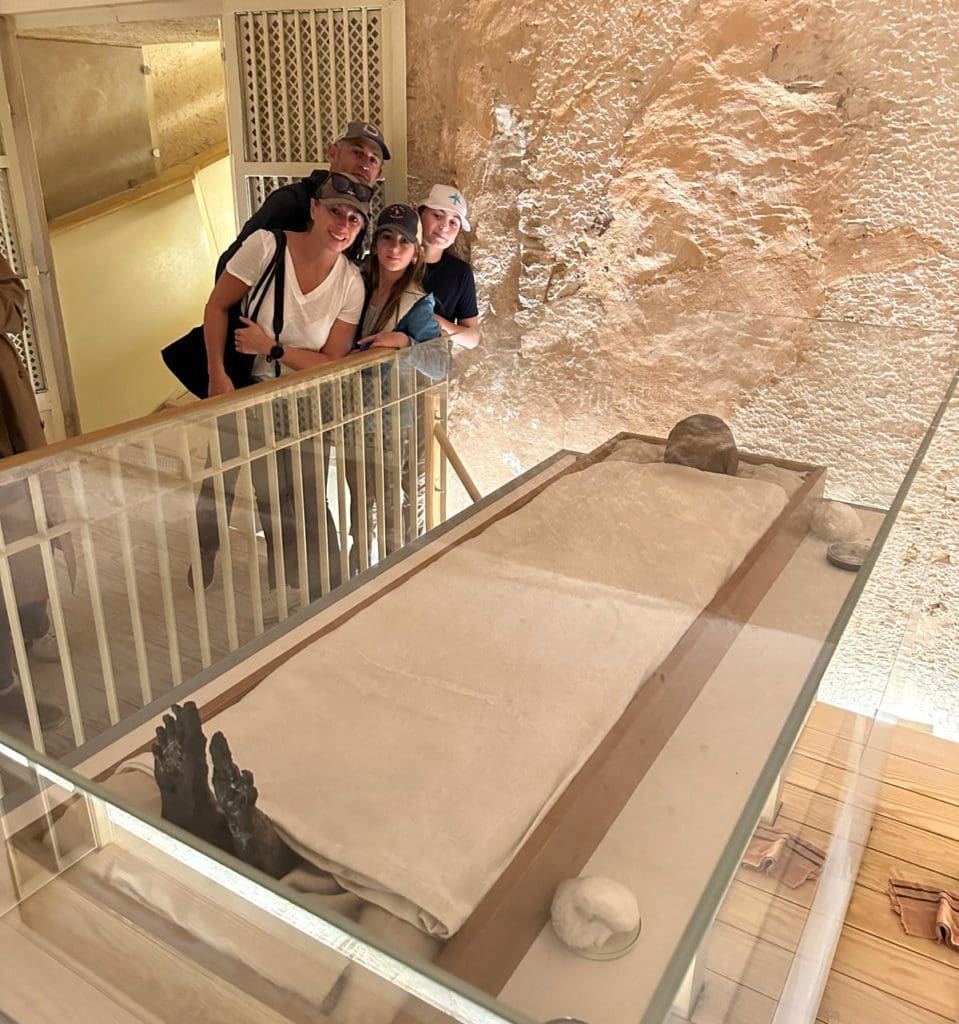 We hope you liked this Exhilarating 2-Week Egypt Itinerary For Families by our contributor Anna Massion! From the Great Pyramid to soaring over Luxor in a hot air balloon, you can't go wrong with a dream vacation to Egypt. Enjoy Egypt with your family!
*Unless otherwise noted, all images within the article belong to and are courtesy of Anna Massion.
*Due to the COVID-19 pandemic, some of the attractions, accommodations, or things to do on this list may be closed. Please ensure availability before making your decision.
*This post may contain affiliate links that may earn us a small commission, at no additional cost to you. Affiliate links in no way inform the hotels, sights, products, or other recommendations included in our articles. All opinions and recommendations expressed here are compiled from submissions submitted by the generous members of our Families Who Love To Travel community.
READ MORE: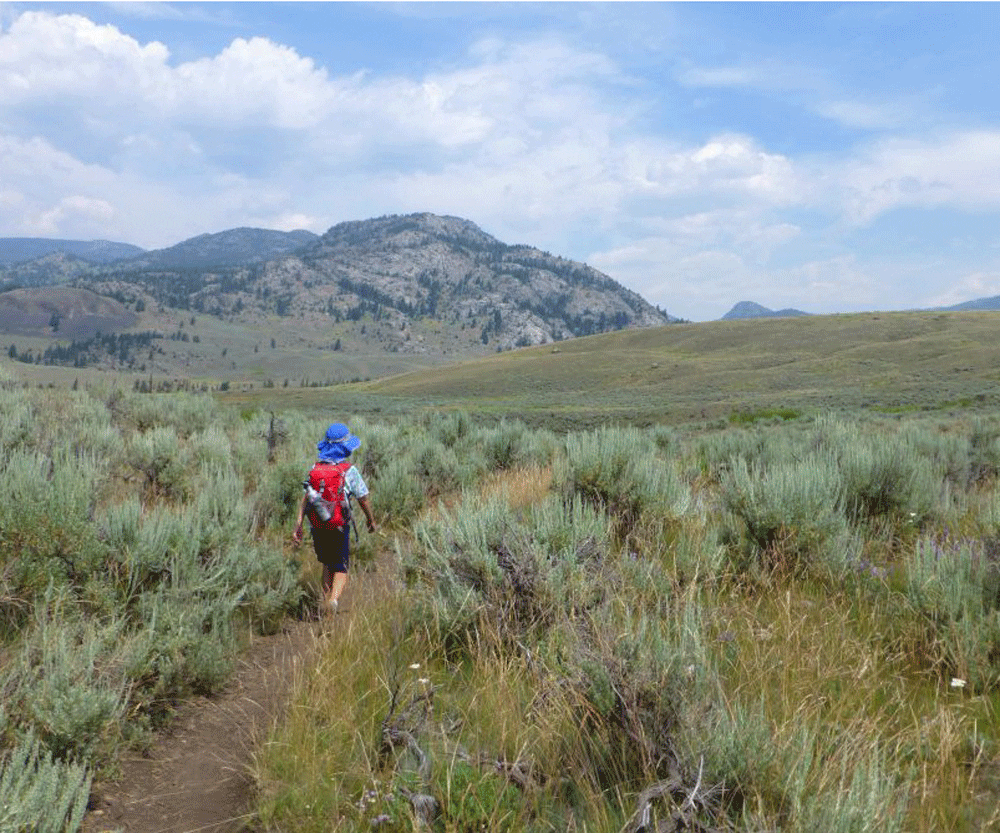 Everyone knows that Yellowstone National Park makes for a classic family vacation. Strolling the boardwalks...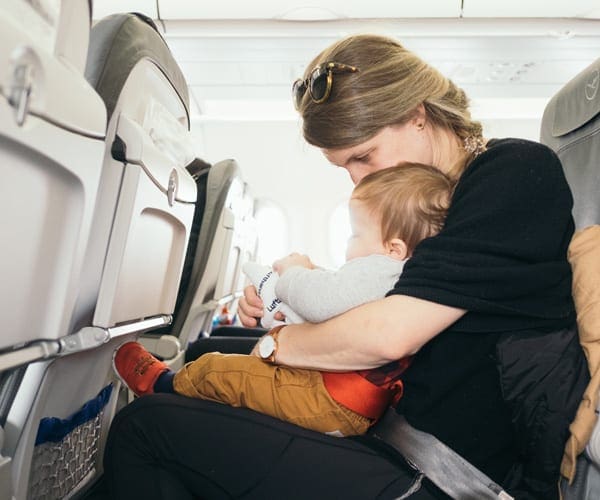 Families Who Love To Travel contributor Meghan Oaks provides her 10 best tips for your...