Spend your next dream vacation at Four Seasons Anguilla with kids! After visiting so many Caribbean islands throughout the years, my family decided to check out Anguilla, a British overseas territory in the Caribbean. Known for its beautiful beaches, lovely weather, and endless activities for kids, the island is ideal for family fun. From swimming to snorkeling, boat tours, hiking, and even horseback riding, there's no shortage of activities your kids will love! Of course, to experience everything Anguilla has to offer, staying at a family-friendly hotel is a must. My family chose Four Seasons Resort and Residences Anguilla because of its kid-friendly ambiance and luxury offerings. So, if you want to plan a similar vacation, I put together this helpful review of the resort, from accommodations to Kids' Clubs, pools, and other amenities. Keep reading to Plan Your Exciting Vacation To Four Seasons Anguilla With Kids!
Book your stay at Four Seasons Resort and Residences Anguilla using Hotels.com now.
Why You Should Visit Four Seasons Anguilla with Kids
There are many Caribbean islands to visit with your family. However, if you want true luxury, crystal clear water, and stunning landscape, check out Anguilla. This small and charming island in the eastern Caribbean might not be the most popular, but it's one of the most sought-after tourist destinations in the world if you're looking for luxury travel. Plus, when you're visiting with kids and want a warm-weather escape, the weather in Anguilla is perfect for a beach getaway. Depending on when you visit, temperatures average around 78°F (26°C.) And, the water is very warm, averaging about 82°F (28°C.)
Because Anguilla is small and only accessible by plane, it's got a much slower pace of life than other Caribbean destinations, making it perfect for families! Now that you know why you should visit Anguilla, you may be wondering where to stay in Anguilla with kids, keep reading to find out more!
How to Reach Anguilla with Kids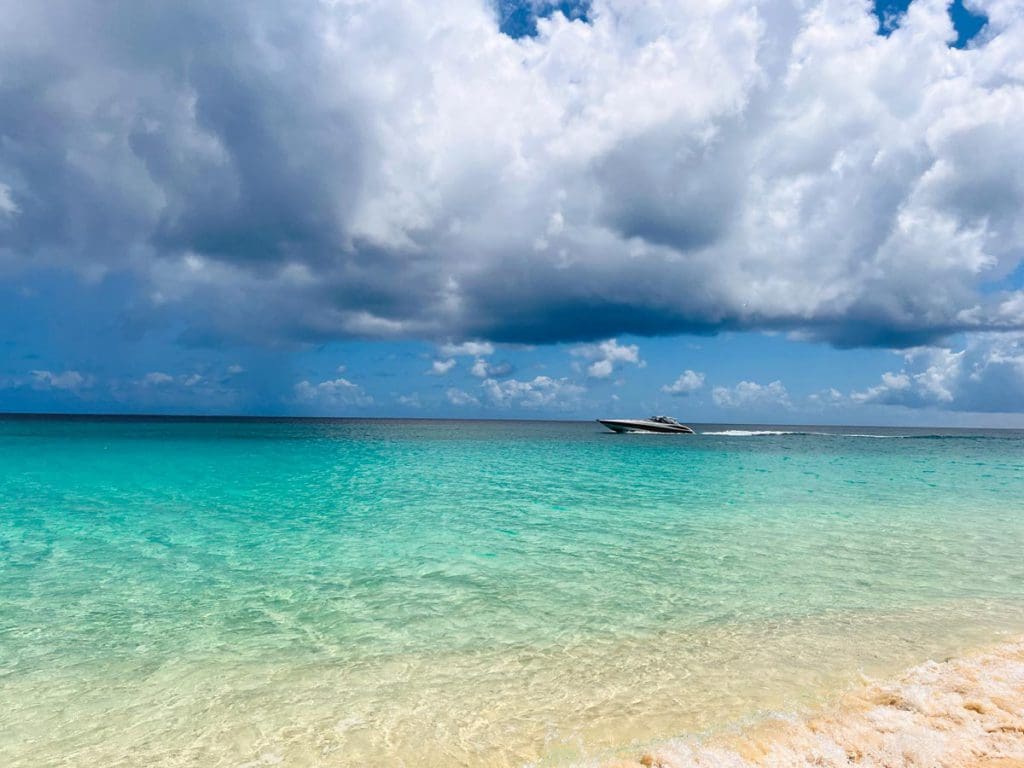 If you're wondering how to reach Anguilla with kids, I have some advice for you. Here, the main international airport is Anguilla-Clayton J. Lloyd Airport. However, since it's a small island, fewer flights go directly to Anguilla than other Caribbean destinations. Instead of flying directly to Anguilla, families can also consider flying to neighboring St. Martin and taking a shuttle boat to Anguilla. You'll have to clear customs in St. Martin before heading to the boat/ferry, which is near the airport. Remember to check the VISA, health, and COVID-19 requirements of both counties before you go!
My family booked our shuttle directly through the Four Seasons, and there were options for a private or shared shuttle. At the airport, a representative from the Four Seasons kindly greeted us and took us in a shuttle to the ferry. (It was a short ride and can be easily walked.) Overall, the boat ride to Anguilla took around 35 to 40 minutes, and it went very fast at times, which my kids loved. It felt as if the vacation has already started, as we were offered rum punch and various soft drinks. In Anguilla, we arrived at the ferry terminal, where we had to clear customs. Then, we took a 20-minute taxi ride to Four Seasons Resort and Residences Anguilla. Though it was a long trip, my kids loved the boat and were ready to have fun!
Four Seasons Resort and Residences Anguilla Location & Check-In
Once we arrived at the Four Seasons, we enjoyed more rum punch and some beverages while we waited to check in and explore the property. Located in northwestern Anguilla, the Four Seasons provides families with an upscale and peaceful escape. It's not too far from the ferry terminal but still feels far removed from the busy crowds.
As one of the best Anguilla resorts for families, it's still well-connected to nearby fine dining restaurants, luxury hotels, and other elegant establishments in Barnes Bay, which makes it fantastic for families. The hotel itself also boasts a beautiful property, featuring buildings with regular guest rooms and suites on one side, as well as Meads Bay Beach and an adjacent pool. On the other side of the resort, closer to the lobby, another pool overlooks the ocean. Plus, there's the quieter Barnes Bay Beach on the other side of the property, adjacent to a selection of luxury villas.
Dreaming of your next Caribbean getaway? Visit One of the 12 Best Caribbean Islands for Families!
Family-Friendly Accommodations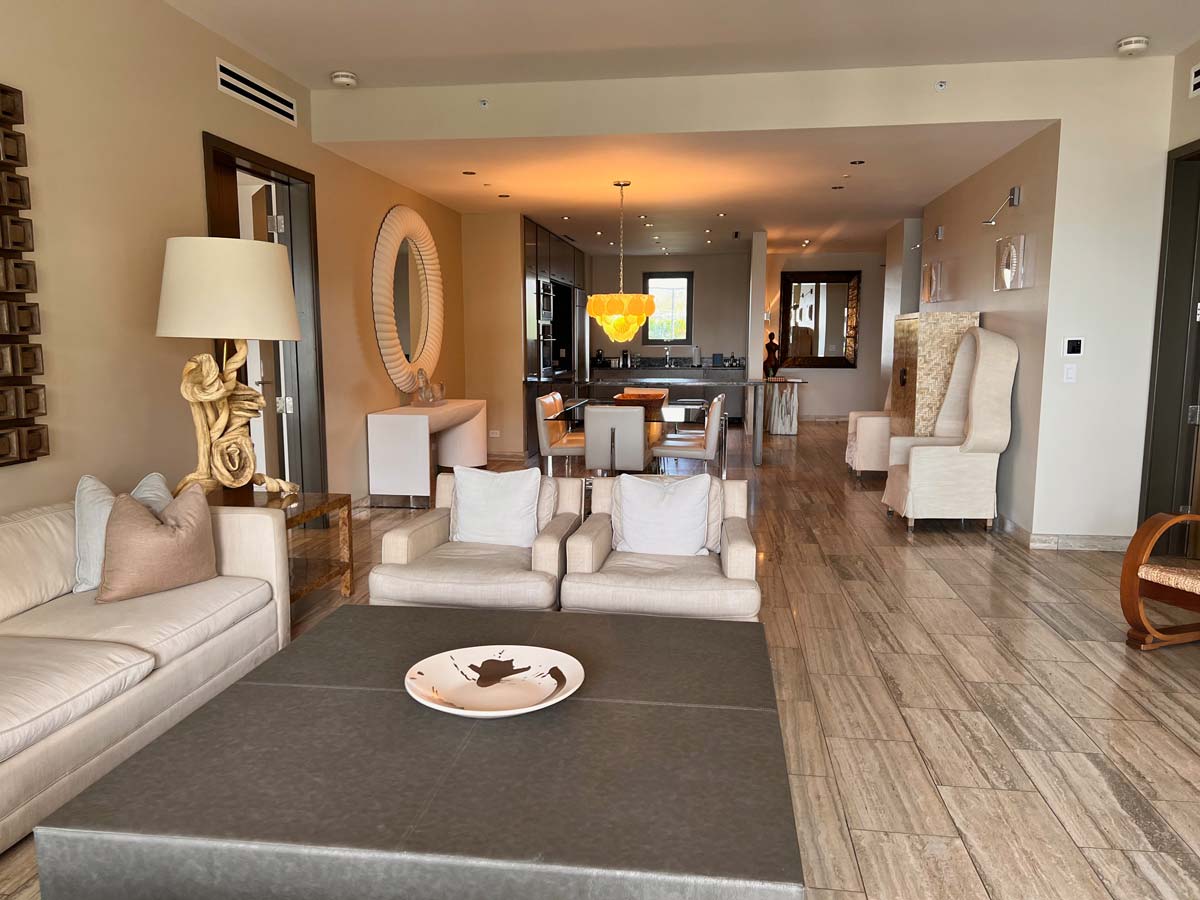 After checking in, we went to explore our accommodations. There are many options for families at Four Seasons Resort and Residences Anguilla, making it one of the best resorts in Anguilla with kids. From the smallest 2-bed standard rooms to one-, two-, and three-bedroom residences, as well as gorgeous villas. These accommodations can also cater to large families. Families can opt for 4- or 5-bedroom villas with a private pool that can accommodate up to 11 guests. Alternatively, 3- and 4-bedroom townhouses are ideal if you want a larger space. Plus, they come with a golf cart—which my kids were very envious of. With so many options and configurations, it's no wonder this is one of the best Anguilla resorts for families.
The Option We Choose
We settled in a beautifully designed two-bedroom residence overlooking Meads Bay. It had a large, lavish kitchen with a stove, oven, and all the essentials you need to host a family holiday or stay for an extended time. We loved the large dining table to have meals together. Not to mention, the two large bedrooms with an extra large bathroom and closet, and wait for it… a washer and dryer in the unit! If you plan to have an extended vacation and need clean clothes, this is such a great option for families with little kids to older messier teens. Additionally, the terrace had a small plunge pool that could be heated at any temperature. There was also a swing bed and, best of all, some Four Seasons goodies. My kids loved the complimentary beach bag with swim goggles and sand toys!
Book your Two-Bedroom Residence at Four Seasons Resort and Residences Anguilla using Expedia now.
Where to Enjoy the Water at Four Seasons Resort and Residences Anguilla with Kids
Whether you want to lounge poolside or hit the beach, there are several ways to enjoy sunny days in the water at Four Seasons Resort and Residences Anguilla. From water sports to smoothies on the sand, here are the best ways to soak up the sun while staying at Four Seasons Resort and Residences Anguilla. As one of the best resorts in Anguilla with kids, you'll certainly never hear "I'm bored" here!
On-Site Pools at Four Seasons Resort and Residences Anguilla
After checking in, we explored the hotel's various pools. There are three heated pools on-site at Four Seasons Resort and Residences Anguilla, each with an incredible view: The Sunset Pool, which is adults-only, The Aleta Pool, which overlooks Meads Bay, and the family-friendly Bamboo Pool adjacent to Meads Bay Beach. Families will love exploring the two different pools, but each has its own appeal!
The Sunset Pool
A stunning, adults-only infinity pool reserved for ages 18 and over only. It's very quiet and overlooks Barnes Beach next to the hotel's Sunset Lounge. Drinks are served in the pool, and it's a beautiful way to watch the sunset. I really enjoyed the unique floating bar.
The Bamboo Pool
The most popular pool for young kids, with shallow and waist-deep water. Located right on the beach, families can swim in the pool or on the beach. It's within the resort's central hub and is suitable for the whole family. There's also a hot tub.
The Aleta Pool
This pool is a bit deeper, around chest-deep. It also provides private poolside cabanas to rent. Plus, the pool is quite large, and the lounge chairs are nicely spread out, so no one feels too on top of each other. It was also our favorite pool because of its access to a tiny private beach reachable by rocky stairs.
Regardless of which pool or beach you select, there will be a station with sunblock and fruit-infused water, and staff is generally available to set up chairs, adjust umbrellas, and serve food and drinks. They also brought around small treats periodically, such as fresh fruit or mini smoothies, which was very nice. There was food service at both pools, but we felt the food menu options were quite limited. Instead, we preferred going to the full-service restaurant near the pool.
Beach Access
At Four Seasons Resort and Residences Anguilla, families can also take advantage of Anguilla's beautiful beaches. On the right side of the hotel, guests have access to Meads Bay Beach; meanwhile, the left showcases Barnes Bay Beach. Both have powdery soft sand and crystal clear waters.
Meads Bay Beach is often bustling with families. Meanwhile, Barnes Bay Beach is on the quieter side of the property (where the villas are) and is more serene. My kids loved the rock formations underwater, which were teeming with tropical fish. Plus, the "Half Shell" snack bar and beach attendants were fantastic. During our stay, we also appreciated how there was no seaweed, unlike some other places in the Caribbean we've visited.
Water Sports for Kids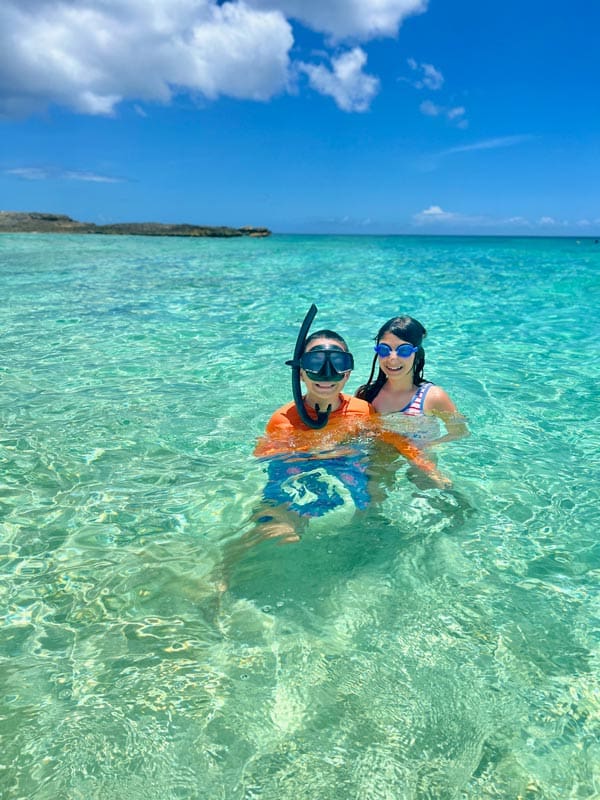 Families staying at Four Seasons Anguilla also have access to various beach equipment and water sports. Another reason this is one of the best resorts in Anguilla with kids! From beach umbrellas to snorkeling gear such as masks or fins, sand toys, sunscreen, and more, kids have everything they need to enjoy a day by the water. Non-motorized water sports are also complimentary for guests to stay busy, from kayaking to paddle boarding, boogie boarding, windsurfing, etc. For an extra fee, kids can also try motorized water sports such as jet skiing. The beach staff never missed a beat during our stay, and they truly went above and beyond to ensure we were taken care of.
Complimentary Kids' Club at Four Seasons Resort and Residences Anguilla
Kids are treated like royalty at Four Seasons Anguilla, from tiny lounge chairs for little guests in the pool area to plenty of kids' food options. One of the best kid-friendly amenities here is the complimentary all-seasons Kids' Club, which is available for younger kids between four and twelve years old. From ping pong to foosball, sand castle contests, and cookie and cupcake decorating classes, the daily activity roster is packed with tons of fun for little ones all year round. Since my kids are mature for eleven, they felt a bit too big for the Kids' Club. Unfortunately, we weren't able to find many activities scheduled for the Teen Club.
Babysitting is also available on short notice. Four Seasons Anguilla partners with a local agency and will assign a reliable babysitter.
Other Amenities for Families
Regarding family-friendly amenities, Four Seasons Anguilla truly has it all. Besides the pools, beach, and kids' club, there's a separate sports center for kids to have fun. It offers tennis courts, basketball, and rock climbing. Families can also book a tennis or rock climbing lesson with a pro through the resort, which my kids did many times. Available for purchase, families can also grab a s'mores kit and enjoy a fun post-sunset treat by the fire pits!
For parents, there's a gym near the lobby and an oceanfront spa, which we didn't visit.
Tours & Excursions Offered by the Four Seasons Anguilla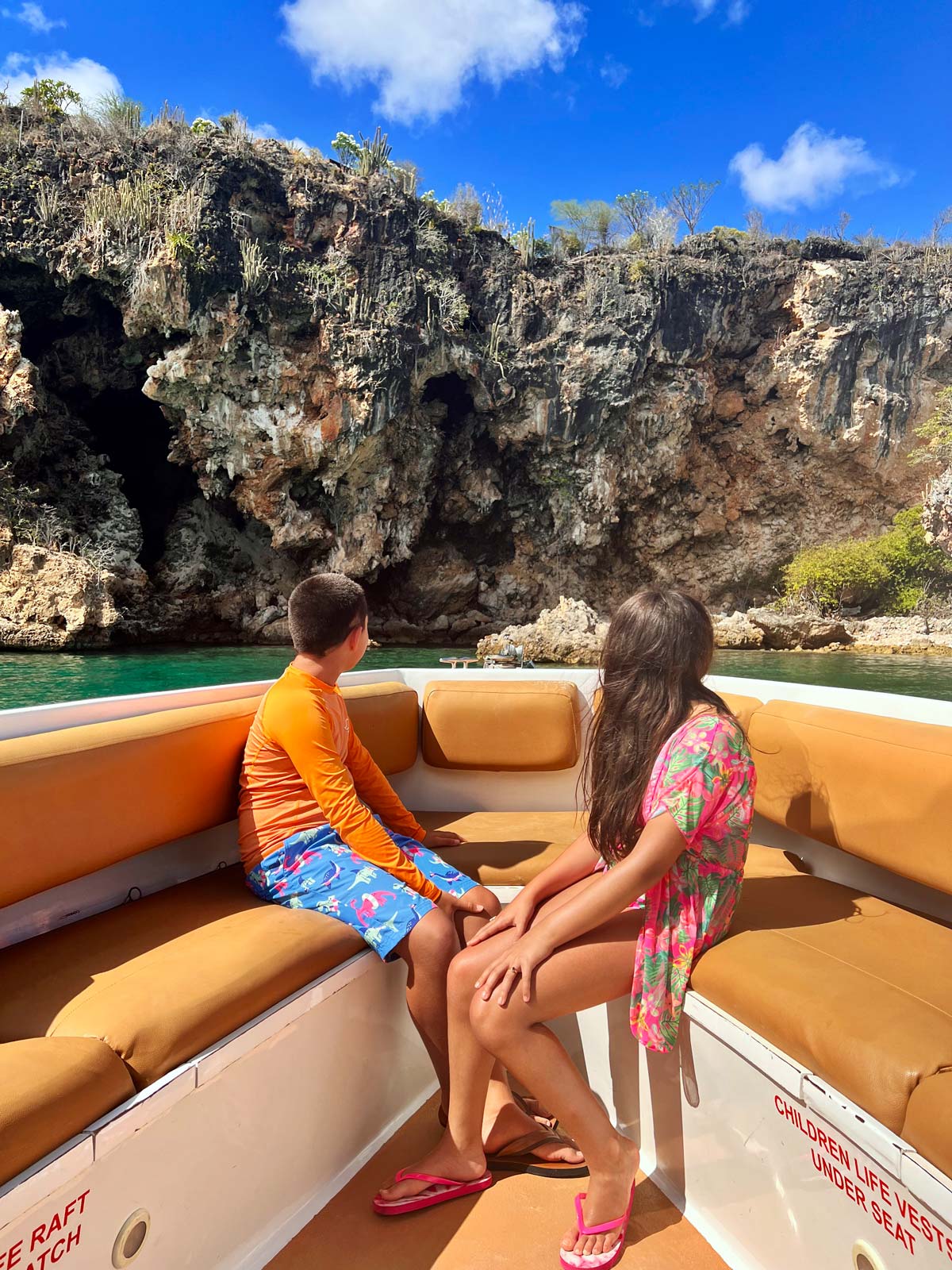 My family loved Four Seasons Anguilla so much that we rarely had any desire to leave the property during our stay. However, if you want to leave the hotel and explore Anguilla, the hotel offers a variety of excursions, both land and water-based. Families can enjoy anything from sightseeing tours to snorkeling adventures, which my kids had a blast on. This is a great way to see the island and have fun in the water while bonding as a family. Four Seasons Anguilla also has a nice weekly schedule of activities, such as bike trips and yoga classes to trips to Prickly Pear Island or Sandy Island. Some are complimentary, some come with an extra charge.
Upon request, you can also rent a private catamaran for various excursions. A taxi service staff is always there to help and quickly provide towels, beach totes, water, and anything else you may need for your adventure.
On-Site Dining
One perk that makes this hotel one of the best Anguilla resorts for families is the on-site dining! Whether you're in the mood for a hearty dinner or a light breakfast, there are several options both kids and adults will love.
Salt
At Salt, the hotel's main restaurant, families can enjoy breakfast and dinner. For breakfast, take advantage of a lavish buffet with lots of different options. It has everything from delicious bakery items to an omelet and waffle station, freshly cut fruit and juices, and various Caribbean specialties. Plus, amazing views over the picturesque beach! We really enjoyed the eggs benedict from the menu. Our breakfast was included in our stay since we booked through American Express. For dinner, the presentation at Salt is equally fantastic. It even included a couple of special surprise gifts, like a welcome drink.
Looking for dinner options outside the resort? For a casual experience, there's a great little beach place about 3/4 mile down the main/popular beach called Blanchards Beach Shack. A few other restaurants are also worth trying on the island, like Pimm's at the Belmond and Veya for more casual dinners.
Sunset Lounge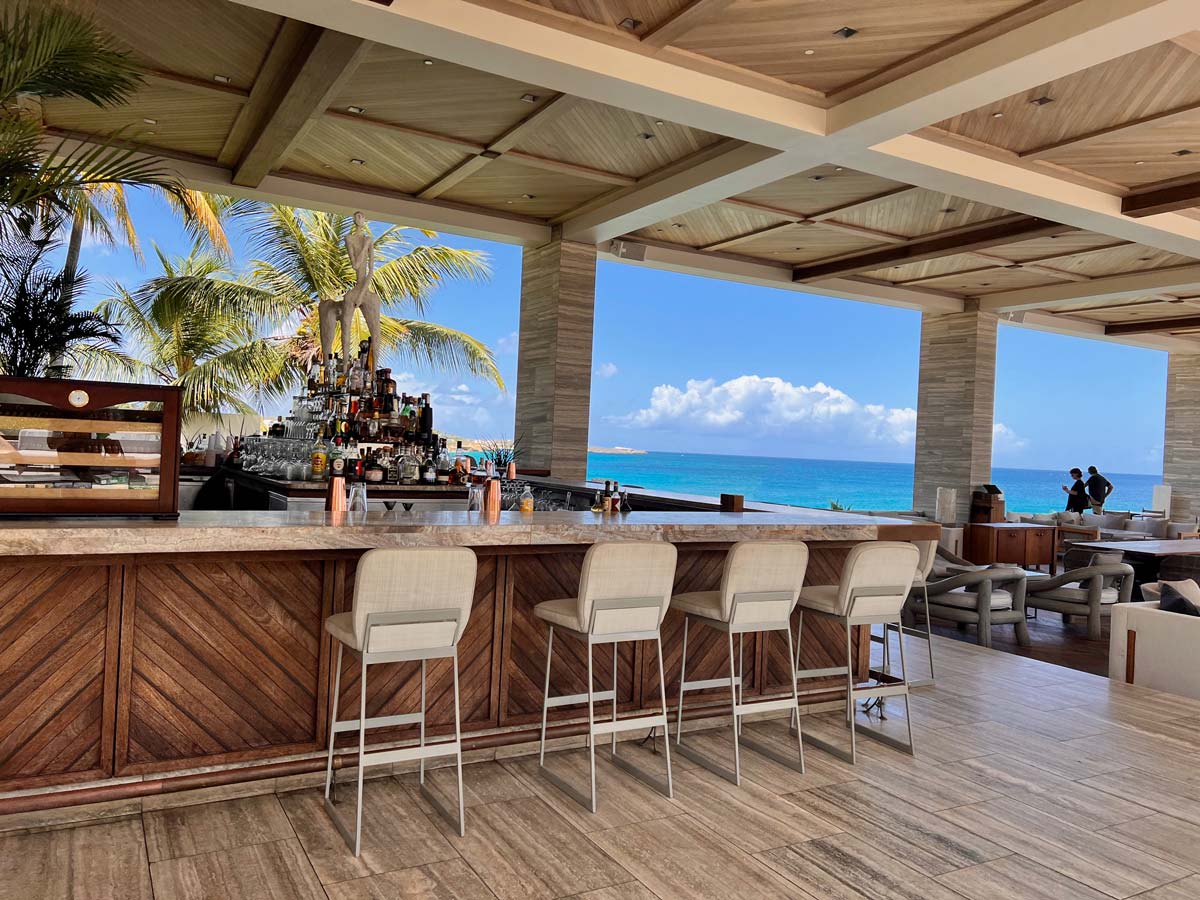 For something more upscale, the sunset views from the open-air Sunset Lounge are to die for! Located adjacent to the infinity Sunset Pool and overlooking the stunning turquoise ocean, this is the perfect place to sip a cocktail and enjoy a sushi roll while admiring the landscape. In fact, it's one of the best bars with a view in Anguilla, especially with the live music every night from 8 PM to 11 PM!
We enjoyed the vibe here and thought the sushi was excellent, but a bit overpriced. Overall, the atmosphere was nice, though the cocktails were a bit pricy too. Outside near the pool, there are also lounge chairs and a grassy area with fire pits where my kids enjoyed playing and making friends.
Other On-Site Dining Options for Families
Aside from the Sunset Lounge and Salt, where my family spent most of our trip, Four Seasons Anguilla also boasts other on-site dining options. For a quick and casual lunch, don't miss the Half Shell Beach Bar on Barnes Bay. Though the place is tiny, it's quite enjoyable – we liked the blackened Mahi and had a cocktail. Though we didn't eat there much, the hotel also showcased another restaurant, the Bamboo Bar and Grill. Located along Meads Bay, it's ideal for a quick lunch or pick-me-up drink in the middle of the day!
Downloading the Four Seasons App for Your Family Vacation
When visiting Four Seasons Anguilla with kids, one of my biggest tips is to download the Four Seasons app. This is a fantastic way to learn more about the hotel before you arrive and to help communicate with the front desk/concierge while you're staying. It was extremely helpful to us throughout our vacation, and the concierge was very quick to answer any questions we had about the hotel or Anguilla. Overall, we thought the staff was incredibly helpful, hospitable, gracious, and warm. This is another reason we consider the Four Seasons the best hotel in Anguilla for families!
Reserve your family stay at Four Seasons Resort and Residences Anguilla using Travelocity now.
Would I Recommend Four Seasons Resort and Residences Anguilla for Families?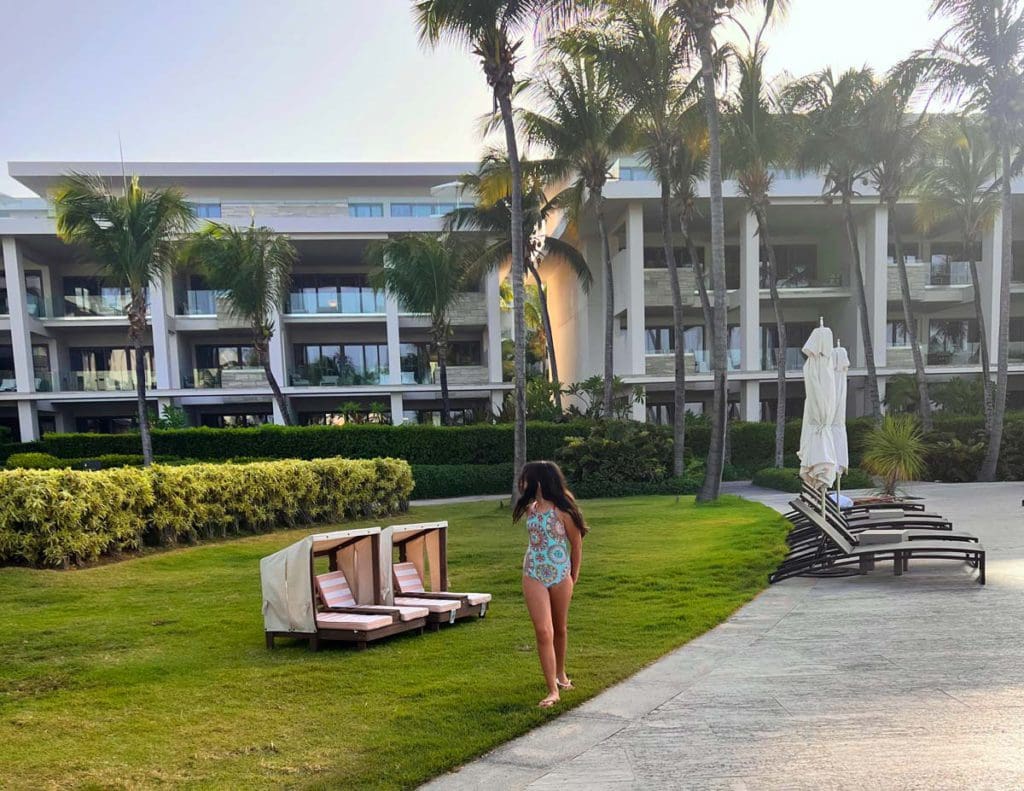 If you're wondering where to stay in Anguilla with kids, I would recommend Four Seasons Resort and Residences Anguilla! After visiting this incredible hotel, you'll realize how truly kid-friendly it is. After all, there's a reason why there are so many families at the resort! Many have been vacationing here for years, especially on multi-generational trips, and the experience is amazing every time.
Whether it's the pools, beach access, restaurants, accommodations, or activities, kids always leave feeling special and paid attention to. In fact, there are so stones unturned to make families feel welcomed and appreciated at Four Seasons Anguilla. This resort goes above and beyond to make families feel comfortable. No wonder they return yearly, and we plan to do the same! I truly think this is the best hotel in Anguilla for families!
Happy Travels!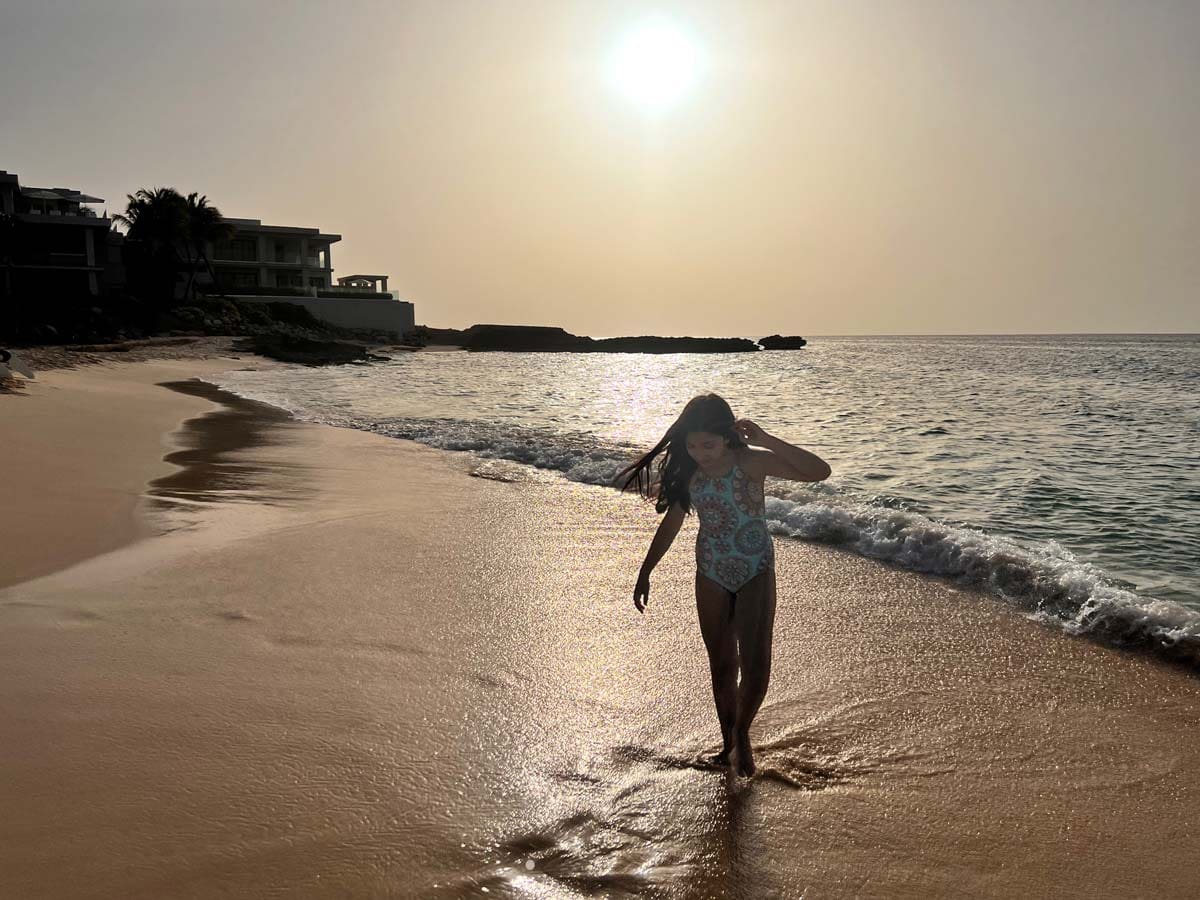 We hope you liked this Review: Plan Your Exciting Vacation To Four Seasons Resort and Residences Anguilla With Kids! Between stunning beaches, water sports, and other outdoor adventures, there's surely enough to entertain the entire family at this Anguilla resort. Certainly, if you're looking for one of the best Anguilla resorts for families, you can end your search here! Enjoy the Four Seasons with your kids!
*Due to the COVID-19 pandemic, some of the attractions, accommodations, or things to do on this list may be closed. Please ensure availability before making your decision.
*This post may contain affiliate links that may earn us a small commission, at no additional cost to you. Affiliate links in no way inform the hotels, sights, products, or other recommendations included in our articles. All opinions and recommendations expressed here are that of the attributed writer.
READ MORE: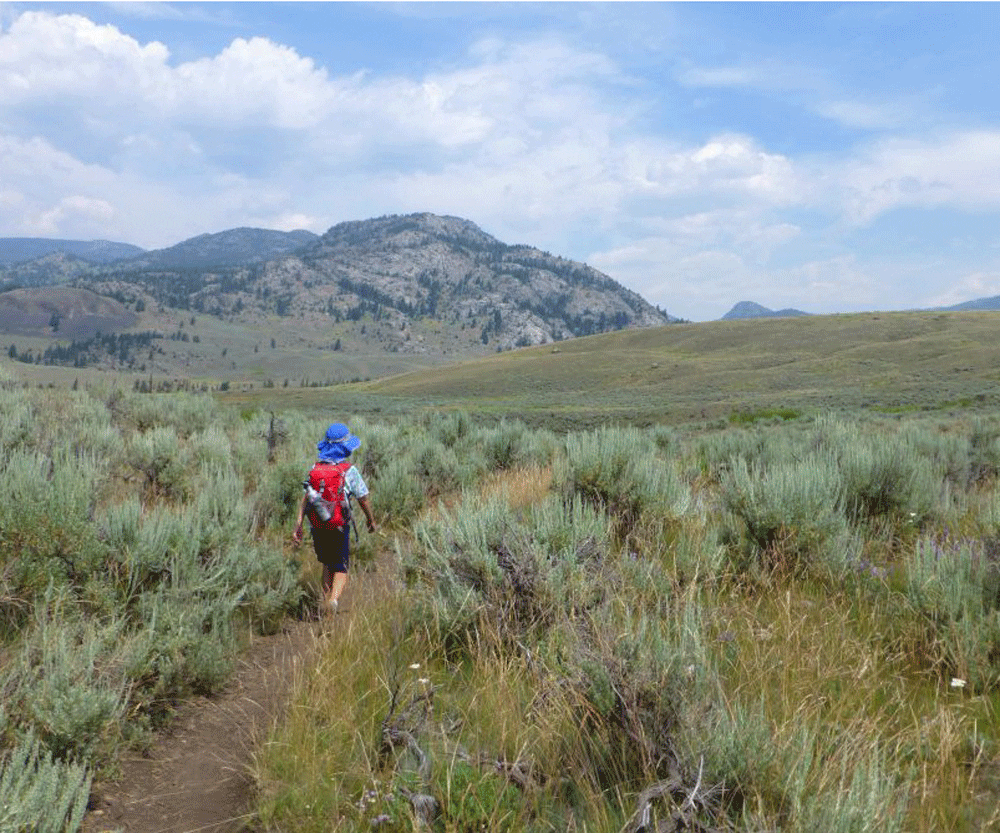 Everyone knows that Yellowstone National Park makes for a classic family vacation. Strolling the boardwalks...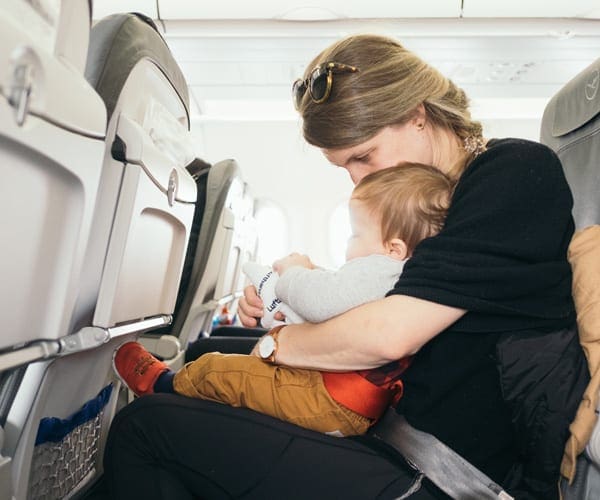 Families Who Love To Travel contributor Meghan Oaks provides her 10 best tips for your...