Searching for the best fall activities in North Georgia for families? As we say in Georgia, "it's fall ya'll!". Since the South basically gets a two-month extension of summer minus the hair poofing humidity, it's the perfect time of year to pack up the kids and head for the hills! There's plenty to discover too, as the leaves paint an autumn mural across the North Georgia Mountains. From colorful hikes to juicy apple orchards, a southern town turned German, and pumpkins so big, you'll need a pick-up truck to haul one home. Well, almost! Kids will love every adventure on this list, and adults will have a great time too. So let's take a tour of fall in North Georgia with kids. Keep reading for suggestions on the  Best Things to Do in North Georgia with Kids in the Fall!  
Looking for other things to do in Atlanta with kids? Check out our list of Best Things To Do In Atlanta With Kids
Take a Fall Hike or Drive
As mother nature gets out her color palette, there are plenty of spots in North Georgia to get a front-row seat to the fall spectacular. Taking a fall drive or hiking remains one of the best ways to experience this stunning landscape. Drive to Blairsville and hit Brasstown Bald, the highest spot in Georgia, for example. Here, you'll get a beautiful birds-eye view of the foliage – perfect for a family photo! If you're heading to Helen, soak in the view of Yonah Mountain from the base on Chambers Road. Or, skilled hikers can locate the signed trailhead from Chambers Road. From here, embark on an intermediate 2.3-mile trail leading to the summit of Yona Mountain.
Then, if you'd prefer to do your sightseeing outside of the car, there are options for that too. Go hiking through Tallulah Gorge State Park, for example. There are trails overlooking the rim of the gorge or all the way up to the waterfalls to enjoy the changing leaves during the fall in Georgia with kids. No matter what you choose to do, hiking and scenic drives are some of the best things to do in North Georgia with kids in the fall!
Visit Amicalola Falls State Park
Amicalola Falls State Park is an 829-acre state park on the edge of the North Georgia Mountains. Home to the highest waterfall in Georgia, Amicalola Falls, it's also one of the best fall activities in North Georgia for families. Trails are fairly easy to explore on your own, but coming down from the falls there are several dozens of steps. Take the East Ridge Loop Trail, rated as moderate, for a scenic hike to the top. For more of an adventure, check out the lodge. Rent a room, an entire cabin, or your own campsite. During the day, you'll have plenty to keep you busy, from guided hikes to archery, zip lines (8 years and older), and of course, the view of the falls. It truly never gets old! The Maple Restaurant serves up breakfast, lunch, and dinner so you won't have to rely on your wilderness skills!
Ride the Blue Ridge Scenic Railway
Hiking not your thing? If you'd rather leave the walking or driving to someone else, there are lots of other ways to experience the fall foliage in North Georgia with kids. One particularly famous one is the Blue Ridge Scenic Railway. Through November 7th, this vintage train departs from the historic depot in downtown Blue Ridge. From there, it winds along the Toccoa River to McCaysville and its sister city, Copperhill. Along the way, families will be rewarded with amazing views of the fall foliage in all its colorful splendor. You'll learn some fun facts too. During your two-hour layover, you'll even have time to visit both McCaysville and Copperhill, where you can explore antique shops, restaurants, and more. Children will love the chance to stay they've stepped in Tennessee and Georgia at the same time! Book your seat in advance since they sell out fast.
RELATED: The Best Fall Foliage Tours by Train, Boat, or Car in the Northeast for Families
Spend the Day at an Apple Orchard
Apple pies, apple crisp, apple cobbler, applesauce. You can have apples any way you want with a freshly picked peck straight from the trees of B.J. Reece Orchards! Make sure you check the U-pick Calendar on their website to see what apples are ready for picking before you go! After you're done gathering your apples, have some fun on the farm with a petting zoo, pony rides, cow milking, apple cannons, and the not-to-be-missed pig races. Don't forget to try one of their apple cider donuts or take home a "world-famous" fried pie. Dogs are welcome as long as they are on a leash, but no pooches are permitted in the store! Some other orchards families can visit include Hillcrest Orchards, Red Apple Barn, or Mercier Orchards. Regardless of which you visit, you'll love this quintessential thing to do in North Georgia with kids in the fall!
Experience a German-Style Fall in Helen
Head over to Helen Festhalle for some beer, brats and, bands. Hit the dance floor with German bands from across the country playing festive music. Kids under 6 even have their own dance floor! Afterward, families can even take a stroll through this Bavarian-themed town to explore a little more. Shop arts and crafts, quaint shops, and restaurants galore! In fact, a stop at Tim's Wooden Toys is a must. Here, kids will delight in handmade wooden toys and games, while parents can find their own gifts in the form of cedar signs or other personalized items. During the fall, Christmas items will also start to decorate the shelves. Find everything from ornaments to nutcrackers!
For a big pint of beer, parents can check out Paul's. Pull up a chair and watch the bubbling rapids of the Chattahoochee River below you! For traditional German breakfast, Hofer's of Helen, a traditional cafe and bakery, serves up everything from Leberkase, Apfelkuchle to dozens of tortes and strudels! For dinner, check out Mully's Nacoochee Grill. Trout is the favorite, followed by baby back ribs. Save some room for Oreos and blackberry bread pudding! Finally, Muller's Famous Fried Cheese Cafe offers another great stop for families. Here, munch on traditional German and Czech fare that everyone in your family is sure to love (be sure to sample the mozzarella fried cheese sandwich!).
Go Picking at Burt's Pumpkin Farm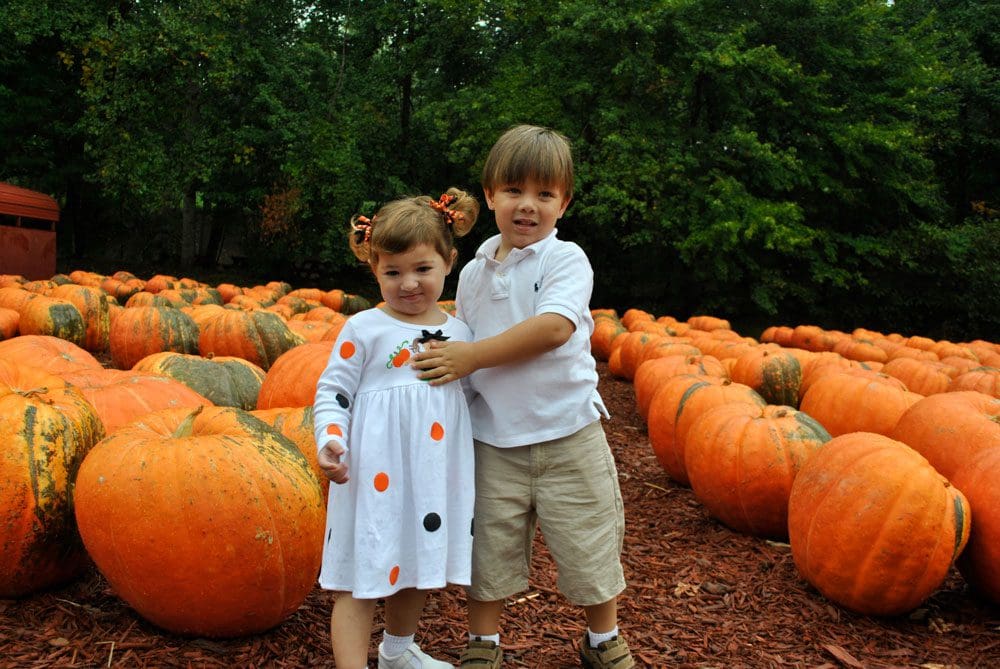 Burt's Pumpkin Farm started way back when in the 1800s. Now, it's one of the best things to do in North Georgia with kids in the fall! Families should definitely come here for pumpkin picking during the fall. You'll be the envy of your neighbors with perfect pumpkins picked right from the patch! From tiny pumpkins to ghost pumpkins and ones that weigh in at a whopping 100 pounds, you'll find more pumpkins than you can imagine. Of course, there are other activities for families here besides pumpkin picking. Take a two-mile-long hayride on a tractor through the farm for a first-hand look at pumpkin patches, fields of flowers, and a glimpse at Amicalola Falls. Then, stop by the Country Store for fresh-baked pumpkin pies, pumpkin rolls, candied popcorn, and some amazing fall decor. Don't forget your camera, the snaps here will make you a hit on Instagram!
Happy Travels!
We hope you liked this list of The Best Things to Do in North Georgia with Kids in the Fall by our contributor Lisa Lossie! Whether you want to spend the fall in Georgia with kids in the car, hiking, or at a pumpkin patch, at least you'll be able to enjoy the season together. Enjoy autumn in North Georgia with your kids!
RELATED: 16 Best Places to See Fall Colors in the US for Families
About the Author: Lisa Lossie is an Emmy Award-Winning former television news writer/producer. She now writes about her travel adventures and mom life. You can follow her on Instagram, @blondie_on_board, or find her adventures on her travel blog, Blondie Onboard.
*Unless otherwise noted, all images within this article are courtesy of and belong to Lisa Lossie.
*Due to the COVID-19 pandemic, some of the attractions, accommodations, or things to do on this list may be closed. Please ensure availability before making your decision.
*This post may contain affiliate links that may earn us a small commission, at no additional cost to you. Affiliate links in no way inform the hotels, sights, products, or other recommendations included in our articles. All opinions and recommendations expressed here are compiled from submissions submitted by the generous members of our Families Who Love To Travel community.
READ NEXT:
The most expensive photo ever sold in the world was taken at Antelope Canyon. It...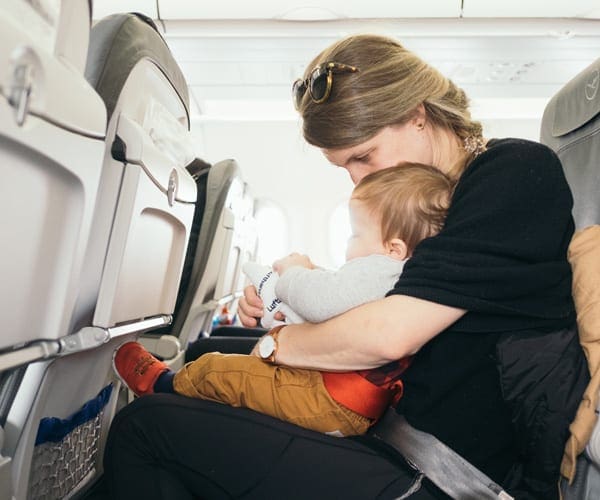 Families Who Love To Travel contributor Meghan Oaks provides her 10 best tips for your...