A fantastic family trip awaits you in Finland! From historic cities and quaint medieval towns to untamed nature and iconic experiences like meeting Santa in his homeland, this Nordic country offers a wide variety of quality fun for all. Whether you want to experience history, art, and culture in a major city center or escape into the wilderness to hike, there's something for everyone here. Plus, Finland is a super flexible country, with each season offering its own unique perks. Not sure how to tackle everything that Finland has to offer? Here, we suggest a perfect, customizable itinerary to make the most of your trip. Starting in Helsinki, we've compiled the best things to do, see, and experience in Finland with kids, including a trip to Lapland. Keep reading for our Fantastic Finland Winter Itinerary For Families!
Day 1: Roam Helsinki's City Center
A Finland winter itinerary for families should start with a stop in Helsinki, the country's biggest city. From countless museums to history, culture, and great food, there's so much to discover in this urban paradise! First, familiarize yourself with the city center, which is very compact and walkable. We suggest visiting the Helsinki City Museum for a background on the city. Inside, you'll even find Children's Town, a free children's museum. Step back in time, play like a pirate, and put on a stage show – complete with costumes!
Afterward, families can visit nearby Senate Square and see some lovely architecture or browse the stalls in Market Square. For a different panorama, check out the SkyWheel. It offers views high over the city and along the south coast of Finland. To extend the fun, add on a virtual cinema tour of the city and country.
If you still have energy after all that, you can shop till you drop in the historic Stockmann City Center. It features Finnish and international designers, plus a toy section for kids! If you want to see the best highlights of Helsinki, you can also check out a Hop On, Hop Off bus tour. It gives a brief history of the city and highlights like the Sibelius Monument, Olympic Stadium, and the Botanic Garden – plus a stop halfway through to stretch little legs!
READ NEXT: An Exciting Two-Week Iceland Itinerary For Families
Day 2: Explore Nearby Forts and Seasonal Activities
On your second day in Helsinki, explore some historical sites in and around the city. First, take the ferry across the harbor to Suomenlinna, a sea fortress built in the 18th century. Utilized by Russia, Sweden, and Finland, this UNESCO World Heritage Site offers plenty of activities for the whole family. Kids will love roaming around the snowy paths and seeing the cannons, and there are also a few cafes to stop in. Plus, six museums, including a military museum open all year!
Depending on when you plan your Finland winter itinerary for families, consider some additional fun appropriate for the season. In the winter, Korkeasaari Zoo brings families up close to wolverines, forest reindeer, Amur tigers, and Bactrian camels – all species adapted to extreme cold.
Looking for a tour? Viator offers a Helsinki and Suomenlinna Sightseeing Tour!
Day 3: Plan a Day Trip Outside of the Capital
While Helsinki is undoubtedly a charming city, there is so much more nearby that families can explore. Consider Porvoo, one of six medieval towns in Finland, which is about thirty minutes outside the city. Its iconic, red-painted waterfront houses, charming streets, kid-friendly parks, and quaint shopping and dining are a nice escape from the bigger city.
For nature lovers, Nuuksio National Park, also a half hour from Helsinki, transports families into a beautiful winter landscape, with snow-capped trees, frozen lakes, and craggy rocks. Several areas are accessible via wheelchair and stroller, too.
Optional: Day Trip to Estonia
Families visiting Finland can also consider a day trip to Tallinn, Estonia. Three ferry lines run up to 12 times a day from Helsinki and transport families to this fairytale-like city. One option is to explore the many medieval castles and fortresses. Kids will love getting a glimpse into the city's rich history as you explore the charming streets of the Medieval Old Town. It's home to historic landmarks and several cute cafes. Children will also love seeing all the action in Town Hall Square!
Depending on when you visit in the winter, the city often hosts festive events like Christmas markets. Families can also enjoy visiting one of the many museums in Tallinn, like the Estonian Maritime Museum or the KGB Museum. Another great activity is to take a ride up the Tallinn TV Tower for unbeatable views of the cityscape covered in snow!
Book your Helsinki to Tallinn Guided Tour with return Cruise tickets through Viator today!
Optional: Take in the Beauty of Tampere
Some families travel from Helsinki straight to Finland's Lapland region. However, if you have extra time, it's worth stopping in between. Break up your trip and experience more of this beautiful country! Around two hours north of Helsinki, Tampere is a laidback, medium-sized city accessible by train and offers families a ton of things to do.
From the enclosed Market Hall, the biggest in the country, to the Tampere Cathedral, start your exploration in the charming city center. Tampere is also particularly renowned for its selection of unique and interesting museums. Check out the Moomin Museum, which has interactive exhibits dedicated to popular Finnish cartoon characters. Afterward, families can explore other great options nearby. Visit The Lenin Museum, housed in the building where Lenin and Stalin met in 1905. Or, The Tampere Art Museum and the Spy Museum. 
Of course, remember to check out the city's biggest kid-friendly attraction: Särkänniemi. It's one of Finland's best theme parks and is also open in the winter, featuring an aquarium, a superpark, and more.
Day 4: Travel to Rovaniemi for Reindeer Rides and Snowmobiling
Finland's Lapland region is popular with families for a reason: there's just so much to do! When planning a Finland winter itinerary for families, many travelers fly from Helsinki to Rovaniemi, the region's capital. Known for being the "official" home of Santa Claus, this bustling city features everything you need to enjoy a vacation, including vibrant downtown.
To explore the city center before branching out into outer Rovaniemi, take a trip to one of the many museums. Art lovers can't miss the Rovaniemi Art Museum while science geeks may prefer the Arktikum, a museum exploring the Arctic and the history of Finnish Lapland. Nearby, kids can also learn more about Finland's forests and the efforts to preserve them at The Science Center Pike.
Located around 15 minutes from downtown, families can't miss Santa Claus Village, a one-stop shop for lodging, regional activities, shopping, and meeting Santa! Kids will love exploring the property in all its Christmas-themed glory, and they can even see where Santa receives all his letters. Of course, taking a reindeer ride through the trees is a must to experience the beauty of Finland. There's also a snowmobiling track available for kids four and up. Plus, snowmobiling tours for older kids usually last several hours. (Tour companies generally offer transportation to and from your lodging.) Even if you're not visiting Finland in the winter, you can see reindeer year-round at Santa Claus Village. Or, slightly further out for a more extended experience (they'll pick you up!).
If you're planning a Finland vacation, check out our Winter In Lapland: The Ultimate Itinerary For Families!
Viator offers Arctic Delight – Visit Santa's Village and Snowmobile to Reindeer Farm tour if you're looking for a tour.
Day 5: Wander Through Santa's Secret Forest (Joulukka)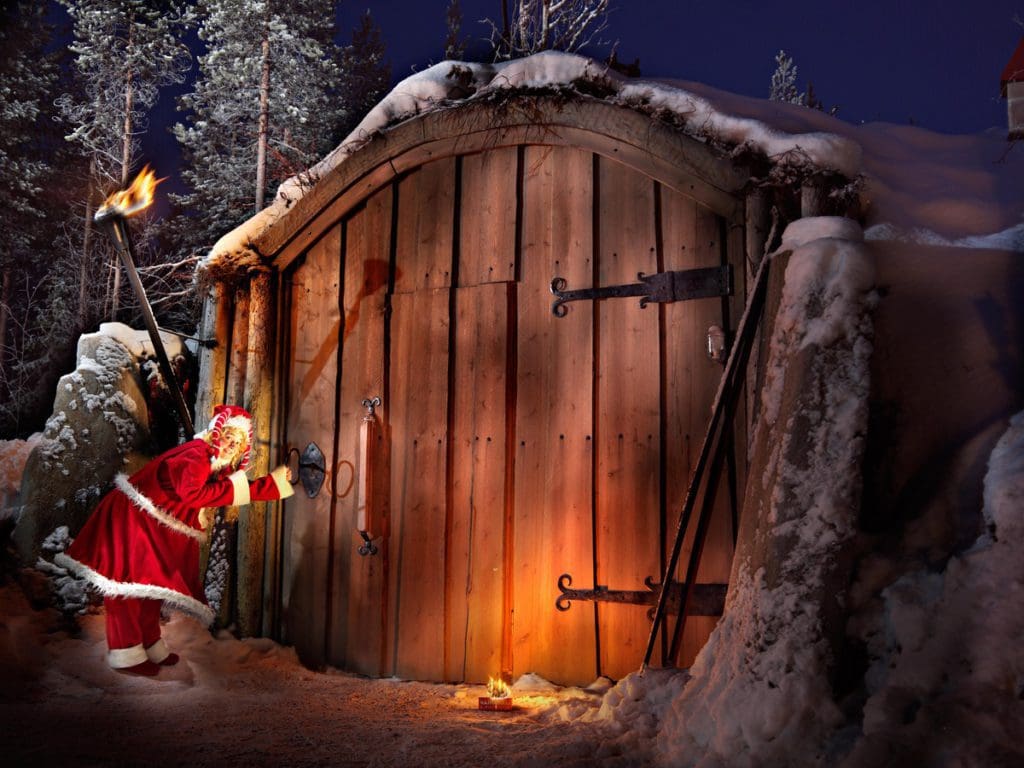 If you're looking for a unique and memorable holiday experience in Rovaniemi, add Santa Clause Secret Forest to your Finland winter itinerary for families. Also known as Joulukka, this popular destination provides families with an unforgettable adventure in Lapland all year round. However, it's especially popular in the winter, when lots of families visit and tour the property in small groups.
Of course, there are tons of activities to do with kids, including meeting Santa Claus himself! They can also see the toy factory, visit Santa's secret command center, try gingerbread cookie baking, or drink hot chocolate heated on an open fire. Families can also go on a guided tour of the forest, which is a great way to learn about the history and legends of Joulukka. Finally, guests can even arrive at Joulukka with a reindeer ride across the frozen lake!
Day 6: Experience the Magic of SantaPark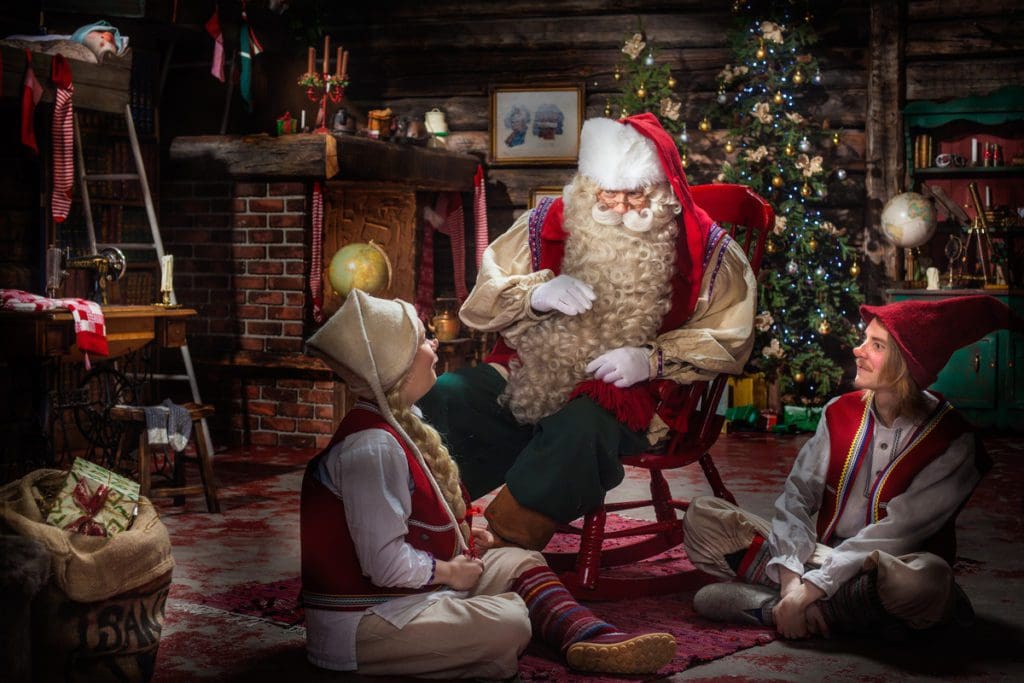 Are you looking for somewhere climate controlled in Rovaniemi? Try a fun day indoors at SantaPark, a great Christmas theme park open during the holiday season (mid-November through early January)! Children and adults alike will enjoy the abundance of activities available here, from crafts to exciting performances. Of course, one of the main attractions is Santa Claus himself, who greets visitors and gives out presents.
Still, there are plenty of other things to do with kids, from visiting the elf school to mailing holiday greetings from the post office. Kids can also decorate cookies, chill out in the ice gallery, and so much more! Occasionally, the park hosts live shows, like the Elf Show, which is filled with unbelievable stunts. There's also a magic train ride that loops around the property. Plus, an on-site restaurant offers food everyone will enjoy! 
Day 7: Cruise the Frozen Seas in Kemi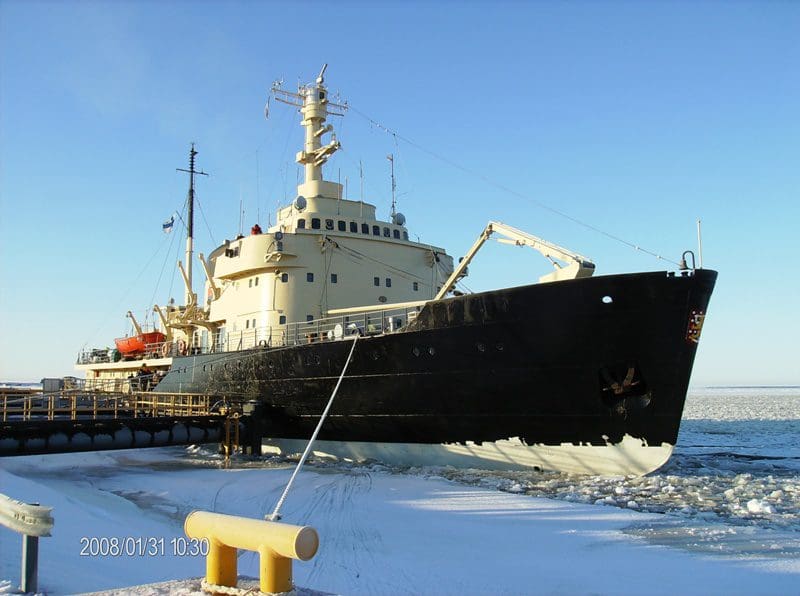 When planning a Finland winter itinerary for families, Rovaniemi is a fantastic home base for taking day trips around the Lapland region. Around an hour and a half by train, families can visit Kemi's small yet fascinating town. Though there isn't a ton to see in Kemi, it boasts a quaint, walkable city center and an escape from bigger tourist destinations. It's a wonderful place to relax and enjoy the friendly ambiance as you stroll through historic cobblestone streets.
First, stop at landmarks like the Kemi Cathedral, then continue to the harbor, where kids can watch boats zip by, and parents can appreciate the stunning sunset. In the winter, the town harbor is home to the famous SnowCastle, a fairytale-like attraction built entirely out of snow and ice. Take a picture of the spooky face on the outside and let kids get lost in its chilly corridors!
Another big reason families visit Kemi in the winter is to take a ride on the world-renowned Ice Breaker Sampo. Since this area in Lapland is one of few places where the sea freezes over completely in the winter, it offers tourists a chance to cruise through the Gulf of Bothnia on a retired icebreaker. In the process, you'll get a unique tour and learn more about the area and the actual ship. Kids will love exploring the vessel and seeing all its hidden nooks and crannies during the excursion. Best of all, you get to suit up and jump into the frozen sea. This is truly the adventure of a lifetime!
RELATED: 10 Best Places to Travel with Kids in Europe
Day 8: Enjoy the Lampivaara Amethyst Mine and Sledding or Hiking
Families who want another unique day trip from Rovaniemi should head to Pyhä-Luosto National Park, just 90 minutes away. Gem lovers are in for a real treat at the Lampivaara Amethyst Mine, which features gems formed millions of years ago! In the winter, you can take a "snow train" to reach the mines. It's a perfect place to learn about the amethyst from local experts as you tour the fascinating cave. Remember to take in the natural beauty around you as you navigate with a headlamp and hard hat for extra safety. Then, kids get a chance to dig for their own stones to take home! You'll get to take a bag of the crystals home with you, but there is also a gift shop where they can buy jewelry and other souvenirs.
Families who opt not to rent a car can get to and from the mines via the ski bus. After you head back to your lodging in Rovaniemi, grab a sled and zoom down any of the nearby hills in winter. At most resorts, and Santa Claus Village, in particular, sleds are plentiful and available for guests' use on-site.
Book your tour in Finland with confidence here with Viator!
Day 9: See Ranua Wildlife Park and the Northern Lights
Animal lovers will truly appreciate a day with arctic birds and mammals at Ranua Wildlife Park, which has 50 varieties of animals on-site. Located about an hour south of Rovaniemi, this renowned zoo is accessible by car or local bus and is definitely worth the stop. (Some tour companies also offer stops here from Rovaniemi, but some are overpriced.) Specializing in arctic animals, it offers families a chance to get up close with brown and polar bears, appreciate the cooky beauty of the various owls, or watch the reindeer in action. In the winter, little ones will love being pulled around the park on a sled! Tickets and guided tours can be purchased ahead of time online, and children under 4 are free. 
Visiting between mid-August and early April? When the weather cooperates, families can take a Northern Lights safari. Little travelers may find it too late, but we highly suggest it for everyone else. Your children will watch in awe as the night sky fills with bright colors and offers an unforgettable backdrop during your family trip to Lapland!
Also read: Best Places To Travel In December With Your Family
More Options for Your Finnish Itinerary
Rovaniemi isn't the only place to have a magical adventure in Finland's Lapland. The region has many additional places to visit if you want to hop around or have more time to spend on your Finland winter itinerary for families! For avid skiers, Levi is the largest ski region in Finland and has some of the best runs in the country. Even further north are Ivalo and Saariselkä, ideal for nature lovers who want a more remote arctic experience. Kittilä, Ylläs, and nearby Äkäslompolo offer beautiful winter escapes as well. Visiting a nearby city is a great way to round out your Finland winter itinerary for families!
Reserve your tours in Finland here with GetYourGuide!
Where to Stay in Helsinki and Rovaniemi With Kids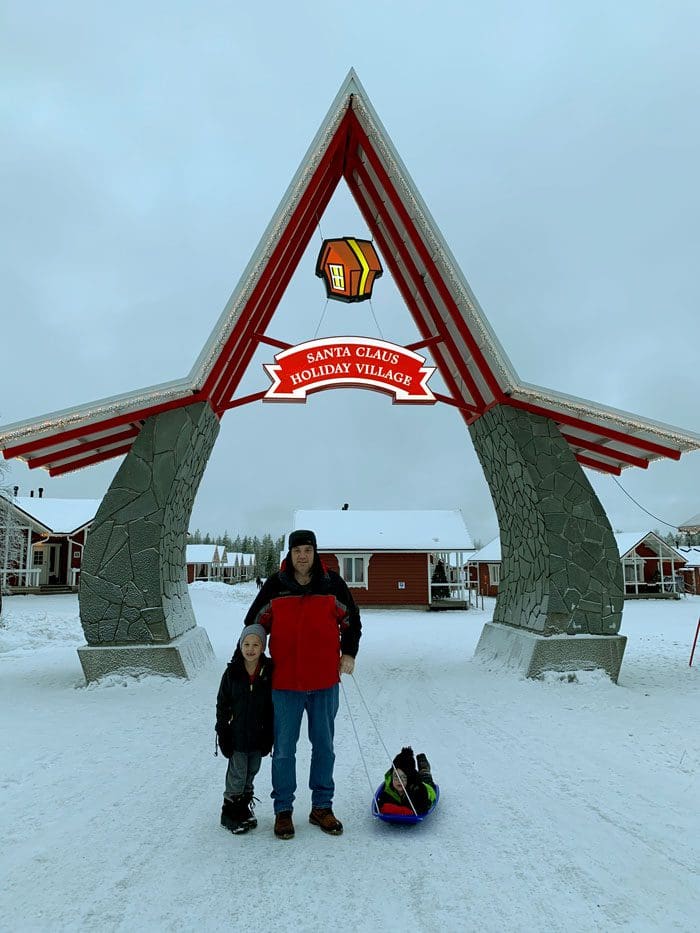 Are you wondering where to stay during your Finland winter itinerary for families? Helsinki offers an array of family-friendly places to rest and recharge. Consider the Scandic Grand Central Helsinki or Scandic Park Helsinki, where kids 12 and under stay free; the latter even has a pool and sauna! Get a little taste of northern Finland at Lapland Hotels Bulevardi. It's centrally located and families can enjoy free breakfast. Need more space? Aallonkoti Apartments offers multi-bedroom units right by the main train station.
In Rovaniemi, Santa Claus Holiday Village is a popular place for families. The one-bedroom units with a small kitchen allow you more space and amenities; some suites are also available at Nova Skyland Hotel. Both are steps from the activities in Santa Claus Village. A bit further afield, Arctic SnowHotel and Santas Glass Igloos both offer clear views of the night sky from the comfort of your igloo. Or, go for something in the heart of Rovaniemi, which offers countless restaurants (Cafe Bar 21 serves waffles all day!). Stay near a science center, a playground, and more at the family-friendly Santa's Holiday Homes.
Happy Travels!
We hope you liked this Fantastic Finland Winter Itinerary For Families! Whether city or countryside, historic or modern, fairytale-filled wonder or modern marvels, you will be sure to have a great trip. Enjoy this Nordic country with your family!
*Due to the COVID-19 pandemic, some of this list's attractions, accommodations, or things to do may be closed. Please ensure availability before making your decision.
*This post may contain affiliate links that may earn us a small commission, at no additional cost to you. Affiliate links in no way inform the hotels, sights, products, or other recommendations included in our articles. All opinions and recommendations expressed here are compiled from submissions submitted by the generous members of our Families Who Love To Travel community.
READ MORE:
Don't forget to join the Families Love Travel Facebook group, follow our Facebook and Instagram pages, and subscribe to our newsletter for more family-friendly travel ideas.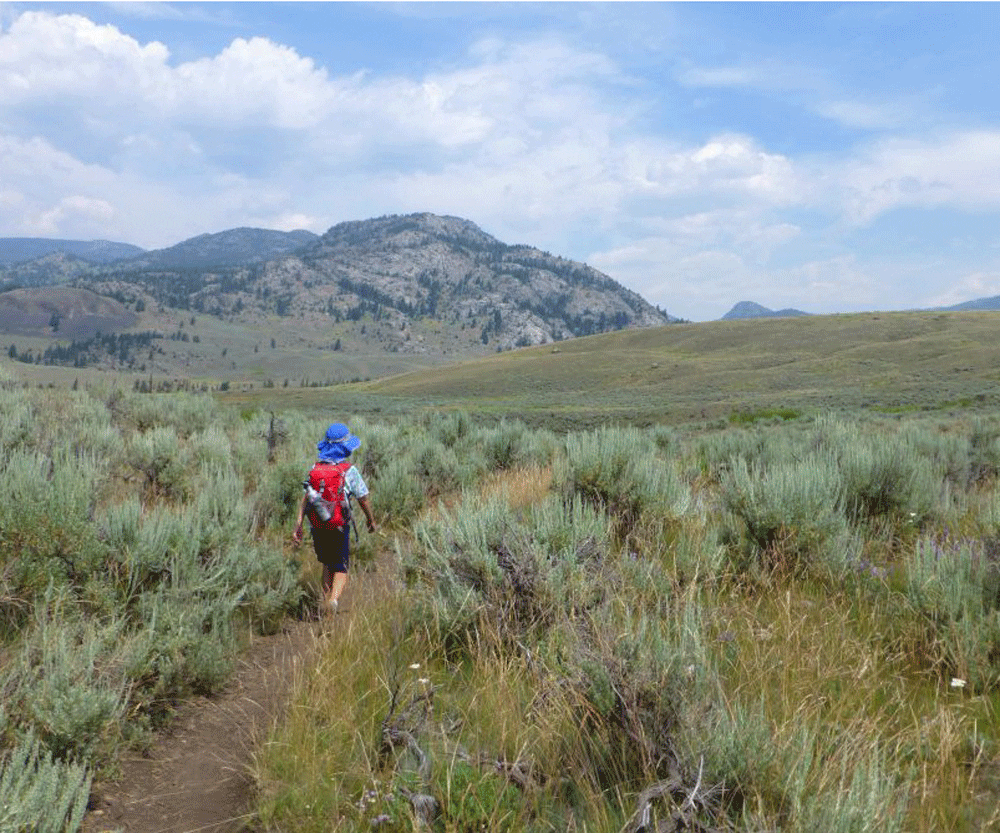 Everyone knows that Yellowstone National Park makes for a classic family vacation. Strolling the boardwalks...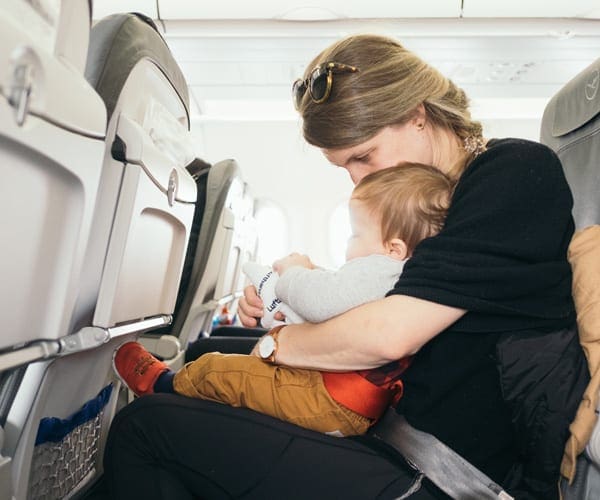 Families Who Love To Travel contributor Meghan Oaks provides her 10 best tips for your...