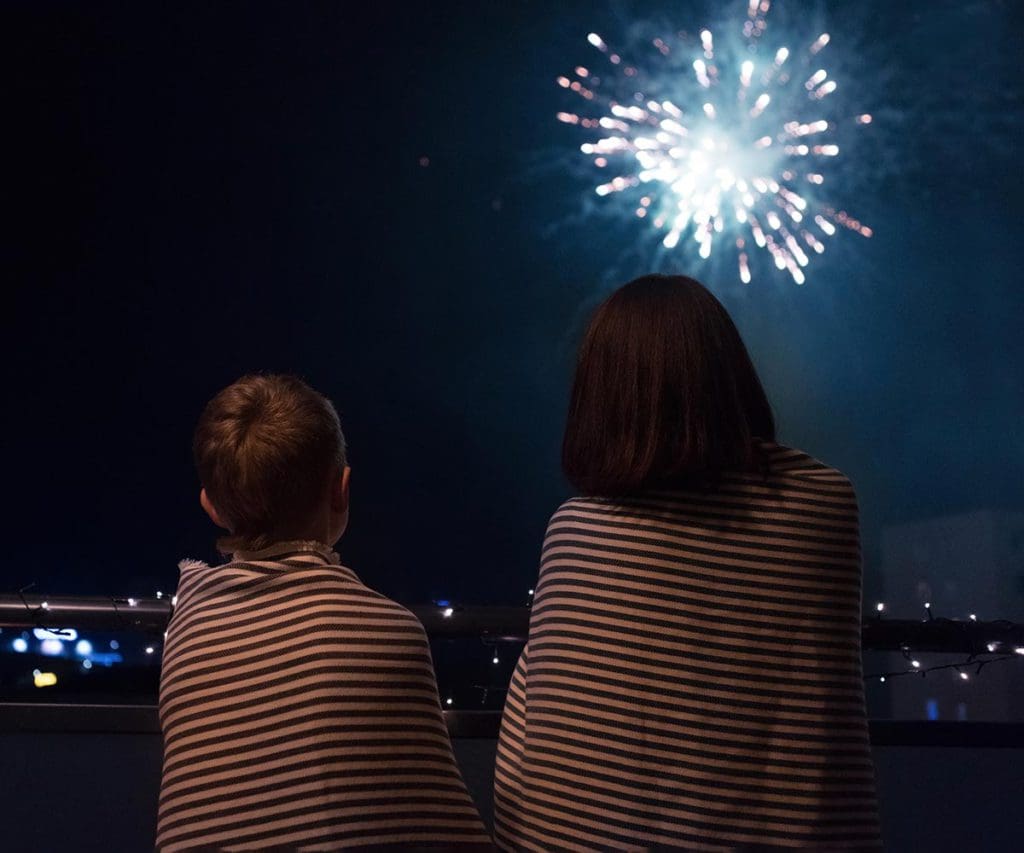 The Fourth of July is a time to celebrate our nation's independence, and what better way to do so than with some spectacular fireworks displays and epic celebrations for families? From coast to coast, there's no shortage of patriotic festivities to leave you feeling more American than ever. Whether it's watching fireworks light up the New York City skyline or enjoying the cool sea breeze by San Diego Bay, there's something for all ages on this special day. And let's not forget about the irresistible smell of barbecue pits smoking all day long or hitting up a family-friendly carnival or amusement park! We've included a list of fantastic things to do, where to stay, and more suggestions for your trip. So, get ready for family-friendly fun and a tour of America's most spectacular fireworks shows!
Best Places for Families to Celebrate Fourth of July on the East Coast
The East Coast is undeniably one of the most exciting regions to be in during Independence Day! From Boston to Washington DC and everywhere in between, this part of America is where you'll find some of the best festivities that will leave your family wanting more. Here are some of the best Fourth of July celebrations in the US for families!
New York City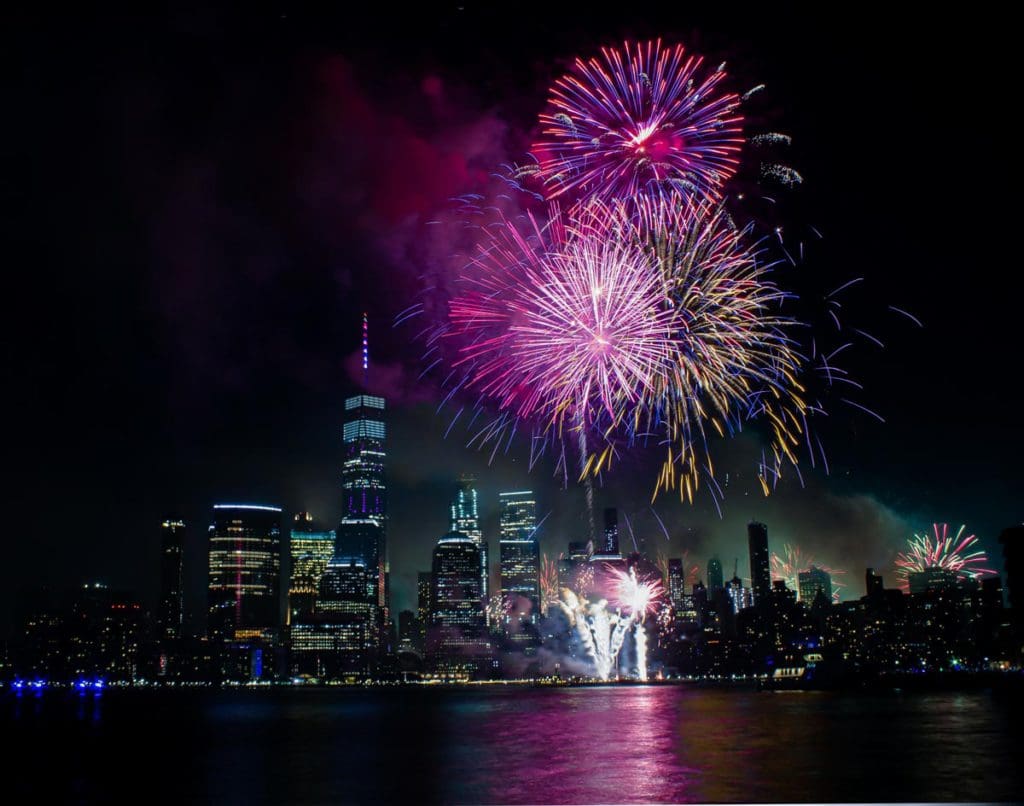 New York City is one of the most iconic cities in America, and it's no surprise that it puts on a truly spectacular fireworks display for the Fourth of July. ​​​​​​One of the best places to catch a glimpse of the iconic Macy's Fourth of July Fireworks Spectacular, which takes place over the East River, is from Brooklyn Bridge Park or South Street Seaport, where you'll have breathtaking views of Manhattan and Lady Liberty herself.
If parades are more your thing, head to Coney Island for their annual Nathan's Famous Hot Dog Eating Contest and accompanying festivities. Then, Statue Cruises also offers special sunset cruises around Ellis Island with stunning views of lower Manhattan as well as an up-close view under Lady Liberty's torches – imagine all that while enjoying patriotic music!
Of course, families can also take a stroll through Central Park or head over to Times Square to experience some true American spirit. You can also ​​see landmarks like the Empire State Building lit up by colorful pyrotechnics! Or, visit Ellis Island to learn more about American history. Then, check out one of NYC's many museums, from the Museum of Modern Art or The Whitney for teens who are art lovers to the American Museum of Natural History for young dinosaur enthusiasts!
Click here to check out the Best 4th Of July Weekend Getaways From NYC For Families To See Fireworks!
Where To Stay In New York City With Kids
Need family-friendly hotels in New York City? If you're staying in Lower Manhattan, you'll love The Millenium Hotel in the Financial District or the trendy Greenwich Hotel in Tribeca. If you're looking for somewhere to stay in Midtown Manhattan, try the Loews Regency New York or Omni Berkshire Place, which also has a Kids' Club. For a true luxury experience, we also recommend the nearby St. Regis New York. Check out our list of the best hotels in NYC for families for more suggestions!
Atlantic City, NJ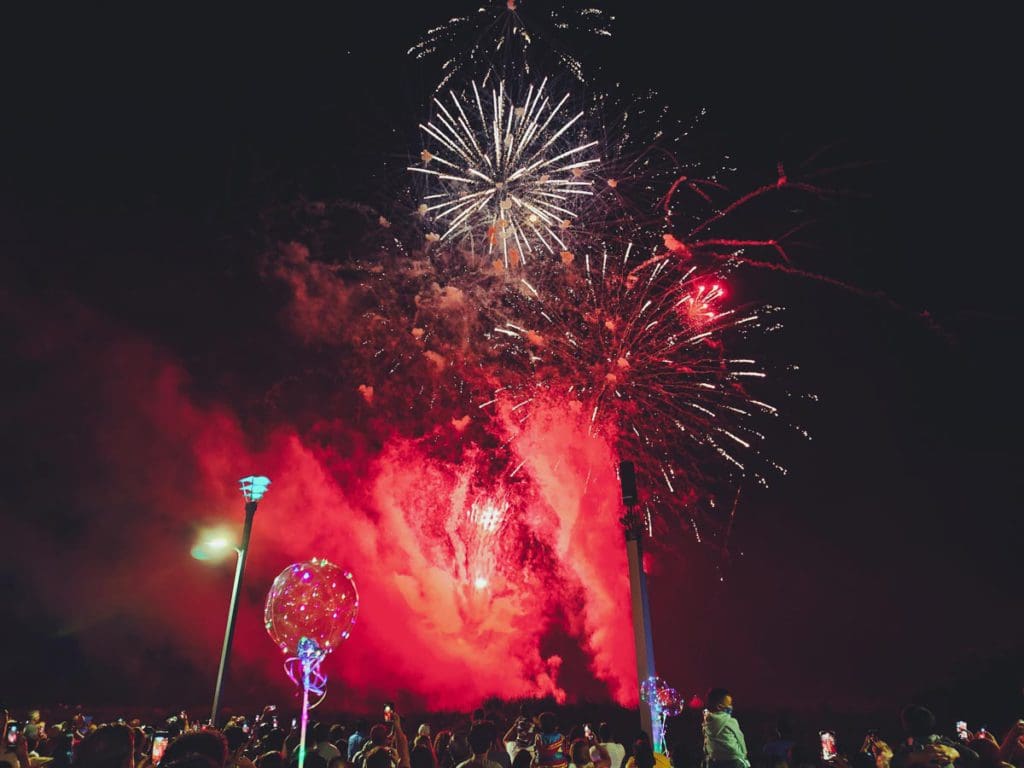 Atlantic City has long been a top summer destination for families, especially during the Fourth of July! With its exciting mix of sun-drenched beaches, lively boardwalks, and world-class entertainment, this seaside resort town has everything you need for an unforgettable Independence Day experience. In fact, families can enjoy a spectacular firework display over the boardwalk on July 4th. Plus, since it's summer, there are also weekly fireworks at the Tropicana Hotel & Casino every Saturday night.
To enjoy the weather, rent an umbrella or cabana along Atlantic City's 5-mile stretch of white sand, open to the public. Families can also stroll down the famous Atlantic City Boardwalk to visit some shops. (Stop for saltwater taffy from James Candy Company!) After, you can entertain kids by taking them to the Playcade Arcade. Or, ride one of the adrenaline-pumping rides at the Steel Pier Amusement Park – enjoy the view from the Ferris wheel! There's also the Atlantic City Aquarium and other kid-friendly attractions. Then, right outside Atlantic City, visit Lucy The Elephant, a giant statue/landmark featuring a tiny museum inside. Finally, adults can also check out the casino offerings or visit one of the restaurants in the Marina District.
Atlantic City is also one of the 20+ Best Places For Families To Visit During Memorial Day Weekend From NYC!
Washington DC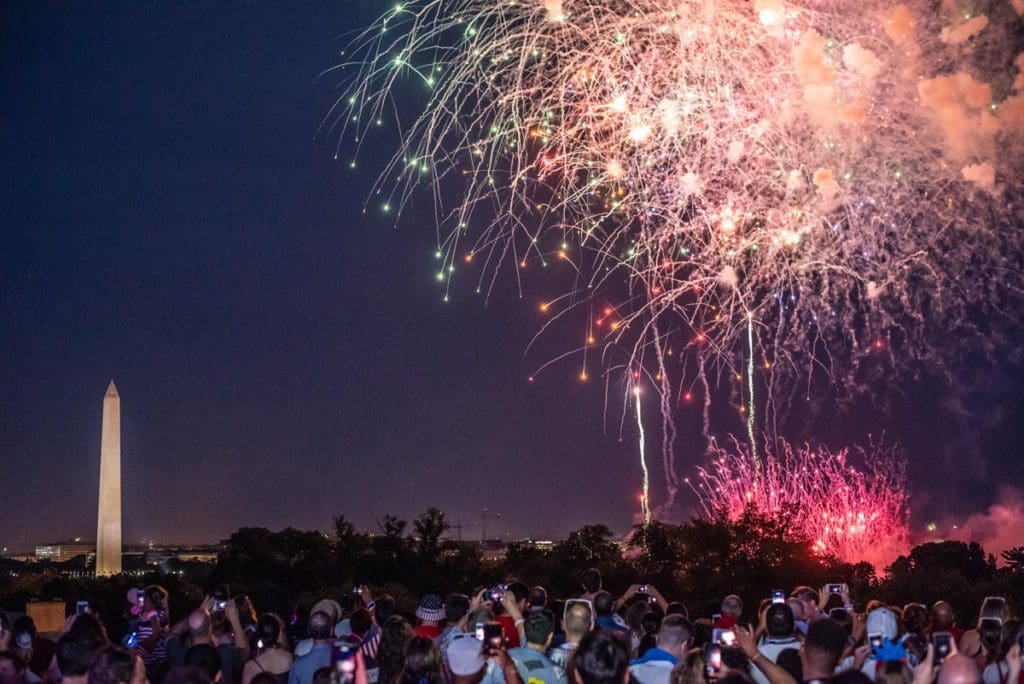 Washington DC comes alive for the Fourth of July, earning its spot as one of the best places to visit for Fourth of July celebrations in the US for families! With a history as rich and vibrant as America itself, it's no surprise that this city knows how to put on a show. Plus, families visiting the city can take advantage of A Capitol Fourth, a free concert before the fireworks on the National Mall. Then, gear up for the grand finale: a spectacular light display over DC's famous monuments on July 4th!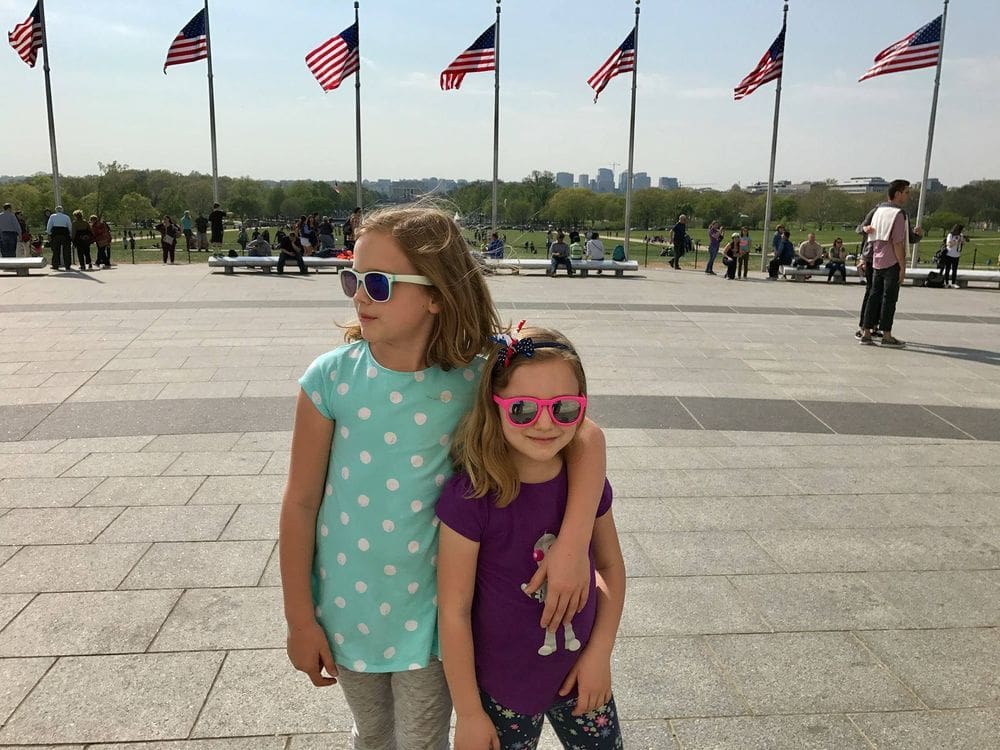 To commemorate American history, check out one of DC's many museums, from the National Portrait Gallery and the National Air & Space Museum to the Smithsonian National Museum of American History. Of course, don't miss the opportunity to stroll the National Mall and see iconic landmarks like the Lincoln Memorial, Washington Monument, and Jefferson Memorial. And, there's always Smithsonian's National Zoo, where kids can see over 1,500 animals, including pandas! Plus, at the Sylvan Theater, you'll also find a special activity area for families, featuring activity booklets for kids and educational scavenger hunts.
In nearby Virginia, you can also celebrate July 4th at George Washington's Mount Vernon home. With live music, fireworks, and a chance to meet an actor playing George Washington, it'll be a lot of fun for all ages!
Where To Stay In Washington DC With Kids
Families will find a range of kid-friendly hotels in Washington DC to fit their budget or itinerary. One great luxury option is the Willard InterContinental Washington, an IHG Hotel, located right in downtown DC, within a short walk of the city's most famous sights. To stay in a less-trafficked area, the luxury Omni Shoreham Hotel features a sprawling property with a seasonal outdoor pool. If you're searching for a more affordable option, consider the budget-friendly Capitol Hill Hotel. For more recommendations, check out our list of Parent-recommended Hotels in Washington D.C. for Families here!
READ NEXT: Best Neighborhoods For Families To Stay In Washington DC
Boston, MA
Families who want to celebrate July 4th somewhere special should check out the cradle of the American Revolution, Boston! This historic city offers a mix of summer and historical activities during your weekend getaway. This includes Boston Harborfest, which takes place from June 30th through July 3rd this year and transforms the city with historical reenactments, musical performances, and more patriotic-themed fun. Plus, there's a special firework show on July 3rd at Boston's Long Wharf! Boston Pops also hosts a Firework Spectacular every July 4th on the Esplanade, which features a fun concert that culminates with a firework display.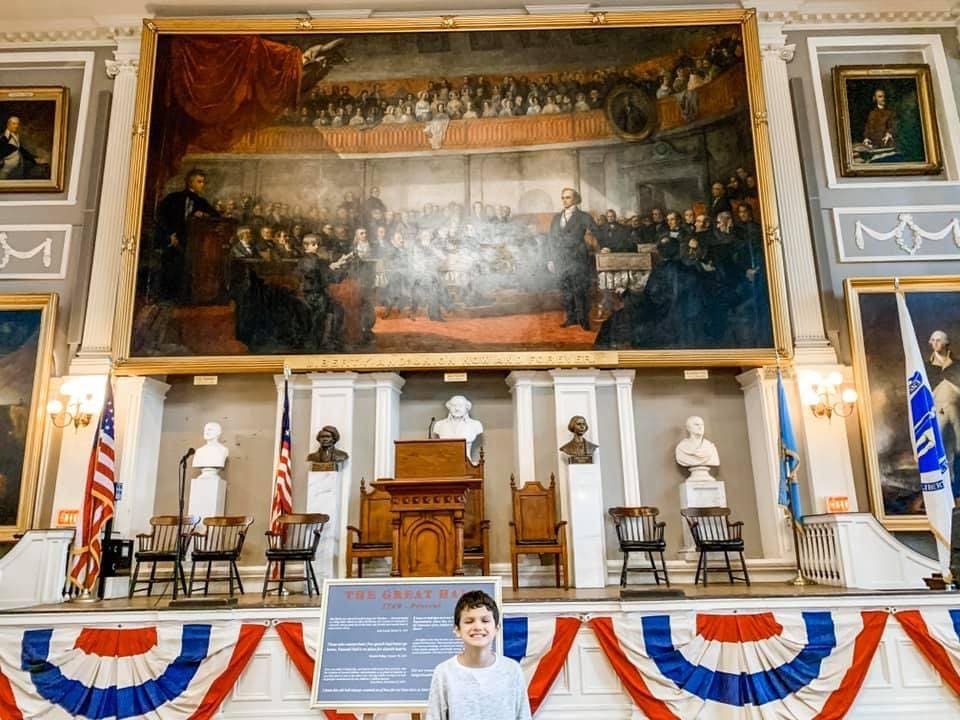 Other than the fireworks, there are lots of things to do in Boston with kids during the summer. Listen to music on "The Steps," at Washington and Franklin Street in Downtown Crossing or walk the Freedom Trail for your daily dose of American history, including visiting Paul Revere's House. Don't forget about Faneuil Hall Marketplace, where you can indulge in shopping or local food. Older kids will also love seeing a game at Fenway Park. Other events are scheduled throughout the week, like puppet shows and readings of the Declaration Of Independence. Or, take a cruise around the Boston Harbor for a better view!
RELATED: 25 Amazing Things to Do in Boston with Kids
Where To Stay In Boston With Kids
If you're looking for the best hotels in Boston for families, we have a few suggestions. In the Back Bay, you could book a room at Fairmont Hotel Copley Plaza, Four Seasons Hotel Boston, or Westin Copley Place. In downtown Boston, stay at the Omni Parker House Hotel or the Kimpton Nine Zero Hotel. Families who want to stay by the water will love the Boston Marriott Long Wharf. Need more options for family-friendly hotels in Boston? Read about our top picks for the Best Hotels in Boston for Families.
Philadelphia, PA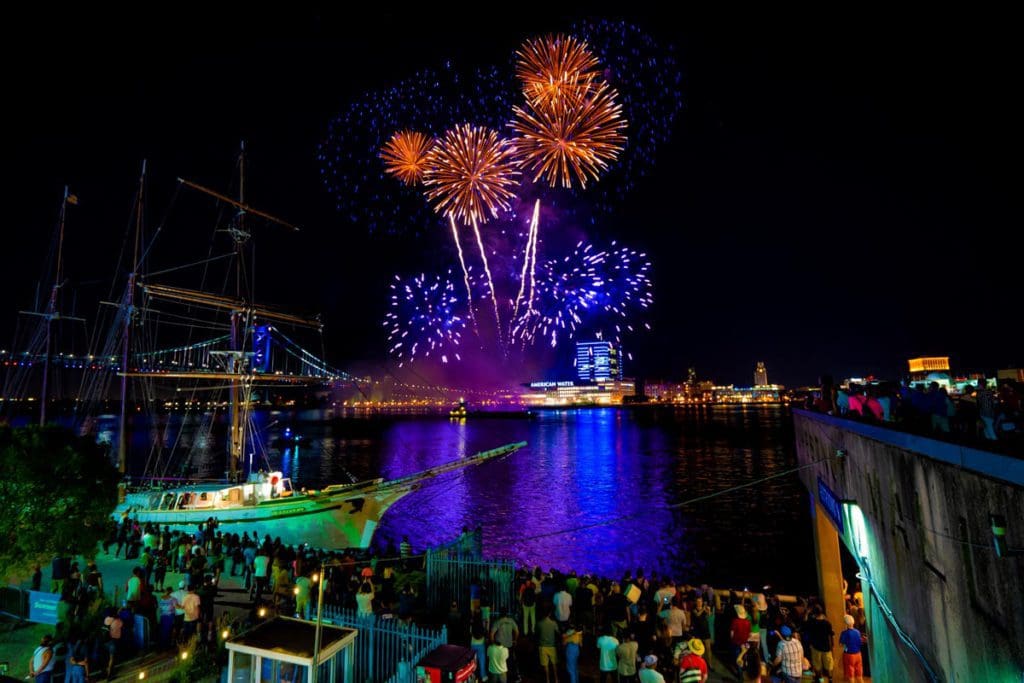 When it comes to celebrating America's Independence Day, Philadelphia tops the list! Known as the birthplace of our nation, this historic city offers a myriad of festivities that will leave you and your kids feeling proud to be an American. In fact, every year, the city hosts its Wawa Welcome America festival, a sixteen-day extravaganza with live music, fireworks, and other patriotic events. This includes a fireworks display over the Philadelphia Museum of Art along the Benjamin Franklin Parkway on July 4th!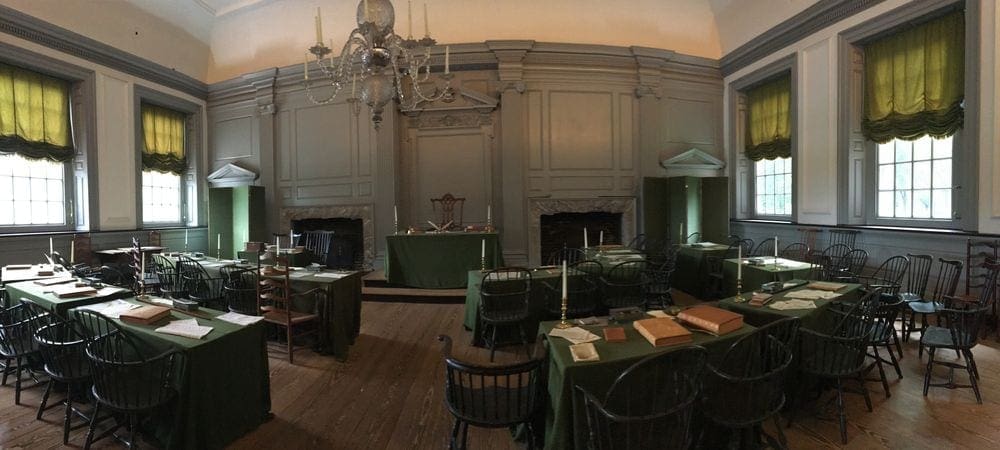 Families can also take advantage of free museum days to learn more about American history at the African American Museum of Philadelphia, the National Liberty Museum, or the Free Library of Philadelphia. Or, visit the National Constitution Center, where families can learn all about how our government works and more fun facts about this iconic city. Families looking for an interactive museum for their kids will love Benjamin Franklin's namesake The Franklin Institute. And speaking of iconic – don't forget about Independence Hall and the Liberty Bell Center! Other events rotate, but often include block parties with live music and kid-friendly entertainment. Though unconfirmed for this year, there's usually a free concert on July 4th as well.
Where To Stay In Philadelphia With Kids
There are plenty of hotels in Philadelphia for families. If you need somewhere to stay during your weekend getaway, consider the Ritz-Carlton Philadelphia, Loews Philadelphia Hotel, or Kimpton Monaco Philadelphia. Families also like to book apartment-style accommodations through Airbnb or Vrbo.
Best Places for Families to Celebrate Fourth of July in the South
When it comes to celebrating the Fourth of July, there are few better places than the South! From mouthwatering barbecues to epic firework displays, we've rounded up the best places to visit in Texas, Tennessee, and beyond. Keep reading to find out more!
Nashville, TN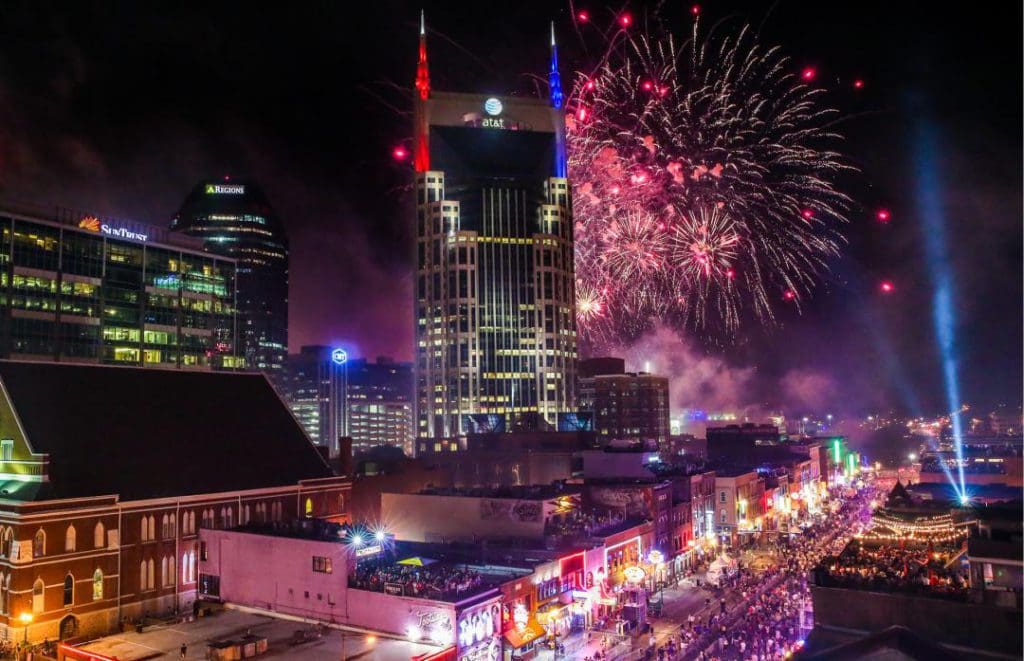 Nashville is THE PLACE to be for families looking to celebrate the Fourth of July in style! Known as Music City USA, this charming southern city boasts some of the best Independence Day festivities that will surely make your heart sing. In fact, the iconic "Let Freedom Sing" celebration is held annually on July 4th in downtown Nashville and features live country music, food trucks, stunning firework displays that light up the Nashville skyline, and fun-filled activities for kids of all ages. Best of all, it's free – just bring a blanket or some chairs!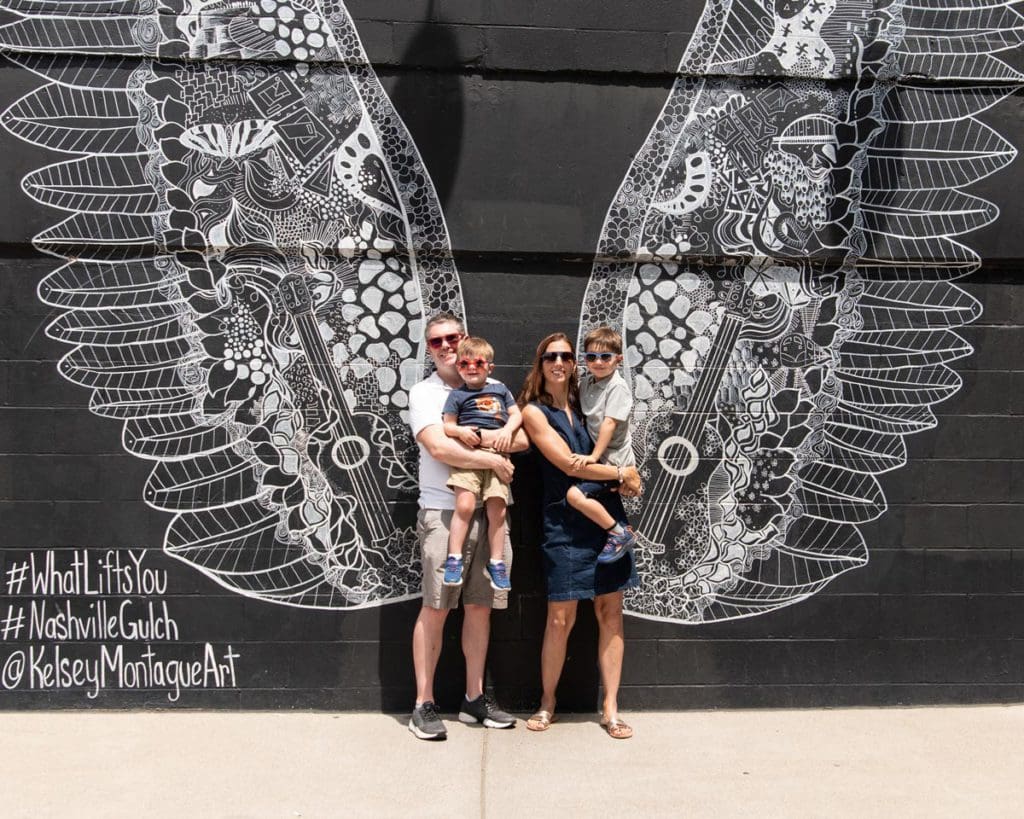 For families looking for something more low-key, there are plenty of other activities around town. Take a stroll down Broadway, where you'll find live music at every turn, or visit one of Nashville's many museums, like the Johnny Cash Museum or the Children's Museum of Nashville. There are also plenty of kid-friendly attractions, including the Nashville Zoo. You can also grab some delicious Southern food at local favorites like Hattie B's Hot Chicken or Monell's Dining & Catering. Don't forget about famous music venues like the Grand Ole Opry and the Country Music Hall of Fame!
Plan your Nashville itinerary by reading about the 16 Best Things To Do In Nashville With Kids.
Where To Stay In Nashville With Kids
If you're planning a vacation to Nashville, we recommend the Gaylord Opryland Resort & Convention Center, Omni Nashville Hotel, JW Marriott Nashville, the Renaissance Nashville Hotel, and the Nashville Shores Lakeside Resort. We've also included more suggestions in our list of the best hotels in Nashville for families!
Fort Worth, TX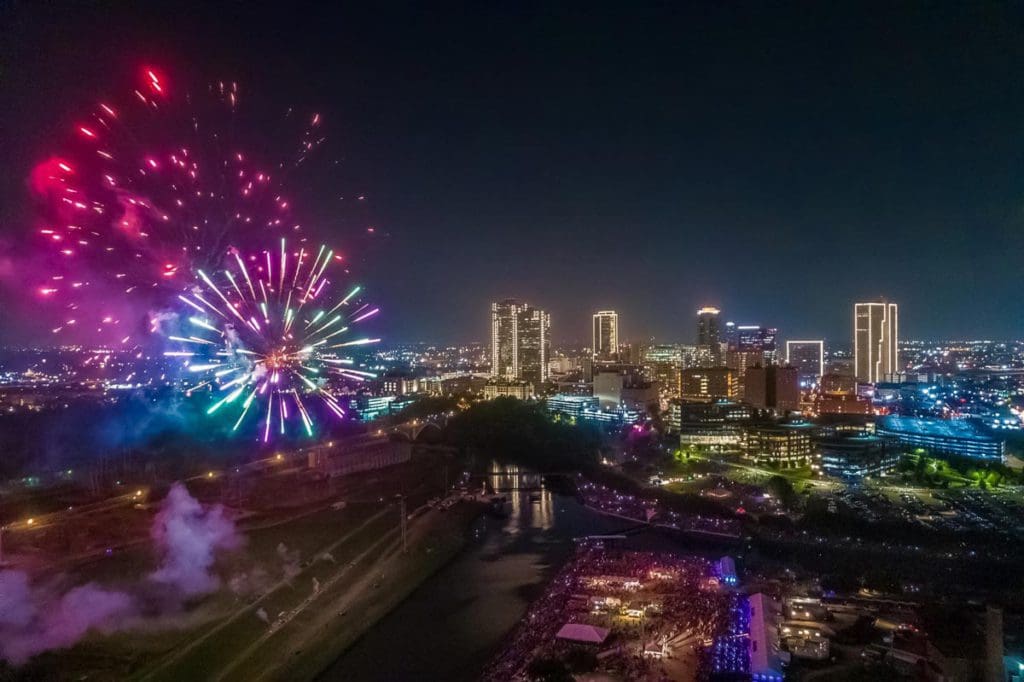 Get ready for a star-spangled celebration because Fort Worth is known to host one of the best Fourth of July celebrations in the US for families! The festivities kick off early with a parade through downtown featuring floats and festive music. Once the sun goes down, families gather together at Panther Island Pavilion to enjoy live music performances while munching on delicious food from local vendors in celebration of Fort Worth's Fourth. As darkness falls, the real show begins as an incredible fireworks display lights up the night sky over Trinity River!
While the fireworks show is sure to be a hit, there are countless other activities to enjoy as well. Explore the city's rich Western heritage at the Stockyards National Historic District or meander through the beautiful Fort Worth Botanic Garden. Animal lovers can't miss a trip to either the Fort Worth Zoo or SeaQuest Interactive Aquarium. Families can also take a stroll through the Cultural District and explore museums such as The Modern Art Museum of Fort Worth or the Kimbell Art Museum. And if it's hot outside, head over to NRH20 Family Water Park just outside Fort Worth in North Richland Hills. Of course, don't miss the delicious Tex-Mex cuisine. Try Joe T Garcia's or Mi Cocina for some mouthwatering dishes!
Look here for your homestay in Fort Worth with Vrbo!
Addison & Dallas, TX
Addison is about 30 minutes north of Dallas, depending on traffic.
If you're looking for the best Fourth of July celebrations In the US for families, Addison should be at the top of your list! Located just north of Dallas, this little city packs a big punch with its extravagant Independence Day festivities. The day ends with energetic watch parties all up and down Belt Line Road at the many restaurants along this stretch (in fact, Addison has more restaurants per capita than any city in the US). You can also enjoy the show from Kaboom Town at Addison Circle Park. This world-famous fireworks show draws families from all around the region! 
Book a homestay in Addison through Vrbo here!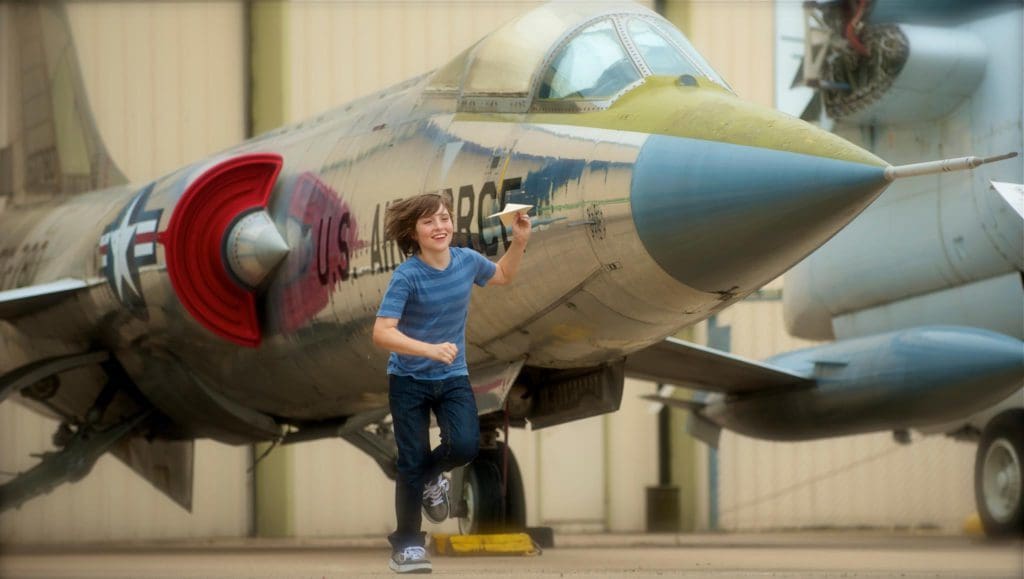 What makes this celebration truly unique is its famous airshow – complete with synchronized flying maneuvers and stunning aerobatics. There's also live music, fantastic food, and other kid-friendly attractions to enjoy throughout the weekend, including carnival games, face painting, bounce houses, and more.
Other than the fireworks, families visiting Addison can indulge in a classic American breakfast at Benedict's Restaurant. Then, head over to Cavanaugh Flight Museum, where you can explore historical aircraft and learn about aviation history. Families can also enjoy some retail therapy at the nearby Galleria Dallas! Looking for more things to do? Head to nearby Dallas and check out these Fun Things To Do In Dallas That Kids Will Love.
RELATED: 16 Best Hotels In Dallas For Families
New Orleans, LA
New Orleans offers a festive atmosphere that's hard to find anywhere else! With its unique blend of Creole and Cajun culture, the city comes alive with an unparalleled level of energy and excitement, as crowds flock to enjoy firework displays that illuminate its historic buildings and landmarks.
You can start your day watching patriotic parades on St. Charles Avenue or experiencing a cruise down the Mississippi River while taking in breathtaking fireworks displays at nightfall. The city's annual July 4th celebration, Go 4th on the River, features a spectacular firework show by the Downtown Riverfront, featuring a boat water show with red, white, and blue colors!
Families can also visit various parks around New Orleans throughout the weekend, such as Crescent Park and City Park. Both offer fun-packed activities like arts & crafts or face painting for kids, as well as live music, food, and games. For more excitement, head to Bourbon Street, where you'll find lively street performances and endless entertainment options (best with teens or adult groups).
Animal lovers can also check out the different species at the Audubon Zoo. Or, take a stroll through the famous Jackson Square. And don't forget about the famous beignets from Cafe du Monde! Families interested in learning more about the city's Mardi Gras history can also visit Mardi Gras World to see famous floats and learn how the annual parade comes together!
Where To Stay In New Orleans With Kids
Families traveling to New Orleans should stay in the French Quarter. Here, you'll find kid-friendly hotels like The Ritz Carlton, New Orleans, Grenoble House, and Omni Royal House. Or, put yourself in the middle of the action on Bourbon Street at the Bourbon Orleans Hotel! For more information, read our article about family-friendly hotels in New Orleans. Families looking for additional room to spread out (with kitchen or outdoor space possibilities) can try Vrbo and Airbnb too.
Best Places for Families to Celebrate Fourth of July in the Midwest
Are you looking for the most epic Fourth of July celebrations in the US for families? Look no further than the Midwest, where there is no shortage of exciting festivities! From Chicago to Kansas City, keep reading for our suggestions!
Chicago, IL
Chicago is famous for its epic 4th of July celebrations and is an excellent destination for families looking to enjoy the holiday weekend! ​​​​With its stunning skyline and abundance of attractions, The Windy City truly knows how to put on a show, featuring yearly festivities that attract millions of visitors from all over the world. Families can enjoy extraordinary fireworks displays, live music concerts, and countless food vendors on the Saturday before July 4th at Navy Pier. Families can stroll along the pier while enjoying carnival games or hop onto the Ferris wheel for amazing views of Chicago's skyline!
Plus, every year at Grant Park, there are also free musical performances to celebrate July 4th, usually the Saturday before. The park also offers an impressive view of the city skyline and has plenty of space to lay down your picnic blanket while watching the show.
If you're interested in exploring beyond just Independence Day events, many other family-friendly activities around Chicago are worth checking out. Visit the Museum of Science and Industry, then stop by the Field Museum, The Art Institute of Chicago, or the Chicago Children's Museum. Or, enjoy a sunny day wandering Chinatown Square, Pilsen's 16th Street Murals, and the Lincoln Park Zoo. Depending on the weather, you can also take a boat tour or spend the day at a Chicago beach!
Discover more things to do in Chicago, whether you are traveling with young kids or teens!
Where To Stay In Chicago With Kids
Need somewhere to stay in Chicago for July 4th weekend? Firstly, the Four Seasons Hotel Chicago offers luxury accommodations in the middle of all the action. Not to mention, gorgeous lake and skyline views in the center of the Magnificent Mile. Another option families love along the Magnificent Mile is InterContinental Chicago Magnificent Mile, which beautifully combines vibrant local history with contemporary style.
Then, showcasing stunning views of the Chicago River and Lake Michigan, Swissôtel Chicago offers European-inspired elegance in large rooms and suites, ideal for families with teens. Finally, for more suggestions, check out our list of the Best Family Hotels in Chicago!
Click here to Stay at The Langham, Chicago, for an Exciting Chicago Vacation with Kids!
Kansas City, MO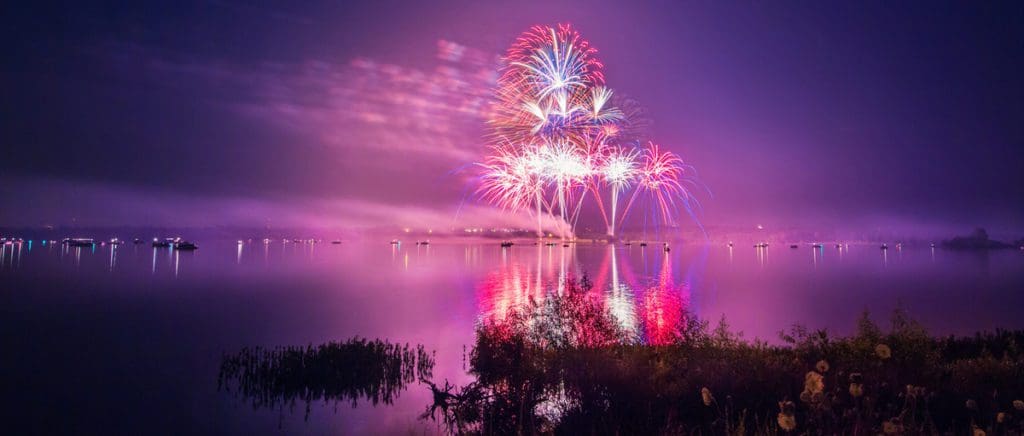 There's no better place to experience the ultimate patriotism and family fun than in Kansas City, Missouri! This vibrant Midwestern city definitely knows how to celebrate Independence Day – everywhere you look, there are colorful flags and patriotic decorations adorning buildings and streets. Kansas City also hosts an annual Stars and Stripes Picnic at the National WWI Museum and Memorial. It includes live music, local vendors selling all different kinds of food and other goods, plus a huge fireworks display at the end of the night!
If you're looking for something more low-key, head to one of Kansas City's many parks for a picnic and watch as the sky lights up with color. There's also a smaller fireworks display at Overland Park, which hosts a yearly Star Spangled Spectacular with food, music, etc. For families with young children, Worlds of Fun Amusement Park offers a special Fourth of July celebration filled with rides, games, and patriotic-themed activities.
Moreover, there are plenty of kid-friendly attractions throughout the downtown area, including interactive spots like Science City at Union Station or LEGOLAND Discovery Center Kansas City. Don't forget about delicious BBQ from famous joints such as Arthur Bryant's Barbeque or Fiorella's Jack Stack Barbecue!
Reserve your stay in Kansas City with Vrbo here!
Detroit, MI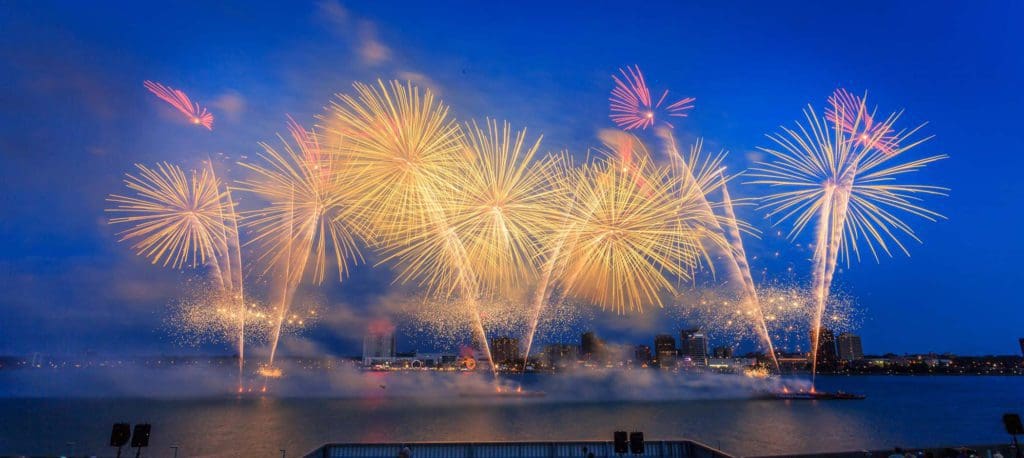 Detroit is a vibrant city with a rich history and cultural landmarks and boasts some of the best Fourth of July celebrations in the United States for families! Every year, the Motor City turns up the heat with its spectacular Ford Fireworks display that illuminates the night sky in shades of red, white, and blue. It's truly a spectacle not to be missed, featuring live music and other fun. Some of the best spots to see it are from the Detroit Riverwalk, Belle Isle Park, or Hart Plaza.
Families can also check out one of Detroit's many museums, including the Detroit Science Center, the Charles H. Wright Museum of African American History, and the Henry Ford Museum in nearby Dearborn. Visit the Detroit Zoo, or check out the art at The Detroit Institute of Arts. For families with younger children, try visiting Campus Martius Park, which has an outdoor playground as well as splash fountains for kids to cool off on hot summer days. You can also grab some food from one of the many food trucks around or dine at one of the nearby restaurants. Belle Isle Park also has a zoo, an aquarium, and plenty of green space to explore. Plus, Detroit is home to many professional sports teams, so kids can watch their favorite players in action!
RELATED: 45 Fun Places To Visit In Michigan's Lower Peninsula With Kids
Columbus, OH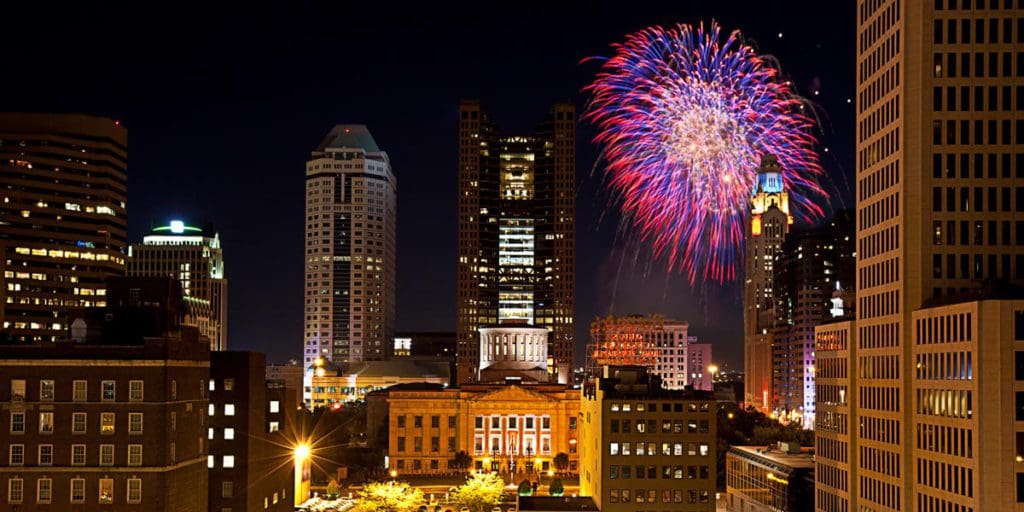 If you're looking for some of the best Fourth of July celebrations in the US for families, then Columbus should definitely be on your list! From parades and fireworks shows to picnics in picturesque parks, this Midwestern city boasts many exciting activities and events that will ignite your patriotic spirit. One must-visit destination is Red White & BOOM!, which takes place downtown on July 3d and boasts one of the largest firework displays in the Midwest! The day-long celebration also features live music performances, a fun parade and street festival, and delicious food from local vendors.
If you're looking for something more low-key but still fun for the whole family, check out the Ohio Village Independence Day Celebration. You can experience what life was like in Ohio during the 10th century while enjoying old-fashioned games and crafts such as croquet or hoop rolling! For families with young children, COSI (Center of Science and Industry) offers interactive exhibits and science demonstrations that little ones will love. Nature lovers can't miss Highbanks Metro Park, where you can enjoy hiking trails or have a picnic with your family on one of their many open fields. And if you're looking to cool off, head north to Zoombezi Bay Water Park. Or, take a kayaking trip along the Scioto River!
Book your homestay in Columbus with Vrbo now!
Best Places for Families to Celebrate Fourth of July on the West Coast
The West Coast is the ultimate destination for families looking to experience the best Fourth of July celebrations in the US! From San Francisco's waterfront fireworks show to San Diego's patriotic festivities, there are plenty of options to choose from. Here are our favorites!
San Francisco, CA
When it comes to the best Fourth of July celebrations in the US for families, San Francisco isn't just a city – it's a patriotic playground! From parade floats and fireworks-filled nights to family-friendly festivals with food, music, and activities on every corner, this stunning metropolis has something for everyone come Independence Day. This includes special celebrations at Fisherman's Wharf, where families can indulge in fresh seafood and explore colorful souvenir shops. Then, head to Pier 39 to say hi to some sea lions and witness a stunning firework display, all the while listening to live music!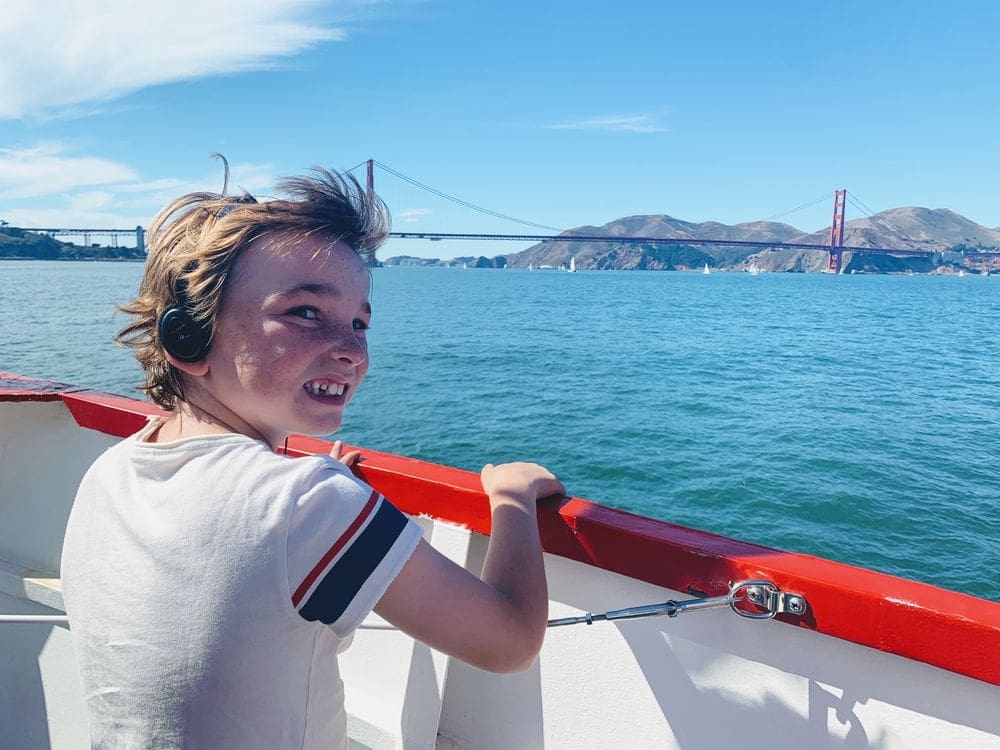 One of the best ways to enjoy the fireworks in San Francisco is by taking a bay cruise, where you'll sail past landmarks like Alcatraz! Many local companies offer this service, including themed cruises for July 4th! Be sure to take advantage of the fantastic weather too, and explore Golden Gate Park, stopping by the Japanese Tea Gardens or Botanical Gardens. The Exploratorium is another family-friendly attraction that offers hands-on exhibits exploring science, art, and human perception, ideal for young kids!
On a sunny day, families can even stop by Stowe Lake to rent boats and marvel at the waterfall. (For nature slightly outside of San Francisco, head to Angel Island for hiking, kayaking, and more.) Adventurous families can also take a self-guided bike tour through neighborhoods like Haight-Ashbury. Need more ideas? Find our top picks by reading about the 31 Totally Fun Things To Do In San Francisco With Kids This Summer.
Where To Stay In San Francisco With Kids
Need somewhere to stay in San Francisco with kids? To stay by the water, book a room at the Hyatt Centric Fisherman's Wharf San Francisco, Hotel Riu Plaza Fisherman´s Wharf, or the Suites at Fisherman's Wharf. In Nob Hill, there are famous hotels like The Ritz-Carlton, San Francisco, and Hotel Fairmont San Francisco. In the trendy Yerba Buena and downtown area, guests can stay at the San Francisco Marriott Marquis and the Hyatt Regency San Francisco. Those looking for more options in San Francisco can read about the Best Family Hotels in San Francisco.
RELATED: Spectacular 4-Day Itinerary for San Francisco with Kids
Lake Tahoe, CA/NV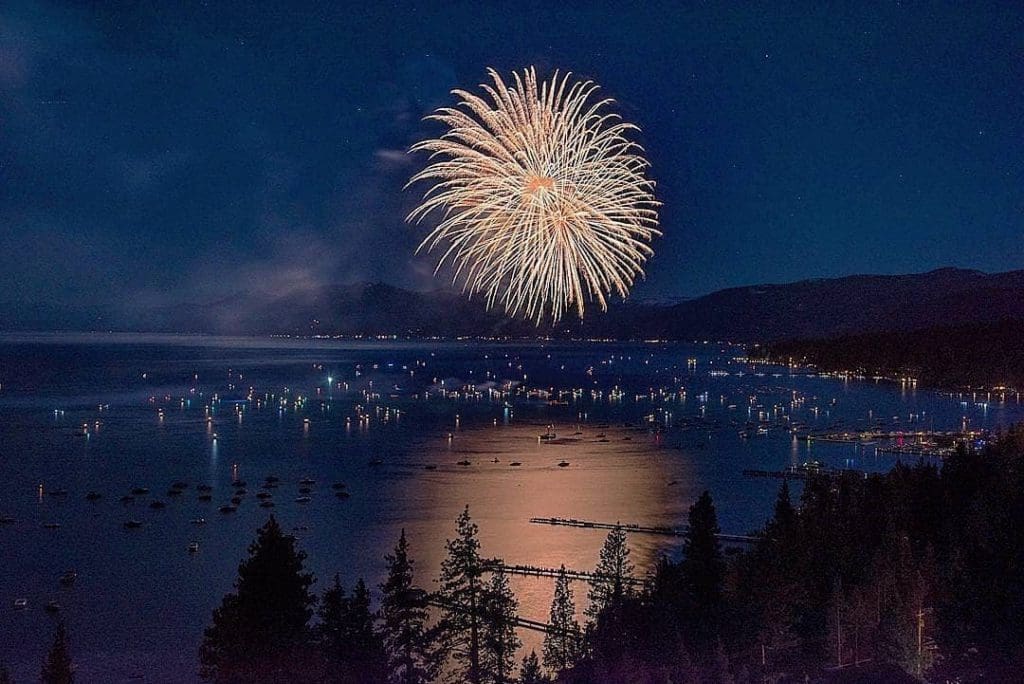 With its crystal clear waters and picturesque mountain landscape, Lake Tahoe offers an amazing setting for a truly unforgettable Independence Day experience! Straddling the California-Nevada border, this stunningly beautiful location comes alive with everything that makes America great, from flag-waving parades and family-friendly festivals to dazzling fireworks displays reflecting over the lake's glassy surface. One of the best places to see the July 4th fireworks in Lake Tahoe is the Village Green area near Incline Beach.
Of course, if you're up for an adventure, another fantastic way to see the fireworks is from the water, especially on a boat cruise. It's no wonder why locals refer to this day as "Lights on The Lake!"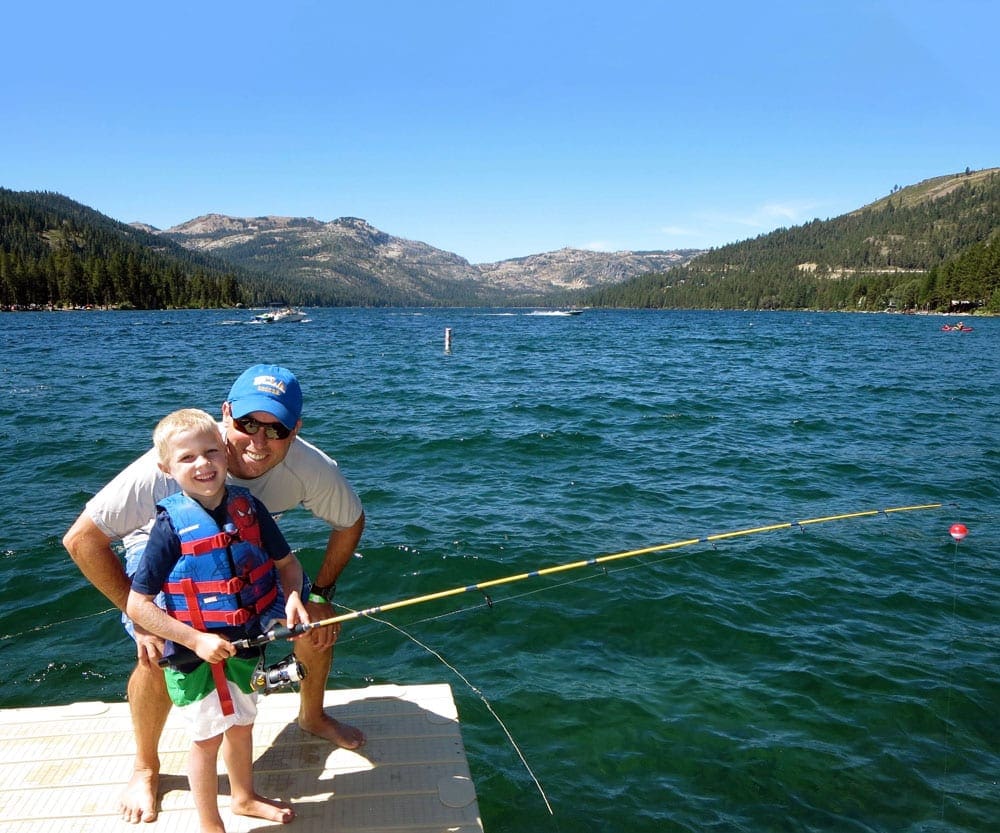 In South Tahoe, find lively boutiques, restaurants, and bars near the Heavenly Ski Resort. Families can also take a dip in Lake Tahoe's warm waters at either Kings or Baldwin Beach, where families can also parasail, kayak, or rent a steamboat, among other water sports. Kids can also ride on a gondola from the Heavenly Village Center to see the lake from a new vantage point. Once you reach the top, navigate nearby hiking trails that are easy for children, like The East Peak Trail. For even more stunning views, don't miss Emerald Bay State Park!
READ NEXT: Summer Activities in North Lake Tahoe Kids Will Love
San Diego, CA
San Diego knows how to celebrate Independence Day the right way! This coastal paradise offers a perfect blend of fun and excitement during July 4th weekend with unique fireworks displays, live music performances, and delectable food. Don't miss out on attending The Big Bay Boom, San Diego's annual firework show that lights up several locations across San Diego Bay. Or, go kayaking at Mission Bay, followed by indulging in scrumptious barbecue delights until it's time for fireworks!
Families can also head over to La Jolla Cove – known for its pristine beachfront and lush greenery – to see the sea lions. Or, visit SeaWorld San Diego for their Independence Day celebration, featuring a fun firework display! From Mission Beach to Pacific Beach, there are also plenty of places to set up, shop, and play in the sand.
San Diego also has plenty of kid-friendly activities, such as visiting Balboa Park or taking a stroll through Old Town State Historic Park. And, there are attractions like Legoland California Resort or Belmont Park – an amusement park along Mission Beach that features classic rides like bumper cars and carousels. Families can also rent bikes and ride along the beaches on Coronado Island, take an Old Town Trolley Tour, or take a whale-watching tour in San Diego Bay.
RELATED: The Best 7-Day San Diego Itinerary with Kids
Where To Stay In San Diego With Kids
San Diego has so many family-friendly hotels! Situated on 400 sprawling acres, we recommend the Fairmont Grand Del Mar. It's centrally located, kid-friendly, and even has four pools. Families who want to stay directly on the beach will love Hotel Del Coronado, Curio Collection By Hilton. It's housed on a Victorian property and is only five miles from downtown San Diego. Read our list of the best beachfront hotels in San Diego to learn more!
Happy Fourth of July with Kids!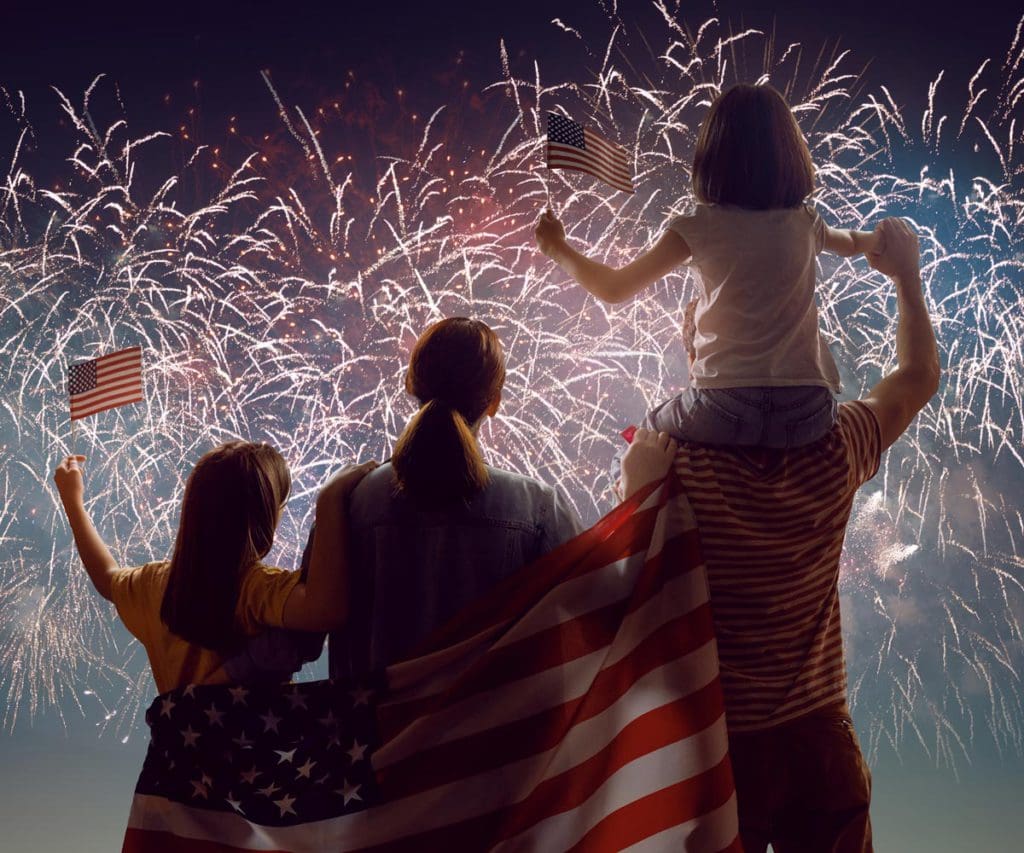 We hope you liked this list of The Best Fourth of July Celebrations in the US: A Guide to the Most Spectacular Fireworks Shows! From coast to coast and everywhere in between, families can experience some truly spectacular fireworks shows while also enjoying all kinds of fun activities. Enjoy Independence Day with your family!
*This post may contain affiliate links that may earn us a small commission, at no additional cost to you. Affiliate links in no way inform the hotels, sights, products, or other recommendations included in our articles. All opinions and recommendations expressed here are compiled from submissions submitted by the generous members of our Families Who Love To Travel community.
READ MORE: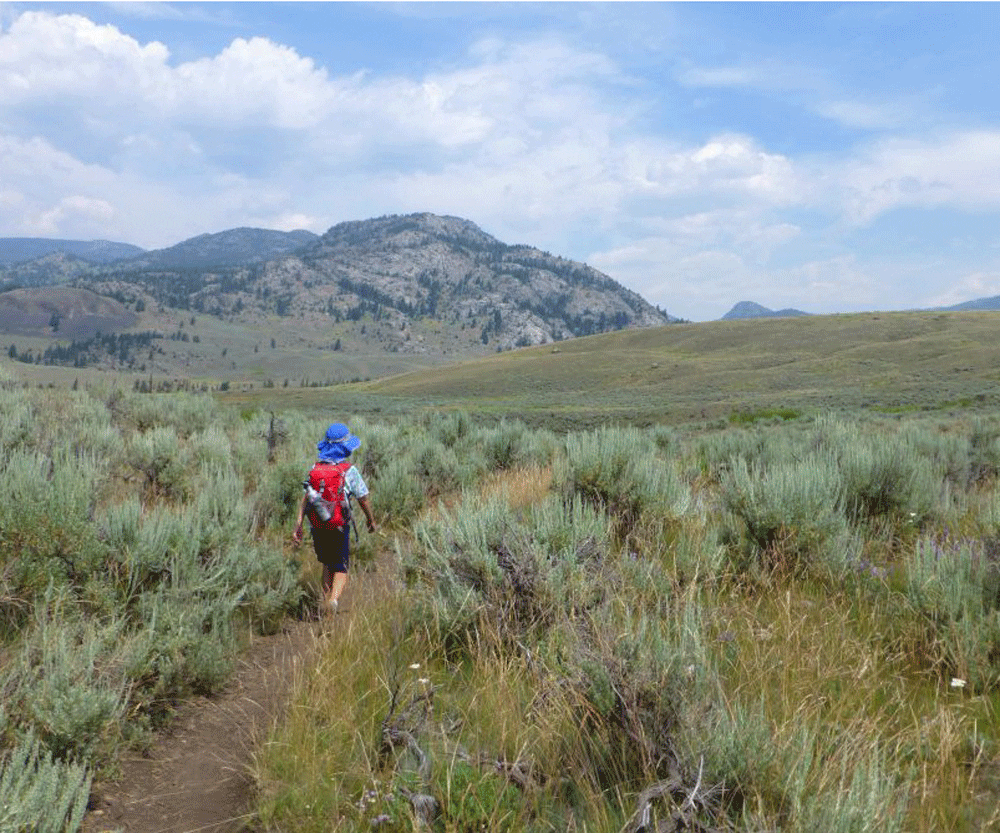 Everyone knows that Yellowstone National Park makes for a classic family vacation. Strolling the boardwalks...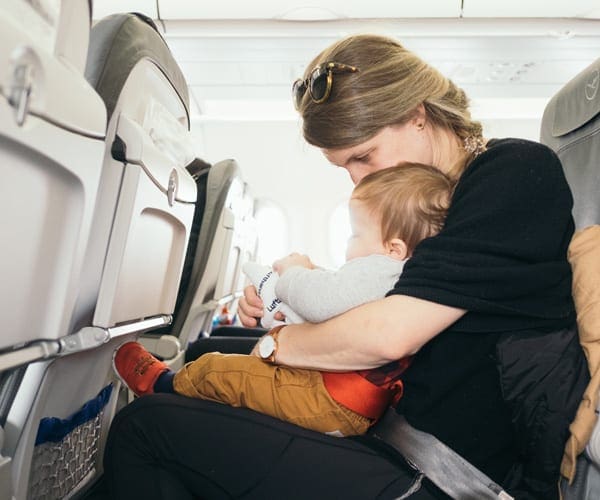 Families Who Love To Travel contributor Meghan Oaks provides her 10 best tips for your...