The holidays are rapidly approaching, which means it's a perfect time to check out our Families Who Love To Travel Gift Guide 2021! Families searching for unique gift ideas, whether for dad, mom, or kids, will love all the suggestions on our list. Now, you can choose from gifts that are fun, educational, and travel-inspired, ideal for getting children excited about their future adventures. Maybe you want noise-canceling headphones to keep them entertained on a flight, an Amazon Kindle to sharpen their reading skills, or a GoPro to capture your vacation. We've also suggested more practical gifts, like packing cubes, passport holders, travel pillows, and more. Or, keep it lowkey with a digital photo frame, travel magazine subscription, or cute carry-on. Our Families Who Love To Travel Gift Guide 2021 has options for everyone, so keep reading to find the best gifts for travelers!
Best Travel Gifts for Kids
If you're seeking the best travel gifts for kids, let our gift guide help you find the perfect gifts for your little ones! Whether you are looking for something practical or something to inspire their love of travel, we've got you covered with this gift guide for kids who love travel!
Best Headphones for Kids of All Ages
Headphones are first on our Families Who Love To Travel gift guide! Whether you have a toddler, an elementary-aged kid, or a tween, everyone can benefit from a good, quality pair of headphones to protect their little ears. Looking to buy some over-the-ear wired headphones? We suggest The JBL JR300 Kids Folding On-Ear Headphones (great for comfort and limiting sound), MPOW H7 Headphones (Bluetooth capabilities with a built-in microphone), or the AILIHEN I35 Kid Headphones (foldable and portable).
Parents looking for headphones for toddlers can purchase the CozyPhones, which come in cutely decorated options. Or, the BabyBanz Bluetooth Ear Muffs, which can play soothing music and feature a sound limit to protect babies' ears. Perfect for sharing, headphones like the LilGadgets Connect+ have a double port. If you're looking to splurge for the holidays, try the Powerbeats Pro Wireless Ear Buds, Beats Solo3 Wireless Headphones, or the Puro Sound Labs BT2200!
Find More Headphone Ideas: The Best Headphones for Kids of All Ages
Best Luggage for Kids of All Ages
Luggage is among the best travel gifts for families. Not only will it give you the proper space to pack, but it can excite kids about your upcoming travels too! Kids will love a Zinc Flyte Scooter Suitcase, available for two age groups (the Mini for ages 2-4 and Midi for ages 4-8). A built-in scooter makes navigating the airport all the more fun! For a similar experience for older kids, try the NOPTEG 20-Inch Scooter Suitcase. It's available in a variety of bright colors too.
Families who are willing to splurge should buy the Micro Kickboard. This "scoot-case" lets kids ride on top, making it simple to leave your stroller at home! Parents looking to buy travel gifts for teens or tweens will appreciate Away luggage. There are multiple options for sizing, accessories, colors, and exterior material, so you'll be able to find exactly what you need!
Find More Kid's Luggage Ideas: Best Travel Luggage, Carry-Ons, And Backpacks For Kids And Families
Best Backpacks for Kids
Maybe your little one doesn't want to drag a carry-on. In this case, we recommend a travel backpack! Ideal for day hikes, camping trips, or extended vacations, the Eddie Bauer Stowaway is available in two sizes (20L and 30L). It also has mesh pockets, water bottle holders, and padded straps for extra comfort. Plus, it folds into itself, so it's easy to store too!
Then, Osprey backpacks are also among the best gifts for kids and teens, available in multiple colors such as orange, purple, etc. Featuring one large main component and a padded handle, kids will love carrying this simple and stylish bag through the airport. A front pocket, inside mesh pocket, and key clip allow parents easy access to important items too. Or, just opt for a classic and reliable JanSport! Whichever option you choose, a new backpack is one of the best gifts for travelers!
Additional Backpack Recommendations: Best Travel Luggage, Carry-Ons, And Backpacks For Kids And Families
Best Travel Subscriptions For Kids
Children who enjoy reading will love a special travel subscription as a gift! It'll be educational, fun, and get them excited about your upcoming trips too. A subscription to National Geographic is fantastic for kids who are interested in nature or wildlife, especially with an outdoor vacation in their future. Kids of varying ages will also appreciate a copy of Ranger Rick, which offers different topics depending on how old they are.
Or, get a twist on the typical subscription service with Little Passports, which sells gift boxes for multiple ages. Subjects range from science to geography to appeal to all ages and interests! If you want diverse children's books delivered to your door every month, we suggest joining the Atlas Book Club Box. Each box will come with a new book, educational facts about a specific destination, a map to keep track of your own travels, and more!
Find more travel gift ideas with our guide on Travel Gifts For Kids To Get Them Excited For Your Next Family Vacation!
Best Travel Gifts for Parents
Don't forget to purchase some of the best gifts for travelers for the adults in your life! Whether you need help gifting your parents, partner, or other parents who love to travel in your life, these options will take care of everyone on your list. Here are the best travel gifts for parents.
Let parents cherish travel memories for a lifetime with a travel photo album!
Best Packing Gifts for Families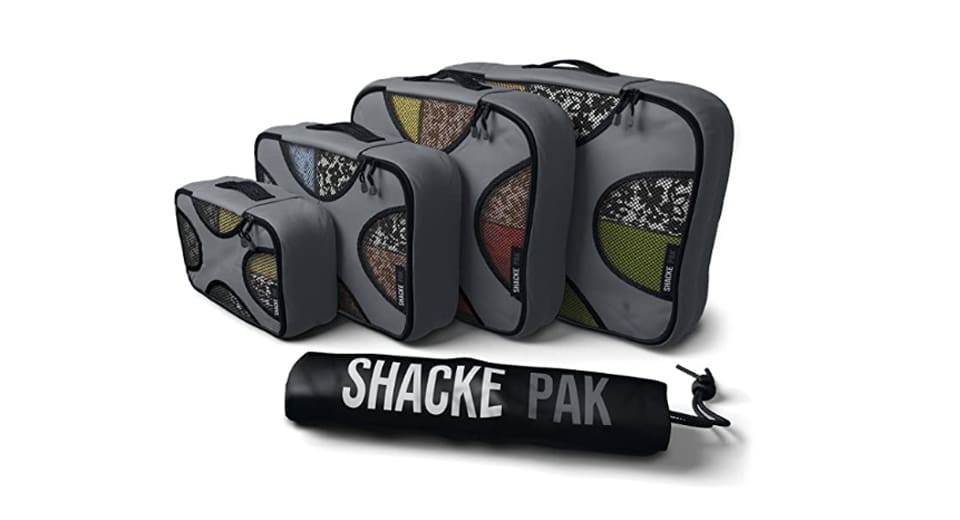 Anyone searching for the best gifts for travelers shouldn't overlook the wonderful simplicity of travel packing accessories. Families can stay organized and on top of their luggage packing with Shacke Adventurer Packing Cubes, which are waterproof and include seven pieces of various sizes. You can also keep your passports and other important documents organized with a passport holder. Frebeauty sells an adorable, kid-friendly passport holder in both a flamingo and unicorn style, while Zoppen sells a more understated, multi-purpose passport wallet.
Families can also opt for a Vemingo Family Passport Holder or a travel neck pouch from Lewis N. Clark. To make your voyage easier, bring a travel pillow, like The MVLOC Travel Pillow or the SAIREIDER. Keep your devices charged with your Anker Power Bank, and pack your Amazon Kindle for some entertainment. Kids will love getting inspired before their vacation by writing in a travel journal!
Additional Travel Accessory Recommendations: The Best Travel Accessories Families Can't Live Without
Best Travel Gifts for Her
If you're looking for one of the best travel gifts for her, we've got you covered! Surprise her with a digital picture frame from Aura Frames. Digital picture frames are a great way to relive favorite travel moments at home or in the office! Then, new moms will love receiving one of the best baby carriers for travel this holiday season! Buddle up baby and carry them close on vacation from New York City to Rome! Our favorite options include the Ergobaby Omni 360 All-Position Baby Carrier With Lumbar Support, Happy Baby Carrier, and the Babybjorn Baby Carrier Mini.
Women's clothes are notorious for limiting pocket space, making the Zero Grid Infinity Scarf with Pockets a great option for gifts for women who love to travel. Storing everything from passports to cash, this scare can also double as a fashionable blanket for cold planes. Additionally, an oversized scarf is the ultimate travel companion. Blanket scarves are comfortable, versatile, and a much better option than packing an actual blanket in your luggage, as they can double for a pillow, scarf, picnic blanket, and more. Travel scarfs are also great gift ideas for teens who love to travel! Finally, if you want to treat her to something really special, consider booking one of these Best Spa Weekend Getaways For Moms In The Northeast! Certainly, future travel is one of the best gifts for travel lovers!
DISCOVER MORE: The Best Baby Carriers For Family Travel
Best Travel Gifts for Him
Buy dad one of the best gifts for travelers this holiday season! Channel his inner outdoorsman with an engraved Swiss Army Knife. Victorinox offers multiple styles to choose from, including travel-inspired names like Jetsetter, Climber, and Explorer. Of course, there are other travel gifts for men too, like these customized map cufflinks from Etsy. Dad will love having a memento to commemorate all the amazing trips you've taken together!
Families who don't have space for a big wall map can buy a smaller cork globe instead. Or, get a custom push pin travel map, that way you can mark where you've been and plan for future adventures. Travel charm bracelets or personalized luggage tags are also good options. Certainly, these are some of the best travel gifts for him!
FIND MORE GIFT IDEAS FOR DAD: 16 Incredible Travel Gifts Dad Will Love
Best Travel Gifts for the Whole Family
Satisfy everyone's wishlist with some of the best gifts for travel lovers. From carry-ons to outdoor adventure gear, families will adore these family travel gift ideas. In fact, some of the best gift ideas for travelers, are ones that are practical and help them on their journey.
Best Carry-Ons for Family Travel
From roller bags to large duffle bags, carry-ons make great gifts for people who travel. Whether you're traveling by plane, train, or car, a small carry-on is an easy way to make kids feel independent and involved. Away has great carry-on options for all ages, ranging from bigger carry-ons in multiple colors to slightly smaller ones. All of them come with a built-in laundry bag to take advantage of during your vacation!
For a more practical, compact option, you could also buy a classic Rick Steves Europe Flight Bag. Petunia Pickle Bottom also offers a ton of stylish carry-ons bags, especially for parents traveling with young children. These vary from bold patterns to some more neutral tones. You can even get Disney-inspired bags! Small kids will love traveling in style with their favorite characters, from Cinderella to Toy Story! 
FIND MORE LUGGAGE IDEAS FOR THE WHOLE FAMILY: Best Travel Luggage, Carry-Ons, And Backpacks For Kids And Families
Best Adventure Gear for Families
Families searching for unique gift ideas will love our adventure-themed suggestions! Get little ones into the water with snorkeling gear for your next family beach vacation. Try the Speedo Store Unisex Child's Swim Mask, Gintenco Kids Dry Top Snorkel, CAPAS Snorkel Fins, and O'Neill Youth Reactor USCG Life Vest. Don't forget your O'Neill Youth Reactor Full Wetsuit!
If you'd rather spend your next family vacation on top of the water, buy a kayak instead. Intex Challenger Kayak and K2 Kayak both make inflatable kayaks that are convenient for travel but still just as much fun! Inflatable paddleboards from SereneLife or Tower Inflatable are great gifts for adventurous families too. If you have a surfer in your family, they'll love the Giantex 6" Surfboard, Wavestorm 8" Surfboard, or the Thurso Surf Aero 7. Fishing enthusiasts will appreciate the Zebco angle-free rod, PLUSINNO comprehensive fishing kit, or the Lanaak 32-piece fishing set!
DON'T MISS THIS: Shopping List for the Best Kids Snorkel Gear!
Best Camping Gear for Families
Need gift ideas for someone going traveling in the wilderness? Buy these unique travel gifts. Camping gear is your answer, whether you're visiting a state park, national park, or local campground. It's best to bring along basic gear such as tents, stoves, or sleeping bags. Families love the Marmot Limestone Camping Tent due to its waterproof material and color-coded, easy-pitch poles. It's available in four and six-person options for your next outdoor trip!
If you'd rather have an instant set-up, try the 6-Person Cabin Tent from Coleman with advanced ventilation and weatherproof material. Or, try Coleman's budget-friendly Sundome Tent, available for up to six sleepers. Sleeping bags are a must too. For convenient cooking, Coleman also sells a fantastic, two-burner classic propane stove for families on the go. The Solo Stove has a more compact design, though, particularly great for backpackers.
OR, TRY ONE OF THESE: 15 Exciting Outdoor Gifts For Kids
Additional Gift Ideas for Travelers
Still haven't found the right travel gifts for families? Here are a few miscellaneous items on our Families Who Love To Travel Gift Guide 2021! Snag one of the best gifts for travelers of all ages on this list for a perfect stocking stuffer or travel-themed holiday parties!
PLUS, SHOP THESE: Best Travel Accessories Families Can't Live Without
Compass
Little ones will love taking control of navigating your family vacations with their trusty compass. Luckily, Amazon sells a variety of compasses suitable to be a Christmas gift for parents or kids! Essential for any aspiring outdoor scout, the waterproof Orienteering Compass from TurnOnSport is small, has a magnetic needle, and features an attached magnifying glass for reading maps on the go. Kids can also wear their compass as a vintage pendant thanks to the stylish Kakuru Pocket Compass. It uses special encapsulation technology to ensure little explorers never get lost!
If you're searching for a more durable, professional-grade compass, consider buying a Military Lensatic Sighting Compass from Sportneer. Regardless of which option you choose, a compass is a great stocking stuffer and one of the best gifts for travel lovers.
Binoculars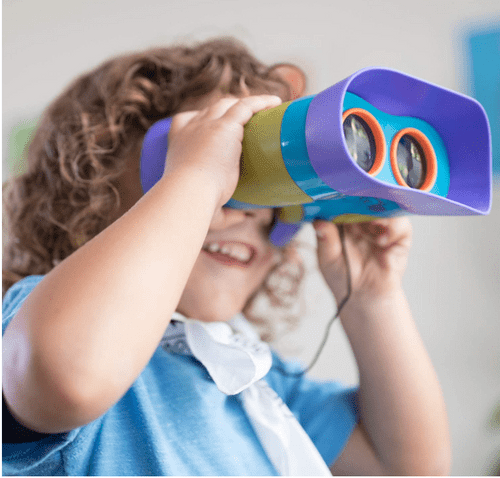 Let kids explore the great outdoors with their very own binoculars. Certainly, one of the best gifts for travelers, this unique gift idea will get them excited about the natural world, your next vacation, and beyond! Toddlers will love a pair of GeoSafari Jr. Kidnoculars from Educational Insights. Though these aren't technically real binoculars, they come with cool graphics and fun facts to keep children entertained.
If your younger kids want something a little more advanced, they may love a pair of Dreamingbox Compact Binoculars. Perfect for family travel, these come in a variety of colors and feature a soft rubber lens to avoid any accidents. Children who are well-acquainted with binoculars and want to step up their exploring have great options too. Try the Nikon Trailblazer 8×25 Binoculars!
Camera
Commemorate your next family vacation with a kid-friendly camera, one of the best unique travel gifts! Little ones will love feeling independent and documenting their travels through their own eyes. And they'll be really excited about their next vacation too! Polaroid cameras are lightweight and portable, making them an easy-to-use travel accessory for little ones who love snapping photos. Fujifilm sells an Instax Mini 11 Instant Camera in multiple colors, featuring a built-in macro mode, automatic shutter speed, and selfie mirror for close-ups. They also come with a bundle that includes batteries, film, a carrying case, and cute stickers!
If you have a more inexperienced photographer on your hands, we recommend a camera designed specifically for youngsters. The Seckton is available in a wide range of colors and is a fantastic "selfie camera" for toddlers with a love of photography!
GoPro
GoPros are great gifts for teens on our Families Who Love To Travel Gift Guide 2021. These portable cameras are amazingly effective at capturing high-quality images and videos, making them perfect for hiking, biking, or any other adventurous sports. There are multiple models available, but the Hero9 and Hero8 feature a sleek, compact design and self-proclaimed "bombproof" materials just in case teens drop them. To see what you're recording, The Hero9 even has a front preview screen!
In comparison to older GoPros, they're both a bit expensive and a little advanced. So, if your teens are just starting, we recommend the Hero7. It's waterproof, has GPS capabilities, and even has live streaming functions. Many consider it a more no-frills version of the Hero 8. With all these incredible qualities, no wonder GoPros are rated some of the best gifts for travelers!
Happy Holidays!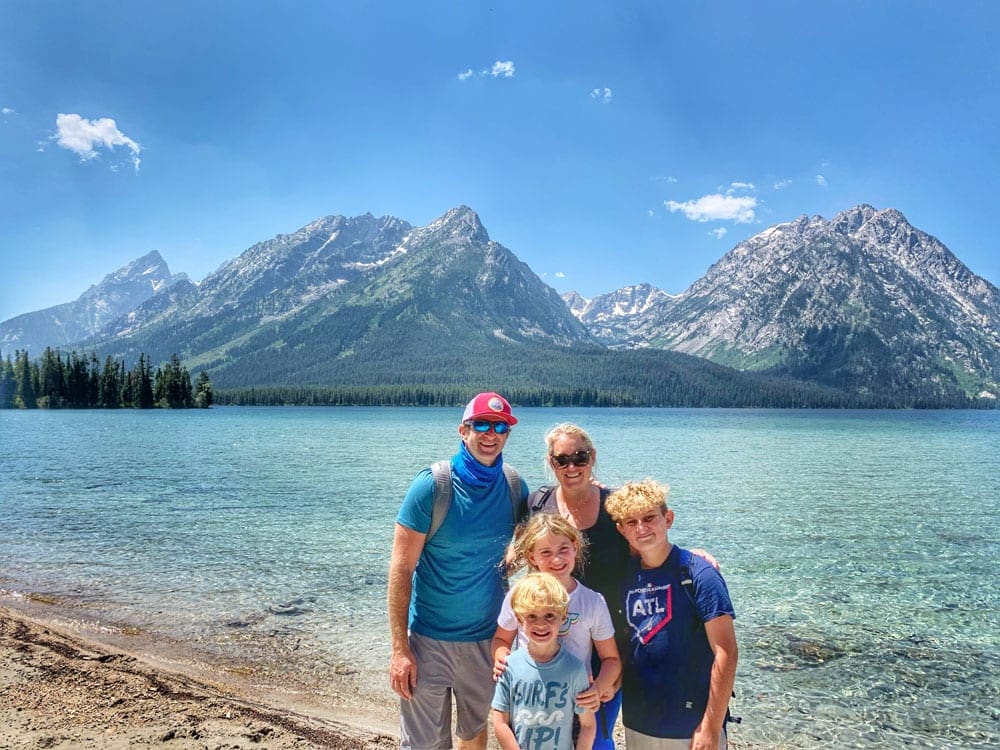 We hope you found the perfect item on this list Families Who Love To Travel Gift Guide 2021! From stocking stuffers to unique travel gifts to huge gift ideas, we're sure your loved ones will adore any of the options on this list, featuring the best gifts for travelers. After all, gifts for people who travel are the best kind. Enjoy the holidays with your family!
*This post may contain affiliate links that may earn us a small commission, at no additional cost to you. Affiliate links in no way inform the hotels, sights, products, or other recommendations included in our articles. All opinions and recommendations expressed here are compiled from submissions submitted by the generous members of our Families Who Love To Travel community.
READ MORE: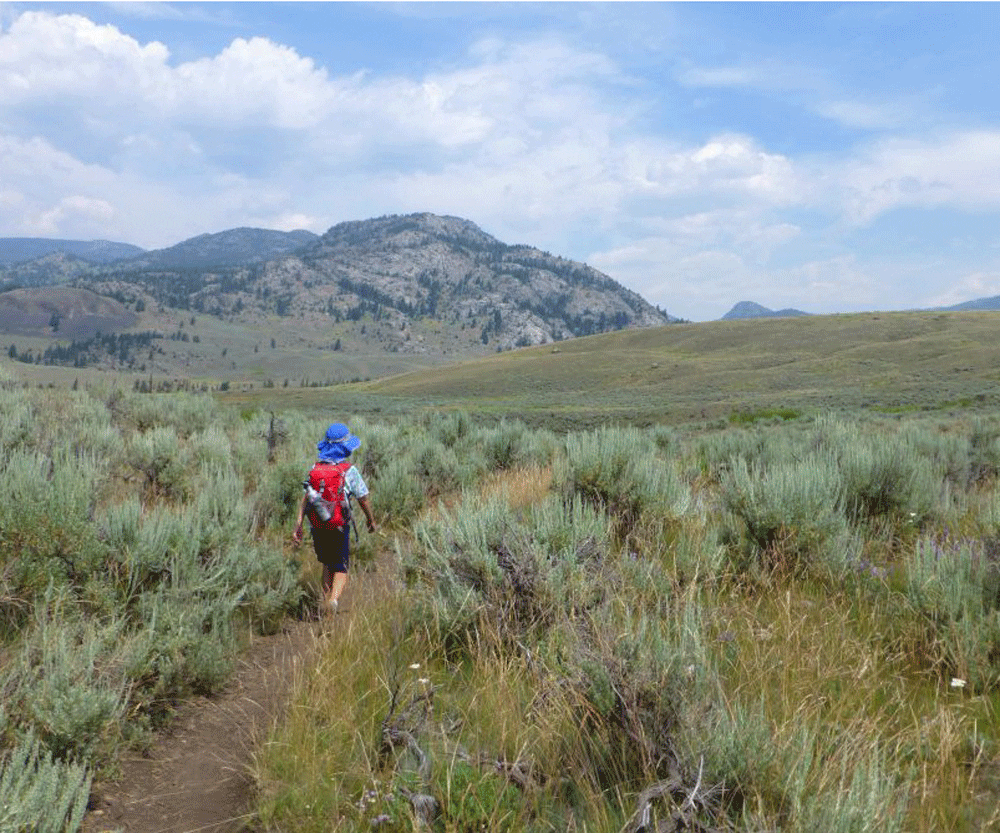 Everyone knows that Yellowstone National Park makes for a classic family vacation. Strolling the boardwalks...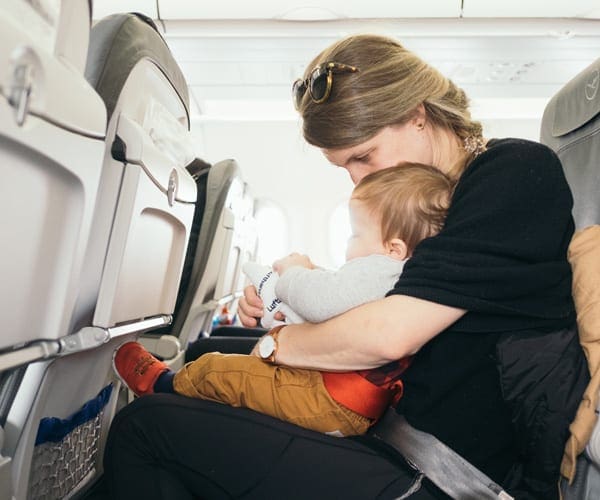 Families Who Love To Travel contributor Meghan Oaks provides her 10 best tips for your...