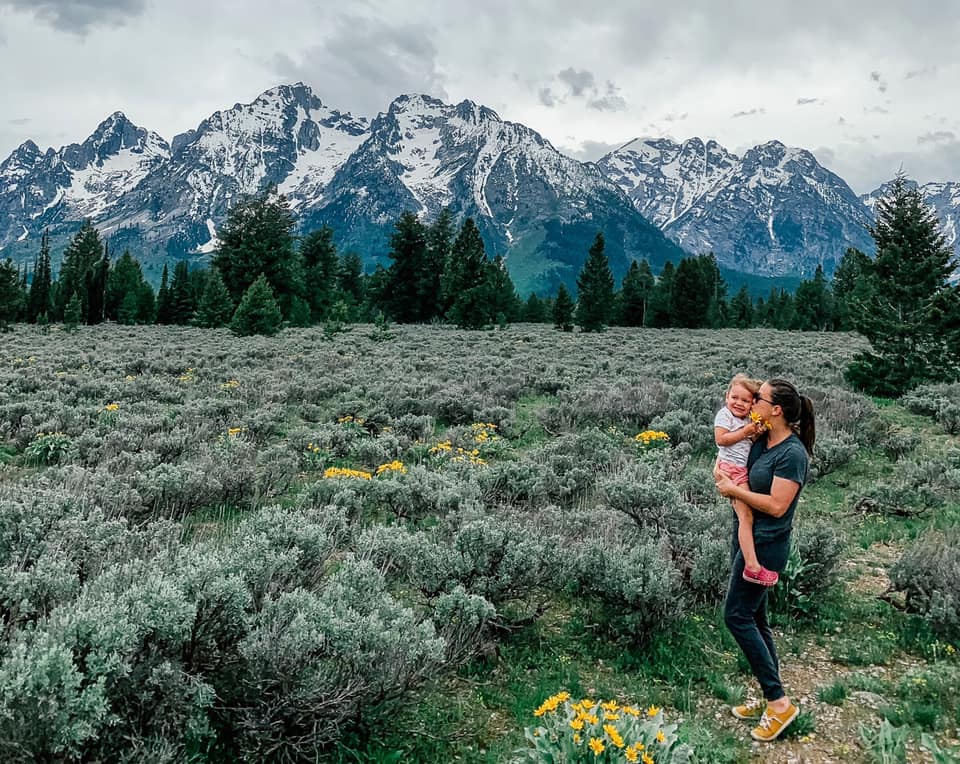 Grand Tetons National Park in Wyoming is a rugged national park in the Teton Range of the Rocky Mountains. When you travel to Grand Tetons National Park with kids, you'll find a variety of outdoor things to do. Of course in winter, it's a fantastic place to ski. Then, in the summer, explore the miles of trails, enjoy the Snake River, and perhaps try a new experience of water-rafting, horseback riding, or even a rodeo. Whether you love the mountains, valleys, lakes, rivers, or forests, your family will never forget the striking landscapes of the Jackson Hole Valley. A bonus to the natural beauty is the charming town of Jackson Hole which is filled with lodging and restaurants. Keep reading our Ultimate Guide to Grand Tetons National Park Guide with Kids to discover recommendations for family-friendly trails, where to stay, where to eat, and more!
Grand Tetons National Park is very close to Yellowstone National Park – considering pairing them together for a fantastic family vacation. Be sure to read The Best Guide to Yellowstone National Park with Kids to get you started.
Save up to 25% on your travel costs this Summer by renting an RV through RVshare
What to Know Before You Go to Grand Tetons National Park with Kids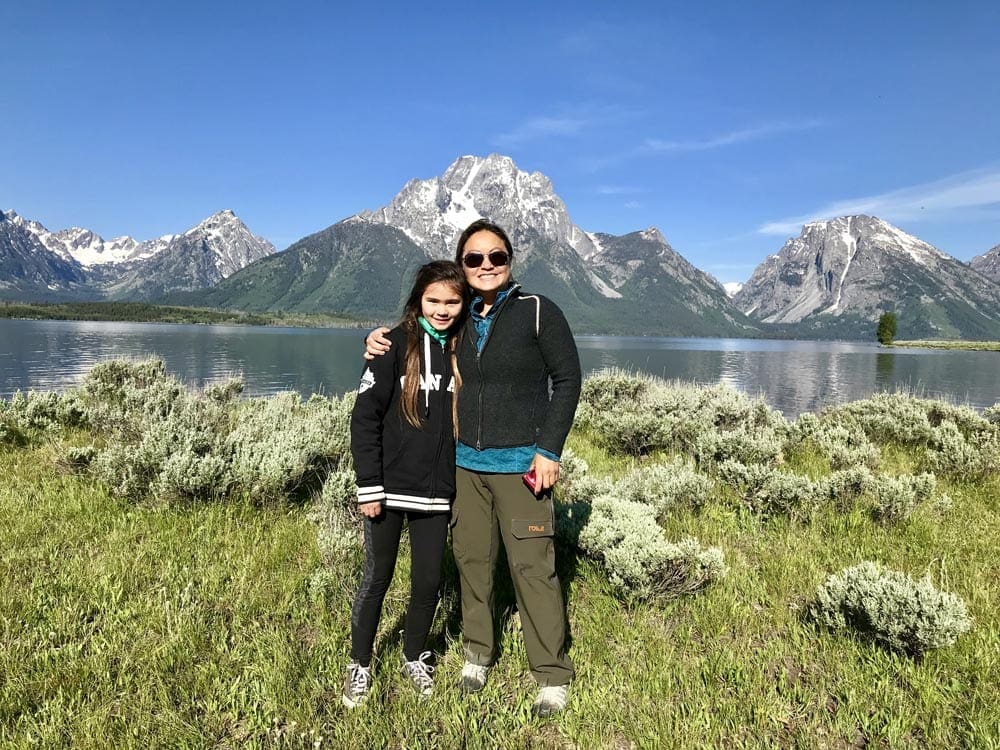 Together with the help of our community of traveling families, we've compiled important tips to remember before you head out on a family vacation to Grand Tetons. Given that you've got enough details to keep straight, read through these tips as you start to research with our Grand Teton National Park Guide.
Free Single Upgrade! Enjoy a free one-car-class upgrade on your next rental. Terms Apply.
Book Campsites and Outfitters Early
Campsites at the Grand Tetons are available to book up to six months in advance. If you're planning to camp, prepare to make reservations at that time, especially if you want to go in the summer. Not only do campsites and other lodging options book early, but outfitters and tour groups also take reservations ahead and may not be able to accommodate last-minute needs. We've included popular campsites and recommended outfitters in this Grand Tetons National Park Guide. Do your research ahead of time and you're guaranteed to have the experiences you're looking for. Because this is such a popular summer destination, understand there will likely be crowds and arrive at parking lots early to ensure a spot. The park is big though, so if you want to escape the crowds, seek out the lesser-known parts of the park like the beach at Leigh Lake.
Get a Park Pass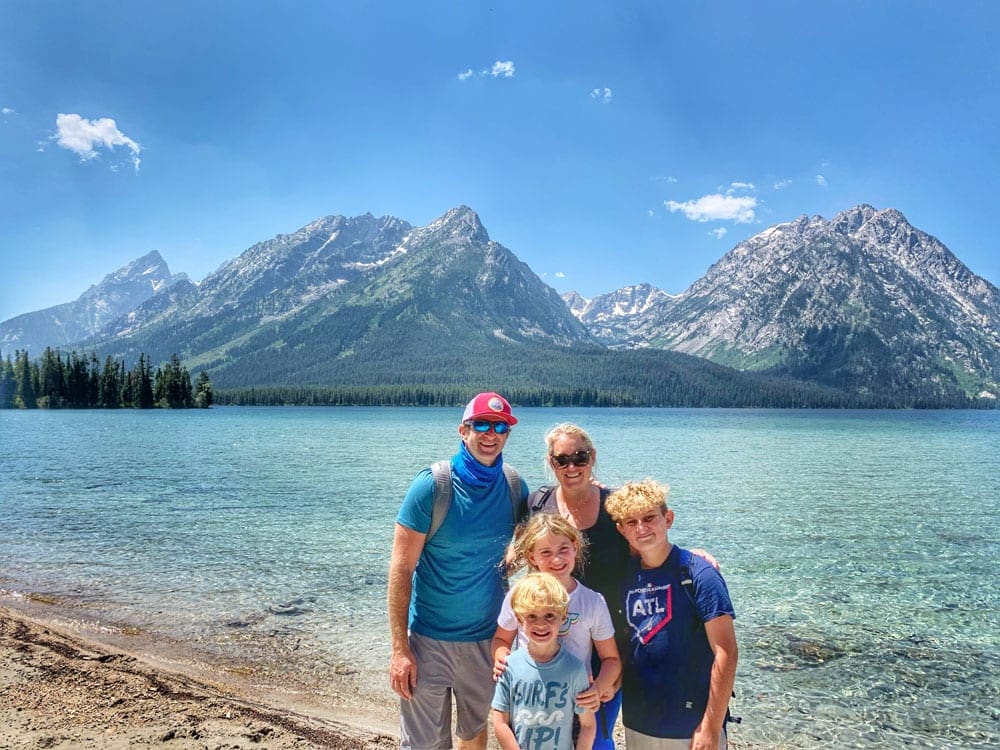 If you plan to visit more than one national park, consider purchasing the American the Beautiful National Park Pass before you go. Because there are several national parks in close proximity to the Grand Tetons, like Yellowstone National Park and Glacier National Park, this $80 annual pass, which is valid for one full year after purchase, is very valuable to your vacation planning. Also, if you have a fourth-grader in your family, you qualify for the Every Kid in Outdoors free pass to national parks. All you need to do is register for the pass ahead of time. Due to the recent COVID-19 closings, this pass has been extended for fifth-graders who may have missed out on using the pass when they were fourth-graders. With the extended benefit, this is is the perfect time to get outdoors.
Here's everything you need to know about the Fourth Grader pass for National Parks.
How to Get to Grand Tetons National Park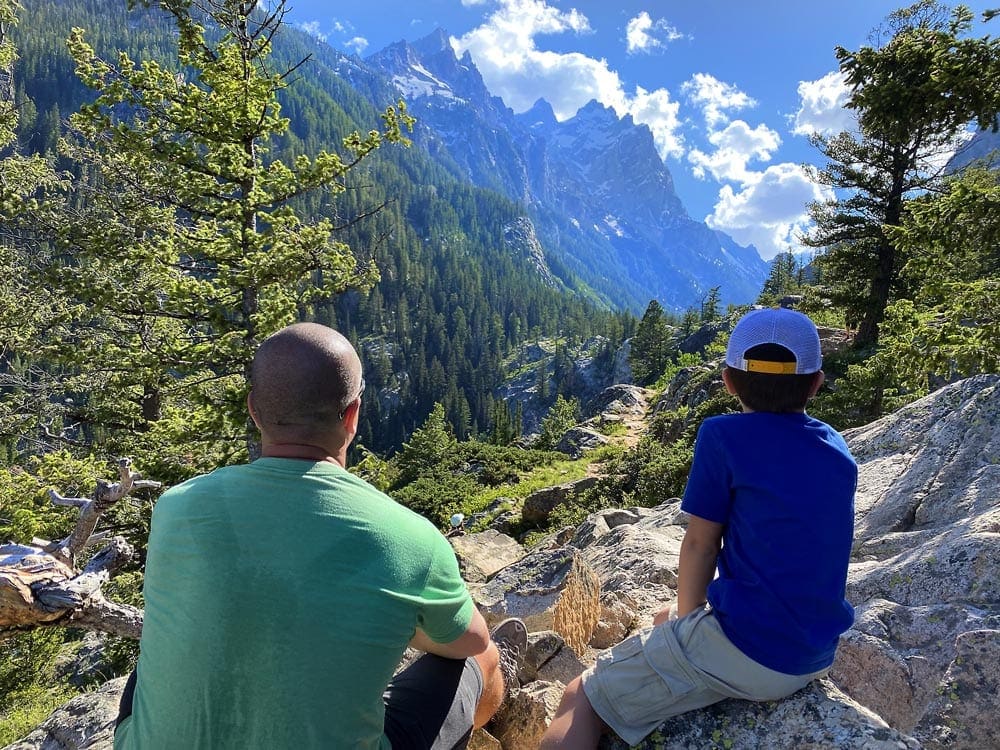 There are four entrances to Grand Tetons National Park. If Jackson, Wyoming is your home base, you will be closest to the Moose entrance. When you fly in and out of Jackson, you'll be amazed that the airport is actually inside the park, with Jackson is just minutes away. If you're flying and have an extended period of time for your family vacation, a popular itinerary in this area is to fly in or out of Jackson, visit Grand Teton National Park, Yellowstone National Park, and then Glacier National Park. Then, on the return flight, choose to fly home from Kalispell, Montana. While this is an ambitious itinerary, the direct drive from Jackson to Kalispell is about eight hours and is a fantastic way to see three national parks in one vacation. If you decide to do this route, allocate plenty of time to fully experience each park.
Go "Glamping" this Spring by having your RV delivered for under $150 per day
The Best Time of Year to Visit Grand Tetons National Park With Kids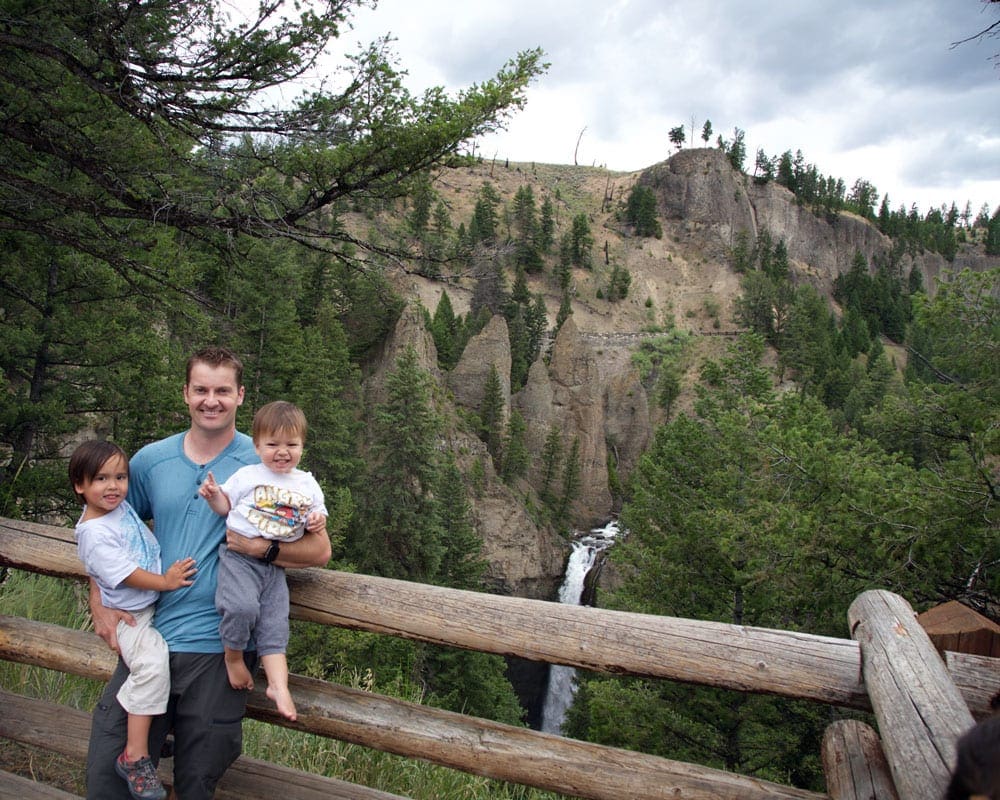 The summer weather at Grand Tetons National Park is mild. As such, May through September is the most popular time to visit. In the summer, expect to find temperatures between 75-80 during the day with low humidity. However, at night, temperatures can drop, so be prepared with warmer clothes for evening activities. Also in the summer, it is common to have afternoon rain showers. The spring and fall are mild and less crowded times to visit, however, be prepared for snowfall even in May and September. Some trails in the valley are snow-covered until the end of May. In the winter, the park experiences frequent snowstorms, and temperatures can be frigid. It will likely be necessary to have a four-wheel-drive vehicle and still some roads may be closed. No matter what time of year you visit, be prepared with layers of jackets and rain gear.
What to Bring to Grand Tetons National Park with Kids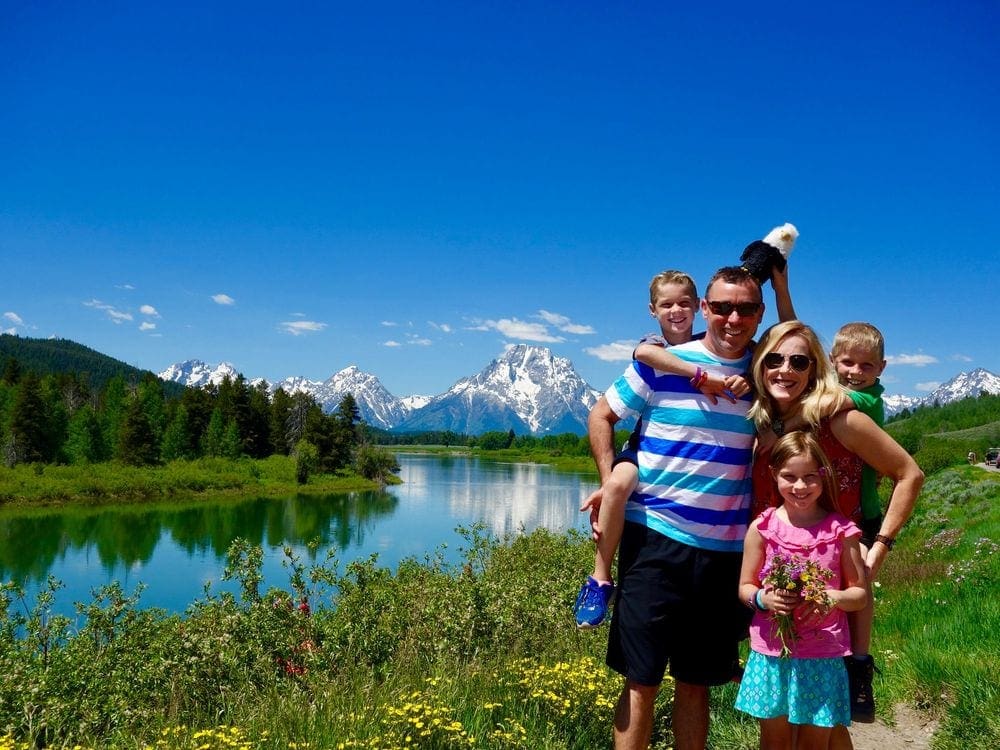 Along with clothes, gear, and snacks, here are suggested items to pack. First, bring cash, and especially quarters if you're camping and would like to shower or do laundry. Even campsites might require payment by cash or check. Second, if you plan to hike at Grand Tetons, carry an air horn, wear bear bells, or bring bear spray. Even experienced hikers have taken a bear by surprise, so make noise while hiking. As a note, if you're flying to Grand Tetons, purchase bear spray when you arrive. While you don't want to take a large animal by surprise, you will want to see wildlife from a safe distance, so bring kids binoculars. Before arriving at the park, families recommend downloading the GyPSy Guide for a narrated tour of the Grand Tetons. Also, get the Grand Tetons National Park app. Reception may be patchy so download maps for offline use.
Things to Do in Grand Tetons National Park with Kids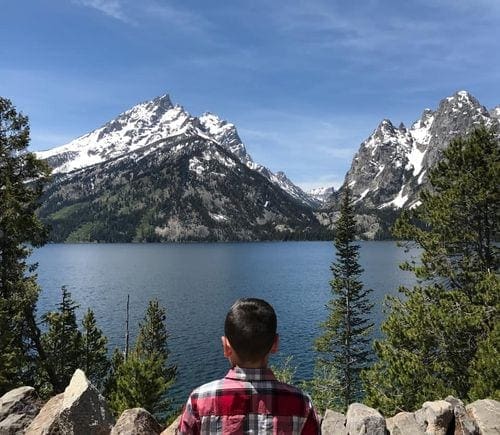 Grand Tetons National Park is an outdoor exploration destination. No doubt, you'll want to hike while visiting, but little legs get tired after a few hours of walking. For an optimal vacation to Grand Tetons National Park with kids, intersperse time hiking with other adventure activities, but don't forget to build in time to simply soak in the beauty all around. Here are our kid-friendly recommendations for Grand Tetons National Park!
Shop camping gear and save!
Best Family-Friendly Hikes in Grand Tetons National Park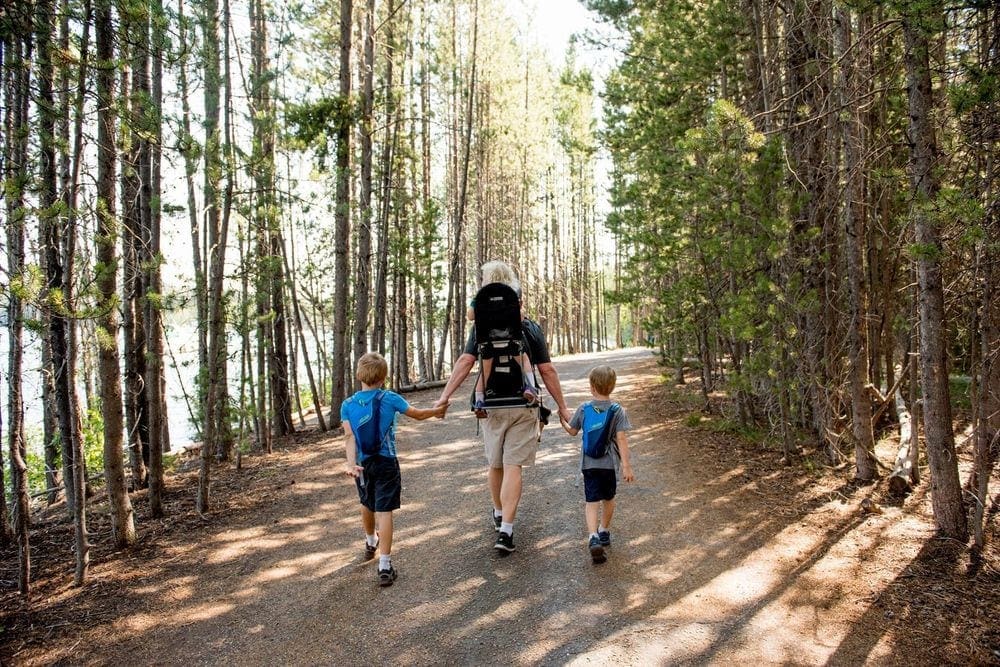 Grand Tetons National Park has many fabulous hiking trails. One of our favorites begins at Jenny Lake. From the parking lot, take a shuttle boat across the lake. Then, hike the half-mile trail to Hidden Lake. If you want to keep going, walk another half mile to Inspiration Point. To extend the trip even further, continue to Cascade Canyon. For the return, either hike back to the parking lot, or ferry across the lake. Hermitage Point Trail is a little longer hike for families. Best with older kids, you may spot wildlife like deer and bald eagles. Looking for a challenge? Hike to Delta Lake. While this is a difficult 8.8 mile out and back trail, some families may be up for the challenge. Delta Lake is a gorgeous turquoise glacial lake and a perfect reward for the intrepid hike!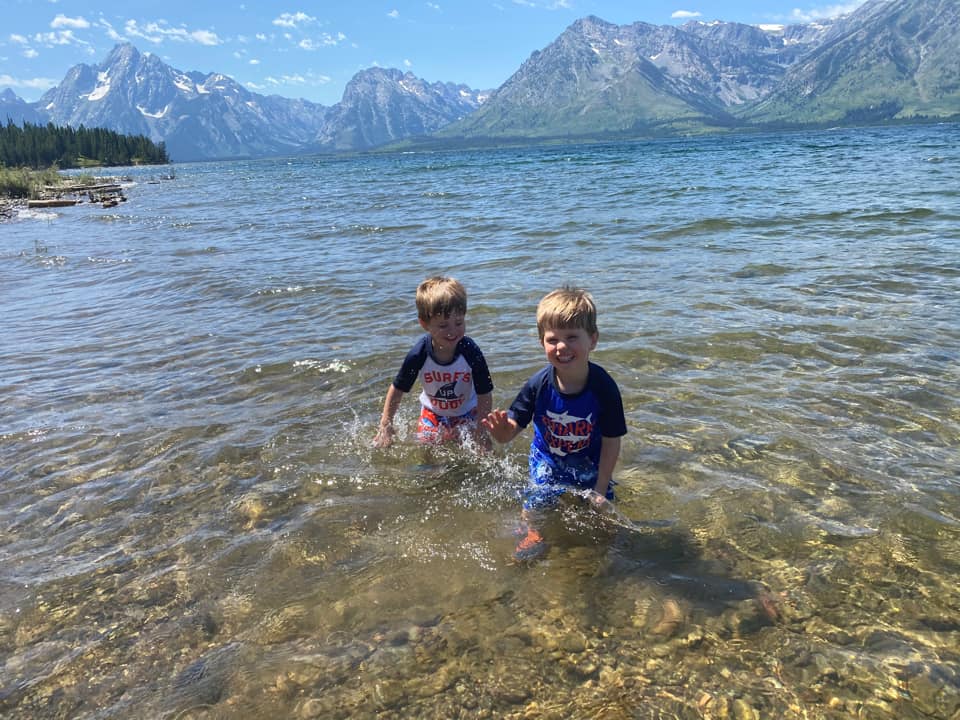 For more family-favorite hiking trails at Grand Tetons National Park, try Taggart Lake. A relatively easy 4.1-mile hike, it takes you to a calm lake that mirrors the mountains. While you can hike out and back, try hiking counter-clockwise around the lake and you'll escape the crowds. Again, if you're looking for a less crowded hike, try the Leigh Lake Trail. This is a relatively flat hike with amazing views. Plus, it is less than two miles round trip. Another lake trail is Phelps Lake. Although this is a longer hike at 6.3 miles, your kids will love jumping off the rock into the water. Finally, while the Darby Canyon Wind Cave Trail isn't within Grand Tetons National Park, it's a worthwhile mention on the Idaho side. For adventure seekers who like a rocky climb, this is a great choice and you'll see a waterfall along the way!
Exciting Overlooks and Sites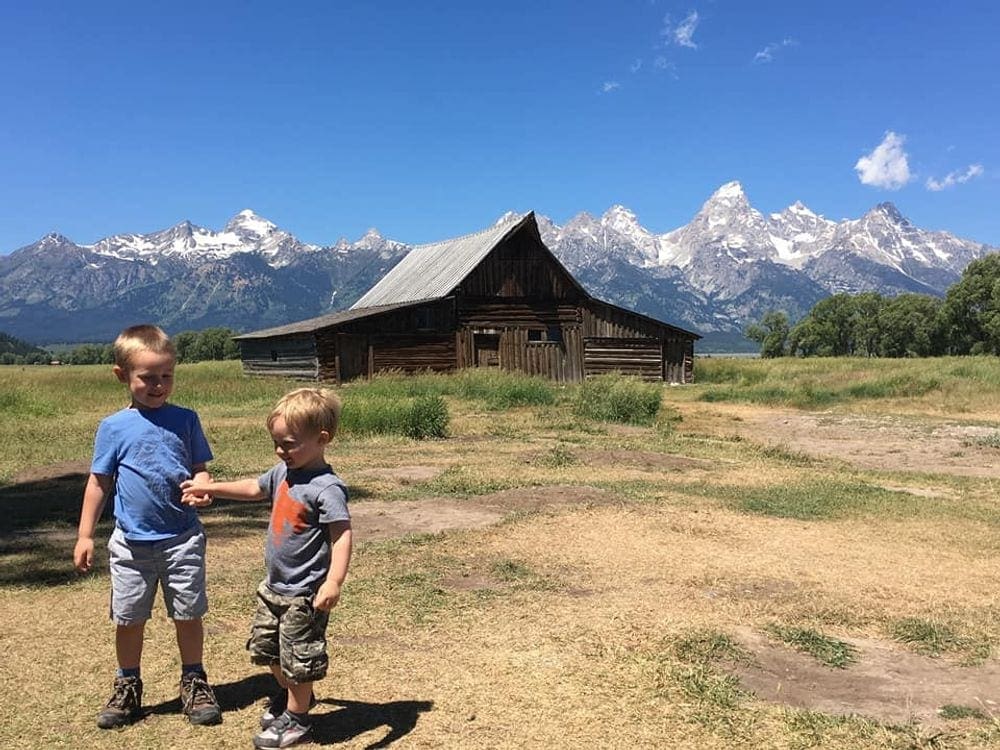 When it's time to rest your legs, take a scenic drive through Grand Teton National Park with kids. There are several options for drives. If you have time for the 42-Mile Scenic Loop Trail, you won't be disappointed. Plan to stop along the way at overlooks and search for wildlife such as otter, elk, bison, yellow-bellied marmots, and many kinds of birds. However, be cautious while driving and watch for large animals roaming the road. For families who want to add a bit of history to their outdoor adventure, visit Mormon Row. Here, Mormon homesteaders came in the 1890s to establish a new community. You'll see clusters of homesteads, and among those is the most photographed barn in the world, the iconic T.A. Moulton Barn. Keep on the lookout and you might spot wildlife like moose, antelope, bison, and more in the open fields.
Guided Experiences and Recommended Tours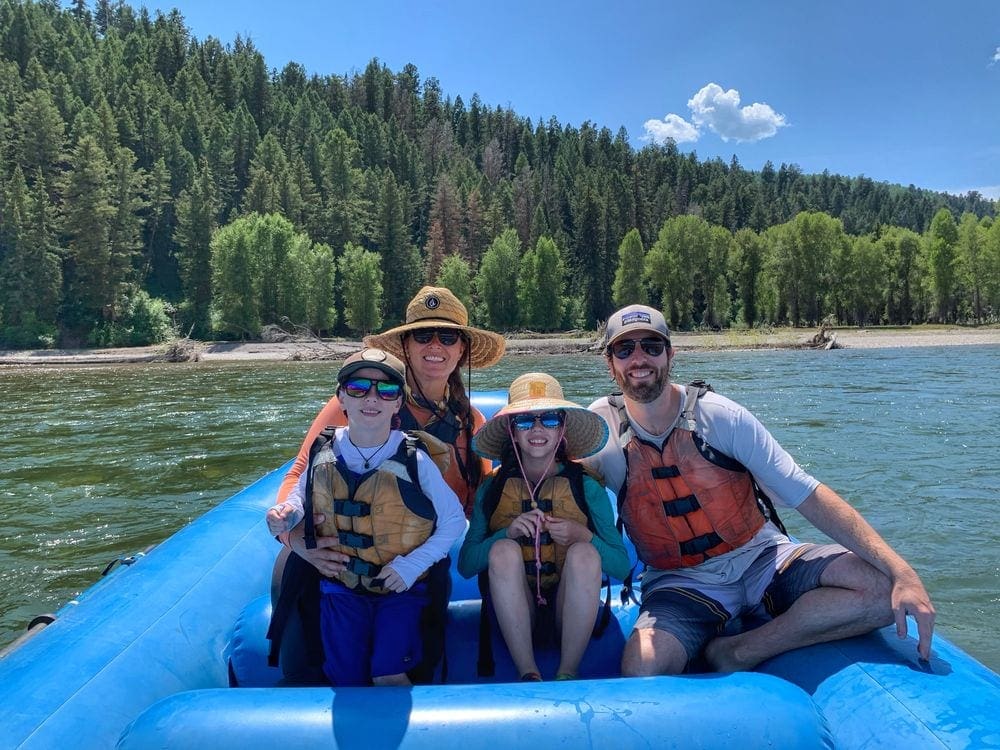 Along with the hikes and scenic drives, there are many other ways to explore Grand Tetons National Park. Mid-June through mid-September you can canoe or kayak on Jenny Lake. Boats are available on a first-come, first-served basis. Also at Jenny Lake, check to see if the scenic cruises are operating. If so, take one of these tours to learn history about the park and see incredible scenery along the way. In addition, don't miss the Visitor Centers within the park, each offering hands-on activities. There are five different centers in the park. Each provides opportunities to learn about local history and the land. While all are worth visiting, families especially like The Craig Thomas Discovery and Activity Center, showcasing exhibits, artwork, a bookstore, as well as park information and sale of permits. Finally, be sure to have your kids complete the Grand Adventure to earn their Junior Ranger Badge!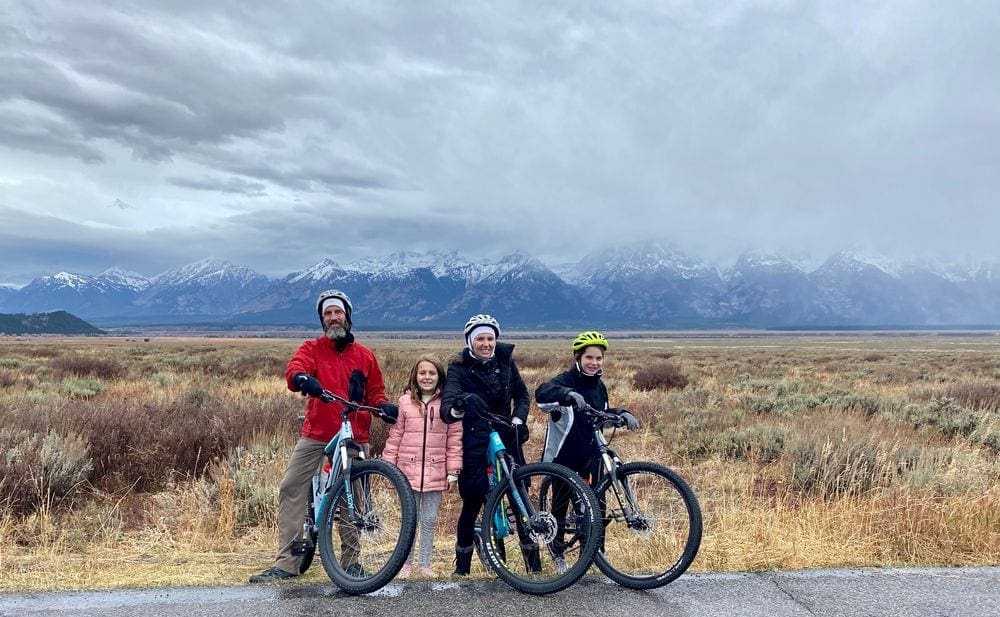 If you would like to explore Grand Tetons National Park in even more adventurous ways, there are a number of local companies that offer tours and rentals. One family favorite tour is with Brushbuck Wildlife Tours. Take their Dawn or Dusk 4-Hour tour and you may see wildlife like elk, moose, bison, bear, wolves, and more. Along with the year-round tours, Brushbuck also has winter-specific tours. Then, explore Grand Tetons National Park by bicycle! There are several places to rent bikes. Conveniently located, Dornan's Adventure Sports even has Burleys available for the youngest adventurers. Rent from them and you can leave their location and ride straight to Jenny Lake! As another option for bicycle rental, Hoback Sports which is conveniently located in downtown Jackson Hole, has bikes to rent for the whole family.
Additional Things to Do Near Grand Tetons National Park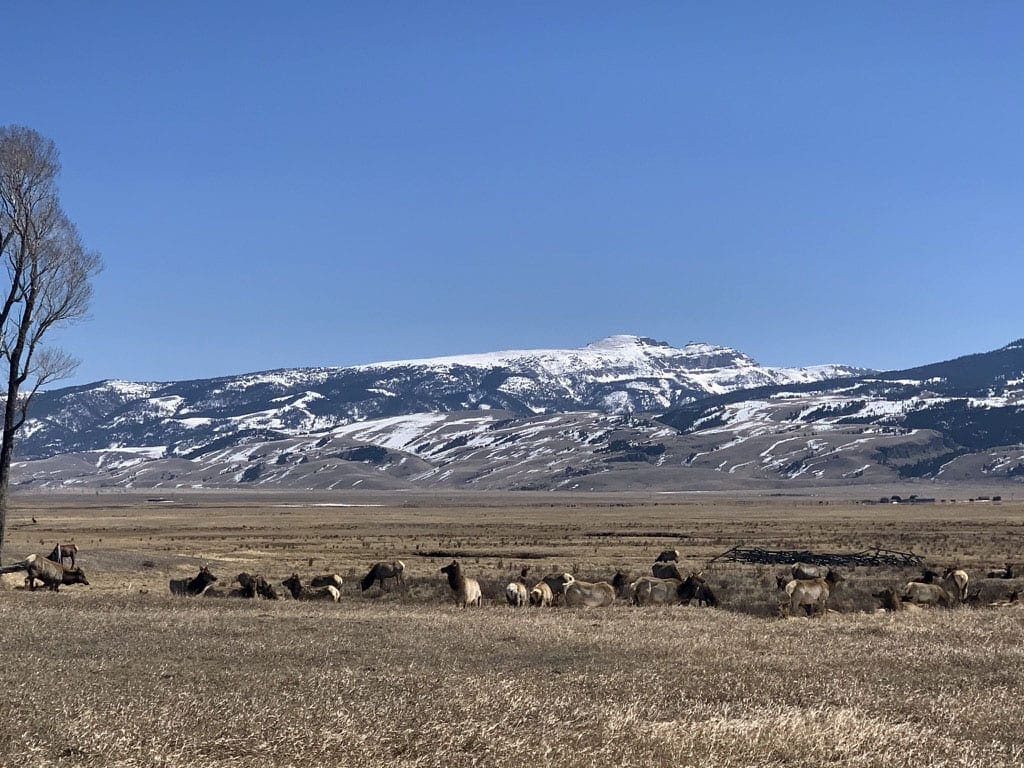 While this Grand Tetons National Park Guide has mainly focused on things to do inside the park, there are many other adventures nearby to add to your vacation! Try white water rafting with Dave Hansen Whitewater and Scenic River Trips. Your kids can earn Junior River Guide Certification while white water rafting on the Snake River. For another exciting adventure, check out Jackson Hole Backcountry Rentals for side-by-side rentals, as well as snowmobile rentals during the winter. When you rent a side by side, simply drive it to the trailhead for an exhilarating adventure. Then, if you're trying snowmobiling, the outfitter will even provide a trailer for your transport. Although the Solitude Float Trips are actually still in Grand Tetons National Park, these laid-back scenic trips are an excellent choice for an additional family-friendly activity.
Because Jackson Hole is a popular ski destination, there are chair lifts in the area offering beautiful views. During the summer months, there are three options for taking a scenic chairlift to experience the unparalleled beauty of the Tetons. Options for summer chairlift rides include Snow King Mountain (summit chairlift closed for summer 2021), the Bridger Gondola, and Grand Targhee Resort's scenic chairlift, a further drive but worth the trip. Any time of the year is a great time to visit the National Elk Refuge. It's especially magical to go there in the winter on the National Elk Refuge Sleigh Ride. Experience snow crunching under the horses' hooves and spot large elk herds with beautiful mountains in the background. Finally, don't forget to get tickets to the Jackson Hole Rodeo.
Save up to 25% on your 2021 travel costs by booking an RV through RVshare
Where to Eat Near Grand Tetons National Park with Kids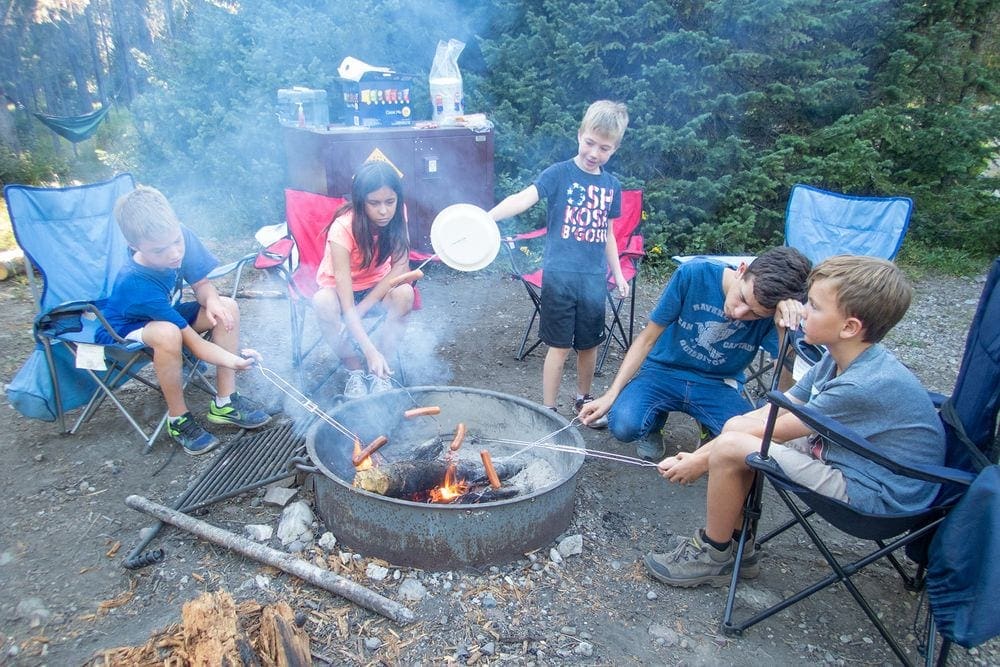 When visiting Grand Tetons National Park with kids, there are several great options for dining inside and outside the park. If you're camping, roasting hot dogs over the fire is always sure to be a hit with your kids too!
Inside the Park
When you're exploring Grand Tetons National Park, there are several options within the park to grab a meal. If you're staying at Jackson Lake Lodge, try the Pioneer Grill, a retro-style diner. Our families also recommend trying the huckleberry pancakes here! Another recommendation is Signal Mountain Lodge, where you can eat on the deck and enjoy the scenic view. A long-time favorite for breakfast on the way into the park is Dornan's for their iconic chuckwagon breakfast. Along with their great breakfast, Dornan's pizza is also a favorite. Find them at the south end of the park. You'll love sitting on the patio while you eat and enjoy views of the Grand Tetons and Snake River with the possibility that wildlife may wander by.
Outside the Park
If you choose to grab food before or after spending time in Grand Tetons National Park, there are many options in Jackson and Jackson Hole, starting with Persephone Bakery. This restaurant has two locations and is perfect for breakfast or lunch. During warmer weather, the downtown location offers outdoor seating. Plus, it's also a great place to grab picnic items for later. The ordering process is even faster if you download the Locals Line app to preorder and avoid the line. When you're wanting something casual, yet historic, try Jackson Drug and its Original Soda Fountain for burgers, homemade ice cream, and malts. Another casual and kid-approved choice is Leek's Pizzeria, overlooking Leek's Marina on Jackson Lake. For upscale dining, consider Orsetto, an urban casual Italian dining experience.
Gun Barrel Steak and Game House is housed in a former wildlife museum. While this is another upscale dining experience, your kids will feel comfortable with the children's menu. Or, try wild game like elk and bison. Also nearby, there are dining options that bring more than just a meal. Take the Bridger Gondola ride up to Piste Mountain Bistro. Not only will you enjoy a scenic ride, but also a fantastic mountain view while you dine. However, for a memorable experience that may be a highlight of the trip, do the Bar T 5 Covered Wagon and Cookout. This adventure starts in Jackson Hole, where you'll travel by horse-drawn covered wagon two miles into Cache Creek Canyon. Upon arrival, you'll be greeted by the smells of dinner cooking. As you finish eating, western-themed entertainment will start. Kids will adore this interactive show.
Where to Stay Near Grand Tetons National Park with Kids
When planning a trip to Grand Tetons National Park with kids, it's important to make your lodging reservations right away. Because this is such a popular vacation destination, hotel rooms and campsites fill far in advance. Also know that there are a variety of lodging options from luxury accommodations to dude ranches, to campsites. Here are our family favorite suggestions!
Inside the Park
There's nothing quite like staying directly within a national park. When you do, you're close to all the hikes and outdoor activities that you've come to experience. One favorite accommodation choice within Grand Tetons is Jackson Lake Lodge. At this hotel, you can reserve mountain view rooms with giant walls of windows to watch the sunrise, stargaze, and dream of meandering nature trails that depart directly from the patio. Families love that they can spot wildlife directly from the lodge's picture windows. Another favorite option in the park is the Jenny Lake Lodge, which is actually a AAA Four-Diamond resort with elegant cabins and a variety of activities and amenities for guests to enjoy. In fact, stay here and you'll find all the experiences your family is looking for, like horseback riding and bicycles, within a gorgeous setting.
Also close to Jenny Lake is the Spur Ranch Cabins, located right on the Snake River and ten minutes from Jenny Lake. These cabins are at Dornan's, which basically has all you need for a fantastic family adventure at Grand Tetons National Park, including bike rentals. In fact, its location is directly on the bike path that runs into the park. If you're looking to camp, there are six official campsites within the park, and they fill early. As mentioned earlier in this Grand Tetons National Park Guide, book these sites six months in advance. Gros Ventre Campground is the park's largest campground and the one closest to the town of Jackson. Then, families love Colter Bay Campground, which also has cabins at Colter Bay Village. This campground likes to call itself a summer camp for families because it offers a variety of fun activities!
Outside the Park
The main gateway into Grand Tetons National Park is Jackson and Jackson Hole, Wyoming. Here, you'll have many lodging choices and be near the park entrance. Many families like to rent a vacation home to have room to spread out and the ability to cook their own meals. If you're interested in a vacation rental, check VRBO for available options. Because nature is the main attraction, many people unable to find campsites within Grand Tetons National Park choose to camp in Bridger-Teton National Forest, which surrounds the national park. There are no facilities within the forest and you may need to drive down dirt roads, but sometimes these are the best types of adventures! Crystal Creek Campground is another option. Our families recommend that if you are scouting out campsites and see a spot, take it, it may be the only one remaining!
If you prefer to have a resort-type experience, there are several choices in Jackson and Jackson Hole. One family favorite is the Four Seasons Resort and Residences with its variety of room styles. Other local resorts include Amangani Resort, Rustic Inn Creekside Resort and Spa, and of course Snow King Resort, which offers a lot of great amenities, including its Adventure Course. For a dude ranch experience, Turpin Meadow Ranch is a fantastic choice. Beginning in May 2021, you'll find Marriott's Autograph Collection hotel, The Cloudveil located right on the Historic Town Square of Jackson Hole. While staying here, you'll be a close walk to restaurants, shops, and other local things to do. Another centrally located hotel is The Lexington at Jackson Hole. Finally, don't forget to look into The Lodge at Jackson Hotel which also offers luxurious accommodations for families.
Find Top 50 Grand Teton National Park cabin rentals | Vrbo.com
Thank You to Our Community!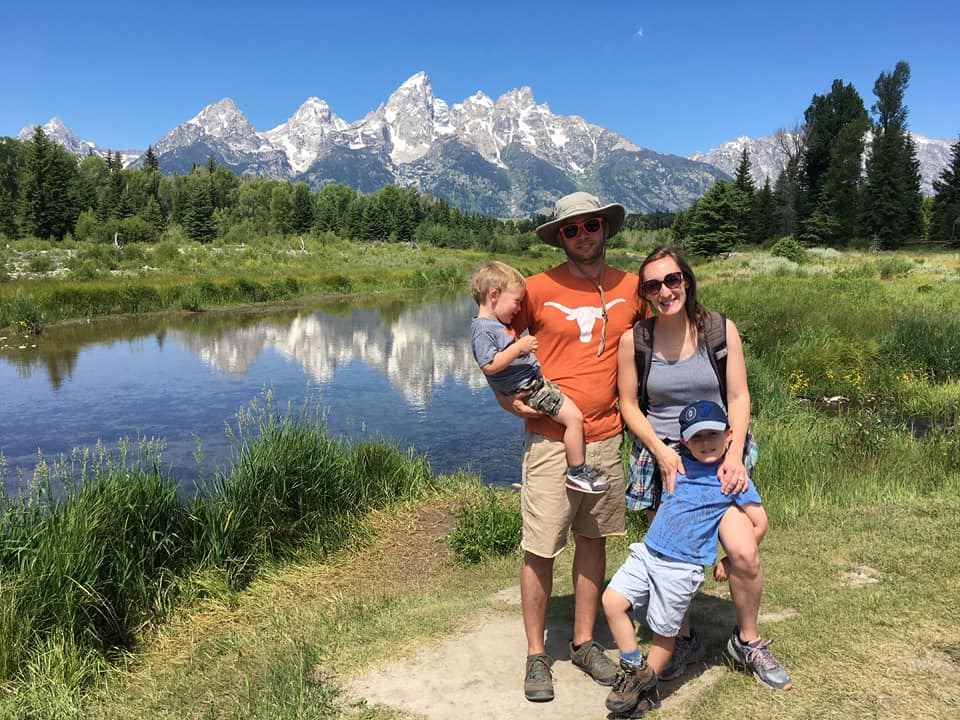 A special thank you to the Families Who Love To Travel Facebook community who generously shared their travel recommendations for this Grand Tetons National Park Guide. We could not have compiled such a thoughtful and helpful list on visiting Grand Tetons National Park with kids without their dedication to our community. Families Who Love To Travel is a group of amazing families who also love adventure and exploring through travel. For more family vacation recommendations and inspiration, be sure to join us on Facebook at Families Who Love To Travel. We're a community of experienced traveling families who love adventure and exploring the world. Plus, follow us on Instagram (@families.love.travel) to connect with other families who love the unique experiences travel has to offer.
Looking for more National Park adventures? Plan your next trip to one of the Top 10 National Parks for Families.
*Due to the COVID-19 pandemic, some of the attractions, hotels, and restaurants featured on this list may be temporarily closed or experiencing reduced services. Confirm availability online prior to visiting.
*This post may contain affiliate links that may earn us a small commission, at no additional cost to you. Affiliate links in no way inform the hotels, sights, products, or other recommendations included in our articles. All opinions and recommendations expressed here are compiled from submissions submitted by the generous members of our Families Who Love To Travel community.
READ NEXT:
How to Prepare and Involve Children in Travel Planning
The Best Guide to Yellowstone National Park with Kids
Best Summer Vacation Ideas in the U.S. for Families
Family Vacations to Plan a Year in Advance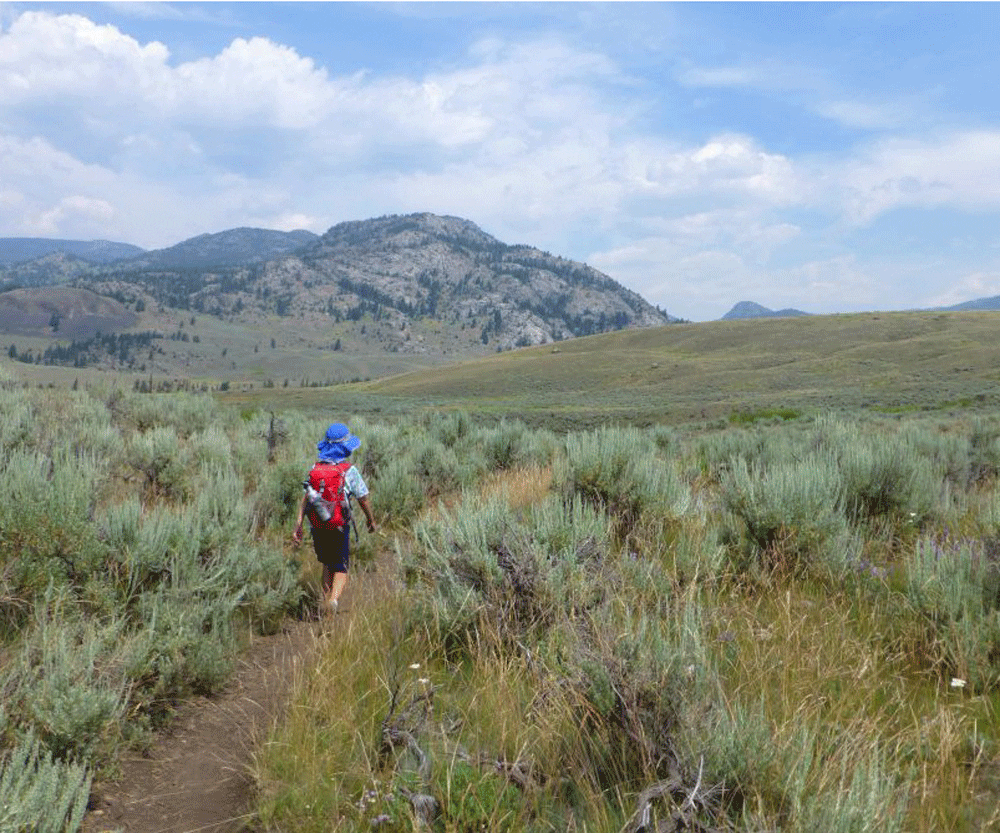 Everyone knows that Yellowstone National Park makes for a classic family vacation. Strolling the boardwalks...
What are the best road trip planning apps for camping and RVs? You'll be surprised...