*Hosted experience. All ideas and opinions expressed within this article are that of the author, Emily Kapic. Find our full disclosure at the bottom of this article.*
SeaWorld San Diego ranks at the top of the list for fun places to visit in San Diego with kids! Not only is the park family-friendly but where else can you see hundreds of mammals, fishes, birds, and reptiles in one day? Kids of all ages will enjoy the variety of rides, animal experiences, shows, and dining options. Plus, SeaWorld is a leader in the rescue, rehabilitation, and return of wild animals in need, to date SeaWorld has rescued more than 40,000 animals. This guide on The Perfect Day at SeaWorld San Diego with Kids will help you make the most of your visit and create memories to last a lifetime!
Book your tickets to SeaWorld San Diego!
SeaWorld San Diego Location, Parking, and Tickets
SeaWorld San Diego is in Mission Bay in the heart of San Diego. Since the park is located 15 minutes from downtown and next to the beach, it's an easy excursion when in San Diego with kids. Even though lines move efficiently, plan extra time for the arrival process. First, SeaWorld San Diego parking is quicker when purchased in advance but can also be paid for on arrival. Second, visitors pass through a security screening. Then, those with tickets can proceed directly to the gate. If you have a voucher or gift card you'll need to visit a kiosk to obtain a scannable ticket. Day tickets can be obtained at the ticketing counter but it's highly recommended they be purchased online in advance.
Exciting SeaWorld San Diego Rides with Kids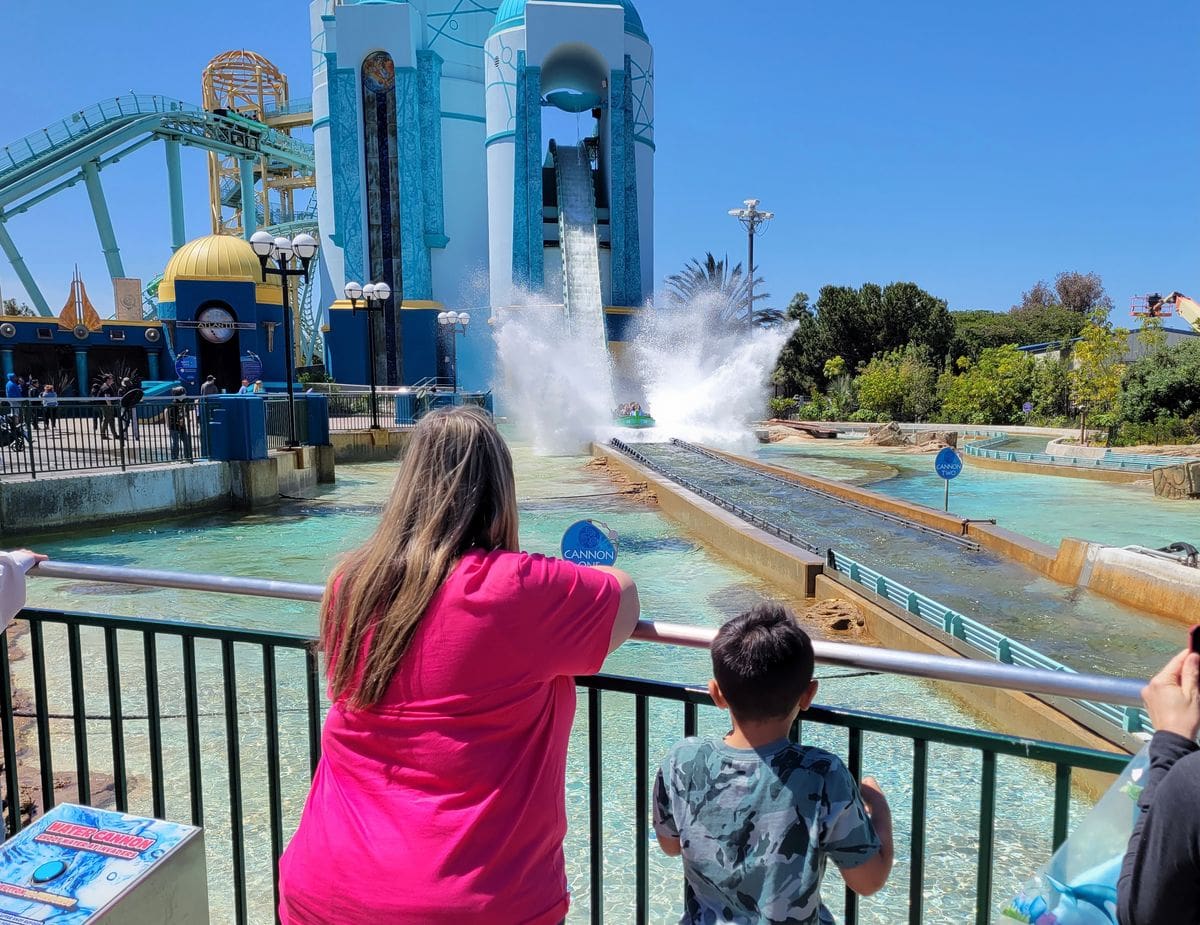 There are SeaWorld San Diego rides for everyone in the family! The new Emperor roller coaster dominates the skyline and the 14-story drop is the largest in California. Manta and Electric Eel are also for thrill-seekers. The park is also full of smaller rides to delight younger guests. Abby's Sea Star Spin, Elmo's Flying Fish, and Octarock are family favorites. Journey to Atlantis is a mix between a roller coaster and a log ride and should definitely be on your list. For a birds-eye view of Mission Bay ride up the SkyTower or over the water on the Bayside Sky Ride. These two attractions require an additional $6 ticket but provide unbeatable views of San Diego!
SeaWorld San Diego takes safety and height restrictions seriously so make sure children are of appropriate height before waiting in line. Upon entering the park stop by the "Height Check" display near Guest Services so you know in advance which SeaWorld San Diego rides will work best for your family. If you plan to spend a lot of time on the SeaWorld San Diego rides consider upgrading your ticket to include "Quick Queue," which allows guests to skip the line and hop right on. This is a great option for rollercoaster riders who spend more time on the popular rides that tend to have long lines.
Looking for other activities? Check out Viator's top San Diego tours here!
Educational Shows at SeaWorld San Diego with Kids
SeaWorld provides guests with experiences that let them explore the world we live in, be inspired by what they learn, and take action to protect the ocean and its animals. Certainly, SeaWorld's educational and entertaining shows have been captivating audiences for decades. A trip to SeaWorld San Diego with kids isn't complete without experiencing one, if not all, of the presentations: Dolphin Adventures, Orca Encounter, and Sea Lion and Otter Experience. The SeaWorld app lists daily showtimes and also allows for the purchase of reserved seating. Families that want to cool down can sit in the "splash zone" and receive a wet gift from the dolphins and orcas! Also, plan to arrive early if you'd like to sit close to the pools. However, although the stadiums are large you'll be able to enjoy them from anywhere.
Afternoon shows are the perfect time to rest tired legs and have a bite to eat. Adjacent to the arena, you'll find food kiosks that have popcorn, cold drinks, and more. Also, make sure you reapply sunscreen or wear a hat because the shade is minimal. Each show is an interactive multimedia experience where visitors will learn unique facts about SeaWorld's residents and what we can do to protect these incredible animals. And, you don't want to miss the dolphins, orcas, and sea lions showing off their tricks. No doubt watching dolphins spin, seeing an orca fly through the air, or clapping with the sea lions will be a highlight of your trip to San Diego with kids.
Book now and save money and explore San Diego with Go City!
Hands-On Experiences at SeaWorld San Diego with Kids
There are several places around the park where guests can get up close and personal with some amazing creatures. Anyone visiting SeaWorld with kids should stop at the Feeder Fish exhibit, located at the entrance. Just follow the sound of squealing and you'll find kids with their arms dangling in the water being nibbled on by fish. Guests also have the opportunity to touch manta rays and bamboo sharks, all under the watchful eye of SeaWorld's zoologists who share information via microphone and answer questions. For a memorable experience, purchase food for the sea otters and manta rays and you'll receive some special attention! Hand washing stations are nearby for a quick wash before moving on to the next exhibit.
Kid-Friendly Dining throughout the Park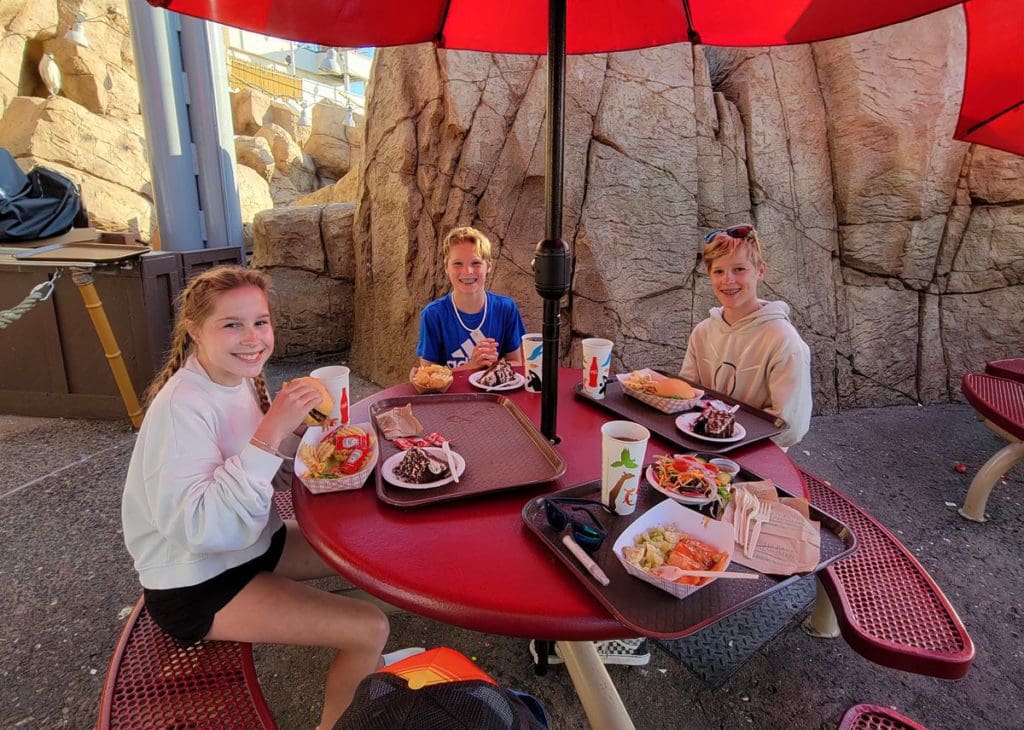 SeaWorld San Diego has a variety of dining options to make it easy to feed your family during your day of fun. Scattered around the park are grab & go stands for a quick hot dog, bag of popcorn, or beverage. There are also specialty venues for ice cream and adult beverages. Sit-down restaurants are available in different areas of the park, which allows families to take a rest while enjoying a meal together. Families with big appetites should take advantage of the All Day Dining upgrade ($49.99 adult/$24.99 child). This allows guests to eat something from select locations once every hour. You'll find plenty of food and snacks to keep you fueled!
Looking for fun things to do after your visit to SeaWorld, don't miss booking your tickets here!
Animal Encounters & Interactions at Seaworld San Diego with Kids
One of the most unique experiences for kids at SeaWorld San Diego is the opportunity to interact with animals up close through an animal encounter or interaction. Guests will meet with keepers and possibly participate in feedings, visit habitats and get some great photos! Encounters are available for the following animals: dolphin, beluga, sea lion, sloth, penguin, walrus, and flamingos. For a more immersive experience reserve a dolphin or beluga interaction where you'll have the chance to be in the water alongside trainers and learn how to train and care for these amazing sea creatures.
Family-Friendly Features at SeaWorld San Diego
SeaWorld San Diego goes above and beyond to welcome families. Near the entrance, visitors will find single and double strollers for rent as well as motorized wheelchairs. Around the park, there are drinking fountains and water bottle refill stations, lockers, family restrooms, and cell phone charging stations. And, there are even huge body dryers for after those water rides! Families with strollers will appreciate the convenient stroller parking outside the shows and large exhibits. Plus, there are plenty of places to sit if your legs need a minute to rest. In addition, if you have any special needs there are agents available to help at the Guest Services desk near the front of the park.
Reserve top-rated tours and activities in San Diego here with Getyourguide.com with free cancellation and reserve now, pay later options!
Pro Tips for Visiting SeaWorld San Diego with Kids
Once you've learned all about SeaWorld San Diego with kids and what to expect, there are a few more things to know before planning a future getaway. Next time you're visiting SeaWorld San Diego with kids, consider some of these helpful tips!
READ NEXT: The Best 7-Day San Diego Itinerary with Kids
Preparing to Visit
What to Wear – SeaWorld San Diego is located near the ocean so the weather, while generally mild, can fluctuate. Mornings can be cooler with fog that burns off and turns to sunny afternoons. So, pack layers for all-day comfort. There are a few SeaWorld San Diego rides that involve water, which can be refreshing on hot days. However, if you desire to sit in the "splash zone" at a dolphin show and enjoy water rides while staying completely dry, then throw in a lightweight slicker. Also, packs hats, sunglasses, and sunscreen. While there are a few indoor exhibits, most of the day you'll get to enjoy the beautiful California sunshine so it's best to be prepared. Lastly, tennis shoes or sturdy walking shoes are advised. There is so much to see and experience that you'll be getting in a lot of steps!
Pack Water Bottles – While outside snacks are not permitted, we do recommend that families bring a reusable water bottle (or two!) for use during the day.
Travel with Baby – If you are traveling with a baby, make life easier and check BabyQuip for local stroller and car seat rentals.
On-Site Tips
SeaWorld App – Download the SeaWorld app before arriving. It will be your map and guide to dining, rides, and showtimes. Pack a cell charger or power brick if you plan to use your phone for navigation and photos.
Lockers – Backpacks are not allowed on the roller coasters, so guests should utilize the nearby lockers ($3/2hrs) to store valuables before getting in line. This is mandatory so save yourself time and head straight for the lockers before attempting to get in line. Plus, the photos of broken cell phones will remind you it's a good idea to store your items instead of purchasing new ones!
Special events – Check the app or SeaWorld San Diego website for special events such as fireworks, character meet & greets, and food festivals.
Timing – To maximize your day plan to arrive before the park opens to allow time for parking, security, and ticket scanning. First, check the height of each of your children at the sign near Guest Services if you plan to enjoy any SeaWorld San Diego rides. Then, get your twists, turns, and thrills in before the crowds and hot sun arrive. Next, work your way around the exhibits while keeping an eye on the Dolphin, Orca, and Sea Lion showtimes. Finally, end the day popping into the smaller aquariums while enjoying an ice cream or sweet treat!
Best Places to Stay Near SeaWorld San Diego with Kids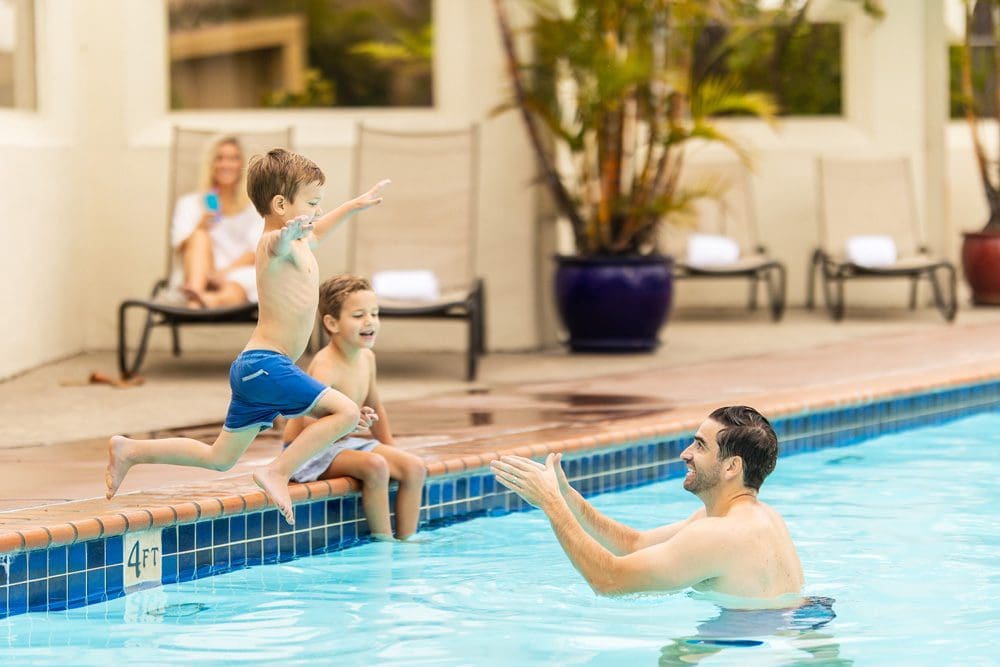 Given SeaWorld San Diego's incredible location, you don't have to travel far to find a great place to stay with kids in San Diego. In fact, there are four amazing waterfront resorts less than five minutes from SeaWorld. First, Mission Bay Resort has renovated rooms and suites where you can relax before having a bonfire on the beach. Second, you'll feel like you're on vacation when you arrive on Paradise Point Resort & Spa's 44-acre island. With five pools, a mile of sandy beach, and a marina, it's the perfect place to rejuvenate after a full day at SeaWorld San Diego with kids!
Next, kids will have a blast flying down waterslides at the Hyatt Regency Mission Bay Spa and Marina. The property also has direct access to whale watching tours and other water sports. Finally, at Bahia Resort Hotel guests can watch SeaWorld San Diego's firework display from the hotel! Kids in San Diego will also enjoy visiting rescued seals who now live on the property. And, for families who want to cruise out on the bay, Bahia Resort Hotel offers a 45-minute sightseeing cruise directly from the hotel.
There are several budget-friendly San Diego hotels near SeaWorld. Holiday Inn Express, La Quinta Inn & Suites, Best Western Mission Bay, and SureStay Hotel are standard hotels that offer families free breakfast and comfortable accommodations.
If you're looking for privacy and room to spread out in San Diego, check out the home rentals on Vrbo, Plum Guide, or Evolve.
Need more suggestions? Read about the Best Waterfront Hotels in San Diego for Families!
Happy Travels!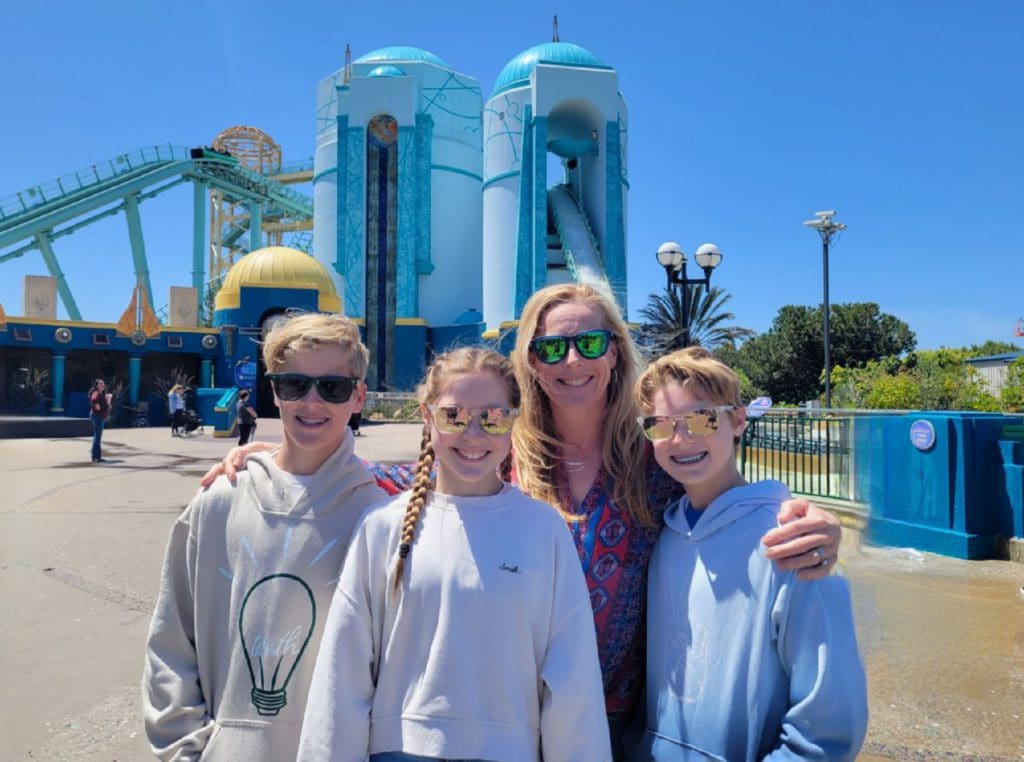 We hope you found this Fantastic 1-Day Guide to SeaWorld San Diego with Kids helpful in planning your own experience. From the fun rides to amazing animals and educational shows, it's truly one of the best activities for kids in San Diego! It's also the perfect excursion to please everyone in the family. With a focus on rescue, rehabilitation, and education, SeaWorld San Diego hopes to inspire the next generation to protect and care for our earth and all its amazing creatures. So, whether you're on vacation or a Southern California local, add SeaWorld to your list of the best things to do in San Diego with kids. It delivers magic and wonders for all ages and you're sure to have an unforgettable day!
*Unless otherwise noted, all images within this article belong to and are courtesy of Emily Kapic.
*Due to the COVID-19 pandemic, some of the attractions, accommodations, or things to do on this list may be closed. Please ensure availability before making your decision.
*This post may contain affiliate links that may earn us a small commission, at no additional cost to you. Affiliate links in no way inform the hotels, sights, products, or other recommendations included in our articles. All opinions and recommendations expressed here are compiled from submissions submitted by the generous members of our Families Who Love To Travel community, or that of the attributed author.
READ NEXT: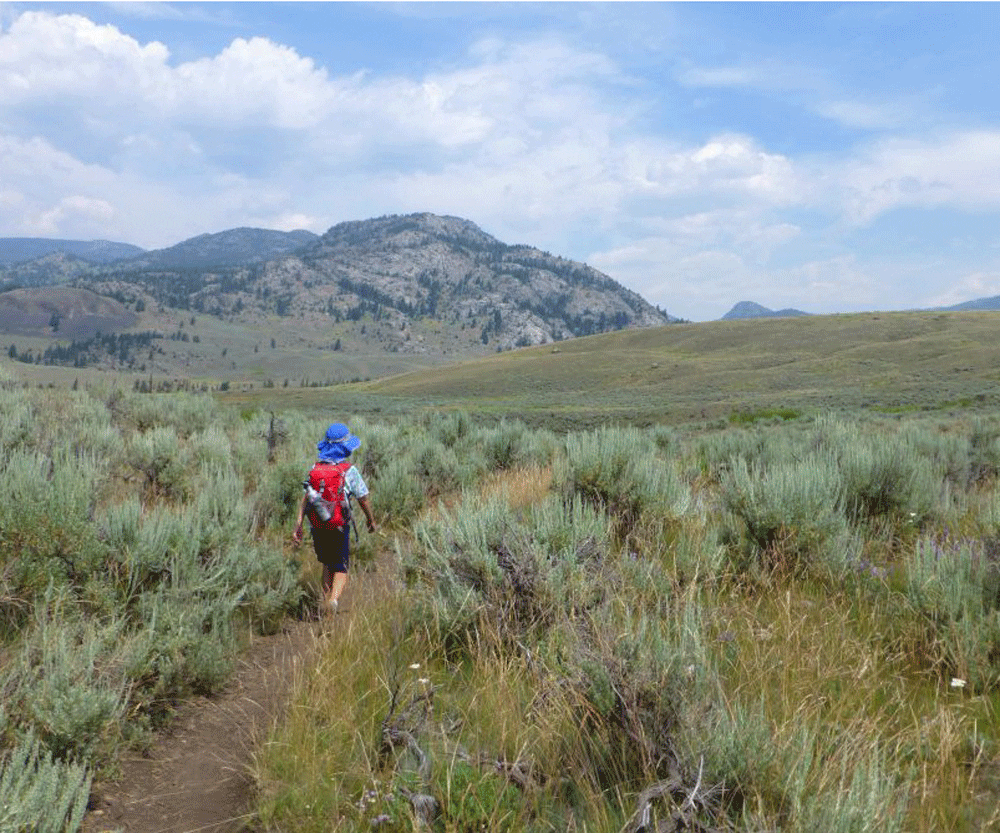 Everyone knows that Yellowstone National Park makes for a classic family vacation. Strolling the boardwalks...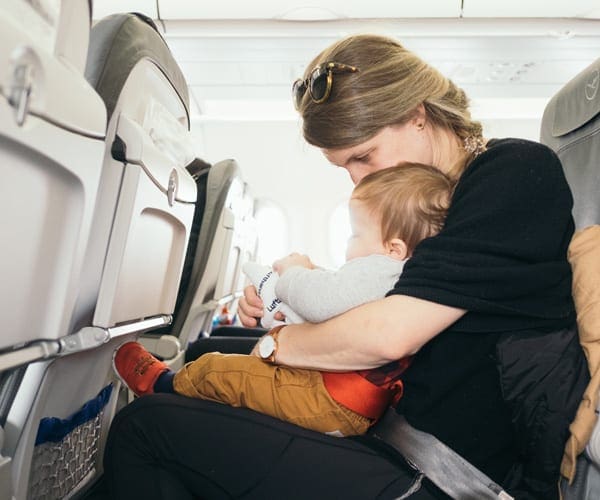 Families Who Love To Travel contributor Meghan Oaks provides her 10 best tips for your...