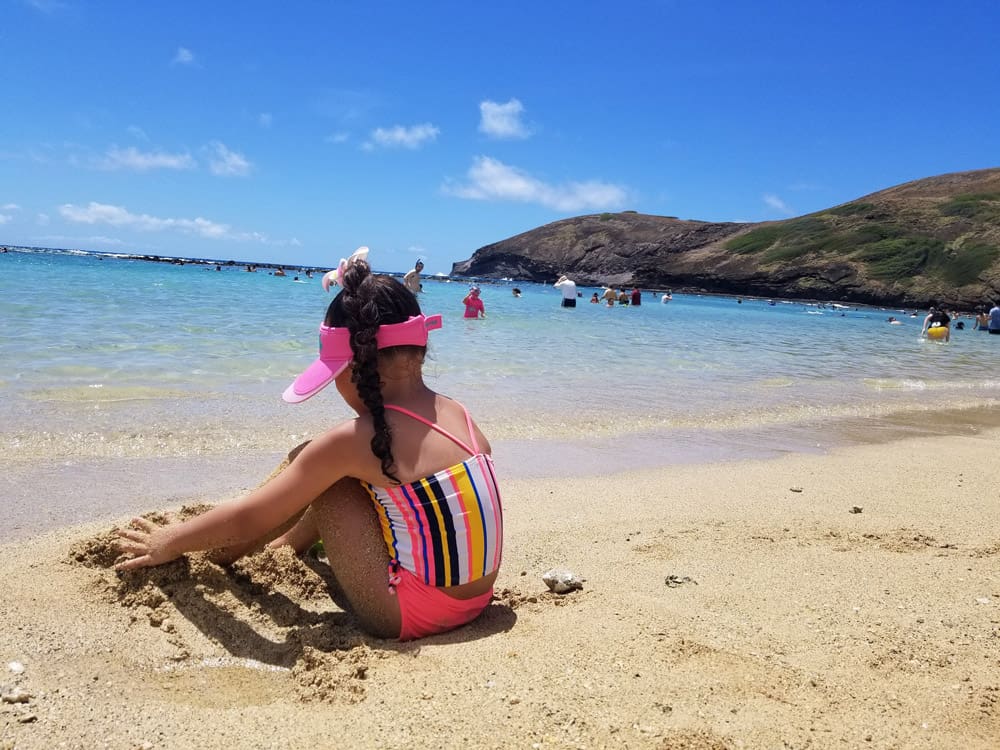 Hanauma Bay is one of the best locations for snorkeling with kids in the United States. Located along the southeast coast of Oahu, you'll discover calm, shallow waters perfect for families. But there's more to this place than just snorkeling. Hanauma Bay State Park with kids is full of great things! We visited with our 10-year-old and 4-year-old kids. Despite the age gap between them, they both completely loved exploring this beautiful beach destination. I mean, who wouldn't want to visit somewhere nestled inside a volcanic crater? From enjoying the sand to seeing colorful marine life, you'll find lots of activities to keep your little ones entertained! Here are 5 Things to Do in Hanauma Bay Nature Preserve in Oahu with Kids, plus everything you need to know. Keep reading for my top recommendations to make your visit to this magnificent bay easy and memorable!
Explore and Learn at the Marine Education Center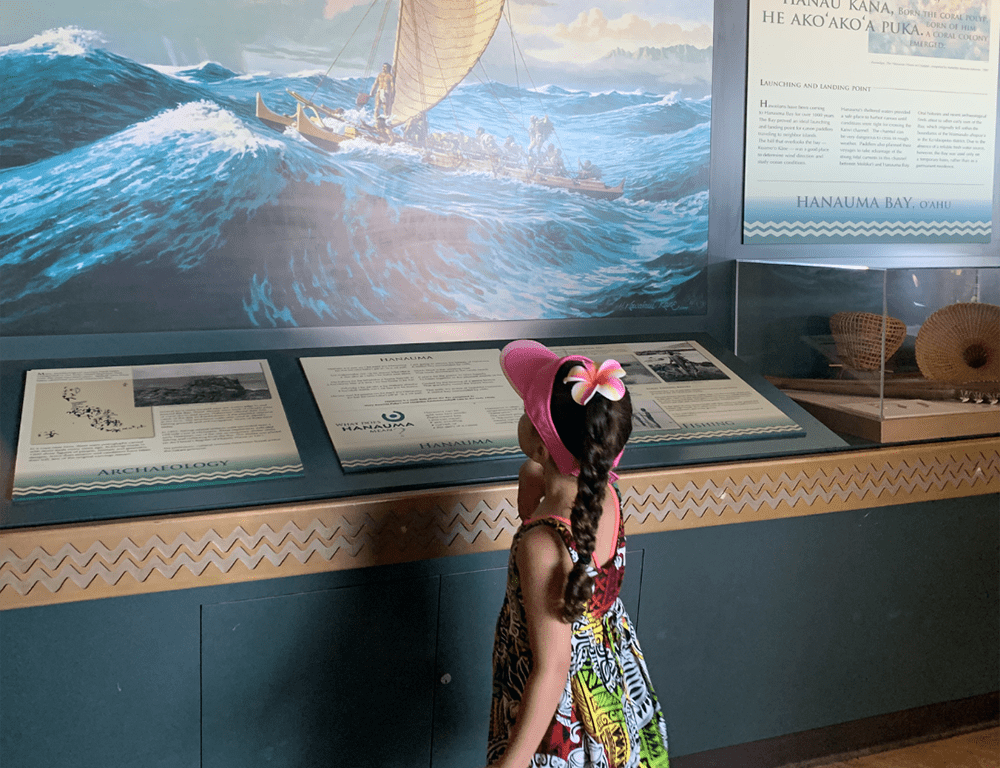 Once a gaping volcanic crater, today Hanauma Bay serves as a Nature Preserve and Marine Life Conservation area. About 400 species of fish inhabit it, as well as an abundance of green sea turtles, known as Honu in Hawaiian. Before making your way to the beach at Hanauma Bay, all visitors are required to stop into the Marine Education Center, where a short 9-minute safety video talks about the bay and marine life. The video will instruct visitors on how to respect the environment and what rules must be followed at all times. On your way in to view the video, take a little time to explore the Marine Education Center at Hanauma Bay, learn about the history of this location, and the marine life that lives here today. There are many displays and volunteer experts are on hand to answer questions. My kids really loved it!
Please note: Due to COVID-19 precautions, the number of guests allowed inside the theater has been reduced to allow room for social distancing, so expect to wait in line. Other safeguards are also in place such as requiring masks, leaving the theater door open and sanitizing handrails between each show.
Enjoy a Day at the Beach
Going to the beach is one of the best things to do in Hanauma Bay with kids! After you're done at the education center, take your family down to the beach. Here, you can enjoy some of the best fun in the sun — take a swim and snorkel, as you wish. This place is great for families with small kids since there are no waves and there's plenty of sand for castle building. For your safety, there are two lifeguards on duty, one at each end of the beach. Restrooms are available on-site. No matter what else is on your itinerary for Hanauma Bay Nature Preserve with kids, be sure to spend at least one day at the beach!
Go Snorkeling
Hanauma Bay is one of the best snorkeling locations in Oahu. It doesn't matter if you're a beginner or an avid snorkeler, this place is great for all ages! We brought our own snorkel gear with us since we already owned sets for each of our family members. This worked out perfectly since the park offers no rental equipment at this time. In the past, you could rent snorkel gear right on the beach, but due to current restrictions, you'll have to bring your own or rent snorkel gear nearby and bring it with you. Life jackets, vests, or floaties are not available, but you're free to bring your own. What's great about snorkeling in Hanauma Bay is that the water is crystal clear, still, and shallow so it makes for a great experience even for little kids.
My 10-year-old spent hours snorkeling and had a great time, as did all the adults in our family. If you're lucky you might even swim alongside a sea turtle! My husband did on a previous trip here. This time we weren't as lucky but we still swam alongside some pretty vibrant fish – parrotfish, triggerfish, butterflyfish, convict tangs, and more. So colorful and beautiful to see first hand! My four-year-old skipped out on the snorkeling this time. Still, just sitting in the shallow waters she enjoyed watching small fish swim by. There's ample space for everyone to stretch out so no matter if you're snorkeling, wading about, or just sitting by the shoreline, every choice is a good choice at Hanauma Bay!
Take the Tram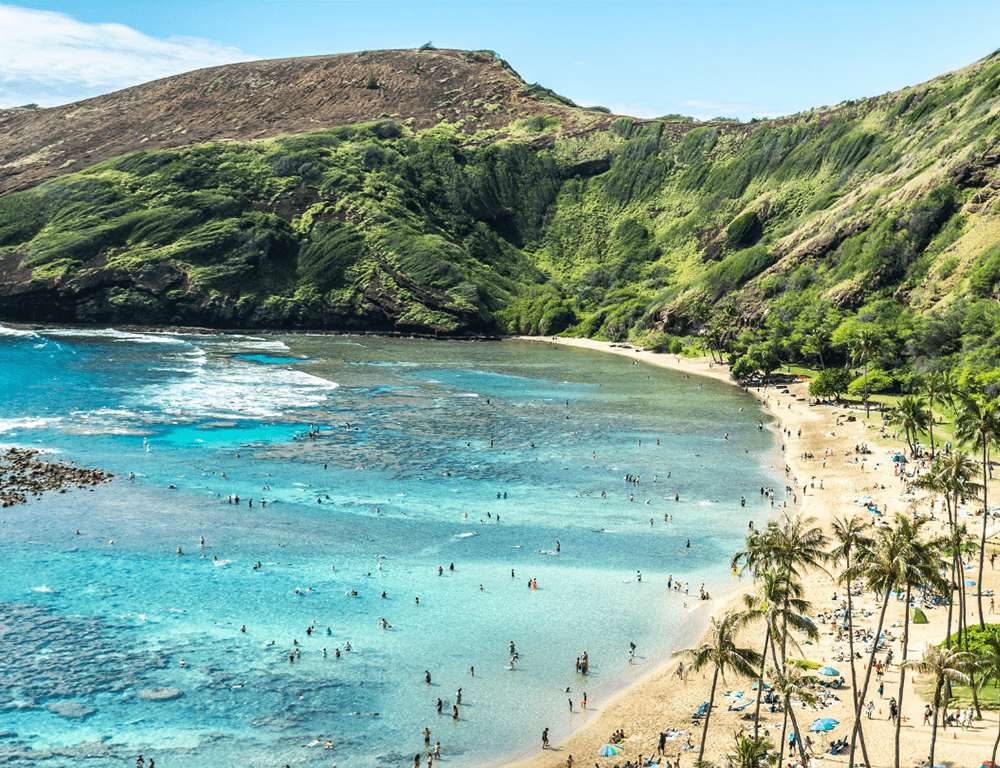 Certainly, one of the best things to do in Hanauma Bay Nature Preserve with kids, riding the tram is a treat for all ages! Hanauma Bay's beach is located at the bottom of a really steep hill. Of course, you can walk down or up and probably catch the best Instagram-able views during your trek. However, if you're traveling with young kids and carrying tons of beach gear, the tram may be a more appealing option. Personally, we walked down the hill to the beach, when everyone still had energy early in the morning. On the way back up, we considered the tram but chose to walk instead. Bad idea! Less than halfway up the hill our little one refused to continue on and dad had to carry her the rest of the way. Poor dad! But I don't blame her. It really was a somewhat challenging walk-up.
There's usually a minimal fee to ride the tram, but due to the reopening protocols, your entrance fee now includes tram service. I highly recommend you take advantage of the free ride! Beach wheelchairs are also available for free, just checking in with one of the volunteers on the beach.
Eat Lunch on the Beach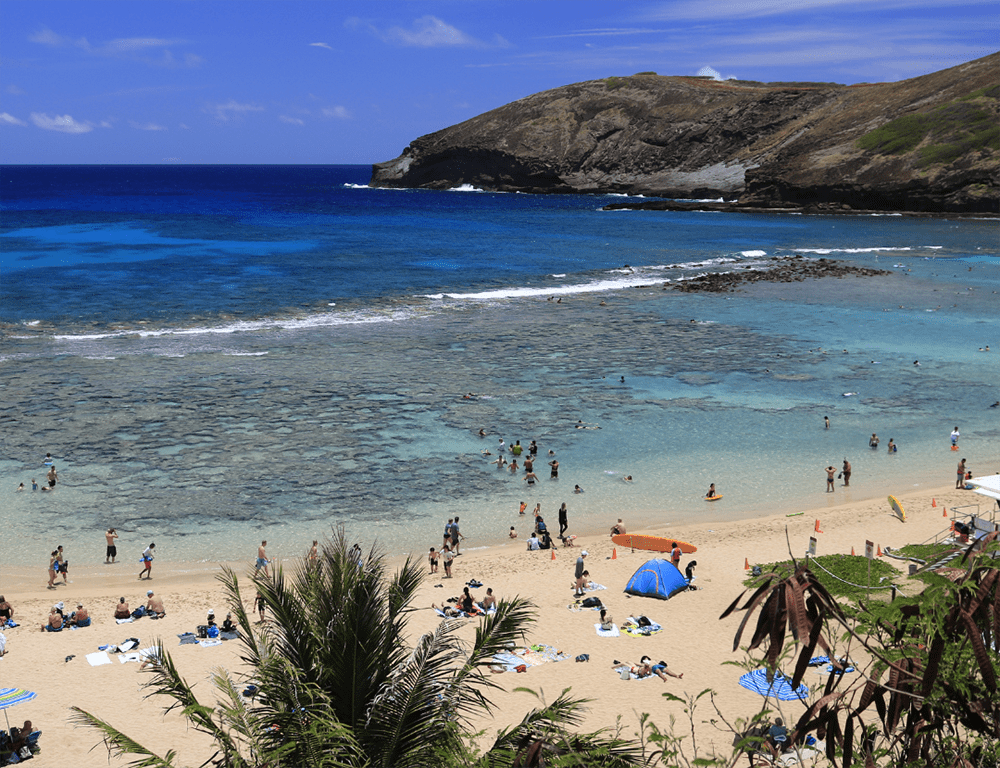 Eating lunch on the beach is another one of the best things to do in Hanauma Bay Nature Preserve with kids. With its stunning location, it's a great place to enjoy a picnic lunch with the family. You can bring personal coolers on the beach, so make sure to pack a light lunch or snack, and don't forget the drinking water. There's also an on-site Snack Bar currently open, but it's located at the upper level. If you opt to buy food on-site and want to eat on the beach, you'll have to carry your food down to the sand. Also, don't forget the reef-safe sunscreen, a beach towel, and an umbrella. Especially if you plan to spend the entire day at Hanauma Bay State Park! There is a small gift shop currently open on-site where you can pick up any beach essentials you might have forgotten.
What to Know Before You Go to Hanauma Bay Nature Preserve with Kids
Hanauma Bay is an extremely popular tourist destination, so I recommend you get there very, very early. Hanauma Bay is currently limiting visitors to only 720 guests each day and 120 guests are allowed in per hour. Currently, the bay is open from 8:00 am to 4:00 pm every day, except Monday and Tuesday when they are closed. There is no entry into the preserve after 2:00 pm and the beach closes at 3:00 pm. The park entry fee is $12 and kids under 12 are free.
According to the Hanauma Bay State Park website, right now there is only one way to enter the park – NO Walk-in traffic allowed – and all guests must come by private vehicle. No reservations are required, but there are only 300 parking stalls available so make sure to get there early! Gates at the main entrance open as early as 6:45 am. Also, the Hanauma Bay State Park website mentions that they will give out 720 available tickets between 8:00 am to 8:30 am. So remember, the earlier you get there, the better!
Are you planning a trip to Oahu with kids? Make sure not to miss this day trip to Hanauma Bay Nature Preserve!
About the Author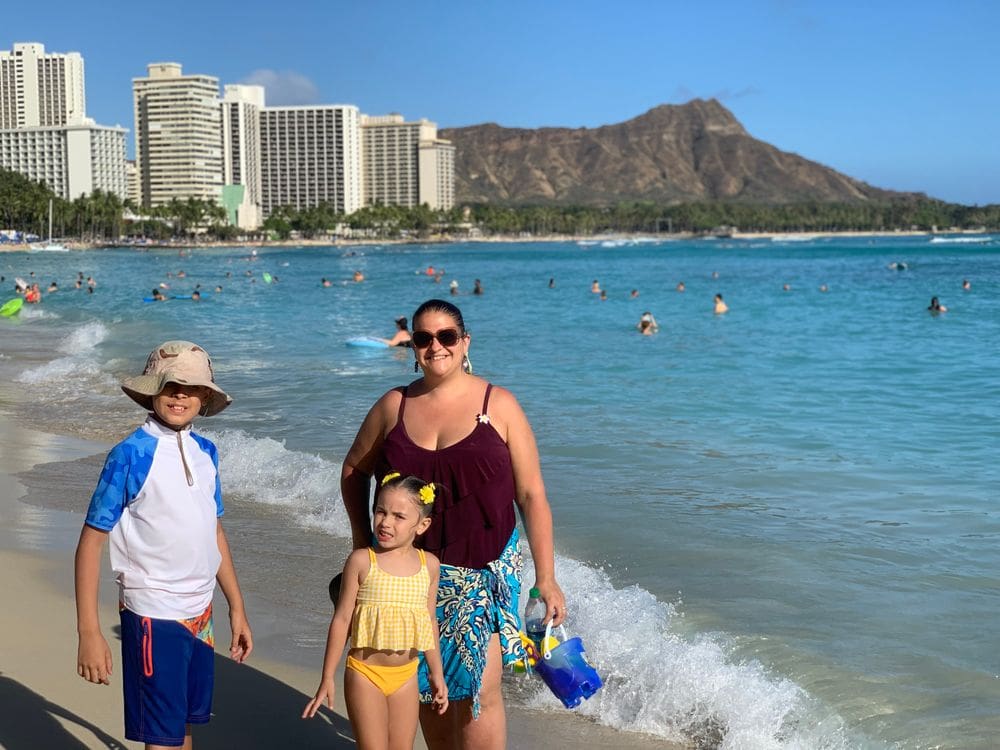 Monica is a born and raised New Yorker, educator, and mommy of two. She's a freelance writer of digital lifestyle and family travel topics for several top online publications. Monica's biggest dream is to one day travel the world with her family full-time! That's the reason why she recently launched her new family travel blog, NYC Travel Mommy, where you can learn all about her latest family trips and best travel tips. Monica is also the founder/editor of NYCTechMommy.com and co-founder of Mommy Bloggers Connect. You can follow her family's next travel adventure on Instagram.
Unless otherwise noted, all images were provided courtesy of Monica Encarnacion.
*Due to the COVID-19 pandemic, some of the attractions, accommodations, or things to do on this list may be closed. Please ensure availability before making your decision.
*This post may contain affiliate links that may earn us a small commission, at no additional cost to you. Affiliate links in no way inform the hotels, sights, products, or other recommendations included in our articles. All opinions and recommendations expressed here are compiled from submissions submitted by the generous members of our Families Who Love To Travel community.
READ NEXT:
15 Best Family Adventures on Maui, Hawaii
Fantastic Things to Do in Kauai with Young Kids
Best Family Hotels in Maui for an Enchanting Vacation
Road to Hana, Maui with Kids – Half-Day Itinerary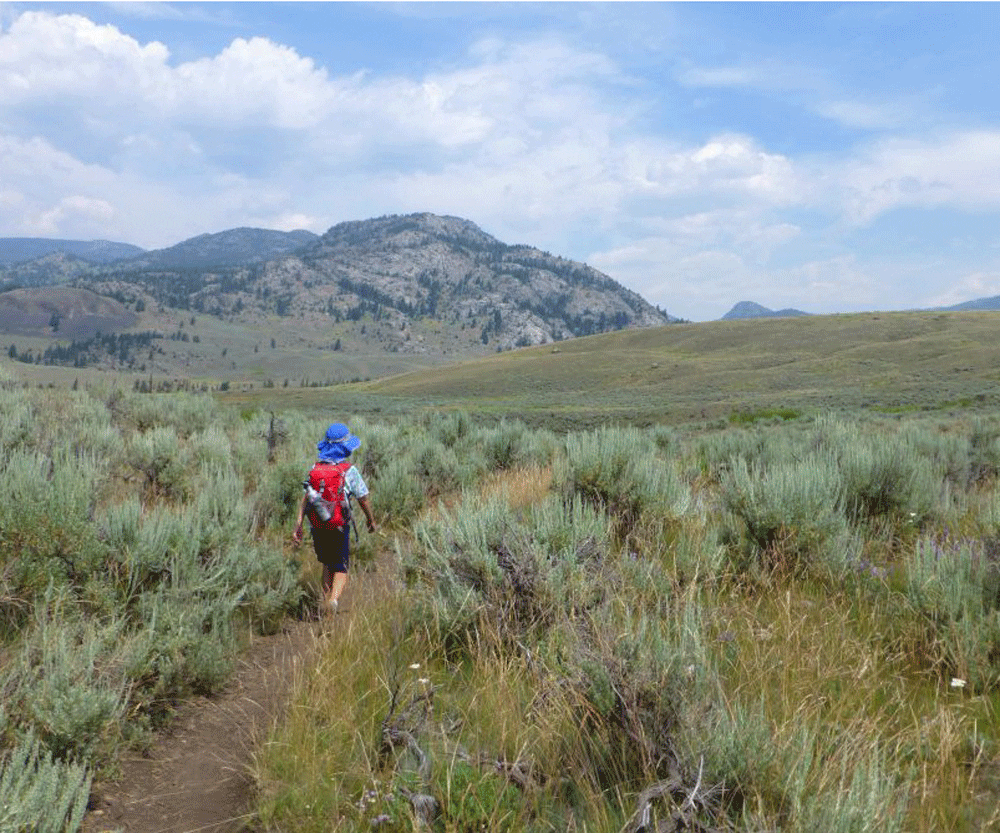 Everyone knows that Yellowstone National Park makes for a classic family vacation. Strolling the boardwalks...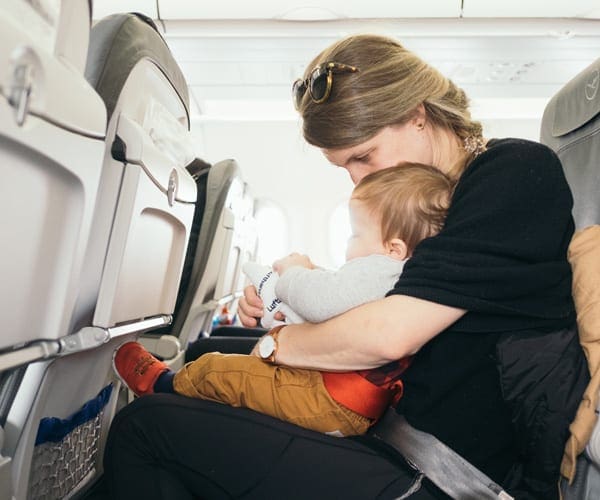 Families Who Love To Travel contributor Meghan Oaks provides her 10 best tips for your...