Looking for the best hikes near Anchorage for families? You're in the right place! A visit to the Anchorage area wouldn't be complete without a hike through Alaska's outdoor beauty. Though there are plenty of arduous hikes for the more adventurous, there are more than a few trails that even the smallest hikers can enjoy. Whether you're traveling with a stroller or your little ones are on foot, the terrain is fairly easy and the elevation gains are minimal. That being said, you won't sacrifice the views with any of these hikes! From glaciers to paths running along stunning lakes, the panoramas continue for miles and miles. They are all truly exceptional. Bring a camera because you'll be sure to find picture-perfect spots for family photos! Without further ado, here are the Best Hikes Near Anchorage For Families!
Eagle River Nature Center
Elevation Gain: Flat | Length: Various; shortest route is .8 miles round trip.
A favorite of locals and visitors alike, the Eagle River Nature Center is perfect for just about anyone. Located in Eagle River just outside of Anchorage, the views here are spectacular, the options for the length of the hike are numerous, and most of the trails are flat and stroller accessible (all-terrain strollers fair the best here.). The Rodak Nature Loop is the shortest and most accessible trail with an easy walk from the parking lot. If you have more time and an adventurous spirit, head father back along the old Iditarod trail for a few miles. In the center, all the trails are well-marked and easy to follow. Wildflowers grow in abundance during the early summer months, and there are more than a few fun places for children to climb and explore right off the main trail.
Pro Tip: During the spring and summer, check at the center for reports regarding the bear activity.
Viator has many tours near Anchorage! Reserve yours here!
<
Potter's Marsh BoardWalk
Elevation Gain: Flat | Length: 1 Mile round trip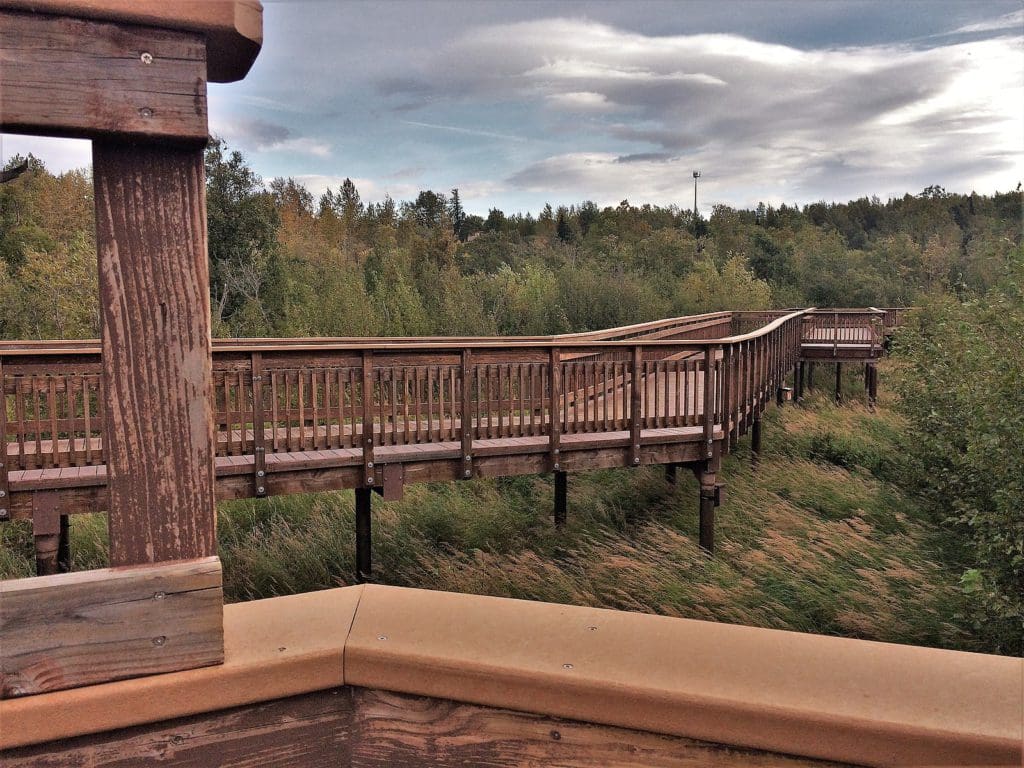 Potter's Marsh BoardWalk is a lovely, easily accessible walk along the marsh that borders the beautiful Turnagain inlet. In fact, it may one of the most accessible wildlife viewing spots in Alaska! If you're staying in Anchorage, this would be a great evening stroll after dinner during the long summer days. To see wildlife, this walk often yields views of eagles, waterfowl, and sometimes bears and moose. If you head to the boardwalk around sunset, you can often watch a spectacular show as the sun slowly sets behind the Chugach mountains. Bring a set of binoculars and a good camera and enjoy the boardwalk loop at your own pace! No wonder this is one of the best hikes near Anchorage for families!
Reserve the Turnagain Arm Tour through Viator which includes a pass by of Potter's Marsh!
Reflection Lake
Elevation Gain: Flat | Length: 1.1 Mile round trip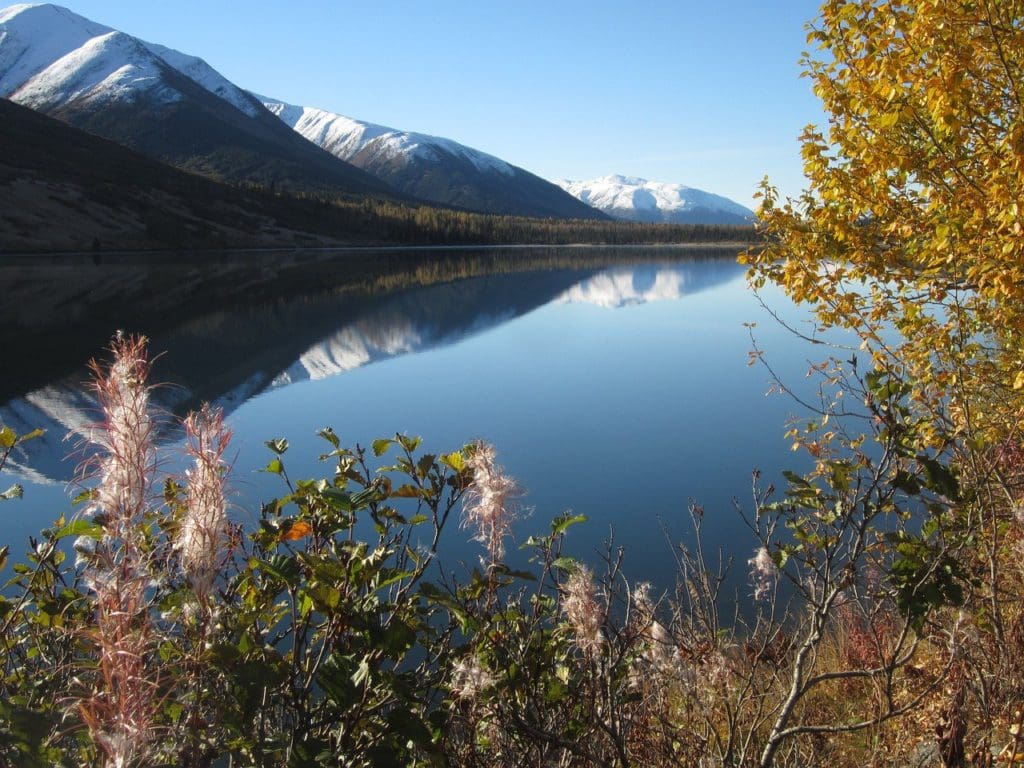 Reflection Lake Trail is a great hike for little legs! Not to mention, one of the best hikes near anchorage for families! Running around the edge of Reflection Lake, this hike is just over a mile long. Strollers can manage the trail as long as caregivers are prepared for a few bumps due to roots and uneven packed earth in places. As its name implies, the lake is a beautiful, calm body of water. A lot of time can be spent simply trying to capture the beauty of the not-so-distance mountain ranges. During the wintertime, this lake freezes and becomes a favorite spot for ice fishing. Your hike can even be cut in half if you decide to strike out across the frozen expanse.
Be sure to pack bug spray as the mosquitoes love the marsh's sitting water behind the lake. And while mosquitoes aren't very welcome, the marsh's lookout provides visitors with opportunities to see beaver, muskrats, and moose!
Alaska is ranked one of the Best Summer Vacation Destinations in The U.S. For Families.
Byron Glacier Trail
Elevation Gain: 100 ft | Length: 2 miles
Many people use the Byron Glacier Trail for hiking all the way to the back of the valley and up to the glacier. However, for those not looking for such a strenuous adventure, the first part of the trail is relatively flat and makes this one of the better stroller-friendly hikes. All-terrain strollers can make the trip over the packed earth trail, though there are sections where it's a little bumpy and rocky. Along the way are places to stop and creek stomp in the (chilly) glacial melt, and in late summer, the path is lined with salmonberries and raspberries!
Once you reach the end, the valley opens up, and you can explore the rocky terrain and enjoy the beautiful views. Be wary of standing under or climbing on top of snow caves, however! These can quickly become unstable, leading to collapse. Stay safe by enjoying the views from a slight distance. Nonetheless, the snow itself is lots of fun, and there are plenty of snow patches around the valley, even into early July. Bring bear and bug spray, especially during late spring. Certainly, travelers seeking a hike with a glacier will find this to be one of the best hikes near Anchorage for families.
Book your Wildlife and Glaciers with a walk in the Rainforest tour through Viator that includes a stop at Portage Glacier and Byron Glacier!
Powerline Pass
Elevation Gain: Flat (for first few miles | Length: 1-2 miles for strollers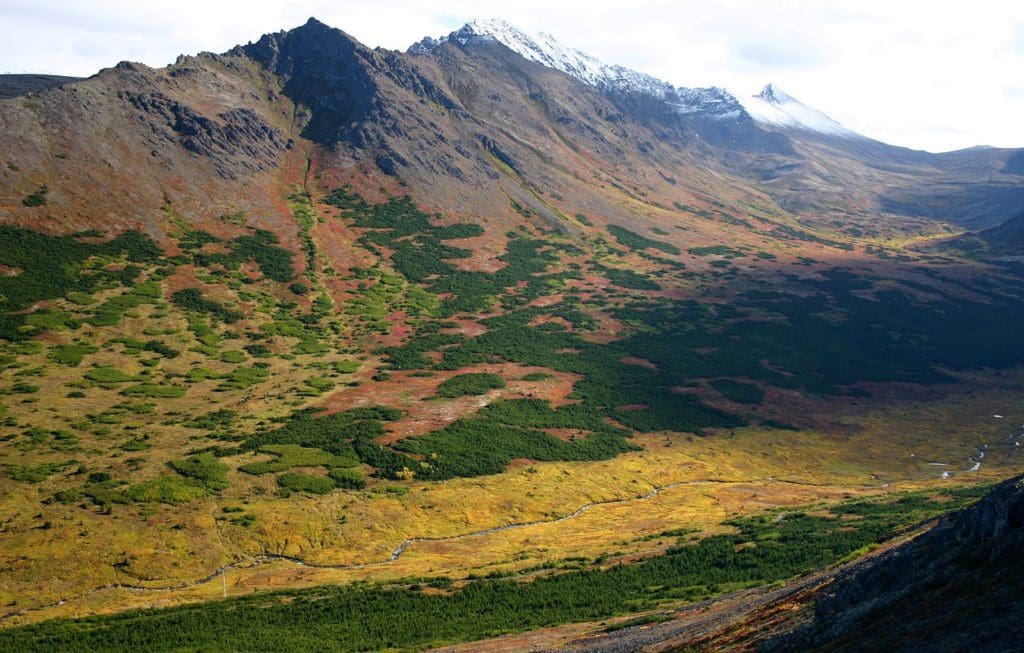 Powerline Pass provides younger children with a great trail to explore. Close to Anchorage, some sections of trails provide creeks to play in, flowers to pick, berries to pick (if the season is right), and various options for the hike's length. As its name implies, this trail runs along under a power line positioned in the valley between two mountain ranges.  If you ever hike Flattop Mountain, you'll be able to look down at this fairly straight and open trail. Parking is shared with those hiking either Blueberry Knoll or Flattop. The trail itself is a mix of gravel, boardwalk, and packed earth. All-terrain strollers are easy to use for the first mile or so. Again, always pack bear spray and keep your eyes out for other wildlife! It can also be windy, so a jacket would be worth having on hand.
Top 20 Anchorage, US cabin rentals from $100/night | Vrbo
Happy Hiking!
We hope you liked this list of 5 Best Hikes Near Anchorage For Families by our contributor Elizabeth Snyder! Whether you're trekking with tiny toddlers or have some advanced adventurers on your hand, Anchorage has plenty of terrain for everyone. Enjoy Alaska with your kids!
Unless otherwise note, all images within this article are courtesy of and belong to Elizabeth Snyder.
*Due to the COVID-19 pandemic, some of the accommodations, things to do, and restaurants on this list of summer vacation ideas in the U.S. for families may be closed. Please ensure availability before making your decision.
*This post may contain affiliate links that may earn us a small commission, at no additional cost to you. Affiliate links in no way inform the hotels, sights, products, or other recommendations included in our articles. All opinions and recommendations expressed here are compiled from submissions submitted by the generous members of our Families Who Love To Travel community.
READ NEXT: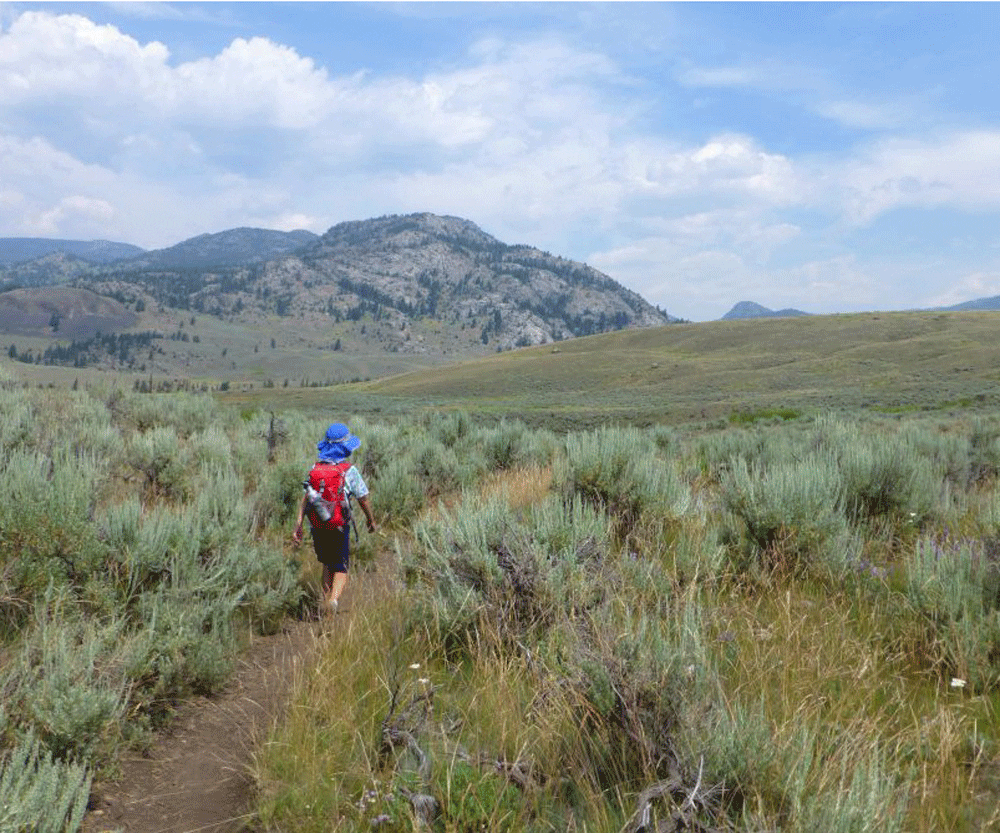 Everyone knows that Yellowstone National Park makes for a classic family vacation. Strolling the boardwalks...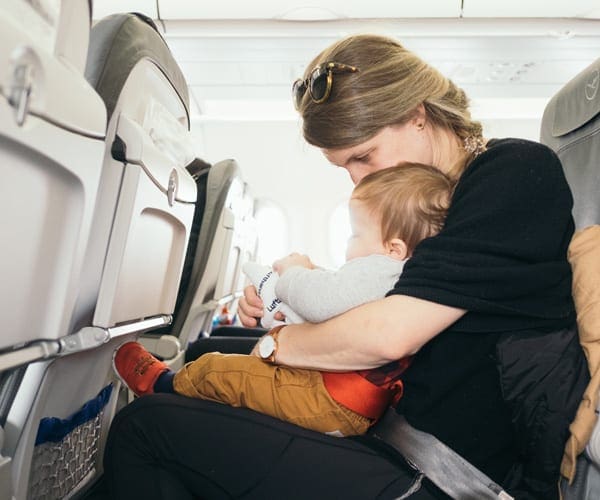 Families Who Love To Travel contributor Meghan Oaks provides her 10 best tips for your...