Families have so many ways to celebrate the holidays in DC! Since the season is upon us, many parents are searching for things to do with kids this winter. Fortunately, DC is a great place to experience all things holiday cheer! Adventure seekers will find lots to do during this magical time of year, whether you're looking for a giant Christmas tree, ice skating, or just some hot cocoa. And, despite COVID-19, there are plenty of ways to celebrate the season in and around Washington DC that adhere to public health guidelines. Multiple family-friendly excursions across the city guarantee you'll never be bored this winter! In case you're not sure where to start, though, I've rounded up a few tips using my personal experiences with my own children. Check out my list of Best Places To Celebrate The Holidays In DC With Kids!
Holiday and Light Displays
DC boasts light displays, Christmas trees, and more fun treats during the holiday season! Here are a few of my favorites for families.
National Christmas Tree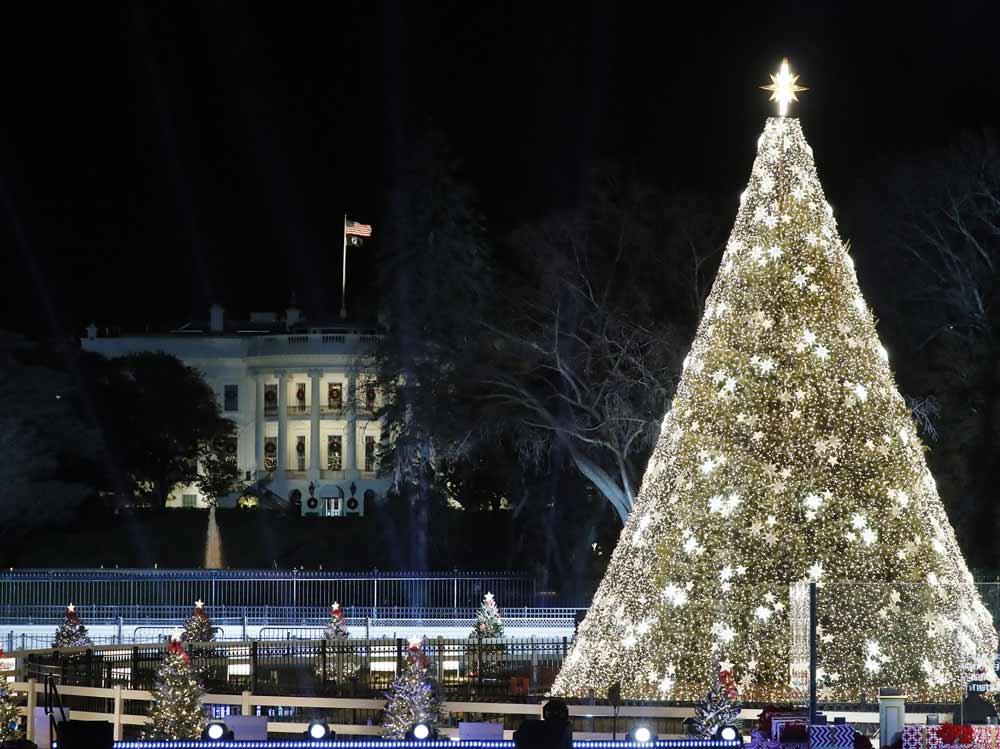 Take in the holiday atmosphere at The National Christmas Tree! Celebrating its 98th year, families can find this spectacular display on the White House grounds at President's Park. After the virtual tree lighting ceremony on December 3, the tree will be lit nightly throughout December. Check it out alongside 56 other trees representing every state, territory, and the District of Columbia. This could also be a good learning opportunity if you want to turn it into an educational outing. Quiz your kids on the states! If you're hungry afterward, neighboring spots will have you covered too. Old Ebbitt Grill, Astro Doughnuts & Fried Chicken, and Panera Bread are just a few options within a ten-minute walk if your family needs some food or drink to go.
U.S Capitol
Enjoy more historic holiday fun at the U.S. Capitol! While this landmark is popular all-year-round, it celebrates the season with a special Christmas tree. The tradition dates back decades, but this year's selection comes from Colorado. Tell your kids a little bit about the tradition before you leave, like how the Capitol purchased its first tree over 100 years ago. Then catch it lit up and on display from early December through the New Year! Families should make sure they take the opportunity to check it out while in DC, because it's definitely a sight to behold with the U.S. Capitol in the background. Visit at sunset for an even more spectacular view! If you're hungry afterward, the food court at Union Station to the North or Eastern Market to the South may be your best bet to grab a warm beverage or snack in the area.
D.C Wharf
Spend your holidays in DC with kids at The Wharf! Lined with trendy restaurants, chic boutiques, and open space (think parks and piers!), this family-friendly spot welcomes visitors during the winter months as well. Holidays are a particularly special time at the DC Wharf, so remember to stop by for fun all ages can enjoy! First, families can celebrate Hanukkah with a Light the Menorah event. Don't worry if you can't make it that day, because the menorah will be on display throughout the holiday, as will one at President's Park! Afterward, explore a little to enjoy the holiday atmosphere. The Wharf also offers plenty of places to fuel up once you're hungry. From the Italian market at Officina to sweets and ice cream at District Doughnuts to pub food at Brighton SW1, there's something for everyone at this DC destination!
Seneca Creek State Park
Seneca Creek State Park comes alive during the holiday season! Running along the Potomac River, this 14-mile long area in Maryland encompasses more than six thousand stunning acres of land. Luckily, it doesn't need to be summer for you to appreciate this natural beauty. Watch the park illuminate with thousands of twinkling lights at Winter Lights at Seneca Creek State Park! Open from 6 p.m. November 27 through December 31 (except Christmas Day), buying tickets in advance saves visitors a few dollars. (And organizers recommend doing so for health and safety reasons!) Though there will be no activities outside of the drive-through experience this year, it's still worth a visit! If you get hungry or thirsty on the ride home, check out the nearby Kentlands Shopping Center for plenty of takeaway options. (We're partial to Not Your Average Joe's and Panera Bread).
The Bull Run Festival Of Lights
The Bull Run Festival of Lights is back for another year of family fun! Located in the sprawling Bull Run Regional Park in Virginia, this kid-friendly destination is just a short drive away from DC. From Thanksgiving until just after New Year's Day, families can enjoy almost three miles of illuminated decorations in the comfort of their own cars here. Kids will love seeing what light sculptures they can spot, from reindeer to sleds and Christmas trees! There's even a Holiday Village, including a walk-through lights experience, camel rides, carnival rides, and outdoor food vendors. If you want to see more twinkling displays via foot, nearby Meadowlark's Winter Walk of Lights offers a walking experience through a half-mile, one-way trail. Advance timed tickets are required, so plan ahead if you want to visit.
Amusement Park Celebrations
Amusement parks are another great place to spend the holidays in DC! Not only are they kid-friendly, but they offer everything you need in one place; from activities to on-site parking or even food courts. Here are two of my favorites to spend the season.
Six Flags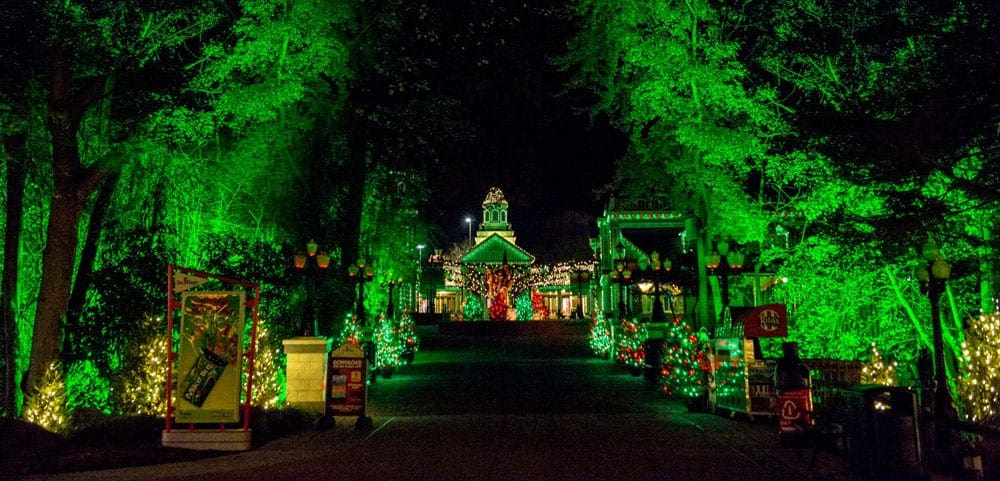 It wouldn't be the holidays in DC with kids without a special trip to Six Flags! Near DC, families can enjoy Holidays in the Park at Six Flags America, which offers the closest amusement park holiday event to the area. Located in Maryland, it runs primarily on weekend days from 2:00 p.m. to 8:00 p.m., late November through the New Year. While many rides at the park will also be open during this time, the holidays come into play with an opportunity to meet Santa, as well as take in holiday-themed shows.
Little ones can even visit Santa's House or watch a live Christmas spectacular performed by enthusiastic actors. Or, jump on rides like Reindeer's Flight or Cocoa Mixer! Between a tree lighting, photo opportunities with the Looney Tunes, and a light show every fifteen minutes, you're sure to have a blast. Tickets are $19.99 per person, plus $25 for parking.
Busch Gardens
Busch Gardens is another fantastic stop for families during the winter! Kids will surely love visiting this Virginia Theme & Water Park all year round, but the holidays provide a unique experience. Busch Gardens Christmas Celebration runs from mid-November through the New Year in Williamsburg – about 2.5 hours from Washington, DC. This limited-capacity, outdoor event requires purchasing tickets (or making reservations if you are a pass holder) for one of two sessions on the weekends or one session on weeknights. Stroll across eight European villages while taking in shimmering Christmas lights! Families can also enjoy holiday treats like gingerbread funnel cake or festive shopping Kids can even meet Santa! Remember to photograph all the beautiful trees and holiday décor too. Families can also enjoy entertainment, fifteen coasters or rides, and a special Gingerbread Scavenger Hunt! Tickets start at $39.99 plus parking.
Ice Skating
For families visiting the nation's capital, ice skating is a popular activity during the holidays in DC with kids. Ice and Lights at The Winter Village at Cameron Run in Virginia runs nightly from late November through New Year's weekend. Admission to the village plus one hour of skating must be purchased online ahead of time; the ticket includes skate rentals. The Pentagon Row Outdoor Rink also boasts being the largest outdoor rink in Northern Virginia, open every day with options for group and private lessons. Tickets for one hour of skating at a specific time can be purchased in advance online to ensure contactless ticketing and to minimize overcrowding. Other rinks outside the D.C. Beltway open this winter include Reston Town Center and Silver Spring Ice Skating, both well-situated in town centers. Check out the websites in advance, as reservations are either recommended or required.
Though unconfirmed, the National Gallery of Art Ice Rink is anticipated to be open from mid-November through early March as well. 
RELATED: Discover the Top Things to Do In Washington DC With Kids!
Happy Holidays!
We hope you've enjoyed this list of the Best Places To Celebrate The Holidays In DC With Kids by our top contributor Megan Tucker! Christmas is a magical time of year to spend with your family, and these destinations will make your fun all the more memorable. No matter where you spend your holidays, however, we hope you have a fantastic time together. Enjoy your very magical holidays in DC with kids!
All images included in this article were taken by and belong to Megan Tucker, unless otherwise credited.
READ MORE: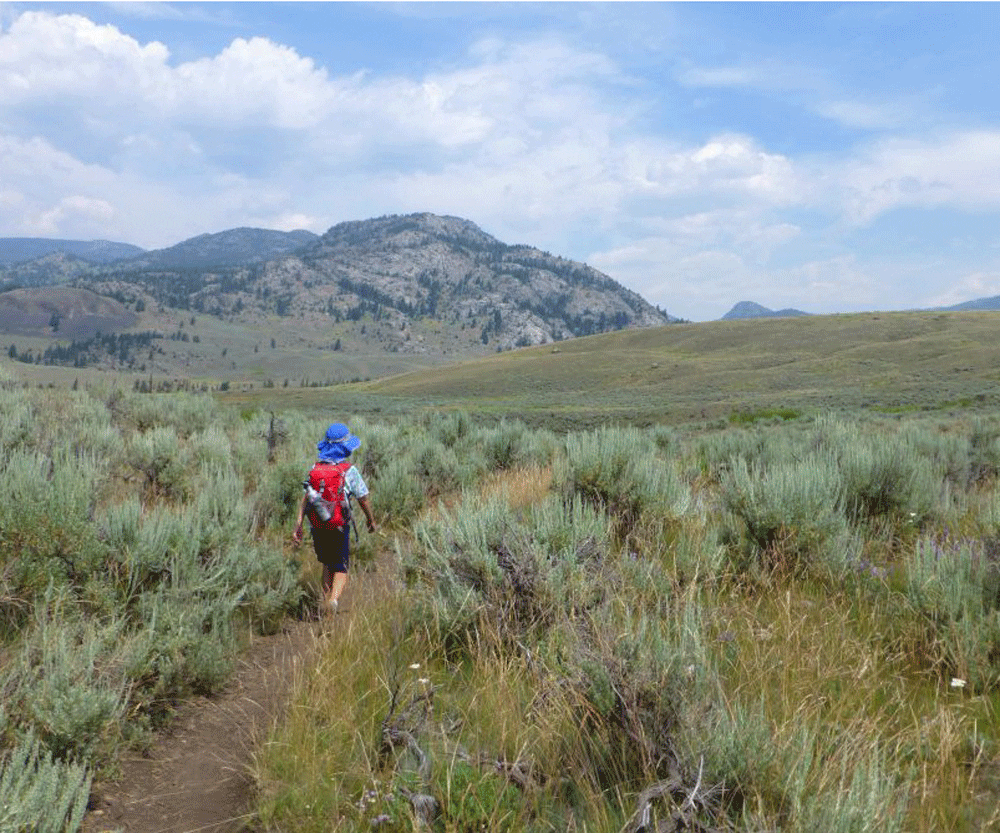 Everyone knows that Yellowstone National Park makes for a classic family vacation. Strolling the boardwalks...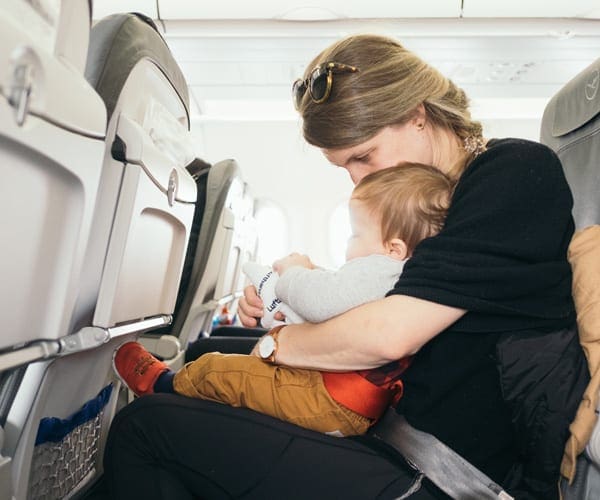 Families Who Love To Travel contributor Meghan Oaks provides her 10 best tips for your...