FEATURED ARTICLE  
TRAVEL  INSPIRATION   

What's New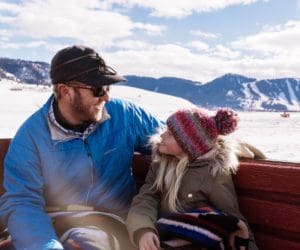 If you're looking to experience the magic of a white Christmas with your family, the United States offers some truly enchanting destinations! From snow-covered mountains to charming small towns, these places provide a winter wonderland setting perfect for celebrating this joyous time of year. Imagine the magic of New York City at Christmastime, with its sparkling tree at Rockefeller Center and its iconic Rockettes at Radio City Music Hall. Of course, if you'd prefer something more sporty, there's scenic places like Colorado. Regardless of your preference, these remarkable destinations each offer their unique take on celebrating this treasured yuletide tradition. Keep reading to find out more!
Read More
 Why Families Love To Travel
"Traveling provides us with quality time focused on our family with out typical life responsibilities. Also, We get to learn and experience new things with each other."
"Travelling has been an unparalleled way to connect with my 2-year-old and see the world through her eyes. Without travel, I wouldn't have experienced my favorite moments with her."
"Traveling teaches my kids that the world is full of diversity, where some people look like them and others don't, but we are all the same."
I love traveling with my daughter because I remember traveling as a kid. We didn't sleep at fancy hotels nor see any of the seven wonders; in fact, we drove to most of our destinations because we couldn't afford to fly. But those hours in the car, racing in the National Mall with my cousins, fishing on the lake with my dad, the first time we went crabbing, walking into Constitution Hall all remain with me. I want that for my kid.
If we were meant to be in one place, we'd be born as a tree. Explore, with your loved ones, the boon of being alive as a person.
You can buy your child material things, but showing them the world creates memories will last a lifetime.
When we share travels with our kids, the world belongs to us and we learn to feel as we belong anywhere in the world
Our family gains more than tan lines and extra treats during vacation. We experience joy, tantrums, new sights, sounds, smells, and cultural awakenings that will help our next generation of independent travelers to journey with understanding, kindness and respect.
Traveling with my children has helped us create bonds, memories, and traditions. This experience has helped us become open minded and respectful of other cultures. The best part, we get to explore this amazing world together