A stay at one of these family-friendly hotels in Connecticut will provide the ultimate escape for East Coast families. Though it may look small on the map, the amount of fun it will bring to you and your kids is huge! One minute you can be exploring a new hiking trail, and the next you can be in a welcoming town enjoying a nice meal or an interesting museum. Whatever your family loves to do, you'll find it, right here, in Connecticut. Of course, you'll need accommodations, so you'll be happy to know the offerings don't disappoint. Between lakeside getaways, seaside adventures, or camping in nature, wholesome fun is around every turn in this unsuspecting state! So, without further ado, here's our list of Exciting Places to Stay in Connecticut For Families.
RELATED: Best Family Hotels and Resorts in New York State
Winvian Farm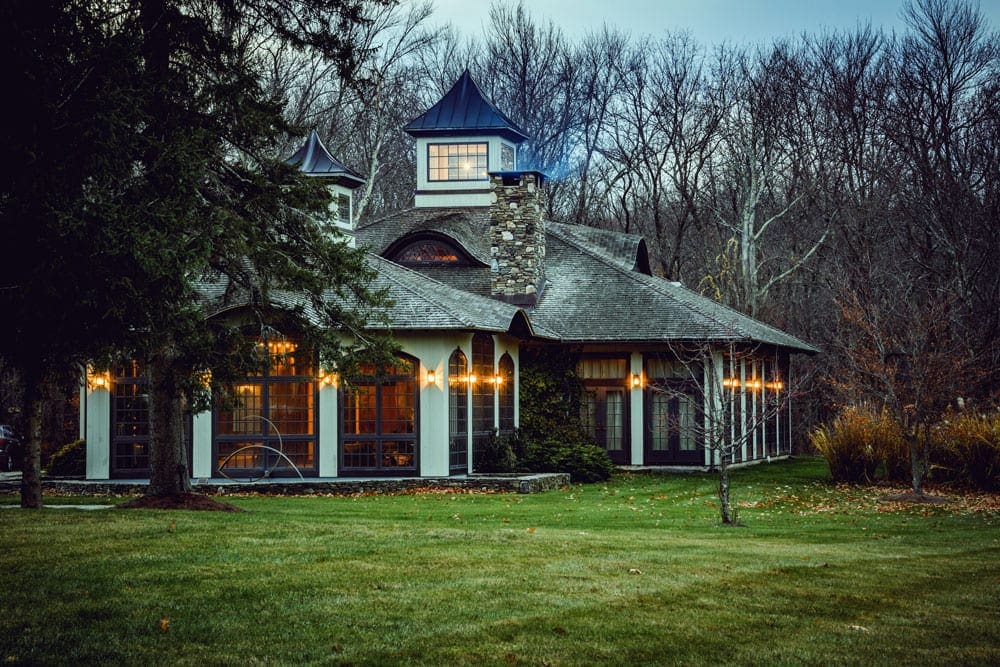 Tucked away in the Litchfield Hills, Winvian Farm runs along beautiful woods for the whole family to enjoy. Plus, Bantam Lake is just a mile down the road. Nothing says family memories like a getaway to one of the idyllic cottages here, which are equipped with every amenity you and your family could want. This includes jetted tubs, rainfall showers, beautiful fireplaces, and Nespresso coffee. No wonder it's one of the best hotels in Connecticut for families!
Why Families Love It
Winvian Farm's cottages and grounds are charming enough, but you'll absolutely fall in love with the surrounding area. Guests are free to take complimentary bicycles and explore during their stay. Kids can also spend warm summer days splashing in the outdoor pool. Winvian Farm is also right next to a land reserve that offers kayaking, hiking, horseback riding, and more! Your kids will be hooked on the outdoors after a stay. Meanwhile, parents will appreciate a visit to the spa or the delicious fine dining. Certainly, this is one of the best luxury hotels in Connecticut for families!
RELATED: Best Hotels for a Romantic, Kid-Free Getaway in the Northeast
Madison Beach Hotel, Curio Collection By Hilton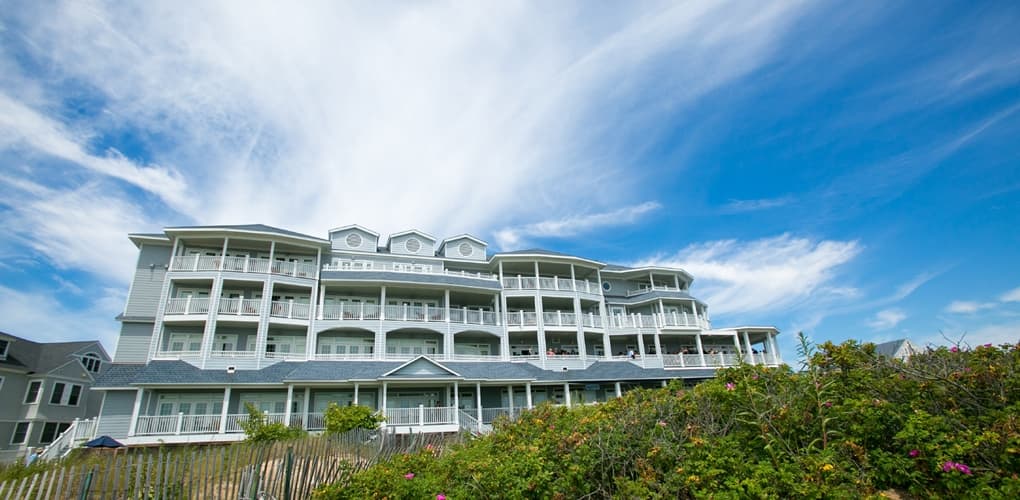 Book your stay at Madison Beach Hotel using Hotels.com now.
Reserve a room at Madison Beach Hotel using Travelocity now.
Overlooking the Long Island Sound on the edge of Connecticut, there's a hotel getaway that will make you want to stay in Madison forever. The Madison Beach Hotel, Curio Collection By Hilton knows all the fun can be taken out of visiting the ocean when you're trying to gather all the beach chairs, umbrellas, and towels, so they offer all those items complimentary to guests! Guest rooms and suites also provide spectacular views, ranging from two double beds to one king bed. This won't end up being a vacation that you need a vacation from!
Why Families Love It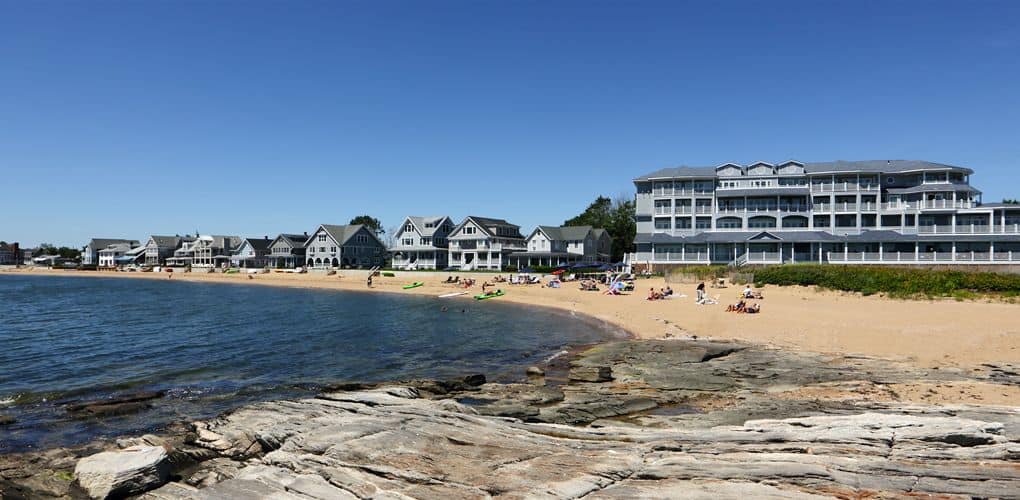 The Madison Beach Hotel is the perfect place for parents to relax and kids to play, especially during the summer. With private beach access, little ones can enjoy endless fun in the sun. Or, in the water, thanks to complimentary kayak rentals! Families can also rent bikes to explore or enjoy open-air concerts and film festivals that are sure to impress even the toughest critics. For parents, the spa offers top-notch services including hot stone massages and facials, and there's also a fitness center. End your day at one of the on-site restaurants. What more could you want out of one of the best family-friendly hotels in Connecticut?
RELATED: Amazing Weekend Getaways Near Boston For Families
The Whaler's Inn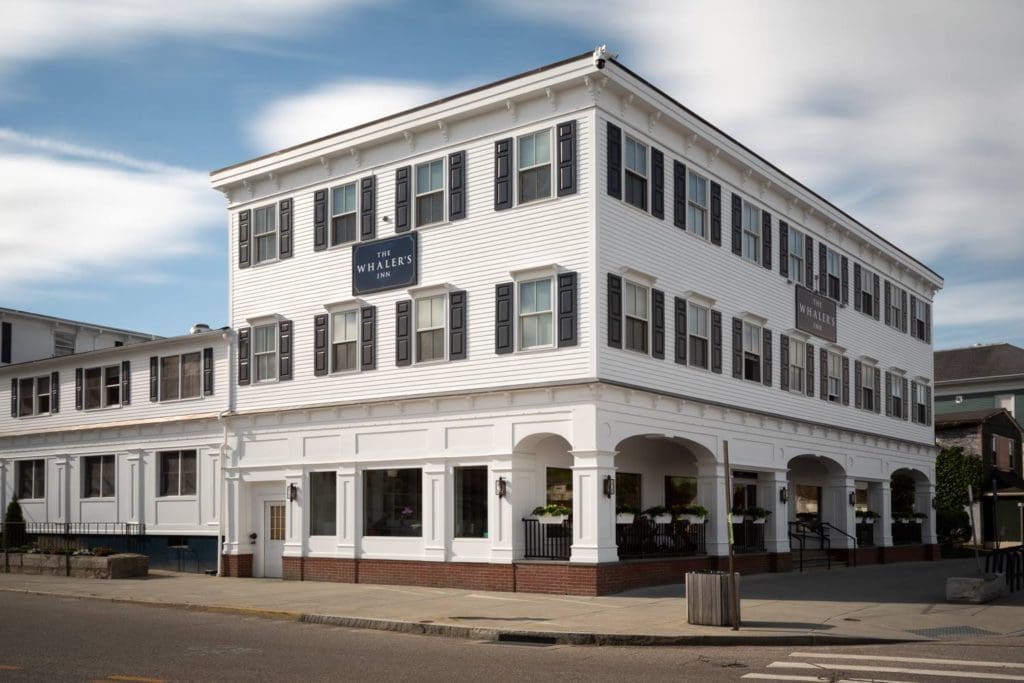 Book your family's stay at The Whaler's Inn using Expedia today.
Looking for a large family suite? Book The Whaler's Inn using Hotels.com today.
If you're looking for family weekend getaways in Connecticut, look no further than The Whaler's Inn in downtown Mystic. This unique, Victorian-style inn will make you feel like you're staying with family but with better amenities. Though all the rooms are charming and comfortable, we recommend the Junior Suites for families. They have a bed for adults, as well as a children's alcove with bunk beds and their very own TV! If you want a more modest room, you can choose rooms that have a king bed or two queen beds, depending on where you are staying on the property. Whichever room set up you choose, you will certainly appreciate staying at one of the most family-friendly hotels in Connecticut!
Why Families Love It
You'll have Mystic as your backdrop when you stay at The Whaler's Inn. After all, it's one of the best hotels in Connecticut for families for a reason! There's a ton of things to do with kids here, including visiting The Mystic Aquarium. Kids will love how it has the largest outdoor Beluga Whale habitat in the United States! After the aquarium, be sure to take a harbor cruise or check out some of the wonderful shopping options in town.
RELATED: Best Beach Resorts in the Northeast for Families
Water's Edge Resort and Spa
Find the best deals on Water's Edge Resort and Spa by using Travelocity.
Book your stay at Water's Edge Resort & Spa with Hotels.com here!
Get the full East Coast experience when you stay at Water's Edge Resort & Spa, one of the best family-friendly hotels in Connecticut. Located in Westbrook, its lush, garden-filled grounds overlook a stunning shoreline. Wake up to an amazing view every day in one of the luxury guest rooms that range from Junior Suites to Three-Bedroom Suites. The Junior Suite and Lanai Suite are also equipped with plush king beds for the parents and sleeper sofas for the kids. Two-bedroom villas by the sea provide the ultimate private paradise for your vacation.
Why Families Love It
Foodie families will appreciate the Sunday brunch buffet at Water's Edge, which includes carving stations, build-your-own omelets, and fresh pastries. After, walk around the on-site gardens or relax at the private beach. Water's Edge also has indoor and outdoor pools, so you can enjoy a day splashing in the water no matter what time of year you visit. During the warmer months of the year, pop over to the tennis courts for some friendly competition with your family. Parents can also visit The Spa for a relaxing treatment or try the on-site dining. Making memories with your kids is easy at Water's Edge, which is why it's one of the best hotels in Connecticut for families!
Interlaken Inn
Book your hotel stay at Interlaken Inn with Expedia now!
Interested in this hotel? Book your stay through Travelocity today!
Settled in between two lakes in the Northwest corner of Connecticut is the Interlaken Inn. As one of the best family-friendly hotels in Connecticut, you'll find everything from lavish guest rooms in their main house to private, lakefront cabins for larger families. Certainly, this country-style hotel will make you feel like you have been transported to a majestic mountain escape, even though you're actually enjoying Lakefield. Once you're ready to hit the hay, the Interlaken Inn has the room for you. The Penthouse has a king bed and private pool, but you can also stay in a townhouse or the Lakehouse, which both have separate bedrooms and a full kitchen.
Why Families Love It
Interlaken Inn knows that kids like to stay busy and feel like they're getting the most out of their vacation. Kids will love splashing in the hotel's outdoor pool. To stay entertained at one of the best family hotels in Connecticut, little ones can also visit the on-site game room, tennis court, volleyball court, and basketball court. For everyone's favorite lake days, you can also rent boats from the Inn or borrow lawn games to take outside with you. Meanwhile, parents can enjoy a massage or visit the fitness center. After a day of so much adventure, you'll be happy to know you can feed your family with a delicious, farm-to-table meal at Morgan's Restaurant on the property.
RELATED: Best Lake Resorts in the Northeast Families Will Love
Odetah Camping Resort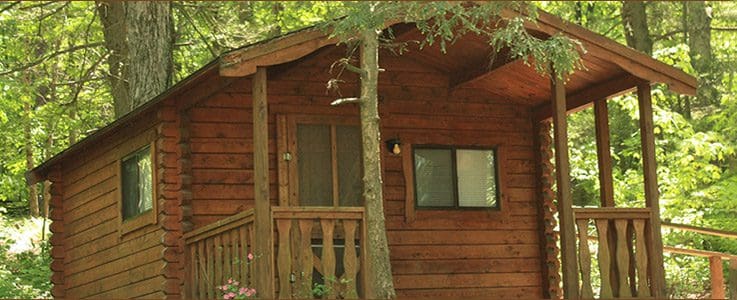 To get a bit more intimate with the great outdoors in Connecticut with kids, check out Odetah Camping Resort. Located in Bozrah, this lakeside camping resort is the best way to introduce your family to the joys of the great outdoors. If you're a family that has a tent or an RV, you can bring your own lodging to this resort. If you're just dipping your toes in this world, Odetah Camping Resort has the perfect accommodations for any family. Cabins are available for rent, as well as yurts if you want a cross between tent camping and glamping. Standard cabins sleep 5 people, deluxe cabins sleep 6, and premier cabins are best for larger families.
Why Families Love It
Odetah Camping Resort is truly one of the best hotels in Connecticut for families because it allows you to build your own adventure. When you're looking to have a little fun in the sun with your family, you can rent boats, paddleboards, kayaks, and more to take to the nearby lake with a private sandy beach. Or, take a dip in the outdoor pool, perched on a hillside overlooking the lake. There's also a splash pad for kids that was just added to the property; your little ones will love this new feature! Games such as mini-golf, volleyball, and basketball are available too. Kids will also love the various themed weekends here, showcasing anything from arts and crafts to obstacle courses.
Looking for more summer getaway ideas? check out our latest article –Ultimate Guide To Family Resorts Near NYC For A Summer Getaway.
Happy Travels!
We hope you liked this list of Exciting Places to Stay in Connecticut For Families! Whether you want to stay by the beach, a lake, or truly immerse yourself in the outdoors, we know you'll love visiting this East Coast destination. Not to mention staying at one of these family-friendly hotels in Connecticut. Enjoy Connecticut with kids!
Didn't find what you are looking for on this list? Connecticut also has some of the best Vrbo home rentals for families! In fact, you can find everything from cozy lake houses to kid-friendly coastal homes. No matter what you're looking for, Vrbo has a Connecticut home perfect for your upcoming family trip.
Connecticut, US Vacation Rentals: house rentals & more | Vrbo
READ NEXT: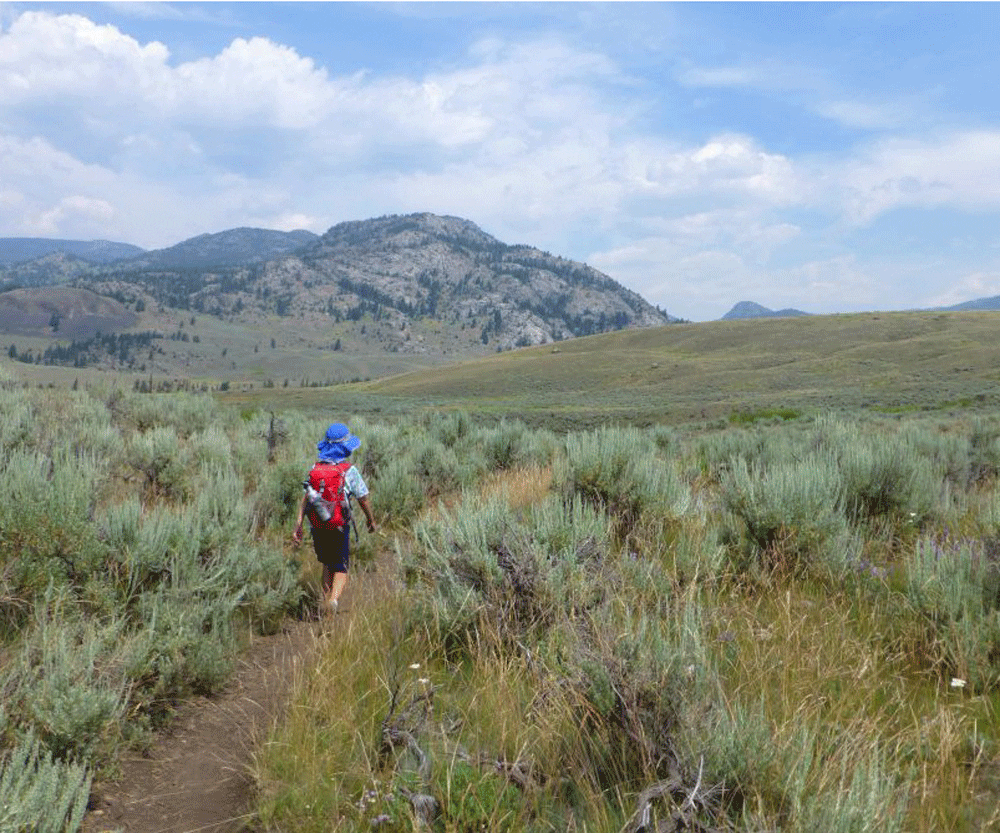 Everyone knows that Yellowstone National Park makes for a classic family vacation. Strolling the boardwalks...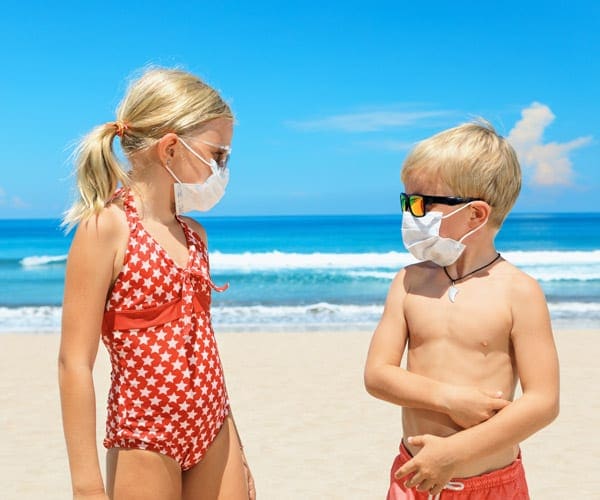 Coronavirus restrictions are now lifting across the country. We believe families need to make the...