This exciting Kenya itinerary is a fantastic choice for families looking for their next adventure! Wildlife lovers can't miss the chance to see incredible animals, nature, and scenery during a vacation to this East African country. From Nairobi, once the home of famous author Karen Blixen, to the Lakes Region, there's so much variety awaiting you in Kenya. Not to mention seeing elephants, giraffes, and other amazing creatures up close! Visiting Kenya as a family can seem daunting, between booking places to stay, plane tickets, and more. You may also be wondering about the best time to visit Kenya as a family or how to plan a trip to Kenya with kids. That's where this guide to visiting Kenya as a family comes in! Whether you have a trip planned or it's on your bucket list, keep reading for an Exciting Kenya Safari Itinerary For Families!
Also, read: Exciting 6-Day Safari Itinerary In Tanzania For Families
What's the Best Time to Visit Kenya as a Family?
You're probably wondering the best time to visit Kenya as a family. Our family took a trip over the "festive" period in December 2021 with two kids, 8 and 10. They had the time of their lives seeing Kenya during the holidays! Kenya is one of the few countries that does not have age minimums for a safari, although there are camps that are adult only. While we had an amazing time on our Kenya safari with kids, there are definitely some things I would change.
I would recommend 1 full day in Nairobi, 3 days each at 2 different safari camps, and if you have time, 3-4 days at the beach. We did not have enough time to add beach time, so we opted for the Lakes Region in the Great Rift Valley. If you have time for the beach and want to stay in Kenya, AfroChic Diana Beach is a nice place to stay.
How to Plan a Trip to Kenya as a Family
To put things in context, planning international travel during the pandemic was no easy feat. First off, since most safaris were canceled in December 2020, most places had north of 60% occupancy already due to the carry-over of vacations. I expect this to be less of an issue in 2022, although there were a lot of cancellations in mid-to-late December 2021. Secondly, our flights changed 4 times, so our original trip was 2 days shorter than what we ended up with due to flight cancellations and rebookings. Lastly, travel between different countries is a challenge because of the various entry restrictions and requirements, so we didn't attempt it.
Besides this, travel in Kenya as a family felt pretty safe. At the safari camps, the staff lives on-premises for weeks at a time and many camps require testing. Masks wearing was also mandated to all hospitality employees, as well as temperature checks.
Day 1: Checking Into Our Hotel in Nairobi
On the first day of our exciting Kenya itinerary for families, we arrived late. Once we got settled, we spent the night at Ole Sereni Hotel, which is 15 minutes from the airport and next to Nairobi National Park. If you stay here, stay in the new section (Emara), not the old section, as there's a material difference in quality. Emara has an outdoor pool, a spa, and a fitness center. Originally, we weren't planning to stay long, so we'd planned to spend the night at Four Points near the airport. But, when our flights changed and we added an extra day, most of the nicer hotels were fully booked. The Ole Sereni Hotel was fine, but I recommend staying in the Karen district, where most attractions are located. Family-friendly accommodation options include Hemingways, Giraffe Manor, or House of Waine. Or, stay inside Nairobi National Park at The Emakoko.
Day 2: Sheldrick Elephant Orphanage, Karen Blixen Museum, and Giraffe Center
One full day is enough to explore Nairobi on a Kenya safari with kids. So, on day two of our exciting Kenya itinerary for families, we visited the Sheldrick Wildlife Trust, aka the Elephant Orphanage! Certainly, this is one of the best things to do in Kenya with kids. Animal lovers can get up close and personal with baby elephants at this special rehabilitation center. You'll see them being fed with a big baby bottle, and some may even come close to say hello! To see endangered Rothschild Giraffes, we also visited the Giraffe Centre while visiting Kenya with kids.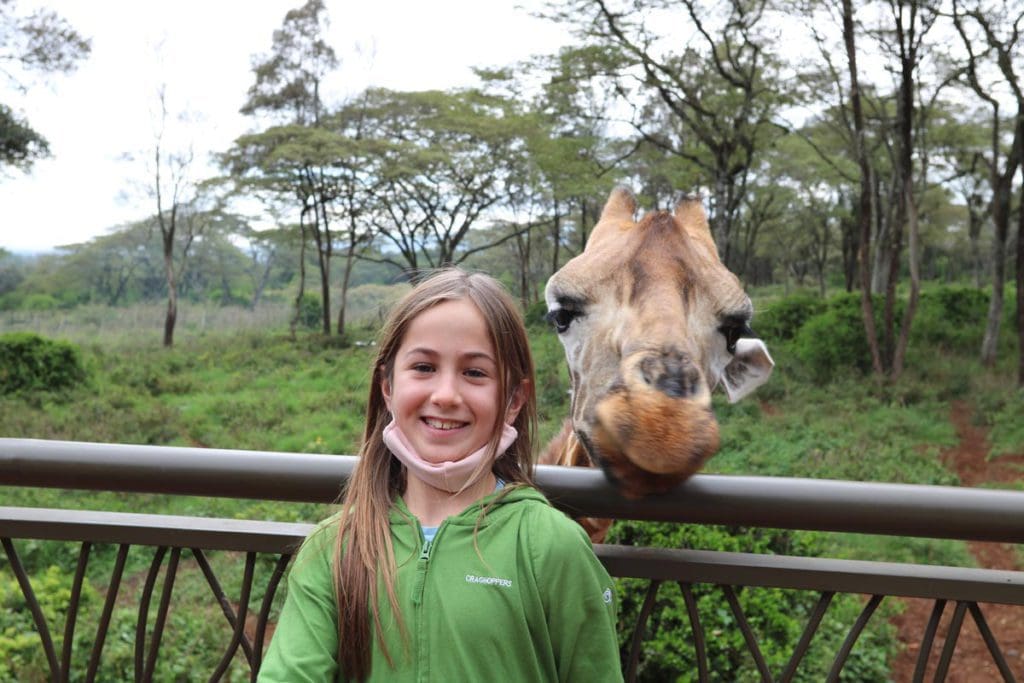 This wildlife conservation park lets guests feed the giraffes! Keep an eye out for other animals, like warthogs. Another fun destination for families in Nairobi is the Karen Blixen Museum. Located on a beautiful property at the foot of the Ngong Hills, visitors can explore the estate of famous Danish author Karen Blixen to learn more about her life. It's a must for parents who are a fan of the movie Out Of Africa!
Day 3: Lewa Wildlife Conservancy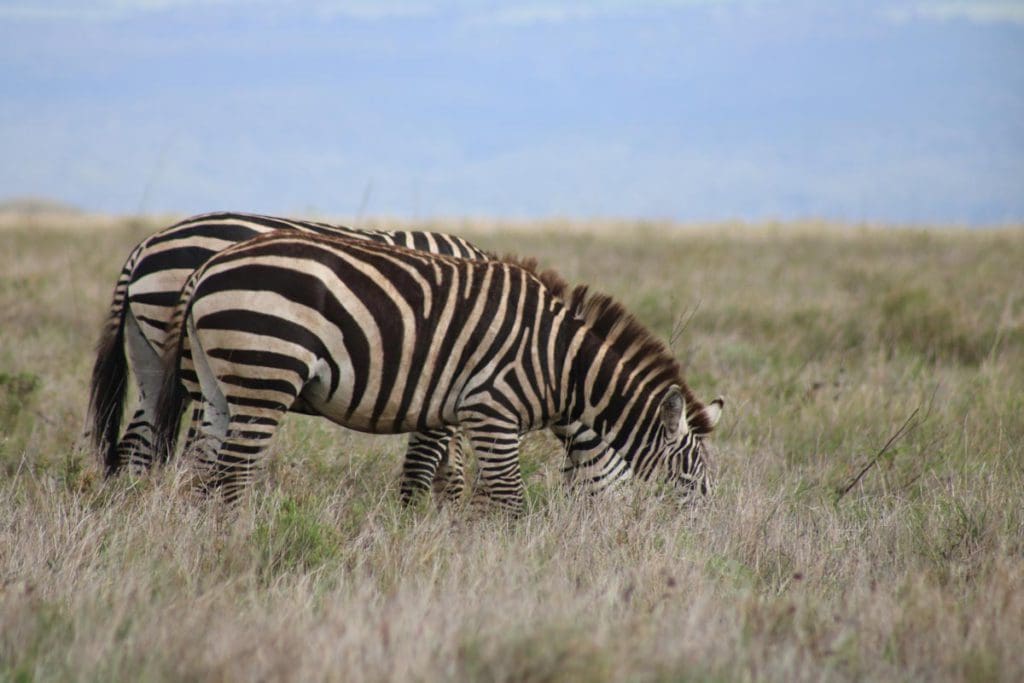 Day three of our exciting Kenya itinerary for families was certainly an adventure. We departed Nairobi through the Wilson Airstrip on a small plane to the Lewa Wildlife Conservancy, which is located in northern Kenya. Not to mention, one of the best things to do in Kenya for families. We chose Lewa because it's one of few places to see an abundance of black rhinos and grey zebras, both of which are endangered species. Since we didn't see any later in our trip, this was ultimately a good choice for my family. In fact, the wildlife viewing was so spectacular, pictures don't even do it justice! Lewa Wildlife Conservancy also offers a glimpse at elephants and other wildlife such as lions, perfect for a Kenya safari with kids.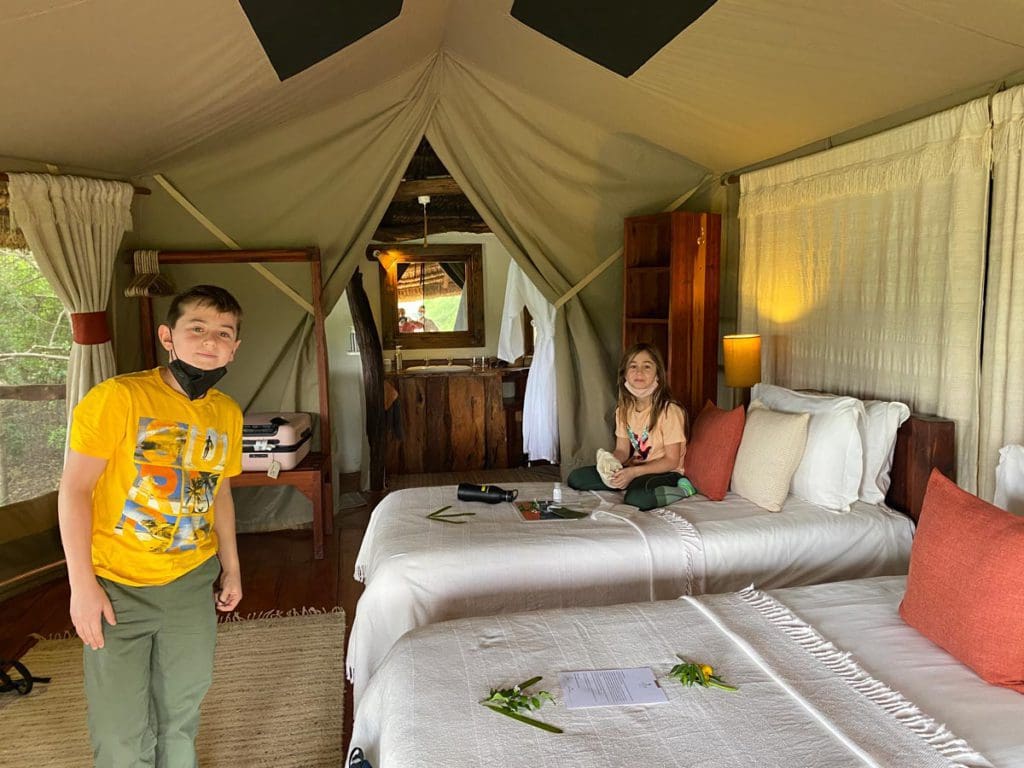 We stayed at the Elewana Lewa Safari Camp for three nights. It was amazing in terms of location, service, and food. We had two tents across from each other (one for the kids and one for us). Definitely a great choice when visiting Kenya with kids.
Day 4: Maasai Mara National Reserve, and the &Beyond Bateleur Camp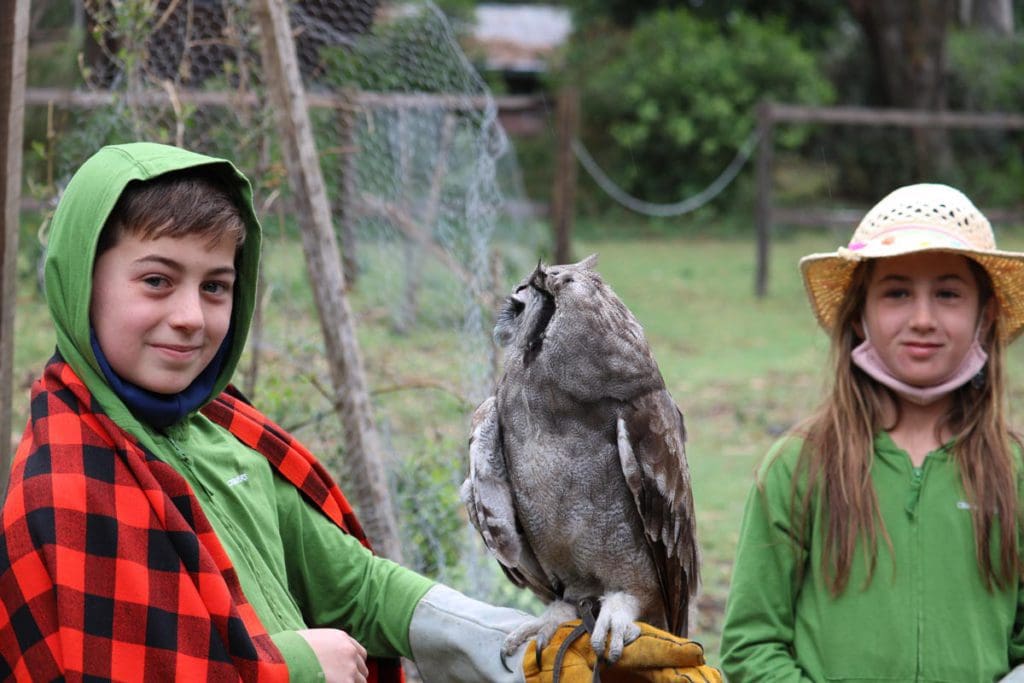 After staying three nights, we departed Lewa for the Maasai Mara National Reserve, located in Southern Kenya. As one of the most exciting parts of our Kenya itinerary for families, a visit to this nature preserve is a must during a family vacation. The wildlife diversity is so amazing that we spotted new animals every day, even on the 6th day of our safari.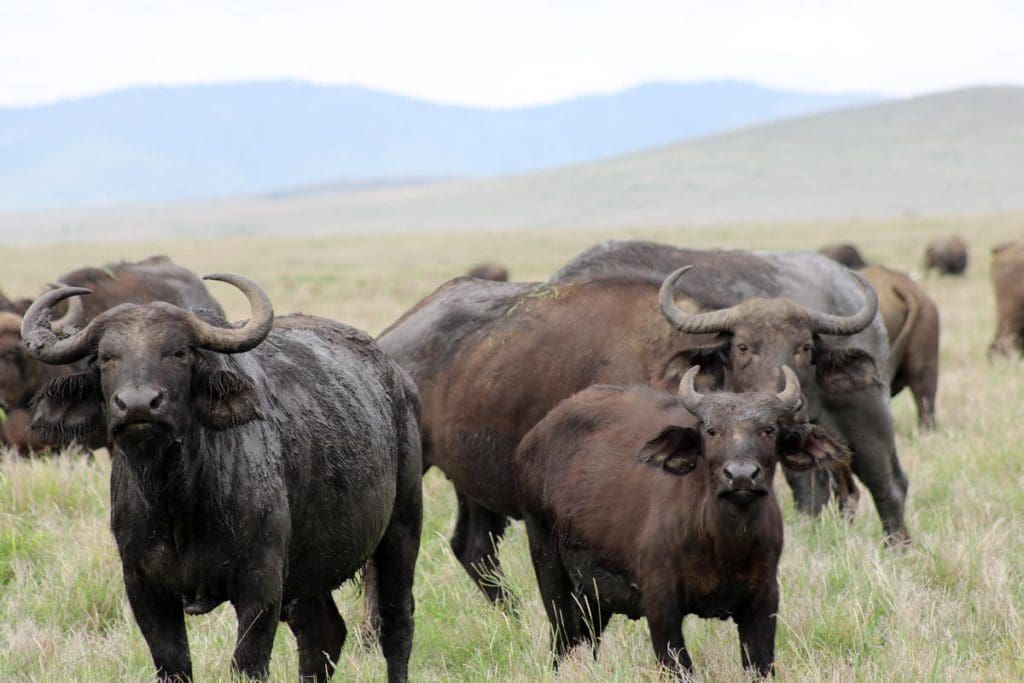 In particular, we saw wildebeest, cheetahs, hyenas, and topi, which we didn't see at Lewa. In terms of accommodations, we stayed at the Bateleur Camp, located in the Mara Triangle. It was more luxurious than Lewa Safari Camp, but despite that, the service didn't quite compare in terms of attention to detail (Lewa truly went above and beyond, from fresh towels when returning from safaris to cocktail events for parents). At Bateleur Camp, there were even more animals, but also a lot more people, especially over the weekend. However, the rooms were spectacular and the staff was very nice. If you're going during peak season, try to avoid Maasai Mara over the weekend.
Day 5: Lake Naivasha and the Great Rift Valley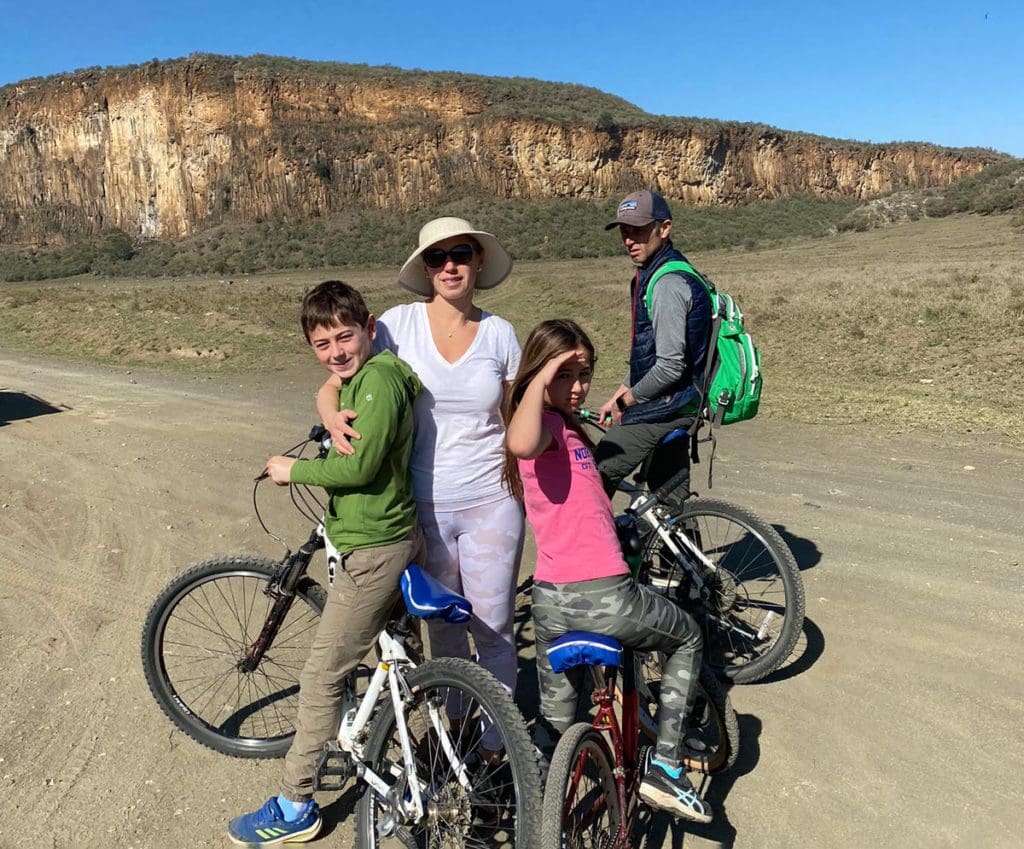 On day five of our exciting Kenya itinerary for families, we departed for Loldia House in Lake Naivasha in the Great Rift Valley. When we originally booked our trip, we didn't have enough time to fly to the eastern coast of Kenya for beach time. Instead, we opted for the Lakes region. While the Lakes region offers a different experience, I recommend visiting at the beginning of your trip.
Loldia offers views of Lake Naivasha and sits on a reserve of 6500 acres with lots of animals including hippos, buffalo, gazelles, topi, vervet monkeys, warthogs, zebras, and many birds. We loved seeing the hippos feed 50 yards from us at night! In Hell's Gate National Park, we saw animals while biking and then hiked with a ranger through a slot canyon. We also took a boat ride on the lake and visited a bird sanctuary. The Lakes region provides an abundance of amazing things to do in Kenya with kids!
Pro Tip: A drawback of staying in the Lakes region is that most activities require at least an hour's drive each way. So, you should only visit places you're super enthusiastic about on your Kenya safari with kids. Lake Nakuru is only ~60km away but can take between 2-4 hours to reach with traffic.
Day 6: Relaxing in Karen, Departure
We ended our exciting Kenya itinerary for families by heading back to Nairobi. There, we had a relaxing stay in Karen, a suburb near some of Nairobi's best attractions. This was a perfect way to wind down and prepare for our long journey back home. If you're looking for things to do in Karen with kids, you can go shopping at The Hub Karen. We also enjoyed a few family-friendly restaurants in Karen, such as ​​Talisman and Tamambo.
Happy Travels!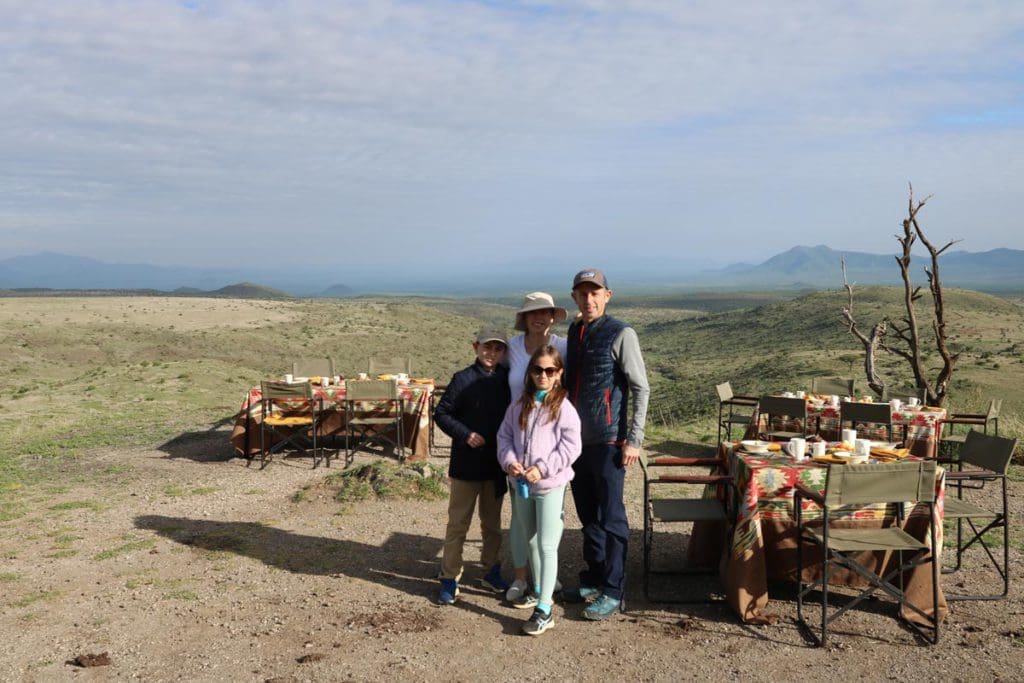 We hope you liked this Exciting Kenya Safari Itinerary For Families by our contributor Anna Massion! Whether you have a trip planned or it's on your bucket list, you won't be disappointed with your dream vacation to Kenya with kids. Certainly, Kenya during the holidays adds a special treat to this bucket list family vacation! Enjoy visiting Kenya with kids!
Then, read: Best Weekend Getaways From Dubai For Families
*Due to the COVID-19 pandemic, some of the attractions, accommodations, or things to do on this list may be closed. Please ensure availability before making your decision.
*This post may contain affiliate links that may earn us a small commission, at no additional cost to you. Affiliate links in no way inform the hotels, sights, products, or other recommendations included in our articles. All opinions and recommendations expressed here are that of the attributed author.
READ NEXT: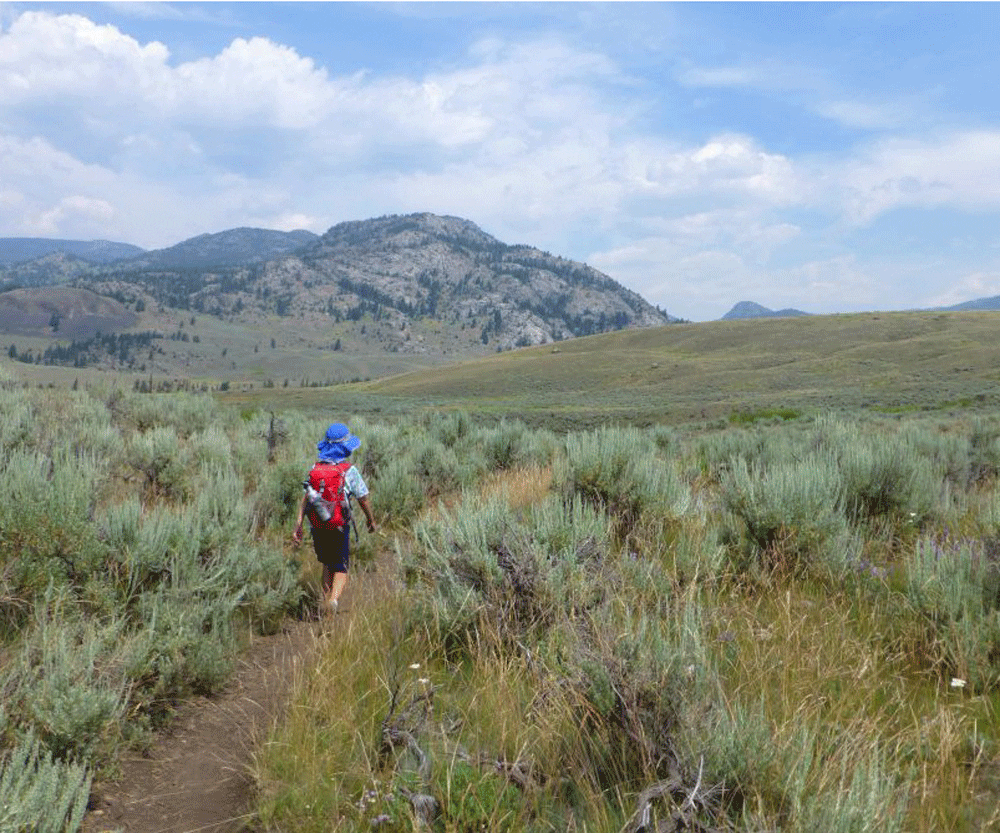 Everyone knows that Yellowstone National Park makes for a classic family vacation. Strolling the boardwalks...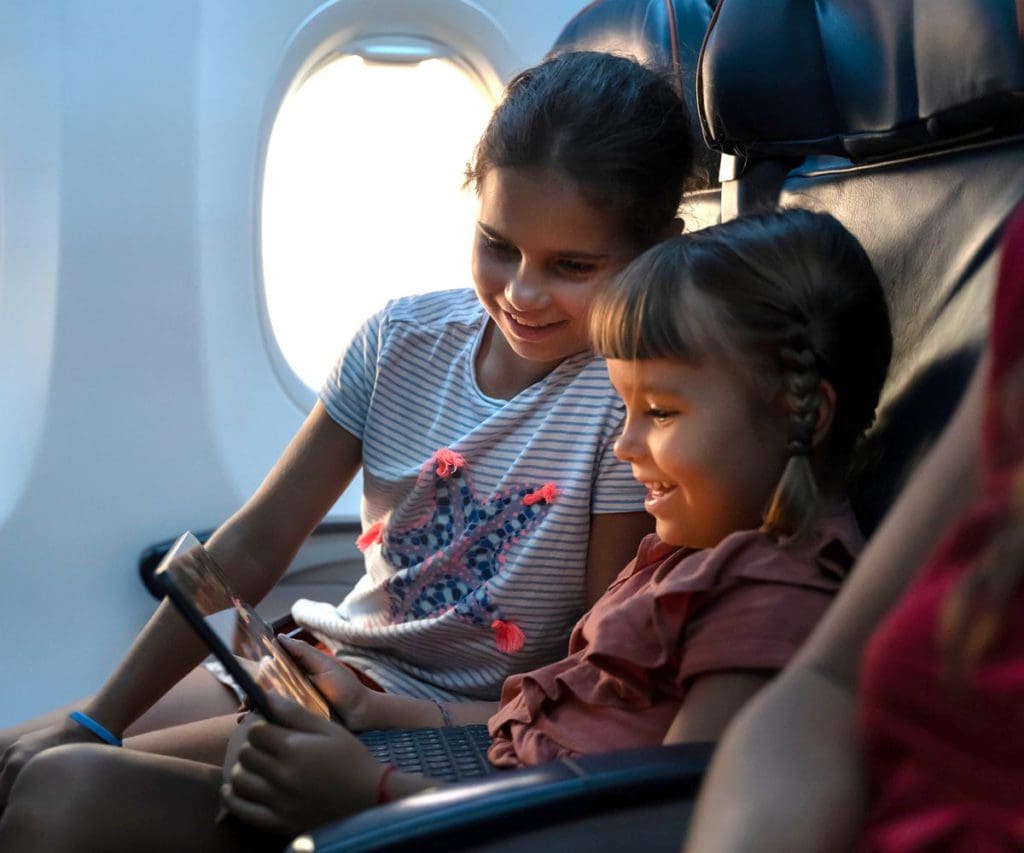 As parents, we're always looking for fun ways to keep our kids entertained while traveling....