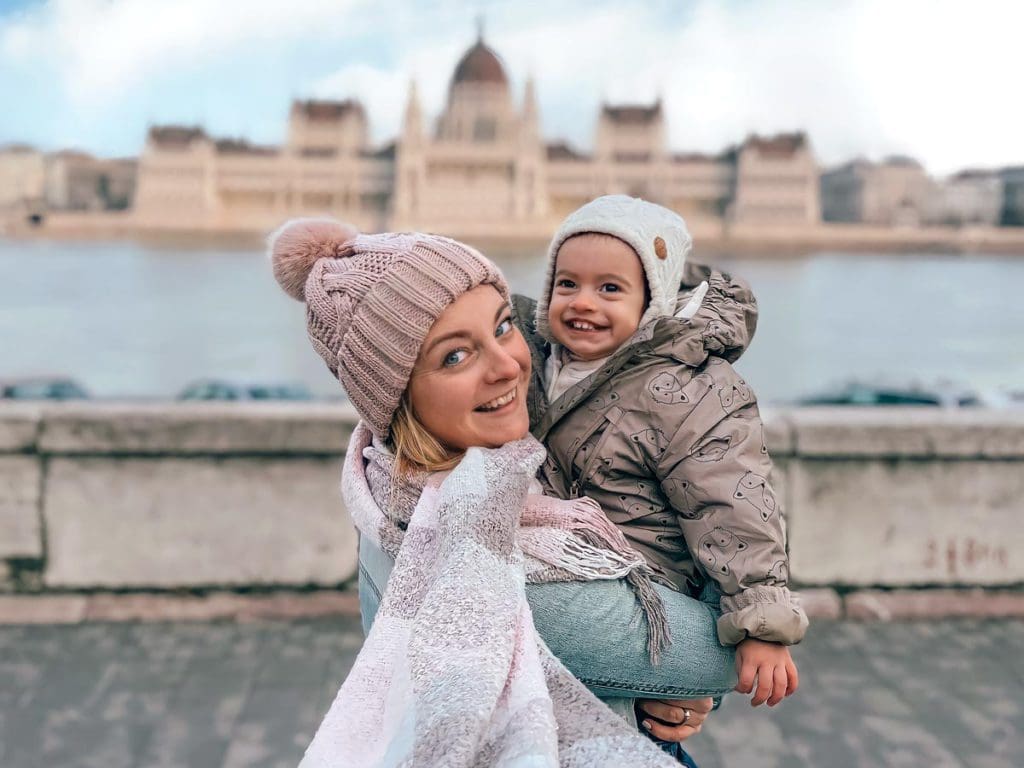 Budapest is a fantastic city with plenty of things to see and do, and it's even more fun when you're exploring with kids! From gorgeous views to fascinating museums and archaeological sites, this diverse city in central Europe is often unjustly overlooked by families traveling with children. What's more, restaurants often offer high chairs or kids' menus, many famous sights have no entrance fee for children, and locals don't mind when you walk in somewhere with a stroller! Of course, every family has a different idea of what "kid-friendly" means. For my family, it's where we can show our daughter something new and enjoy quality time together. Since I'm a Budapest local who has visited 50+ attractions, I put together this Local's Guide To The Best Things To Do In Budapest With Kids, including tips for visiting the city. Keep reading to plan your next adventure!
Public Transportation in Budapest for Families
Budapest is a very family-friendly city, and that extends to its public transportation system. When taking a Budapest family holiday, there are various options for families looking to get around the city and see Budapest's points of interest, including buses, trams, and even a riverboat service. The best way to get around Budapest with kids is by using the city's extensive bus network. Budapest has over 150 bus lines, covering just about every corner of the city. Tickets can be purchased at any newsstand or kiosk, and there is a special reduced fare for children under 14 years old.
Families can also purchase a Budapest city card, with which they can enter a large variety of attractions for kids for free. Besides its low price, public transport is also a great way to connect with locals and see how they live in a given place. Most vehicles (bus, metro, and new trams) are generally well-equipped and reserve stroller places, priority seats, and elevators for families.
Visiting Budapest on a Budget: Free Ways to See the City with Kids
There are plenty of ways to explore Budapest on a budget, especially if you're traveling with kids. In general, sightseeing with your little ones is relatively inexpensive. With our baby/toddler (she's now over 2), we've visited quite a few sites – touristic ones (like St. Stephen Basilica) and less popular ones, too (like Szemlő Cave). We only had to pay a so-called "registration fee" for her once. Most of the time, you don't have to pay anything for children. It varies depending on the place or based on age (sometimes it's up until six years old). Budapest also has many free parks and green spaces, perfect for letting kids run around! Indeed, there are many free and inexpensive Budapest things to do with kids!
If you're lucky with timing, you can benefit from the initiative where certain museums (like the Museum of Science, Technology and Transport, the Museum of Fine Arts, or the Museum of Natural Sciences), exhibitions offer free days to enter. The list varies from year to year, so you need to check it before you embark on your Budapest family holiday, but it's definitely a great option to cut your budget just a bit tighter while entertaining children in an educational way.
Wondering What To Pack For A European Vacation With Toddlers? Please read our article!
Best Outdoor Things to Do in Budapest with Kids
Budapest is an incredibly family-friendly city with tons of great things to do outdoors with kids. From exploring the many parks and playgrounds to checking out the statues and monuments, there are plenty of ways to keep busy when the weather is warm. If you're looking for fun outdoor activities in Budapest with your kids while in town, here are a few favorites!
Take a Tram Ride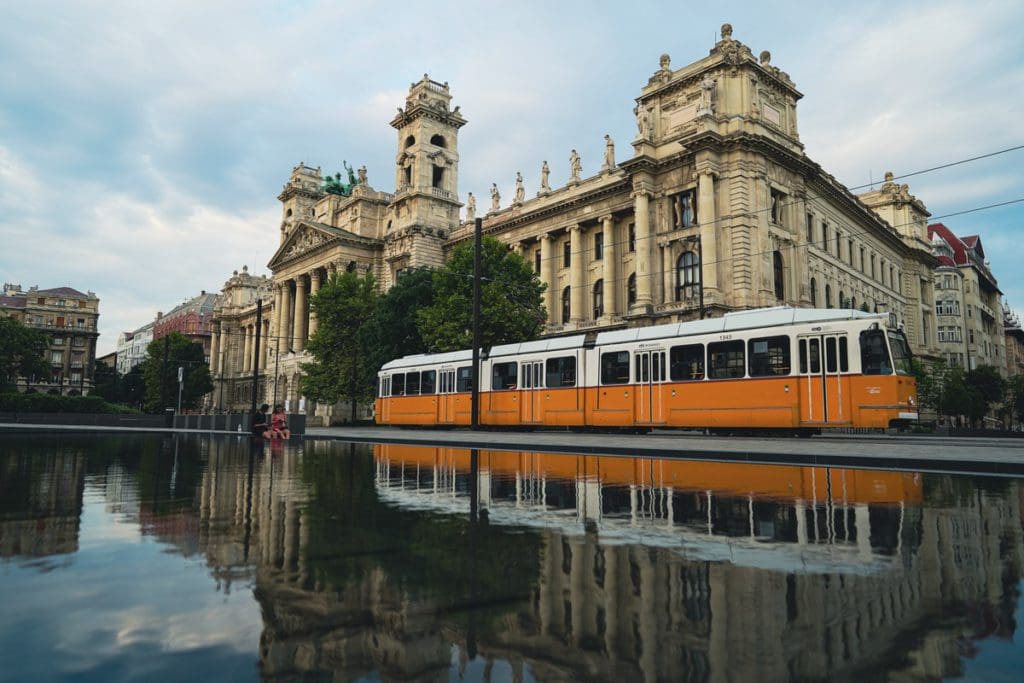 One of the best ways to see Budapest with kids is by riding on the tram! There are many tram routes throughout the city, but a family favorite is Route 2, which runs along the Danube from the Margit Bridge to the Petofi Bridge. The route takes you past some of the city's most famous landmarks, including the Parliament Building, Liberty & Chain Bridge, and the National Theater. You can also get off at various stops to explore these sights in more detail, making it a great way to see some of the city's most popular attractions with kids. Little ones will love the ride, and parents can get a small taste of the city's history and culture!
For more sightseeing opportunities, families can also take Tram 41. The tram runs from downtown to the Buda Hills, and offers great views of the city along the way. The views are amazing, and you can see the city's landmarks as you ride!
Reserve Budapest: Grand City Tour with Parliament Visit with Getyourguide here!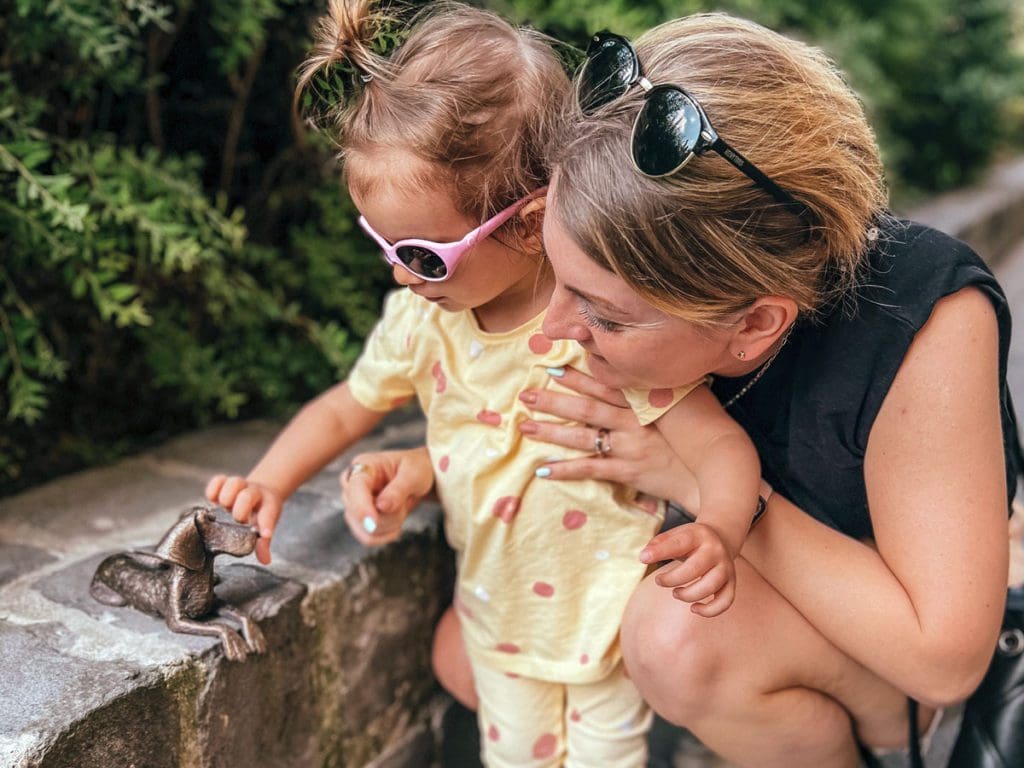 When it comes to conventional tours in Budapest for families, the options are endless. However, one of the most unique and fun Budapest things to do with kids is to hunt for the hidden mini-statues of Mihály Kolodko around the city. Kolodko is a Hungarian artist who has created over 30 miniature metal sculptures that can be found throughout Budapest. Each statue is unique, depicting different characters from Hungarian folklore or references to contemporary art. Most of them are very cute and lovable for children. Hunting for these little statues is a great way to explore different parts of the city and get some fresh air. And, it's a fun activity that the whole family can enjoy together!
Click here to find a map of the statues!
Explore the Sprawling City Park
One easy way to explore Budapest with kids is to pick a destination and explore as many things as possible. Even if you have limited time, I would recommend exploring City Park with your kids. It's filled with playgrounds, green space, and plenty of activities to keep little ones entertained. Plus, it's centrally located and easy to get to. Here are some of the best things to do in City Park with kids!
The Zoo of Budapest
What kid doesn't love animals? At the Zoo of Budapest, one of the oldest zoos in Europe, families can see 1,000 different animals, including some rare and endangered species! When you first arrive, pick up a map to navigate your way around easily. The zoo is divided into different sections, each with its own unique attractions. Some highlights include the reptile house, elephant house, giraffe house, and feeding time at the penguin pool. Kids will also love the petting zoo, where they can get up close and personal with some friendly farm animals. Then, the zoo also has a large botanical garden with over 5,000 different plants. Finally, there is also a playground and several restaurants on-site, so you can easily spend a whole day!
If you want to avoid crowds during your Budapest family holiday, visit early in the morning or later in the afternoon. We also suggest renting a wagon – by the end of a long day of walking, it'll help carry your kids or your bags!
BalloonFly
If you're looking for a unique and memorable experience to share with your children while in Budapest, look no further than a hot air balloon ride! Floating high above the cityscape, you'll have a bird's eye view of some of the most iconic landmarks in Hungary's capital. Whether it's your first time flying or you're a seasoned pro, the friendly and experienced staff at BalloonFly will ensure that you and your family have a safe and enjoyable experience. They offer both private and group rides, so you can decide what's best for your group. Lasting around thirty minutes total, it's the perfect activity for families with kids over the age of six, as it's both educational and fun. So what are you waiting for? Book a ride today and see Budapest from a whole new perspective!
Széchenyi Bath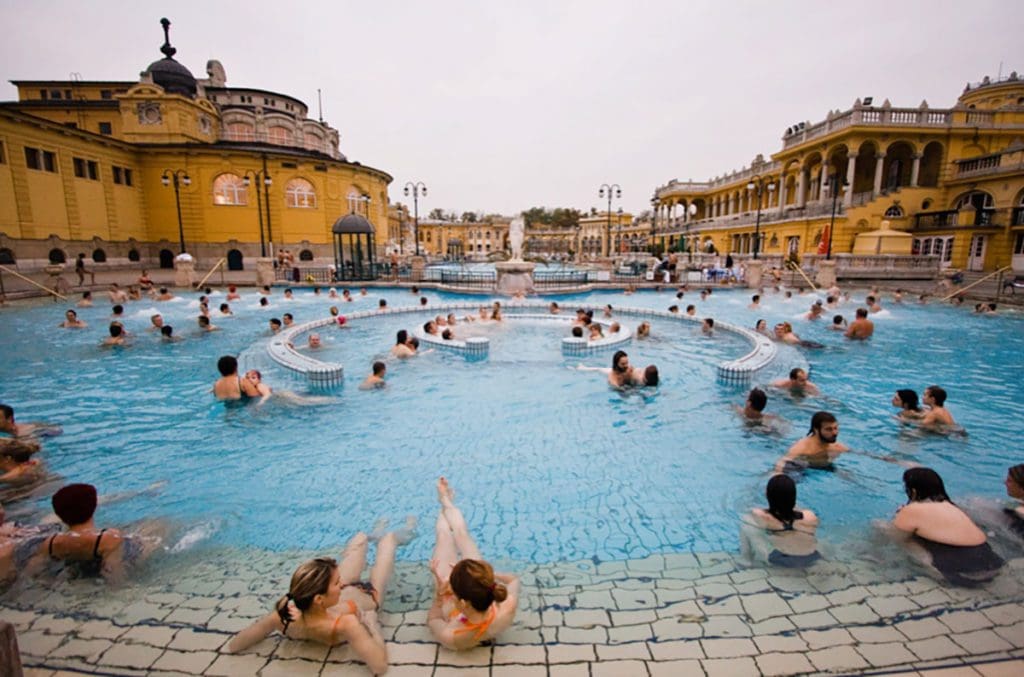 Széchenyi Baths is a must-see for any visitor to Budapest, and it's especially fun for kids. The massive bath complex has indoor and outdoor pools filled with Hungary's mineral-rich thermal water, and plenty of activities keep kids entertained. If your kids are old enough, they'll enjoy swimming in the outdoor pools. The main pool is huge, and there's also a smaller pool for kids. For younger kids, there's also a play area with toys.
When they're ready for a break from swimming, you can explore the grounds of the bath complex. There are plenty of places to sit and relax, and the gardens are beautiful. No matter what age your kids are, they'll have a blast at the iconic Széchenyi Bath – even in the colder weather! Indeed, this is one of the best Budapest things to do with kids!
Reserve Budapest: Széchenyi Spa Full Day with Optional Pálinka Tour through Getyourguide here!
Vajdahunyad Castle
Budapest's Vajdahunyad Castle is a fairy tale personified, and it's the perfect place to take your kids for a day of exploring! The castle is a replica of a 12th-century Hungarian Romanesque castle that was located in Vajdahunyad, Transylvania (now part of Romania). Its grounds are filled with statues, fountains, and beautiful gardens, and you can access the castle on 4 bridges, which makes it even cooler for kids. Vajdahunyad Castle is also home to the Hungarian Agricultural Museum, which has exhibits on farming and agriculture through the ages. During the summer, many festivals, fairs, and other events happen here, which is also a fun activity to attend. This place (excluding the museum) is totally free to enter!
Just behind the Vajdahunyad Castle, families can also visit Városliget Lake. It offers a variety of kid-friendly activities throughout the year, from ice skating in the winter to boating in the summer!
Book Budapest: Heroes' Square and City Park Castle Tour here with Getyourguide!
Main Playground
The main playground in City Park is the perfect spot if you're looking for a place to take the kids to let off some energy. With plenty of climbing frames, slides and swings, there's something for everyone. The playground is also surrounded by beautiful gardens and trees, making it a great place to take a break from the hustle and bustle of the city. There's also a large sandpit area, which is great for building sandcastles or just playing around. Kids will especially love that there's another hot hair balloon, though this one is fixed to the ground. The playground is also free to enter.
Pro Tip: If you can't dedicate your whole day to an area or just need a quick playground stop to calm your children, I highly recommend using the PlaygroundBuddy app to know where you can find playgrounds near you. It works in the rest of Europe, so be sure to take advantage of this useful tip for visiting Budapest with kids!
Kid-Friendly Museums in City Park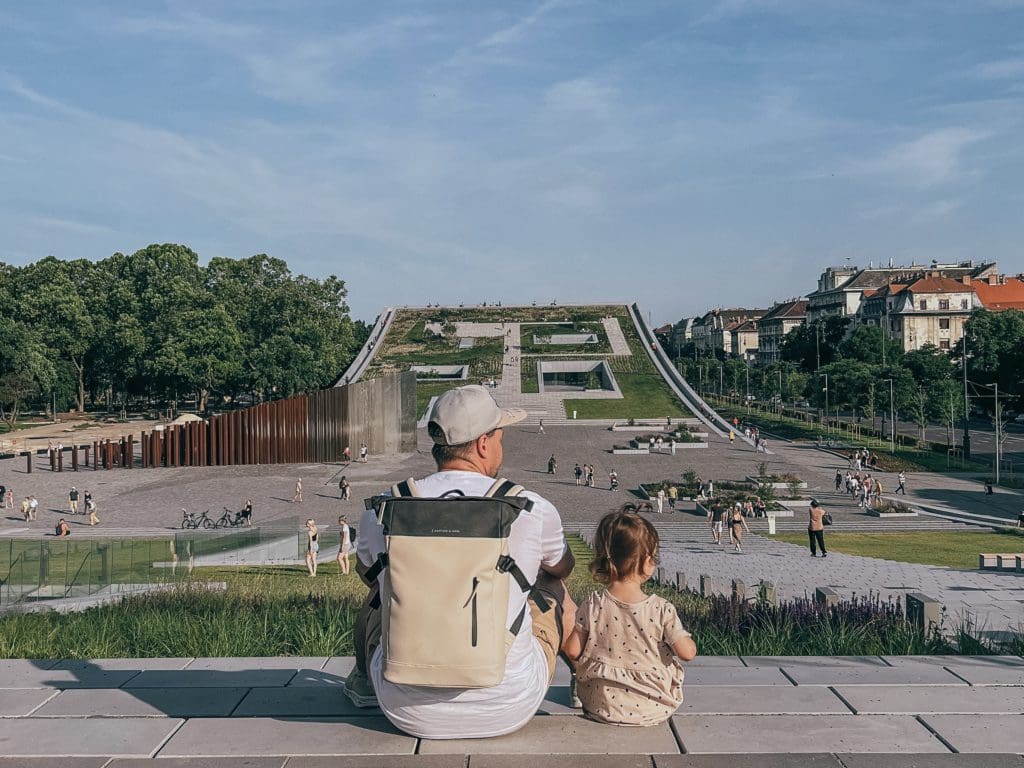 If you're looking for a fun and educational activity to do with your kids in Budapest, consider exploring one of the many museums in City Park. Here are three that I recommend for your Budapest family holiday:
House of the Hungarian Millennium is a must-see for anyone interested in Hungarian history and culture. Home to the NEO Contemporary Art Space, the museum features rotating exhibitions of contemporary Hungarian artists, as well as education programs and events for kids. The outside of this building is a stunning architectural marvel, and it's also great for sitting down, playing, or having a picnic.
Museum of Ethnography is also worth a visit if you're interested in learning about different cultures and the ethnic groups that make up Hungary. The museum has exhibits on various ethnic groups from around the world, including Hungarians, Roma, Jews, and Arabs. Kids will love seeing all the different cultures represented at the museum and learning about their customs and traditions. Plus, what kid wouldn't love a museum shaped like a skateboard ramp? Even if you don't want to go inside, you can rest between sights or appreciate the view.
Museum of Fine Arts is another great option for families with kids, particularly older kids who are interested in contemporary or modern art. The museum houses an impressive collection of paintings, sculptures, and other works of art worldwide. Kids will enjoy seeing all the different pieces of art and learning about different cultures. Indeed, this museum is one of the best Budapest things to do for families!
Reserve a Budapest: Guided Downtown Electric Bike Tour with Getyourguide here!
House of Music Hungary
One of the newest Budapest attractions for kids is the House of Music Hungary! This concert hall hosts a variety of musical events throughout the year, including classical and contemporary music concerts, operas, and ballets. The hall is also home to the Hungarian National Symphony Orchestra. If you're looking for a place to enjoy some great music with your family, this is it. Even if you don't want to see a show, it offers a charming place to walk or have a picnic. The building reminds me of a piece of cheese with holes, so kids will have a fun time observing it!
Consider booking Budapest: Classical Music Concerts in Matthias Church with Getyourguide!
Enjoy a Unique Bus/Boat Tour
If you're looking for unique things to do in Budapest for families, be sure to check out RiverRide – the Floating Bus. This one-of-a-kind tour takes you through the city on a bus that eventually floats on the water! Start in the heart of Budapest and see all the main attractions in the city center. Then, you'll get to see all of Budapest's iconic landmarks from a whole new perspective as you cruise down the Danube! Your knowledgeable guide will provide commentary on all the landmarks as you float past them, and kids will love riding on a boat in the middle of the city! RiverRide is the perfect way to see Budapest if you're short on time or just looking for a different experience. It's also great for families with young children, as it's a relaxed and safe way to get around.
If you prefer to be on the water, then hop on one of the scheduled boats operated by the Centre for Budapest Transport (BKK). This is a cheaper version of a tour boat, yet you have the chance to see Budapest from the river. Regardless of which option you choose, this is undoubtedly one of the best Budapest things to do for families.
Book a hop-on hop-off Budapest bus here with Tiqets!
Venture Off-The-Beaten-Path
If you're looking for something different to do with the kids while in Budapest, why not venture off the beaten path? There are plenty of hidden gems and unique activities that the whole family will enjoy. While this may not be a desirable option if you only have a few days to stay, if you're planning an extended vacation, you should check out these places!
Garden of Philosophers
Budapest is home to many beautiful gardens, and the Garden of Philosophers is one of the most unique. Situated in the heart of the city, this garden is filled with statues of famous philosophers, and it's a great place to relax and enjoy the scenery. Families can stroll through the gardens to learn more about philosophy and history since they're well-maintained and offer a great view of the city. The garden is home to many different kinds of flowers and plants, and there are often concerts and events held here. There is plenty of space for kids to run around, and benches allow parents to sit while their kids play.
Bikás Park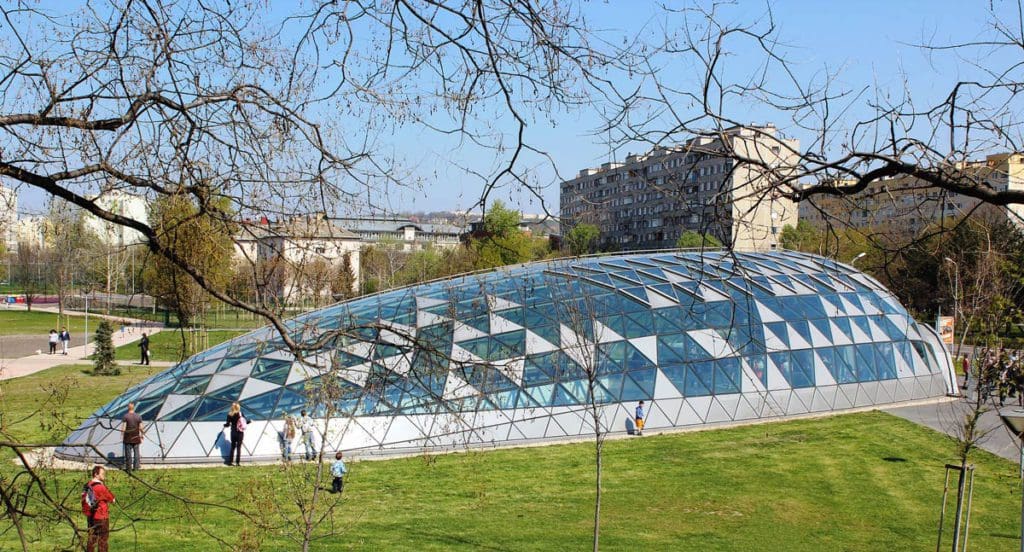 There is no shortage of fun things to do in Budapest for families, but one of the best is exploring Bikás Park. This sprawling green space is perfect for a picnic, a game of catch, or just running around. Plenty of playgrounds and a small pond make it a great place to spend an afternoon. If you're looking for something a little more adventurous, you can rent bikes and explore the city's many bike paths. There's also a café if you need to take a break.
Kopaszi Dam
Kopaszi Dam is the perfect place to take your kids for a day out. Located just a short drive from the city center in the western part of Budapest, this green recreational spot is easy to get to and has plenty of parking. One of the best things to do at Kopaszi Dam is to go for a walk or bike ride along the Danube. The views are stunning, and there are plenty of places to stop and take in the scenery. If you're feeling adventurous, you can even swim on the nearby beach. Several playgrounds are also located near the dam, making it a great place to let your kids run around and play. In addition to restaurants, there are often events and activities taking place near the dam, so be sure to check out what's going on before you visit.
Reserve the 3-Hour Orientation Walking Tour of Buda and Pest with Getyourguide!
Best Indoor Things to Do in Budapest with Kids
Budapest is a great city for kids, with plenty of indoor activities to keep them entertained on a hot or rainy day. These are a great way to make grump kids happier if you've been sightseeing too much. Of course, these destinations will also be enjoyable for parents. Here are some of the best indoor things to do in Budapest with kids for children over four years old!
Go Shopping
There are plenty of indoor things to do in Budapest with kids, but one of the best is to go shopping! Unlike many other European cities, Budapest has numerous shopping malls and stores, especially in the city center. From big department stores to small boutiques, these are great for picking up some essentials, spending time together on a rainy day, or keeping kids entertained for a few hours since some even have indoor playgrounds or cinemas.
Váci Street, a famous pedestrianized street, is one of Budapest's most popular shopping areas, lined with international and local stores. You'll find everything from clothes and shoes to jewelry and souvenirs. For a bigger shopping mall experience, visit the Westend Shopping Center or head further to the Arena Mall. Families can also window shop upscale brands like Gucci on Andrássy Avenue. It's also worth taking a walk down to see the beautiful architecture and take in the atmosphere of this chic area. Don't forget about the Central Market Hall, which is packed with stalls selling everything from fresh produce to Hungarian folk art. It's a great place to find souvenirs and gifts, and the kids will love seeing all the different goods!
Visit a Museum
Take a step back in time and explore Budapest's amazing history by visiting one of its many museums! Whether your kids are into science, art, or something even more unique, here are some more fun things to do in Budapest for families!
CsoPa Science Center
If your kids are into science and nature, then they will love the Center of Scientific Wonders, aka the CsoPa Science Center. From the solar system to the human body, this interactive science museum is perfect for curious minds of all ages and has something for everyone to enjoy. One of CSW's most popular attractions is the 9D and Circle Cinema, where educational movies come alive through fun, 3D tricks. Kids (and adults!) will also love exploring Newton's Apple Garden, where you can learn more about gravity and physics. Other highlights of the CSW include the Magnetic Field, where you can learn all about magnets and the law of attraction. Nature's Workshop, where you can conduct fun experiments, and the Hall Of Scientists, where kids can pose with some of the greats!
Museum of Illusions
If you're looking for a fun and unique activity to do with your kids in Budapest, head to the Museum of Illusions! Located in the heart of Budapest, this one-of-a-kind museum is filled with interactive exhibits that will amaze and delight your little ones. From optical illusions to mind-bending puzzles, there's something to impress everyone. When you first enter, you'll be greeted by a large eyeball that seems to be following you as you move. Other highlights include a room where everything appears to be upside down, an exhibit where you can see how your body looks distorted when viewed through different lenses, and a 'vortex tunnel' that seems to go on forever. In addition to the excellent exhibits, the Museum of Illusions also has a cafe and a shop where you can buy souvenirs.
Pro Tip: Of course, every family is different, and these rules aren't carved in stone. You shouldn't take your kids to something you know they wouldn't enjoy, so evaluate each option to find something that suits your family.
Click here to plan an Amazing 1-Week Porto Itinerary With Toddlers!
Where to Stay in Budapest with Kids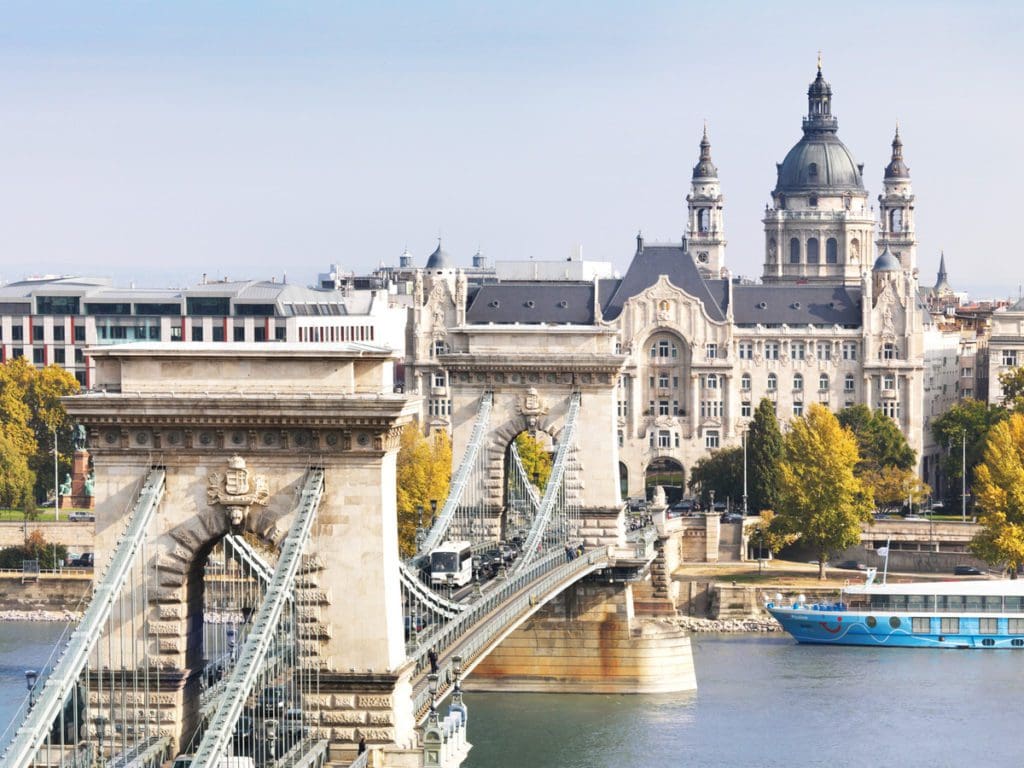 If you're wondering where to stay in Budapest with kids, you have plenty of options to choose from! Those wanting a luxury experience with en excellent location can consider accommodations like Four Seasons Hotel Gresham Palace Budapest, The Ritz-Carlton, Budapest, Prestige Hotel Budapest, or Matild Palace, a Luxury Collection Hotel, Budapest. For an eco-certified and kid-friendly hotel in Budapest, book your stay at Hilton Budapest or Hilton Garden Inn Budapest City Centre. Need a budget-friendly hotel with a pool? Take a look at InterContinental Budapest. Then, Budapest Marriott Hotel is another great option near major attractions like the Funicular, Buda Castle, and more. Finally, if you're open to staying outside the city-center, and have access to a waterpark and on-site dining, Aquaworld Resort Budapest is a great Budapest hotel for families.
Happy Travels!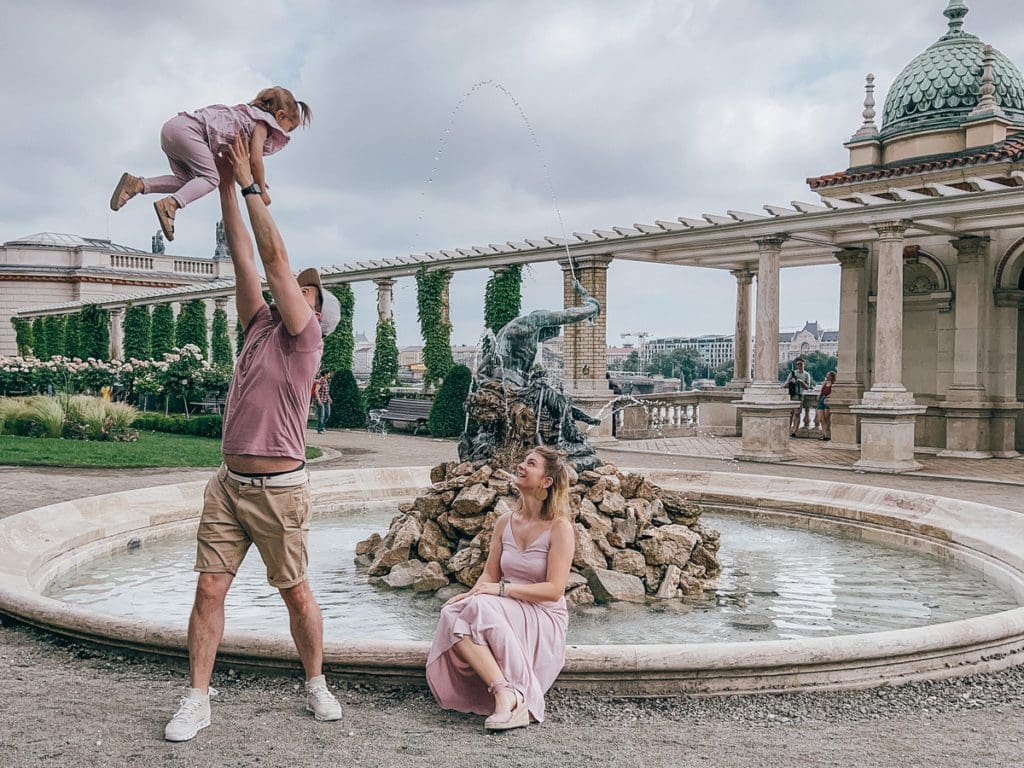 We hope you liked this Local's Guide To The Best Things To Do In Budapest With Kids by our contributor Eszter Horvath Somogyi! From its stunning architecture and rich history to its delicious food and lively nightlife, there's truly something for everyone. Enjoy Budapest with your kids!
About the Author: We're ST, Jules & Nara – a Hungarian family of 3 with an endless passion for travel. We've been together for more than 3300 days, discovered 16 countries together (and an additional 15 individually) & in 2021, we traveled across our country with a baby on board. You can find more from Eszter and her family adventures on their blog and Instagram, @justdiariestravel.
*Unless otherwise noted, all images within this article are courtesy of and belong to Eszter Horvath Somogyi.
*Due to the COVID-19 pandemic, some of the attractions, accommodations, or things to do on this list may be closed. Please ensure availability before making your decision.
*This post may contain affiliate links that may earn us a small commission, at no additional cost to you. Affiliate links in no way inform the hotels, sights, products, or other recommendations included in our articles. All opinions and recommendations expressed here are compiled from submissions submitted by the generous members of our Families Who Love To Travel community.
READ MORE: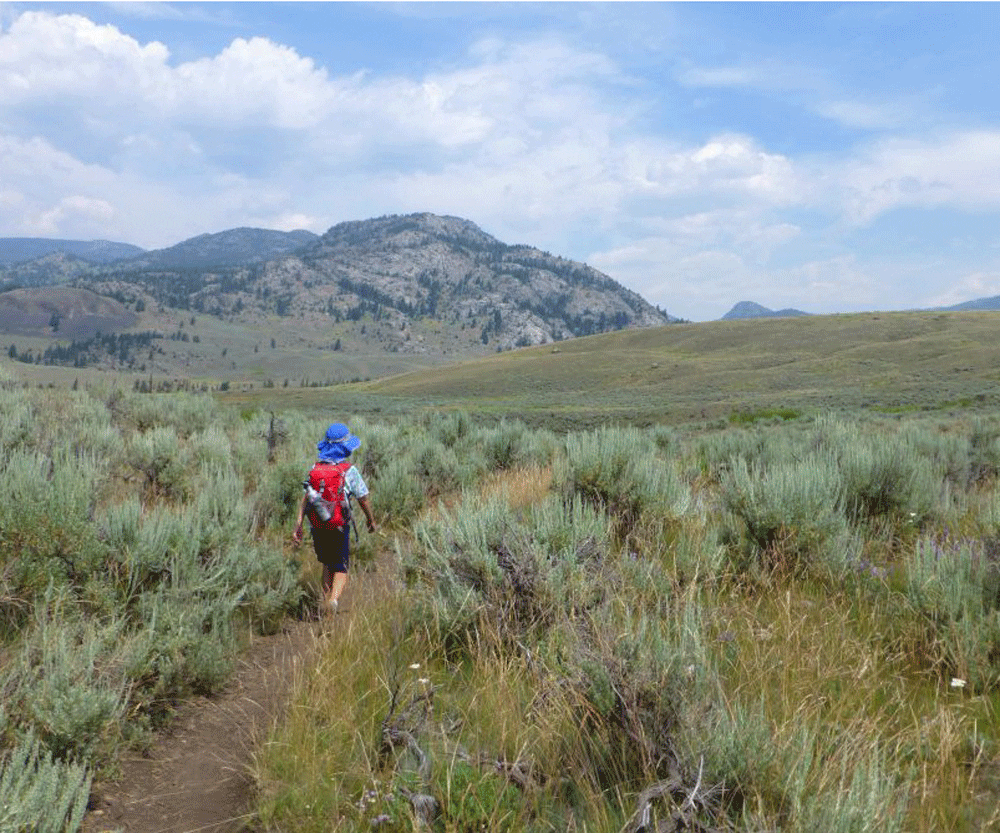 Everyone knows that Yellowstone National Park makes for a classic family vacation. Strolling the boardwalks...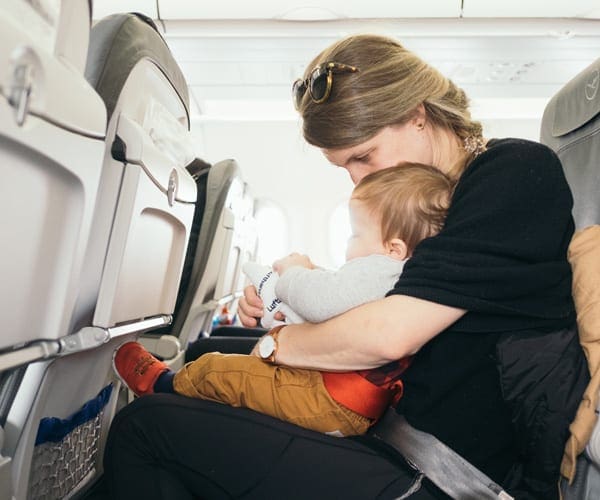 Families Who Love To Travel contributor Meghan Oaks provides her 10 best tips for your...