Madrid, Spain is home to a vibrant culture, incredible food, and breathtaking sights. As the capital city of Spain, Madrid is a thriving metropolis in the heart of the country. Your kids will be amazed by the art in the Reina Sofia and impressed by Madrid's Royal Palace. Even the pickiest of eaters can find something to enjoy in the city, and there are plenty of activities at all price ranges. It is the perfect vacation spot to be immersed in Spanish culture, architecture, and cuisine. We have compiled the Best Blogs For Madrid With Kids to help you plan your perfect Spanish vacation!
Family Globetrotters
Top 50 Things to Do in Madrid with Kids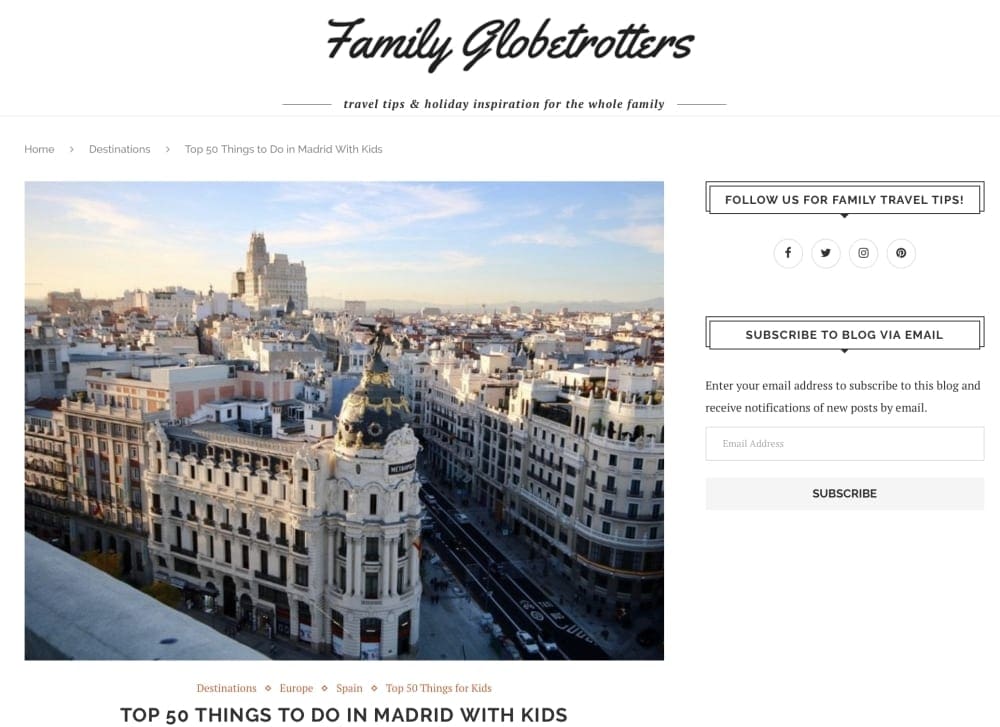 If you are looking for a comprehensive guide to all things Madrid, Family Globetrotters is your answer. Their blog on the Top 50 Things to do in Madrid with Kids is incredibly thorough, broken down by distance from the city center. For families looking to stay close to central Madrid, there are 29 ideas for activities and sightseeing spots. Firstly, check out Retiro Park and ride on a rowboat or visit the Crystal Palace made of glass. Then, find the best places to eat churros in Madrid, like Chocolatería San Ginés. If you are willing to go a little further out of the city, you can tour the Real Madrid football stadium or visit outdoor swimming pools. Kids will love taking in the Spanish sun throughout the city! Read more here!
We3Travel
What to do in Madrid with Kids
We3Travel's experience in Madrid provides a unique solution for lodging. Instead of staying in a hotel in Madrid with kids, you can rent an apartment through a service like HomeAway. The Grubers were able to stay in the heart of the city, with easy access to the main attractions Madrid has to offer. Plaza Mayor is a must-see for kids and adults. The bustling square has many surrounding cafes, and it is home to street performers to entertain you. Then, if you are looking for several stops nearby, visit Paseo de Prado. Here, you'll find beautiful part of town includes Cybele's Fountain, the Prado Museum, and several other museum options. Finally, there is no shortage of activities to enjoy with your children in this part of Madrid. Read more here!
Globetotting
Spain with Kids: 10 Things to do in Madrid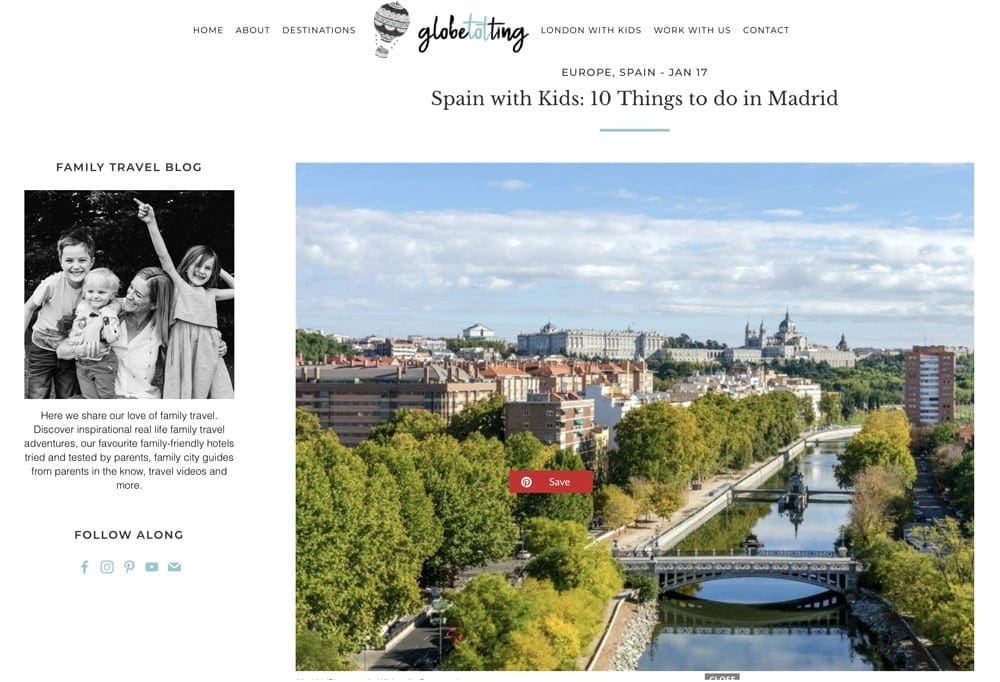 Whether you have a few days or a few weeks, there is no shortage of things to do in Madrid with kids. Globetotting highlights the variety of flavors and aromas that come from the local markets. Stop by the San Miguel Market or the San Anton Market if you need a break in your day. Here, everone in your family can find something to munch and enjoy. Then, visit the Cervecería Alemana in Santa Ana Square for a deep dive into this area's history. The little bar was one of Ernest Hemingway's favorite spots to research his novels. There are plenty of beverage and food options for both adults and children. Finally, you can enjoy traditional Spanish cuisine in the bustling square. Read more here!
The World Is A Book
5 Fun and Free Things to do in Madrid with Kids
Vacations can get expensive, especially if you are bringing your entire family along. The World Is A Book's blog offers great ideas for free activities in Madrid that your kids will love! The ideas in this blog are mainly geared towards older children, but they can definitely be enjoyed by all. If you need a place to walk around or stretch your legs, stop by El Retiro Park in the center of the city. Families come to the park to enjoy the beautiful green spaces and play on the playgrounds. Then, add some art and culture to your trip at Reina Sofia Museum – a must visit. With free admission in the evenings, you can view Picasso's Guernica and several paintings from Salvador Dali. In fact, the building itself is an incredible architectural stop! Read more here!
My Travel Monkey
Top Six Things to Do with Kids in Madrid
European cities like Madrid make great travel destinations for families with children of all ages, as children are generally welcomed anywhere in the city! There are also countless attractions and activities that offer kid-friendly options. My Travel Monkey highlights some of the larger activities you can do with your kids, like the Parque de Atracciones. With Nicokelodeonland and a Walking Dead Experience, this park has something for kids and adults. Then, visit the Zoo Aquarium to see tigers, bears, sea lions, and dolphins all in one place. The zoo is uniquely designed without bars or wires to hold the animals in. Instead, visitors are separated from the creatures by moats. Kids are sure to delight in this unique expeirnece! Read more here!
Parenting To Go
Madrid With Kids: 5 Free Things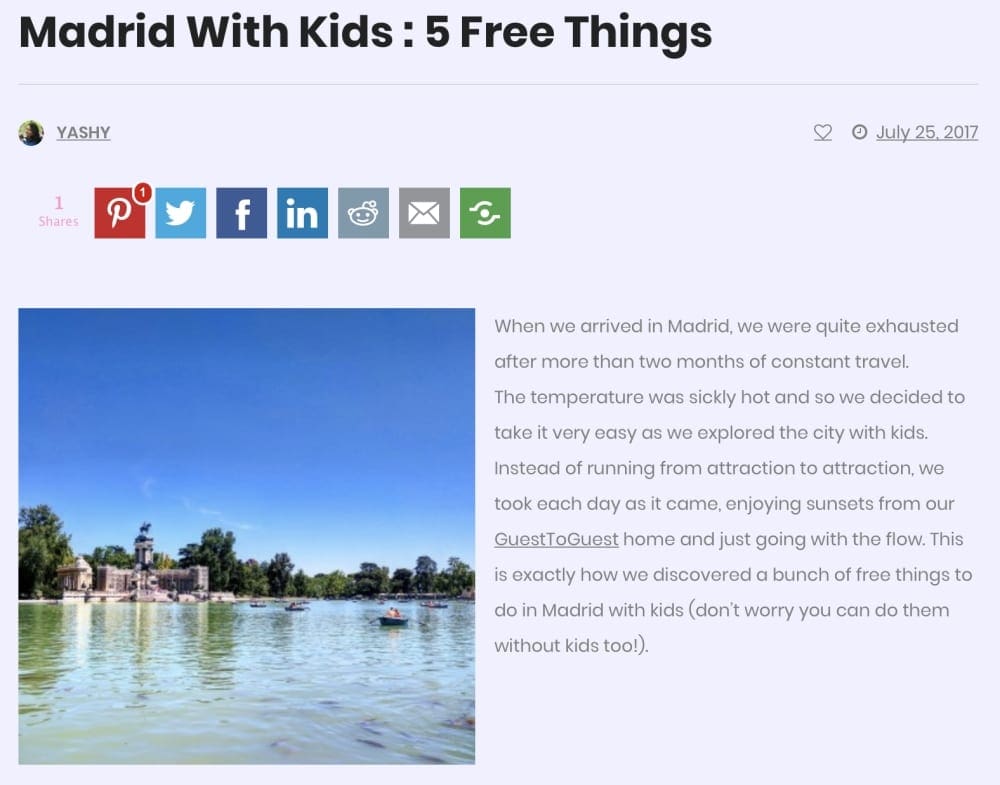 Sometimes the memories are made when you go with the flow and enjoy where the day takes you. Parenting To Go lists many ideas for free activities and sights to see in Madrid with kids. El Retiro Park makes the top of the list, as well as free walking tours of Madrid. If you have a few hours to spend exploring the city, a free walking tour can provide fun historical facts, dining recommendations, and unique sightseeing. Just remember to pack plenty of snacks and drinks for your kids! Then, the Madrid Rio is the perfect place to stop on a hot day. The splash pad offers jets of water to help you and your children cool off after walking the city for hours. Sit in the shade and enjoy a beautiful day in Madrid while your children play in the splash pad. Read more here!
Happy Planning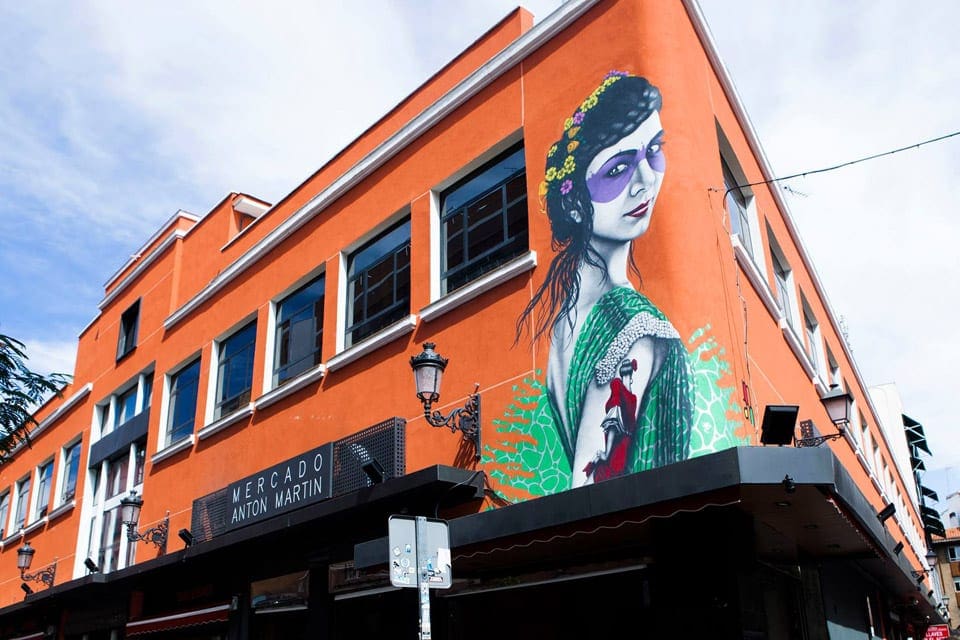 Madrid is truly a stunning location for an unforgettable Spanish family vacation. No matter the time of year, Madrid has the perfect amount of historic museums, tasty food, and Spanish culture. Planning a wonderful family trip to Madrid is sure to be a breeze using these Best Blogs For Madrid With Kids. We hope you have an amazing time making memories with your family in Madrid. Happy planning!
Next, find more things to do in Madrid with kids, as well as lodging, restaurants, and other recommendations on our main page on Madrid.
Have a blog, itinerary, or article you would like us to feature? Contact us!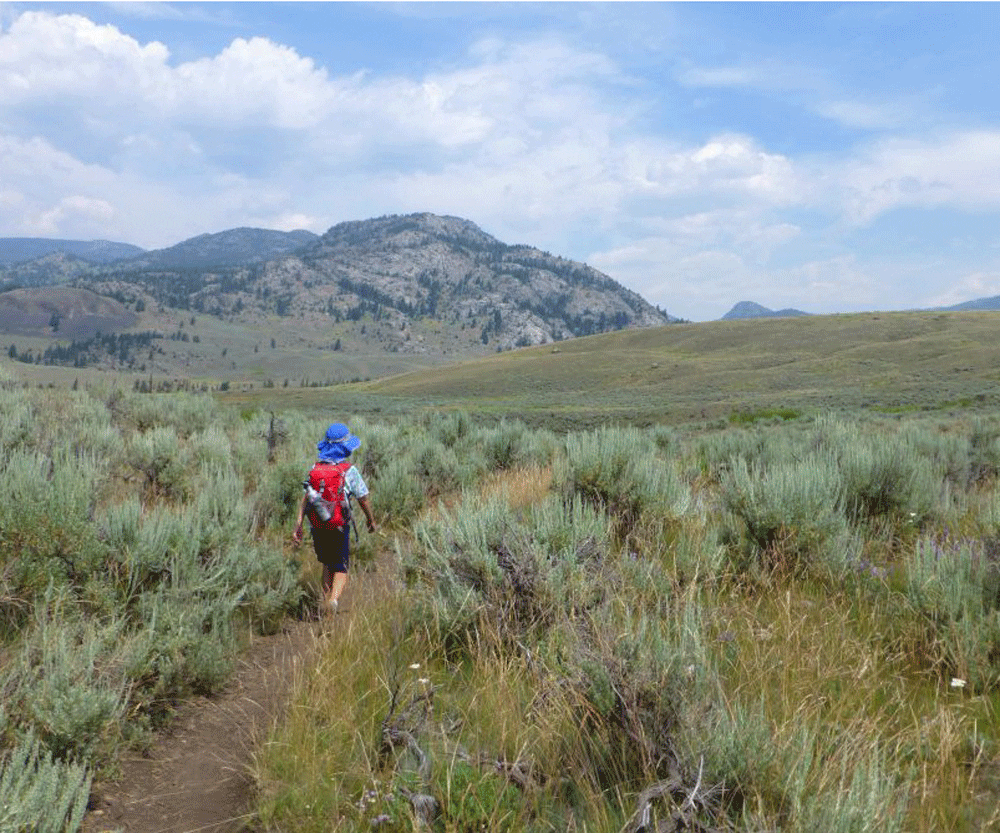 Everyone knows that Yellowstone National Park makes for a classic family vacation. Strolling the boardwalks...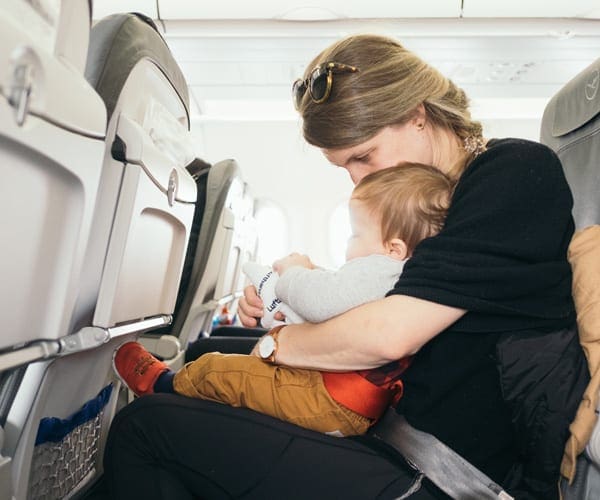 Families Who Love To Travel contributor Meghan Oaks provides her 10 best tips for your...