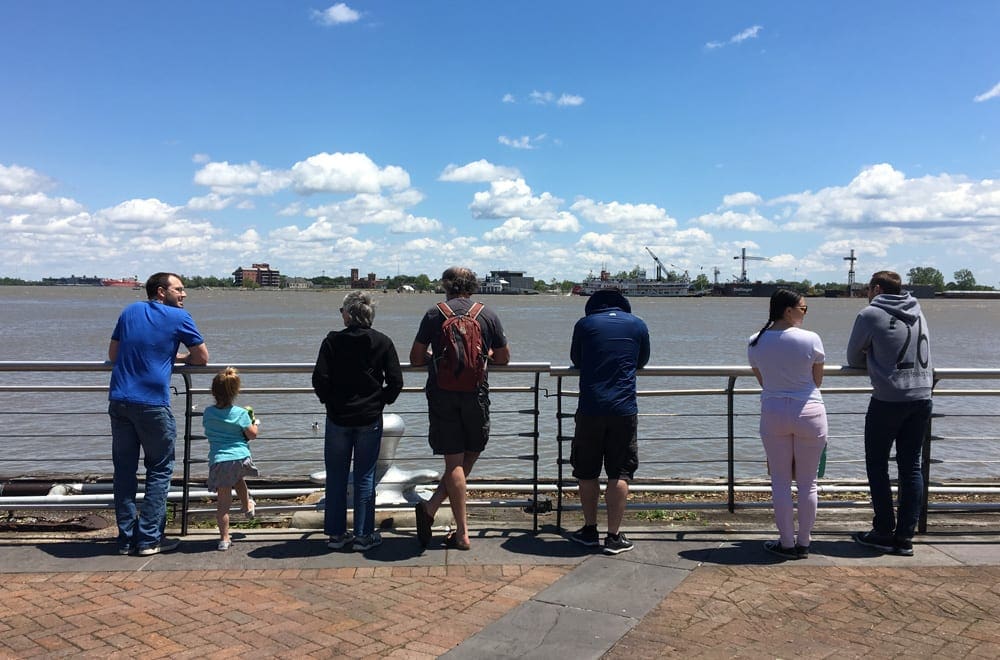 There are so many fun things to do in New Orleans with kids! The Big Easy offers an unparalleled variety of historic and unique cultural experiences families will love. You'll have no problem finding activities that appeal to everyone in your group! In fact, New Orleans provides a beautiful backdrop for multigenerational travel. Meander the iconic French Quarter, learn about Mardi Gras, or take a cooking class at the New Orleans School of Cooking. Then, you can walk to many locations Downtown and in other parts of the city. Or, take a more charming approach by using the iconic red and green streetcars! In New Orleans, you'll discover a city that is easy to traverse (both walking and public transportation), explore, and enjoy. Without further ado, this is your guide to 12 Things To Do In New Orleans With Kids that will allow your family to make amazing memories together!
Planning your next family vacation to New Orleans and don't want to lug your heavy baby gear? Turn to BabyQuip for all your rental needs like strollers, bouncers, car seats, and more! 
French Quarter
The French Quarter is the heart of New Orleans. Its central location, exquisite dining, and variety of activities will keep you entertained throughout your trip. From charming Jackson Square to vibrant Bourbon Street to the scrumptious French Market, the French Quarter keeps everything at your fingertips!
Discover the fun-loving spirit of New Orleans on a family tour of the French Quarter using Viator.
Learn a New Recipe at the New Orleans School of Cooking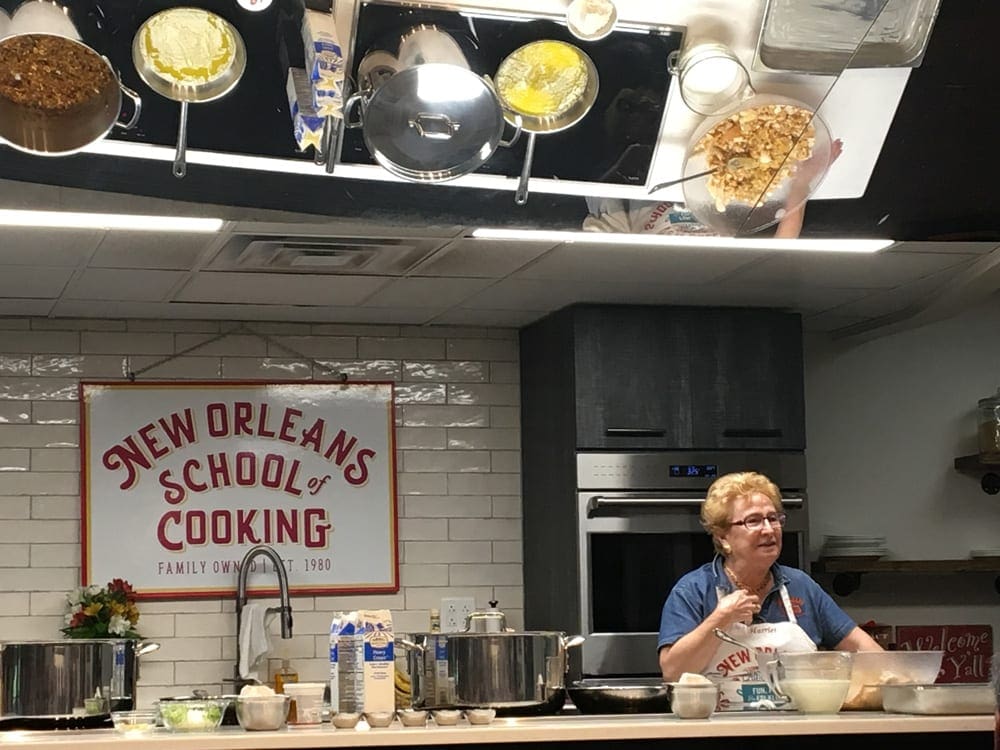 Quintessential to the New Orleans experiences is the food! Whether you are looking for Cajun, Creole, French, or contemporary American food, New Orleans has it all. If you are interested in learning more about iconic New Orleans fare, take a cooking class at the New Orleans School of Cooking! Here, you can learn how to make classic dishes like gumbo, shrimp and grits, bananas foster, and more. Kids will love watching the chefs stir large pots, hearing their humorous stories, and tasting all of the food. Have picky eaters? Don't worry, most menus include something that will appeal to young children (like pralines!) The New Orleans School of Cooking offers large group classes, as well as private cooking classes. If you don't have time for a class, be sure to check out the general store. Here, you can purchase spices, unique souvenirs, cookbooks, and more!
Take the Steamboat NATCHEZ or the Riverboat CITY down the Mississippi River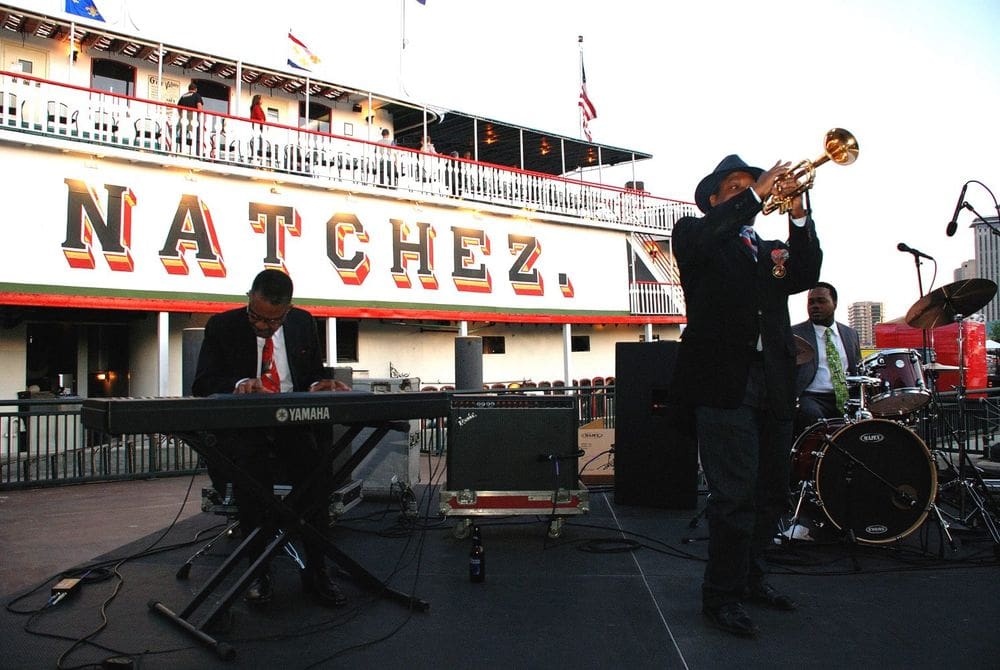 As you stroll near the Mississippi River, look out and you'll likely see the Steamboat NATCHEZ and Riverboat CITY. These historic steamboats are an iconic fixture in New Orleans. Not only can you view these gorgeous ships from the French Quarter riverfront, but you can climb aboard! Choose from several cruise options, including Sunday Jazz Brunch or the Evening Jazz Cruise with a dinner option. Families will love taking in the stunning views from the river. Additionally, dining on New Orleans classics and listening to jazz is sure to make this is a memorable experience for the whole family! In fact, a river cruise is one of the best things to do in New Orleans with teenagers. Families can purchase tickets up until departure time. However, booking ahead is recommended, particularly for the more popular cruises (like the Sunday brunch and the holiday events).
Book Tours and Activities to Experience Steamboat Natchez using Viator.
Mardi Gras Museum of Costumes and Culture
Next on our list of things to do in New Orleans for kids, the Mardi Gras Museum of Costumes and Culture is a great place to immerse in New Orleans and Mardi Gras culture. Here, friendly and helpful staff will treat your family to guided tours and costume changes! Plan to spend at least 30 to 60 minutes here. We recommended that families take the New Orleans Costume & Culture Tour. Through this tour, learn about the local history and culture surrounding Mardi Gras. Afterward, be sure to try on a few costumes! Kids and adults alike will have a blast searching for colorful, bejeweled, and maybe a bit whacky costumes. Have kids pretend they are on the runway as they try on authentic Mardi Gras gear. Be sure to take pictures too! In fact, you can take pictures of your Mardi Gras Kings and Queens on the nearby throne.
Take a Family Tour of New Orleans History
There are many New Orleans tours that families can take to immerse themselves in the history and culture of New Orleans. Firstly, families can take a tour illustrating the history of Hurricane Katrina. Find out how New Orleans families overcame this natural disaster as a community, rebuilding their treasure city one house and block at a time. Then, kids will delight in taking one of the ghoulishly fun ghost tours offered throughout the French Quarter. Learn about the scary amount of monsters who lurk in the shadows of New Orleans! Many companies, including Ghost City Tours, offer family-friendly versions of their more notorious tours. Finally, families can also take a tour to learn more about the infamous mausoleums, tombs, and cemeteries of New Orleans, including the Saint Louis Cemetery. On these tours, knowledgeable guides will share historic facts and New Orleans folklore about its most famous residents, witches, and legends.
Listen to Music at the Historic Preservation Hall
Jazz music is central to the identity of New Orleans. You'll find jazz musicians in clubs, restaurants, and street corners across the city. If you want to be immersed in the music and mesmerized by each sound, you must go to Preservation Hall! Inside, you'll find a music tradition steeped in history. Several shows are offered each night. You can either book tickets in advance (more expensive, but includes priority seating) or queue for general admission. Those hoping for general admission are advised to begin queuing 30-45 minutes before their desired showtime. Generally, those in line between Preservation Hall and the sign for Pat O'Brien's should get in. They do not sell alcohol on the premises, but you can bring a drink inside from one of the nearby establishments. Kids will love singing along with their favorite tunes, like When The Saints Go Marching In!
Stroll through Jackson Square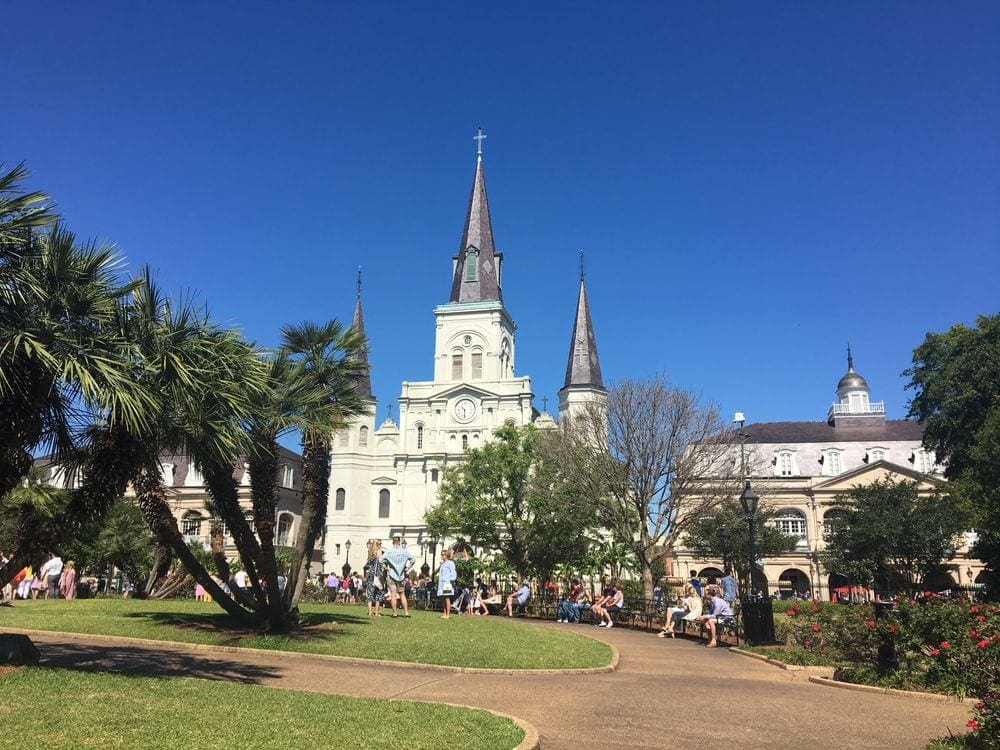 Families looking to people watch and rest their legs can head to Jackson Square. One of New Orleans' most recognized landmarks, it's located in the French Quarter. You'll find benches, green spaces, and a large fountain within the square. It's also a great place to let kids run for a bit during a busy day of touring! Plus, you'll be able to admire the magnificent Saint Louis Cathedral which stands proudly on one side. Jackson Square also holds historical significance, as it was the site where Louisiana was declared a U.S. territory via the Louisiana Purchase of 1803. Kids will love browsing the art stalls, fortune tellers, and jewelry vendors that flank the square. Stroll through and around the square to admire all that makes New Orleans unique. Finally, Cafe du Monde is adjacent to Jackson Square, which means you can enjoy yummy treats while you rest!
Indulge in Iconic Beignets from Cafe du Monde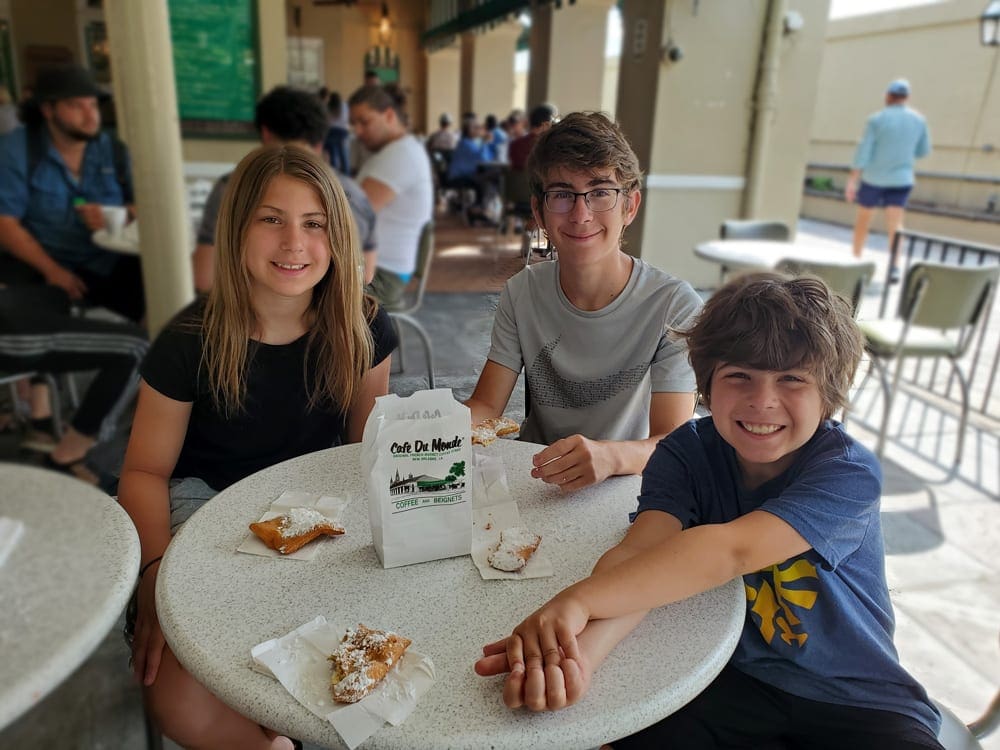 In the French Market, you'll find the iconic Cafe du Monde. Eating here is simply one of the best things to do in New Orleans with kids! Your family will love sampling beignets, the French-inspired, Louisiana version of a doughnut. Stop in for one of these fried squares covered in powdered sugar, sure to give your kids enough energy for another hour or two of walking! Coffee lovers will also want to try Cafe du Monde's specialty-brewed coffee with chicory. It's an unusual blend that is definitely one to experience when you're in the Big Easy. Cafe du Monde is open every day around the clock, but if you decide to stop for breakfast, be sure to plan a little extra time. Don't be deterred by the line, it moves fast. Once you taste the delectable, warm beignets, you'll know what the locals know, that the wait is worth it!
Audubon Aquarium of the Americas
Families are in for a real treat at the Audubon Aquarium of the Americas. Adjacent to the French Quarter, this centrally located activity in New Orleans for kids offers a variety of exciting exhibits. Transport your family across the Americas through the aquariums, including local Mississippi critters, as well as sea creatures from the Caribbean to the Amazon Rainforest. Kids will adore spotting African penguins, white alligators, sea turtles, sea otters, and more! Then, kids will be enchanted by the Great Maya Reef. In this exhibit, kids can explore a submerged Mayan city. After walking through the tunnel, explore several submerged ruins and marine life native to the Yucatan Peninsula. Afterward, enjoy hands-on fun meeting the resident birds at Parakeet Pointe. Finally, a gift shop and dining can also be found on-site.
Explore the Audubon Butterfly Garden and Insectarium
Those traveling with small children can't miss the Audubon Butterfly Garden and Insectarium. Located in the U.S. Custom House on Canal Street, this delightful environment will engage kids in all of their senses. In fact, this is the largest museum devoted to insects in North America! Families can spend hours meandering the exhibits, seeking out the colorful creatures. Kids can even get up close and personal with inspiring critters such as tarantulas, blue morpho butterflies, termites, and dung beetles. Curious kids will devour the informative plaques describing the inhabitants of each habitat. Wander through the plethora of exhibits where you'll be shrunk to bug size, explore the Louisiana back-country, and enjoy other interactive opportunities. With so much to offer, you'll quickly see why the Audubon Butterfly Garden and Insectarium is one of the best things to do in New Orleans with kids!
NOTE: The Audubon Butterfly Garden and Insectarium are temporarily closed and moving. Find details here.
Meander the French Quarter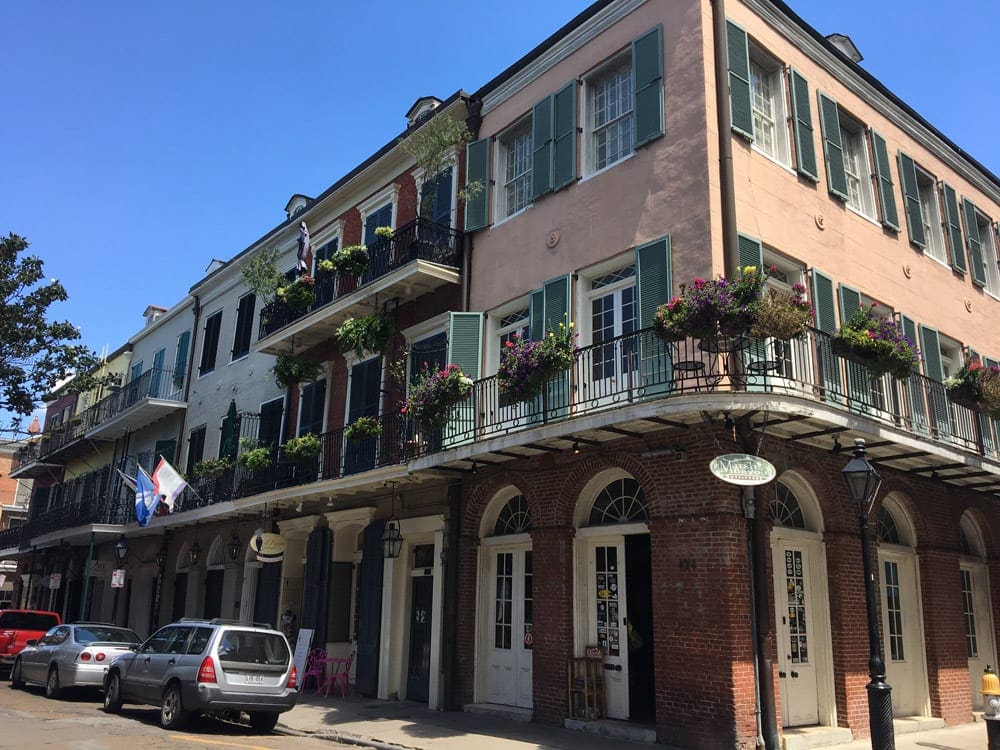 The French Quarter is truly a sight to behold! Not only is the French Quarter the heart of New Orleans, but this historic district also has a vibrant nightlife, quaint shops, and restaurants galore. Families will love to meander the cobblestone streets while gazing upon colorful buildings and flowers around every corner. You can witness the city truly come alive on the streets of the French Quarter! Once you've had your fill of the busier parts of the French Quarter, head toward the French Market where you can find artisan shops and foods to spoil your kids and find souvenirs for friends and family. Off the French Quarter, you'll also find Jackson Square, a great place to spend a lazy afternoon (more on that later!). The French Quarter never looks the same, so it's best to wander this infamous neighborhood more than once on your family trip to New Orleans.
Lakeview
Also known as the Lakefront neighborhood, Lakeview is ideal for those seeking a slower pace and a casual vibe. Not only will you find family fun at City Park, but Harrison Avenue is perfect for an afternoon of dining and shopping.
Relax or Explore the Attractions in City Park
New Orleans can be an adventure! But if you're looking to slow down a bit and relax, there is no better place than City Park. This 1,300-acre public park is truly one of the best things to do in New Orleans with kids! Inside, you'll find the Louisiana Children's Museum, the New Orleans Museum of Art and Sculpture, and the New Orleans Botanical Garden. Those traveling with little kids will love meandering through Storyland, playing minigolf at Miniature Golf at City Putt, visiting one of the playgrounds. Or, families can take a ride on the historic carousel, lovingly referred to as the "Flying Horses" by the locals. For a quick snack, grab a beignet from the Cafe du Monde satellite shop, while your kids play at the nearby playground. Finally, you can also rent a swan boat or surrey bike to tour and enjoy the grounds.
Depending on what you do, enjoying a day at City Park is also one of the best inexpensive things to do in New Orleans. Here are a few options for what to do in New Orleans City Park with kids.
New Orleans Museum of Art and Besthoff Sculpture Garden
Inside City Park, the New Orleans Museum of Art and Besthoff Sculpture Garden is a fun find for families looking to escape the heat and meander through galleries of exquisite art. The museum offers regular galleries and visiting exhibitions. Families can enjoy galleries featuring everything from West African art to Roman Catholic art from India to contemporary art pieces. Then, in the outdoor sculpture garden, families can wander through more than 90 sculptures by artists from around the world, set within lush, curated Louisiana-inspired gardens. Kid and adults alike will adore strolling the well-manicured paths and discussing the large installations they find! Finally, families will find a cafe and gift shop on-site.
Note: The New Orleans Museum of Art is closed on Mondays. The outdoor Besthoff Sculpture Garden is open 7 days/week.
Louisiana Children's Museum
If you're searching for what to do in New Orleans City Park with kids, the Louisiana Children's Museum has to top your list. Kids will delight in playing throughout the indoor and outdoor areas. Outside, your kids can explore exhibits on the water, in the garden, and more! Indoor exhibits explore a variety of family-friendly topics, including food, music, and art. Those will babies in tow will love the interactive Play With Me experience, designed for parents and babies to explore the senses together. Finally, as one of the most kid-friendly things to do in New Orleans, you can rest easy knowing your kids will have a blast here! Before you leave the museum, head to the on-site gift shop featuring educational gifts and unique toys to bring home with you.
Note: The Louisiana Children's Museum is currently temporarily closed for daily visits.
New Orleans Botanical Garden
While meandering the New Orleans Botanical Garden, families can really take it easy in the Big Easy. Featuring more than 2,000 plants from around the world, aspiring naturalists will adore identifying plants and showing off their favorites. Open all year round, families can explore ten acres of thoughtfully designed gardens. In fact, you can even find out what's in bloom before you go! Time it correctly and hungry families can delight in enjoying a meal together on Wednesdays from the outdoor kitchen. After you retrieve your boxed meal, head to the gardens and have a picnic in your favorite location. While seating is limited, families can bring their own chairs and blankets for the occasion.
Storyland
One of the best inexpensive things to do in New Orleans with toddlers is Storyland. Tickets are less than $6.00/each and children under 36″ are free. Kids will love strolling through this vibrant and imaginative play area. Featuring kid-centered sculptures and storybook characters, families can spend the morning reading from the huge storybook sculptures. In fact, your family can interact with 20 larger-than-life stories, including Pinnochio, Captain Hook, Jack and Jill, and Cinderella. Let imaginations run wild as you explore this amazing outdoor story museum for kids!
Pro Tip: With your Storyland admission, you can also enter Carousel Gardens Amusement Park if the amusement park is open (through the back gate).
Uptown/The Garden District
Stroll through picturesque neighborhoods filled with charm. Known for manicured mansions, historic colleges, and the St. Charles Streetcar, this area is perfect for an afternoon of leisure. Uptown encompasses the Garden District, The Irish Channel, Central City, and The Riverbend.
See the Animals at the Audubon Zoo
The Audubon Zoo is one of the best things to do in New Orleans with kids! It's a can't miss attraction for those traveling with littles. Covering over 58 acres and housing 2,000 animals, kids will delight in gazing upon these magnificent creatures. In fact, families can see Asian elephants, giraffes, cougars, capybaras, and many more amazing animals. You'll even have a chance to see the famed white alligator! Specifically designed to entertain kids, most exhibit areas are paired with a playground. This allows children to let loose and play, while also learning about the critters who call the zoo home. The Audubon Zoo also includes a carousel, as well as several dining options for families. Finally, families looking to cool down should pack their swimming suits, as there are a splash pad and lazy river on-site!
Arts/Warehouse District
This trendy neighborhood features an artistic flair and a very walkable area. Families will find several things to do in New Orleans with kids here, as well as several delicious restaurants.
Celebrate at Mardi Gras World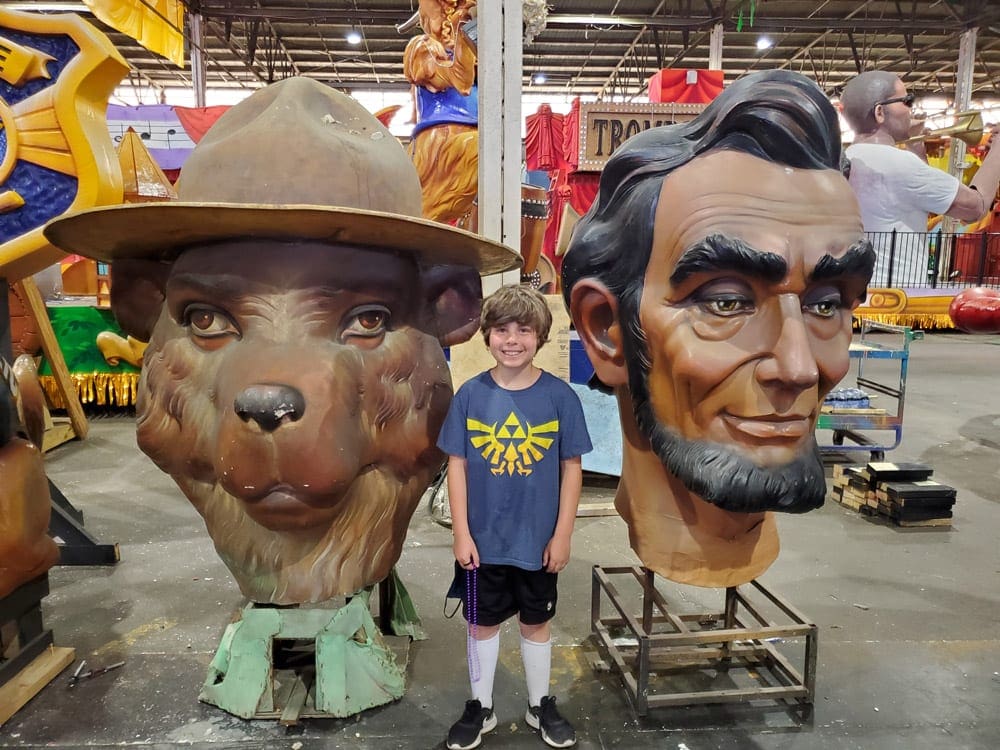 New Orleans hosts the largest Mardi Gras celebration in the United States. Even though the parties and parades take place in February, a visit to Mardi Gras World is a memorable New Orleans experience! The museum will give you a glimpse into the iconic festivities, no matter what time of year you visit. The main attraction at Mardi Gras World is the tour through the work area. Here, giant and elaborate floats and props are built. Your family will adore learning how these floats are designed; from the blank forms to the decorative creative process to the vibrant, finished floats (past and future). This is your opportunity to get up close to the colorful floats. Before you take the tour, don't miss the video telling the history of Mardi Gras. Finally, discover all the details involved in planning this iconic celebration!
Learn About the Battle of Normandy at The National WWII Museum
Do you have a history buff in your family? If so, The National WWII Museum is a must-stop! In this military history museum, you can learn about the Battle of Normandy and the Japanese internment camps enacted by the U.S. military during WWII. (Plus other significant war-time events that occurred in both Europe and the Pacific Ocean.) Throughout the museum, you'll also find interactive learning opportunities, first-person accounts, and informative plaques in each exhibit. Be sure to check the calendar before your visit, as the traveling and special exhibits change frequently! Museum tours are also available, which offer an additional opportunity to learn about WWII from a knowledgeable guide. Older kids in particular will appreciate seeing history come to life in this well-designed, interactive museum. Finally, families will also find on-site dining that includes classic Americana fare like milkshakes and hamburgers!
Outside the City on the Bayou
Outside of the city center of New Orleans, you'll find a world of fun! Kids will love exploring these family-friendly things to do.
Embark on a Bayou Tour
One of the best things to do in New Orleans with kids is to embark on a Bayou Tour. New Orleans offers a variety of tour companies that can transport your family into a nearby bayou. In fact, some hotels can even arrange tours for families and many tour companies will provide transportation to select locations or hotels! Based on the personal experiences of our team, we recommend Happiness Bayou Tours or Cajun Encounters. On your tour, learn more about the local flora and fauna, including alligators, a variety of birds, turtles, and wild boars. Many tours have captains who grew up on the bayou and are willing to share their personal experiences, as well as humorous stories about their Louisiana adventures. On the Happiness Bayou Tour, you can even see George kiss an alligator! Happiness Bayou Tour also offers private tours, which are highly recommended for larger groups!
Where to Stay in New Orleans with Kids
If you're wondering where to stay in New Orleans with kids, we have a few recommendations to start your search! Firstly, the following options are all located in the French Quarter. Families love The Ritz-Carlton, New Orleans, for its central location in the French Quarter and luxury hotel amenities. Or, within walking distance of Jackson Square, Grenoble House offers vacation rentals in a historic building. If you're looking for a pool, try Omni Royal Orleans, offering a heated rooftop pool in the heart of the French Quater, as well as a fitness center. Finally, Royal Sonesta Hotel New Orleans and Bourbon Orleans Hotel are both located on Bourbon Street for families interested in being in the middle of all the action!
On the edge of the French Quater and the Downtown/Central Business District, The Roosevelt New Orleans, A Waldorf Astoria Hotel offers a rooftop pool and hot tub, fitness center, and full-service spa. Then, families looking to stay in the New Orleans Art District should consider the Loews New Orleans Hotel as a great family-friendly option. Finally, families looking for additional room to spread out (with kitchen or outdoor space possibilities) can try VRBO and Airbnb too.
A Notes About New Orleans During COVID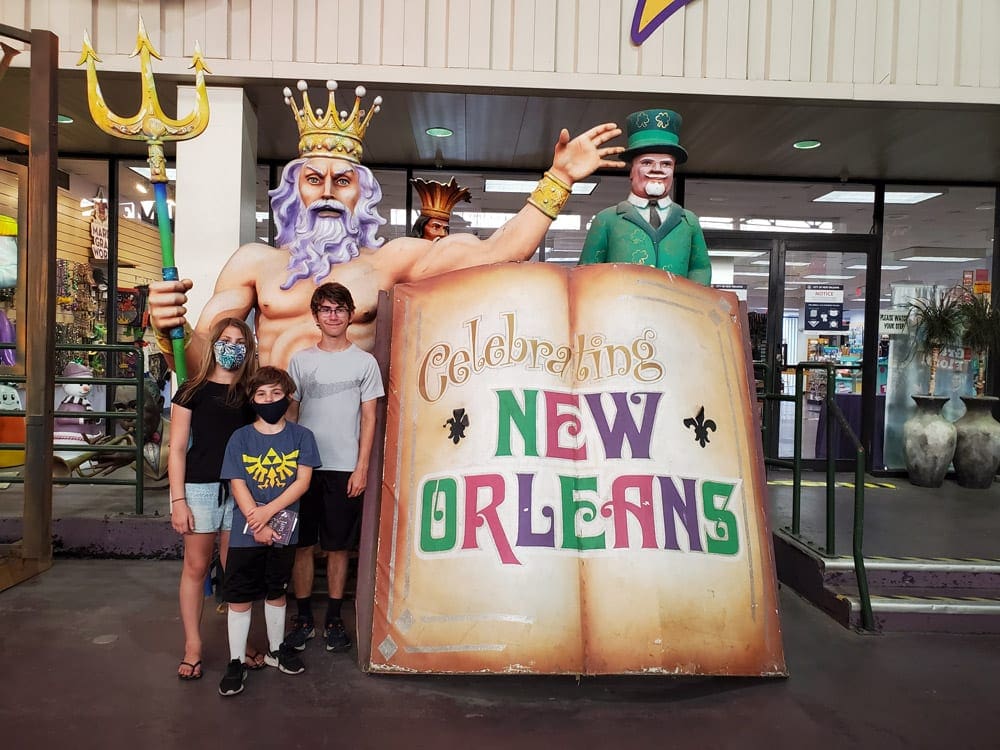 Common safety guidelines are in practice in New Orleans during the COVID-19 pandemic. Masks are required when out in public. Some restaurants may be closed and others may have limited seating. Since restaurants may not be operating at full capacity, you may want to have reservations and try calling ahead to find out the latest information. Visit the New Orleans visitor website before you go. Because the situation is always changing, you'll want to call ahead and find out what to expect.
Happy Planning!
New Orleans can come with a bad rap – and many only see it as a place to drink and party. However, we know New Orleans is becoming more and more of a family destination. One, where great food, informative local tours, and quaint walking districts provide families a wonderful place to make memories. No matter what is on your bucket list, New Orleans is a fun, vibrant city waiting to be explored! We hope you include these 12 Things To Do In New Orleans With Kids on your next visit.
*Due to the COVID-19 pandemic, some of the attractions, accommodations, or things to do on this list may be closed or may have reduced services. Please ensure availability before making your decision.
*This post may contain affiliate links that may earn us a small commission, at no additional cost to you. Affiliate links in no way inform the hotels, sights, products, or other recommendations included in our articles. All opinions and recommendations expressed here are compiled from submissions submitted by the generous members of our Families Who Love To Travel community.
READ NEXT:
12 Warm U.S. Spring Break Destinations for Families
9 Best Florida Beaches For Families
14 Fantastic Things to Do in Miami with Kids (Including Indoor Activities!)
The 13 Best Places To Go For Halloween With Kids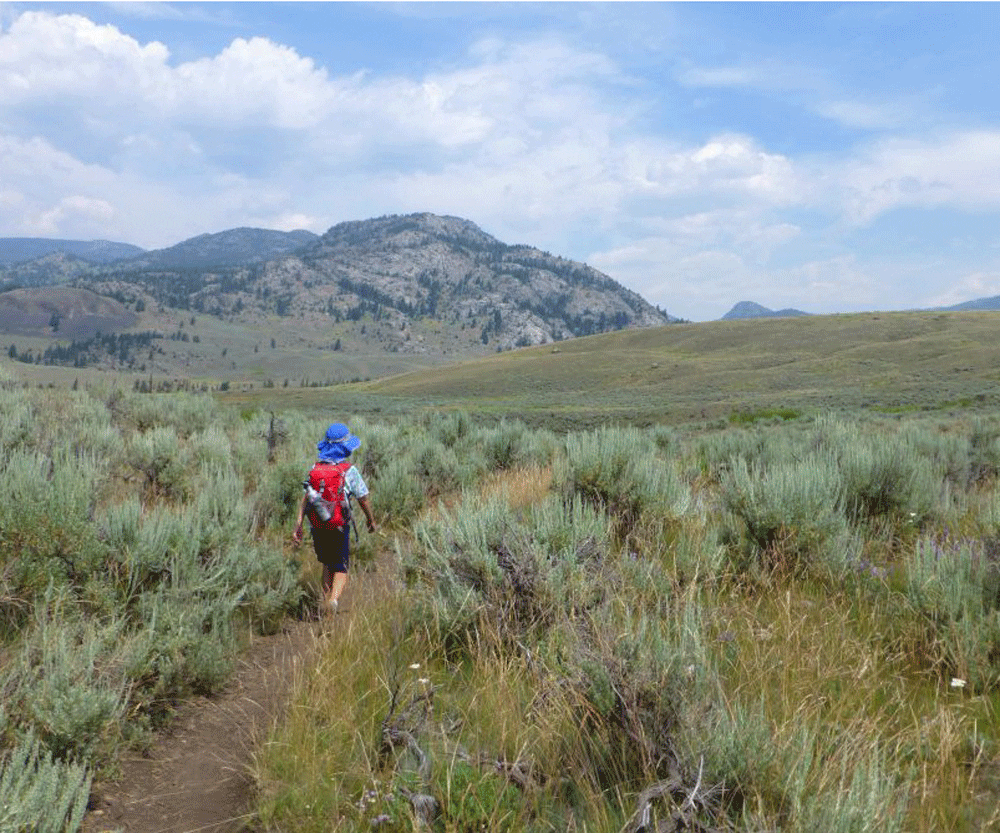 Everyone knows that Yellowstone National Park makes for a classic family vacation. Strolling the boardwalks...
What are the best road trip planning apps for camping and RVs? You'll be surprised...