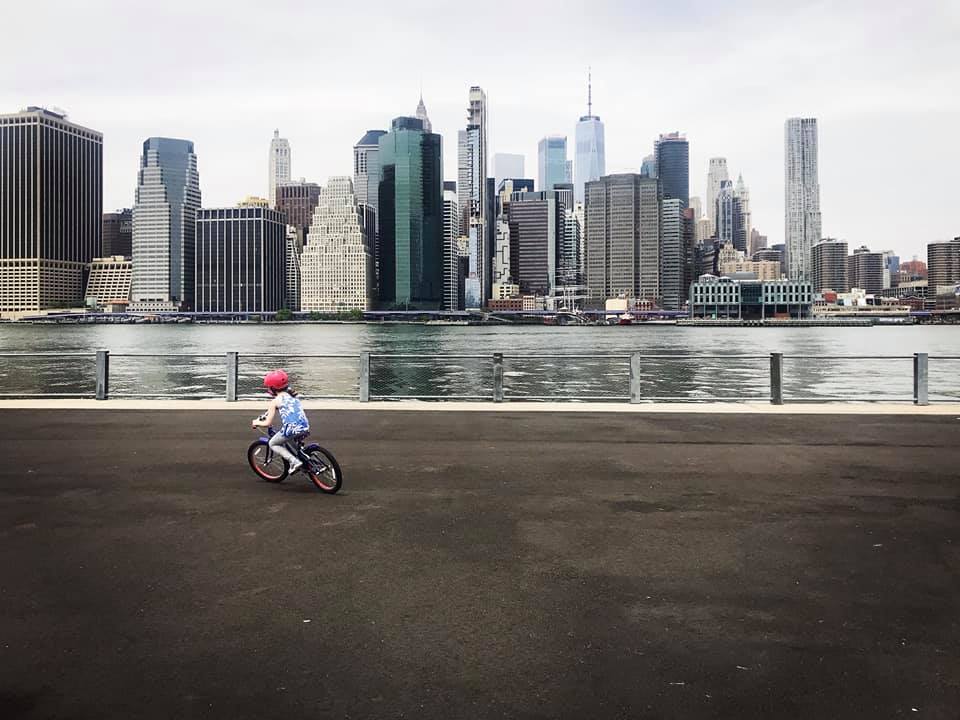 If you're searching for things to do in New York City with young kids, you're in the right place! From Brooklyn to the Bronx, parents with little children won't have to worry about keeping busy in this dynamic city. Though NYC may be renowned for its nightlife, cultural sites, and more excursions geared toward older kids or adults, you'll still be able to plan a great itinerary if you're visiting with young kids. Families can walk around Central Park, for example, or visit one of the city's many museums. Animal lovers will treasure their time at the Bronx Zoo; meanwhile, the whole family can enjoy a Gazillion Bubble Show. So, next time you need things to do in New York City with young kids, our list can tell you everything you need to know, including hotel suggestions. Keep reading for our parent-approved advice!
Things to Do in Central Park With Young Kids
Central Park is a classic NYC attraction, and should definitely be on your itinerary! Plus, it's also one of the best free things to do in New York City with young kids! If you need suggestions on things to do in Central Park with young kids, keep reading! 
READ NEXT: 14 Best New York City Outdoor Activities For Kids
Walk Around Central Park
Central Park's sprawling landscape is great for a day of relaxing and roaming with young kids. Take a spin on the famous Central Park Carousel, located along East 65th Street. Near 79th Street, enjoy the view from the historic Belvedere Castle. Kids will delight in all the funky equipment at the Ancient Playground near East 86th St and 5th Avenue. We also recommend checking out the unique architecture at the Billy Johnson Playground near 67th Street. Or, the Heckscher Playground on 65th St. During the summer, pack a picnic to eat on the lush greenery. Listen to a free summer concert, go boating, biking, and race model sailboats. Book a fishing trip through the Charles A. Dana Discovery Center. At Wollman Rink, enjoy the annual Victorian Gardens Amusement Park. Or, head to Wollman Rink in the winter to ice skate. Another, Lasker Rink, is located further north near 110th Street.
Spot Wildlife at the Central Park Zoo
Get the New York Sightseeing Pass here! The Central Park Zoo is an admissions option with this pass.
The Central Park Zoo is another fantastic place to spend the day with young kids. Located along East 65th Street and 5th Avenue, this family-friendly establishment showcases grizzly bears, sea lions, and more unique creatures. Grab a map before your visit, because there's a lot to cover! Kids will love walking through immersive exhibits like the Tropic Zone, with lemurs, Victoria-crowned pigeons, and other exotic animals. Of course, don't miss other popular exhibits, like the Snow Leopard section or Grizzly Bear Overlook. In the Polar Circle, see penguins, puffins, and harbor seals. Then, say hello to sea lions in the Central Garden. Remember to stop by the Temperate Habitat to spot rare red pandas and snow monkeys! Interactive experiences for the whole family include 4-D Theather showings, or penguin and sea lion feedings. There's also a small petting zoo for children. Buy your tickets beforehand to avoid any waiting.
​​Buy your tickets now to visit The Central Park Zoo and guarantee a worry-free family vacation!
See a Performance at the Swedish Cottage Marionette Theater
Looking for an enriching way to entertain young kids in Central Park? Try The Swedish Cottage Marionette Theater on 79th Street near Central Park West! Located in a historic Swedish cottage from the 1800s, this quaint theater puts on super fun puppet shows for families of all ages. No wonder it's one of the best things to do in New York City with young kids! Based on children's classics, like Peter Pan, these interactive shows are perfect for children who aren't quite ready for Broadway yet. Enjoy incredible music, acting, and even lighting optical illusions during the 50-minute show. Parents usually sit on the sidelines to give kids a good view of the stage, so they can have fun among friends too. The City Parks Foundation also provides some other activities for young kids to complete at home or during their visit, like special coloring pages or arts and crafts. 
Things to Do in the Upper West Side with Young Kids
If you're exploring the Upper West Side and need things to do with young kids, you won't be hard-pressed to find options. Here are some family favorites!
Get to Know the Animals at the American Museum of Natural History
The American Museum of Natural History is an admission option with CityPass New York City or The New York Sightseeing Pass!
Watch fossils come to life at the American Museum of Natural History! Kids will feel like they've entered their very own viewing of Night at the Museum – complete with thousands of prehistoric artifacts! Accessible via the B or C train to 81st St, this family-friendly museum splits exhibits based on location, such as Asia, America, and Africa. See the amazement on your kids' faces as exhibits display life-size dinosaurs, Alaskan brown bears, sea creatures, and other animals. Watch out for the giant blue whale hovering over the main area! Visit in the morning so you have enough time to see as much as possible because one day might not be enough with young kids. Between Hayden Planetarium, a Sea Lion movie, and special rotating exhibitions, it's entertainment for the whole family! No wonder this is one of the best things to do in New York City with young kids.
Buy your American Museum of Natural History tickets now for your next family vacation before it's too late!
Challenge Your Creativity at the Children's Museum of Manhattan
Enjoy five floors of fun at the Children's Museum of Manhattan! Located on West 83rd Street between Broadway and Amsterdam Ave, you could easily add this stop to your vacation itinerary. After all, it's one of the best things to do in New York City with young kids! Exhibitions will get little ones thinking, from the environmental center, which has an outdoor water section, to the first-floor art gallery. Kids will surely get a kick out of climbing through a giant, kaleidoscopic sculpture! There's also a hands-on, interactive exhibit where kids can pretend they're the stars of their very own comic book. Don't forget about joining Diego and Dora on their adventures on the second floor! Every exhibit caters to different ages, but most are suitable for kids between two and ten years old. The Children's Museum of Manhattan also provides families with various educational resources, like classes for kids.
Don't lug the baby gear with you on your next trip to New York! Rent everything you need using BabyQuip.
Roam Riverside Park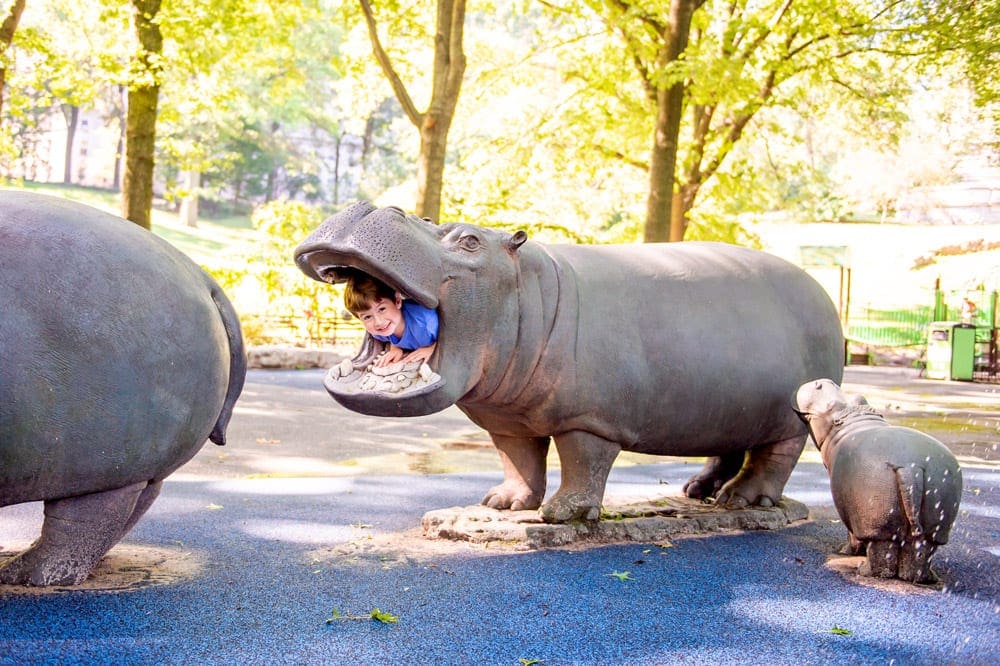 Searching for the best free things to do in New York City with young kids? Roam Riverside Park! Spanning 72nd to 158th Street along the Hudson River, this waterfront park is popular with families thanks to its abundance of entertainment for all ages. One of the best attractions here for kids is the various playgrounds located throughout the park, like the Hippo Playground by 91st and Riverside Drive. It features a large lawn area, sandboxes, and also some famous hippo sculptures that spout water during the summer months! If you have a dinosaur lover in your family, don't hesitate to also visit the Dinosaur Playground on 97th Street and Riverside Drive. Other fun playgrounds for kids include the Elephant Playground on 76th Street, or the Little Engine Playground on 67th Street. Aside from the playgrounds, feel free to explore the park, sit by the water, and enjoy the view!
Things to Do in Downtown Manhattan with Young Kids
Need things to do in downtown Manhattan with young kids? We have lots of suggestions, so keep reading! 
READ NEXT: Best Museums In NYC By Age For Families
Take A Spin On The Seaglass Carousel
What if you could take a spin on a beautiful underwater carousel? The Seaglass Carousel at Battery Park Conservatory can recreate this one-of-a-kind experience! Enclosed within its own building, this magical merry-go-round glows and changes color as it spins. But, instead of horses, it's all vibrant fish! The Seaglass Carousel will transport your kids into an underwater fantasy far removed from the hustle and bustle of New York. If you're sightseeing in the area, make a quick stop here to liven up your trip. (Visit after nightfall for even more spectacular visuals!) Open all year round, it's always a great family activity regardless of the season. It's also a great rainy day activity in New York City with young kids. Plus, ticket bundles save you money, so it makes more sense for the whole family to ride! Afterward, you can also take kids to the Imagination Playground on South St.
Touch Slime at the Sloomoo Institute
The Sloomoo Institute is your family's one-stop-shop for all things slime! Located between Broome and Grand Street along Broadway, this experimental pop-up lets kids get up close and personal with all types of funky textures. Sink your hands into over 30 vats of slime, experience the ASMR sound station, and see some CGI renderings. Little ones can even "tag" the museum's slime wall by smearing all different colors on it! Or, build slime sandcastles in the toy area. To make your own slime, they can do so at the DIY slime bar. Plus, if you really want to get down and dirty, the Sloomoo Institute offers the ultimate slime adventure. Walk through 250 gallons of it as you take a special "slime shower!" Beware that your visit here can get sticky fast, so we suggest bringing some wipes or even a vinegar solution to remove the slime.
Burn Energy On A Playground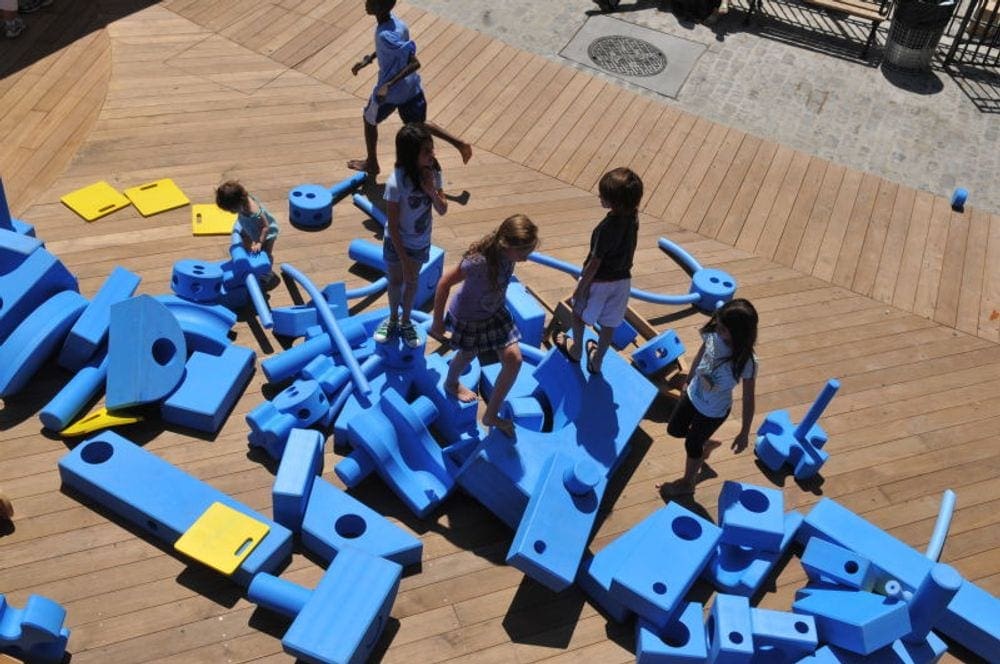 Exploring downtown Manhattan with young kids and need a break from all the sightseeing? You'll be happy to know there are plenty of playgrounds to stop in for a respite! Not only is this a fantastic way to get your kids tired and ready for bed, but it's also one of the best free things to do in New York City with young kids. In Battery Park, stop by Nelson A. Rockefeller Park overlooking the Hudson River. It has a large garden to roam through, plus a traditional playground kids will love. Families visiting Chelsea will cherish the opportunity to stop at Chelsea Waterside Playground on West 23rd Street. Kids will delight in spotting the park's most popular guest: a 22-foot long rainbow structure in the shape of a pipefish! There's also a sandbox, water play area, and more for little ones.
Things to Do in Midtown Manhattan with Young Kids
Midtown Manhattan houses some of the best things to do in New York City with young kids, so you should add it to your itinerary. Enjoy Times Square, the famous 42nd St Library, Pips Island, and more!
Watch the Gazillion Bubble Show
Watch thousands of bubbles float around you at the Gazillion Bubble Show! Located on 50th Street and 8th Ave, adjacent to Manhattan's Theater District, this off-broadway production provides fun for the whole family. During this interactive, one-hour show, you'll be transported into a whimsical world of bubble magic, complete with special laser lighting effects! Watch in amazement as you see all kinds of funky shapes fill the room, made from just soap, water, and some dry ice. Plus, the closer you are to the stage, the bigger the chance some bubbles will land on you! It's also great entertainment for little kids because the performers usually pick volunteers from the audience to come on stage and participate. Show off your skills to an audience, then get some bubbles to take home with you. It'll truly be an unforgettable experience for everyone!
Browse the Toy Shops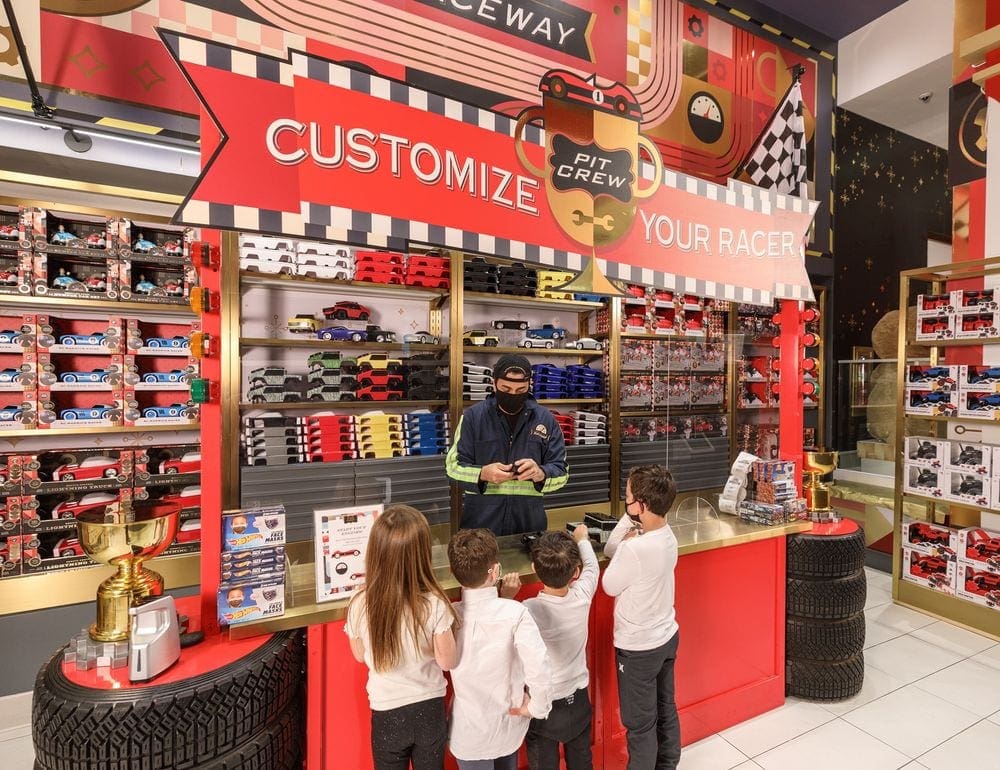 Midtown Manhattan is home to some of the best toy stores in New York, so definitely take advantage of the location while you're visiting. Many families head to Rockefeller Plaza just to visit the famous FAO Schwarz, a must-see attraction for any age. Before you head in, stop to take a picture with the security guards dressed in Buckingham Palace attire! Kids will love exploring all the giant stuffed plush toys in the store. Plus, they'll also be excited to learn there's a special Build-A-Bear Workshop inside! Little ones can design and dress their very own furry friend to take home as a memento of your trip. If you'd rather visit a bigger Build-A-Bear Workshop, there's a larger location near 34th Street. Other toy shops around Midtown include The Lego Store on 5th Avenue or the Nintendo Store. Budding artists may even enjoy a visit to the MoMa Design Store!
Listen to Story Time at the Stavros Niarchos Foundation Library
Though New York City is renowned for its 42nd Street Library, it isn't the only library in Midtown. Since the 42nd Street Library is temporarily closed, head to the nearby Stavros Niarchos Foundation Library to get your daily dose of literature. Recently opened, this new destination features a ton of books kids can browse, plus other fun stuff to do! Visit the new Children's Center, which provides anything from story time to homework resources. If you feel like reading with a view, you can also grab a book and head to the Event Center and Rooftop Terrace. Stop here for a quick bite at the cafe or simply to look around. Afterward, head to nearby Bryant Park for family fun no matter the season. Kids can ride Le Carousel, check out the outdoor reading carts, or go ice skating in the winter!
Meet the Characters in Times Square
Times Square should be on every family's bucket list! Between wandering cartoon characters and flashing bright lights, this popular area on 42nd street is sure to dazzle any kid. Though it may seem a bit corny, young children are sure to love taking photographs with Elmo, Pikachu, and other characters wandering the area. You may even spot the tin man or infamous naked cowboy! Plus, aside from walking around, there's so much to do in Times Square with young kids. Visit the Disney Store, take a trip to Midtown Comics, or see Ripley's Believe It Or Not! Then, when you're ready to satisfy your sweet tooth, head to the M&M Store. No matter what you choose to do in Times Square, we're sure it'll be a highlight on your trip. After all, it's one of the best free things to do in New York City with young kids!
Enjoy an Afternoon at the American Girl Place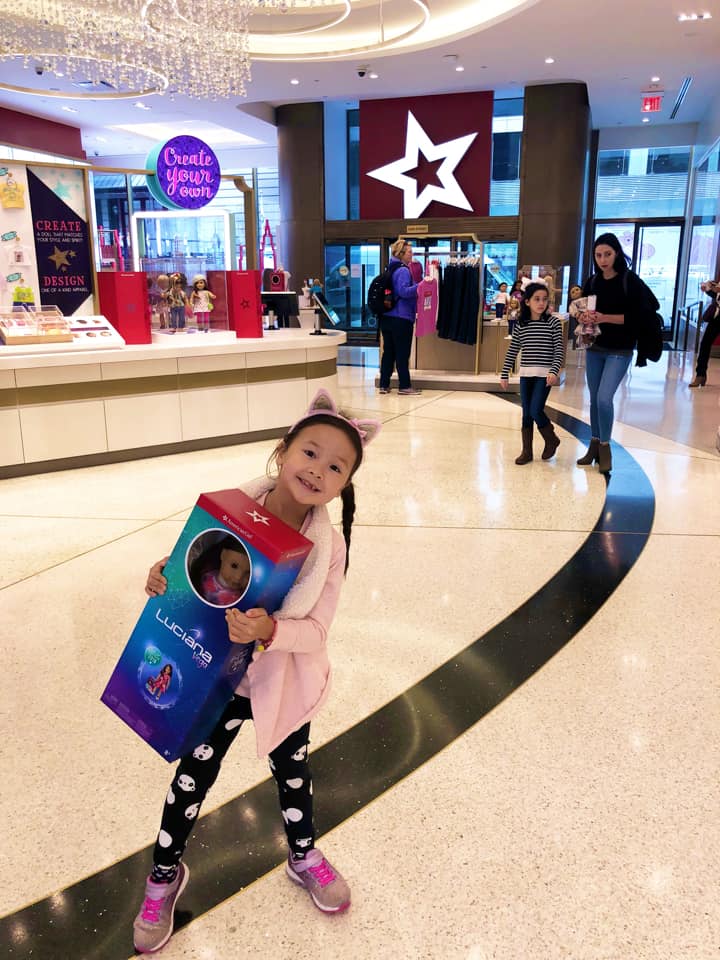 Doll lovers can't miss a chance to visit the American Girl Place! Located off Rockefeller Plaza, this huge department store is a one-stop shop for buying, dressing, and enjoying quality time with American Girl Dolls. If kids don't own one yet, visit the store to buy your first! With limited-edition dolls and permanent models, you'll be able to choose from a variety of adorable options, each with a unique style. (Kids can even help customize their own to look like them!) Then, browse the store to find accessories, clothes, and whatever else you need. There are also other special experiences to enjoy with your doll. Make a reservation for lunch or dinner and kids can eat a tasty meal alongside their favorite companion. Or, head to the salon for a makeover to match your doll! To make the experience even more memorable, parents can hire a personal shopper.
Learn about Maritime History at the Intrepid Air and Space Museum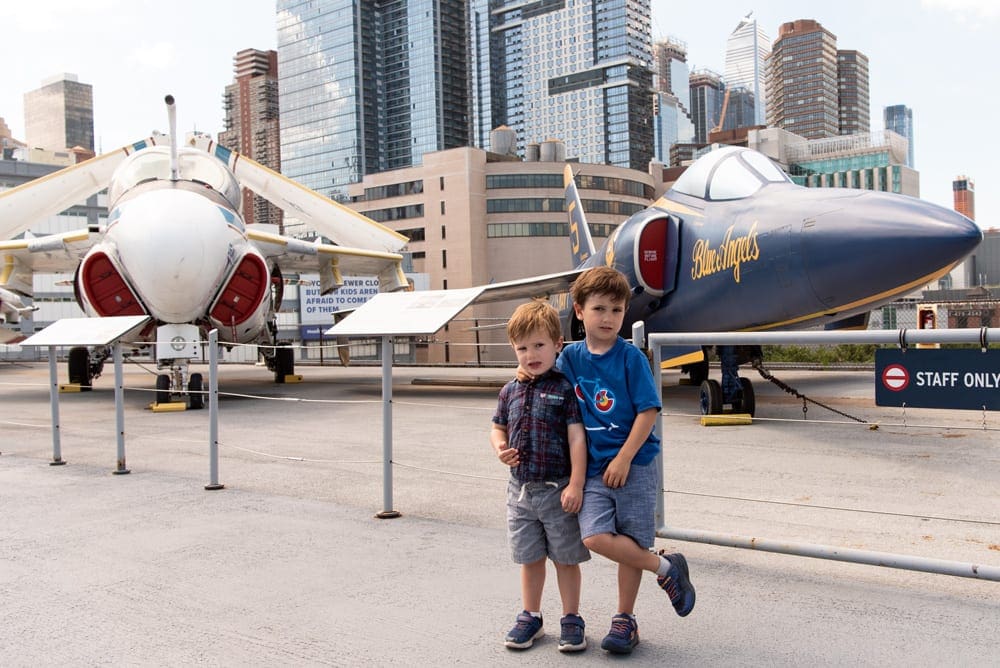 The Intrepid Air and Space Museum is included as an admissions option through CityPASS New York City or The New York Sightseeing Pass!
Learn about maritime history at the Intrepid Air & Space Museum! Nestled on Pier 86 on West 46th St and 12th Ave, kids will love how this family-friendly museum is located on an actual ship. It also has comprehensive exhibits detailing the history of The Cold War, nuclear submarines, airplanes, and anything else you can think of. Aside from the actual history, the experience is more about hands-on interaction, which is perfect for young kids. Little ones will love the replica aircraft carriers they can climb in, and, of course, the star of the show: The Space Shuttle. You can also visit the crew's quarters and try the 4D simulator. It's so realistic you'll feel you're actually on a plane! Afterward, check out the Submarine Growler, the only American guided missile submarine open to the public. Get a glimpse at the crew's quarters, control center, and even the torpedo room!
​​Buy your tickets now to visit Intrepid Air and Space Museum and guarantee a worry-free family vacation!
Things to Do in Brooklyn with Young Kids
If you're exploring Brooklyn and wondering what to do with young kids, look no further! From museums to outdoor parks, there's plenty for little ones to enjoy. Here are our favorites!
Book a unique food tour or a pizza walk through Brooklyn with Viator here!
Put Your Imagination to Work at the Brooklyn Children's Museum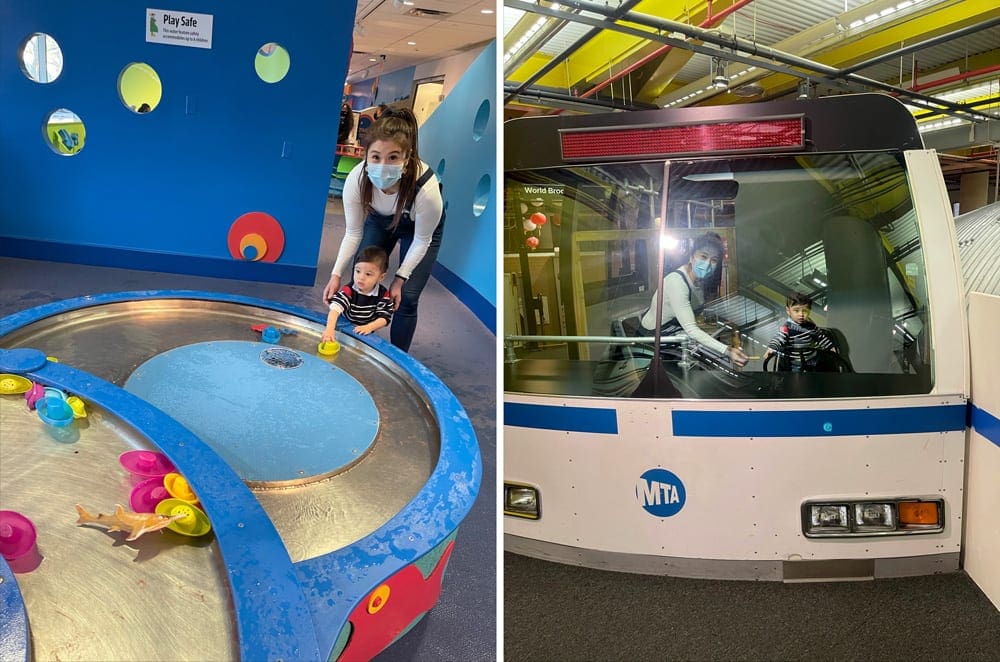 Spending a few hours at the Brooklyn Children's Museum is one of the best things to do in New York City with young kids. Located in a primarily residential neighborhood near Prospect Park, this hidden gem has lots of fun exhibits to keep families entertained. Permanent installations include The Sensory Room, where kids can enjoy touch, sound, and sight exercises, and The Nest, an outdoor climbing structure located on the museum's terrace. There's even a Totally Tots section for the museum's tiniest visitors, with water, sand, and other sensory games. At the Science Inquiry Center, learn about the environment and local animals in the area. Right now, families can also enjoy a temporary maze exhibition on the second floor. The Brooklyn Children's Museum also hosts a range of programs for all ages. Try your hand at Making Art in the Color Lab to inspire your little budding creative!
Explore Brooklyn Bridge Park
Explore Brooklyn Bridge Park as a family to see DUMBO from a new vantage point! Providing a great view of the bridge, families can sprawl out in this urban oasis. (It's also one of the best free things to do in New York City with kids!) With multiple picnic areas throughout the park, spend an afternoon in the shade. Once you're done, feel free to explore! Kids will love the many playgrounds scattered throughout the park, some of which have sprinklers to cool down on a hot day. Visit the Environment Education Center to learn more about the history, architecture, and ecology of the waterfront. Sometimes, the park also hosts various events families may enjoy, including summer reading storytimes. Of course, the Brooklyn Bridge Park is also a convenient gateway to the famous Jane's Carousel. Take a spin on this antique merry-go-round while you overlook the twinkling Brooklyn Bridge!
Travel Back in Time at the NYC Transit Museum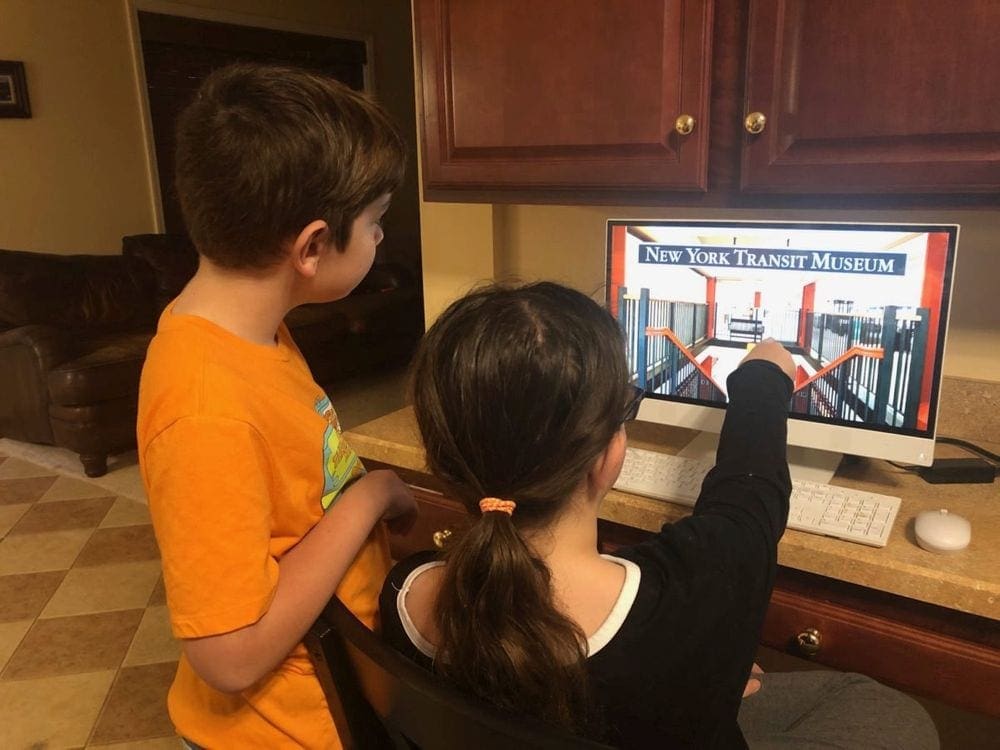 Dive into the city's underground history at the New York Transit Museum! Located in a vintage subway car, this downtown Brooklyn museum features fun, interactive exhibits the whole family can enjoy. In addition to rotating shows, the museum also has a permanent collection for guests to learn more about the transit system. Kids will love spotting old subway artifacts such as turnstiles, conductor uniforms, and more. Even better, since the museum is housed within an old subway station, it'll be a completely immersive experience – almost as if you're traveling back in time! Don't forget about the museum's restored fleets of subway cars and buses, which you can see inside, touch, and pretend you're really riding. You'll learn lots of contextual information, and it's a wonderful place to let kids run around for a few. There's also a food court on-site if you're hungry afterward, and a Shake Shack nearby. '
Things to Do in the Bronx with Young Kids
If you're visiting the Bronx with young kids, you're probably wondering about things to do. Here's our suggestion!
Encounter Wildlife at the Bronx Zoo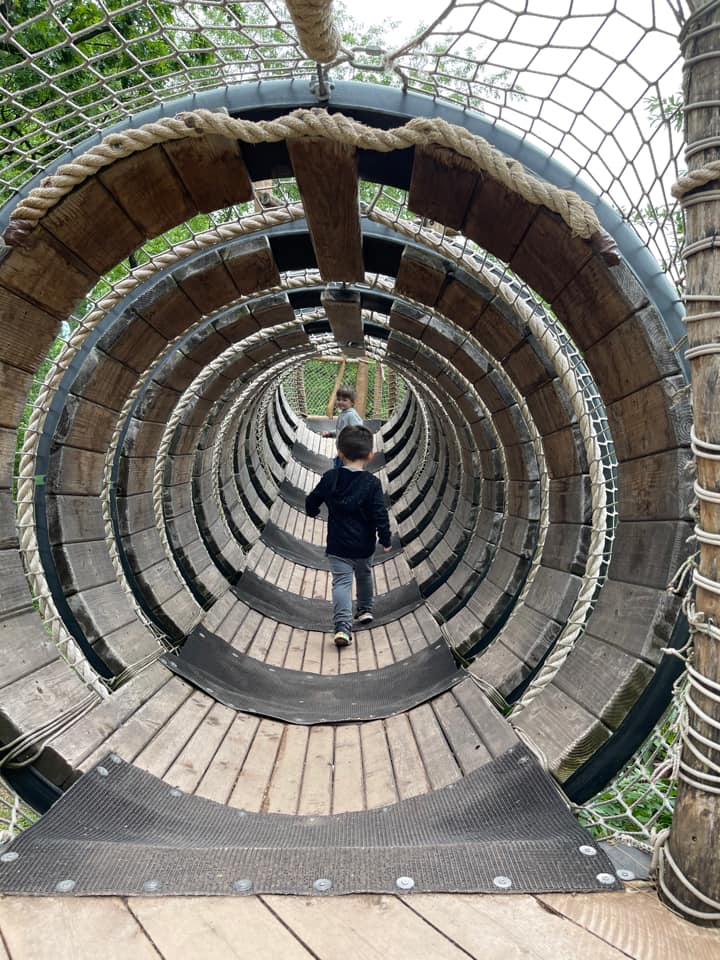 The Bronx Zoo is an admission option through The New York Sightseeing Pass! Reserve your pass here!
The Bronx Zoo puts exotic animals right in the heart of New York City! Luckily for nature-loving families, you don't have to travel far to get a glimpse at some. You can get here via the Metro-North to Fordham, a short car ride, or by taking the subway uptown. From penguins to lions, tigers, owls, and snakes, the Bronx Zoo has every animal kids love and then some. Though it's open all year round, most of the famous animals are on display during the summer. Kids will love various experiences like feeding sea lions or penguins, riding the Bug Carousel, or taking the Nature Trek. Visit during winter and you can see the holiday light show! Families who really want to know more about the animals can even consider booking a tour, which will make tackling the zoo much easier. Wear comfortable shoes, because you'll be walking a lot! 
Purchase your Bronx Zoo tickets here.
Where to Stay in New York City with Young Kids
Need accommodations in New York City for young kids? Families staying in lower Manhattan will love the Millennium Hilton Hotel in the Financial District or the trendy Greenwich Hotel in Tribeca. If you're looking for somewhere to stay in Midtown Manhattan, try the Loews Regency New York or the Crowne Plaza Times Square Manhattan, which also has a Kids' Club. For a true luxury experience, we also recommend the nearby St. Regis New York. Finally, find our recommendations for the Best Family Hotels In New York City With A Pool (Includes 1- To 3-Bedroom Suites!).
Looking for NYC hotel deals? Try booking through Kayak here!
Happy Travels!
We hope you liked this list of Best Things To Do In New York City With Young Kids! Whether you'll be visiting Brooklyn, Manhattan, or the Bronx, we know you'll love visiting the Big Apple as a family. Enjoy New York City with kids! 
*Due to the COVID-19 pandemic, some of the attractions, accommodations, or things to do on this list may be closed. Please ensure availability before making your decision.
BUY TICKETS NOW TO GUARANTEE A WORRY-FREE FAMILY VACATION!
*This post may contain affiliate links that may earn us a small commission, at no additional cost to you. Affiliate links in no way inform the hotels, sights, products, or other recommendations included in our articles. All opinions and recommendations expressed here are compiled from submissions submitted by the generous members of our Families Who Love To Travel community.
READ MORE: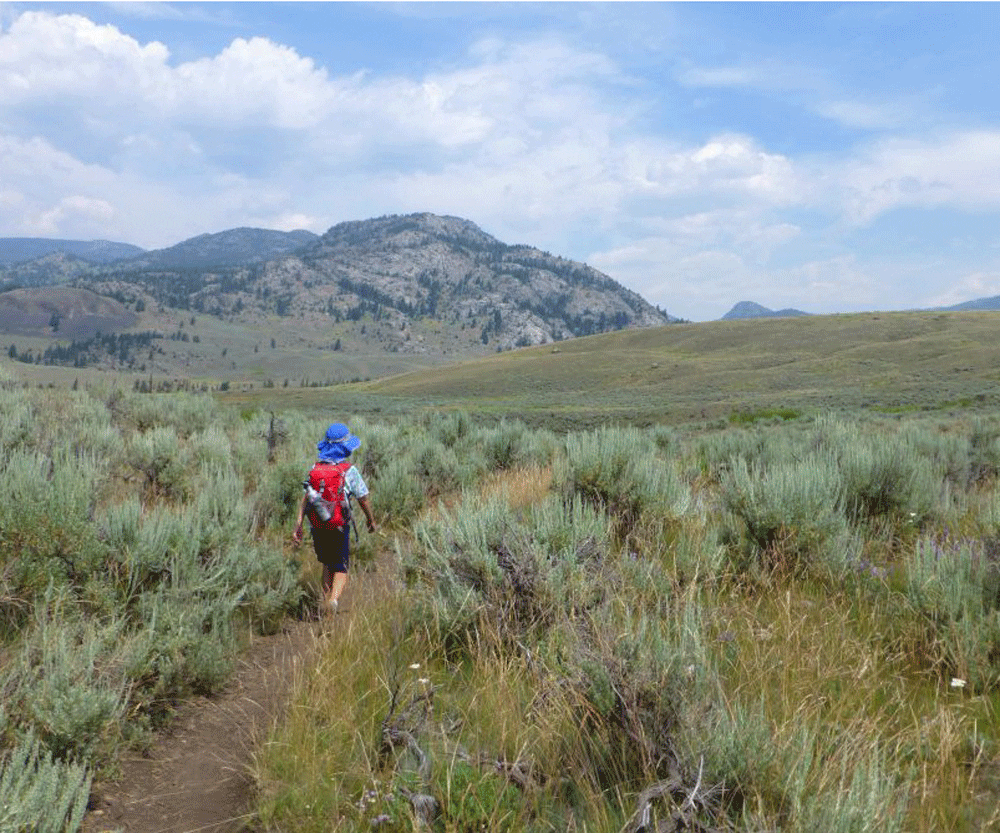 Everyone knows that Yellowstone National Park makes for a classic family vacation. Strolling the boardwalks...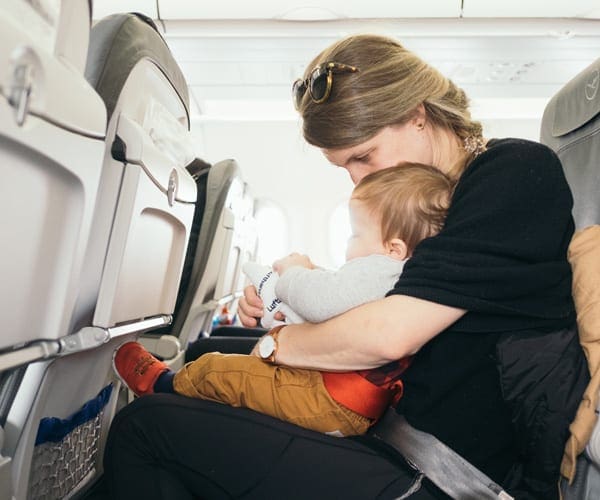 Families Who Love To Travel contributor Meghan Oaks provides her 10 best tips for your...